Meatball Baked Ziti
Meatball Baked Ziti is a total comfort meal. An easy-to-make, richly flavored tomato sauce is combined with pasta, two kinds of mozzarella cheese, and flavorful meatballs for one dish of cozy deliciousness!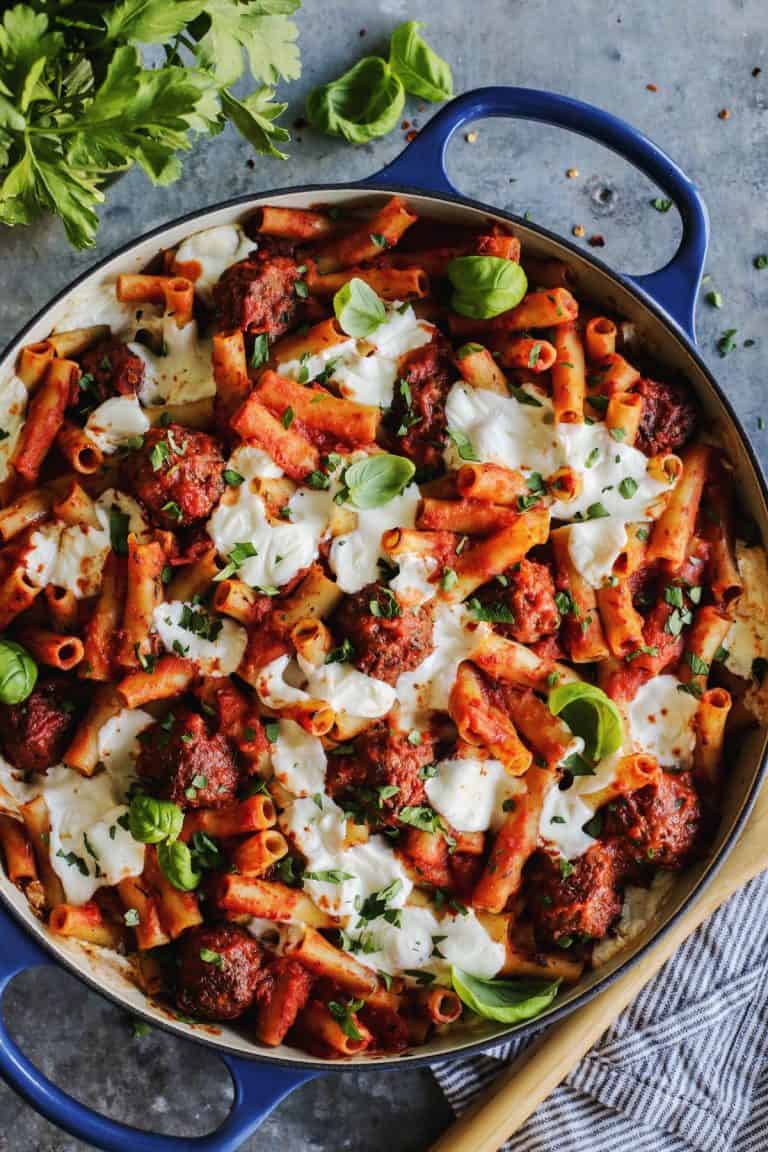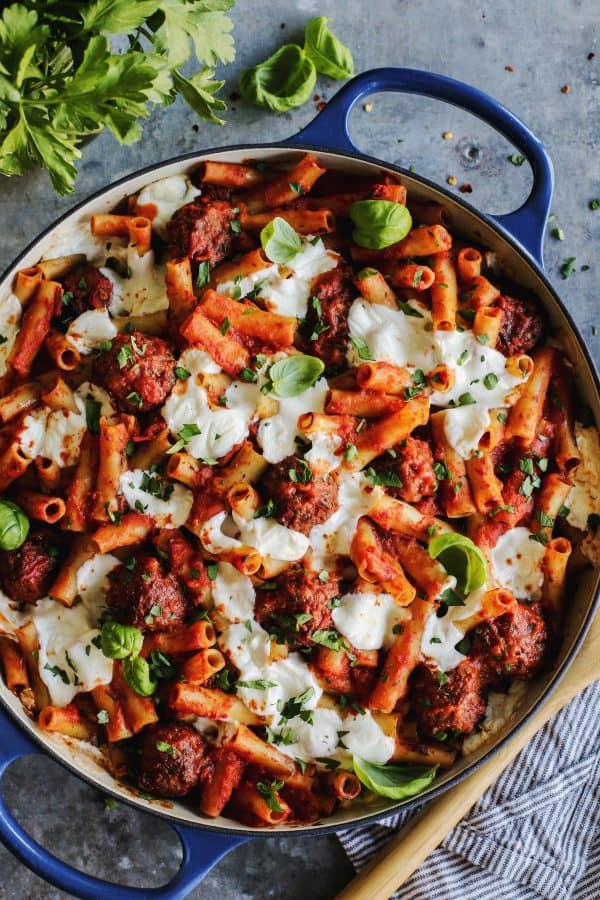 For those living in the Midwest, you know exactly what I'm talking about when I say it's been a trying winter. So far, our girls have missed five days of school (plus a couple late starts) due to an abundance of snow, ridiculously icy roads, and extremely cold temps.
We're talking about life threatening temperatures, where exposed skin can experience frostbite in less than 5 minutes. Where the temperature, when combined with the wind chill, makes for an experience that feels like 50 degrees below zero. It hurts. Literally.
You also know where I'm going with this, right?
Comfort food.
That's where it's at, for sure. (And lots of puzzles and games and closet cleaning!)
As if pasta and cheese and meatballs weren't comfort enough on their own, I've combined them into one dish of cozy deliciousness. Meatball Baked Ziti, for the winter win!
* This is a sponsored post, created in partnership with Red Gold®.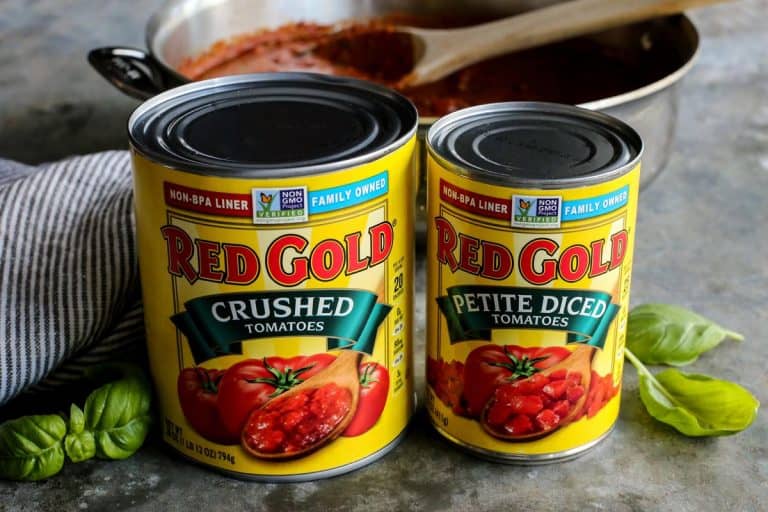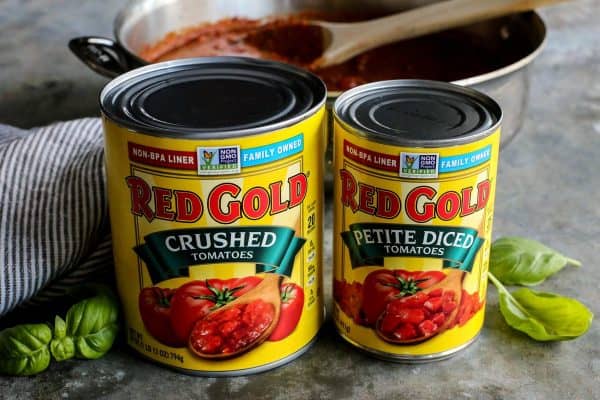 Open up our pantry any day of the year, and you're sure to find Red Gold Tomatoes. From my end-of-summer chicken chili that's bursting with delicious garden harvest, to my winter-comforting creamy enchilada chili, I depend on the fresh tomato flavor from Red Gold.
In this meatball baked ziti recipe, I use a larger amount of crushed tomatoes, for well distributed tomato goodness. Plus diced tomatoes for more pronounced bites of tomato.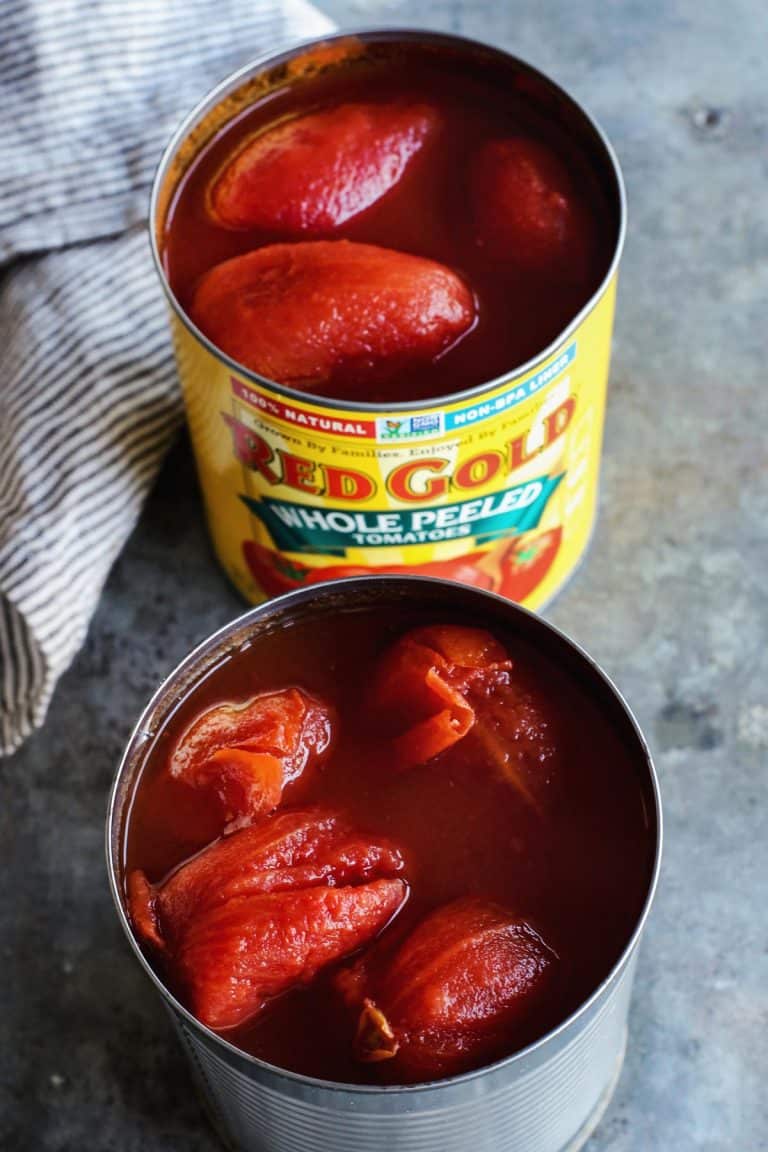 It's always amazing to me, the difference between Red Gold's tomatoes (top can) and other tomato brands.
Looking at the other brand's can of whole peeled tomatoes (bottom can), you can see how the whole tomatoes are broken up and that there is still skin attached to every single tomato.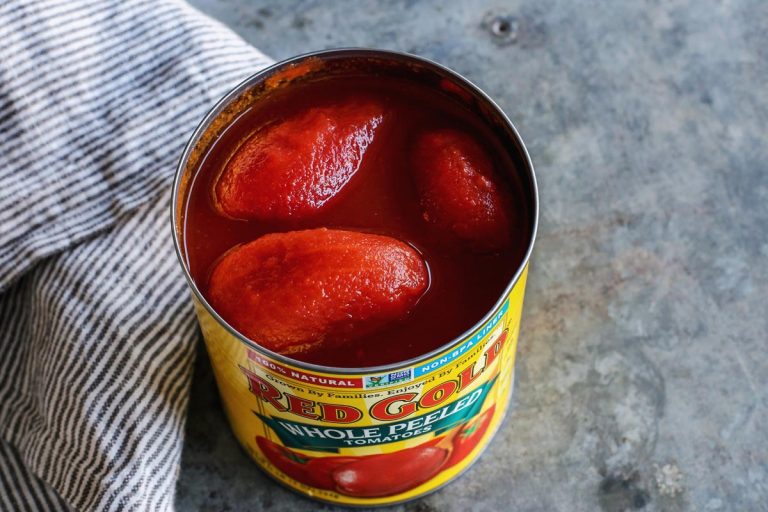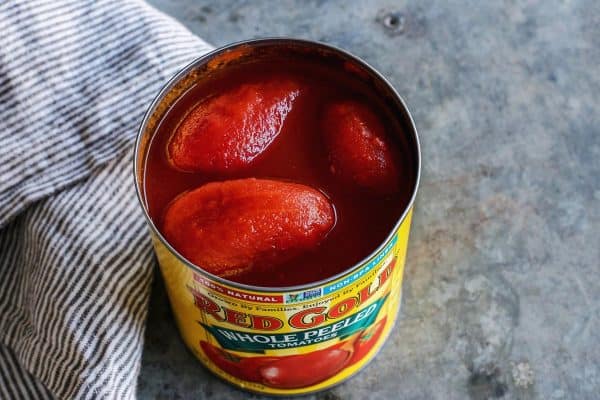 Compare the other brand's tomatoes to those from Red Gold.
I've done this tomato comparison many times over the past few years. And the results are always the same. Red Gold's tomatoes consistently have a much better appearance and texture. They're whole and peeled and firmly tender.
It's hard to tell from these photos, but even the tomato juice surrounding the tomatoes is better. It's a bit thicker, with a deeper color.
Red Gold's flavor scores considerably higher, too. The tomatoes have a more intense fresh tomato flavor. Oftentimes, I will pick up a hint of metallic taste from the can with other tomato brands, but I've never experienced that with Red Gold.
Red Gold Tomatoes has been family owned for 75 years, sustainably growing tomatoes on Midwest family farms. This company is truly passionate about their work, offering consumers the highest-quality, freshest, best-tasting tomatoes.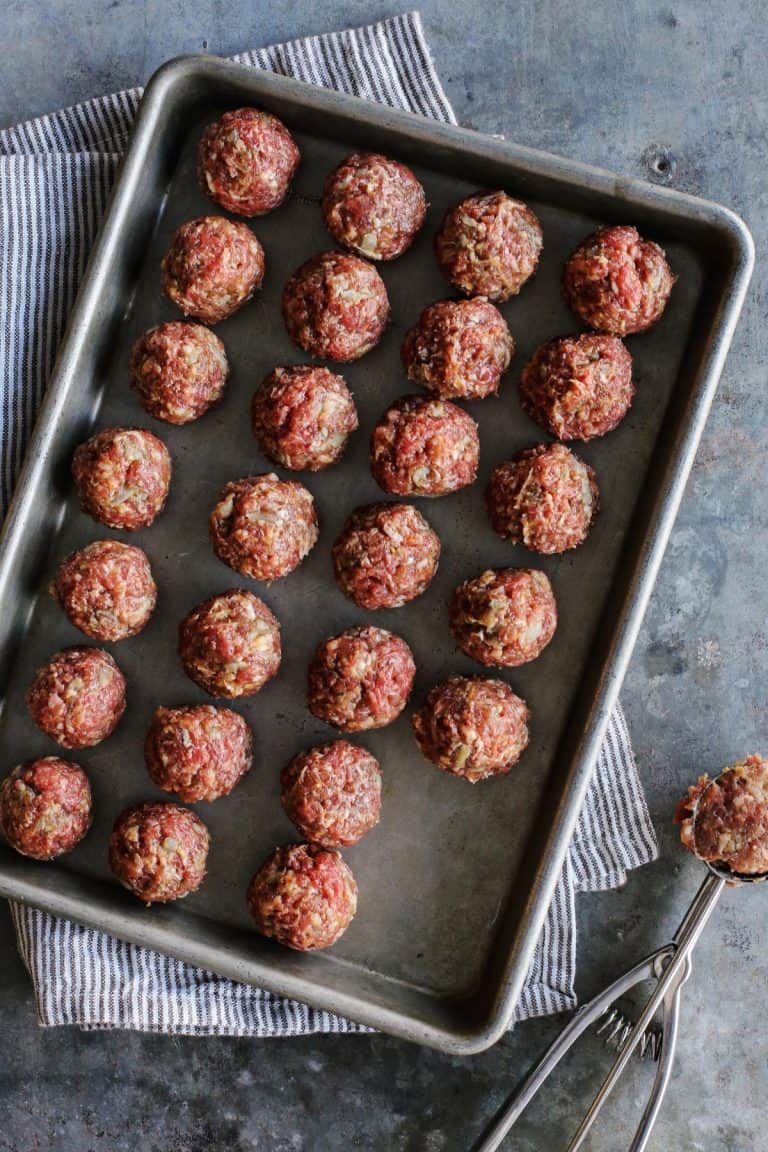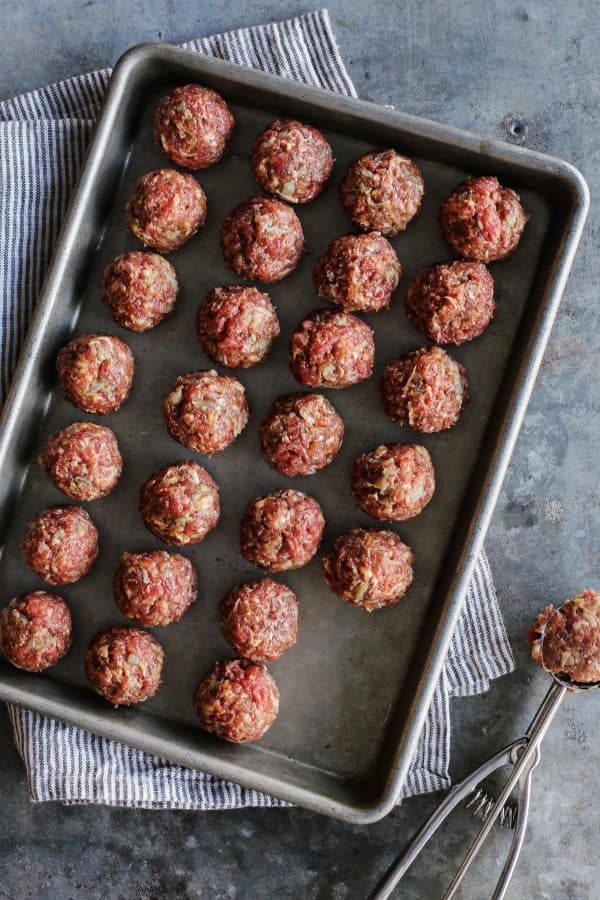 Meatball Baked Ziti
The meatballs in this easy baked ziti are flavorful and tender, with a combination of beef and Italian pork sausage.
I like to use a 1-1/2 tablespoon scoop to portion the meatballs, same as I do for Swedish meatballs. This just feels like the perfect meatball size to me.
The meatballs brown in a skillet, then simmer for a bit with the tomatoes on the stovetop, and finish cooking with the whole ziti mixture in the oven.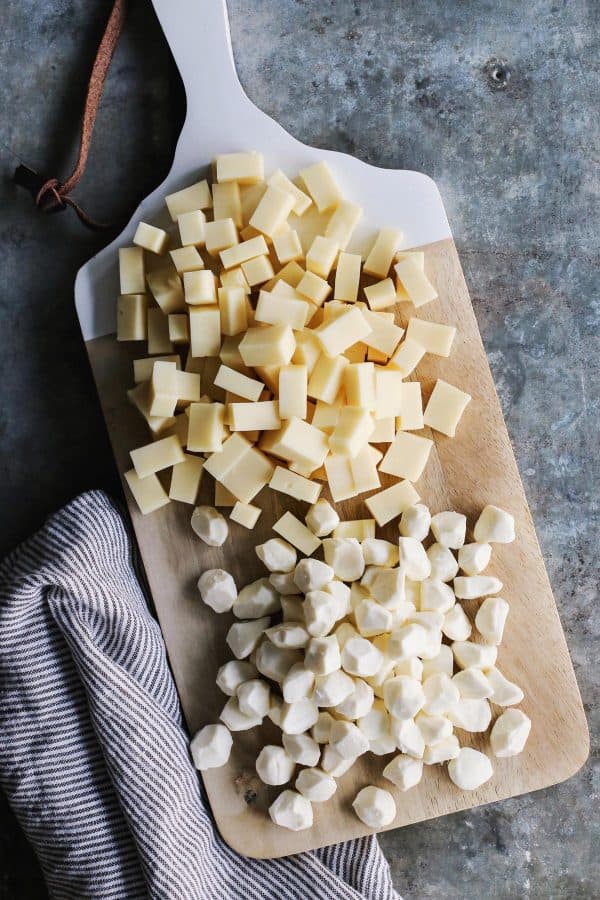 Now let's talk cheese. I use two different kinds of mozzarella in this baked ziti with meatballs.
First, I cut block-style mozzarella into 1/2″ to 1″ sized pieces. Then I layer it into the heart of the baked meatballs and pasta. This low-moisture mozzarella gets all melty and gooey in the middle, giving you that awesome cheese pull with each forkful.
Second, I sprinkle the top with fresh mozzarella. I like to use a package of mozzarella "pearls". But if you can't find the pearls, you could just cube a larger ball of fresh mozzarella. I love the fresh milky flavor of this mozzarella, and the especially chewy texture it gets from the heat of the oven.
(If you were looking for baked ziti without ricotta, you came to the right place. No ricotta in this recipe!)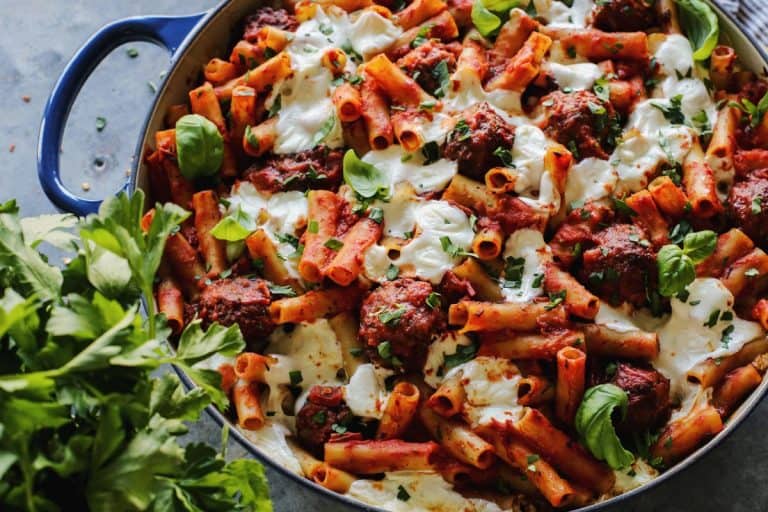 Meatball baked ziti is hearty, flavorful, and quite alot of fun. You just can't go wrong with pasta, baked meatballs, and mozzarella cheese in a rich tomato sauce. Especially on a cold, wintry day!
Like this easy baked ziti recipe? Pin it!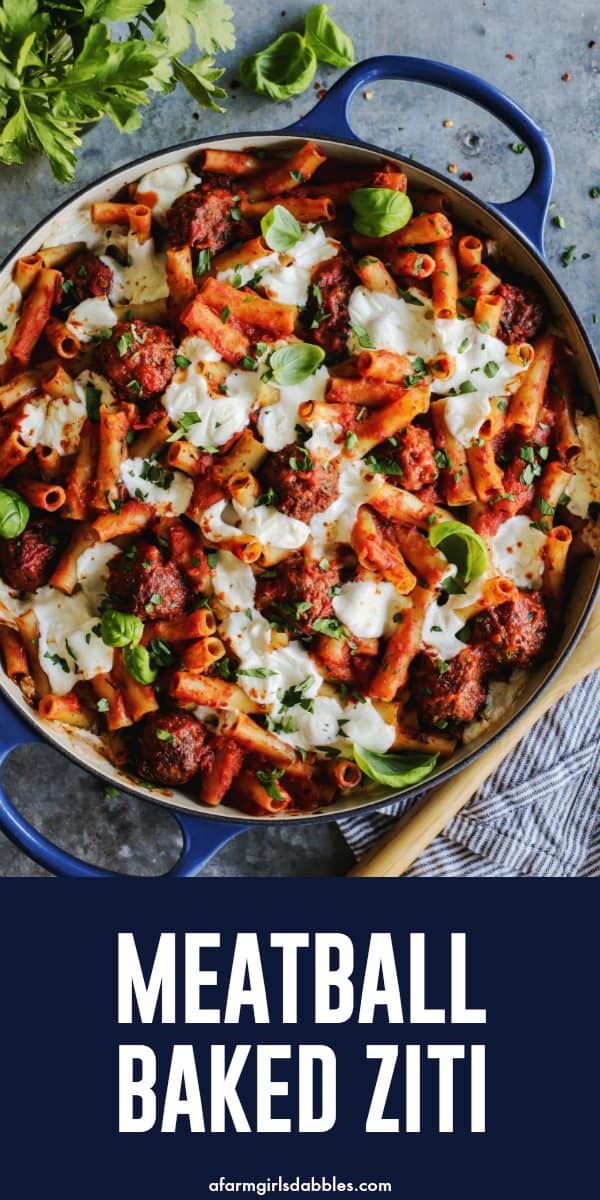 For more recipes using Red Gold tomatoes, be sure to check out: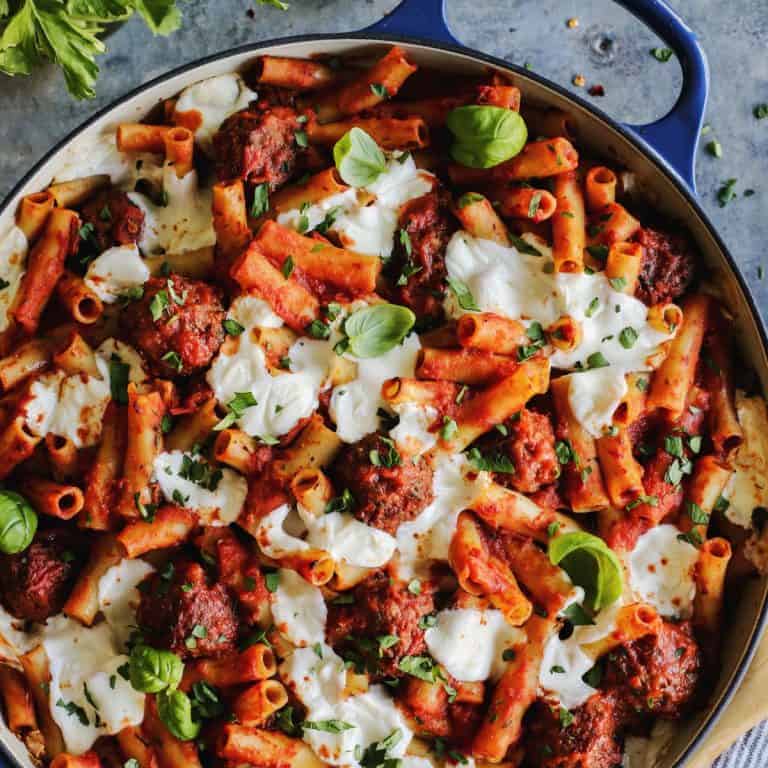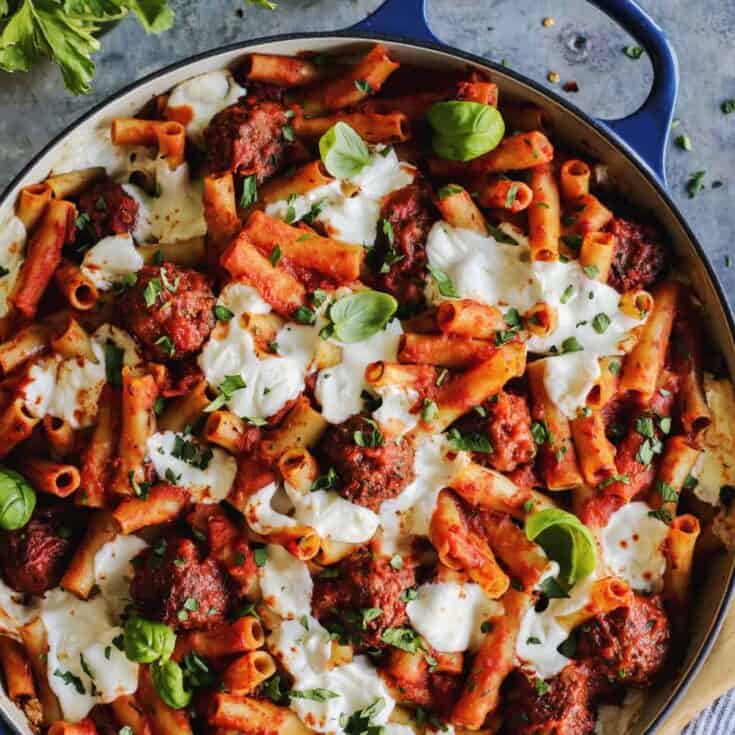 Meatball Baked Ziti
This hearty dish is a total comfort meal. You just can't go wrong with pasta, meatballs, and cheese in a rich tomato sauce!

Yield: 6 servings

Prep Time: 25 minutes

Cook Time: 1 hour 15 minutes

Total Time: 1 hour 40 minutes
Ingredients
for the meatballs
2 T. unsalted butter, divided
1/2 c. finely minced yellow onion
2 medium garlic cloves, minced
1 lb. lean ground beef
1/2 lb. Italian pork sausage
1 large egg, lightly beaten
1/4 c. bread crumbs
1 tsp. kosher salt
1/2 tsp. ground black pepper
for the ziti and sauce
12 oz. ziti pasta
1 (28 oz.) can Red Gold® Crushed Tomatoes
1 (14.5 oz.) can Red Gold® Petite Diced Tomatoes
1 T. dried Italian herb mix
1/2 tsp. kosher salt
1/2 tsp. ground black pepper
1/8 tsp. red pepper flakes
3 T. chopped Italian parsley
3 T. chopped basil
12 oz. low-moisture mozzarella (block), cut into 1/2" cubes
8 oz. fresh mozzarella pearls (small balls)
Instructions
In a large skillet with tall sides, over medium to medium-high heat, melt 1 tablespoon of the butter. Add onion and saute, stirring regularly. After 5 minutes, stir in garlic. Saute for another 3 minutes, stirring regularly, until onion is completely soft and translucent. Transfer onion and garlic to a plate and spread out to cool.
To a large bowl, add beef, pork, and egg. Sprinkle bread crumbs, salt, and black pepper evenly over the top, followed by the cooled onion and garlic. Mix to combine evenly with your hands. You could also use a wooden spoon or stand mixer, but I prefer using my hands for the most evenly combined mixture.
Using a 1-1/2 tablespoon measure (I like to use a 1-1/2 tablespoon scoop), portion meat mixture, roll into balls, and then transfer to a rimmed baking sheet.
Using the same large skillet (no need to wash it), place it over medium heat. Add remaining 1 tablespoon of butter. Once butter is melted, swirl it around to coat the bottom of the skillet. Add meatballs. Brown meatballs on all sides, and cook for about 20 minutes total. Transfer meatballs to a platter or sheet pan.
Preheat oven to 350° F. While meatballs are browning, cook ziti in a pot of salted boiling water, until just barely al dente. Drain and set aside.
Place same large skillet over medium heat (do not wash it). Add crushed tomatoes and diced tomatoes, and scrape up any browned bits from the bottom of the pan and stir them into the tomatoes. Stir in Italian herb mix, salt, black pepper, and red pepper flakes. Bring to a simmer. Fold meatballs into tomatoes and let simmer for 10 minutes, stirring a couple times. Stir in chopped parsley and basil, and then remove skillet from heat. Fold in drained ziti.
Transfer half of ziti/meatball mixture to a large baking dish. Spread block mozzarella pieces over the top. Add remaining ziti/meatball mixture, spreading it out evenly. Top with mozzarella pearls. Cover dish loosely with foil (do not press foil onto the ziti/meatball mixture) and bake for 30 to 40 minutes, or until the dish is hot and bubbling nicely. Remove the foil and bake for another 5 minutes or so. Remove from oven and let rest for 5 minutes. Sprinkle fresh chopped parsley over the top if desired. Serve hot.
Notes
from a farmgirl's dabbles
Nutrition Information:
Yield:
6
Serving Size:
1
Amount Per Serving: Calories: 722Total Fat: 46gSaturated Fat: 23gTrans Fat: 0gUnsaturated Fat: 21gCholesterol: 209mgSodium: 1756mgCarbohydrates: 21gFiber: 3gSugar: 6gProtein: 54g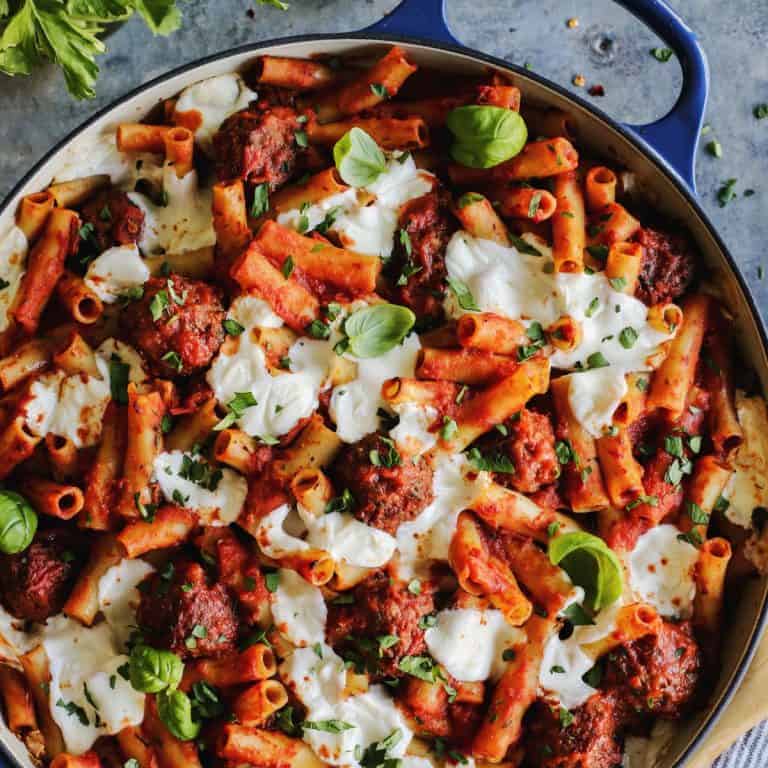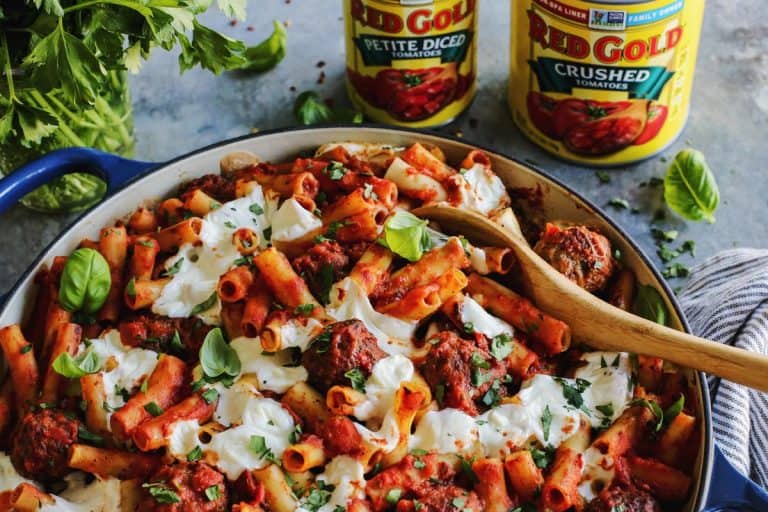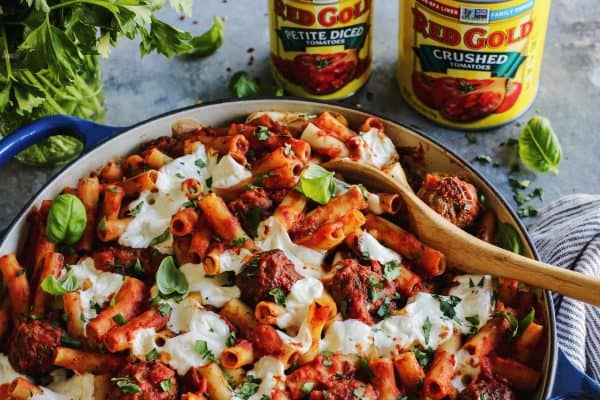 Be sure to check out Red Gold on their website. You can also find them on social media on Facebook, Twitter, Instagram, and Pinterest.
Red Gold sponsored this post. I am happy to be partnering with them again this year, bringing you delicious recipes bursting with fresh, rich tomato flavor. All opinions are 100% my own. Thank you for supporting the brands that help make this site possible.
We participate in the Amazon Services LLC Associates Program, an affiliate advertising program designed to provide a means for us to earn fees by linking to Amazon.com and affiliated sites. See our disclosure policy for more info.