Swedish Meatballs
Perfectly tender Swedish Meatballs are coated in a creamy, richly flavored gravy. Serve with buttered boiled potatoes or fluffy mashed potatoes, plus a spoonful of tart lingonberry preserves.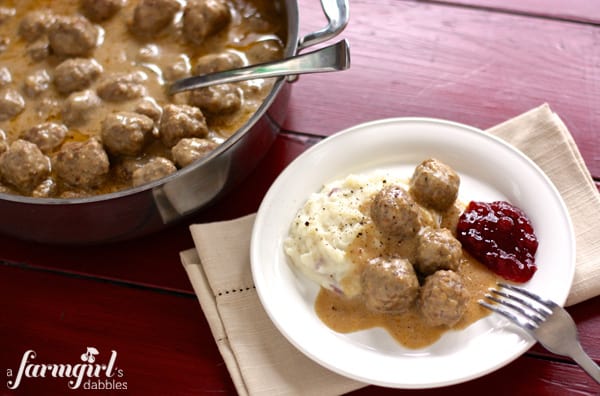 Sometimes I go to IKEA just because I'm hungry for Swedish Meatballs. Yes, it's true!
Do you remember the first time you ate them?
My first IKEA experience was back in the spring of 1999, when I was living near my sister and her husband in Illinois. I was newly engaged to my extra-tall (he's 6′-7″), dark, and handsome Blake, and we were planning our wedding for later that same fall. The ceremony was set to take place outdoors, on my parents' farm in South Dakota. A small intimate immediate-family-only wedding, with more family and friends invited to celebrate after the ceremony. It was to be casual to the core, with picnic tables, a pig roast, and dancing to a dj's tunes in the garage.
My vision for the evening's reception included tiki torches lit along the length of the driveway, with twinkle lights strung overhead in the garage and zig zagging through the front yard's autumn tree limbs. There would be galvanized lanterns hanging from the trees, too, illuminated by simple white tea lights. (Little did we know our day would actually consist of pouring down rain!) My sister suggested we visit the nearby IKEA in Schaumburg (IL), to pick up all the goods to make our wedding plans happen. And that's when Blake and I came face to face with the famous Swedish meatballs of IKEA…
Blake and I moved to Minnesota after we were married, and lucky for us, an IKEA opened up here just a few years later. And while we continue to enjoy both the shopping and the meatballs at our local store, I also wanted to be able to create that meal at home. Over the years, I've tried a few recipes for Swedish meatballs. Some came close to IKEA fame. Others fell drastically short. But this recipe, right here, is one that I'll hold onto for sure.
The meatballs are small and perfectly tender and flavorful. And the rich and creamy gravy, poured over whippy mashed potatoes, is whisked up from scratch…oh so worthy of licking your plate for. But the really beautiful part? A big spoonful of lingonberry jam, with all its contrast in tartness and hue. It makes our IKEA meal replication at home complete.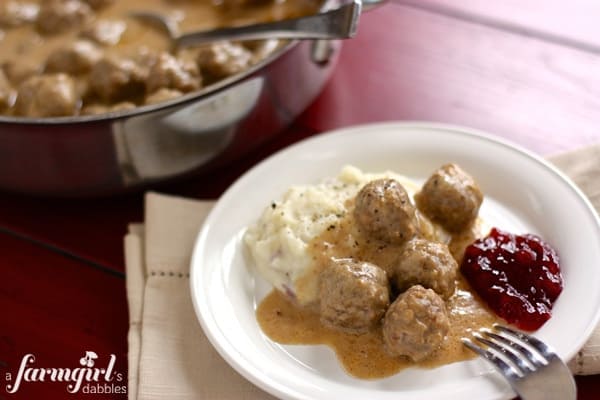 Swedish Meatballs
Perfectly tender meatballs are coated in a creamy, richly flavored gravy.  Serve with buttered boiled potatoes or fluffy mashed potatoes, plus a spoonful of tart lingonberry preserves. 

Yield: 8 servings

Prep Time: 20 minutes

Cook Time: 40 minutes

Total Time: 1 hour
Ingredients
3 T. unsalted butter, divided
1 c. finely minced onion
1 lb. ground beef
1 lb. ground pork
2 large eggs, lightly beaten
3 T. soy sauce, divided
1/4 tsp. freshly ground black pepper
1 tsp. sugar
1/4 tsp. ground allspice
1/4 tsp. ground nutmeg
1-1/4 c. breadcrumbs
1/2 c. milk
1/4 c. all-purpose flour
2 c. chicken stock
1/4 c. sour cream
1 tsp. Worcestershire sauce
chopped parsley, optional garnish
Instructions
In a large skillet with tall sides, over medium to medium-low heat, melt 1 tablespoon of the butter. Add onion and sauté until completely soft and translucent, stirring regularly, about 8 to 10 minutes. Transfer onion to a plate and spread out the onion to cool completely.
To a large bowl add beef, pork, eggs, 1 tablespoon of the soy sauce, black pepper, sugar, allspice, nutmeg, and the cooled onions. Mix to combine evenly with a wooden spoon or your hands. You could also use a stand mixer.
Add breadcrumbs to a medium bowl. Pour milk over the top. Stir to completely combine. Then add to the meat mixture and use your hands to combine everything evenly.
Using a 1-1/2 tablespoon measure (I like to use a 1-1/2 tablespoon scoop), roll meat mixture into balls and then transfer to a rimmed baking sheet.
Using the same large skillet (no need to wash it, just wipe it out with a paper towel), place it over medium to medium-low heat. Add 1 tablespoon of the butter. Working in 2 batches and adding the remaining tablespoon of the butter between batches, brown meatballs on all sides, about 8-10 minutes per batch. Transfer meatballs to a platter or sheet pan.
Drain all but 2 tablespoons of drippings from skillet. If there are any especially dark (black) pieces left in the skillet, remove them. Otherwise, keep as much of that good flavoring as possible in the skillet. If you are left with less than 2 tablespoons of drippings, add some butter to equal that amount. Whisk in flour (a flat whisk works great!) until a smooth paste forms, and the paste is lightly browned. Slowly add chicken broth, whisking all the while to break up any lumps. Turn the heat up just a bit, to medium to medium-high. Bring broth to a simmer, whisking often. Add sour cream, Worcestershire, and remaining 2 tablespoons of soy sauce, and whisk to incorporate. Let simmer until sauce is nicely thickened into a gravy.
Add meatballs to gravy, folding gently to coat. Turn heat down to medium to medium-low, cover skillet, and simmer until meatballs are cooked and everything is nice and hot, about 10 minutes or so. Remove from heat and stir gently to coat meatballs.
Serve meatballs with buttered boiled potatoes or fluffy mashed potatoes, and a sprinkling of fresh chopped parsley. We also recommend some lingonberry preserves.
Notes
Note: If using beef broth, only add half the amount of Worcestershire sauce and soy sauce to the gravy. Then taste test and add more of each if needed.

from a farmgirl's dabbles
Nutrition Information:

Amount Per Serving:Calories: 419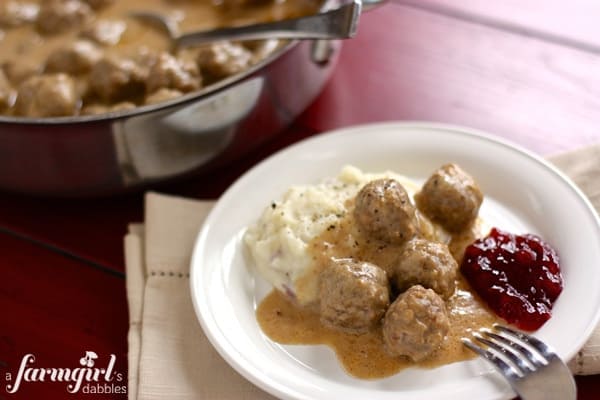 We participate in the Amazon Services LLC Associates Program, an affiliate advertising program designed to provide a means for us to earn fees by linking to Amazon.com and affiliated sites. See our disclosure policy for more info.