Oyster Stew Recipe
This post may contain Amazon or other affiliate links. As an Amazon Associate I earn from qualifying purchases.
This easy Oyster Stew Recipe is full of rich, wonderful seafood flavor. A family tradition, I've been enjoying this stew each Christmas Eve for as long as I can remember!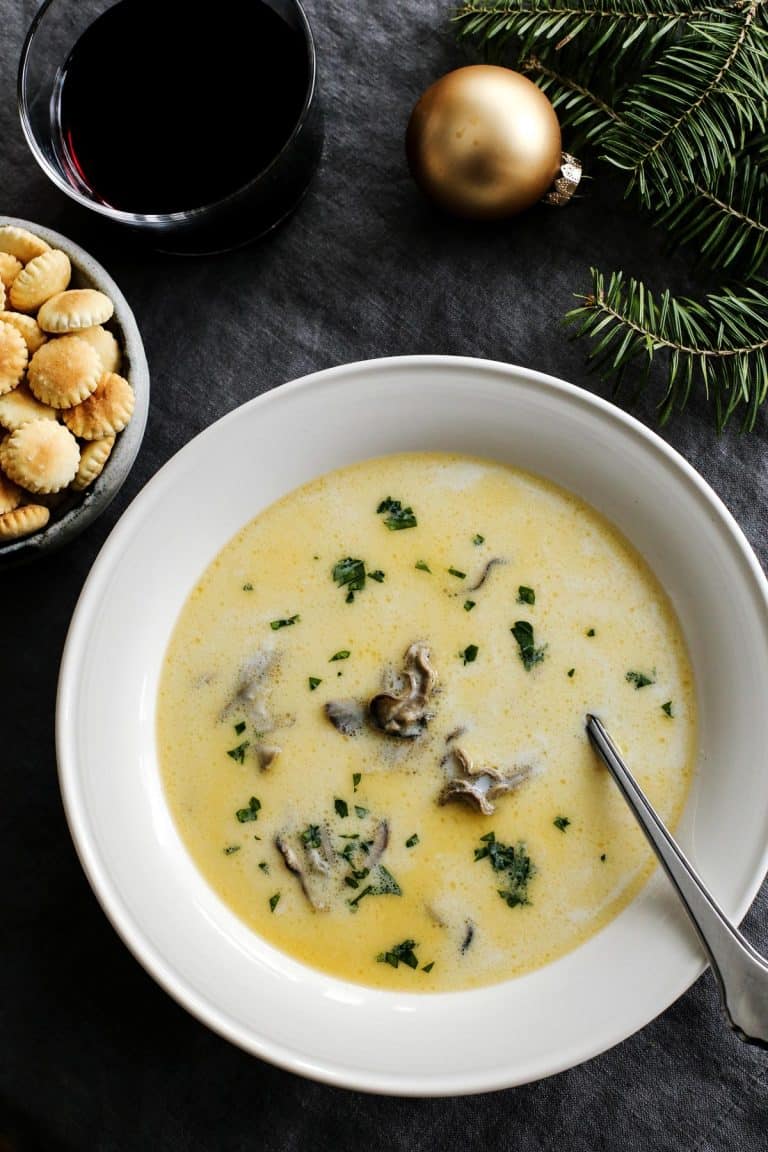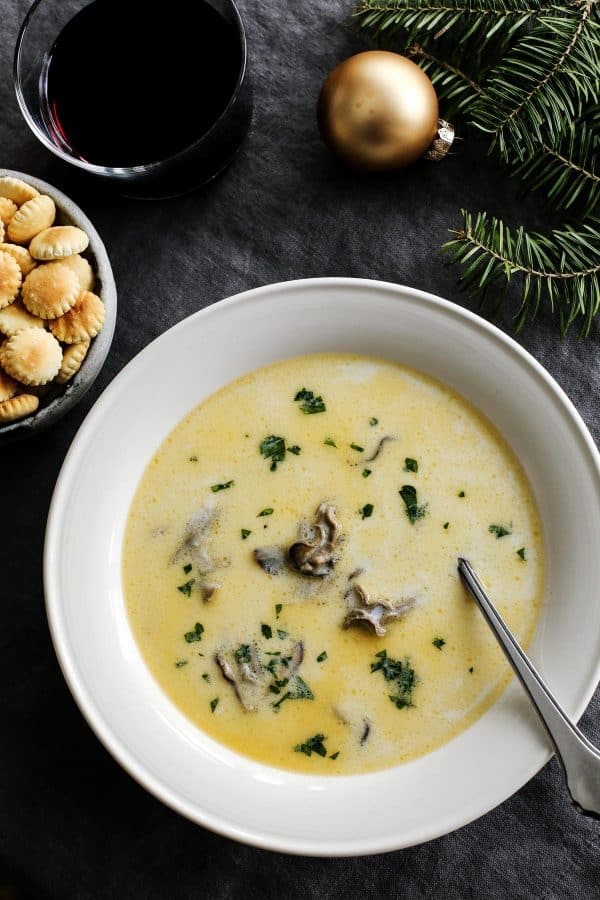 When I share with people about oyster stew being a Christmas Eve tradition for my family, I oftentimes receive questioning looks. Some wonder if I grew up in the south. Well…does South Dakota count?!
My mom's Oyster Stew Recipe has been gracing our Christmas Eve gatherings (in South Dakota!) for as long as I can remember. But it wasn't until just this year that I tried my own hand at it in the kitchen. I wish I had known sooner how quick and easy it is to make!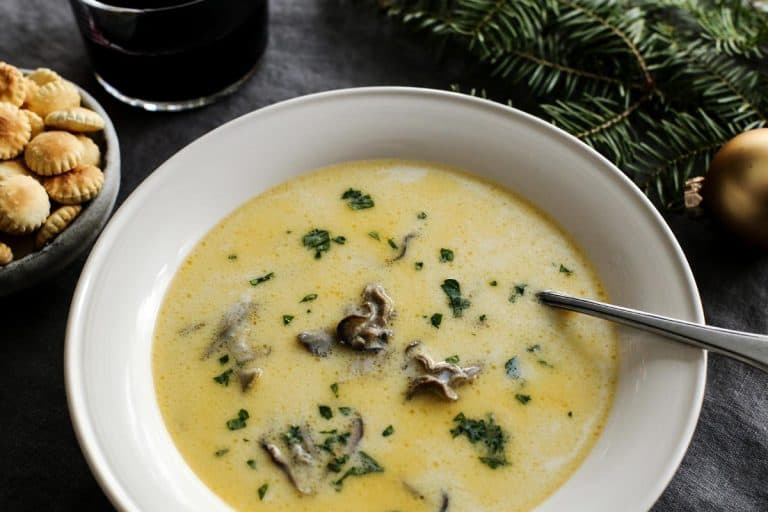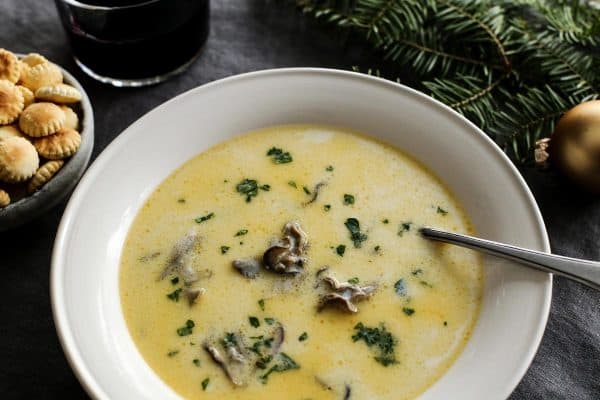 Growing up, our family hosted many Christmas Eve gatherings for Mom's side of the family. And my mom followed in her mom's footsteps, with this tradition of serving oyster stew.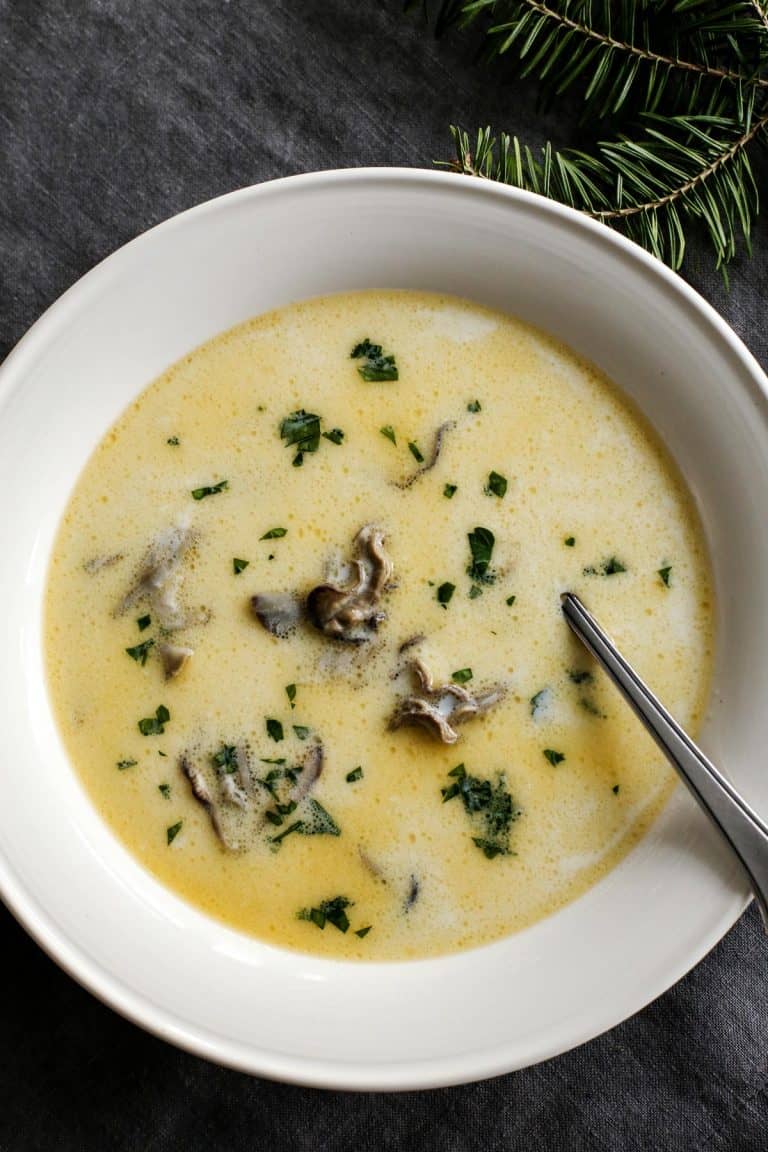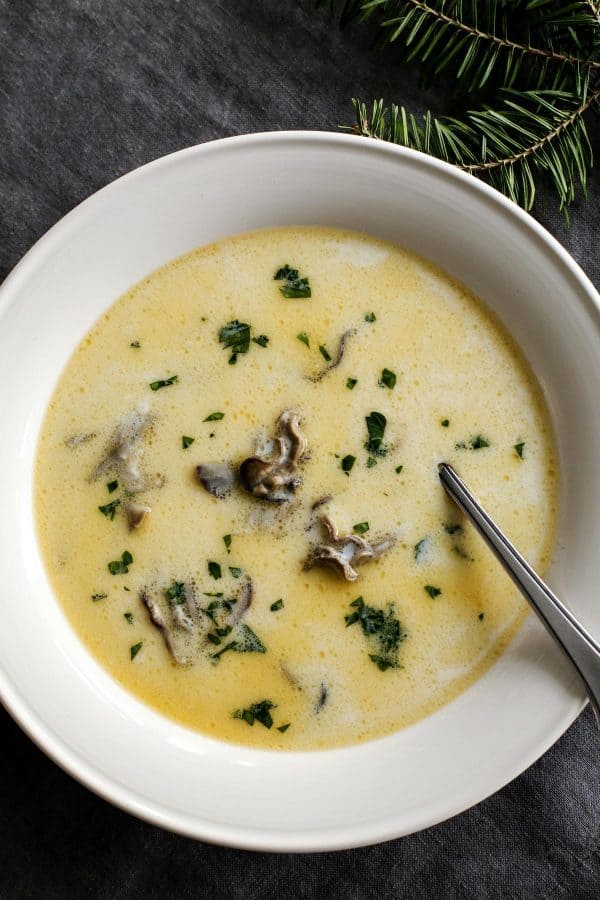 I've always liked oyster stew. But I haven't always liked the oysters. Just being totally honest here.
When I was young, I very carefully ladled the broth into my bowl, leaving the oysters behind. I've always found the broth irresistible. As I've gotten older, I seek out the oysters more and more.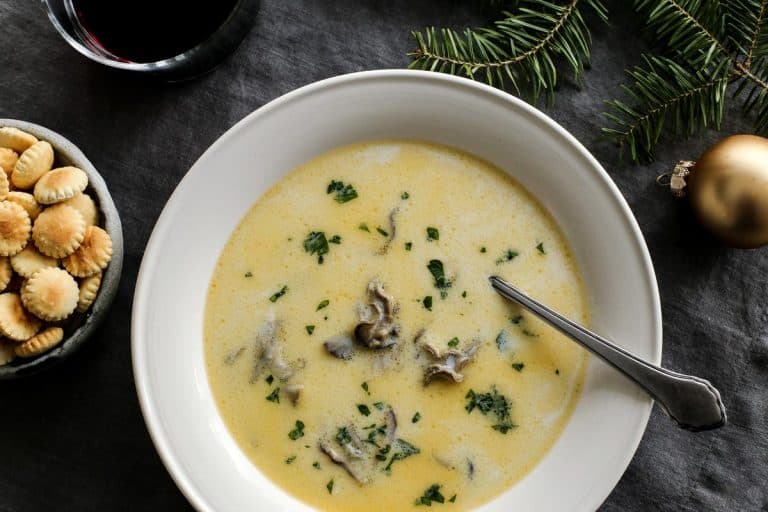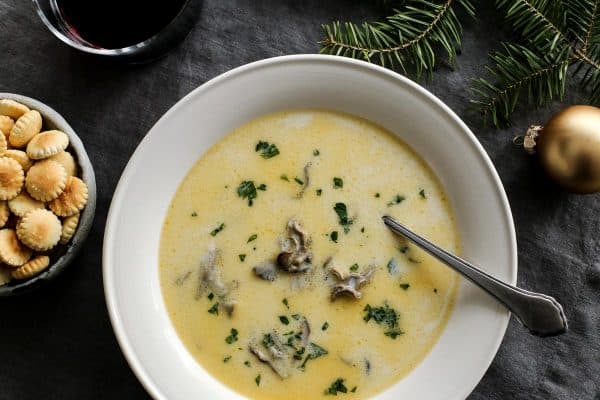 If you are someone who is not a big fan of oysters, yet you still like other shellfish, I beg you to give oyster stew a try. I think you'll be surprised at the rich, wonderful flavor. And if it takes you a few tries to find yourself actually seeking out the oysters, I completely understand. Just enjoy that incredible broth.
Oyster Stew recipe
I highly recommend freshly shucked oysters for this stew. Even though I don't recommend actually shucking oysters. Ha!
After spending some time with my sister's family at their home in Florida last year, and having access to a huge variety of fresh seafood, Blake became pretty good at shucking oysters. But even when you know how to do it, it's still not a fun gig. Especially if you're needing a larger quantity.
A few of my favorite recipes that use seafood:
I've found that a few of our local grocery stores will carry fresh shucked oysters during the holidays. This would be my preference. Fresh shucked…by somebody else!
If you can't find fresh oysters, and need to settle for jarred or canned, I still encourage you to make this stew. Just promise me that you'll make it with fresh ones when you get the opportunity. The fresh ones can be spendy, but their texture and flavor are oh so very worth it!
Like this oyster stew recipe? Save it to Pinterest!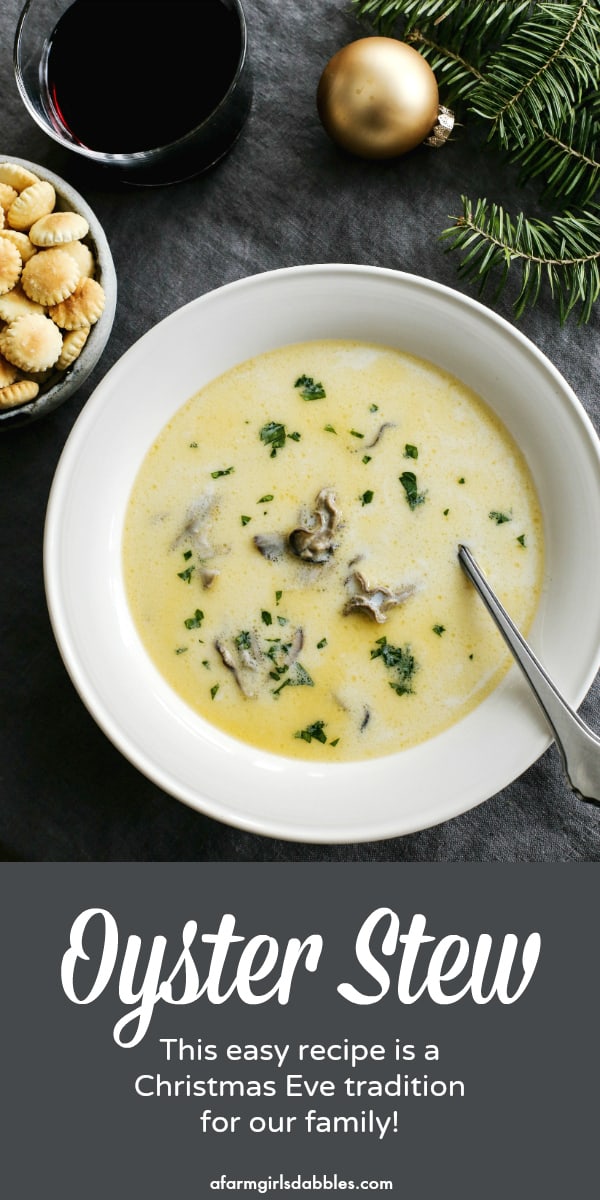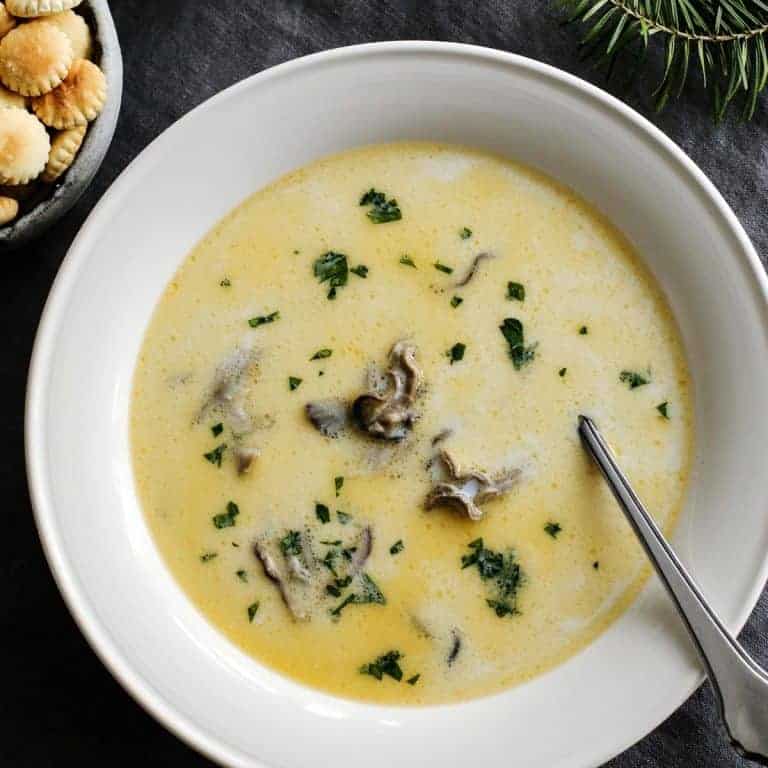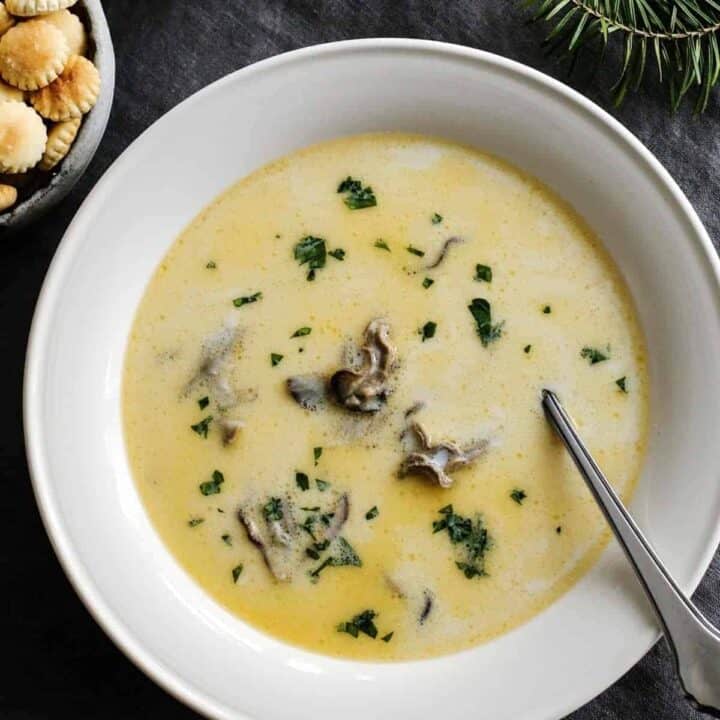 Oyster Stew Recipe
Yield: 4 servings
Prep Time: 10 minutes
Cook Time: 25 minutes
Total Time: 35 minutes
This easy recipe is full of rich, wonderful seafood flavor. A family tradition, I've been enjoying this stew each Christmas Eve for as long as I can remember! 
Ingredients
1 pt. fresh raw oysters, with their juice
1/4 c. unsalted butter
2 T. all-purpose flour
1 tsp. kosher salt
1 tsp. Worcestershire sauce
a few dashes hot pepper sauce (We like Frank's Redhot)
1 qt. whole milk
freshly ground black pepper, optional
minced fresh parsley, optional
Instructions
Place oysters in a colander and rinse well under cold water. Remove oysters to a bowl and set aside. Place cheese cloth over same colander, with a bowl set underneath, and strain the oyster juice through the cloth to remove any grit. Reserve the juice.
In a large saucepan over medium to medium-low heat, melt the butter. Sprinkle flour over the top of the melted butter and whisk to incorporate. (I like to use this flat whisk.) Then whisk in salt, Worcestershire sauce, and hot pepper sauce. Cook for 1 minute, whisking gently all the while.
Whisk in strained oyster juice. And then slowly add milk, whisking constantly to incorporate. Cook over low to medium-low heat, stirring regularly, until mixture is steaming and bubbles just start to appear around the edge of the saucepan. Do not let mixture come to a boil. Turn heat down just a bit to low, and let cook for 10 minutes.
Add oysters and cook for 2 more minutes, or until oysters start to curl. Taste test and add a bit more salt if you like. Black pepper and fresh chopped parsley are optional.
I like to eat oyster stew with oyster crackers. Saltines would also work.
Notes
Note: While fresh oysters are always the preferred choice for oyster stew, canned or jarred oysters can be used when fresh raw oysters are not available.
Recipe altered just a bit from my mom's recipe box.
Nutrition Information:
Yield: 4
Serving Size: 1
Amount Per Serving:
Calories: 198
Total Fat: 14g
Saturated Fat: 8g
Trans Fat: 0g
Unsaturated Fat: 5g
Cholesterol: 43mg
Sodium: 677mg
Carbohydrates: 15g
Fiber: 0g
Sugar: 10g
Protein: 4g
Nutrition information is automatically calculated by Nutritionix. I am not a nutritionist and cannot guarantee accuracy. If your health depends on nutrition information, please calculate again with your own favorite calculator.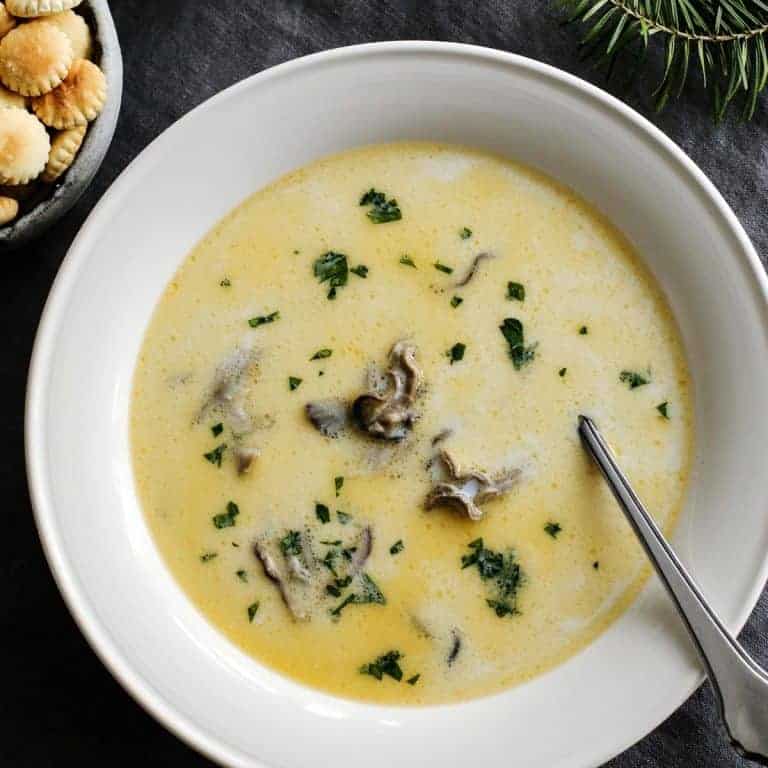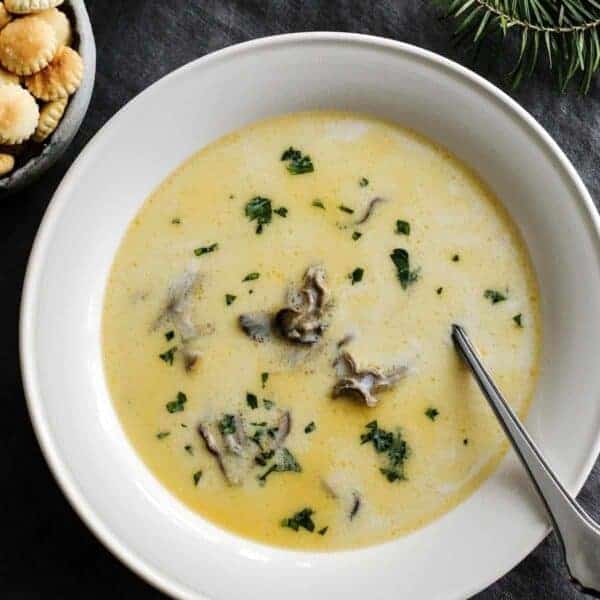 We participate in the Amazon Services LLC Associates Program, an affiliate advertising program designed to provide a means for us to earn fees by linking to Amazon.com and affiliated sites. See our
disclosure policy
for more info.