Crab Bisque
Rich and lightly creamy, with just a touch of heat, this Crab Bisque recipe is filled with flavor from the sea. It's fancy enough to serve for a special dinner but also easy enough to enjoy on a weeknight!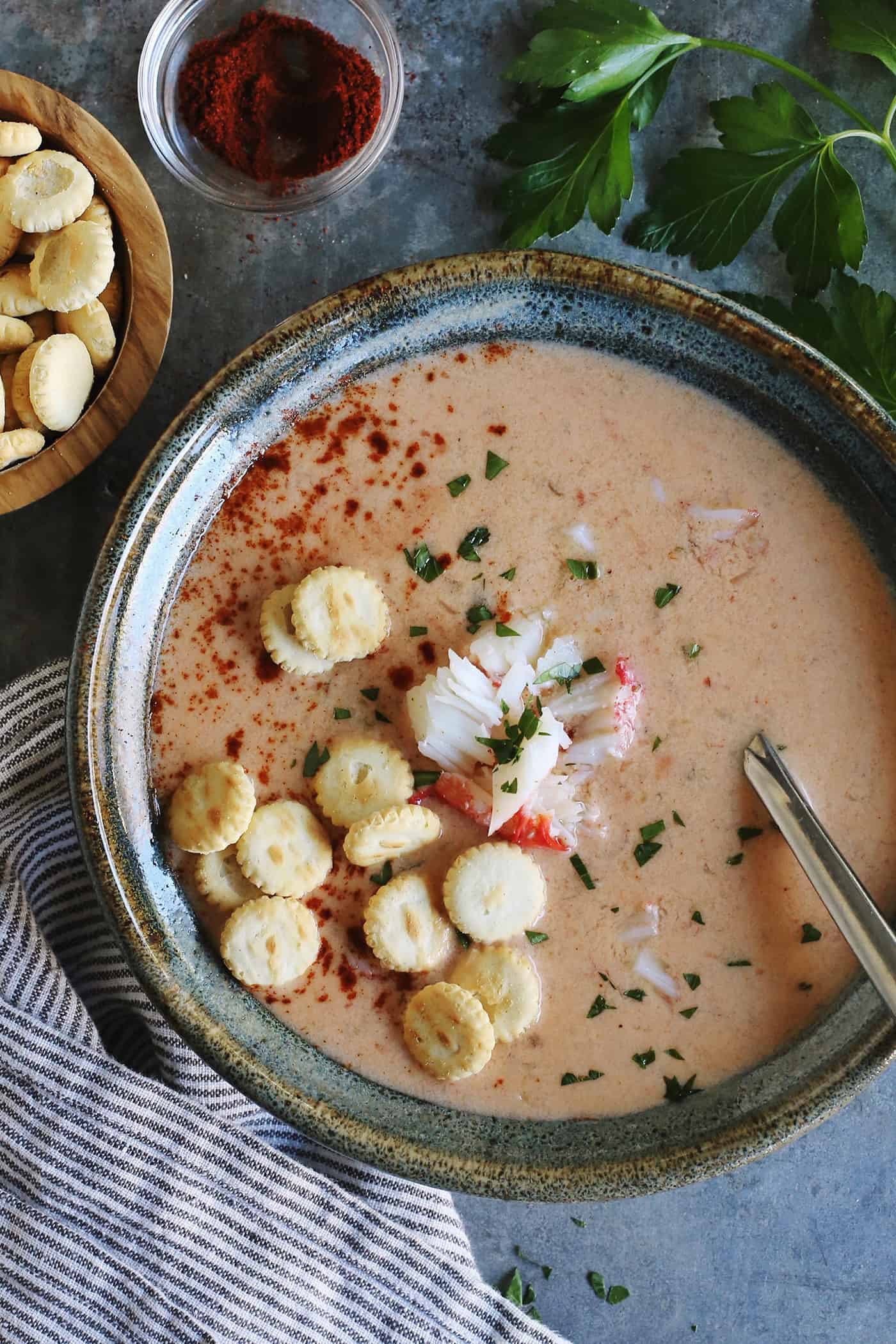 An Easy Bisque Recipe
The first time we ate Crab Bisque, Blake and I were on an Alaskan cruise. We had been out since 5 am, on two different land excursions. The first one got us up close and personal to Sawyer Glacier on a small catamaran. And the second excursion had us flying over Mendenhall Glacier in a helicopter and riding on dog sleds. It was an absolutely AMAAAAAZING day!
But being out in the fresh, cold air all day, we were hungry and needing some comfort food by the time the helicopter brought us back to Juneau. We headed to the famous Tracy's King Crab Shack on the wharf and ordered king crab bisque, spiced king crab cakes, and gigantic king crab legs. Our king crab feast was fabulously delicious!!
And after we returned home to Minnesota, I got back in the kitchen and created my own crab bisque. This easy bisque recipe is rich and lightly creamy, packed with sweet flavor from the sea. With rich tomato depth, plus a touch of heat, it just begs to be eaten with salty crackers and soft, warm bread.
Scroll past the recipe card in this post for more on our trip to Alaska.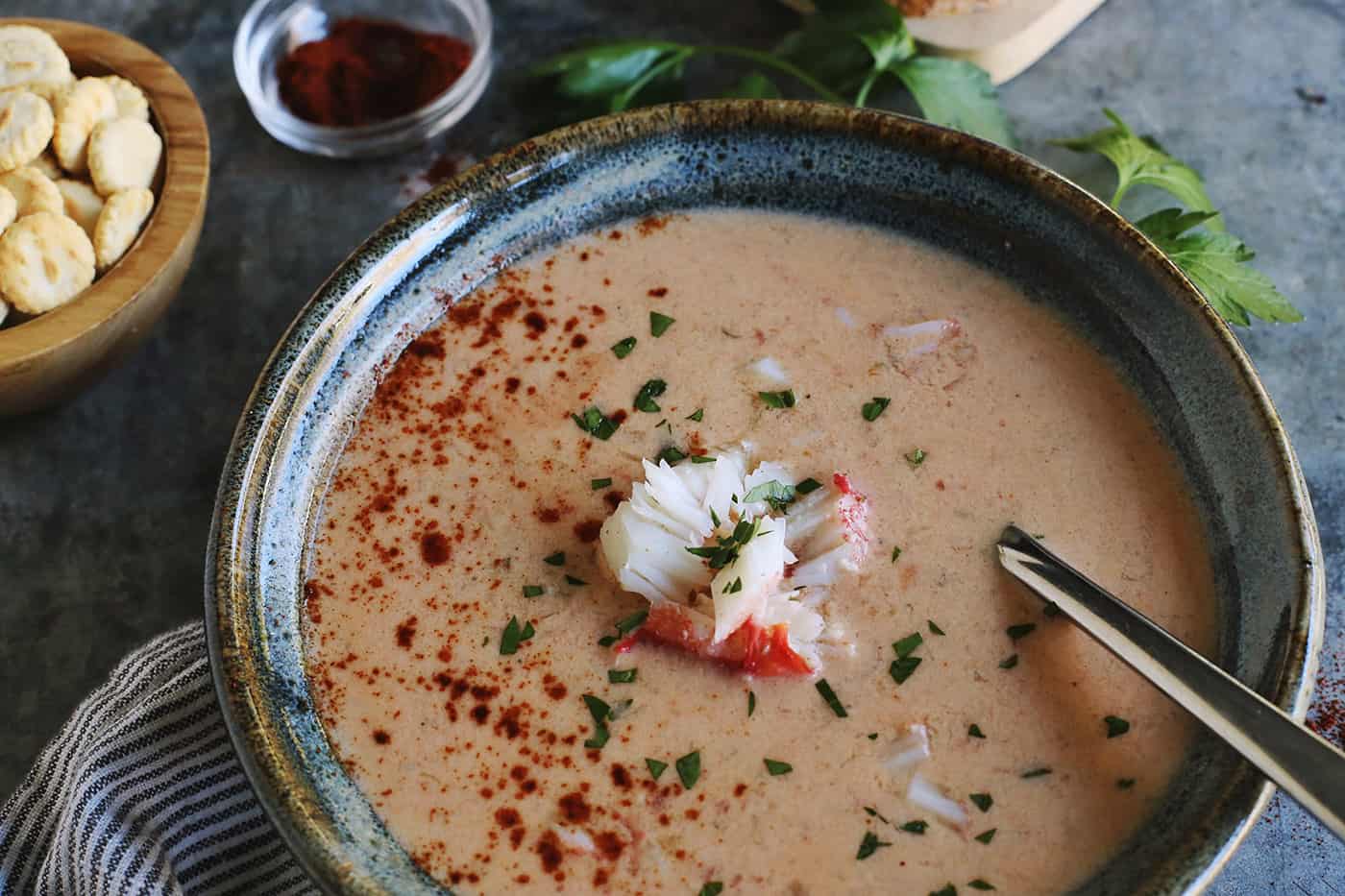 Bisque vs Soup: What's the Difference?
A bisque is a type of soup, but not all soups are bisques. Traditionally a bisque has a seafood stock broth and a creamier base than soup. It's smooth and creamy while being thinner than a chowder or cream soup. Bisques are also often blitzed with an immersion blender so that all ingredients are blended in with the broth, instead of having individual ingredients in a broth like most soups.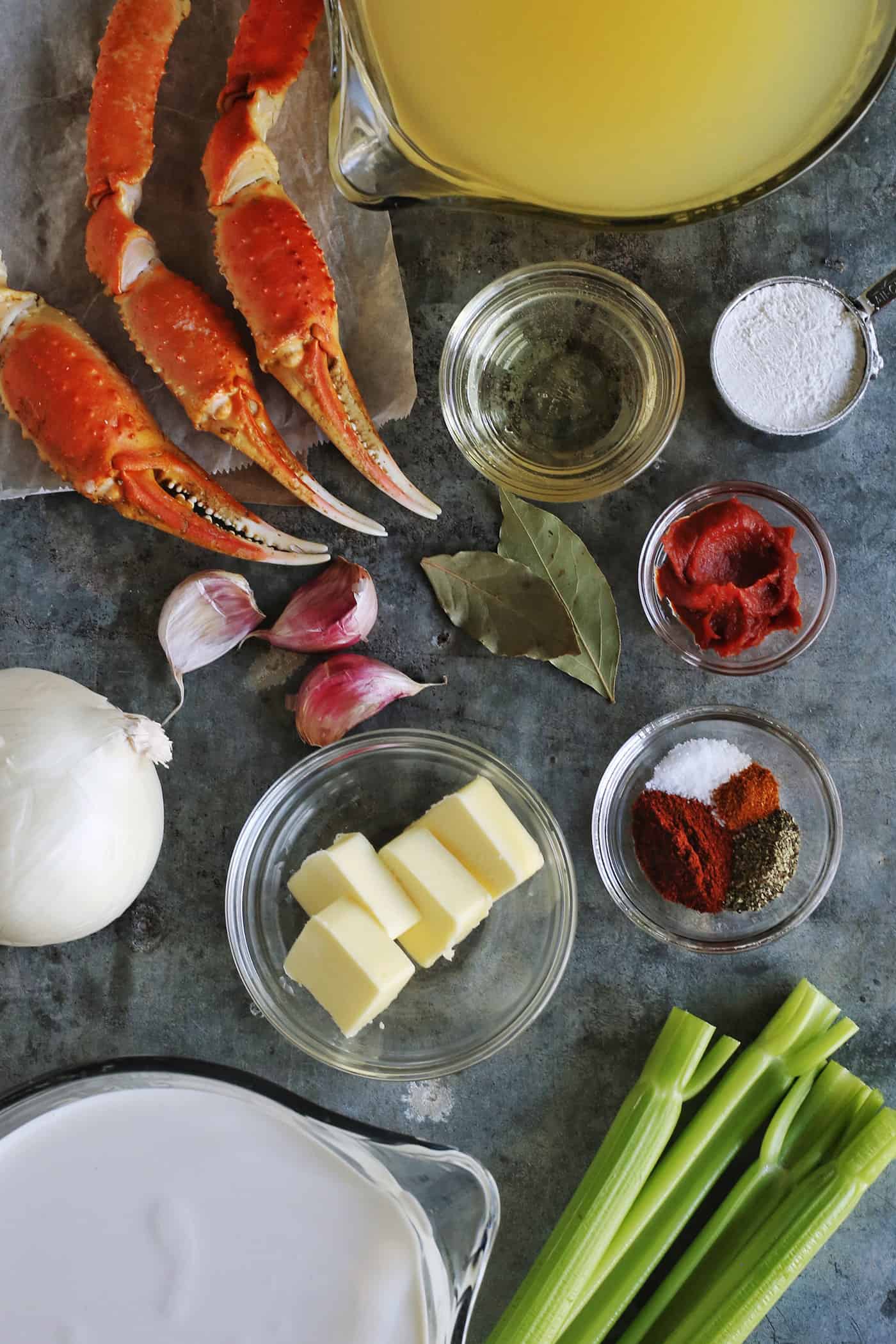 What You'll Need
Like most bisques, this crab soup relies on cream, butter, and seafood stock, along with a handful of other ingredients.
Unsalted butter – I love the flavor and creaminess that butter adds to soups!
Onion, celery & garlic – Sauté these. This give more flavor to the overall recipe.
All-purpose flour – Thickens the broth just a bit.
Seafood stock – Ensures every spoonful has seafood undertones. In a pinch, use chicken or vegetable stock.
Half & half – Creates the rich, lightly creamy texture.
Salt & pepper
Crushed tomatoes – Add for fresh tomato flavor, plus a little extra body to the soup's texture.
Tomato paste – I like to add this to many of my soups. It gives rich, concentrated tomato flavor.
Spices – Smoked paprika and cayenne pepper add a little heat to this bisque.
Lump crab meat – Use fresh or thawed frozen crab.
Dry white wine – You can also use dry sherry.
Bay leaves and parsley – I like the flavor that bay leaves give to soups. Add some chopped parsley for fresh garnish if you like.
How to Make Crab Bisque
It's easy to make crab bisque. Just not so easy to wait to eat it!
Prepare the broth. Sauté the onion, celery, and garlic in butter until soft. Stir in the flour and cook for 2 minutes. Whisk in the broth and bring to a boil. Then reduce the heat, add the bay leaf, and simmer for 15 minutes.
Add half & half and remaining flavorings. Then add the half & half, followed by the white wine, crushed tomatoes, tomato paste, paprika, cayenne, salt, and pepper.
Blend. Use an immersion blender to blend until smooth.
Add the crab. Reduce the heat, then add the crab meat and cook until heated through.
Serve. Ladle into bowls and top with fresh parsley and a sprinkle of smoked paprika.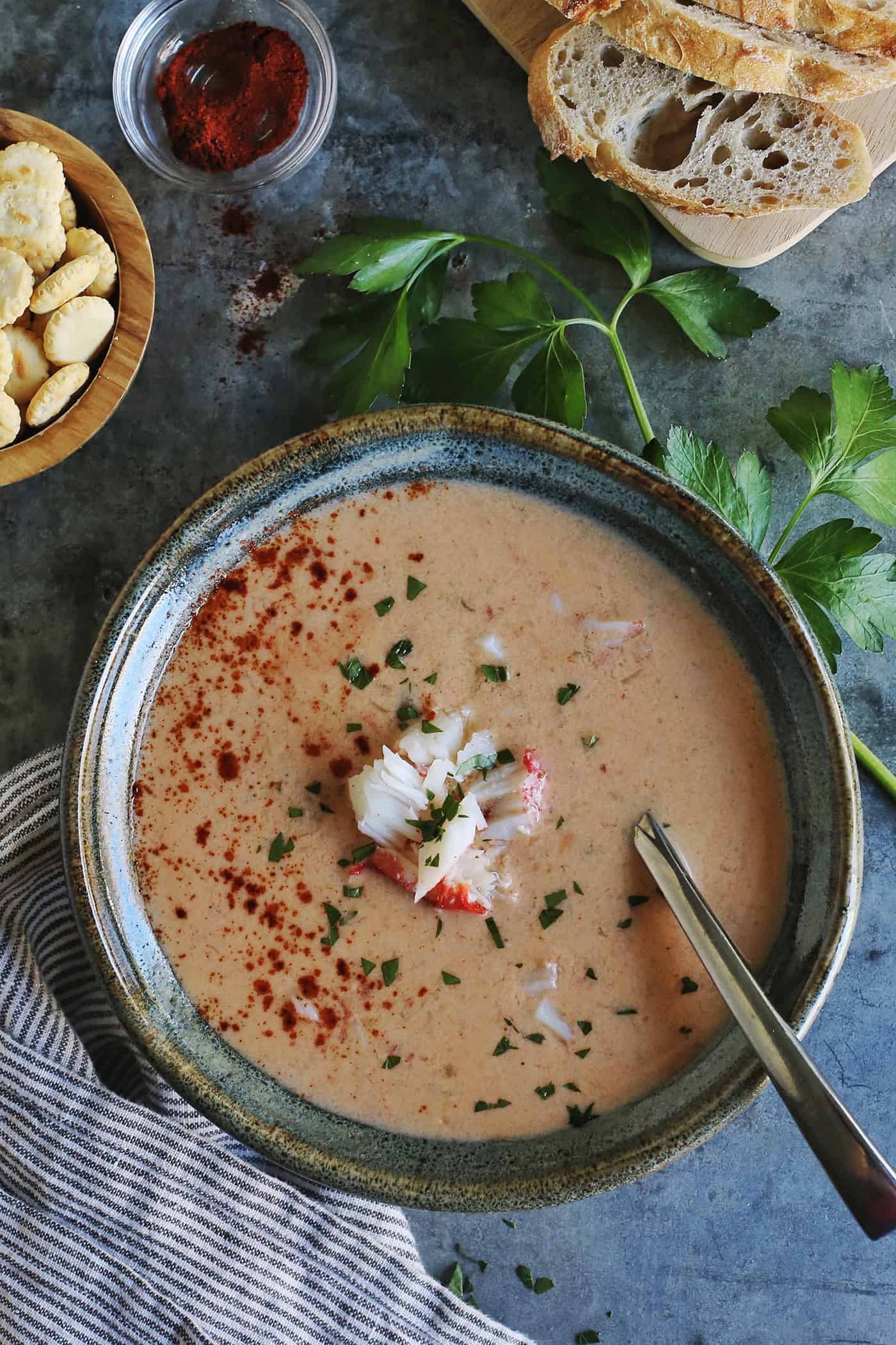 Tips for Success
For the best crab bisque, keep these things in mind.
Adjust the seasonings. This crab bisque has a mild level of heat that I find to be pretty perfect. However, feel free to kick it up a notch or turn it down a bit by adjusting the seasonings.
Scrape the bottom of the pot. While the broth simmers, occasionally give it a stir and scrape the bottom of the soup pot. This helps to prevent the creamy soup from building up and burning on the bottom of pot.
Don't over-cook the crab. The crab only needs to cook until heated through. Take care to not overcook as it can make the crab tough.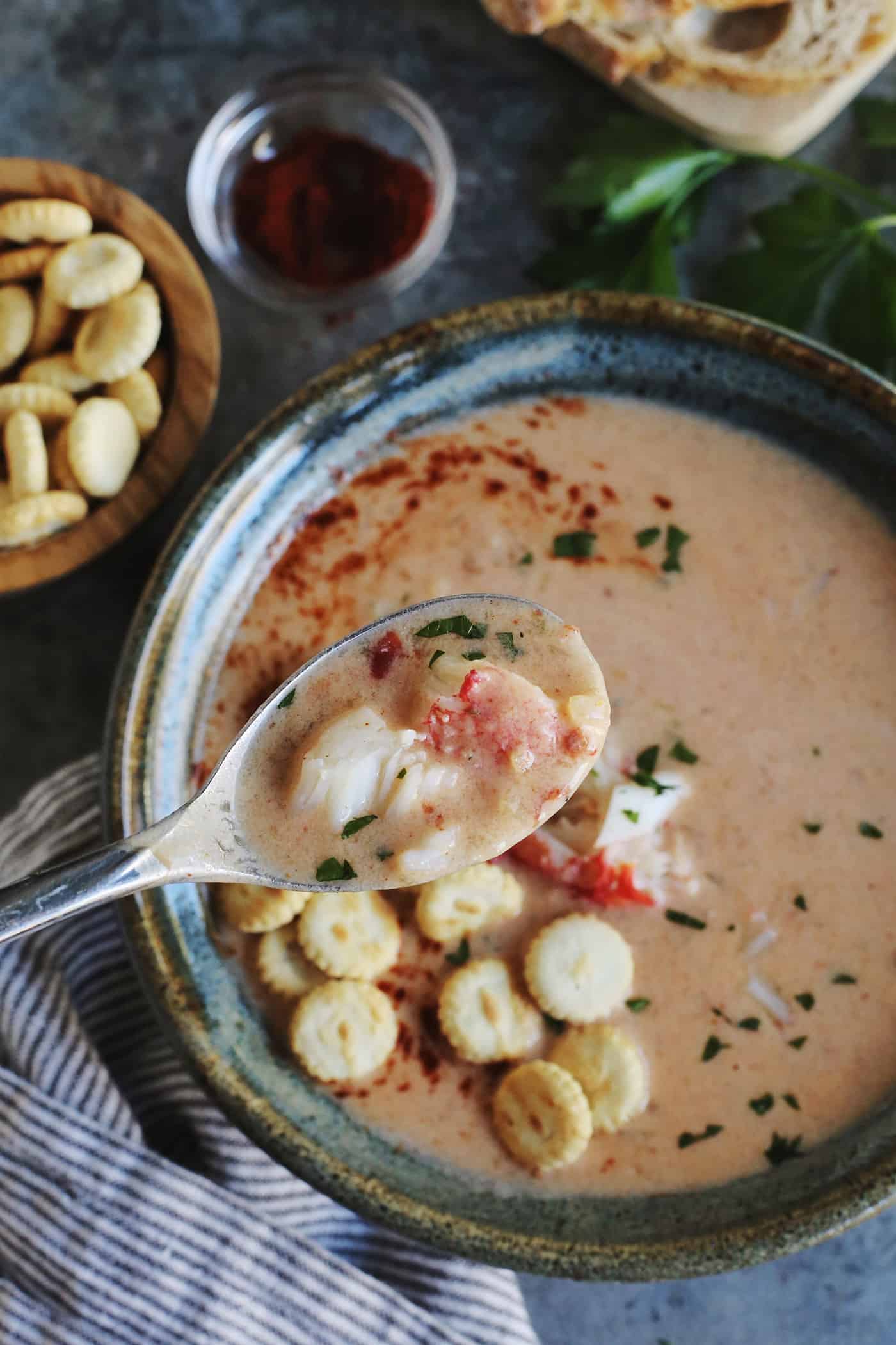 Serving Suggestions
I usually top this bisque recipe with a handful of crispy, salty oyster crackers. A soft, fluffy roll or slice of warm, crusty bread is also a great way to soak up every bit of the broth.
I'm not quite sure how I got on this kick, but I like to serve soup in mugs, when we're being super casual at home. It's a fun way to enjoy a comfort meal, with your hands cupped around a mug!
If you want to turn this into a bigger meal, add a salad or grilled cheese sandwich!
How to Store Leftovers
How to store leftovers. Store leftover bisque in the fridge for 2 to 3 days, in an airtight container.
Can I freeze crab bisque? Allow the bisque to cool, then transfer to a freezer baggie or other container. Freeze for up to 2 months. Thaw in the fridge.
How to reheat leftovers. Reheat any leftover crab bisque on the stovetop or in the microwave.
More Soup Recipes:
Like this soup recipe? Save it to Pinterest!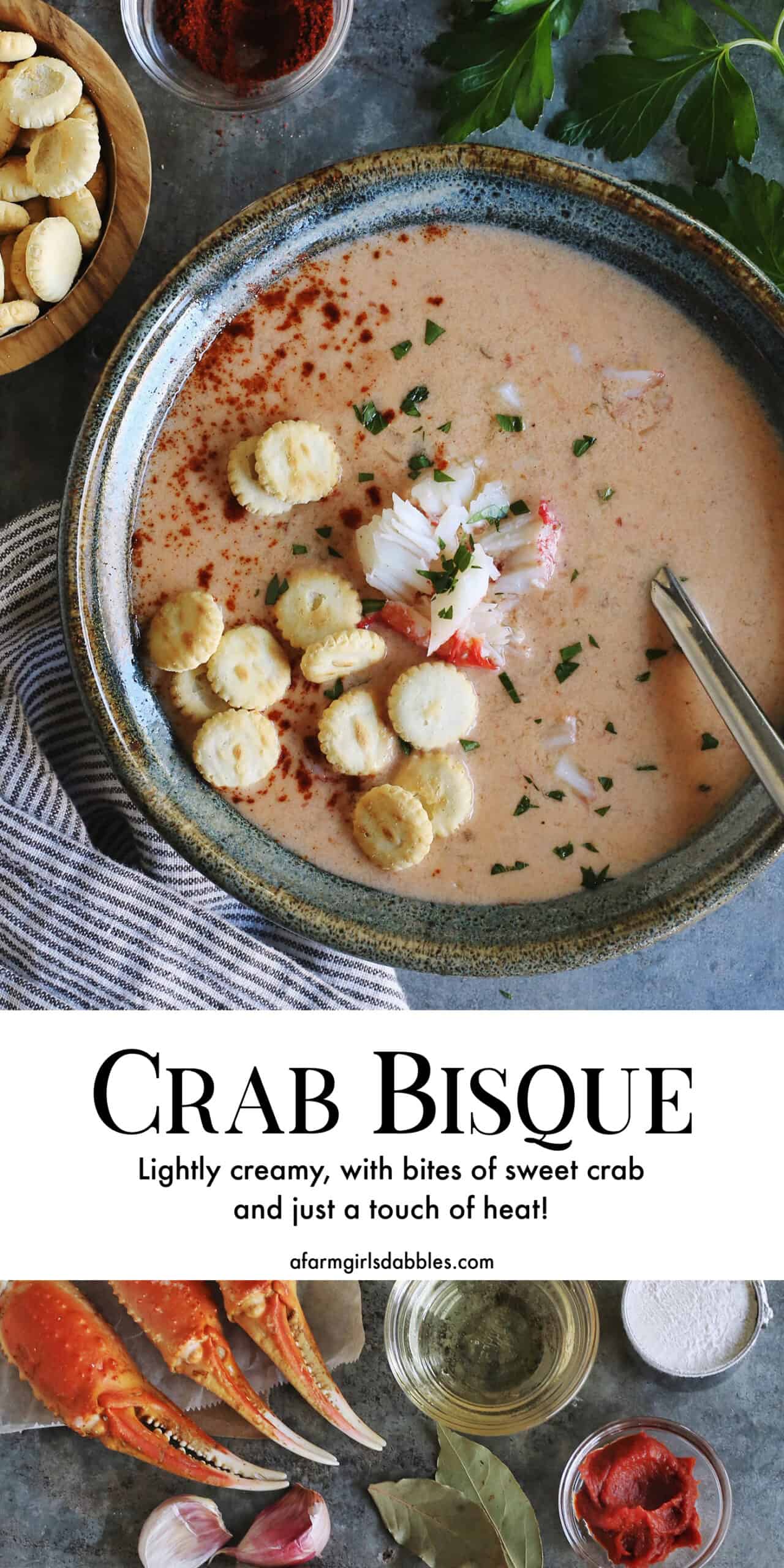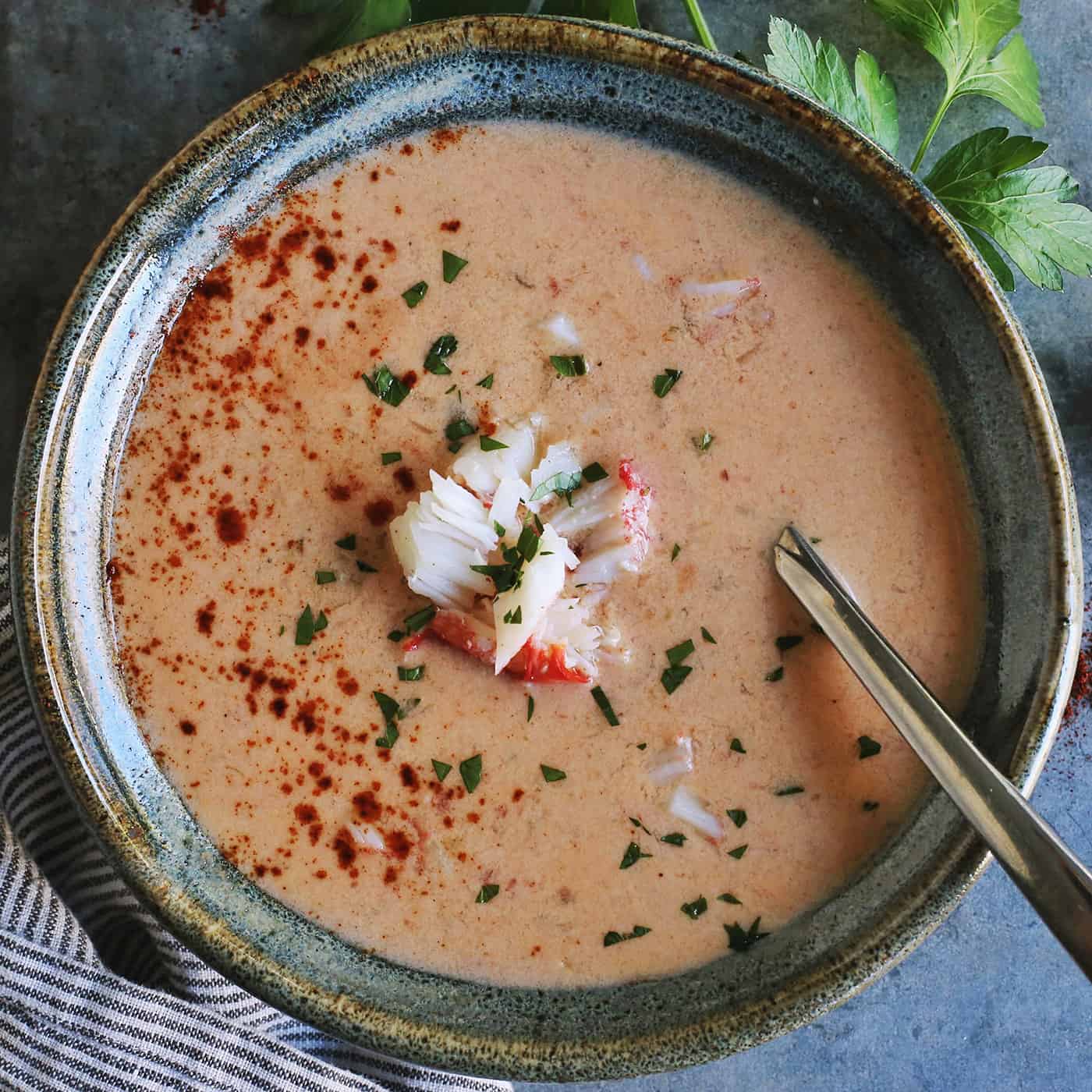 Crab Bisque
Yield: 6 servings
Prep Time: 15 minutes
Cook Time: 35 minutes
Total Time: 50 minutes
Rich and lightly creamy, with just a touch of heat, this Crab Bisque recipe is filled with flavor from the sea. It's fancy enough to serve for a special dinner but also easy enough to enjoy on a weeknight!
Ingredients
4 tablespoons unsalted butter
1 medium white onion, finely chopped
4 ribs celery, finely chopped
3 large cloves garlic, minced
1/4 cup all-purpose flour
6 cups seafood stock (or substitute chicken or vegetable stock)
2 cups half & half
1/4 cup dry white wine (or substitute sherry)
1/2 cup canned crushed tomatoes
3 tablespoons tomato paste
1 teaspoon smoked paprika
1/8 teaspoon cayenne pepper
1 teaspoon kosher salt
1/2 teaspoon freshly ground black pepper
2 bay leaves
1 to 2 pounds fresh or thawed frozen lump crab meat, depending on how much crab you want!
1/3 cup minced fresh parsley
Instructions
In a large soup pot over medium heat, melt the butter. Add onion and celery and sauté for 7 minutes, or until soft. Add garlic and sauté 1 minute longer.
Stir in flour and cook, stirring regularly, for 2 minutes. Slowly pour in 1 cup of the broth, whisking to break up any clumps. Then pour in the remaining broth and whisk again to incorporate.
Turn heat up to medium-high and bring broth to a boil. Then turn heat back down to medium, add the bay leaves, and simmer for 15 minutes. Add half & half and bring mixture back to simmering, stirring and scraping the pan bottom occasionally. Stir in white wine, crushed tomatoes, tomato paste, paprika, cayenne, salt, and pepper, and then very carefully blend the mixture with an immersion blender until smooth.
Reduce heat to medium-low and stir in the crab meat. Cook until heated through, about 5 to 10 minutes. Taste, adding more salt and pepper if needed.
Ladle into bowls or mugs and garnish with fresh parsley, plus a sprinkle of smoked paprika. Serve with oyster crackers and/or soft bread.
Notes
from a farmgirl's dabbles
Nutrition Information:
Yield: 6
Serving Size: 1
Amount Per Serving:
Calories: 615
Total Fat: 35g
Saturated Fat: 20g
Trans Fat: 1g
Unsaturated Fat: 13g
Cholesterol: 272mg
Sodium: 1282mg
Carbohydrates: 21g
Fiber: 3g
Sugar: 8g
Protein: 49g
Nutrition information is automatically calculated by Nutritionix. I am not a nutritionist and cannot guarantee accuracy. If your health depends on nutrition information, please calculate again with your own favorite calculator.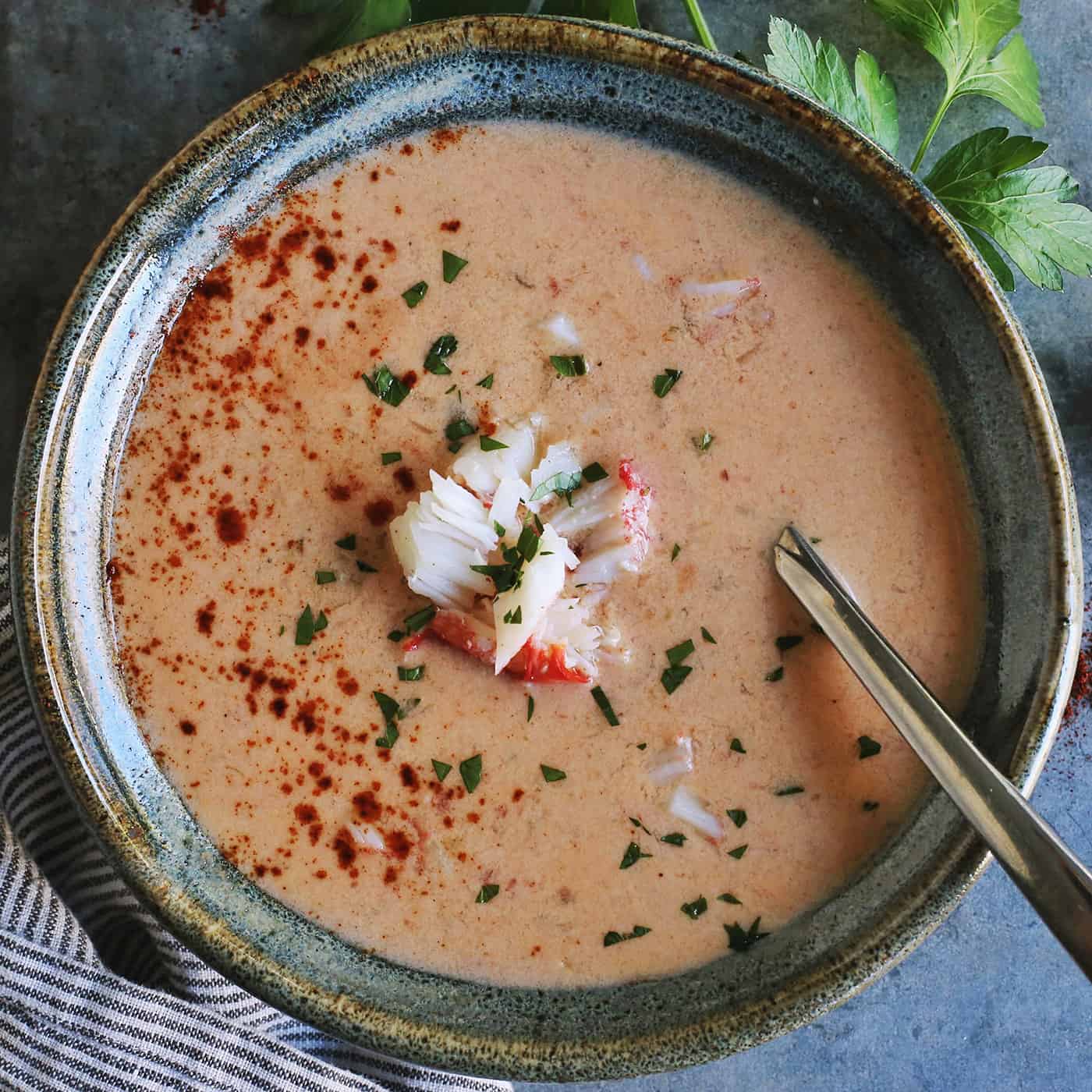 Want to learn more about our trip to Alaska?!
Our Alaska Cruise Experience
*This post was sponsored by Princess Cruises.
My husband was exhausted that evening. We had gotten to bed late the night before, and that morning our alarm rang extra early, reminding us of our adventure-filled day ahead, complete with two much-anticipated shore excursions. We were in Juneau, Alaska, guests of Princess Cruises, and loving every moment of this captivating experience.
When our excursions had ended for the day, we were pumped with adrenaline, but our bodies were aching for rest and a warm, hearty meal. We had been active from 5 am to 4 pm, and were depleted of energy. On the recommendation from a friend who had noshed her way through Juneau in a Taste of Juneau city walking excursion, we found our way to Tracy's King Crab Shack along the wharf. And that's where I got the inspiration for this crab bisque recipe.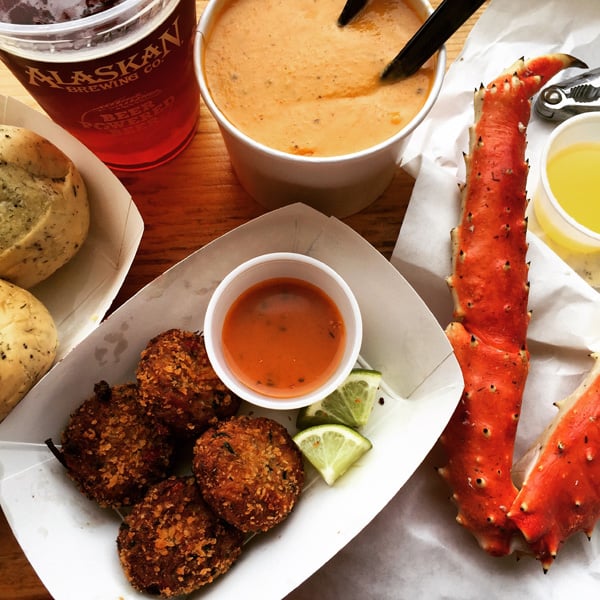 I had no idea how popular this casual little dining spot was, made famous by seafood lovers from around the world visiting Juneau. As suggested, Blake and I ordered both the king crab bisque and the spiced king crab cakes, along with a gigantic king crab leg that I simply couldn't resist and a cold glass of Amber from Alaskan Brewing Co. All the king crab on this trip was so crazy wonderful. And everything was so good at Tracy's that we even went back for a second order!
---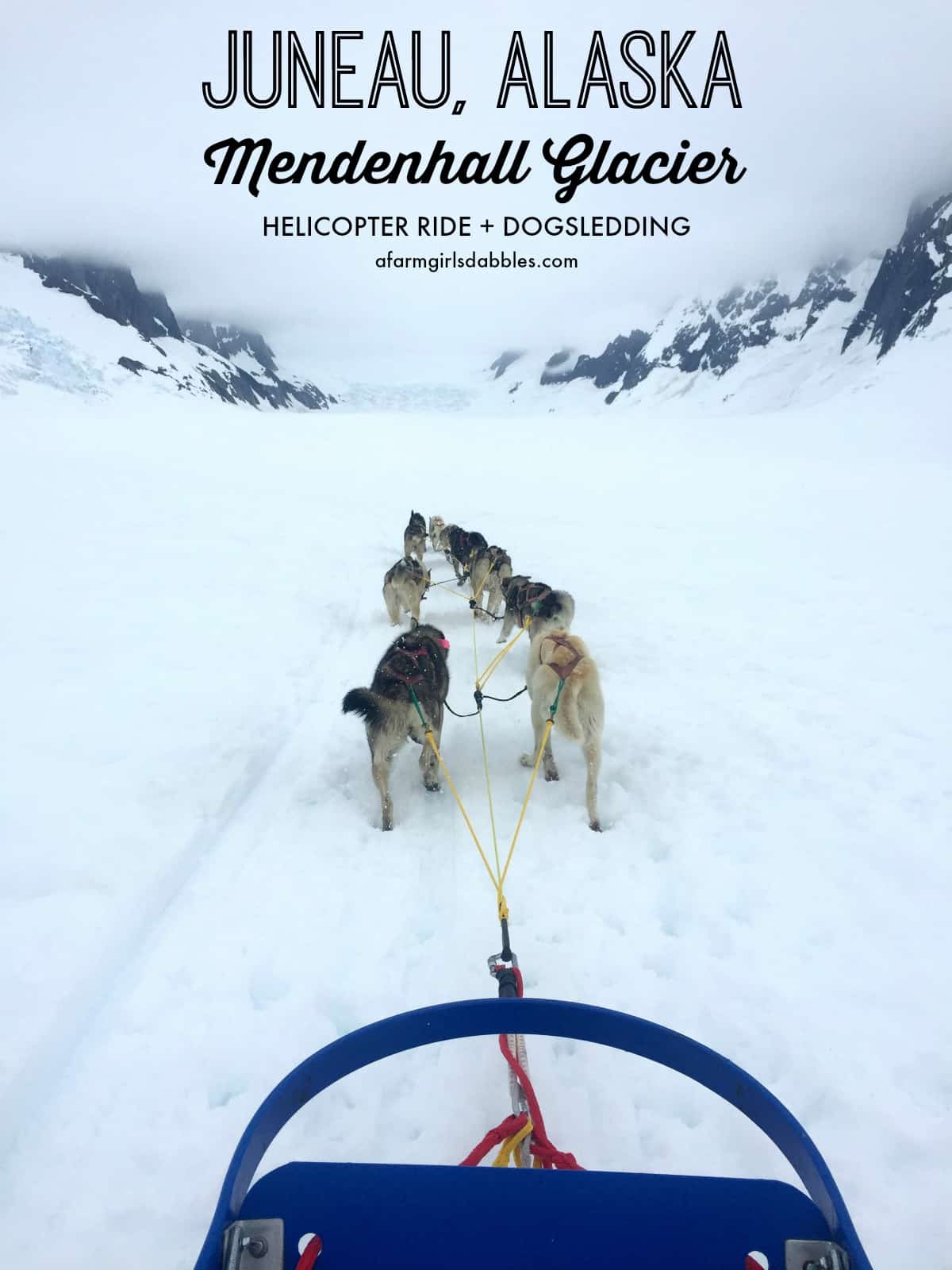 Our Juneau Shore Excursions
This excursion was our second of the day. Our first one took place earlier than "bright and early". With sleep in our eyes, we disembarked the Ruby Princess to travel the next six hours in a much smaller catamaran through Tracy Arm Fjord.
Our captain got us up close to Sawyer Glacier, one of the most beautiful and awe-inspiring scenes I've ever witnessed. We saw umpteen cascades falling from high in the snow-capped mountains, plus eagles, seals, and even a bear and a far-off whale. And that electric blue ice floating in the emerald green water…I will never forget the scene. You can read more about that earlier excursion here.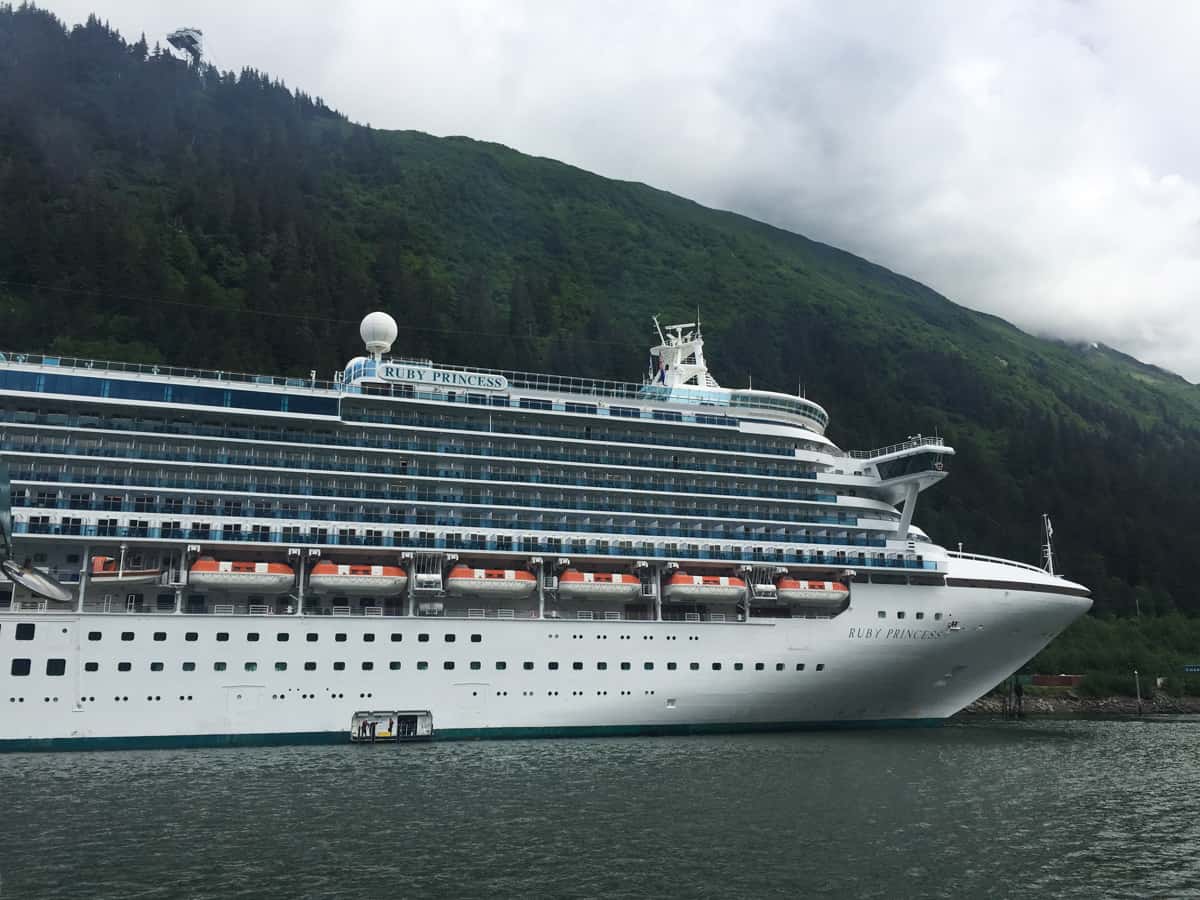 And then, as soon as that excursion was over, a new one began. We hustled through the buffet line in the Ruby Princess, grabbing a quick bite of sustenance, and then disembarked once more, this time our feet on the ground of Juneau, Alaska.
Fun Fact: Juneau is the most geographically secluded state capital in the U.S., the only one that cannot be reached by car. You can only access this town by boat or plane because it is surrounded by such rugged terrain.
We were then whisked off to the helicopter pad, in anticipation of our second excursion of the day. We were going to ride in a helicopter to land on Mendenhall Glacier at a dogsled camp!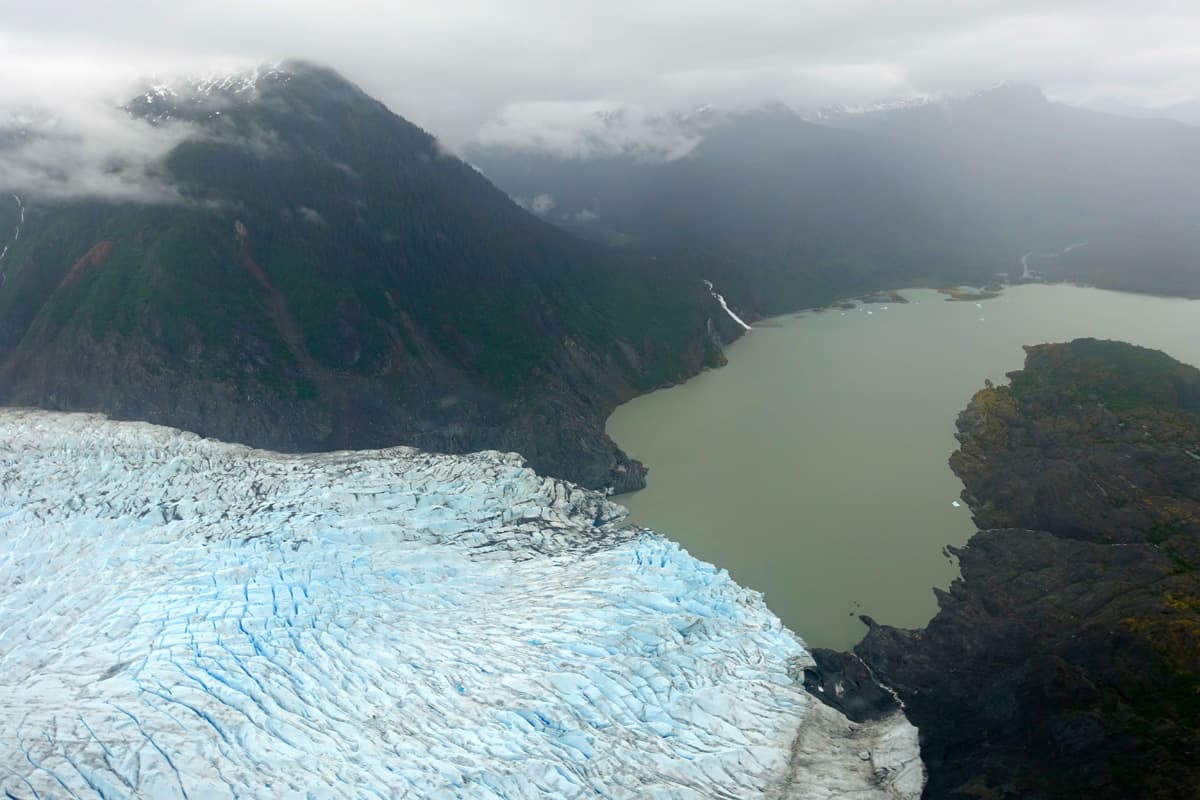 Our helicopter rose up above Juneau, through the low clouds and a brief encounter with rain, streaking wetness wildly across the domed glass of our windshield. This was my first helicopter experience, and it was such a thrill!
Shown above is a shot of our first sighting of Mendenhall Glacier, where it spills out in liquid form, retreating and shrinking into Mendenhall Lake below.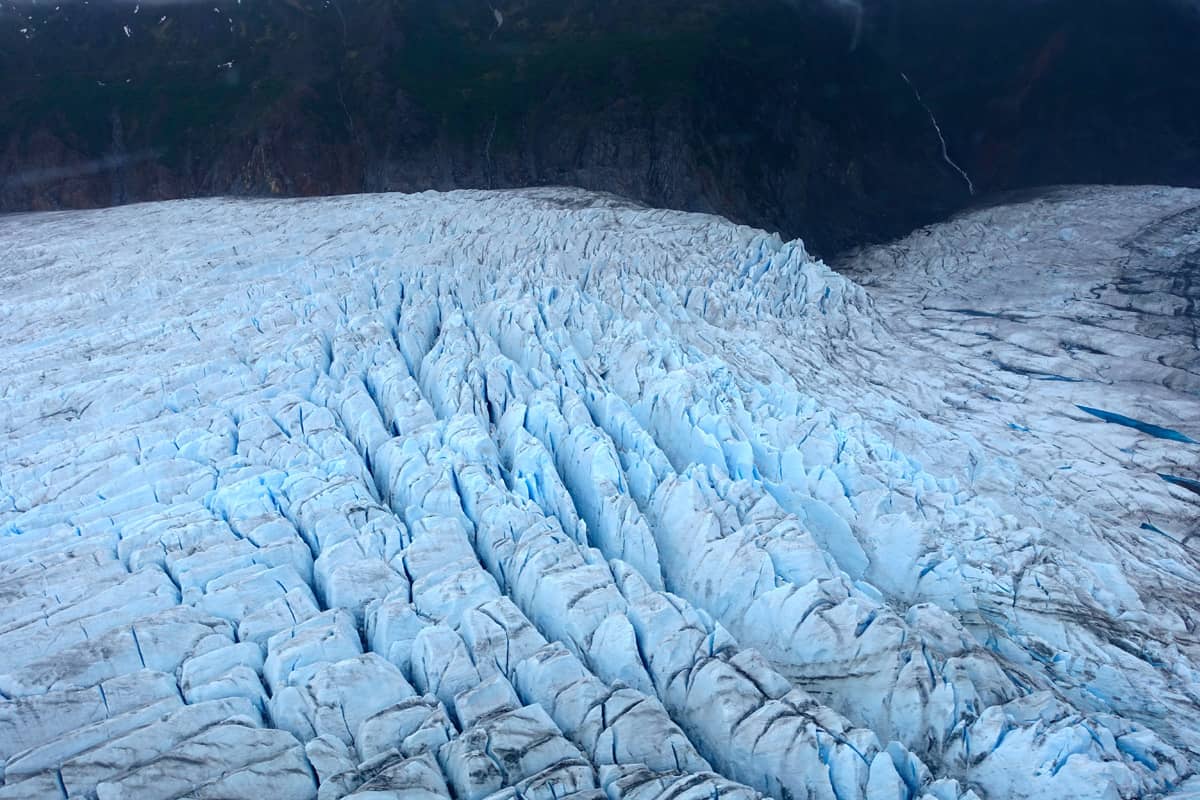 Flying over the glacier, we were mesmerized by the foreign landscape. It was the most amazing frosted blue color, cut with deep crevasses.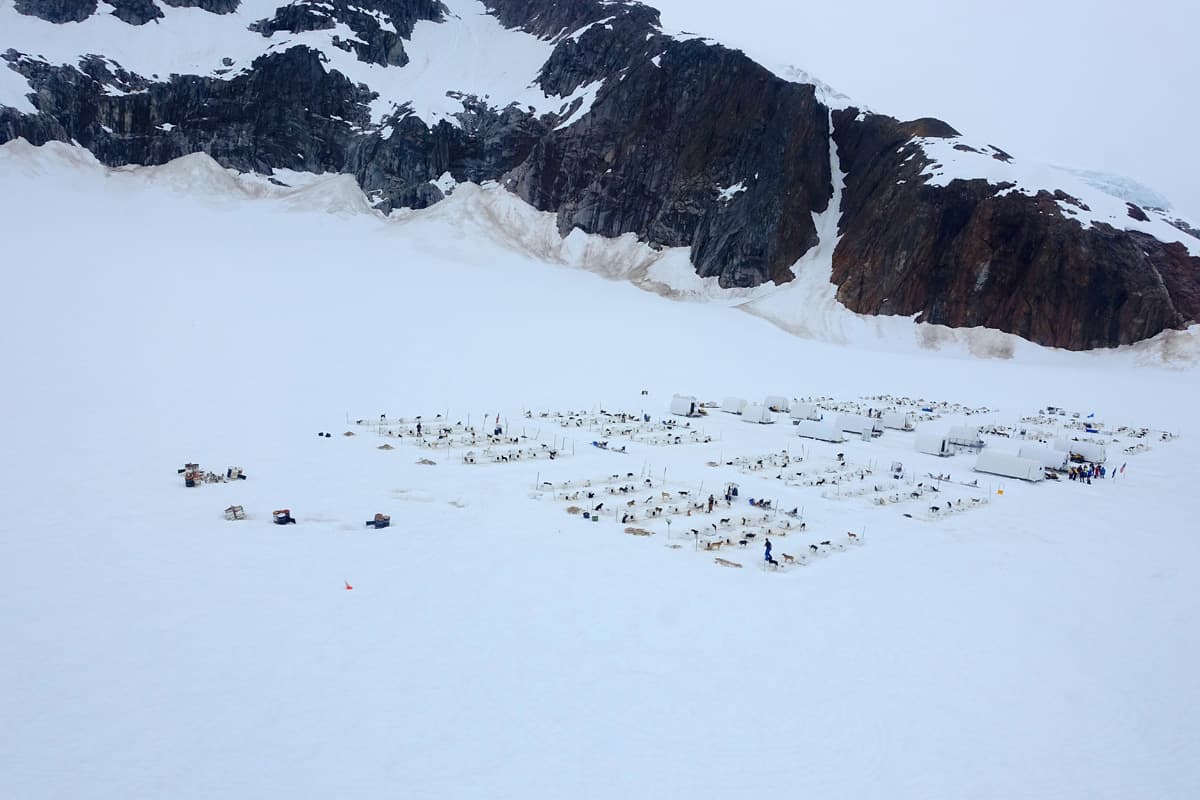 Our vantage point from the sky afforded us a fantastic overall view of the dogsled camp, a miniature city laid out in lanes of kennels and tents.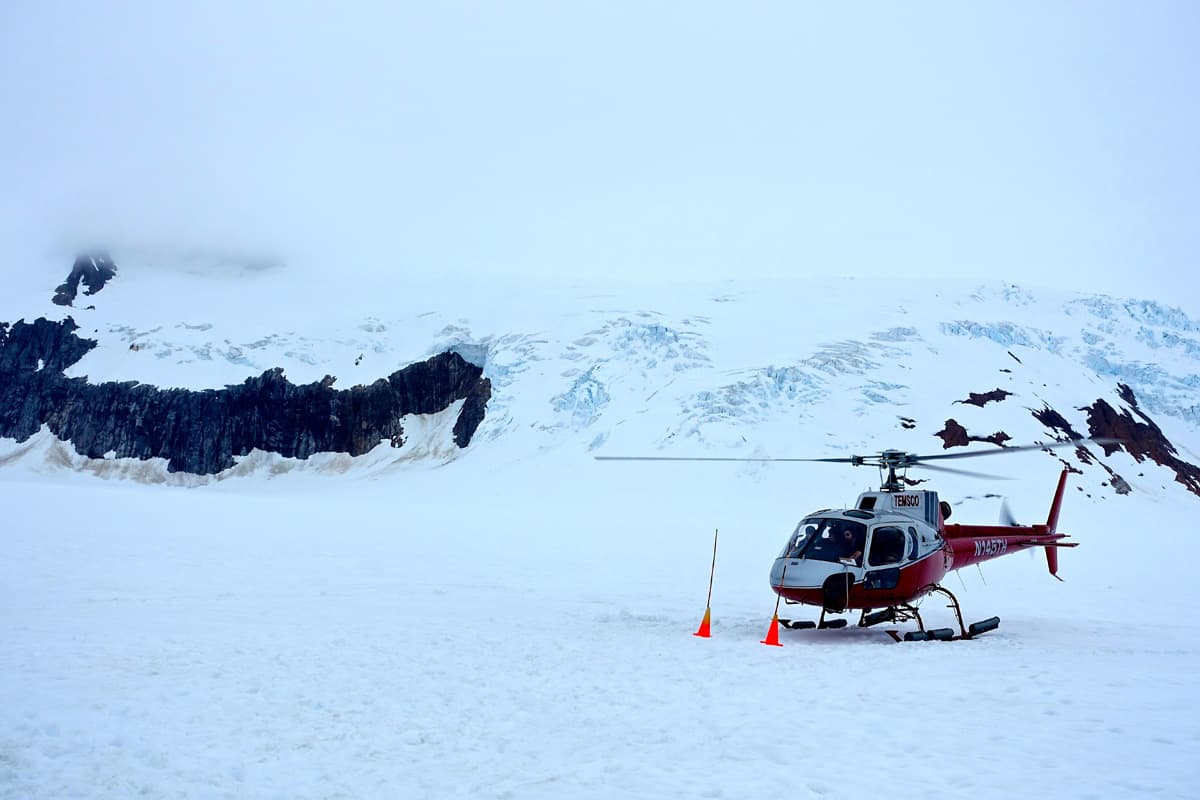 We landed right on Mendenhall Glacier, a thirteen-mile-long river of ice that is almost 2000 feet deep.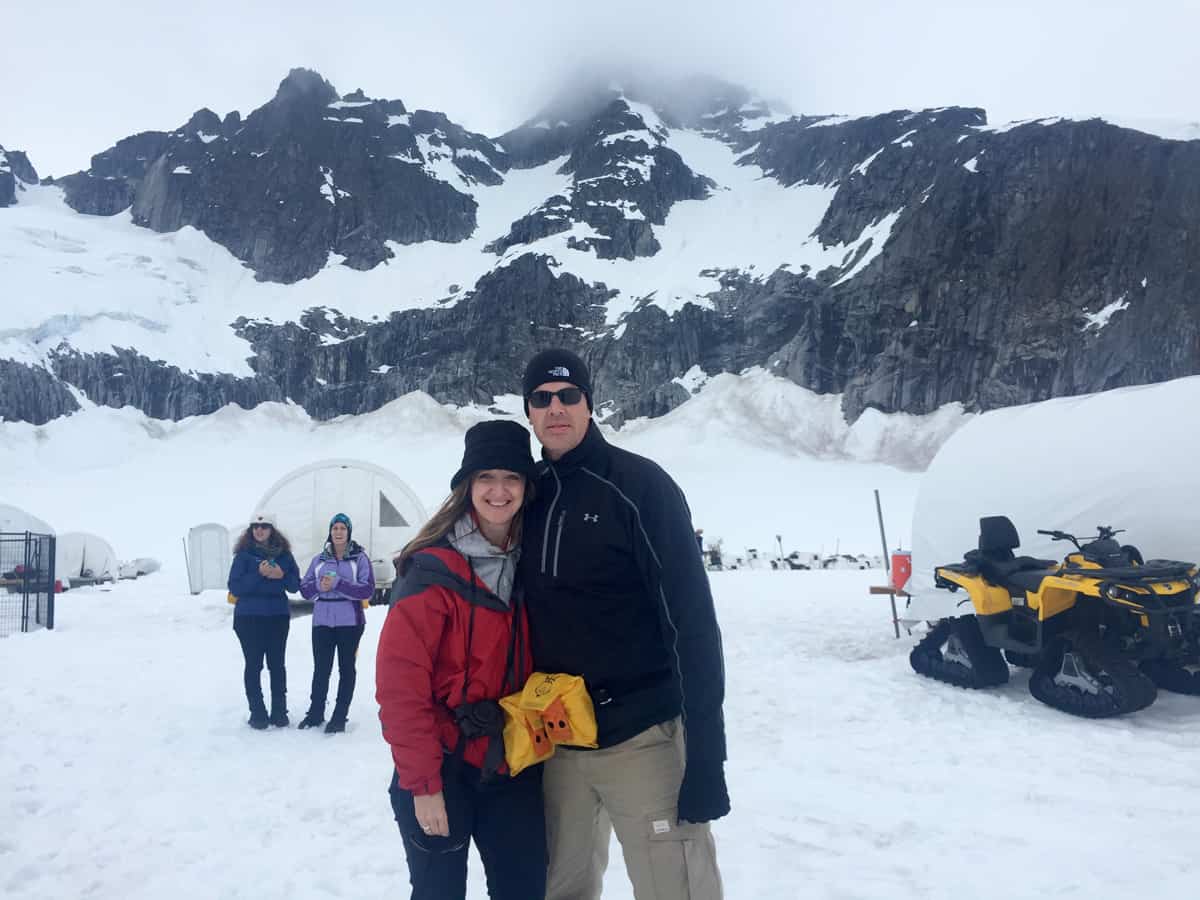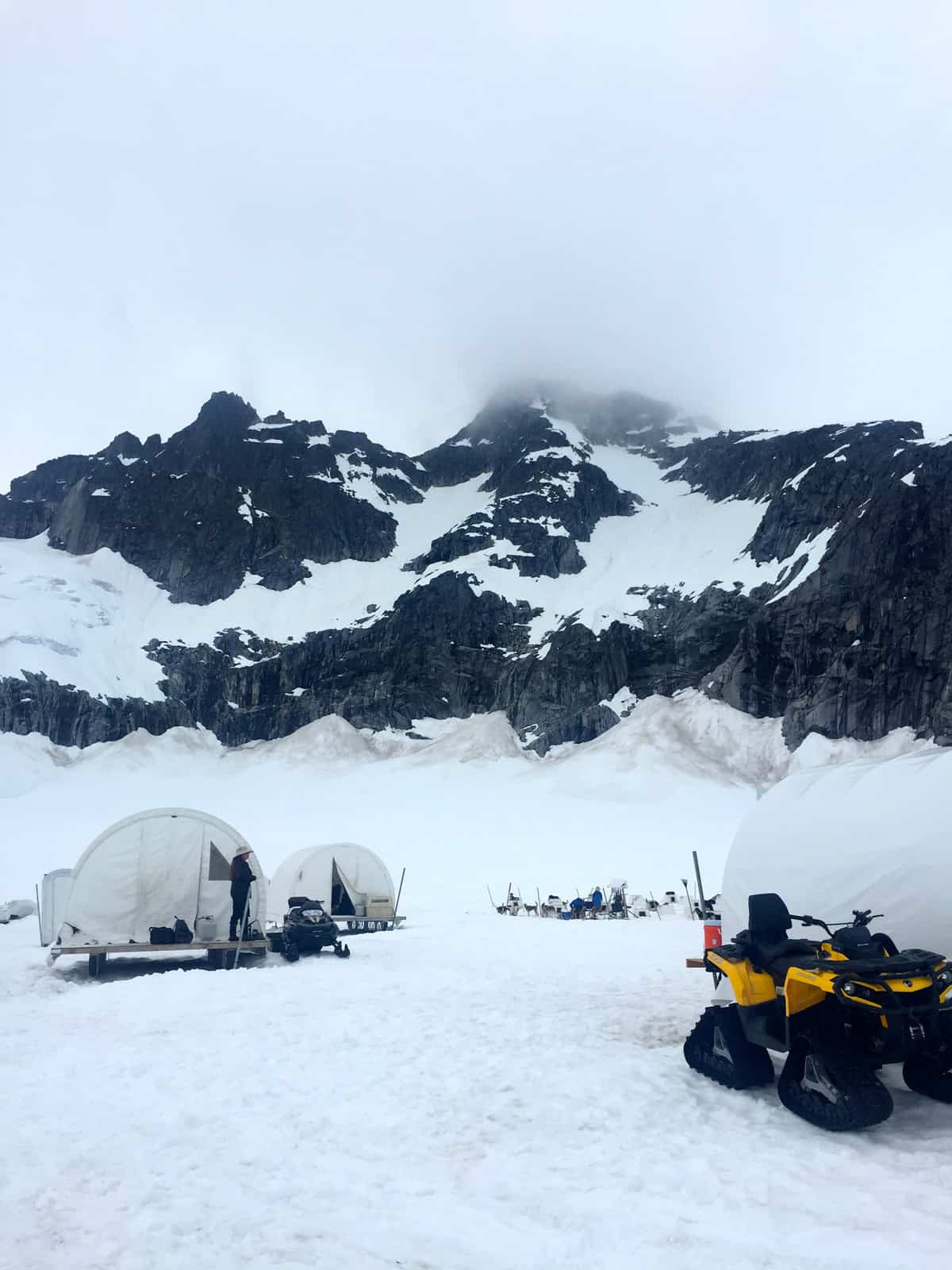 The cloud ceiling was heavy that day, like a hazy white weight suspended above us, enclosing us inside this snow-covered mountain cove. The overcast skies shrouded everything from ground to sky in a steely bluish tint.
Each summer, 19 people call this camp home, only returning to Juneau once a week by helicopter to take a proper shower.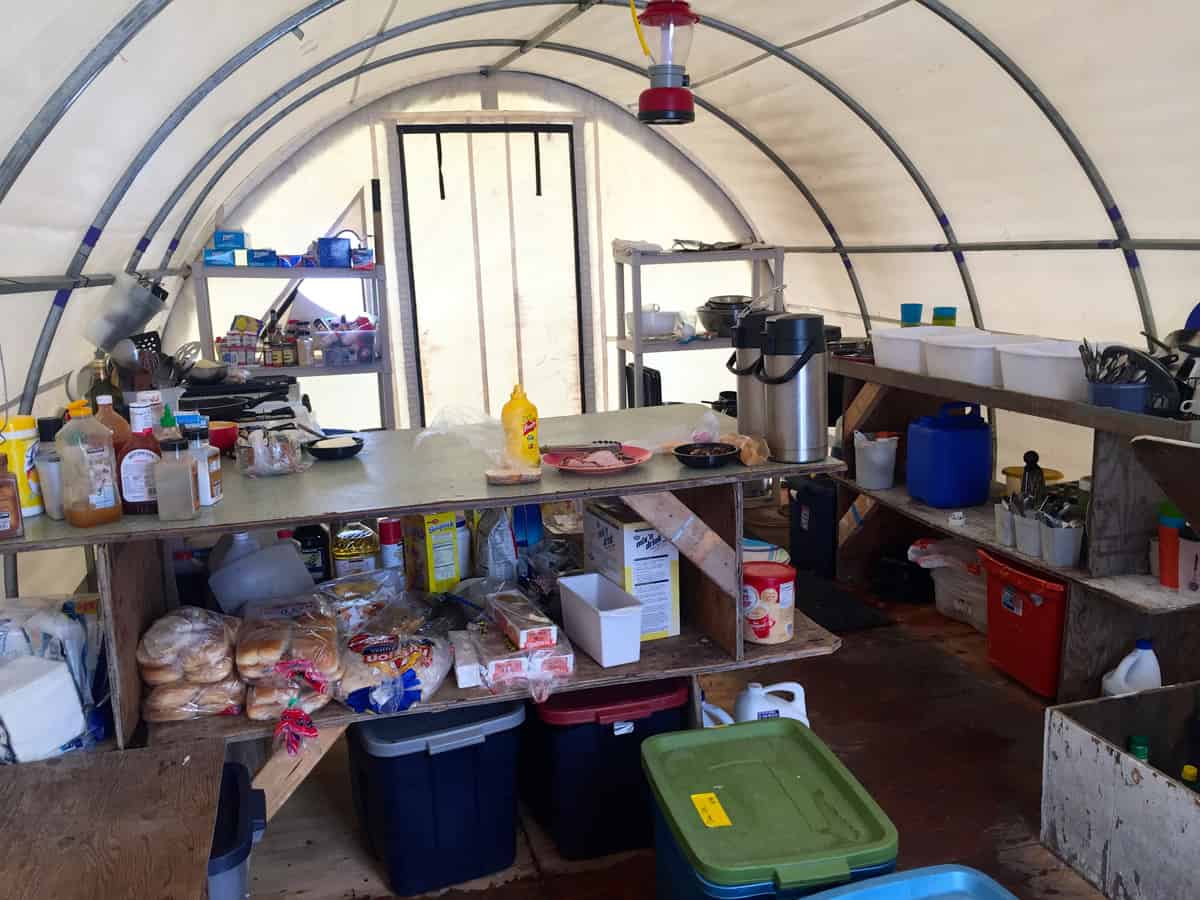 The camp has a dedicated kitchen tent with a full time cook.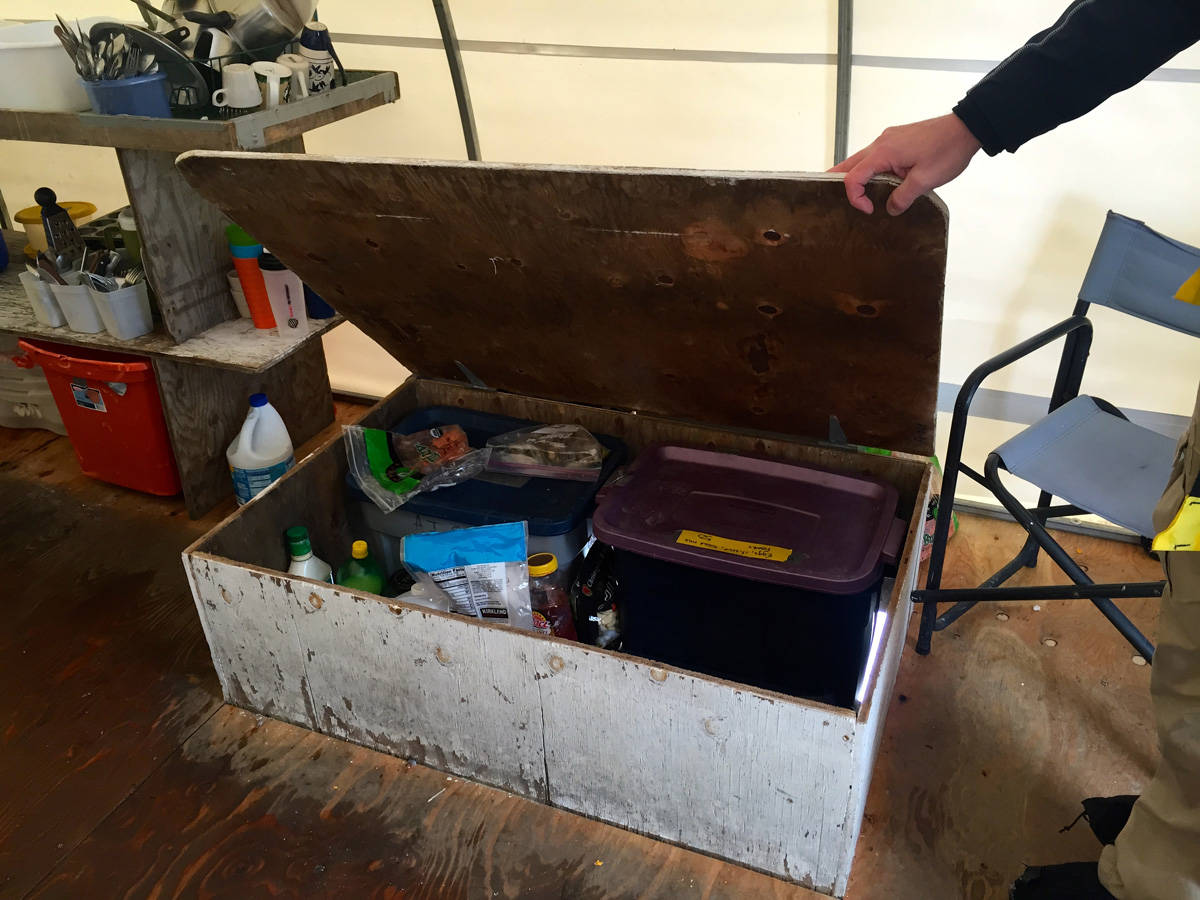 And their refrigerator is a box with the floor cut out, letting the food rest directly on the icy snow below.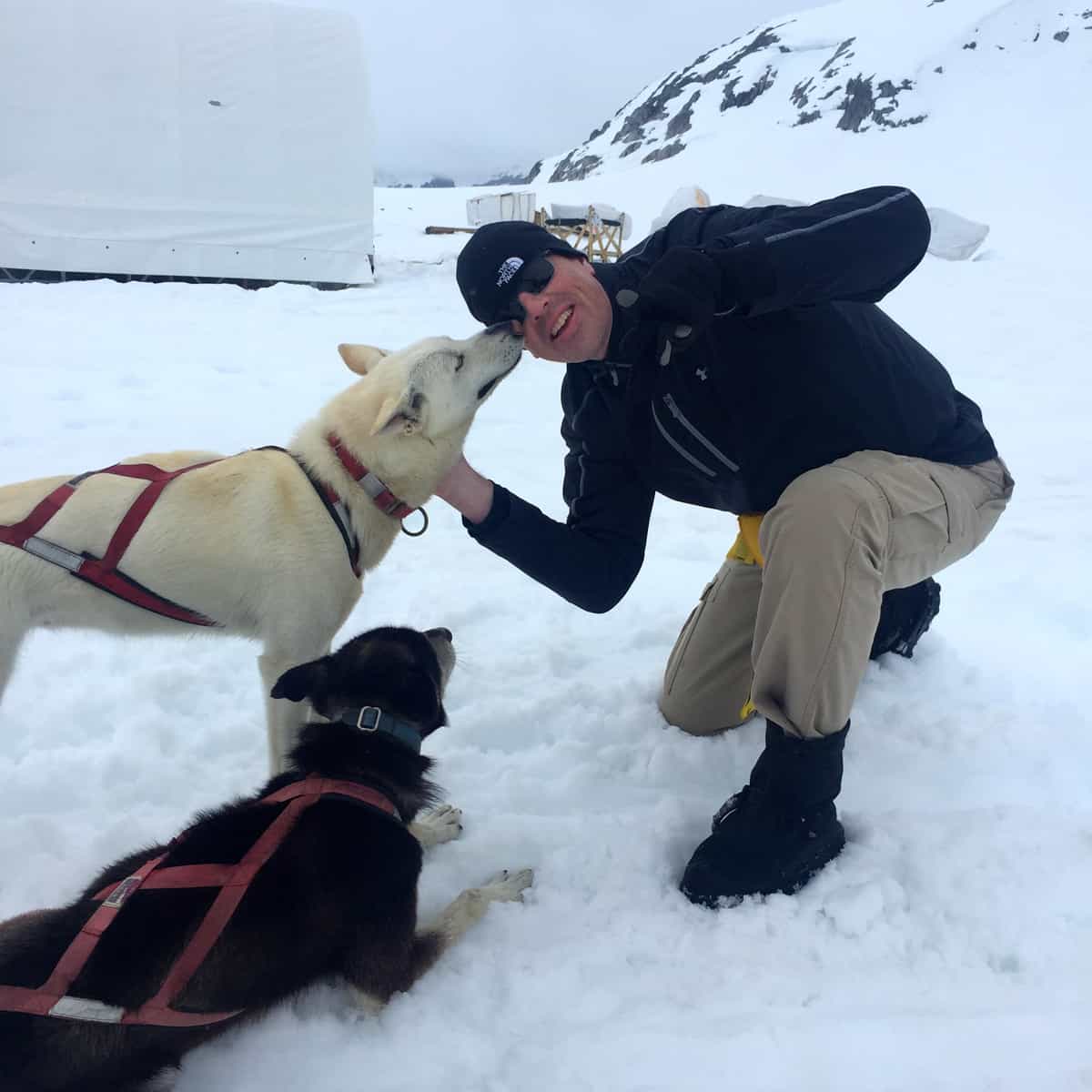 But canine are the main attraction here. During the summer months, this camp is the training grounds for 280 Alaska Huskies, the very friendly dogs that have made the Iditarod Dog Race famous. Blake made fast friends with Phoenix (white) and Tahoe (black), a sister and brother duo who run with the same sled.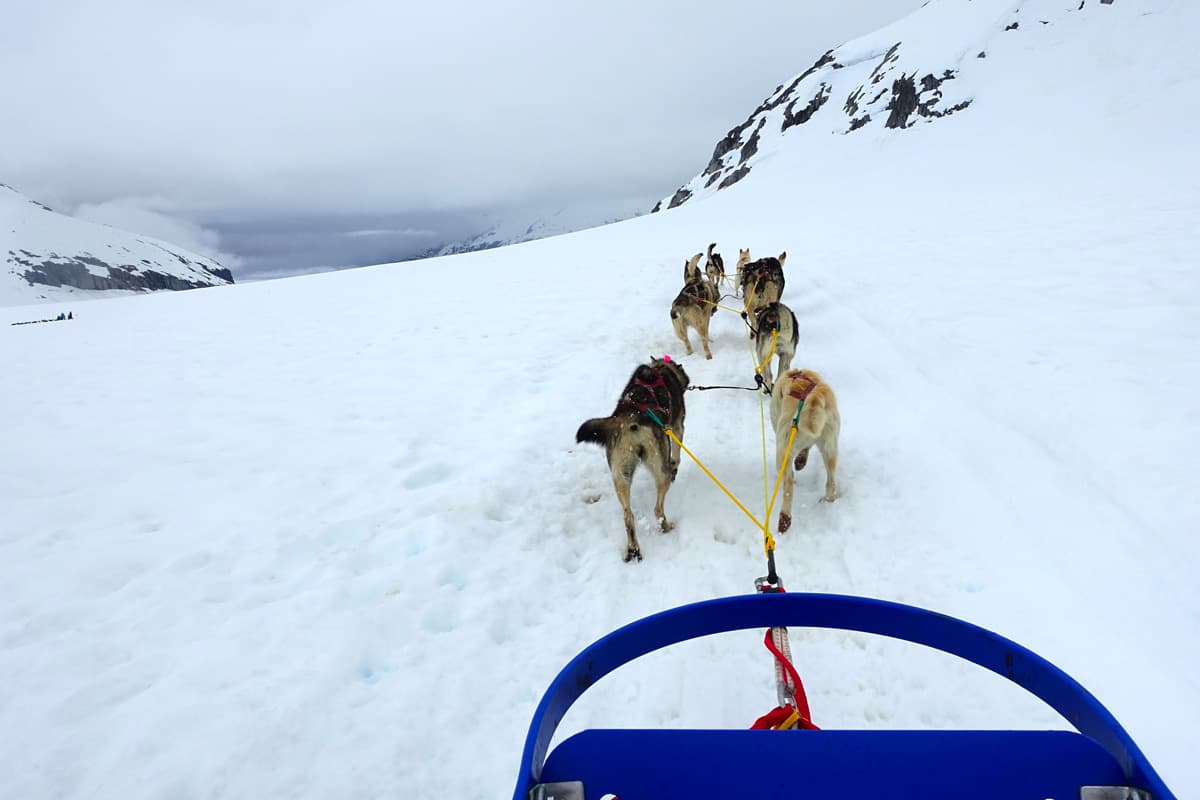 We took turns standing on the back to mush and sitting in the sled, just relaxing and taking in the amazingness of it all. The scene was vast and almost completely black and white (and blue). It was also supremely quiet, almost eerily so, even amidst the non-stop barking.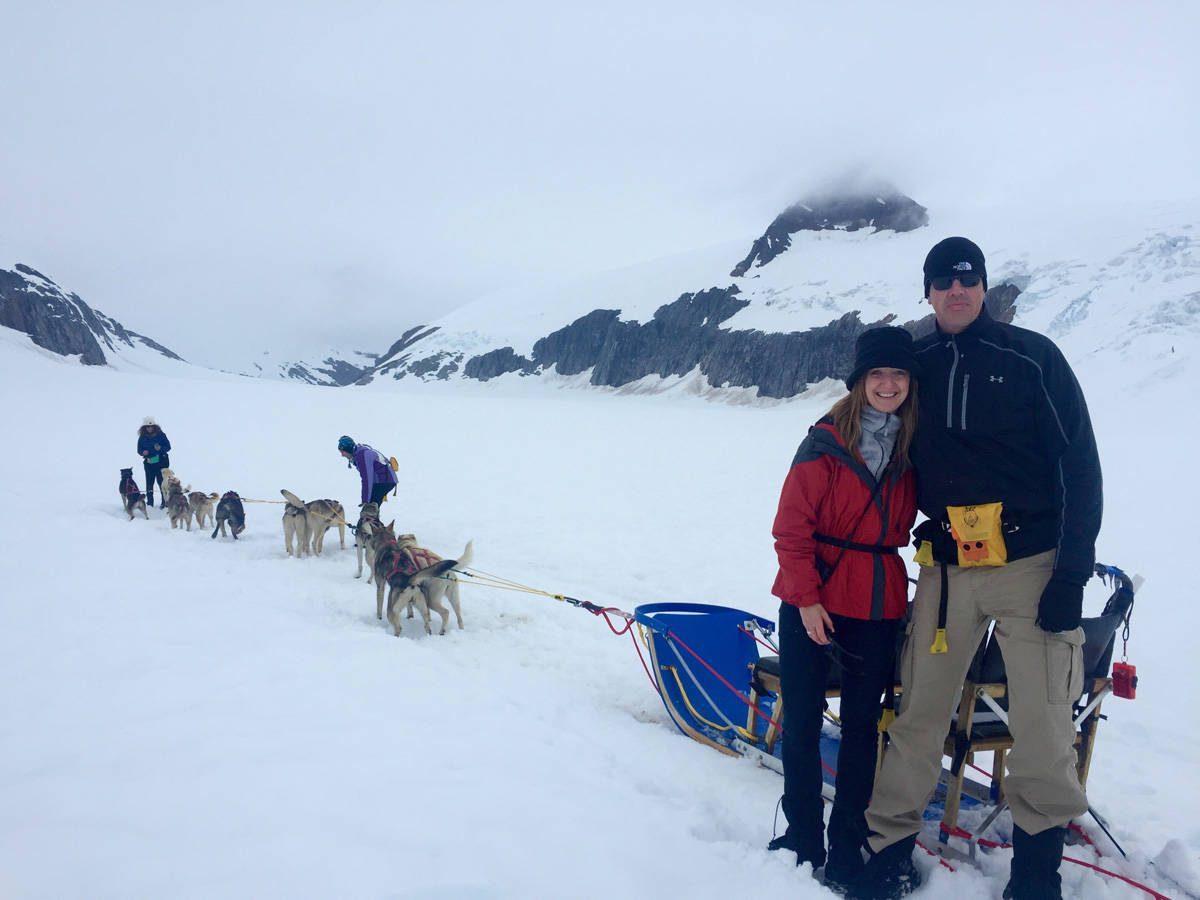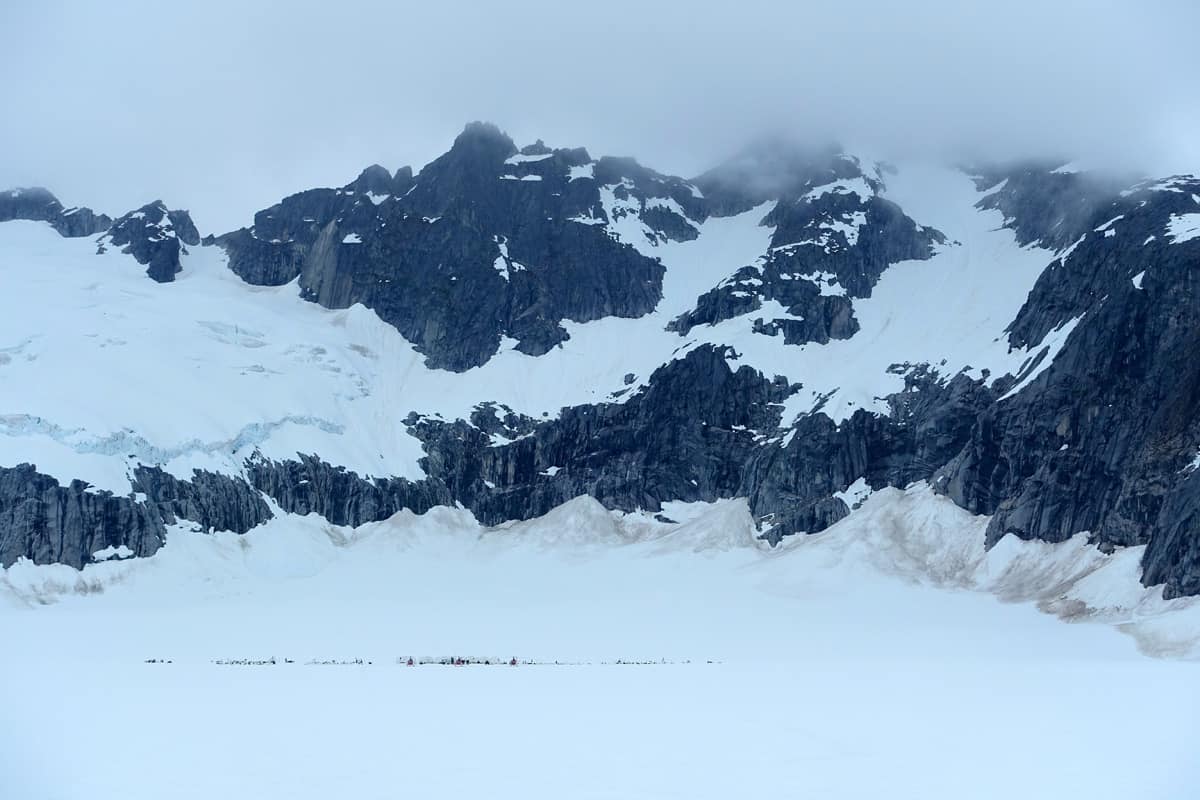 This photo puts the magnitude of size into proportion. That fuzzy little line on the horizon is the dog sled camp as we were returning from our ride atop the snow.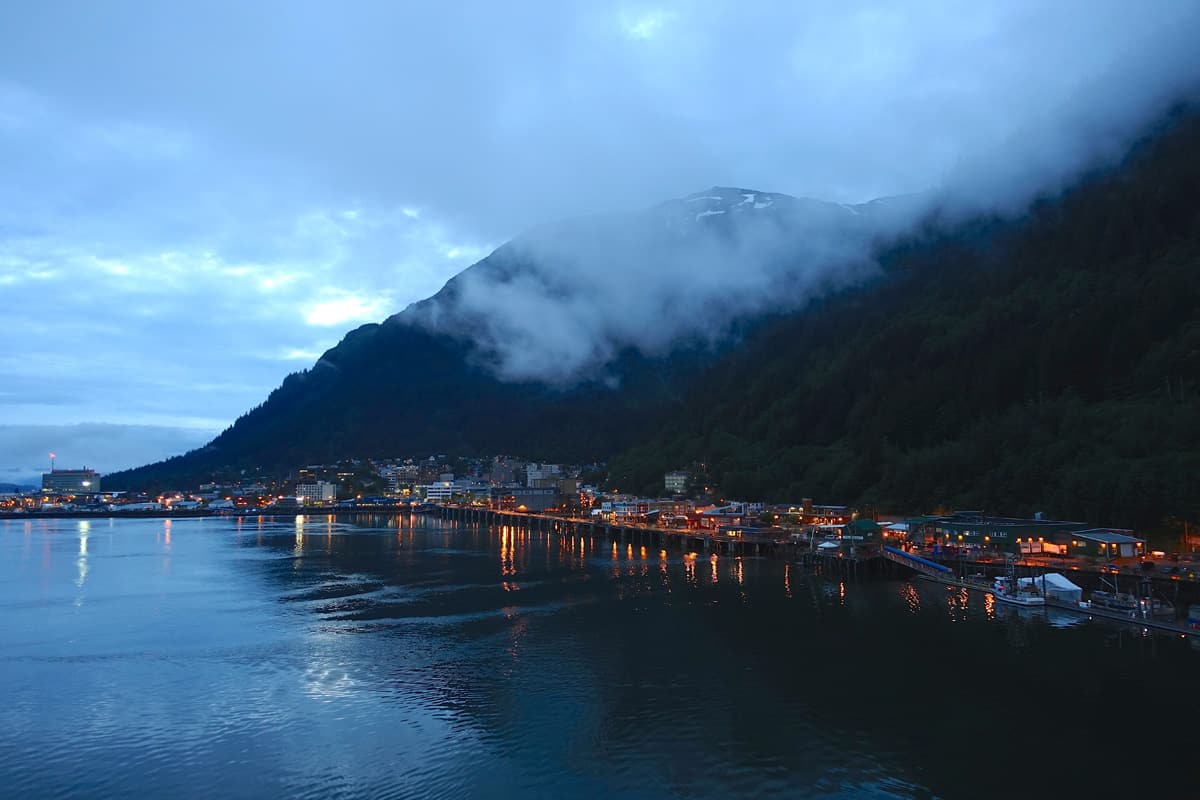 Our departure from Juneau that evening was bittersweet. Such a quaint town, steeped in gold rush history and nestled at the bottom of Mount Juneau, clinging to its sides via hilly streets and winding staircases. But we were due to arrive by morning at Skagway, our northernmost port on this journey, so good-byes were inevitable. Do stay tuned for more.
Follow a farmgirl's dabbles's board a farmgirl's dabbles Travel (#AFDtravel) on Pinterest
Be sure to follow along on Pinterest for more travel ideas. And for more on our trip to Alaska with Princess Cruises, check out these posts:
Disclaimer: Blake and I were extremely honored to be guests of Princess Cruises on this 7-day Alaska Cruise. Thank you for supporting us and the brands we so carefully choose to work with. All of the experiences in this post are personal to our time in Alaska. Your experiences may vary. All opinions expressed are our own.

I first published this post in 2015 and then updated it in 2021.