Peppermint Bark
This post may contain Amazon or other affiliate links. As an Amazon Associate I earn from qualifying purchases.
Homemade Peppermint Bark is festive for the holidays, and this recipe's snow-white color is especially pretty. We make this easy peppermint bark recipe every single year!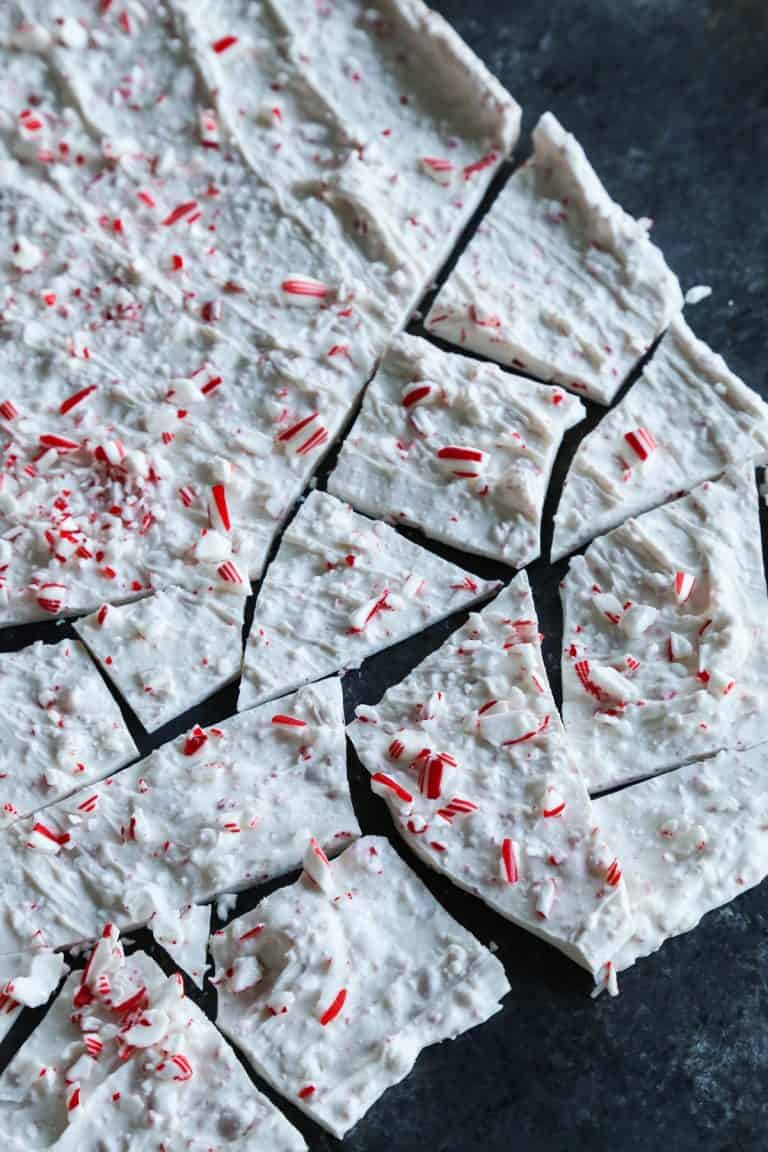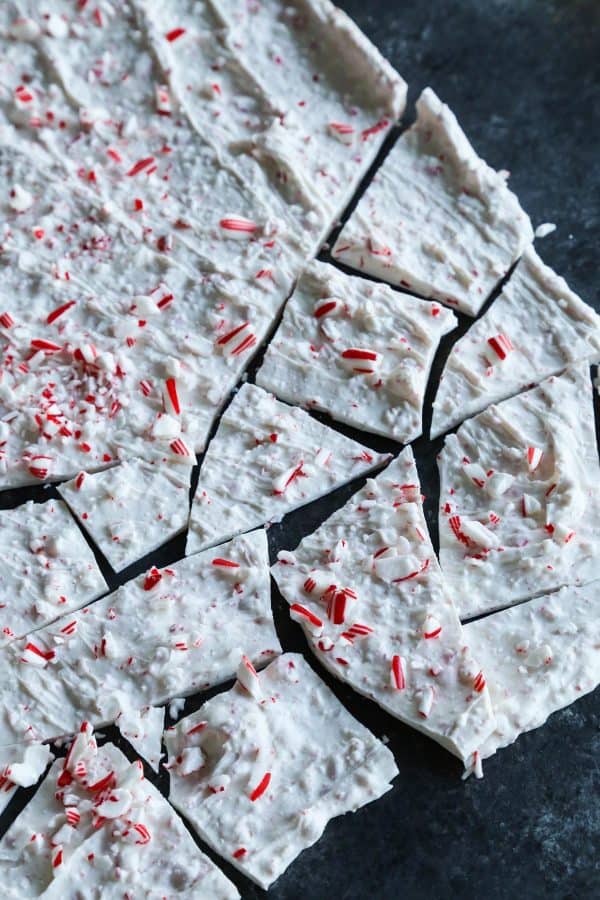 My friend Jennifer gifted me this homemade Peppermint Bark many years ago. She had packaged the pieces in a small clear bag and tied it up loosely with a royal blue satin ribbon. It was such a beautiful present to receive. I tucked it away gently in my purse. I was anticipating eating it later that day, on our drive back to South Dakota for Christmas break.
But…I didn't end up actually enjoying as many of those beautiful candy cane flecked bites as I had hoped. Confined in a car for almost four hours, with three other sugar-sniffing bodies, I ended up sharing much of Jennifer's gift.
If my oldest daughter hadn't already consciously decided she liked peppermint, this confection single handedly placed this flavor at the top of her list. We now make this easy-to-make treat every single Christmas season!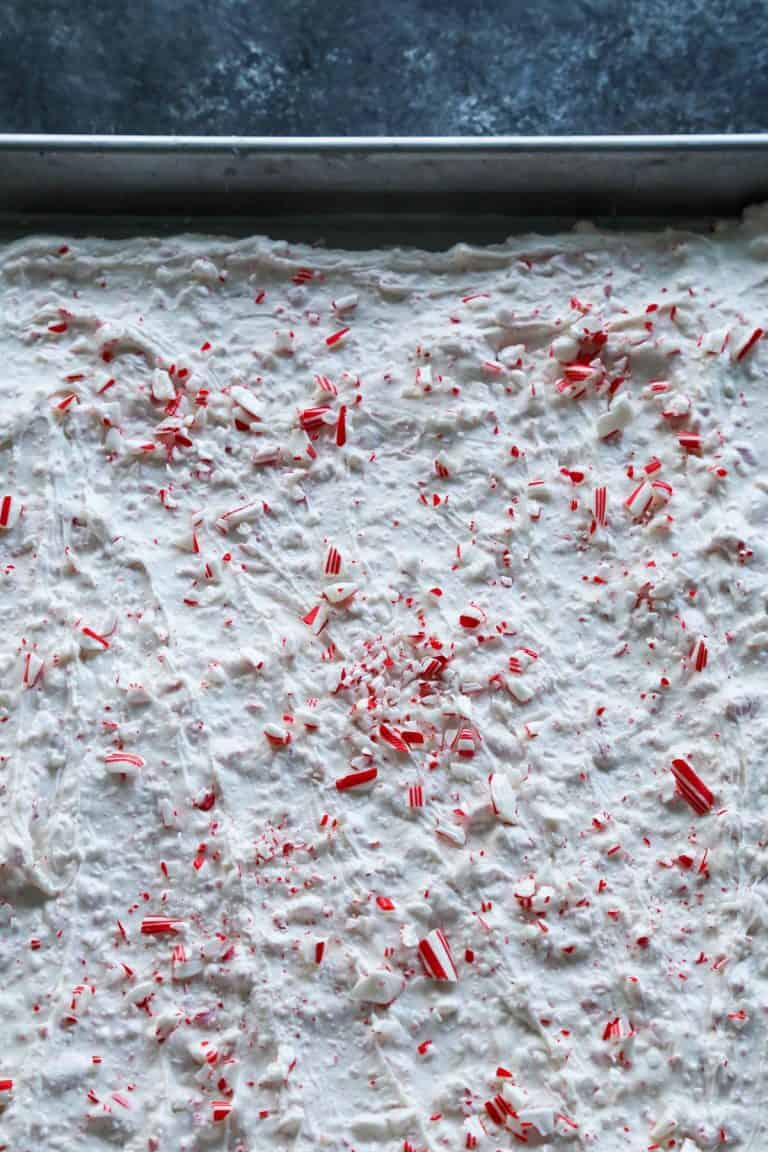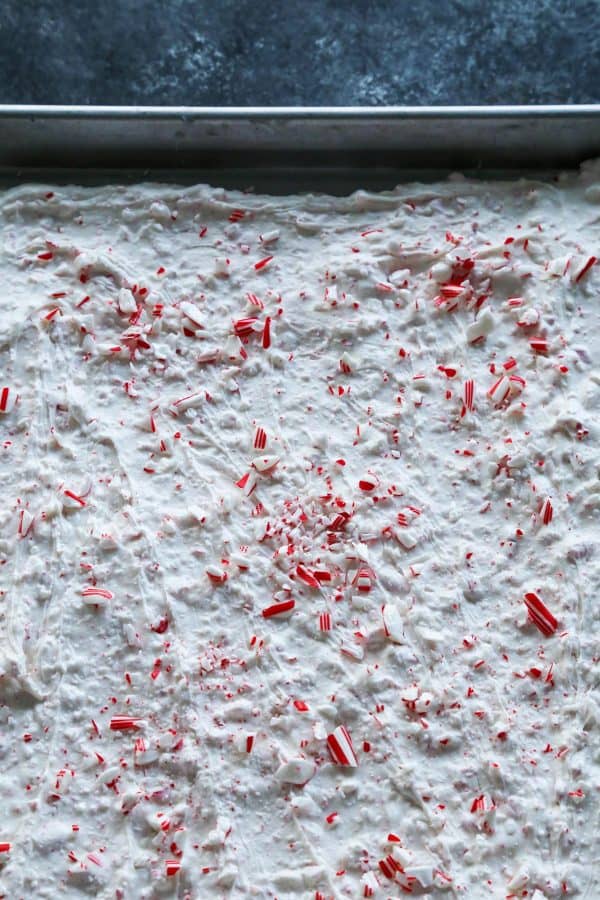 How to make peppermint bark
Jennifer's peppermint bark recipe is not only delicious, but it's also extra pretty. She uses bright white candy melts instead of the more typical cream-colored candy. I love this pure, snowy white color so much more!
Peppermint bark is so very easy to make. I use the double-boiler method to gently melt the candy melts, and then add peppermint flavor to the melts. You can also use a microwave for melting, but I caution to go very slowly with the melting, so the candies don't scorch.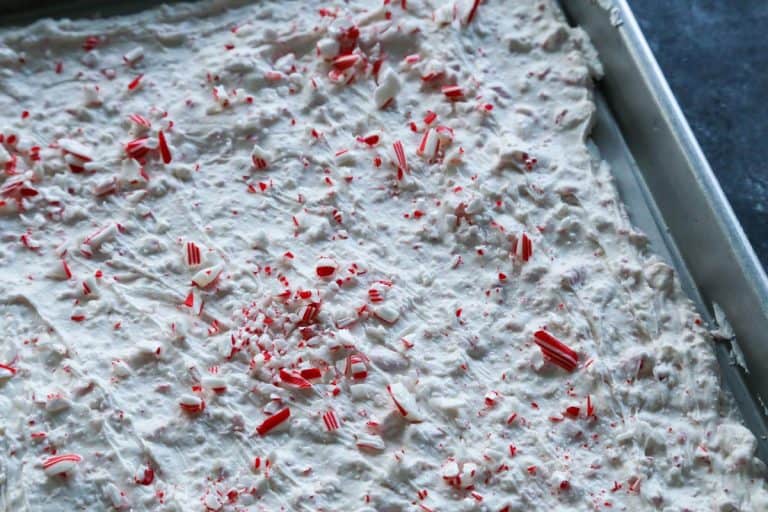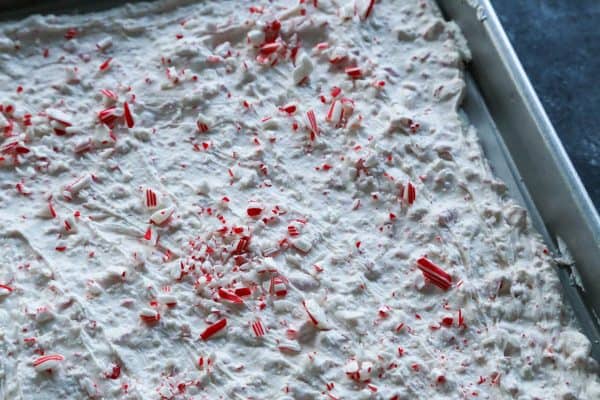 It's easy to find a volunteer in our house to pound some candy canes into little bits. When the kitchen mallet comes out, everyone wants the opportunity to pound and let out some aggression! (If you don't have a mallet, a rolling pin or another hard object will do.)
Once the candy canes are broken up, I reserve a handful, and then fold the rest into the melted white candy melts. And then I spread the mixture into an even layer.
The final touch is to sprinkle the reserved candy cane bits over the top, for an extra pretty showing of that peppermint candy.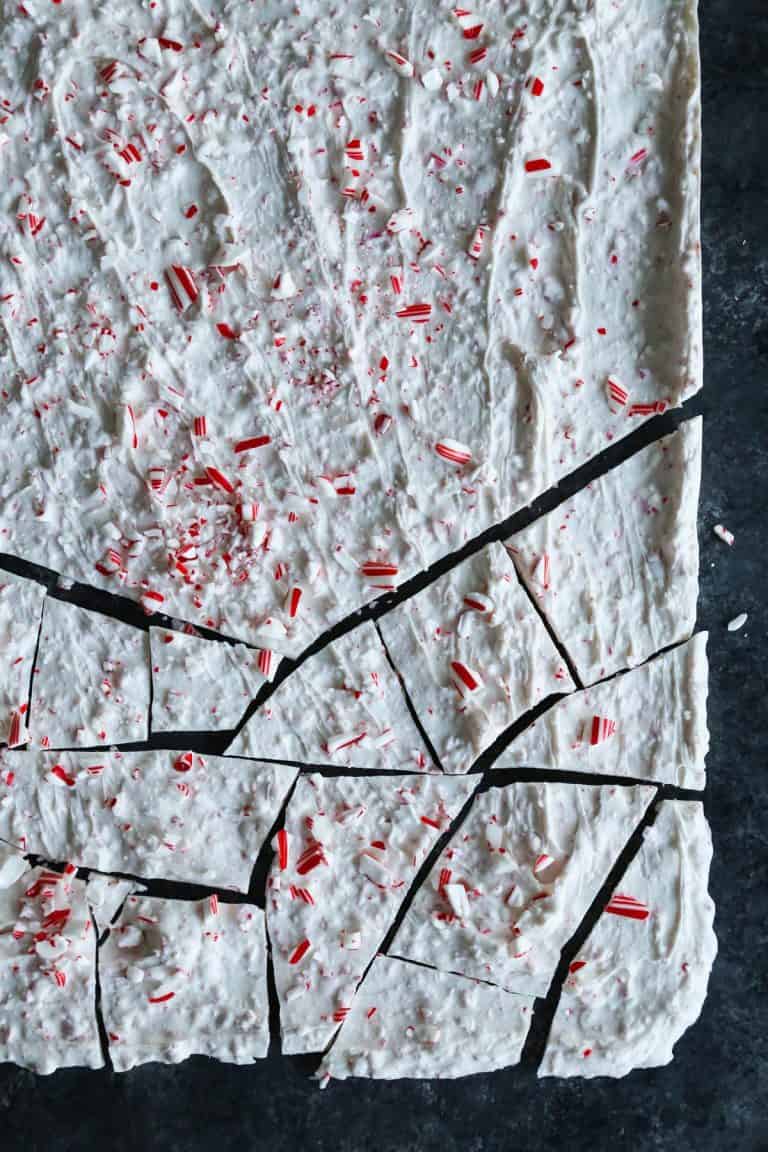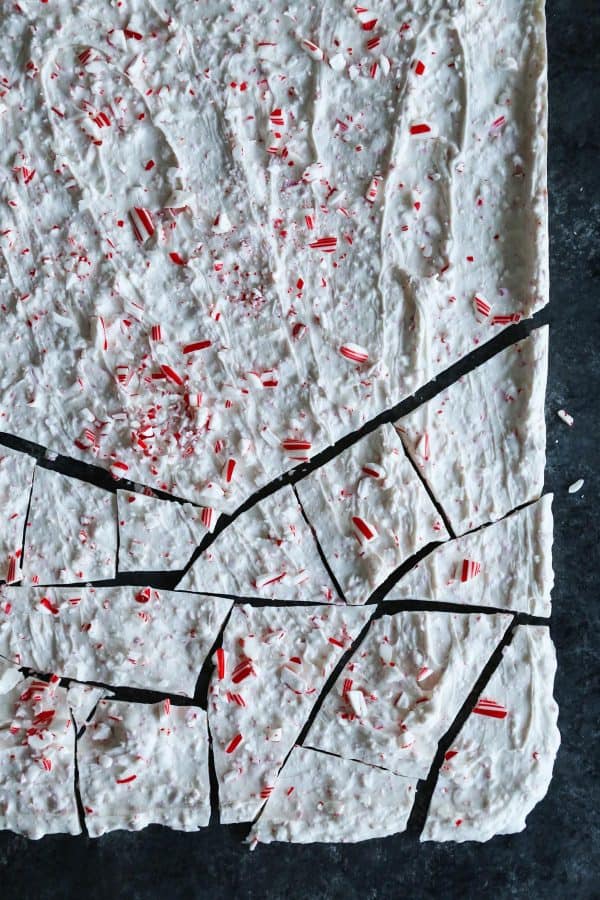 I like to set the pan in the refrigerator or freezer for awhile to chill the peppermint bark completely. Then I break the pan-sized piece of candy into individual-sized pieces.
This is always my favorite part, snapping that big slab into smaller portions. It's kinda like making my own edible jigsaw puzzle!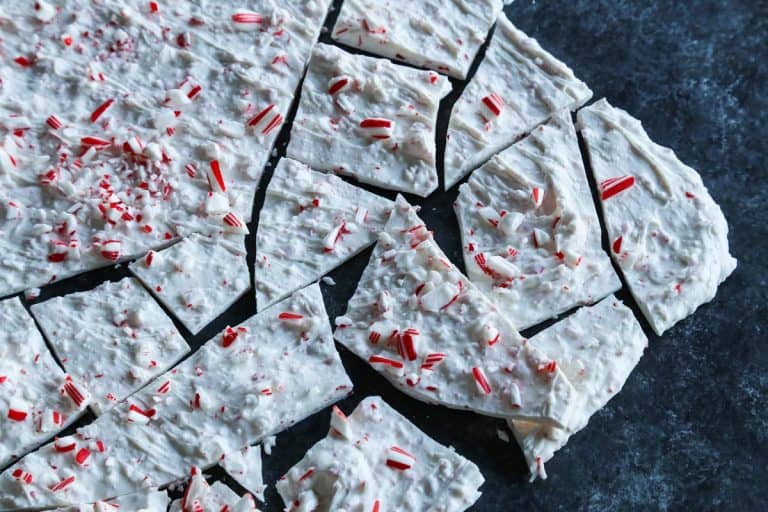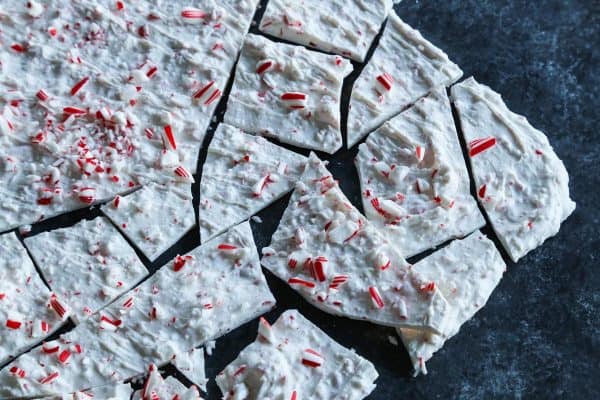 This peppermint bark candy is perfectly pepperminty, and absolutely stunning in its pure white coloring that's studded with flecks of red. It's always a beautiful addition to our Christmas treats platters each and every year. And I do mean EVERY year. Our daughters wouldn't have it any other way!
This sweet treat is great for gifting. Some other food gifting ideas I have for you would be:
Chocolate Caramels – this incredible recipe comes from my grandma, it's a longtime family tradition.
Ann's Oven-Baked Caramel Corn– seriously, the best caramel corn I've come across!
Hot Fudge Sauce – an easy recipe that's fun to pour over vanilla or peppermint ice cream.
Peg's Spiced Nuts – this recipe became a favorite when a co-worker would share these every Christmas.
Like this Peppermint Bark recipe? Pin it!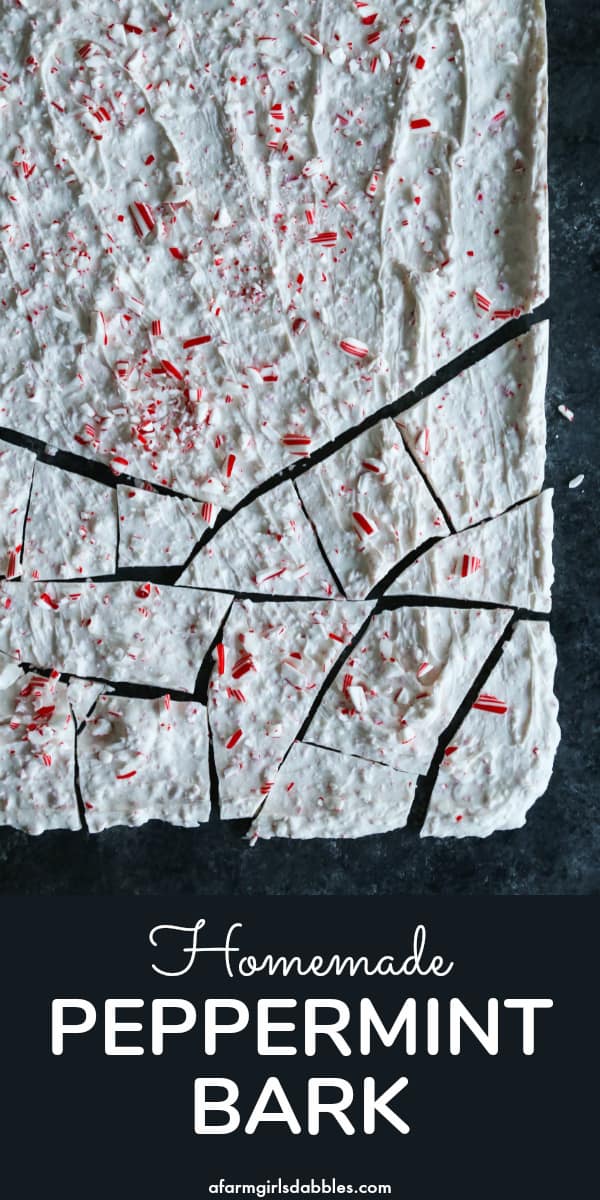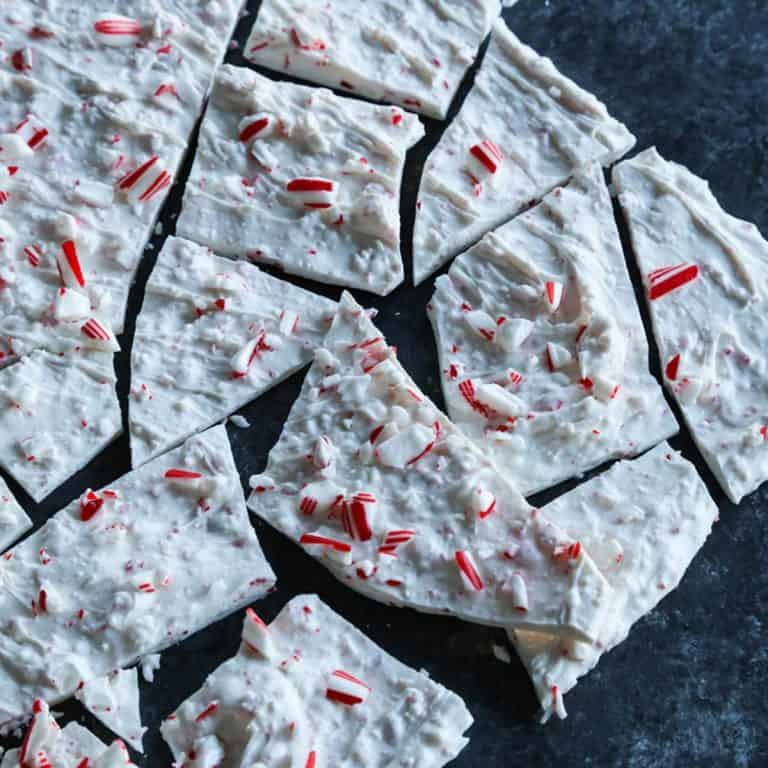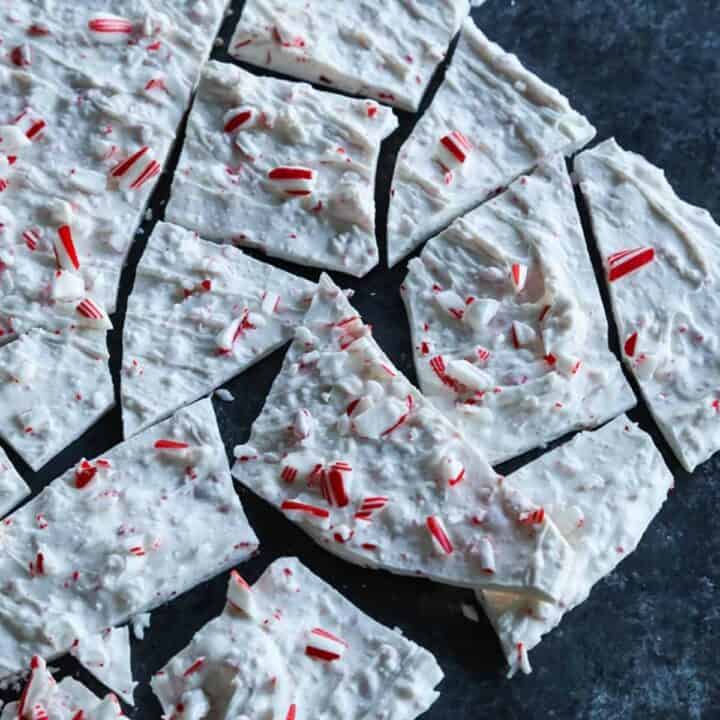 Peppermint Bark
Yield: 60 servings
Prep Time: 20 minutes
Cook Time: 20 minutes
Total Time: 40 minutes
Homemade Peppermint Bark is festive for the holidays, and this recipe's snow-white color is especially pretty. We make this easy peppermint bark recipe every single year!
Instructions
Line an 11″ x 17″ rimmed pan with parchment paper and set aside.
Melt the candy melts in a double boiler, or in a heatproof bowl set over a pan of simmering water, stirring fairly constantly until chocolate has melted. This can also be done carefully in the microwave. Just be extra careful to not let the candy melts scorch.
Place candy canes in a heavy duty zip-top baggie and use a rolling pin or mallet to crush into 1/4″ pieces.
Remove candy melts from heat and stir in the peppermint extract and all but 1/4 cup of the crushed candy canes. Pour onto prepared pan. Spread evenly and then sprinkle with reserved 1/4 cup of crushed candy canes. Refrigerate until firm, 20 minutes or so, and then break into pieces about 2" to 3" in size.
Notes
This freezes extremely well.
From the recipe box of my friend Jennifer, adapted slightly from Martha Stewart.
Recommended Products
As an Amazon Associate and member of other affiliate programs, I earn from qualifying purchases.
Nutrition Information:
Yield: 60
Serving Size: 1
Amount Per Serving:
Calories: 71
Total Fat: 0g
Saturated Fat: 0g
Trans Fat: 0g
Unsaturated Fat: 0g
Cholesterol: 0mg
Sodium: 7mg
Carbohydrates: 18g
Fiber: 0g
Sugar: 11g
Protein: 0g
Nutrition information is automatically calculated by Nutritionix. I am not a nutritionist and cannot guarantee accuracy. If your health depends on nutrition information, please calculate again with your own favorite calculator.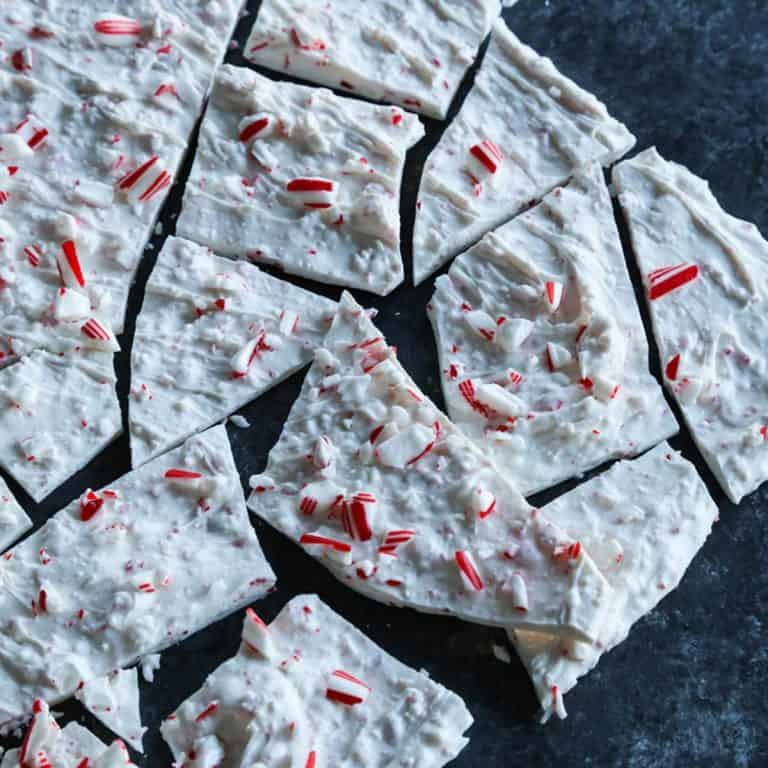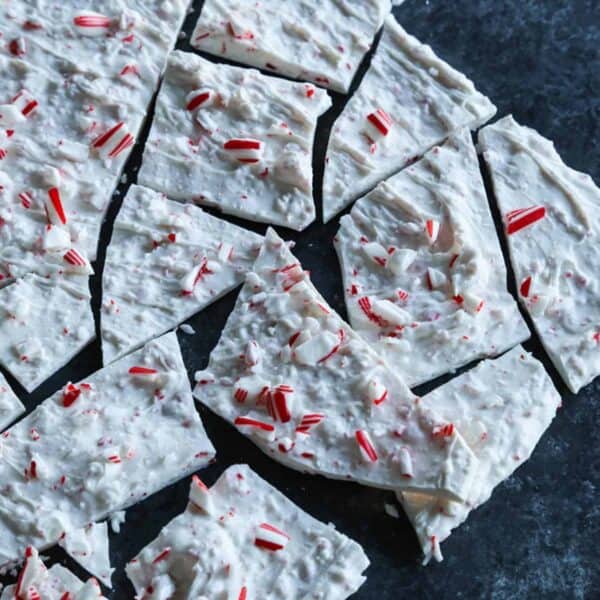 This post was previously published in 2010. Some of the photographs and some of the text were updated in 2018.
We participate in the Amazon Services LLC Associates Program, an affiliate advertising program designed to provide a means for us to earn fees by linking to Amazon.com and affiliated sites. See our
disclosure policy
for more info.