Peanut Butter Ice Cream
Made with just 5 ingredients, this homemade Peanut Butter Ice Cream is sweet and creamy, and incredibly easy to make. Top with hot fudge sauce for a quick and easy homemade ice cream sundae!
Creamy & Dreamy Peanut Butter Ice Cream
Peanut Butter Ice Cream makes me HAPPY!!
We've been enjoying this homemade peanut butter ice cream recipe for many years; it's so crazy easy to make. Just throw some peanut butter and four other ingredients in a blender, and chill it in the fridge. Then freeze the mixture in an ice cream maker and let the machine work its magic.
That's all it takes for delicious, creamy, peanut buttery frozen yum!
While peanut butter ice cream can certainly be enjoyed all on its own, I just have to say, "What's peanut butter without chocolate?!" Our family has a strong commitment to the PB + chocolate combo. So I highly recommend serving this up with a drizzle of easy homemade hot fudge sauce or chocolate magic shell over the top. It's fantastic!
More Ice Cream Recipes: Butter Pecan Ice Cream is full of luscious buttery caramel flavor and studded with salty, crunchy toasted pecans. Cookie Monster Ice Cream is super fun with its blue color, and so yummy with its fresh vanilla bean flavor, plus bites of cookie dough and Oreos. And Chocolate Malt Banana Ice Cream, a copycat version of one of my favorite flavors from a local Minnesota ice cream shop!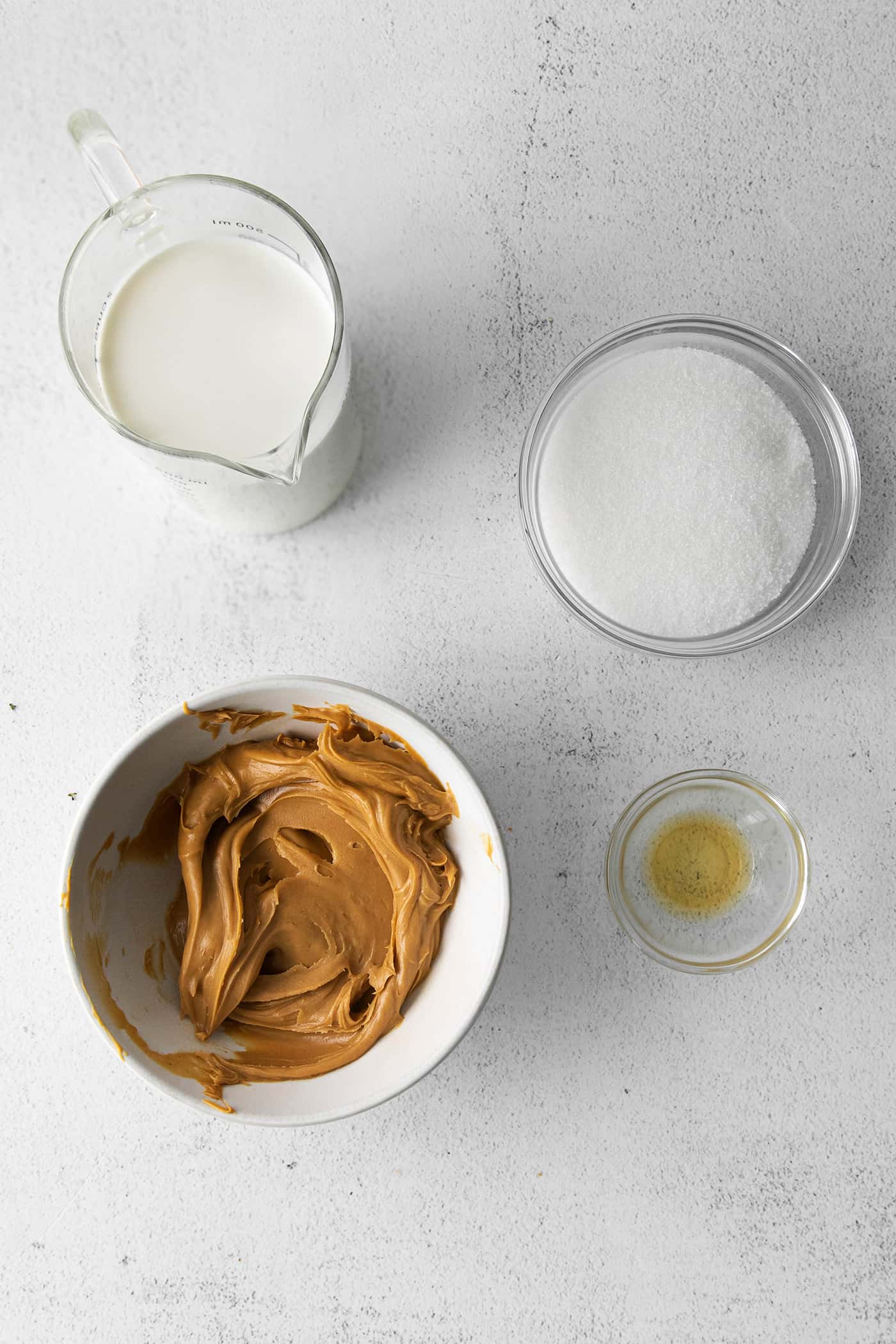 What You'll Need
Whenever I make this ice cream, I'm always amazed by the simplicity of the recipe. This homemade peanut butter ice cream requires just 5 basic ingredients!
Peanut butter – Any brand of creamy peanut butter will work. I prefer Jif.
Sugar
Half-and-half – The "cream" part of this ice cream.
Salt – Just a little bit plays so well with the sweetness and peanut butter.
Vanilla extract – For added flavor.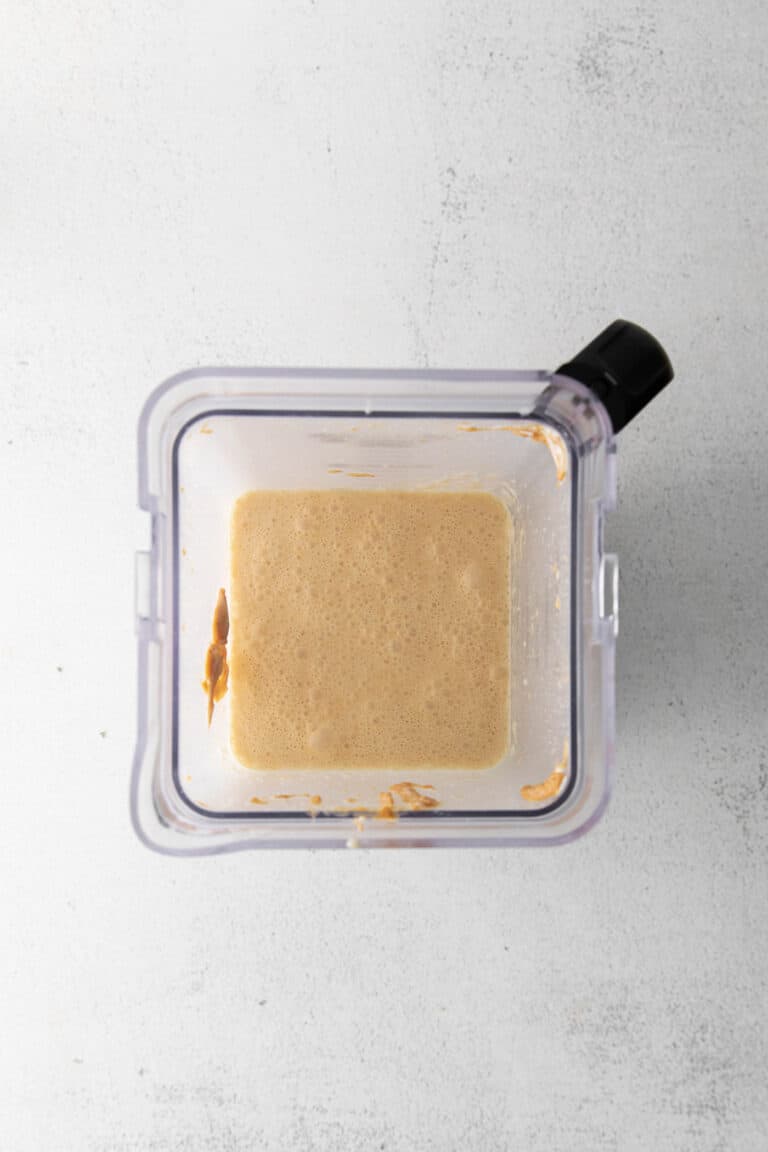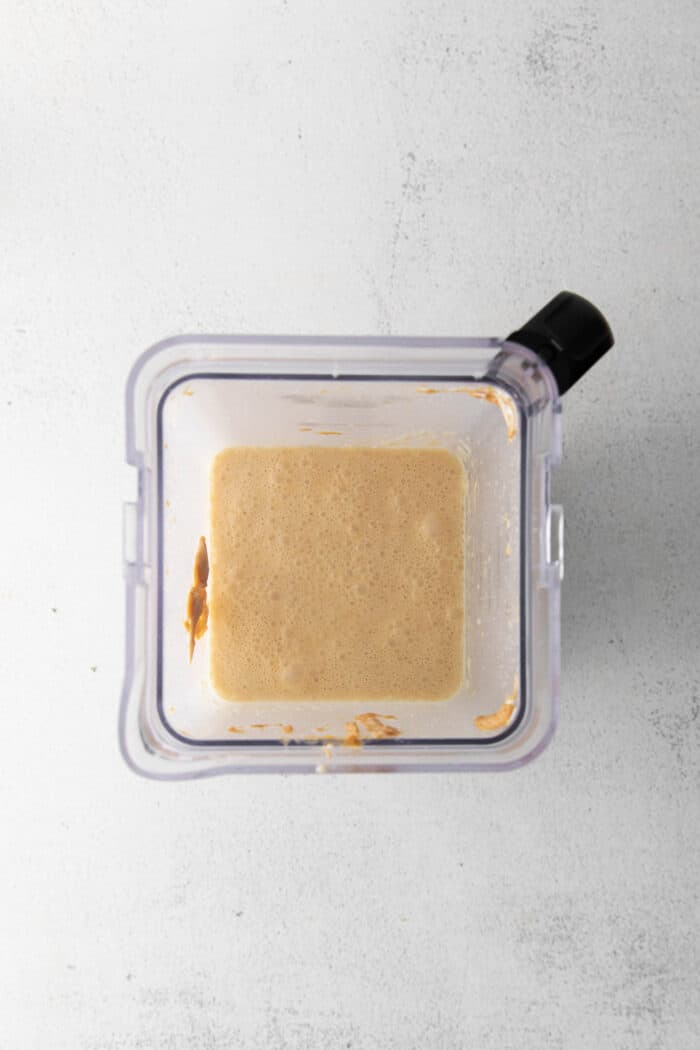 How to Make Peanut Butter Ice Cream
You'll love how easy it is to make a perfectly creamy peanut butter ice cream at home. The hardest part is waiting for it to chill!
Combine the ingredients. Puree all ingredients in a blender or food processor until smooth.
Chill. Chill the mixture in the fridge.
Freeze. Freeze the mixture in an ice cream maker.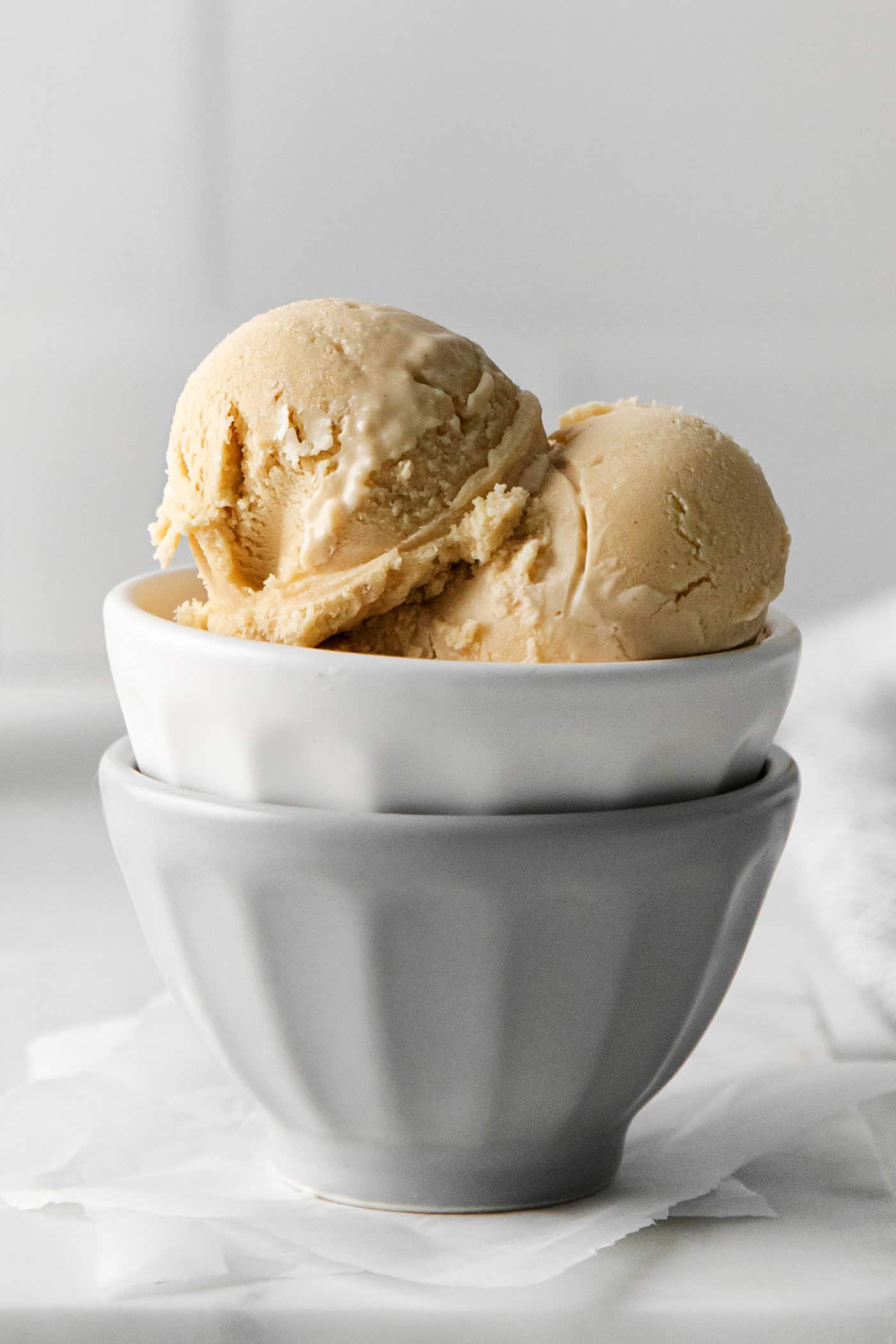 Tips for Success
Although this ice cream is super easy to make, these tips may be helpful:
Become familiar with your ice cream maker. If you haven't made ice cream at home before, take a little time to read through the instructions of your ice cream maker before you start. Most machines require that you freeze the bowl for a full 24 hours prior to making ice cream.
Puree the ingredients fully. This step ensures a smooth, creamy ice cream without lumps.
Chill before freezing. You'll need to chill the pureed mixture before adding it to the ice cream machine.
Freeze before scooping. Though it's tempting to dive into the ice cream straight from the machine, it will have a softer texture. So it's best to freeze it for several hours or overnight for the best scooping. (But I have to admit that I enjoy a serving straight from the ice cream maker before freezing the rest!)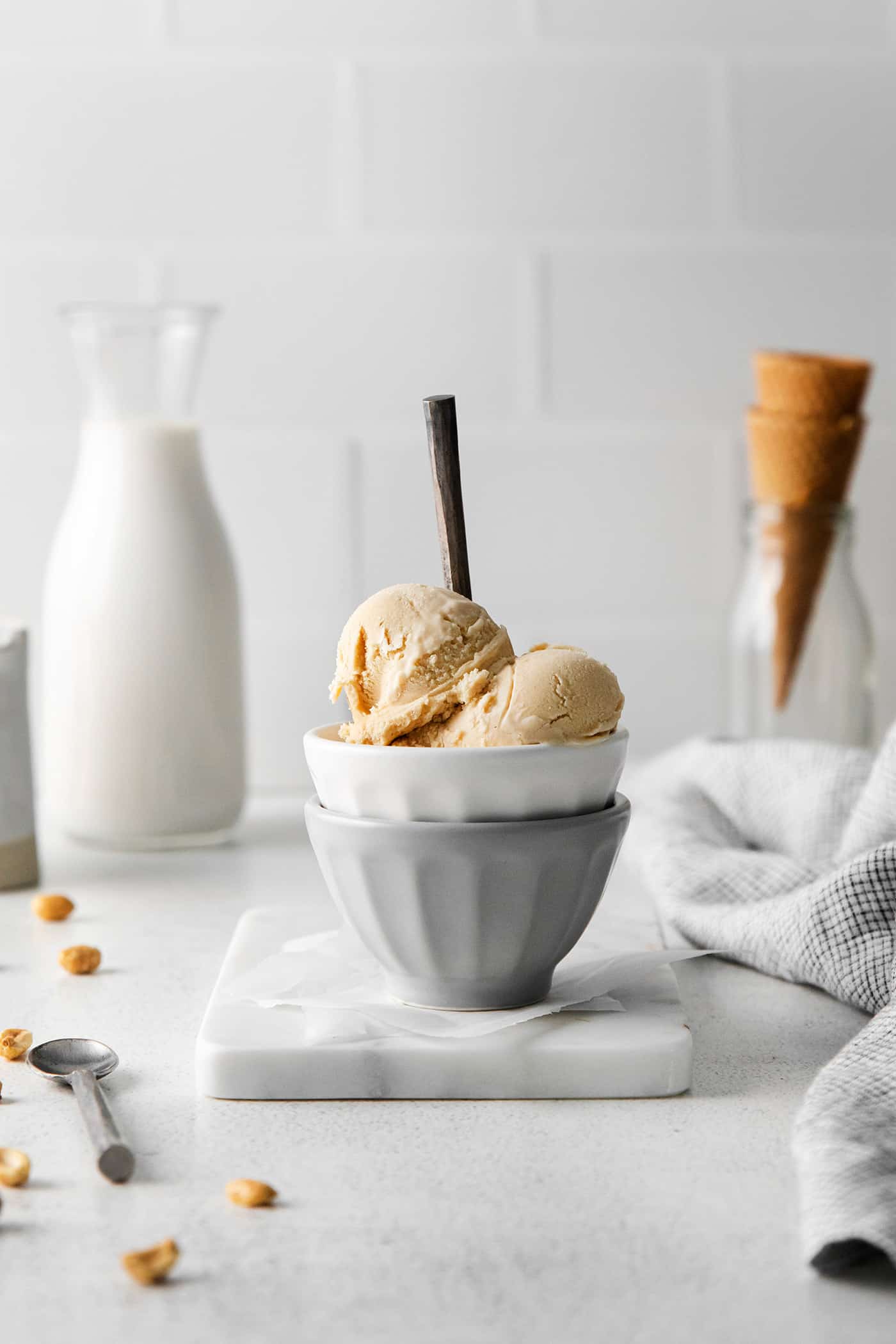 Possible Add-Ins
If you want to add a little something to your homemade ice cream, fold in some mix-ins during the last few minutes of freezing the ice cream in the machine. Here are a few ideas:
Chopped peanut butter cups
Spoonfuls of peanut butter, to add a peanut butter swirl
Reese's pieces
Chocolate chips
Chopped or shaved chocolate bar
Chopped Heath candy bar or toffee
Chopped peanuts or other kinds of nuts
Chopped Oreo cookies
Crushed waffle cones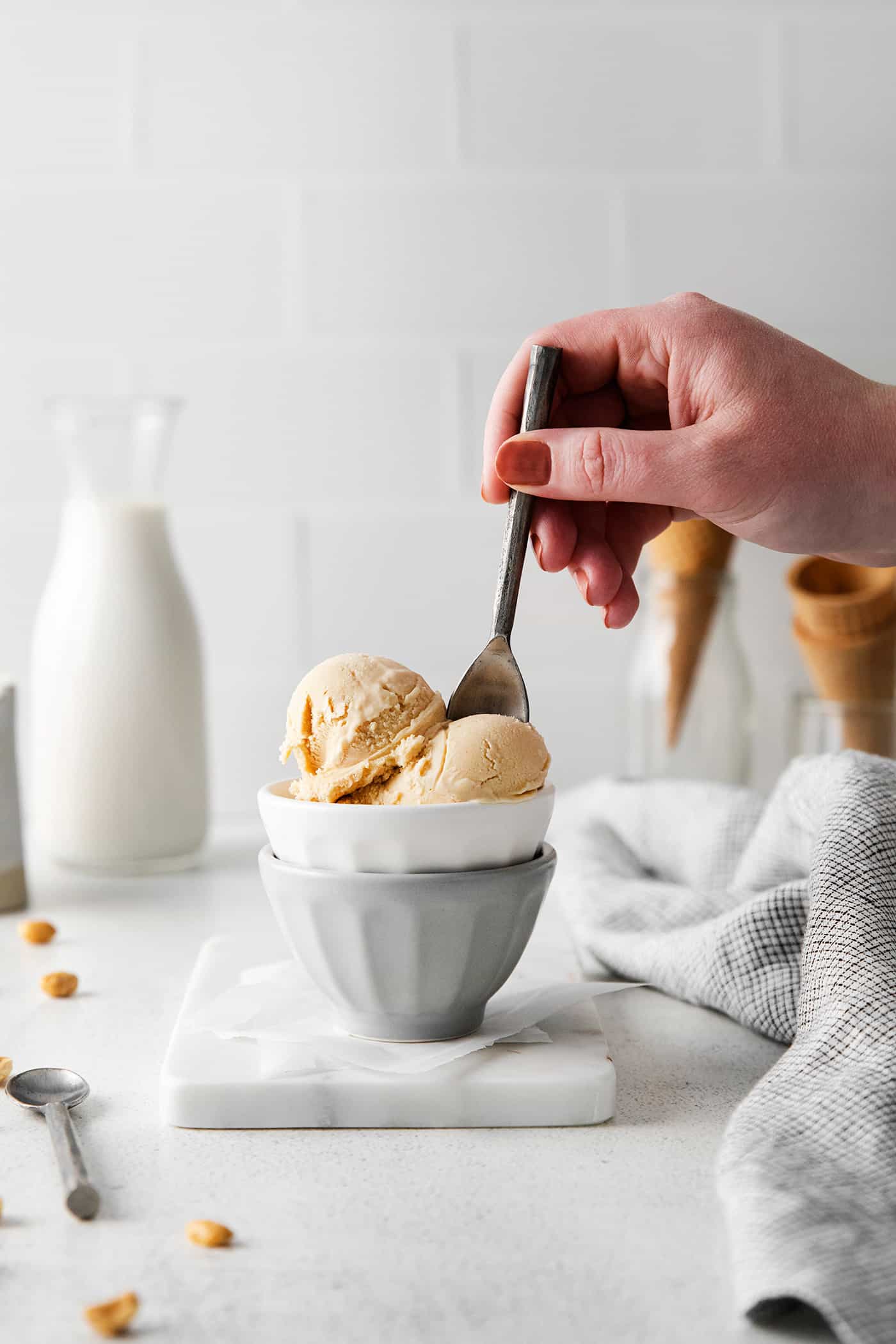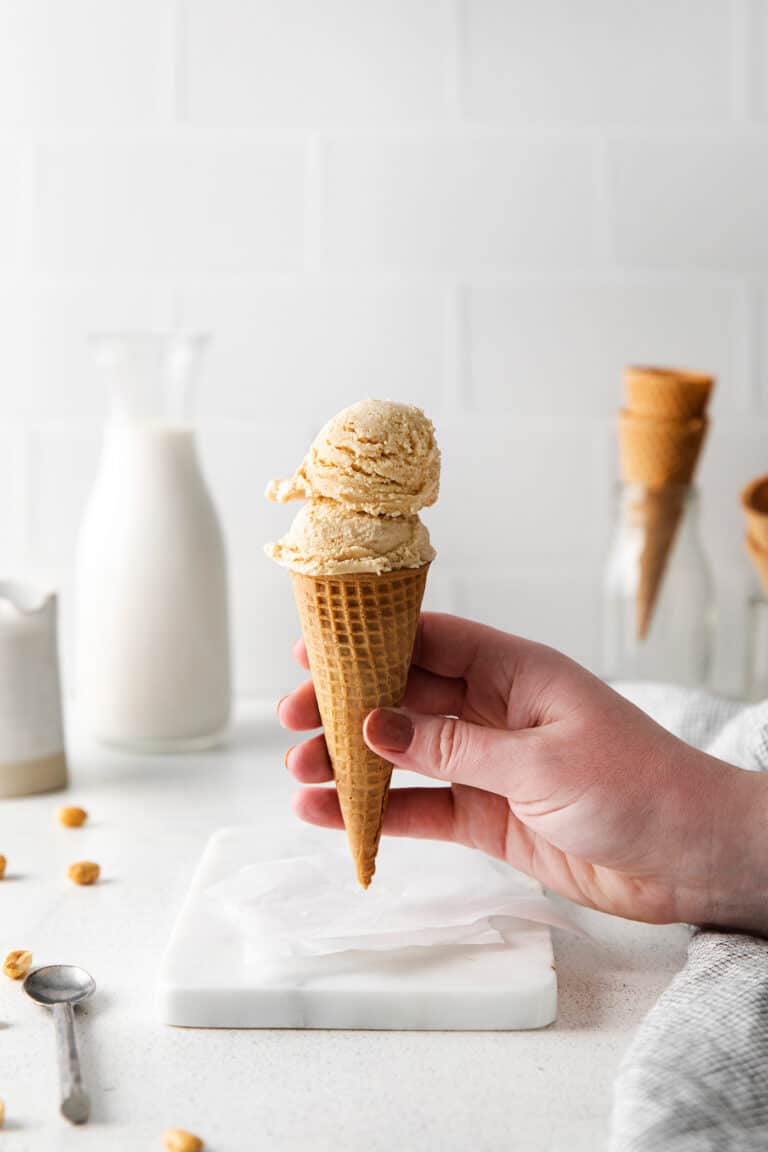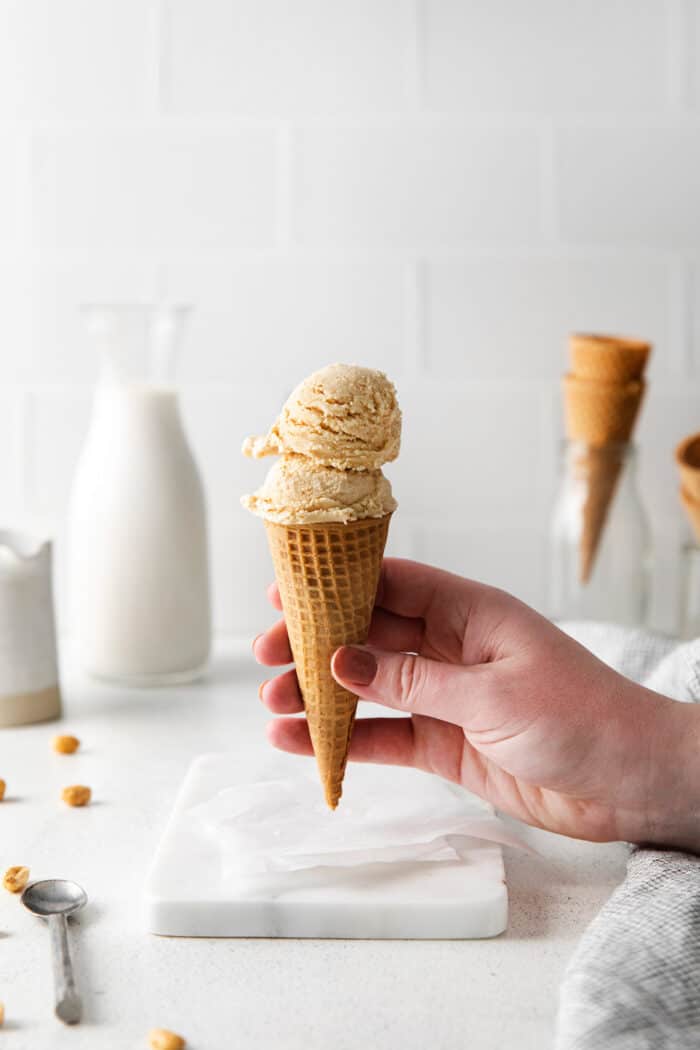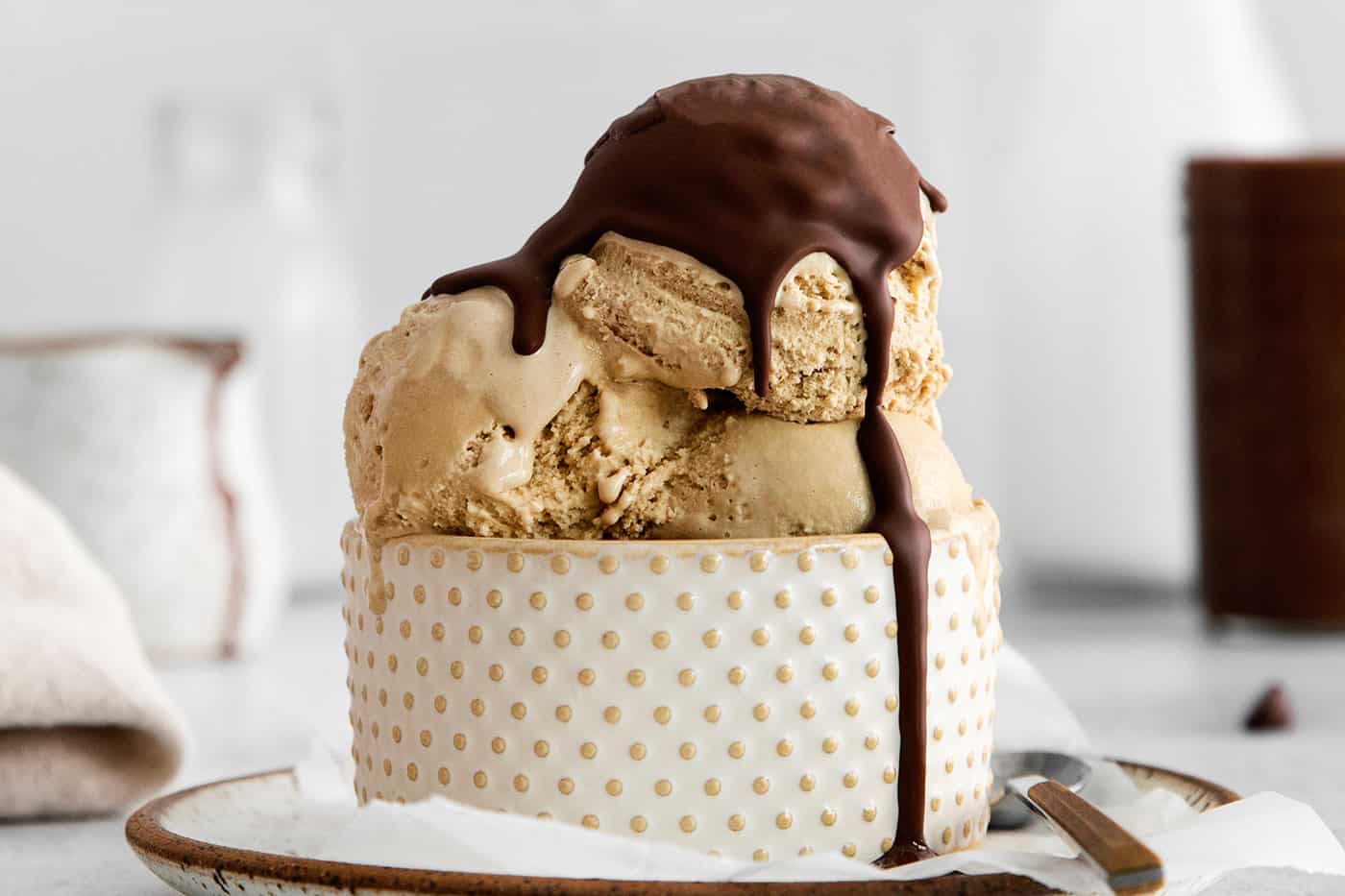 Serving Suggestions
We love to turn this ice cream into a sundae, by topping it with some warm hot fudge sauce (easy to make, with just 4 ingredients + 10 minutes of time!). And when we're feeling extra fancy, we add a swirl of whipped cream and a cherry!
I grew up during the 80's, when Magic Shell was first introduced…and I have to say, I loved the stuff. So of course I'm a huge fan of eating this ice cream with my homemade magic shell!
Another favorite combo of ours is peanut butter ice cream topped with a big spoon of marshmallow whip, some hot fudge or chocolate sauce, and crushed Oreos. So fun!
Heath candy bar also pairs perfectly with the peanut butter and chocolate fudge – we chop it up and sprinkle it over the top.
Of course, if sundaes aren't your thing, then you can also scoop peanut butter ice cream into a cone. Waffle cones are a favorite in our house. No bowl or spoon needed to enjoy this frozen treat!
How to Store Homemade Ice Cream
It's important to store your peanut butter ice cream properly, as it can get freezer burn easily. The easiest way to store homemade ice cream is in a loaf pan. Just pour the ice cream in and keep it tightly wrapped with a double layer of plastic wrap. You can store it in other containers or pans, just be sure that they are freezer-safe and have a tight seal (or wrap them with plastic wrap). You can find many ice scream storage container options on Amazon.
Properly stored, homemade ice cream can last for 2-4 months. But know that fresher is always better. Any ice cream can get icy and take on other flavors from the freezer, depending on how the ice cream is packaged, etc.
More Peanut Butter Recipes:
Like this recipe? Save it to Pinterest!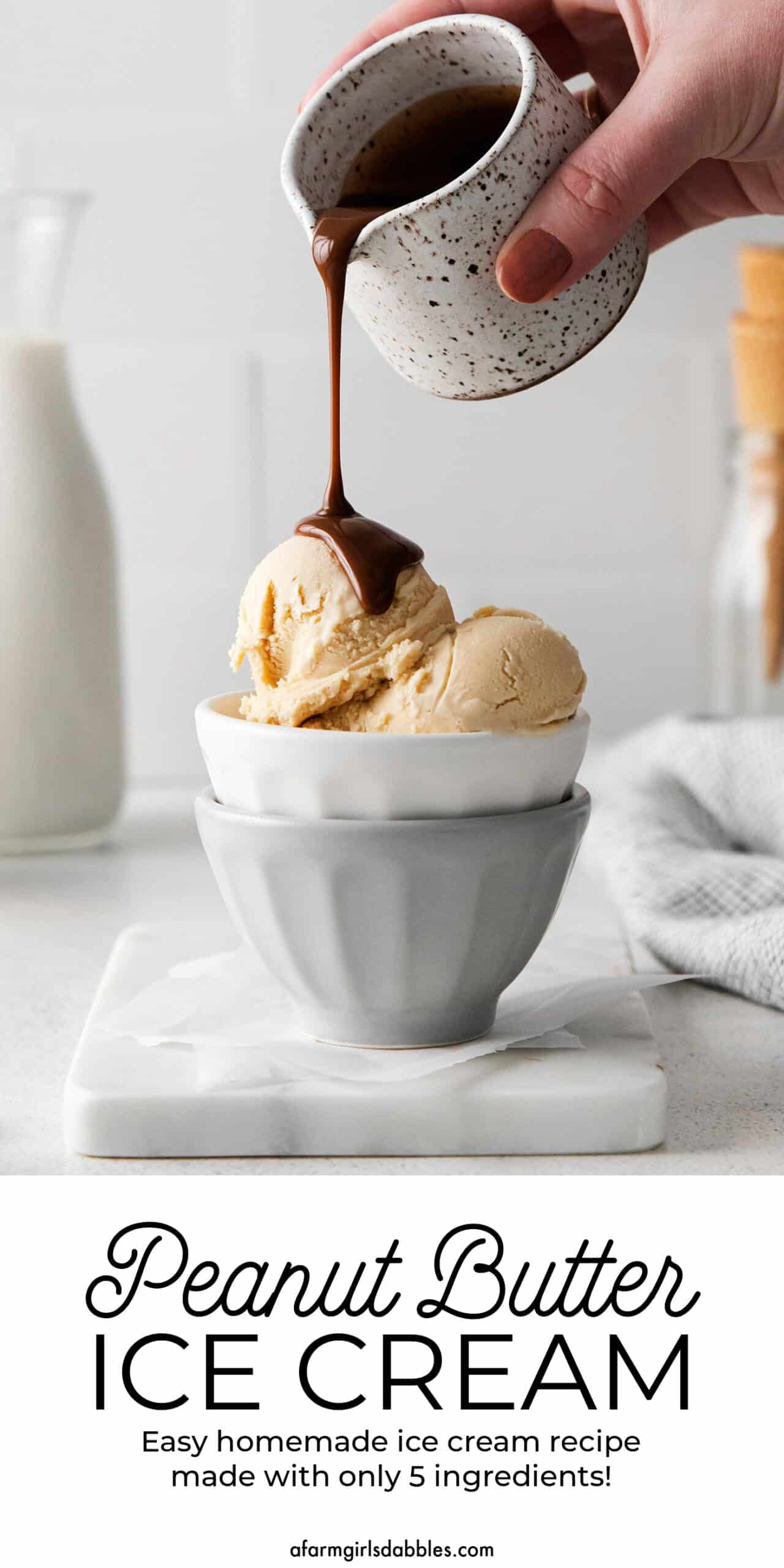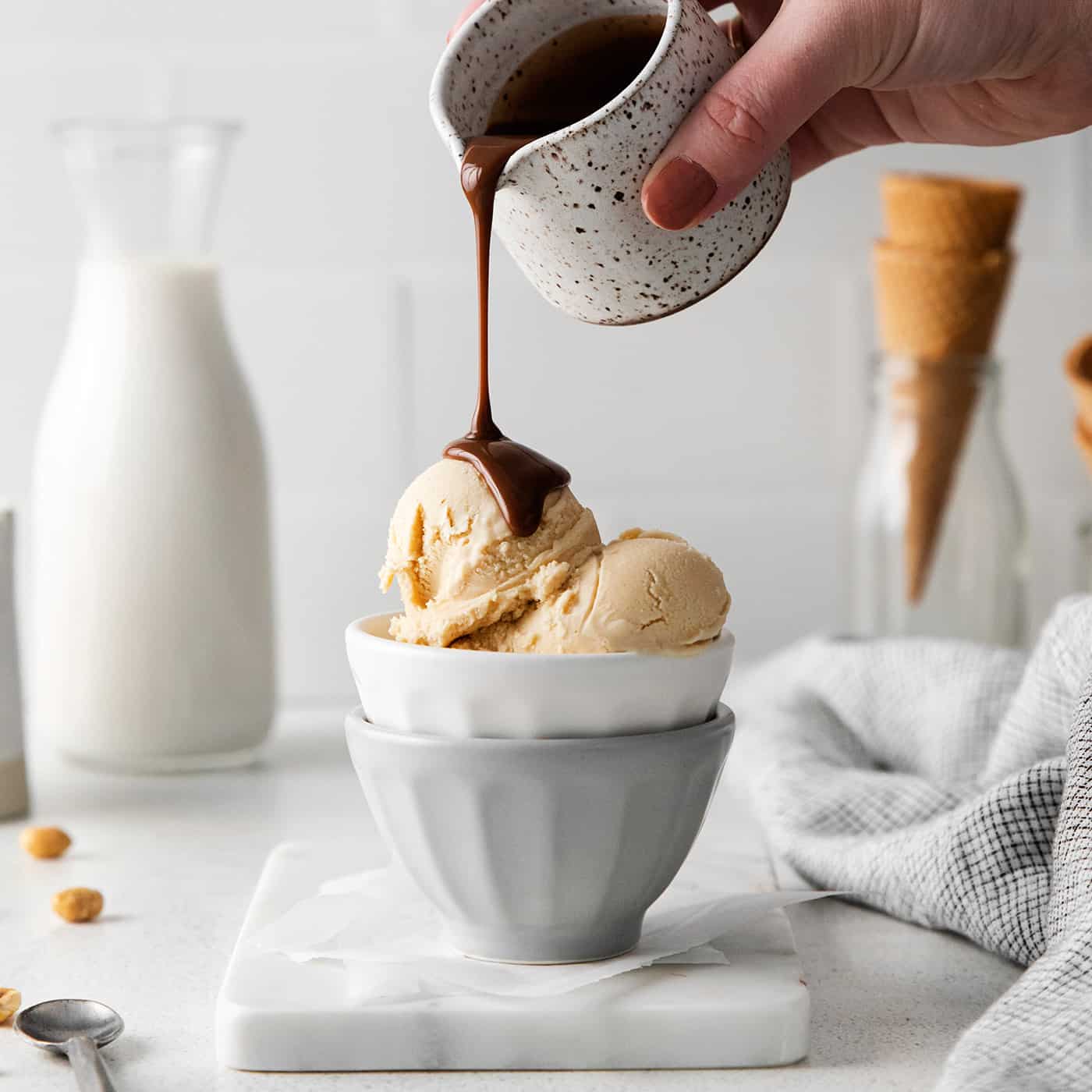 Peanut Butter Ice Cream
Yield: 8 servings
Prep Time: 10 minutes
Cook Time: 5 minutes
Additional Time: 20 minutes
Total Time: 35 minutes
Made with just 5 ingredients, this Homemade Peanut Butter Ice Cream is sweet and creamy, and incredibly easy to make. Top with hot fudge sauce for a quick and easy homemade ice cream sundae!
Ingredients
¾ cup creamy peanut butter, such as Jif
¾ cup plus 2 tablespoons sugar
2⅔ cups half & half
pinch of kosher salt
¼ teaspoon pure vanilla extract
Instructions
Puree the peanut butter, sugar, half & half, salt, and vanilla in a blender or food processor until smooth.
Chill the mixture thoroughly in the refrigerator.
Freeze the mixture in an ice cream maker according to the manufacturer's instructions.
Transfer to a freezer-safe container and freeze for a few hours or overnight before serving.
Notes
Slightly adapted from The Perfect Scoop by David Lebovitz.
Nutrition Information:
Yield: 8
Serving Size: 1
Amount Per Serving:
Calories: 254
Total Fat: 20g
Saturated Fat: 8g
Trans Fat: 0g
Unsaturated Fat: 11g
Cholesterol: 28mg
Sodium: 174mg
Carbohydrates: 13g
Fiber: 1g
Sugar: 8g
Protein: 8g
Nutrition information is automatically calculated by Nutritionix. I am not a nutritionist and cannot guarantee accuracy. If your health depends on nutrition information, please calculate again with your own favorite calculator.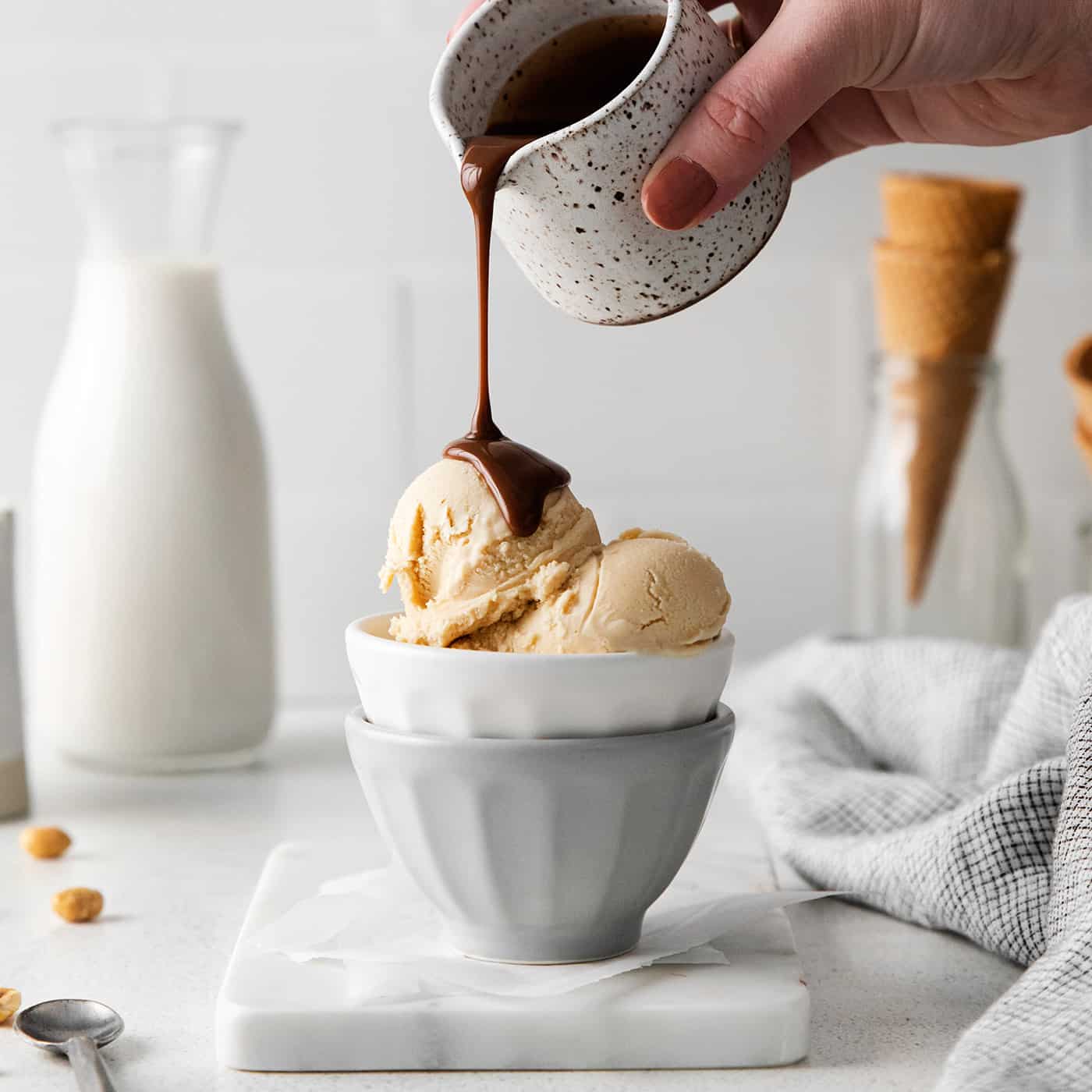 This post was originally published in 2010, then updated in 2022.