Peanut Butter Ice Cream with Ann's Hot Fudge Sauce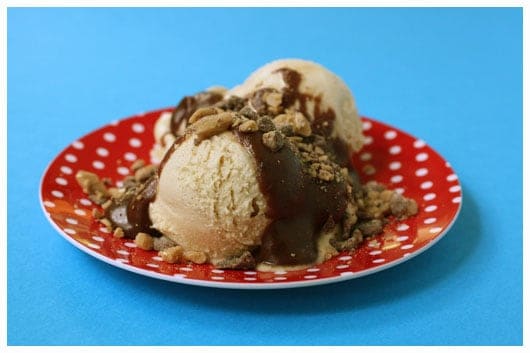 I must confess.
I have made this Peanut Butter Ice Cream two times in less than one week.
It's that good.
And I'm overjoyed that the recipe is so darn easy.  Just throw some peanut butter and four other ingredients in a blender and cool in the fridge for awhile.  Then pour the mixture into the ice cream maker and let the machine work its magic.  That's all it takes for delicious, creamy, peanut buttery frozen yum.
And what's peanut butter without chocolate?  This household has a strong commitment to the combination.  So I whipped up a batch of Hot Fudge Sauce, a recipe from my dear friend, Ann.  She shared her family recipe with me many years ago and now it's my own family's go-to ice cream topping.  This is incredibly easy to make and it disappears really, really fast!
To make the sundae shown in the photo, just scoop up some peanut butter ice cream, top with warmed hot fudge sauce, and sprinkle with crushed Heath candy bar (find bags of pre-crushed candy by the chocolate chips at the grocery store).  It's an awesome combination!
Ingredients
3/4 c. creamy peanut butter
3/4 c. plus 2 T. sugar
2-2/3 c. half-and-half
pinch of salt
1/8 tsp. vanilla extract
Preparation
Puree the peanut butter, sugar, half-and-half, salt, and vanilla in a blender or food processor until smooth. Chill the mixture thoroughly in the refrigerator, then freeze it in your ice cream maker according to the manufacturer's instructions.
Source
Slightly adapted from The Perfect Scoop by David Lebovitz - This is a superb book, check it out!
Ingredients
3 T. butter
1/4 c. semi-sweet chocolate chips (I prefer Guittard brand)
1 c. powdered sugar
2/3 c. evaporated milk (1 12-oz. can will make a double batch of hot fudge. Just double the other 3 ingredients, too.)
Preparation
Melt together butter and chocolate over low heat. Stir in powdered sugar and evaporated milk. Bring to a boil over medium heat then boil for 4 to 5 minutes, stirring continuously.
This recipe is easily doubled.
Source
From Ann Hauer's recipe box.