Buttery Peanut Butter Sandwich Cookies
These Buttery Peanut Butter Sandwich Cookies are the BEST peanut butter cookies out there. With soft peanut butter cookies sandwiching a delightfully creamy filling, they are pure PB heaven, in the most buttery, irresistible way!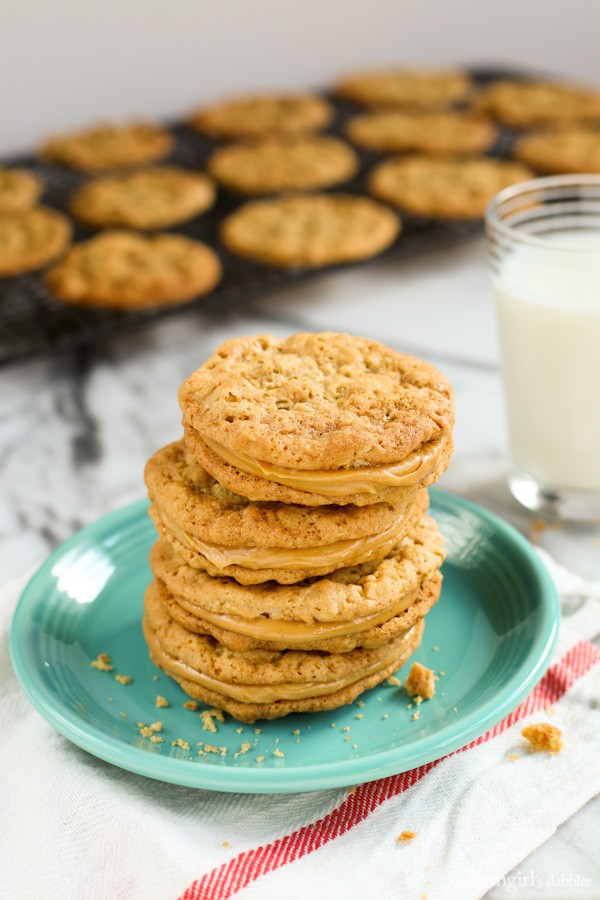 The Best Peanut Butter Cookies
As a huge fan of peanut butter cookies, and taste-tester of many, many recipes, I can confidently say that these Peanut Butter Sandwich Cookies are THE best peanut butter cookies out there!
My first experience with these peanut butter sandwich cookies happened when my family visited Seattle for the first time. I had heard that The Dahlia Bakery made the "best peanut butter cookie on the planet", so naturally we had to check it out. And all those reviews weren't kidding. Their peanut butter sandwich cookies are killer! They have awesome flavor and texture…and are wonderfully buttery!
When I found the recipe within the pages of The Dahlia Bakery Cookbook, I just had to take one of the books home with me as a souvenir. The recipe is included in this post, printed with permission from Tom Douglas.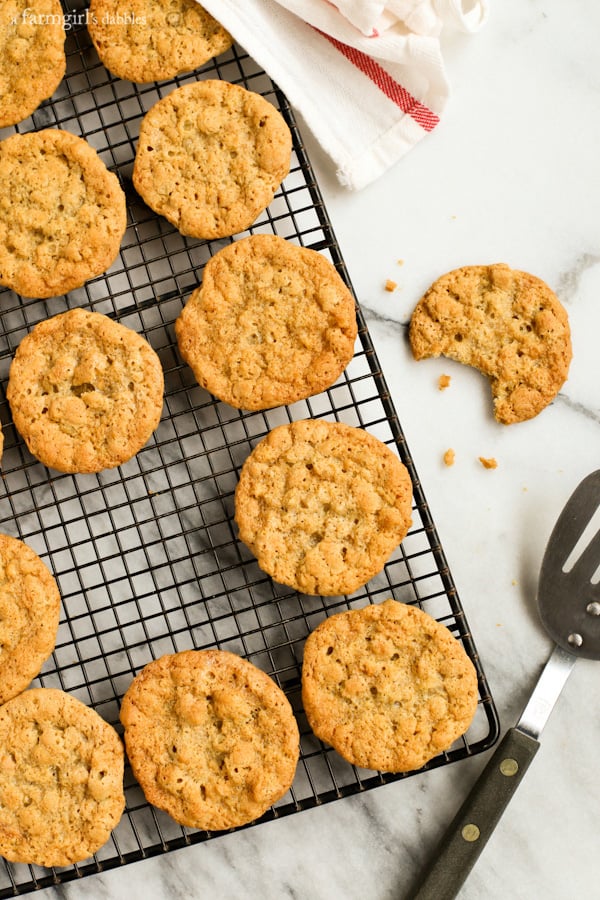 These peanut butter sandwich cookies are richly flavored with peanut butter, with a noticeable saltiness that leaves me completely addicted.
The cookies are perfectly soft, with the thinnest crispy exterior. And the sweet, buttery filling is beyond creamy. When you take a bite of one of these freshly made cookies, the filling squeezes out on the sides of your mouth. In this case, messy is just plain marvelous!
The baking directions are a bit quirky, as you set a baking sheet lined with chilled cookie dough inside another baking sheet to "double pan". This ensures slow and even baking in the oven. But don't let the quirkiness deter you – these peanut butter cookies are worth every second!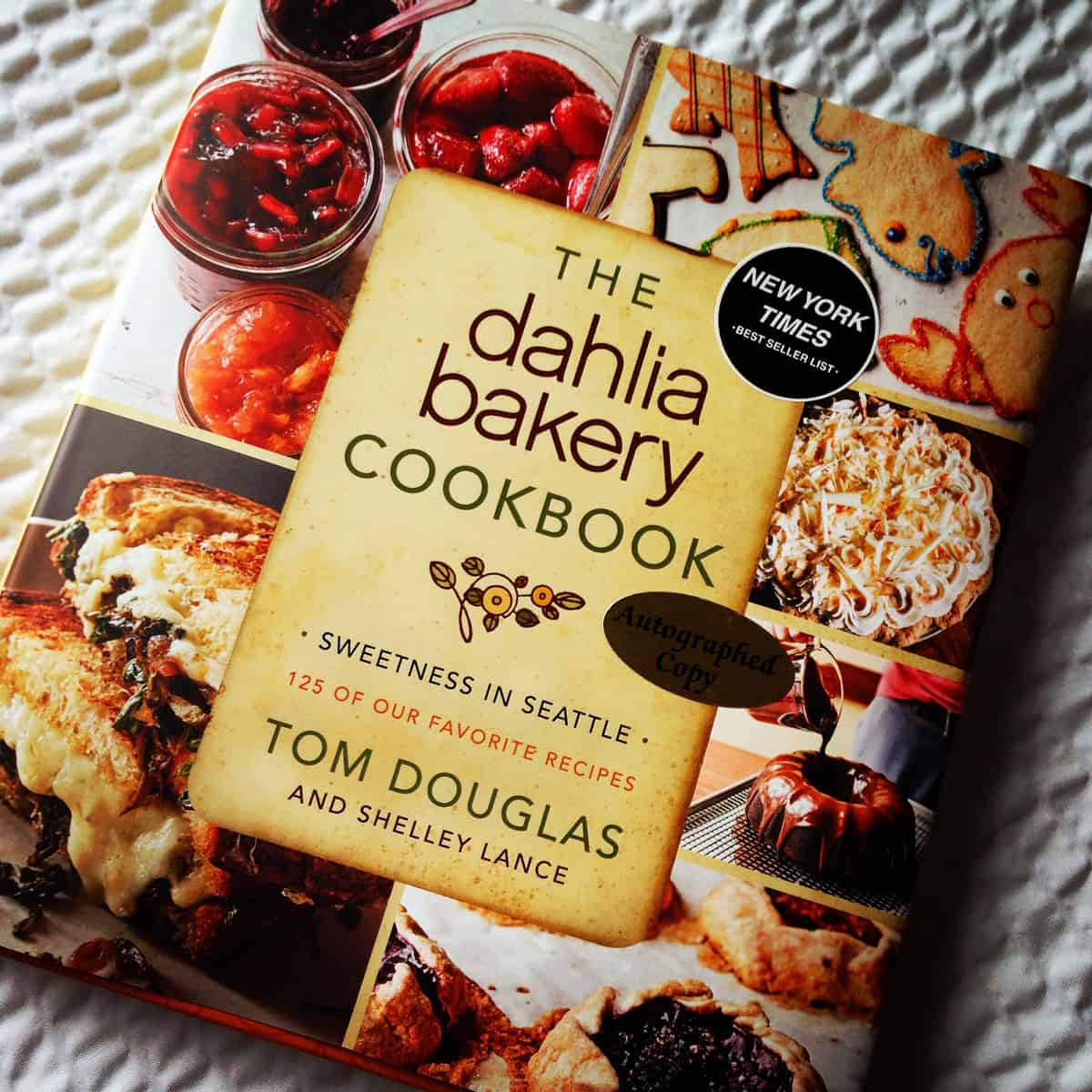 What You'll Need
These peanut butter cookie sandwiches are made with two different types of peanut butter, as well as pantry staples.
For the Peanut Butter Filling:
Creamy peanut butter – I use Skippy.
Unsalted butter – Be sure to let it soften.
Powdered sugar – Gives the filling its sweetness.
Honey – Adds another layer of sweetness that's wonderful with the peanut butter.
Salt
For the Peanut Butter Cookies:
All-purpose flour
Baking soda & baking powder – Small amounts of each give the cookies just a bit of rise.
Old fashioned rolled oats – Do not substitute instant oats.
Kosher salt – I love the pronounced saltiness in these cookies!
Unsalted butter – Of course, because the cookies do have "buttery" in their title!
Natural peanut butter – The recipe calls for a crunchy natural peanut butter. And even though I'm not a huge fan of the crunchy variety, it's absolutely PERFECT in these cookies!
Sugar – Both granulated sugar and brown sugar are used to make these cookies.
Eggs – Set them out beforehand so they come to room temperature.
Pure vanilla extract
What's The Best Peanut Butter For Peanut Butter Cookies?
Normally, for peanut butter cookies I would recommend using any creamy peanut butter. However, this cookie recipe utilizes two different kinds of peanut butter – creamy peanut butter for the filling and crunchy natural peanut butter for the cookie.
The creamy peanut butter makes the filling so smooth and creamy, while the natural peanut butter gives the cookie an awesome texture. I use Skippy brand for the creamy peanut butter. Tom Douglas recommends Adams natural peanut butter but I've never been able to find it – just use your own favorite brand!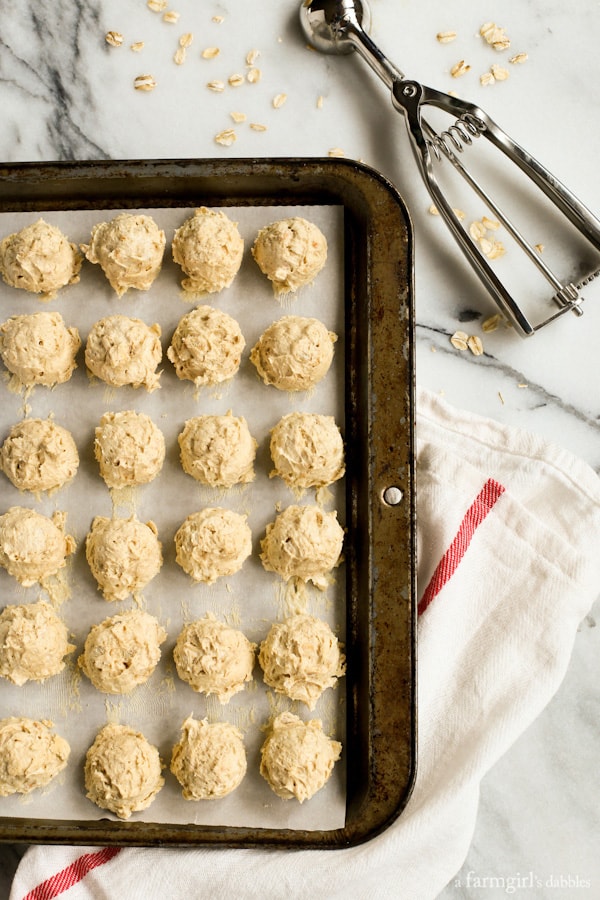 How to Make Peanut Butter Sandwich Cookies
These homemade peanut butter cookies are easy to make but be sure to follow the instructions carefully, as each step is important.
Make the peanut butter filling. Combine all of the ingredients, then cover and chill.
Make the cookie dough. Sift together the flour, baking soda, and baking powder, then stir in the oats and salt. Use the paddle attachment on an electric mixer to combine the butter, chunky peanut butter, and sugars. Cream until very fluffy and pale. Add in the eggs one at a time, then the vanilla. Add the dry ingredients in 3 or 4 additions. Mix until just combined, then use a rubber spatula to scrape the bowl very well.
Chill the dough. Portion the cookie dough into 1-tablespoon portions on a parchment lined baking sheet. Chill for at least 2 hours.
Bake. Arrange 12 cookies evenly space on the baking sheet. Set the baking sheet inside another baking sheet, to "double pan", and place in the oven. Bake until golden brown, about 12 minutes, rotating the pan halfway through. Allow to cool.
Assemble the cookie sandwich. To turn these peanut butter cookies into peanut butter cookie sandwiches, turn one cookie flat side up and spread with a tablespoon of filling. Top with another cookie and press gently down.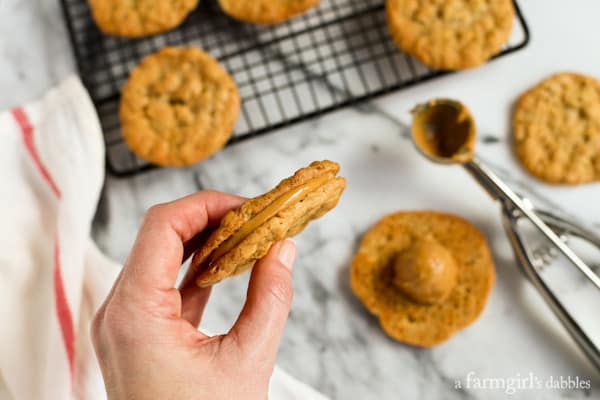 Tips for Success
If you're ready to rock these peanut butter cookie sandwiches, keep these few things in mind.
Chill everything. Chill the peanut butter filling, the cookie dough, and the baking sheets between batches. The cookie dough needs at least 2 hours to chill and you should keep any dough balls not being baked in the fridge.
Use the "double pan" method. Placing one baking sheet inside of another may seem a bit "extra" but trust me, it makes a difference when baking these cookies! This is one of the reasons they bake so evenly, with such an irresistibly soft texture.
Don't flatten the cookies. Unlike traditional peanut butter cookies, do not flatten these with a fork. They'll flatten themselves during baking.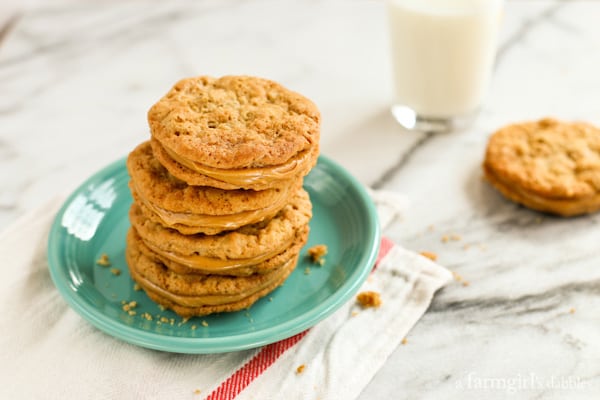 Making Ahead & Storage
The cookie dough can be made up to 3 days in advance, as long as it's kept cold in the fridge. That way you can just pull as many dough balls out of the fridge as you need to bake at a time. You can also freeze both the balls of dough and the fully assembled cookies for up to 3 day months.
Assembled cookies will keep at room temperature for up to 3 days.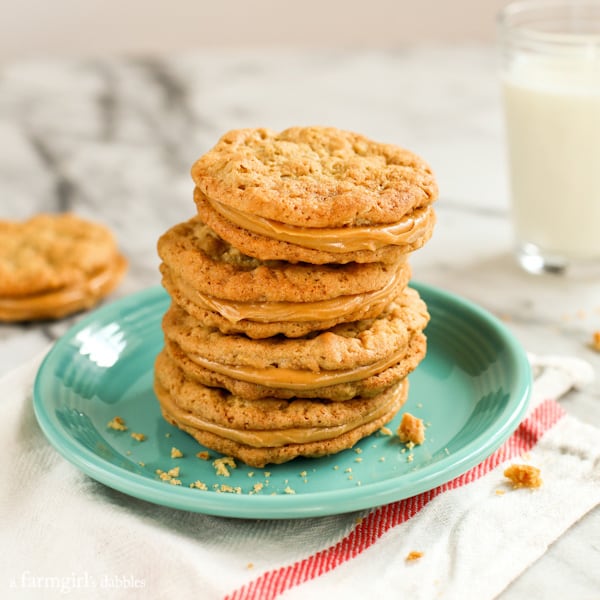 More Peanut Butter Cookie Recipes: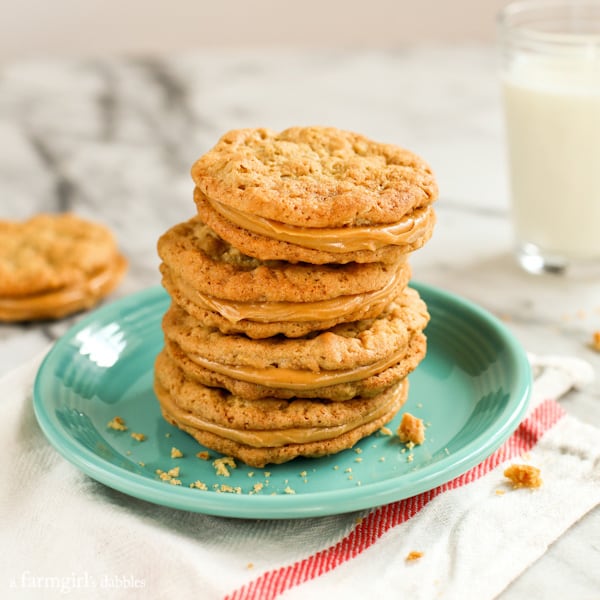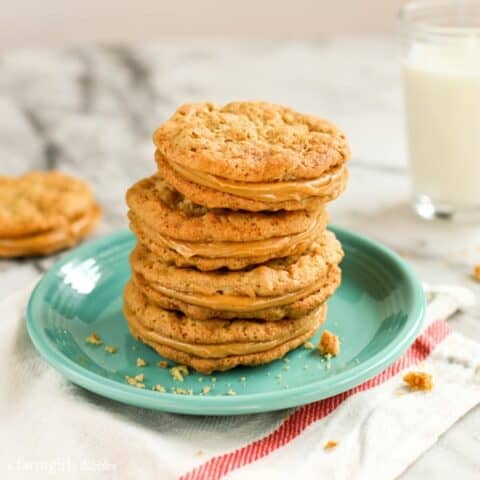 Buttery Peanut Butter Sandwich Cookies
Yield: 35 medium sandwich cookies
Prep Time: 2 hours 20 minutes
Cook Time: 12 minutes
Total Time: 2 hours 32 minutes
If you think you've already had the best peanut butter cookies in the world, I challenge you with these Buttery Peanut Butter Sandwich Cookies. They are pure peanut butter heaven, in the most buttery, irresistible way!
Ingredients
for the peanut butter filling:
1.5 cups creamy peanut butter (I used Skippy)
6 tablespoons unsalted butter, softened
2 tablespoons powdered sugar
2 tablespoons honey
1 teaspoon kosher salt
for the peanut butter cookies:
1.5 cups all-purpose flour
1 teaspoon baking soda
1/2 teaspoon baking powder
1-2/3 cup old fashioned rolled oats
1/2 teaspoon kosher salt
1 cup plus 2 tablespoons unsalted butter, softened
1/3 cup chunky natural peanut butter, very well mixed
¾ cup sugar
2/3 cup packed brown sugar
2 large eggs, at room temperature
1 teaspoon pure vanilla extract
Instructions
A few things to note: The recipe I have included here reflects a smaller sized cookie than those served at Dahlia Bakery; I just wanted a slightly smaller cookie for our enjoyment at home. Also know that the shaped cookie dough requires at least 2 hours of chilling time before baking, so plan accordingly.
For the peanut butter filling: In a medium bowl, combine all filling ingredients with a whisk.
Cover and chill the mixture until you are ready to fill the cookies.
For the peanut butter cookies: In a medium bowl, sift together flour, baking soda, and baking powder. Stir in oats and salt. Set dry ingredients aside.
In the bowl of an electric stand mixer with the paddle attachment, combine the butter, chunky peanut butter, and sugars. Cream on medium-high speed until very fluffy and pale, at least 3 minutes, scraping down the mixing bowl as needed.
Turn the mixer speed to medium-low and add the eggs, one at a time, beating to incorporate each egg, and scraping down the bowl as needed. Then beat in the vanilla extract.
Add the dry ingredients on low speed in 3 to 4 additions and mix until just combined. Do not overmix. Remove the bowl from the mixer and scrape down the bowl with a rubber spatula, going all the way to the bottom of the bowl to mix in the dry ingredients well.
With a medium scoop or a spoon, portion all the cookie dough into 1-tablespoon portions. Place the scoops on a parchment-lined baking sheet. You should have about 70 cookies. (You can place all the cookies close together for the chilling step - you will space them out for baking later.) Chill the scooped dough for at least 2 hours, or longer.
When ready to bake the cookies, preheat the oven to 375° F. Arrange 12 cookies, spaced evenly apart, per prepared baking sheet. Set the baking sheet inside another baking sheet to "double pan", and place it in the oven. Bake until evenly golden, about 12 minutes total, rotating the pan halfway through the cooking time (very important!).
Remove the pan from the oven and cool on a wire rack about 10 minutes before removing the cookies with a metal spatula. Allow the cookies to cool completely. And be sure to cool the baking sheets between batches before re-using them.
To make sandwich cookies: Place one cookie flat side up and spread with 1 tablespoon of filling. I used the same medium 1-tablespoon ice cream scoop. If you like a fuller sandwich cookie, you may need to make a bit more filling. Top with another cookie, flat side down, pressing gently. Repeat until all the cookies are assembled into sandwiches.
Notes
Printed with permission from Tom Douglas, with my adaptations included for smaller sized cookies.
Nutrition Information:
Yield: 35
Serving Size: 1
Amount Per Serving:
Calories: 215
Total Fat: 11g
Saturated Fat: 3g
Trans Fat: 0g
Unsaturated Fat: 6g
Cholesterol: 18mg
Sodium: 165mg
Carbohydrates: 26g
Fiber: 2g
Sugar: 10g
Protein: 6g
Nutrition information is automatically calculated by Nutritionix. I am not a nutritionist and cannot guarantee accuracy. If your health depends on nutrition information, please calculate again with your own favorite calculator.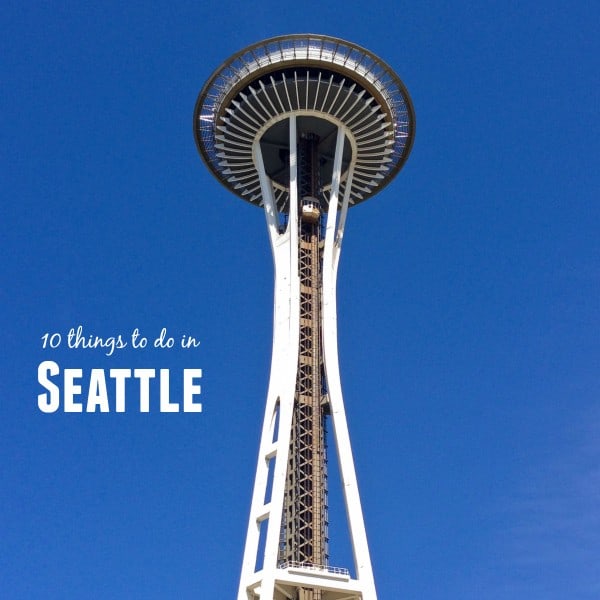 10 THINGS TO DO IN SEATTLE
Since our trip to Seattle last year (in 2014), I've gotten a number of email requests from readers, wondering what I recommend to see and do and eat. My family certainly didn't do it all, but we did manage to fit in quite a bit in one week's time. There is still so much yet to explore in and around Seattle, but here's our family's 10 highly recommended things to do when visiting Seattle!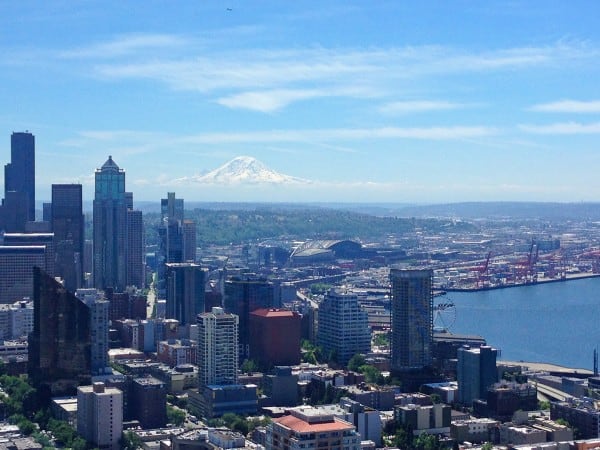 1. Go to the top of the Space Needle
"The mountain is out!" I wonder how many times we heard that excited statement the day we rode to the top of the Space Needle, the centerpiece left from the 1962 Seattle World's Fair.
The skies were big and bright and sunny. And from certain vantage points in the city, one could catch glimpses of Mount Rainier to the south, looking quite stately in its snow cap. And we had a magically incredible view at the Space Needle's Observation Deck, 520 feet above the city. We ate lunch in the Needle's revolving restaurant, SkyCity. And we totally lucked out that day. Because the mountain was out!
I had read a number of yay and nay reviews about the restaurant, and also the experience of the Observation Deck. But I just had a feeling it would be worth it for us. So I made a reservation for 6 (we invited my parents to join us for the week) a couple months ahead of time. It's not inexpensive, I'm not gonna lie, but your dining reservation also gives you access to the Observation Deck (which isn't cheap on its own, either) for "free".
While the restaurant revolved during lunch, giving us a floor-to-ceiling and 360° view of the Emerald City and beyond, we relaxed and soaked up the experience like the most precious gift. Our meals were very good and the staff was attentive. Based on our experience, I'd do this again. Definitely!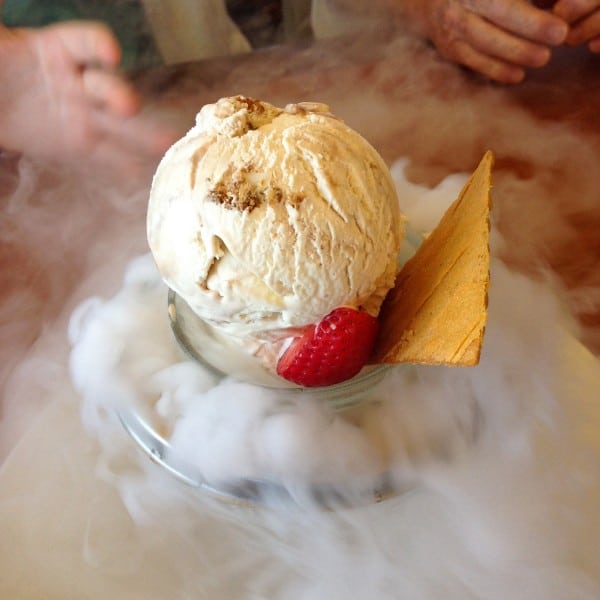 To cap off our lunch, my mom ordered dessert for all of us. She had heard about a showy ice cream dish and wanted to surprise our girls with it. The dessert was fun and impressive, a smoke-billowing showpiece.
Tips from our experience:
If you want to eat at SkyCity, and you're visiting during high travel season, make a reservation as far ahead of your visit as possible. I was given limited dining availability two months ahead of time for our visit at the end of June.
Sample some of the Needlicious Fudge in the Space Needle's gift shop. I bet you'll want to take some home with you!
To travel easily between the Space Needle and downtown Seattle, use the Seattle Center Monorail. The monorail, also built for the 1962 World's Fair, was clean and easy to use.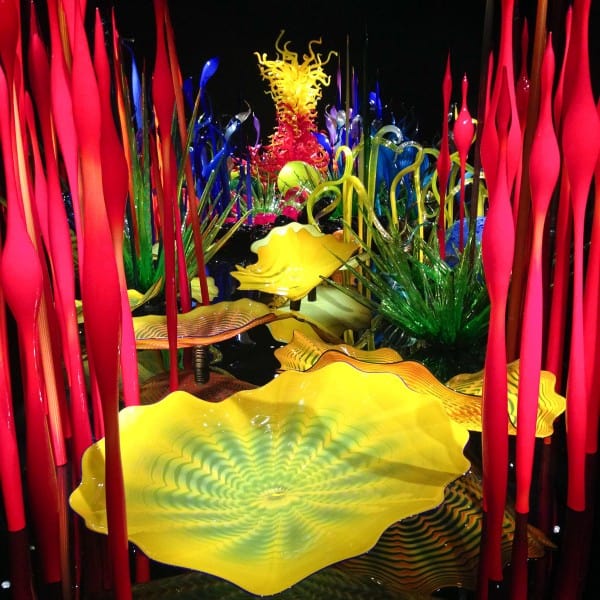 2. Be inspired by local artist Dale Chihuly

Right next door to the Space Needle is Chihuly Garden and Glass. I've been enamored with Dale Chihuly's glass blowing ever since I stood under a ceiling display of over 2,000 huge hand-blown glass blossoms at the Bellagio in Las Vegas many years ago. So this was a must-see for me.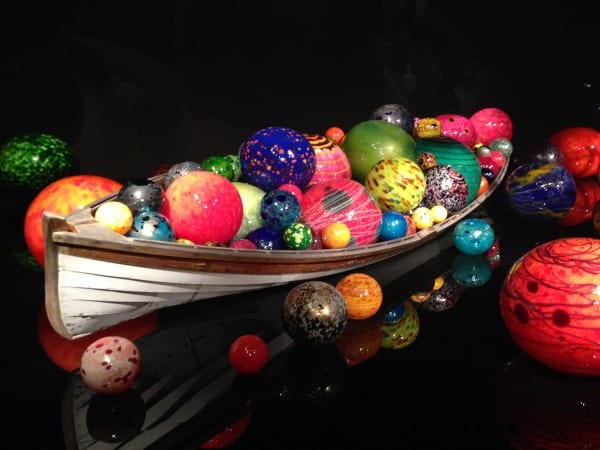 Mom and I were the only ones who paid admission to walk through the glass museum and gardens. I'm so glad we did. The art was colorful with a wide range of styles. Definitely impressive.
(Pssst…Those hand-blown orbs, above, are sitting in a life-size boat!)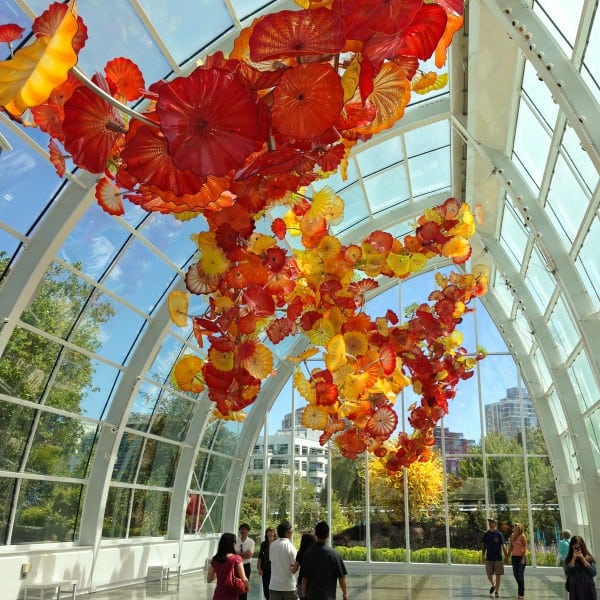 My favorite spot of all was the 40-foot tall Glasshouse, the centerpiece of the lush gardens.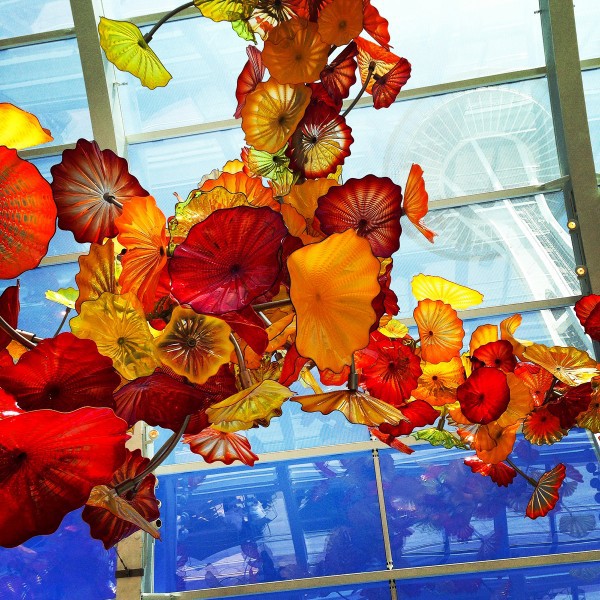 Made of red, orange, and yellow blossoms, the suspended glass is captivating. When you stand in the middle and gaze upward, you are reminded how close you are to the Space Needle.
Tips from our experience:
This might not be for everyone, I admit. My husband and girls weren't all that interested, so they grabbed a snack and explored the area nearby while Mom and I enjoyed the glass art.
Chihuly Garden and Glass is right next to the Space Needle. Plan to visit both of these on the same day. Again, the Seattle Center Monorail provided an easy way to get from this area to downtown.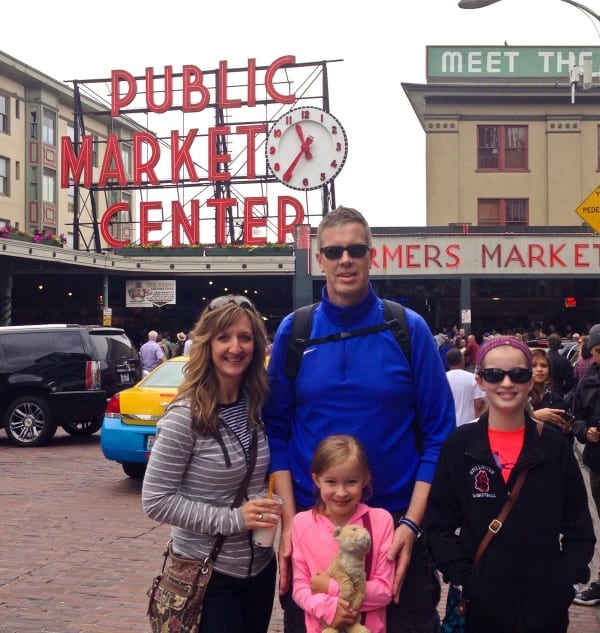 3. Spend some time at Pike Place Market
When visiting Seattle, you just have to plan a trip to the Pike Place Market. If you have the time, I would even suggest a couple trips, at different times of the day. We found the experiences very different each time at this year-round farmers market. It's a bit quirky and whole lot charming. I wish I had something like this within a few blocks of our home!
Being from the land-locked Midwest, I'm always fascinated with the fresh fish and seafood from areas that are blessed with delicious abundance from the ocean and sea. You'll find several large fish markets at Pike Place Market.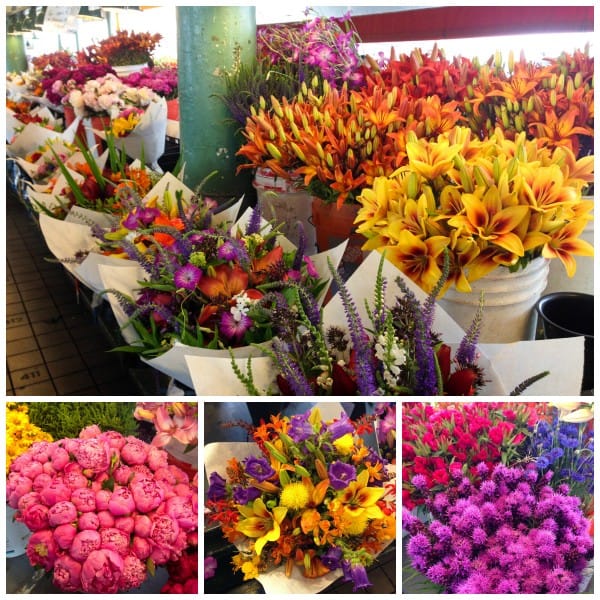 The flowers! I loved watching the women behind the counter creating gorgeous arrangements, picking just the perfect assortment of shapes and colors for each bouquet.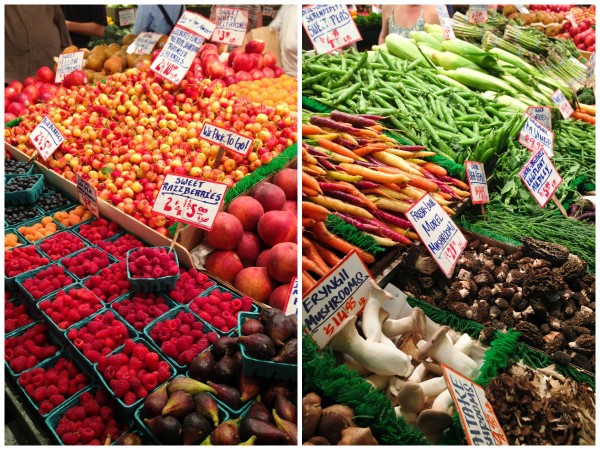 The fresh produce was incredible, with multiple vendor stalls bursting with fruits and vegetables from local farms in the Pacific Northwest.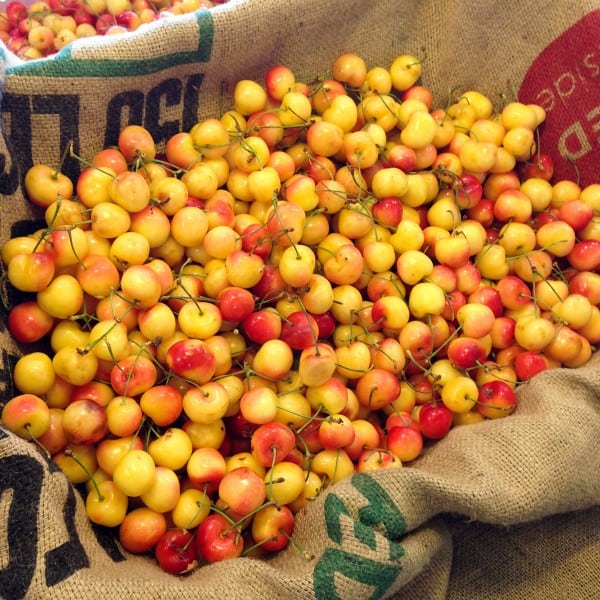 It was cherry season while we were in Seattle, oh lucky us! Fresh cherries were our treat of choice during the trip.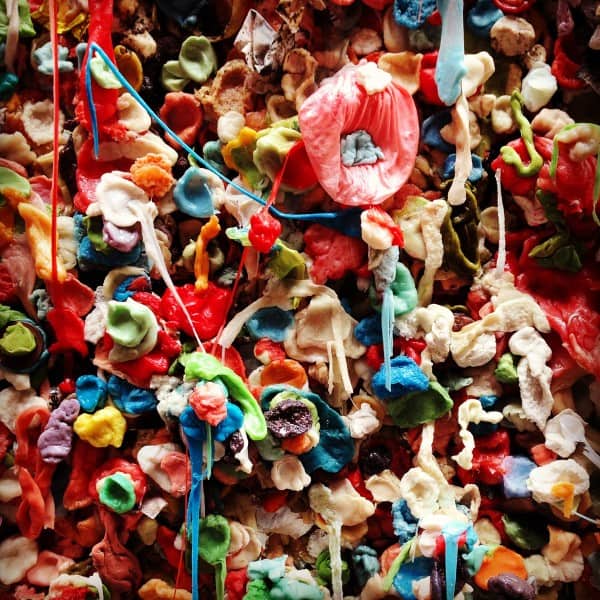 From beautiful cherries to chewed and discarded gum. Hmmmm… Our crew of 6 had wide ranging opinions of the Market Theater Gum Wall, from "disgusting" to "cool" to being only mildly amused, we all agreed we were glad we made the effort to find it under Pike Place Market in Post Alley. Can you believe it's a popular spot for wedding photography?!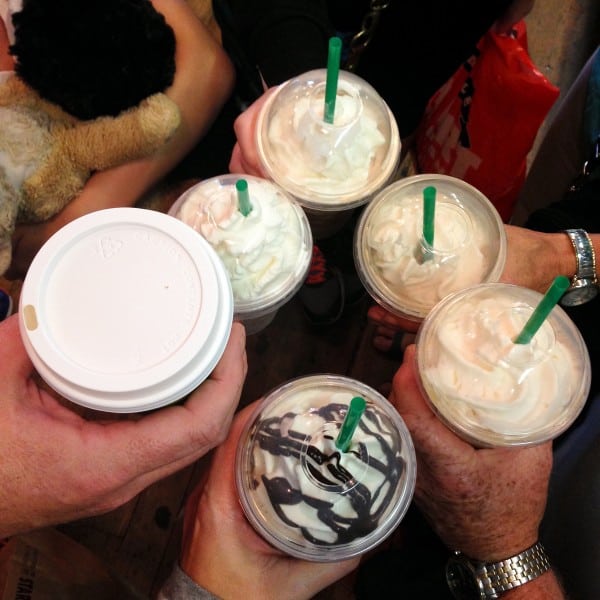 Our oldest daughter would be disappointed if I didn't mention her first Starbucks Frappuccino. Yes, ever since the day she knew we were headed to Seattle for the first time, she said, "That's when I'm going to have my first Starbucks, at the flagship store." She enjoyed every last sip of that long awaited frozen beverage, and a Frappuccino is now her treat of choice.
Tips from our experience:
Arrive early. Or late. If you visit from mid-morning through mid-afternoon, be prepared for a shoulder-to-shoulder crowd on the weekends during high tourist season. It's a much less pleasant way to take in all the market has to offer.
Bring a tote bag with a comfortable strap to carry things you purchase.
Grab a bag of hot, fresh mini doughnuts at Daily Dozen Doughnut Co.
Stand in line (we never saw this place without a line) at Piroshky Piroshky for some traditional Russian hand-held pies. They offer both sweet and savory, in a wide variety of flavors. I loved watching the bakers creating these gorgeous pastries. They are works of art.
If you're looking to be entertained: The Pike Place Fish Market, at the corner of Pike Place and Pike Street, is known for their tradition of fishmongers throwing fish that customers have purchased, before they are wrapped.
While the line can sometimes snake out the door and around the corner, Beecher's Handmade Cheese is worth the stop. You can watch cheese being made in large vats at this small shop, and there are free cheese samples and other delicious goodies. We picked out a variety of cheeses, some fresh cherries and peaches, and a bottle of wine and some crackers from DeLaurenti Specialty Food & Wine (in the market) for our dinner one evening back at the hotel. Perfection.
If you're a foodie, you can also visit the flagship Sur La Table store!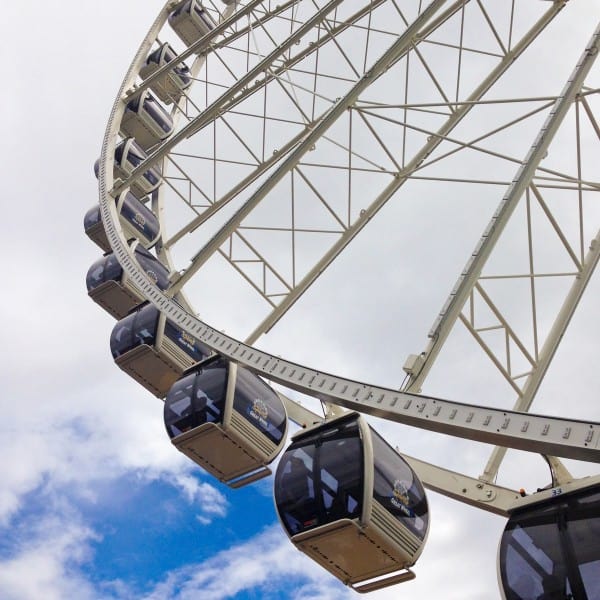 4. Take a spin on the Seattle Great Wheel
The Seattle Great Wheel opened in 2012. At 175 feet tall, the wheel extends nearly 40 feet beyond the end of the pier, over Elliott Bay.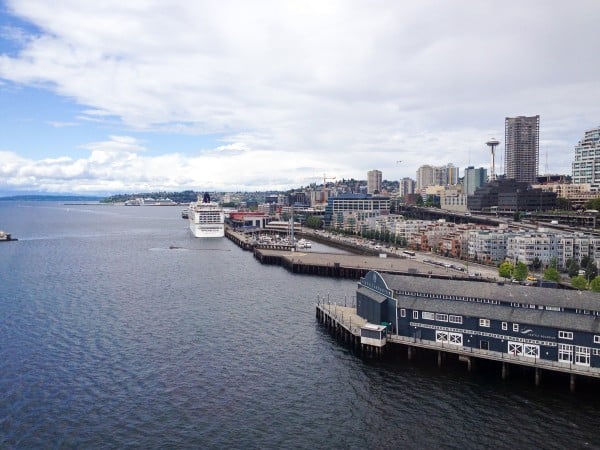 This ride was a great way to get a different view of the city, and proved to be a highlight for our girls. And I'm always up for a ferris wheel ride. :)
Tips from our experience:
Plan to eat lunch or dinner in the area along the piers. There are plenty of restaurants. I enjoyed a small platter of fresh oysters overlooking the water at Ivers.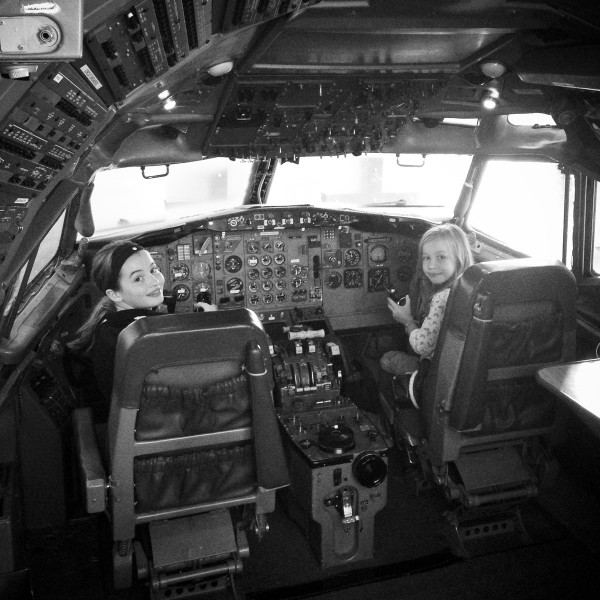 5. Buy a ticket to a tour at Boeing
We got around Seattle by foot, monorail, and modern streetcar. But we did rent a vehicle for a few days to take in some things outside the city.
Boeing was one such stop, located just 25 miles north of Seattle in Everett, Washington. I have very few photos from this piece of our trip, though, as Boeing does not allow pictures in their plant. We were able to view jets being assembled. And until you actually see this for yourself, it's impossible to portray the massive size of the buildings necessary to construct these huge flying machines, much less the airplanes themselves. We all thought this was a great way to spend a day. Very educational. You'll never look at an airplane in the same way again!
Tips from our experience:
If possible, try to plan your tour on a weekday. We went on a Sunday, when the plant was not especially active. While we still got to see a lot, I think the experience during the week, with active construction, would have been more fun.
Tours fill up. Plan ahead by reserving your tickets online.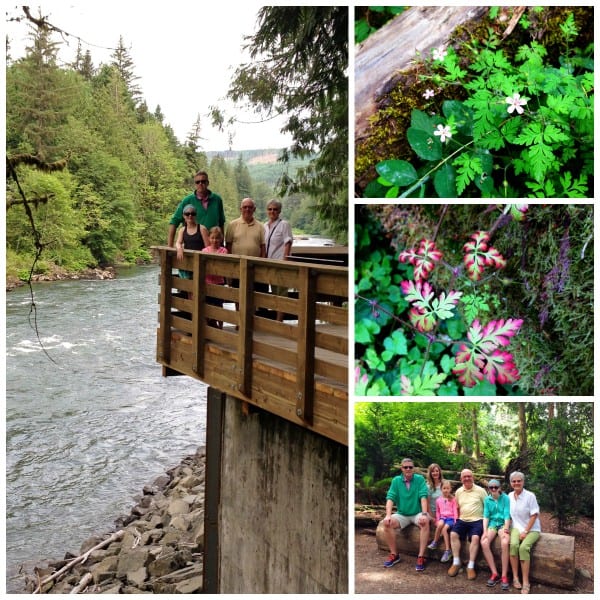 6. Take a drive in the country to Snoqualmie Falls
I had always seen pictures of Snoqualmie Falls, and knew that if we could fit in a drive, I wanted to see this place for myself. It's located about 30 minutes east of Seattle and easy to get to. This waterfall is 270 feet tall, a rush of beauty sending its cooling, fine mist up to meet you on the observation deck.
I highly recommend taking the path down to the lower falls area. It was lush and thriving with beautiful Pacific Northwest flora. I had never seen mosses so big and lacy and gorgeous in all my life.
Tips from our experience:
Stop in at Salish Lodge that overlooks the falls. It's warm and inviting and very luxurious, plus it offers an exceptional gift shop. The lodge would be a lovely, indulgent place to spend a couple nights to celebrate a special occasion. I'd also be happy to enjoy a meal in their dining room.
I already said, but I'll say it again. Take the trail to the bottom of the falls!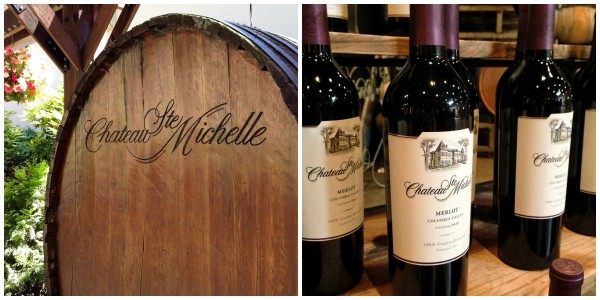 7. Experience Washington wine country
When we left Snoqualmie Falls, we headed a bit north to Woodinville. Home to over 100 tasting rooms, this is Columbia Valley wine country.
If it had been just Blake and me, we would have toured more wineries, for sure. But I knew our girls wouldn't appreciate that very much. So I chose to visit just one, the oldest winery of Washington State, Chateau Ste. Michelle. Located on a beautiful, sprawling estate, this place has an Old World feel. We took part in a short winery tour and tasting, of which I'd recommend. There's also a pretty remarkable wine shop on site.
A blogging friend who lives near Woodinville (and works at Boeing) recommended we stop in at Red Hook, just across the street from Chateau Ste. Michelle. If you're into beer, this is a great stop. I ordered a tasting flight and found a number of very likable brews. Red Hook offers brewery tours and a full menu, too.
Tips from our experience:
Woodinville is FULL of winery tasting rooms. We barely touched on all there was to offer here. If wine is your thing, plan to spend a whole day (or weekend!) in this area.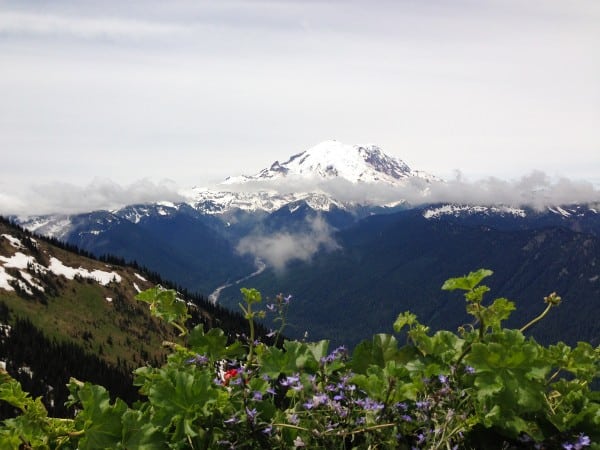 8. Explore Mount Rainier National Park
We almost decided not to make the 50-mile trek south to Mount Rainier National Park, but I'm so glad we did.
Considered one of the most dangerous volcanoes in the world, Mount Rainier is the highest mountain in Washington and the Cascade Range, with a summit elevation of 14,411 feet.
The picture above was taken from the Summit House restaurant at Crystal Mountain Ski Resort.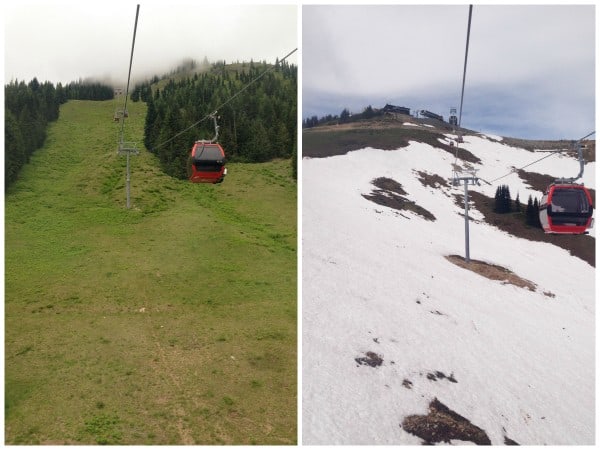 Had we not stopped outside of Mount Rainier National Park's northeast entrance near Crystal Mountain, we would never have seen the peak of the mountain that day because of the clouds. We rode the ski gondolas up through the fog to the Summit House, where we got above the cloudy cover, to witness Mount Rainier in all its glory. It really was quite awesome.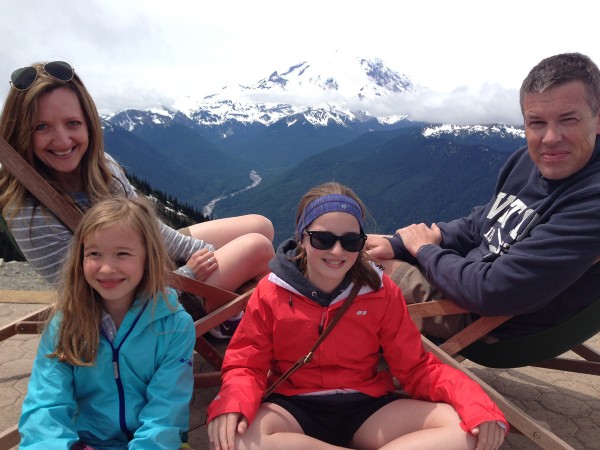 We ate a tasty, casual lunch at the Summit House, with a front row seat to the mountain. Then we stepped back outside for a few more photos. It was chilly up there!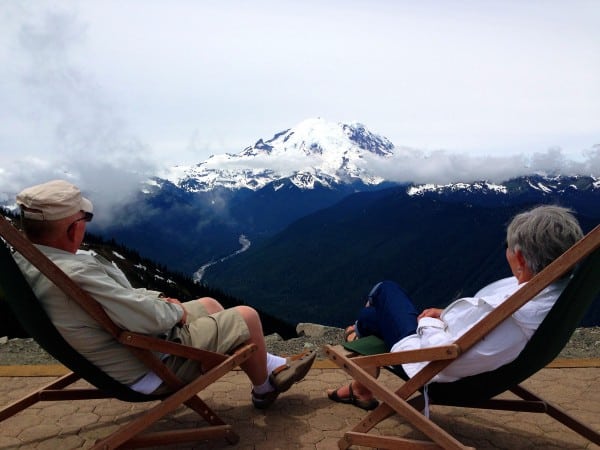 This is one of my favorite photos from our trip, of my parents gazing at the mountain together.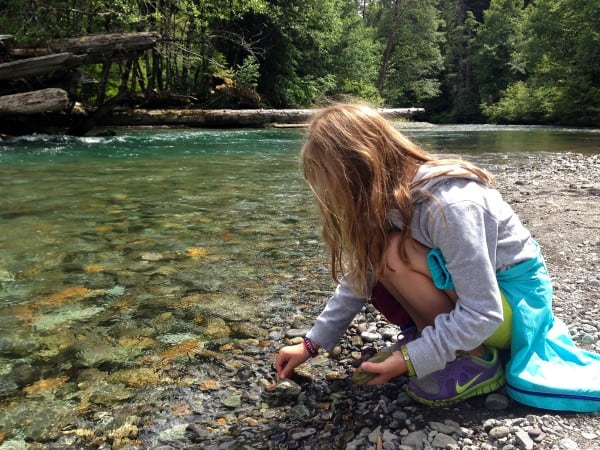 If you've ever been to a large National Park, you know how much time it takes to get around, and how many places there are to stop and hike and ponder nature's amazingness. We barely touched on all there is to see and do at Mount Rainier, but one stop I'd recommend is the Grove of the Patriarchs. Our girls were content to just play by the river's edge, picking smooth stones from the frigid, super clear water.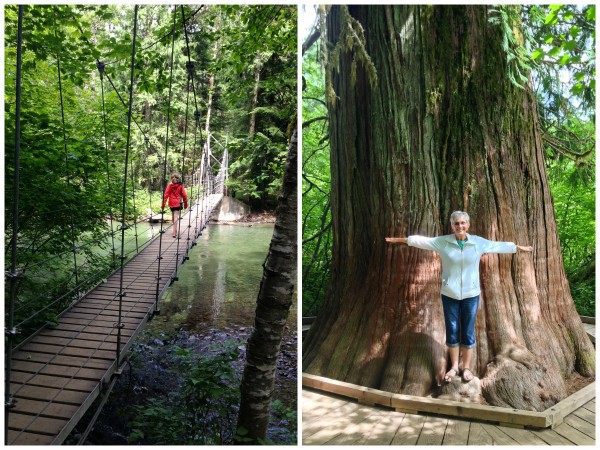 This trail offers an easy, short hike through MASSIVE ancient trees, some nearly 40 feet in diameter and more than 300 feet tall. There's also a pretty little 1-person-at-a-time suspension bridge. Be sure to walk over this bridge to witness the biggest tree in that area.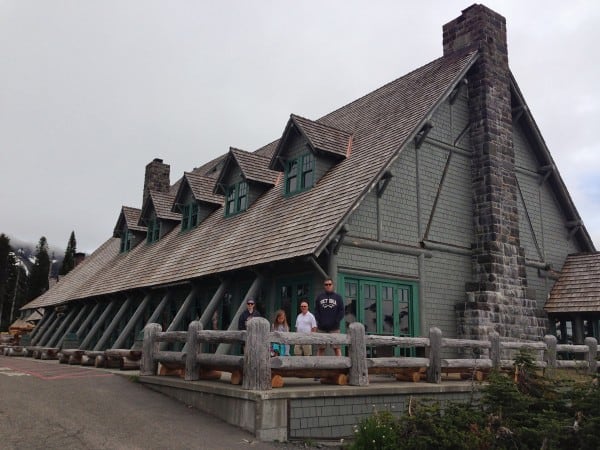 I always love the old lodges at the National Parks, so we made sure to stop at Paradise Lodge on our way out of the park. We visited the park on a cool, cloudy day, when a sweatshirt sometimes didn't offer quite enough warmth. But inside the lodge, the huge fireplace was burning, welcoming, with guests relaxing around it. If I ever visit this park again, I'd love to spend a night or two right there in the park. This location is also home to the Henry M Jackson Memorial Visitor Center, which offers casual food service and a gift shop.
Tips from our experience:
It took us almost 2 hours to drive each way, from the downtown Seattle area to the park's entrance, and back. If you want to explore the park in one day, get going early so you can make the most of your time. The roads are winding inside the park, and driving is at a much slower pace. Have realistic expectations about how much time it will take you to get through the park.
The park offers very little opportunities for eats, so pack some water and snacks.
9. Take the ferry to Victoria, BC for a day
When I pre-reserved seats for our family to ride the ferry to Victoria, BC on Vancouver Island, I had no idea it was actually on Canada Day (celebrated July 1st of each year). What a treat it was for us to experience the patriotism of this day with our northern neighbor! There was live music and entertainment everywhere, vendors on the street, and the local Canadians were easily spotted by their red maple-leafed t-shirts. The girls even got a picture with the Mounties in front of The Empress.

I regret not having time to explore the Parliament of Victoria. Our daughter's teacher had recommended to visit while it was in session, but our timing didn't work out. Those roses on the right lined one edge of the Parliament's lawn. Spectacular!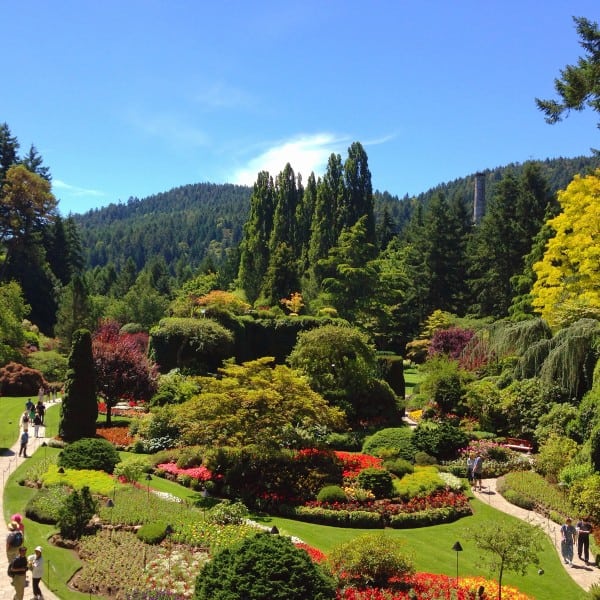 We spent a good amount of our day about 14 miles north of Victoria at Butchart Gardens, lush and abundant with color. If you love a splendid well-tended garden, make this a priority when visiting Victoria. My favorite space was the Sunken Garden (above), cradled within the walls of an old quarry.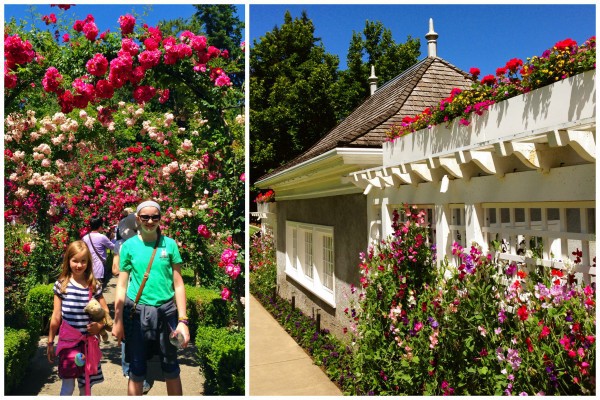 The roses. Can you smell them?! I can't begin to explain how magnificent the Rose Garden was.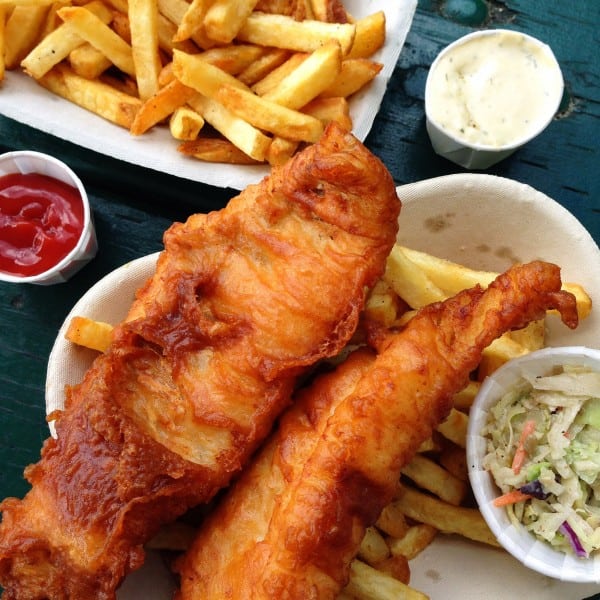 Before boarding the ferry back to Seattle, we sat along Victoria's waterfront and ordered some fresh fish and chips. I'd say it was the perfect (delicious) send-off!
Tips from our experience:
If we ever get back to Victoria, I'd love to take in Afternoon Tea at The Empress. It's a bit spendy, but the hotel is quite grand, steeped in tradition. I think it would be a lovely experience.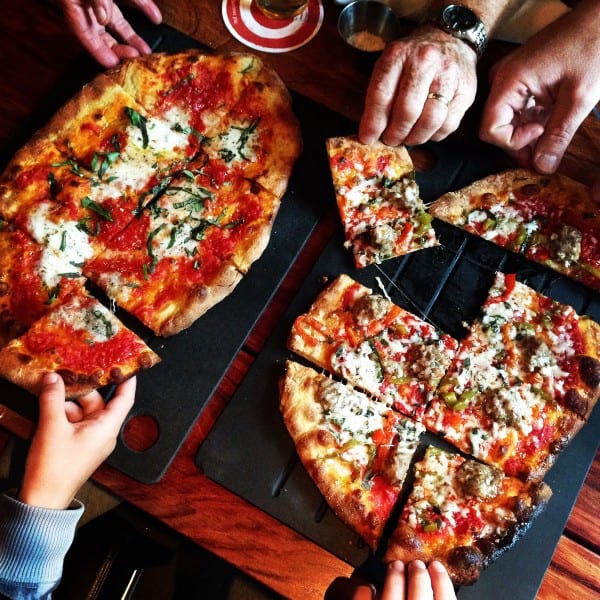 10. Grab some eats at Tom Douglas' restaurants
This is where I wrap up our trip to Seattle and bring it full-circle, back to Tom Douglas and those amazing peanut butter sandwich cookies. There is so much good eating in Seattle, but I can't help but call out the restaurants that we visited by Tom Douglas, because each and every meal was awesome.
The pizza above was enjoyed on our first evening in Seattle, from Serious Pie & Biscuit on Westlake Ave. There are a couple other Serious Pie locations, but this one was closest to our hotel on Lake Union. When I think of the best pizza I've ever had, Serious Pie is a top contender. They also offer a variety of local brews, plus house-made root beer and grape soda. This is where our youngest daughter learned to love root beer.
We also stopped in at Dahlia Bakery to calm a snack attack. I ordered a mini triple coconut cream pie bite (slices of this pie are a signature dessert at Douglas' restaurants) and a peanut butter sandwich cookie. Because I just had to see what all the hype was about. Just trust me. Seek out both of these desserts when you're in Seattle.
Dahlia Lounge is right next door to Dahlia Bakery, and this is where our family enjoyed a special dinner together one evening. The service and experience were wonderful, just like our meal, from beginning to end. Dad and I each ordered the 5-spice duck that I had read so much about, and this tender, perfectly-spiced dish did not disappoint.
On the morning of the 4th of July, we walked to Serious Pie & Biscuit again, this time to partake in the biscuits. My husband is a breakfast guy through and through, and he'll tell you this was one of his favorite meals during our week in Seattle. The biscuits were tender and flavorful, with a beautifully crispy exterior. I enjoyed mine with a lovely egg dish, while Blake and Hatti savored every last bite of their fried chicken with Tabasco black pepper gravy. And Tessa just ate hers with creamy butter and house peach-vanilla bean jam. :)
Tips from our experience:
I really feel that you just can't go wrong by choosing any Tom Douglas restaurant while in Seattle. We visited just a few of them.
When visiting Serious Pie & Biscuit, be sure to head upstairs where you can look down on the bakery on the back side. When it's in progress, it's wonderful baking entertainment.
If you see crème caramel on the menu, order it! We shared this lovely custard dessert at Dahlia Lounge. It's wonderful.
Don't skip the peanut butter sandwich. I repeat. Do not skip the buttery peanut butter sandwich cookie!