Peanut Butter Blossoms
Peanut Butter Blossoms are soft and chewy cookies with a crackly sugar crust and chocolate kiss. This classic cookie recipe is so easy and a must during the holidays!
Homemade Peanut Butter Blossom Cookies
Last year, during the Christmas season, I shared a photo of Peanut Butter Blossoms on Instagram. I had just baked them. They were still fragrant, warm from the oven.
Thinking that everyone has to already have their own peanut butter blossom cookie recipe, I hadn't even thought to share mine here. It's a recipe passed down from my mom, like so many on this site.
But I was wrong. I received many requests last year to share Mom's recipe. And then it happened again this year. So I'm delivering this cookie recipe, the weekend before Christmas. It's an easy recipe. You'll have the best peanut butter blossoms in your very own kitchen in no time at all!
Like chocolate and peanut butter? Here are a few more recipes for you! Another easy recipe, we LOVE these Chocolate Peanut Butter Ritz Cookies – a Christmastime favorite. Mom's Peanut Butter Cereal Bars are quick to make, quick to disappear. And this Chocolate Cake with Fluffy Peanut Butter Frosting is super fun!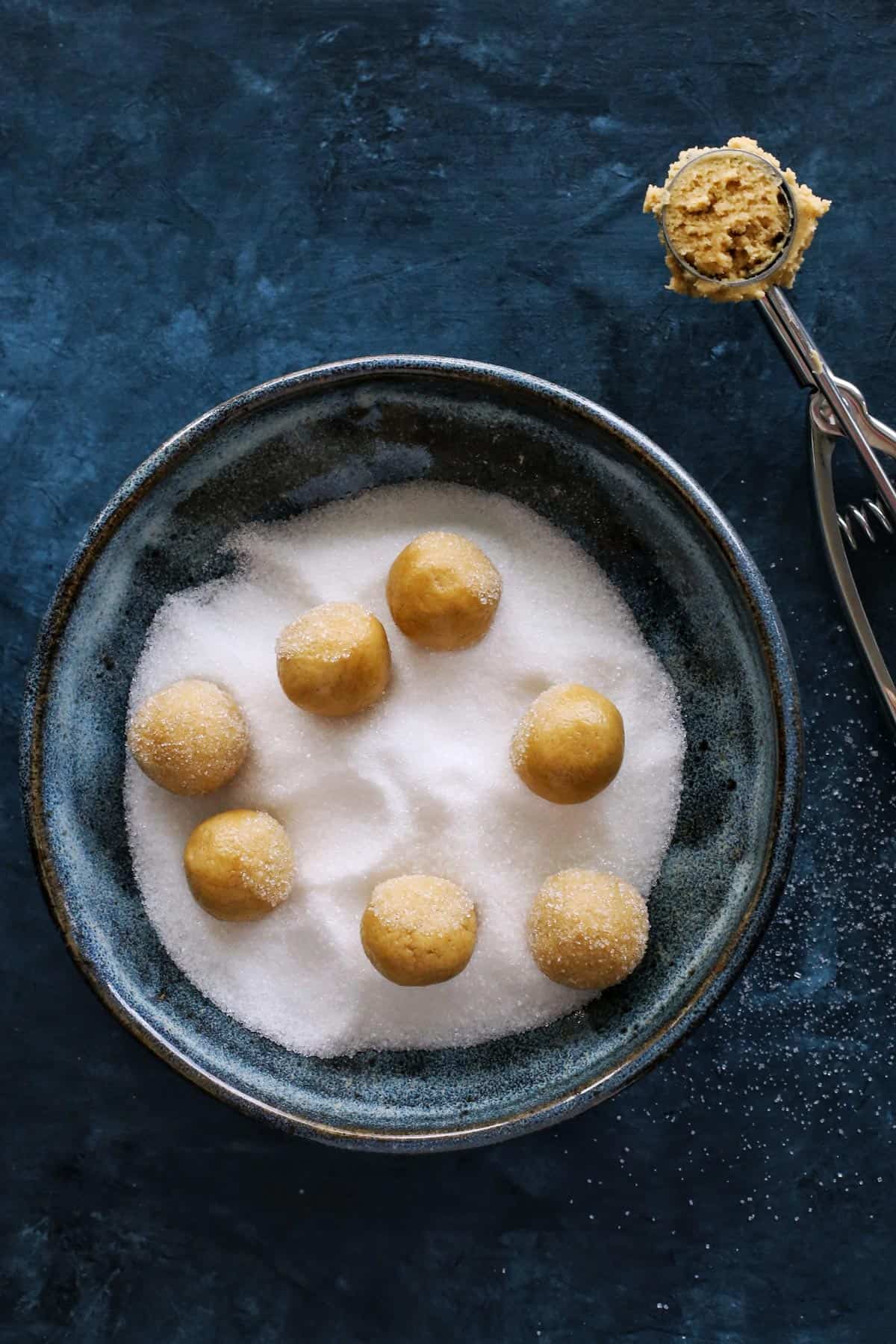 How to Make Peanut Butter Blossom Cookies
This is one of the easiest, most fail-proof cookie recipes out there. There's no crazy ingredients, no funky directions, no chilling of the dough. And the results are spectacular!
The cookie dough is simple, with peanut butter, butter, and brown sugar as the main flavor-givers. They also provide the soft chewy texture in the baked cookie. The only thing I changed in Mom's recipe is that hers calls for shortening rather than butter. If you prefer shortening, go ahead with that.
Preheat your oven to 375F.
Mix wet ingredients: In a large bowl, beat together the peanut butter, white sugar, brown sugar, butter, egg, milk and vanilla. I use an electric mixer for this. A stand mixer would also work.
Add dry ingredients: Add the flour, baking soda and salt. Blend well.
Shape cookie dough: Scoop a small portion of dough for each cookie and shape into balls just over 1 inch in diameter. (I like to use this small scoop)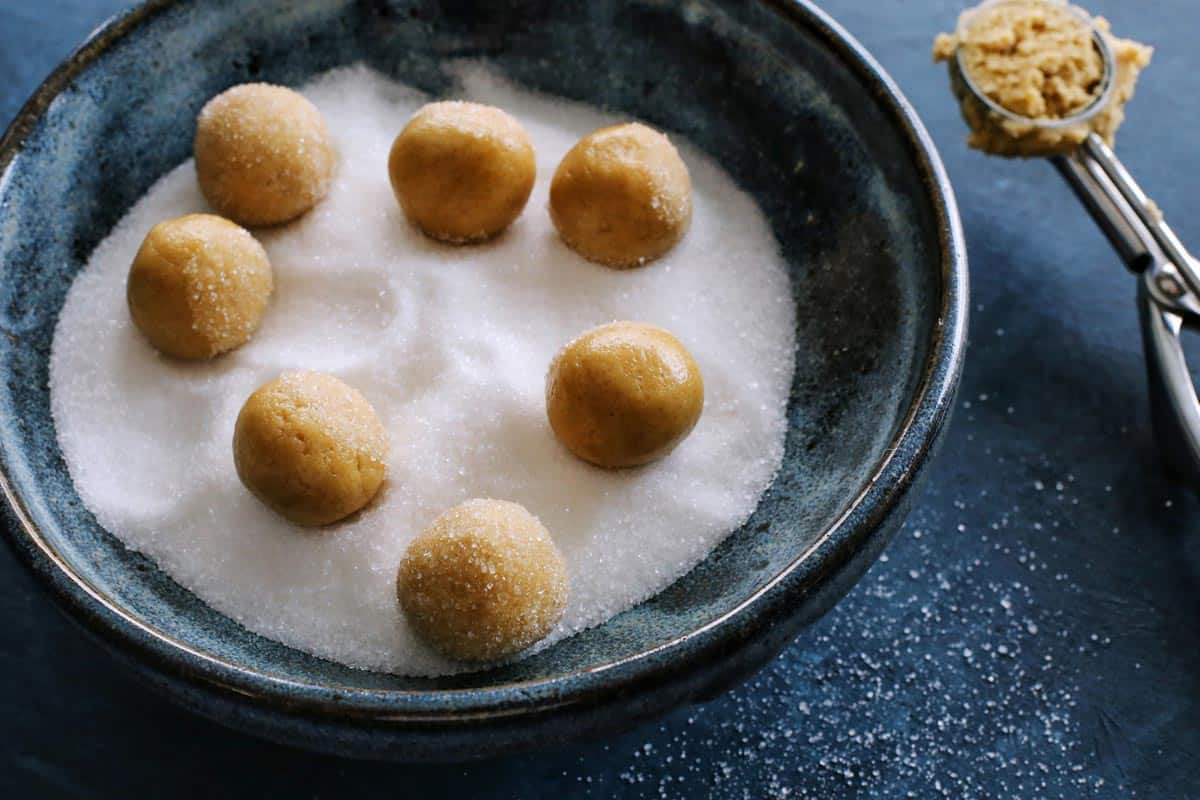 Roll in sugar: Roll the cookie dough balls in granulated sugar. This creates a sparkly, lightly crackly crust to the baked soft cookie.
Bake: Place the dough balls on an ungreased cookie sheet about 2 inches apart. Bake for 8 minutes until the edges are a light golden brown.
Add chocolate kisses: Immediately after the cookies come out of the oven, press a milk chocolate Hershey's Kiss into the center of each one. This creates the beautiful cracks. My favorite part of the cookie making process!
Cool: Let the cookies cool a bit to firm up, then enjoy!
Pro Tip for Perfect Peanut Butter Blossoms:
I personally don't mind a bit of melty chocolate on my cookies. But if you are making these Peanut Butter Blossoms for the holidays or just want a picture perfect cookie, you can put these in the freezer for a few minutes right after you add the chocolate kisses. This helps prevent the chocolate from melting and also speeds up the cooling process.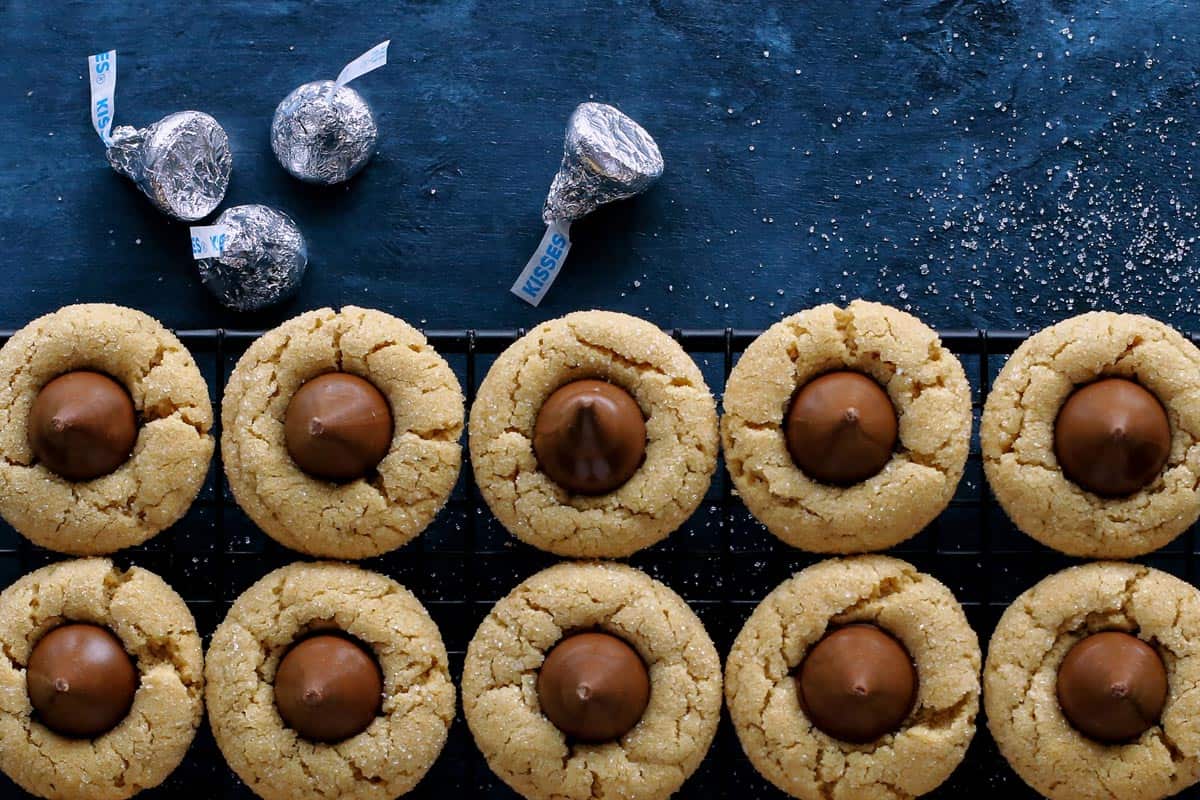 What Makes this the Best Peanut Butter Blossoms Recipe?
I think this recipe is the best. There's great peanut butter flavor, plus wonderful texture. And the size is perfect, not too big, not too small.
If you have a little baker wanting to get busy in the kitchen, these cookies are perfect for kids to make! They're also a simple cookie you can throw together for the holidays. With hardly any effort you can have a beautiful Christmas cookie.
You can also play around with this recipe by using colored sugar to make them even more festive!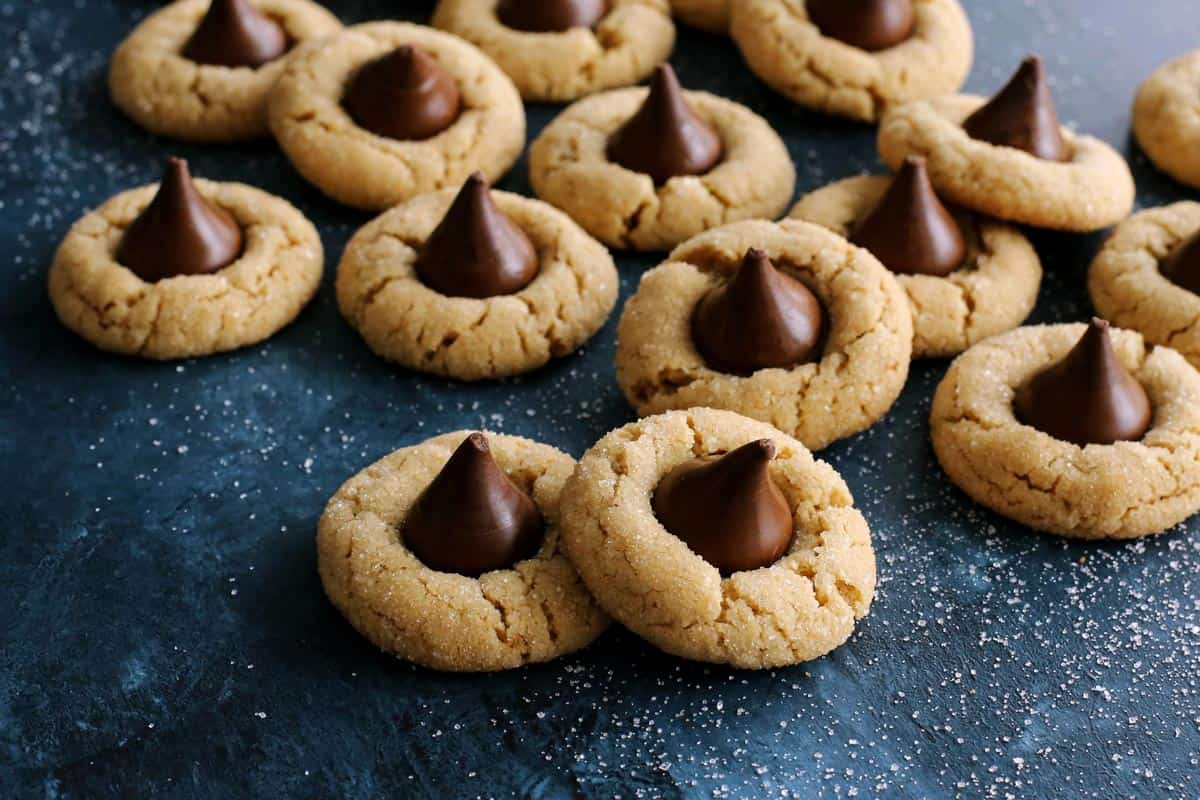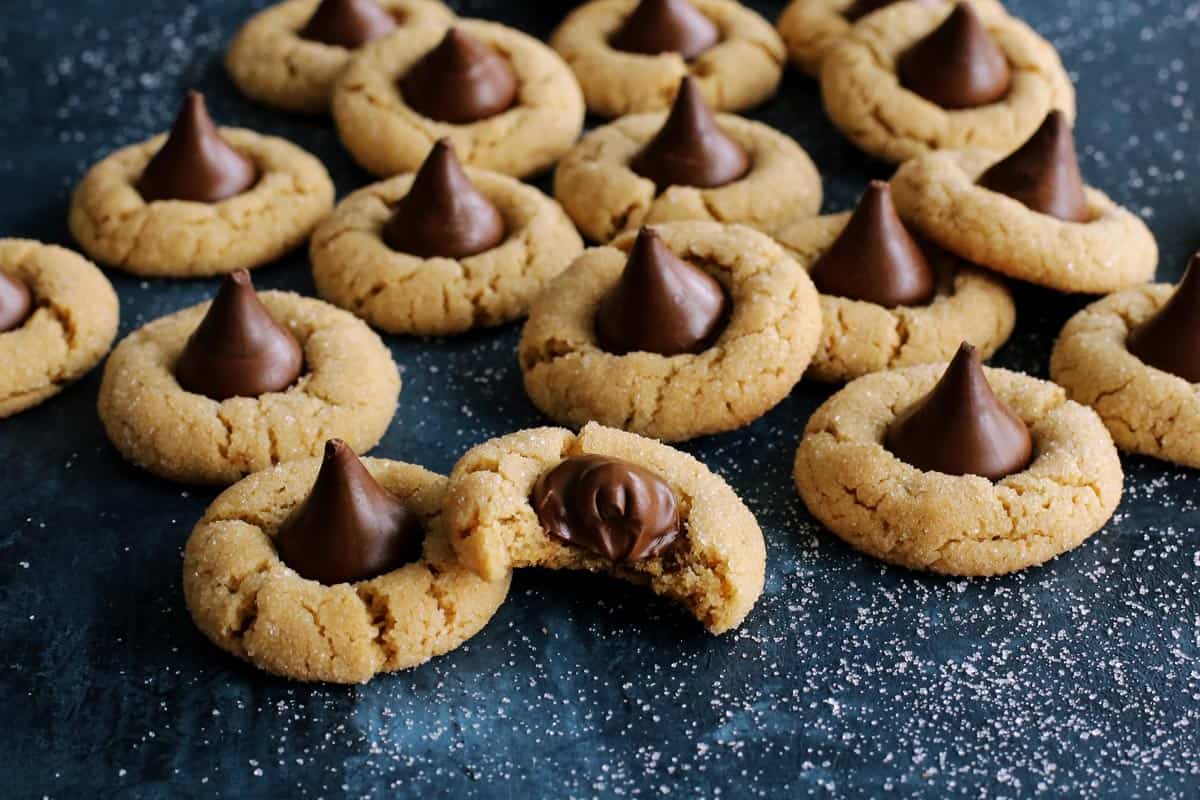 With just a few bites, you've experienced peanut butter and chocolate heaven in one of the most sought-after ways during the holidays.
(Of course, you can make these any time of year, though!)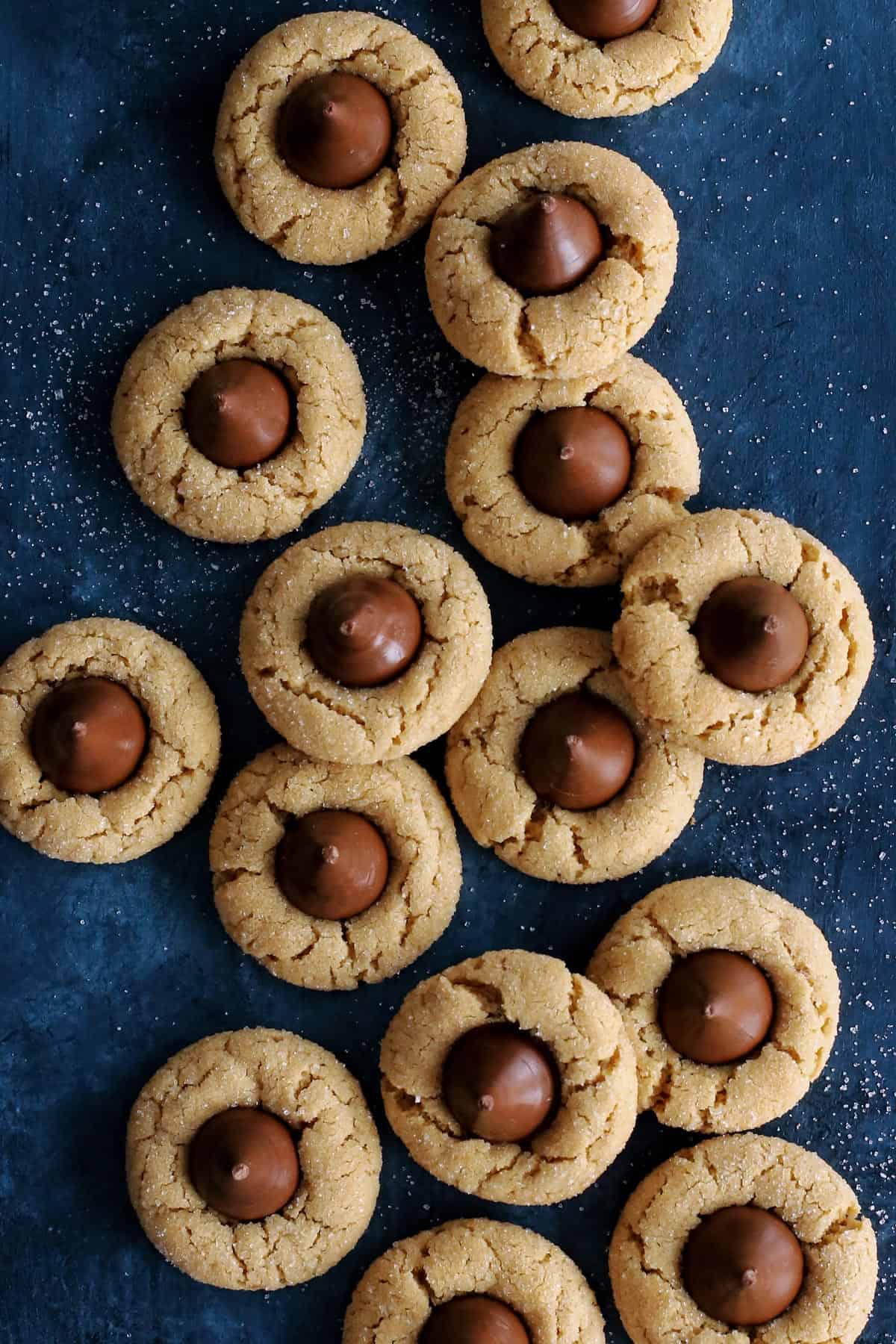 Go ahead. Grab a bag of Hershey's Kisses and preheat the oven. You'll be enjoying a soft, warm peanut butter blossom in less than an hour!
Like this cookie recipe? Save it to Pinterest!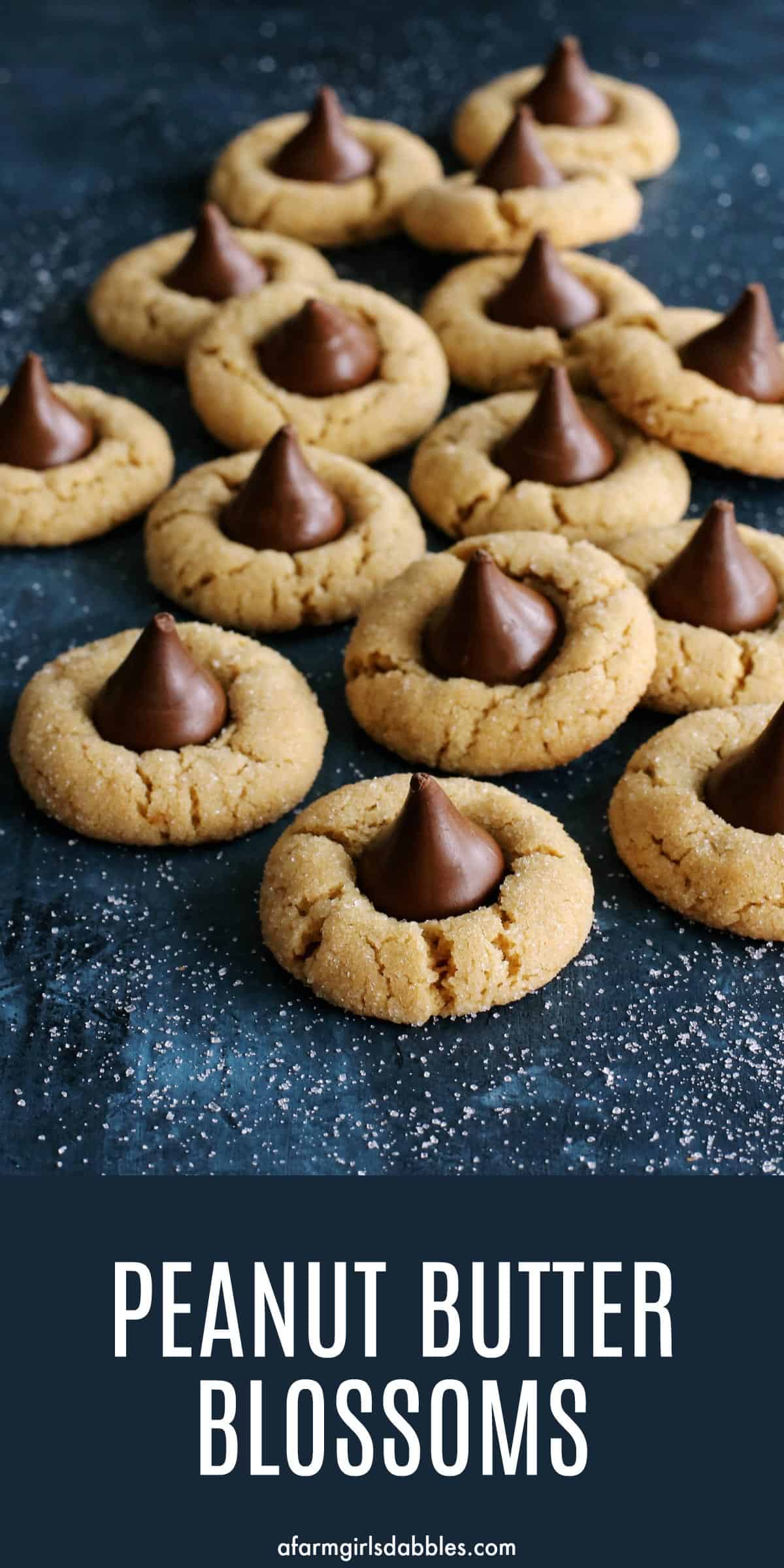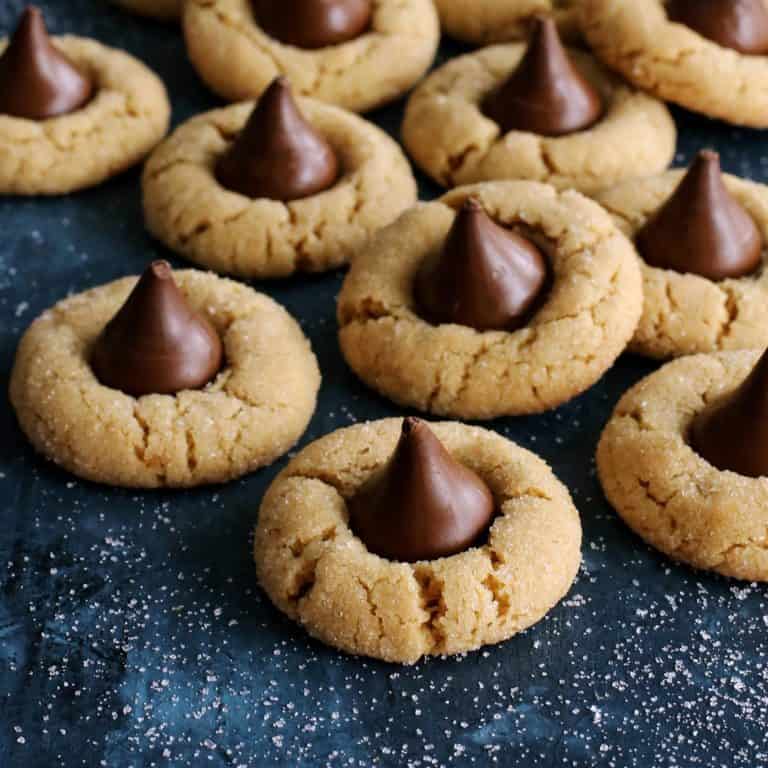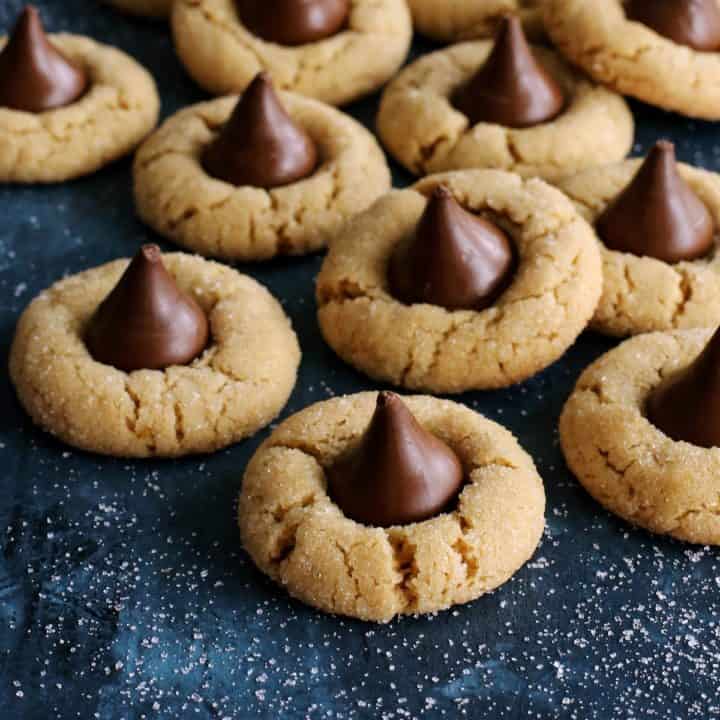 Peanut Butter Blossoms
Yield: 60 cookies
Prep Time: 25 minutes
Cook Time: 40 minutes
Total Time: 1 hour 5 minutes
Soft and chewy, with a crackly sugar crust and chocolate kiss, these cookies are a must-make during the holidays!
Ingredients
1/2 c. creamy peanut butter
1/2 c. unsalted butter*, softened to cool room temperature
1/2 c. granulated sugar, plus more for rolling dough balls
1/2 c. firmly packed light brown sugar
1 egg
2 T. milk
1 tsp. pure vanilla extract
1-1/4 c. all purpose flour
1 tsp. baking soda*
1/2 tsp. kosher salt
60 Hershey's®️ Kisses milk chocolates, unwrapped (a 10.8 oz. package contains about 66 Kisses)
Instructions
Preheat oven to 375° F.
In a large bowl, beat peanut butter, butter, granulated sugar, brown sugar, egg, milk, and vanilla with electric mixer on medium speed until well blended. Blend in flour, baking soda, and salt until dough forms.
Shape dough into balls that are just bit more than 1" in diameter. I like to use a small scoop to portion out the dough - mine holds 1 tablespoon of dough. Roll dough balls in granulated sugar and place them on ungreased cookie sheets, about 2" apart.
Bake for 8 minutes, or until edges are light golden brown. Remove from oven and immediately press a chocolate kiss into the center of each cookie. Remove from cookie sheets to cooling rack.
Notes
* For the best, most consistent results with this recipe, I recommend using Land O'Lakes Unsalted Butter. Let it soften to a cool room temperature - it should not be overly soft or melty. Also be sure to use fresh, active baking soda.
from Mom's recipe box
Nutrition Information:
Yield: 60
Serving Size: 1
Amount Per Serving:
Calories: 112
Total Fat: 5g
Saturated Fat: 2g
Trans Fat: 0g
Unsaturated Fat: 2g
Cholesterol: 9mg
Sodium: 75mg
Carbohydrates: 15g
Fiber: 1g
Sugar: 6g
Protein: 2g
Nutrition information is automatically calculated by Nutritionix. I am not a nutritionist and cannot guarantee accuracy. If your health depends on nutrition information, please calculate again with your own favorite calculator.