Chocolate Cake with Fluffy Peanut Butter Frosting
My husband is to thank for this Chocolate Cake with Fluffy Peanut Butter Frosting. Blake is a chocolate and peanut butter fan through and through. So it just didn't seem right to make him a birthday cake that was anything but.
The cake is a mish-mash of a few of my favorite recipes. The chocolate cake Mom always made for birthdays growing up, my favorite fluffy peanut butter frosting, and a silky fudgy glaze of chocolate frosting on top – there is no way this cake could disappoint someone so devoted to the chocolate and PB combo!
Layering up this cake is a fun ordeal. I love the thick stripe of peanut butter frosting running through the cake's belly. Then the glossy chocolate frosting swirled onto the top adds a bit of shine, plus another texture and flavor of chocolate. When I piped the peanut butter frosting circles onto the top, I was at first disappointed in their crackly appearance. But then those little imperfections became endearing to me, reminding me of an old fashioned peanut butter cookie. So I topped them off with little peanut butter cups, and that was that!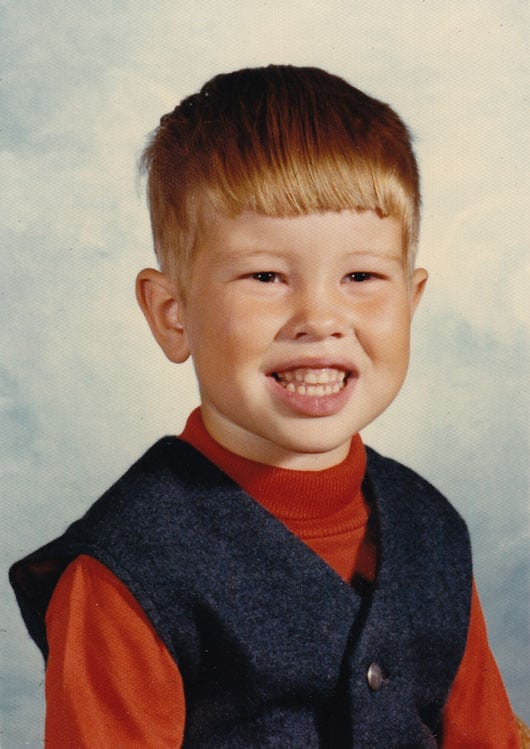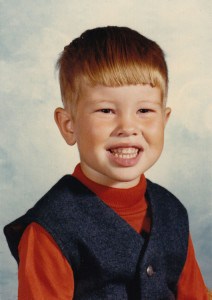 When I ran across this picture, I couldn't help but think of our youngest daughter, who is 4 years old right now. Do you have any idea how many times I hear how much she looks like her daddy?! ;)
Happy, Happy Birthday, dear Blake!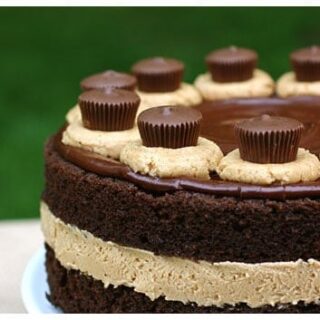 Chocolate Cake with Fluffy Peanut Butter Frosting
Yield: serves 12
Prep Time: 40 minutes
Cook Time: 25 minutes
Additional Time: 30 minutes
Total Time: 1 hour 35 minutes
Chocolate Cake with Fluffy Peanut Butter Frosting is a heavenly combination of chocolate cake, chocolate frosting, peanut butter frosting, and peanut butter cups. If you're a true chocolate/peanut butter lover, this irresistible double layer cake is your dream come true!
Ingredients
FOR CHOCOLATE "WACKY CAKE":
3 c. all-purpose flour
6 T. cocoa
1 tsp. salt
2 c. sugar
2 tsp. baking soda
2/3 c. salad oil
2 T. vinegar
2 c. cold water
2 tsp. vanilla
FOR FLUFFY PEANUT BUTTER FROSTING:
1-1/2 c. creamy peanut butter
8 T. unsalted butter, at room temperature
1/4 tsp. kosher salt
1/2 c. heavy whipping cream
1-1/2 tsp. vanilla
2-1/4 c. powdered sugar
FOR CHOCOLATE FROSTING:
1/4 c. milk
1/2 c. sugar
3 T. unsalted butter
1 c. good quality semisweet chocolate chips (I like Guittard!)
Instructions
For Chocolate "Wacky Cake":
Preheat oven to 350°.
Prepare two 9″ round cake pans. Grease the pans well, making sure you cover the entire interior surface. Cut two pieces of wax paper and fit one inside of each pan. Set aside.
Measure all dry ingredients into bowl and whisk to combine. Make 3 large holes in the dry ingredients. In a separate bowl, combine salad oil and vinegar. Pour this into the 3 holes. Pour the water over entire mixture. Mix with a fork. Add vanilla and stir. Divide evenly into the two cake pans. Bake for 25 to 30 minutes, removing from the oven as soon as a toothpick comes out clean. Let cakes cool in their pans on a cooling rack for 5 to 10 minutes. Then run a thin knife around the edge of each pan and invert the cakes onto your rack to cool. Let cool completely before assembling cake.
For Fluffy Peanut Butter Frosting:
Place the peanut butter, butter, and salt in the bowl of a stand mixer. Beat on medium-low speed, just until thoroughly combined. Add the remaining ingredients and combine again. Then turn the speed up to high and beat for 2 to 3 more minutes, until frosting is light, airy, and fluffy.
For Chocolate Frosting:
Mix milk and sugar in small saucepan. Add butter. Bring to a boil over medium-high heat and then remove pan from heat. Add chocolate chips to the pan. Using wire whisk, mix until smooth. If frosting is too thick or grainy, add up to 1 teaspoon of hot coffee.
To Assemble The Cake:
*additional ingredient needed: 10 to 12 small peanut butter cups (I used Trader Joe's brand)
Place one layer of chocolate cake on a plate or serving platter.
Fit a pastry bag with a large plain tip (I used Ateco #808) and fill with Fluffy Peanut Butter Frosting. Pipe a thick line of frosting around the top perimeter of the cake layer on your plate. You want the frosting line to be somewhat hefty, and to bulge just slightly outside of the cake's perimeter. Then fill the inside of the frosting circle with peanut butter frosting from your pastry bag. Smooth out the frosting with an offset spatula or knife, being careful to not push the frosting out over the edge of the cake.
Place the second layer of chocolate cake on top of the layer of peanut butter frosting. If needed, fill in the frosting gap between the cake layers with an additional piping of frosting, somewhat "smooshing" it in as you go around the cake, to give a flattened look. If you already have enough frosting bulging out from between the cake layers, simply "flatten" it out by running the long side of an offset spatula or knife carefully around the cake's side, flattening the frosting as you go.
Give your Chocolate Frosting a good whisking, making sure that it's smooth and spreadable. You want your frosting to be a bit warm so it has the right consistency for spreading. If it's too hot, it will spread too quickly, and possibly run off the sides of your cake, so let it cool a bit. Pour the frosting onto the center of the cake and then gently swirl it to the outside perimeter. Let the chocolate frosting set for about 30 minutes before adding the peanut butter circles on top.
Once the chocolate frosting is set, pipe 10 to 12 circles of peanut butter frosting onto the top perimeter of the cake. I used the same Ateco #808 tip for this. Then top each circle with a small peanut butter cup.
Notes
Chocolate "Wacky Cake": Mom's recipe box
Fluffy Peanut Butter Frosting: a farmgirl's dabbles, inspired by a creamier peanut butter recipe from Mom
Chocolate Frosting: adapted from the Famous Turtle Cake at Cafe Latte in St. Paul, MN. I shared this fabulous cake here.
To Assemble The Cake: cake concept
Nutrition Information:
Yield: 12
Serving Size: 1
Amount Per Serving:
Calories: 1022
Total Fat: 54g
Saturated Fat: 18g
Trans Fat: 0g
Unsaturated Fat: 31g
Cholesterol: 40mg
Sodium: 682mg
Carbohydrates: 128g
Fiber: 5g
Sugar: 92g
Protein: 15g
Nutrition information is automatically calculated by Nutritionix. I am not a nutritionist and cannot guarantee accuracy. If your health depends on nutrition information, please calculate again with your own favorite calculator.