Mom's Chocolate Peanut Butter Cereal Bars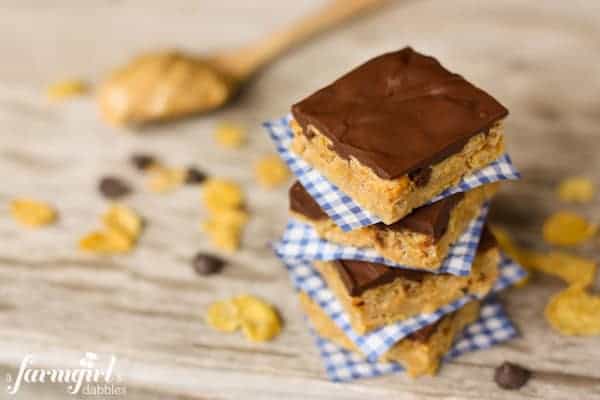 This easy Peanut Butter Cereal Bars Recipe goes perfectly with the rich chocolate topping! These dessert bars are peanut butter chocolate paradise.
Mom's Chocolate Peanut Butter Cereal Bars
I know most people have a variation of cereal bars in their own recipe box, but I get asked for this recipe so often that I felt it was obviously still worth sharing. These are the only Peanut Butter Cereal Bars I've ever known, a recipe from Mom. And they're one of my husband's favorite homemade treats.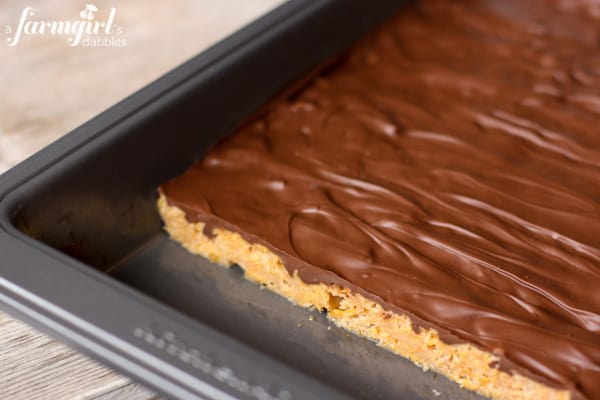 Why I Love These Peanut Butter Bars
The bars are super easy to put together, with a minimum of ingredients. They set up perfectly every time, and are gooey and chewy, with just the right amount of peanut butter and chocolate. Better than any candy bar, guaranteed.
Many people say the chocolate frosting on these bars is the best they've ever tasted on peanut butter cereal bars, and they always want to know specifically how I make it.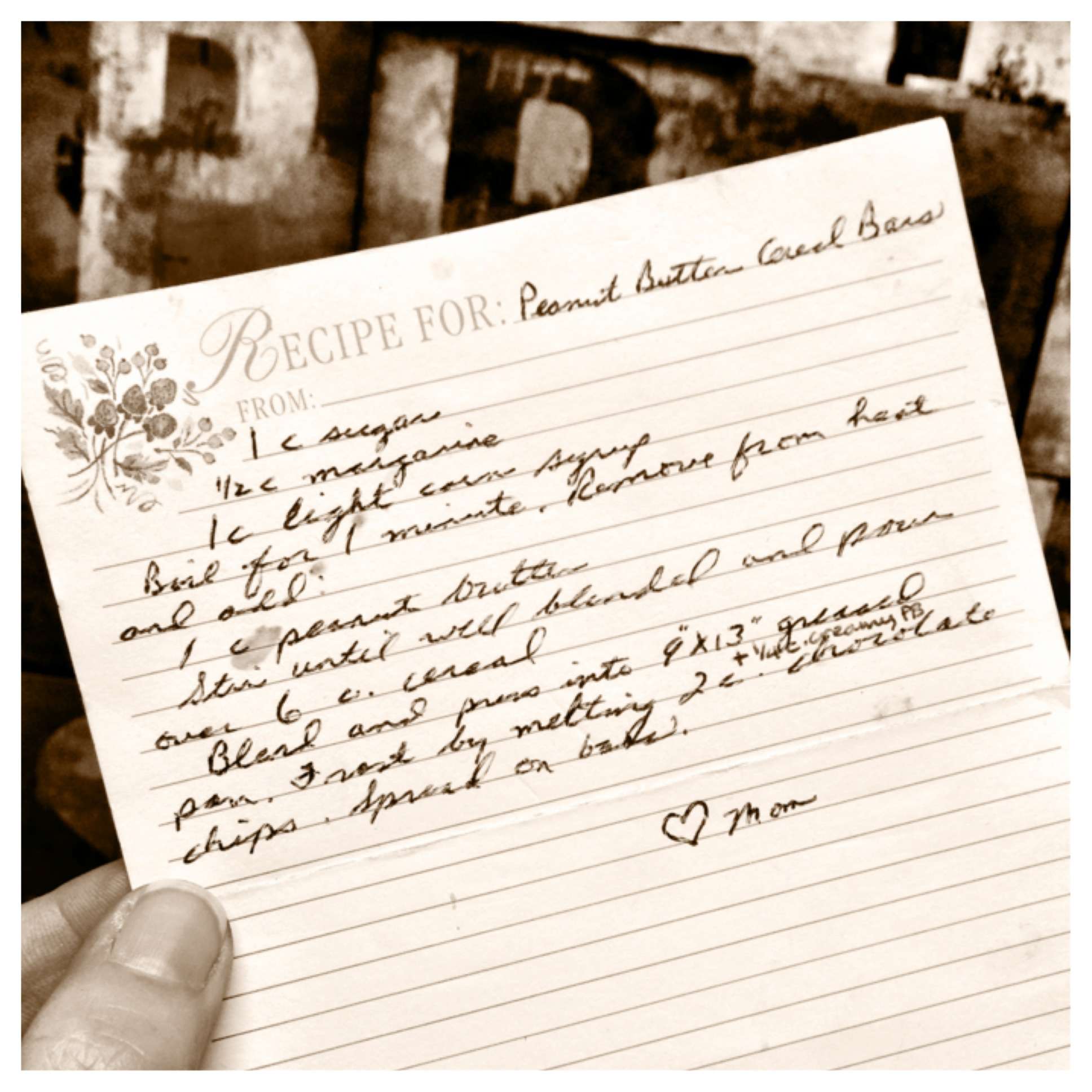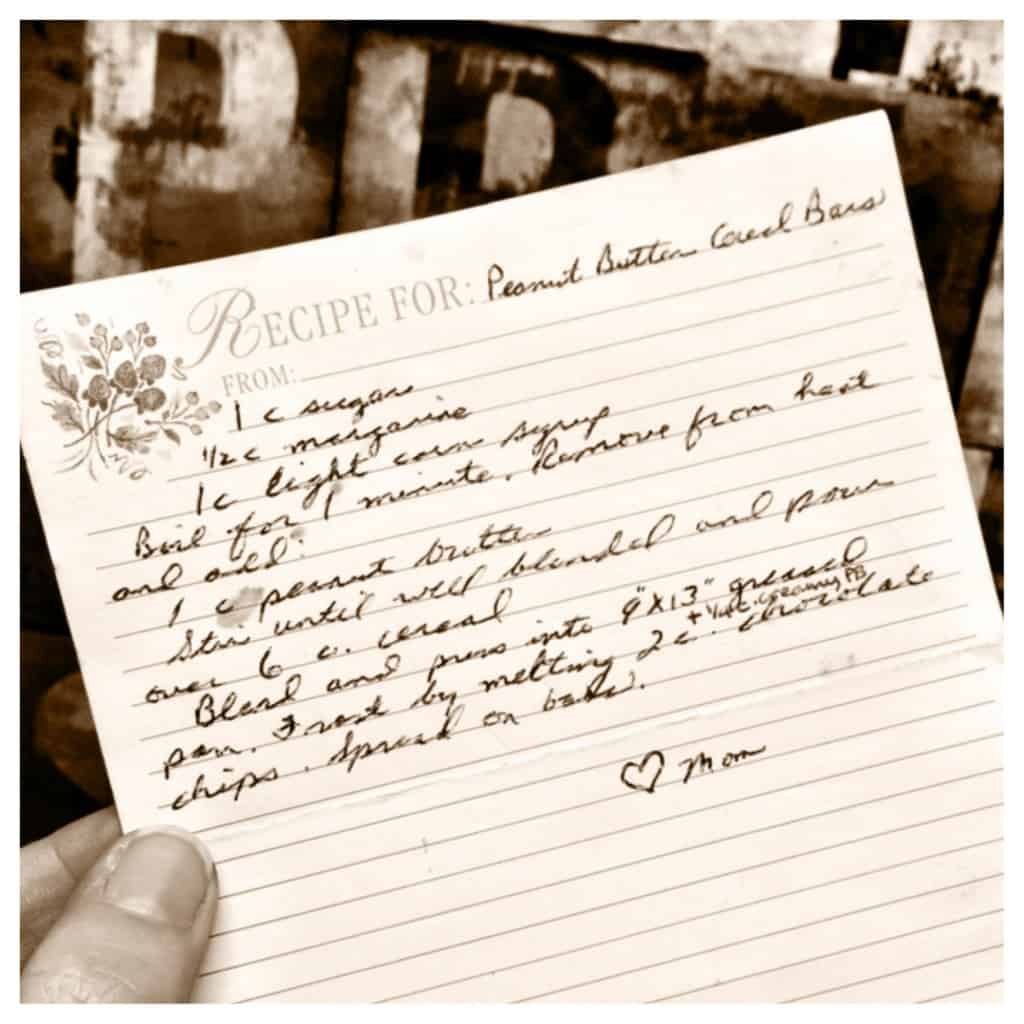 This is the only deviation I make from Mom's original recipe, which calls only for melted chocolate chips in the frosting. My secret is that I simply add a bit of peanut butter. And I like to use Guittard semi-sweet chocolate chips…I think they have a deeper darker quality than most semi-sweet chocolate chips.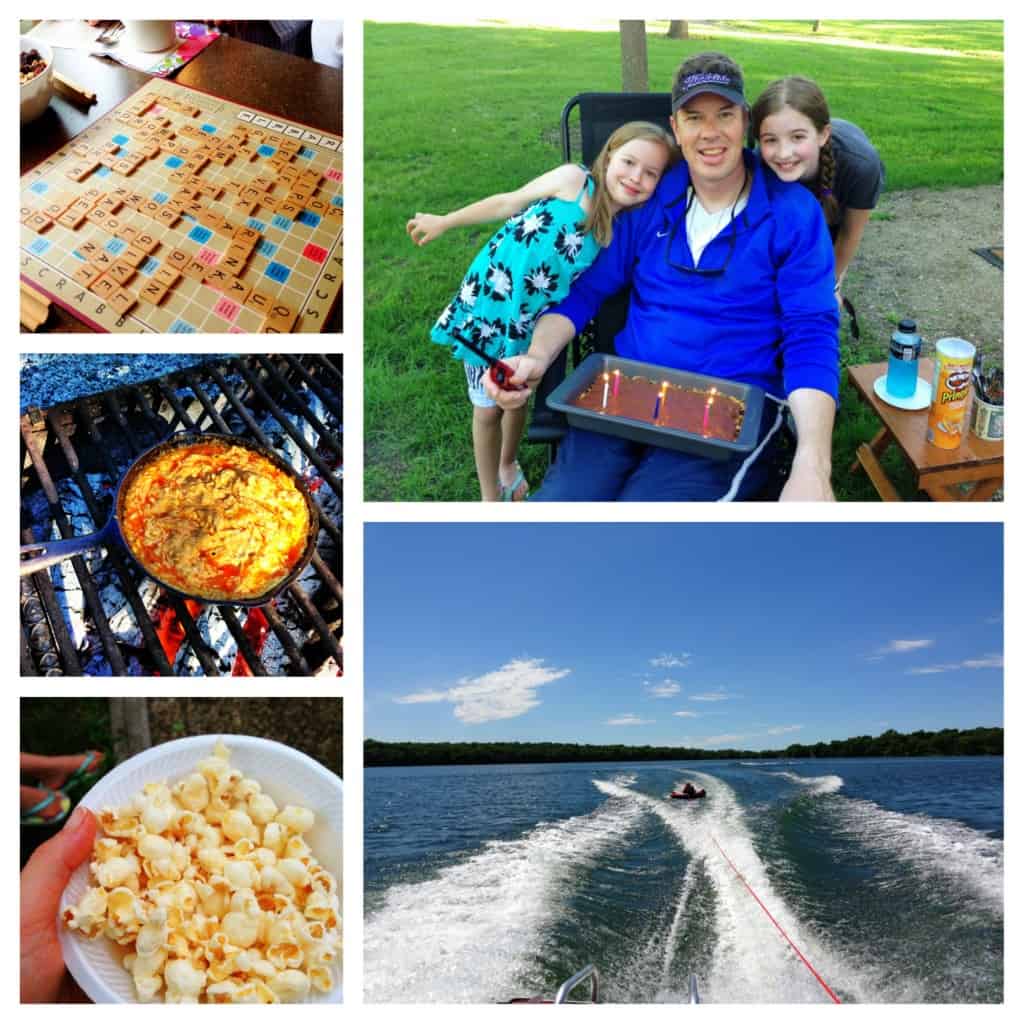 These peanut butter cereal bars are easy enough to put together, in fact, I made them while we were camping with my parents this past weekend at one of South Dakota's beautiful state parks. I thought it would be the perfect way to celebrate Blake's birthday around the campfire. Except that I forgot to bring the chocolate chips. And the party plates and napkins. And the birthday candles. Sheesh!
Mom & I drained our chocolate supply for s'mores and I used Hershey's bars in lieu of the chocolate chips. The frosting was softer and sweeter, but definitely still delicious.
And because my aunt and uncle were so thoughtful (thanks, Ray & June!), there were even candles and ice cream!
We had such a great weekend camping and catching up with family and friends. There were games of Scrabble played in our pajamas, card games around the outdoor picnic table throughout the day, boating under the big blue sunshiney sky, and plenty of good eating. We baked our favorite Buffalo Chicken Dip in a cast iron skillet over the campfire, and passed around bowls of freshly popped corn. My uncle Elroy makes the best popcorn, shaking the popper over the open flame. It's buttery, perfectly salted, and has just the right amount of big open starry South Dakota sky.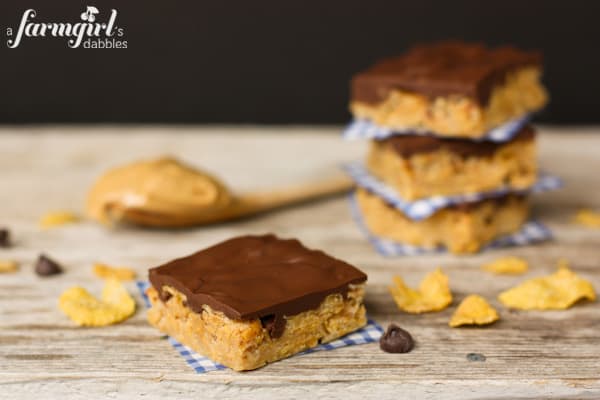 Do you have a favorite cereal bar recipe that everyone asks you for? If not, give these a try. And when you take them to your next gathering, be sure to have a copy of the recipe with you, because I'm betting you'll be asked for it.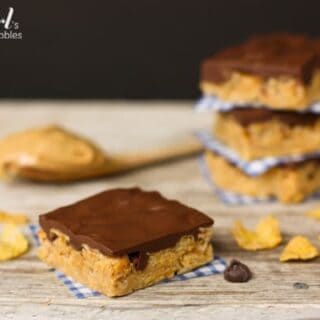 Mom's Chocolate Peanut Butter Cereal Bars
Yield: 24 bars
Prep Time: 10 minutes
Cook Time: 7 minutes
Total Time: 17 minutes
This easy Peanut Butter Cereal Bars Recipe goes perfectly with the rich chocolate topping! These dessert bars are peanut butter chocolate paradise.
Ingredients
for the peanut butter cereal bars
6 c. corn flakes cereal
1 c. sugar
1/2 c. unsalted butter
1 c. light corn syrup
1 c. creamy peanut butter
for the chocolate frosting
12 oz. semi-sweet chocolate chips (I like to use Guittard brand)
1/4 c. creamy peanut butter
Instructions
FOR THE PEANUT BUTTER CEREAL BARS

Spread cereal evenly in a 9'' x 13'' pan and set aside.
In a medium saucepan over medium/medium-high heat, combine sugar, butter, and corn syrup. Bring to a boil. Let boil for 1 minute. Remove from heat and stir in peanut butter until silky smooth.
Pour hot mixture over cereal and gently fold to incorporate evenly. Using a spatula, press down on the coated cereal, firmly but gently, until even. Let cool.

FOR THE CHOCOLATE FROSTING

In a small saucepan over low heat, combine the chocolate chips and peanut butter. Heat the chocolate as gently as possible, stirring regularly, and taking care to not let the chocolate scorch. When the chips are almost melted, remove pan from heat and stir until completely smooth.
Pour warm frosting over bars and spread evenly. It's really hard to not cut out a piece and eat it immediately, but if you let the frosting cool completely, it will set up and cut very nicely.
Notes
Adapted just slightly (I add peanut butter to my frosting) from Mom's recipe box.
Nutrition Information:
Yield: 24
Serving Size: 1
Amount Per Serving:
Calories: 279
Total Fat: 15g
Saturated Fat: 6g
Trans Fat: 0g
Unsaturated Fat: 7g
Cholesterol: 10mg
Sodium: 126mg
Carbohydrates: 38g
Fiber: 2g
Sugar: 29g
Protein: 4g
Nutrition information is automatically calculated by Nutritionix. I am not a nutritionist and cannot guarantee accuracy. If your health depends on nutrition information, please calculate again with your own favorite calculator.
You might like these bar recipes, too!