Spaghetti Hotdish with Garlic Bread Crumb Topping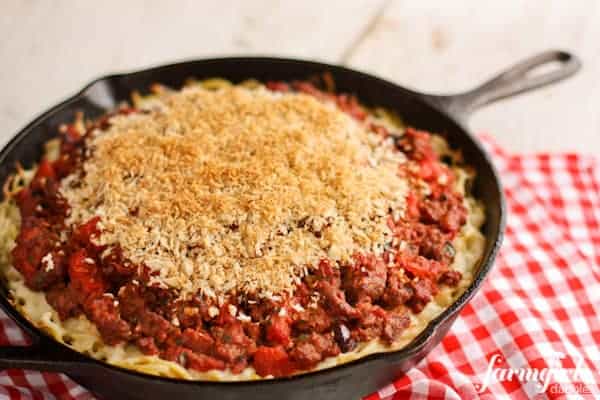 This recipe for Spaghetti Hotdish with Garlic Bread Crumb Topping was created for the Land O'Lakes Kitchen Conversations with Ree Drummond, The Pioneer Woman. Awhile back I featured our first conversation, where we talked about food trends for 2013, and I shared my recipe for Curried Cauliflower with Israeli Couscous and Grains. This time around, we are talking about modernizing vintage recipes, a subject after my own heart.
Disclosure: I've partnered with Land O'Lakes for an exclusive endorsement of Land O Lakes® Butter for their Kitchen Conversation blogger program. This blog post is sponsored by Land O'Lakes.
These photos were taken in Austin last week, at a dinner held by Land O'Lakes for their Kitchen Conversations. Pictured are Becky from the Land O'Lakes Test Kitchen, Maria from Two Peas and Their Pod, Sommer from A Spicy Perspective, Ree from The Pioneer Woman, Julie from The Little Kitchen, and myself. We all traveled to Texas to attend the BlogHer Food conference, and to host this dinner together. It was an amazing way to spend our Friday evening!
A fabulous group of food bloggers joined us that evening as we shared our treasured recipes, updated for modern times. I absolutely adored the vintage recipe tins that each of us were sent home with. The recipe cards featured each of the modernized recipes that we talked about from our Kitchen Conversations, plus vintage recipes submitted from other food blogger guests who joined us that evening. It's a beautiful keepsake, and I had such fun flipping through everyone's recipes!
I just love working with Land O'Lakes and their products that I grew up with in Mom's kitchen! Living in Minnesota, their headquarters are just a few minutes down the road from me. You can keep up on all the recipes and fun with Land O'Lakes Kitchen Conversations through the hashtag #KitchnConvo on Twitter, Pinterest and Instagram.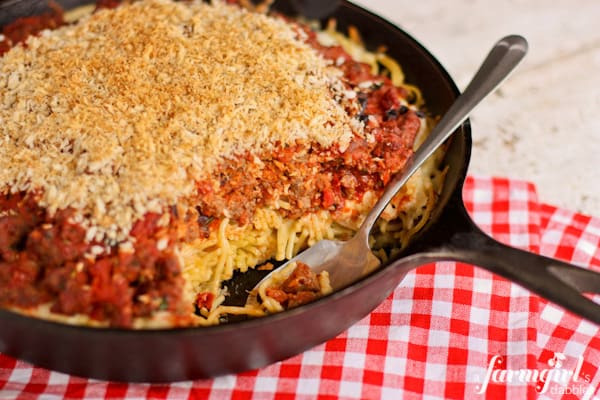 I have so much fun playing around with recipes I grew up with, tweaking those beloved old dishes to fit my own grown-up style. So when this Kitchen Conversation was to feature a modernized version of an old favorite recipe, I polled my family by email – my husband, dad, mom, and sisters and their husbands – asking them to name the first dish that came to mind, a favorite that they'd like to see me kick up a notch.
I fielded 3 almost immediate replies with identical responses…"Spaghetti Hotdish!" My youngest sister even added a piece of trivia to her response, saying she remembered eating this hotdish for the first time while waving her Homer Hanky, watching the Minnesota Twins win the 1987 World Series.
Wow, that was easy! Spaghetti Hotdish, it is! (*Note that my husband's response did not reflect the same vote…)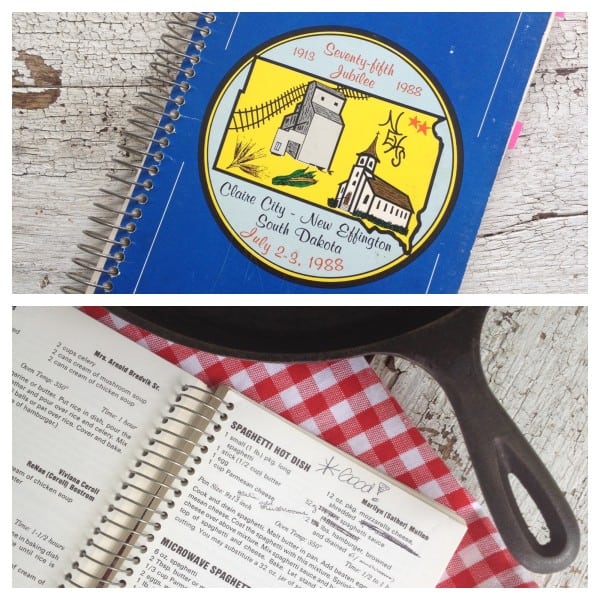 Hotdish is the quintessential main course of the Midwestern table. With your starch, meat, and veggies (usually bound together by a can of creamed soup), served hot in a single dish, it is filling, convenient, and easy to make. If you live in Minnesota or the neighboring Dakotas and bring one of these thrifty dishes to your church basement's potluck, you'll be sure to fit right in.
I grew up eating all varieties of hotdish…tuna noodle, turkey crouton, hamburger rice, tater tot, and beef chow mein…just to name a few. But Mom's spaghetti hotdish was always a family favorite.
The recipe comes from a cookbook compiled of favorite recipes submitted by family, friends, and neighbors where I grew up, in the northeastern corner of South Dakota. On the opposite page of the spaghetti hotdish Mom has always made, is a recipe from Ruby Bredvik, grandmother of my best-friend-since-Kindergarten. Ruby and Arnold used to live in a big ol' two-story house, painted white, right across from the school I attended. I can still smell their inviting little kitchen and visualize the knick-knacks on the window sill. Flipping through this cookbook, seeing name after familiar name, brings back so many memories of my childhood.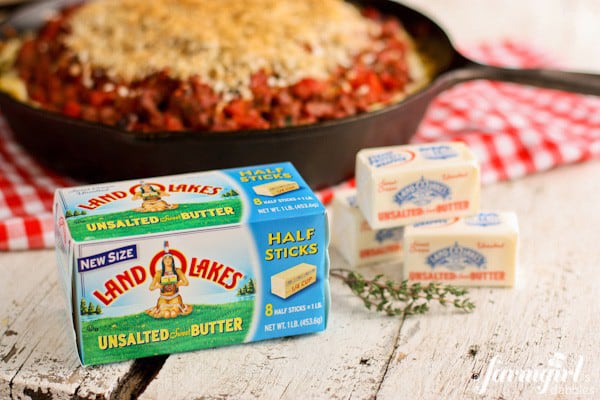 My recipe for Spaghetti Hotdish with Garlic Bread Crumb Topping uses one convenient half stick of creamy and delicious Land O Lakes® Butter.
Half sticks of butter are just the greatest thing! I like the smaller proportion for cooking and baking, and I'm always assured of enjoying the freshest tasting butter.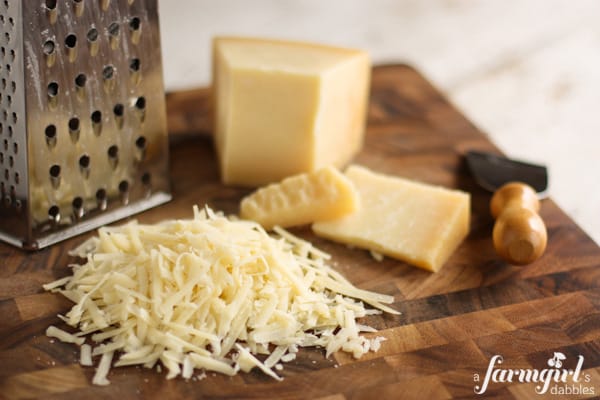 A bit of the butter is used for the crunchy garlicky crumb topping, a nod to the slices of garlic toast served with traditional plates of spaghetti. (Did you know you can make your own panko bread crumbs?) And the rest of the half stick goes into a little sauté of onion and garlic that gets combined with the noodles and the fabulousness of fresh Parmesan.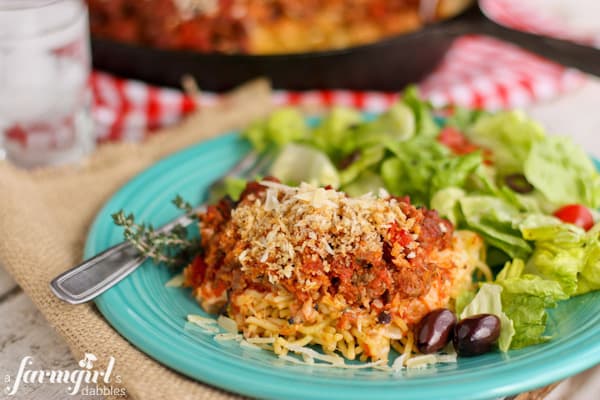 The updates to this spaghetti hotdish that my family holds so dear are numerous and extremely delicious…
Onion and garlic (lots of garlic, yay!) was added, giving the dish extra flavor and depth
Parmesan was freshly grated, not poured from a can
The spaghetti sauce was from scratch, not dumped from a jar
Exciting and wonderful new flavors were added…that of briny kalamata olives, sweet sundried tomatoes, and freshly chopped parsley, thyme, and oregano
Ground beef was substituted for super flavorful Italian sausage (I love beef, but ever since I tasted how wonderful Italian sausage is in Lasagna Soup, I just can't help but incorporate it into soups and meat sauces now!)
And last but certainly not least…the addition of a golden crown of buttery garlicky bread crumbs, a fabulous crispy contrast to the rest of the dish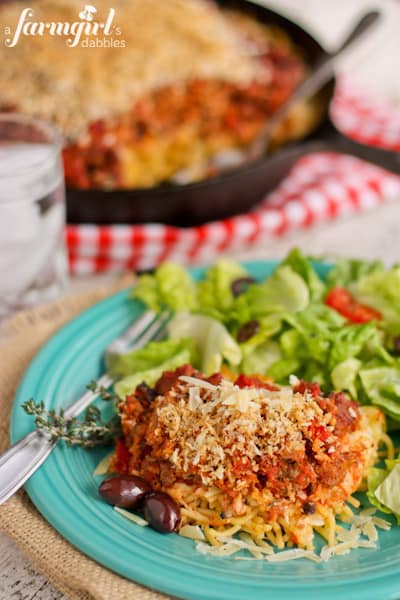 After my husband's third helping of this revamped old family favorite, Blake confessed that he's never been a fan of spaghetti hotdish. That as much as he loves spaghetti, he'd rather just eat it in its customary form. But he was quick to add that this was the best spaghetti hotdish he's ever had, and would gladly eat this in place of traditional spaghetti any day of the week.
My job is done.
Enjoy!
Spaghetti Hotdish with Garlic Bread Crumb Topping
Yield: 8 to 10 servings
Cook Time:25 minutes
Ingredients:
for the garlic bread crumb topping:
3/4 c. panko bread crumbs
1/2 tsp. garlic powder
1/2 tsp. onion powder
1/2 tsp. kosher salt
1/8 tsp. black pepper
for the spaghetti hotdish:
1 tsp. olive oil
16 oz. spaghetti
1-1/2 lbs. mild Italian pork sausage
2 T. reserved fat from the pork sausage (or substitute 2 T. olive oil)
1 large yellow onion, diced
6 large garlic cloves, minced
1 large egg, beaten
1 c. freshly shredded Parmesan
12 oz. shredded mozzarella cheese
1 16 oz. can crushed tomatoes
1 16 oz. can diced tomatoes
1/3 c. tomato paste
1/4 c. chopped kalamata olives (or substitute regular black olives)
1/3 c. chopped sundried tomatoes, packed in oil
2 T. brown sugar
1/4 c. chopped fresh parsley
1 T. chopped fresh thyme
1 T. chopped fresh oregano
1/2 tsp. freshly cracked black pepper
salt, to taste
Directions:
for the garlic bread crumb topping:
In a medium skillet over medium heat, melt one tablespoon Land O Lakes® Unsalted Butter. Add panko, garlic powder, onion powder, salt, and pepper. Stir regularly until panko is lightly golden brown. Remove from heat and set aside.
for the spaghetti hotdish:
Coat the bottom and sides of a large cast iron pan with the teaspoon of olive oil. My pan is 12" in diameter, with 2" high sides. You could also use a large casserole dish. Set aside.
Bring a large pot of water to a boil and add spaghetti. Cook until noodles are just barely soft, to al dente. Drain.
In a large skillet or sauté pan with tall sides, brown the sausage over medium to medium-high heat. Drain the fat and reserve for later. Remove browned sausage to a plate.
Using the same large skillet or sauté pan (no need to clean it first), melt the 3 tablespoons of Land O Lakes® Unsalted Butter over medium heat. Add 2 tablespoons of reserved pork fat and stir. Add onion. Stir and cook for 3 or 4 minutes, or until just softened. Stir in the garlic and cook for another 2 minutes. Remove skillet from heat and stir in egg and Parmesan. Add drained spaghetti to the onion and garlic mixture and stir to coat evenly. Transfer spaghetti to prepared cast iron skillet. Top with mozzarella. Set aside.
Preheat oven to 350°.
In the same large skillet or sauté pan (no need to clean it first), add the crushed tomatoes, diced tomatoes, tomato paste, kalamata olives, sundried tomatoes, and brown sugar. Stir well and turn heat down to medium-low. Stir in sausage and simmer for 10 minutes. Add parsley, thyme, oregano, and black pepper. Taste and adjust with additional salt, if needed. Pour tomato sauce onto the center of the spaghetti in the cast iron skillet, spreading out sauce to leave a 1" border of spaghetti around the perimeter of the pan. Spoon bread crumb topping over the center of the tomato sauce, leaving a 1" border of sauce around the perimeter. Bake for about 25 minutes, or until heated throughout. If bread crumb topping needs a bit more browning, place under the broiler for a minute or two. Serve hot.
Greatly adapted from a favorite hotdish in our house when I was a kid. "Spaghetti Hotdish" by Marilyn (Sather) Mullen, as featured in the Claire City – New Effington South Dakota 75th Jubilee Cookbook.
©
Disclosure: I've partnered with Land O'Lakes for an exclusive endorsement of Land O Lakes® Butter for their Kitchen Conversation blogger program. This blog post is sponsored by Land O'Lakes.
We participate in the Amazon Services LLC Associates Program, an affiliate advertising program designed to provide a means for us to earn fees by linking to Amazon.com and affiliated sites. See our disclosure policy for more info.