Strawberry Rhubarb Freezer Jam with Orange and Cardamom
This time of year, early summer, always holds some of my favorite days. The yard is still green and lush, not yet overtaken by the longer and harsher heat spells of August. Grilling and eating in the back yard, with lots of fresh seasonal fruits and veggies, is our main mode of nourishment. Our girls are still giddy with the idea that summer vacation will be around for a good while yet. And we have strawberry picking.
Ohhhhhh…how those sweet sun-warmed berries nurture my soul.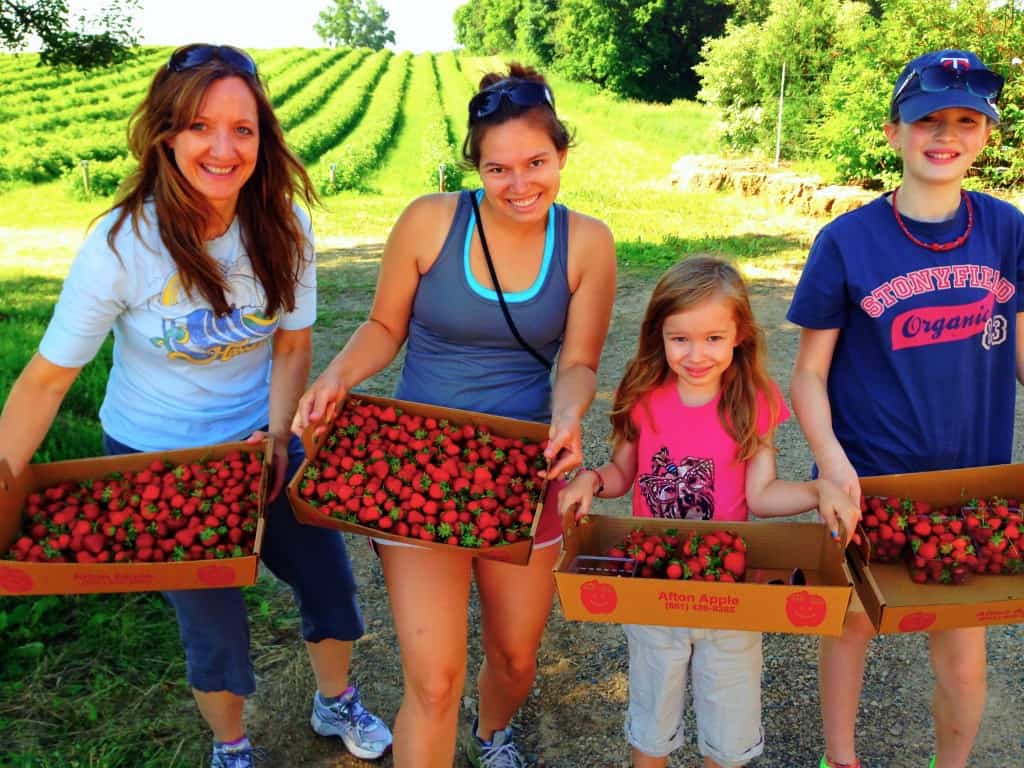 We picked strawberries last week, right before the 4th of July. Sarah, a sweeter-than-sweet gal who has watched over our girls for 2 to 3 days each week of the summer when I go into the office, joined us. She has been a HUGE blessing for our family over the years (this is her 6th summer with us!), and our girls love her so much.
When we got home, I made a super quick and easy no-cook strawberry sauce, perfect for swirling into your morning yogurt or drizzling over a scoop of vanilla ice cream. Hatti whipped up a fresh batch of strawberry freezer jam. Yes, she can do it all by herself now! And I tried out a new jam combination that we'll surely make again next year. This Strawberry Rhubarb Freezer Jam with Orange and Cardamom is just plain lovely!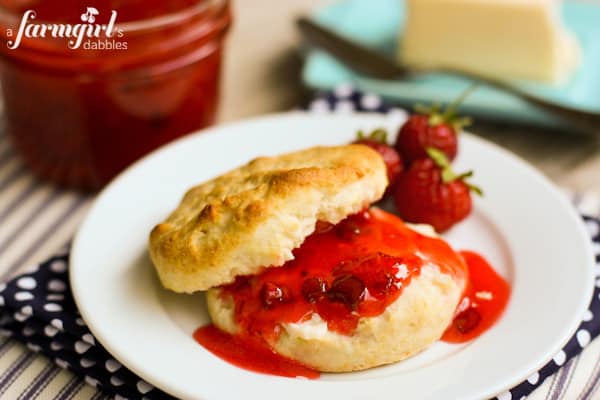 I rarely buy jam at the store anymore. I'll only do so when a recipe calls for a specific jam flavor that I don't have on hand. Homemade is just so much better, and doesn't take much time or effort. Our 11-year-old is making freezer jam on her own, remember?!
This beauty of a jam is bright with fresh strawberry flavor and a touch of rhubarb tartness. Filling in any possible gaps, and lending subtle enough notes to make you actually ponder what the additional flavors are… Well, that would be orange and cardamom, fabulous accompaniments. I love to add some kind of citrus to most things I make, and the orange zest was an excellent choice for this jam, pairing up perfectly with the sweet and spicy comfort of cardamom. Can you just imagine how wonderful it was spooned over warm and tender fresh-from-the-oven cream biscuits?!

Before you make freezer jam – some important tips:
Use firm perfectly ripe fruit for best flavor and set. Inferior fruit (not ripe or over ripe) will produce inferior jam.
Measure ingredients exactly. Altering recipes or ingredients could cause a set failure.
For berries, crush 1 cup at a time with a potato masher or rigid pastry blender for best results. Jam should have very small bits of fruit. Do not try to achieve a completely smooth consistency.
Yes, these recipes do call for alot of sugar, but don't alter the amount. If you want to use less sugar, look for SURE-JELL for Less or No Sugar Needed Recipes in the pink box.
When filling prepared containers with finished jam, leave ½" at top for expansion during freezing.
The finished product will not be as firm as a processed jam. It will be more loose, with a very spreadable consistency.
Because this jam is not cooked, it must be stored in the refrigerator or freezer. It will be good for about a month in the refrigerator, so store your jam in smaller containers (1 to 2 cups are great sizes!) that will be used up faster. Keep one jar in the refrigerator and the rest in the freezer for later.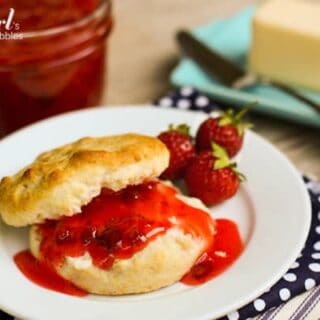 Strawberry Rhubarb Freezer Jam with Orange and Cardamom
Yield: 5 half-pints
Prep Time: 20 minutes
Cook Time: 10 minutes
Total Time: 30 minutes
This Strawberry Rhubarb Freezer Jam with Orange and Cardamom is just plain lovely!
Ingredients
1 c. thoroughly crushed firm ripe strawberries
1 c. finely chopped rhubarb
zest from 1 large orange
4 c. sugar
1/2 tsp. ground cardamom
3/4 c. water
1 box (1.75 oz.) SURE-JELL premium fruit pectin
Instructions
Be sure to first read through my freezer jam tips in this post, right before the recipe. Then wash 5 half-pint (1 cup) plastic containers and lids with hot water and dish soap. Rinse and dry thoroughly.
Combine exactly 1 cup crushed strawberries, 1 cup finely chopped rhubarb, and orange zest in large bowl, and stir to combine. Add sugar and cardamom and stir well. Let stand 10 minutes, stirring every couple of minutes.
In a small saucepan over high heat, mix water and pectin. Bring to a boil, stirring constantly. Boil and stir for 1 minute. Add pectin mixture to fruit mixture and stir constantly for 3 minutes, or until sugar is dissolved and no longer grainy. If a few sugar crystals remain, that's ok.
Immediately fill containers to within 1/2'' of container tops. With a damp paper towel, wipe off the edges of containers. Immediately cover with lids. Let stand at room temperature for 24 hours. Jam can now be used, stored in the refrigerator for up to 1 month, or frozen for up to 1 year. Thaw in the refrigerator before using.
Notes
Basic freezer jam recipe from SURE-JELL, with adaptations from a farmgirl's dabbles.
Nutrition Information:
Yield: 30
Serving Size: 1
Amount Per Serving:
Calories: 113
Total Fat: 0g
Saturated Fat: 0g
Trans Fat: 0g
Unsaturated Fat: 0g
Cholesterol: 0mg
Sodium: 1mg
Carbohydrates: 29g
Fiber: 0g
Sugar: 28g
Protein: 0g
Nutrition information is automatically calculated by Nutritionix. I am not a nutritionist and cannot guarantee accuracy. If your health depends on nutrition information, please calculate again with your own favorite calculator.
Here are some other freezer jams you might enjoy: