Oven-Baked Caramel Corn
Oven-Baked Caramel Corn: This homemade caramel popcorn recipe is SO much better than store-bought. It's crispy, sweet, buttery perfection!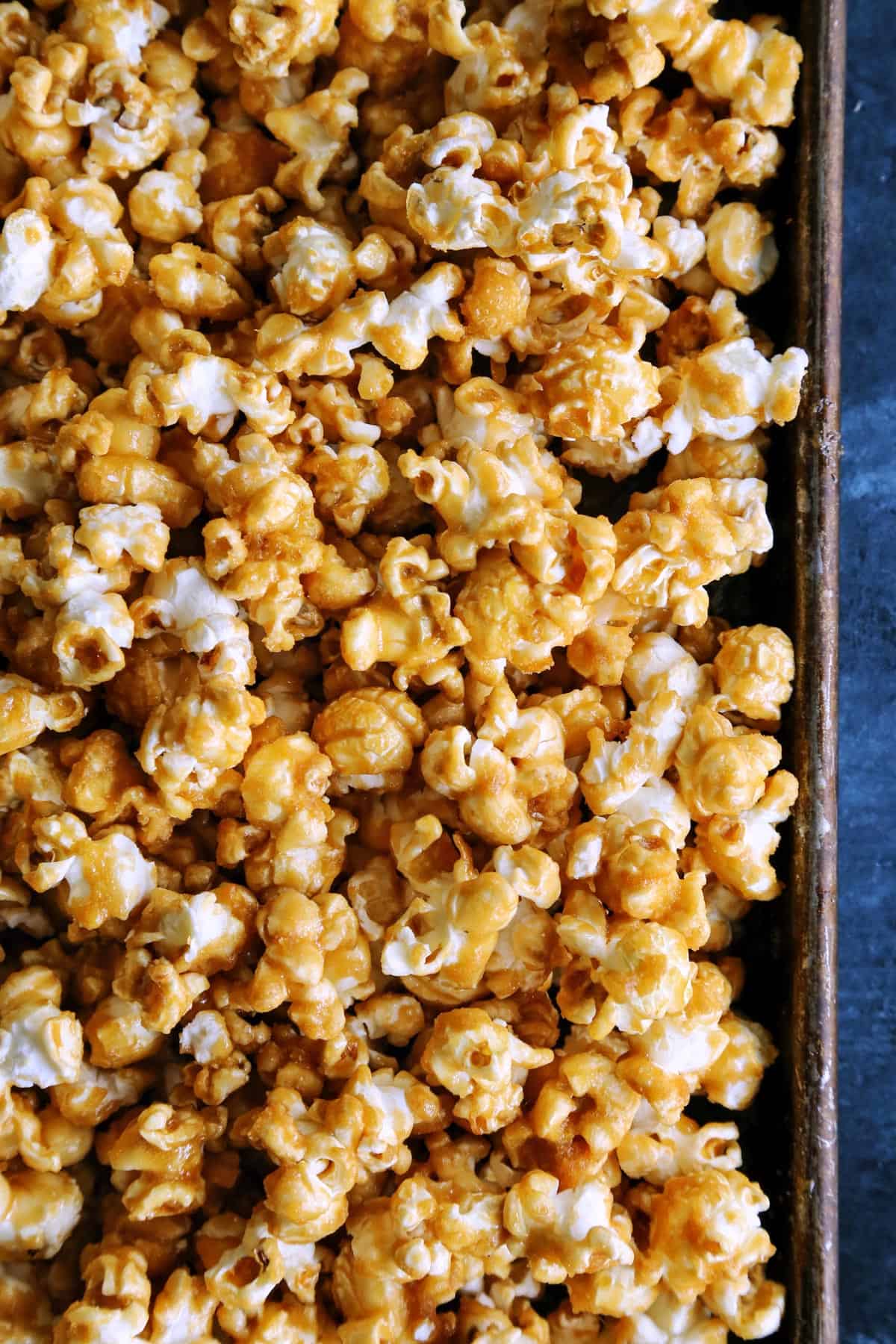 Each Christmas season, my friend and co-worker Ann would gift a big bowl of her Oven-Baked Caramel Corn to our office. It was most definitely the best caramel popcorn I had ever experienced. I never found so many excuses to visit the kitchenette, to replenish the snack supply at my desk!
Now, nearly 20 years after my first bite of Ann's homemade caramel corn, I can still say it's the best I've ever had.
Go on. Treat yourself. Treat your friends (because this makes a FABULOUS gift). Make a batch of this caramel corn!
FEATURED COMMENT:

"Truly THE best caramel corn that I have ever tasted. SO delicious and perfectly crisp and extremely addictive. I'm going to be making this over and over again"

– Paula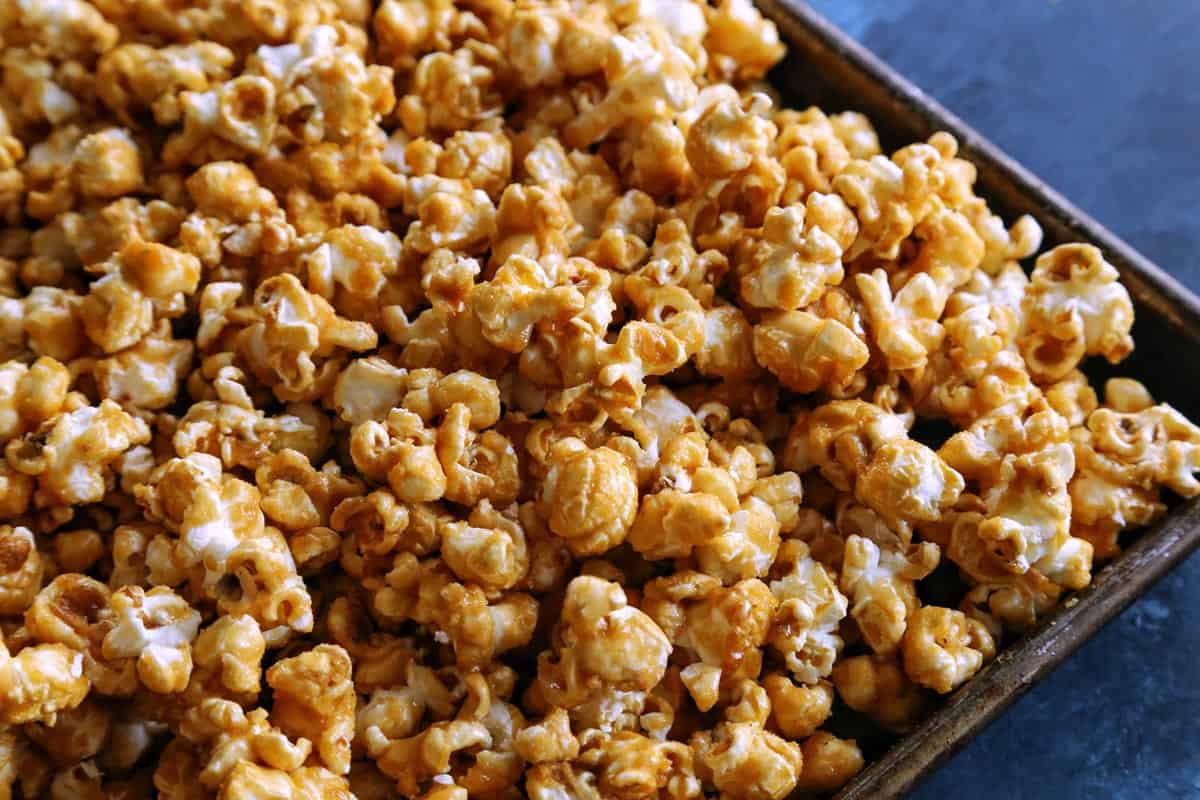 The best caramel corn
I don't know exactly what it is about this caramel corn recipe, but it's perfection. The caramel glaze is not too thick, not too thin. It's crispy and has a wonderful buttery flavor. Better than any store-bought version I've tried.
But I will give you one warning.
Do not eat one single piece of this caramel corn – unless you are prepared to indulge in a whole lot more. It is the highest level of addictive!
It's really in your best interest to make this when you are expecting company. Or when you're planning to share it with others at the office. Otherwise, you'll be tempted to do away with this all on your own.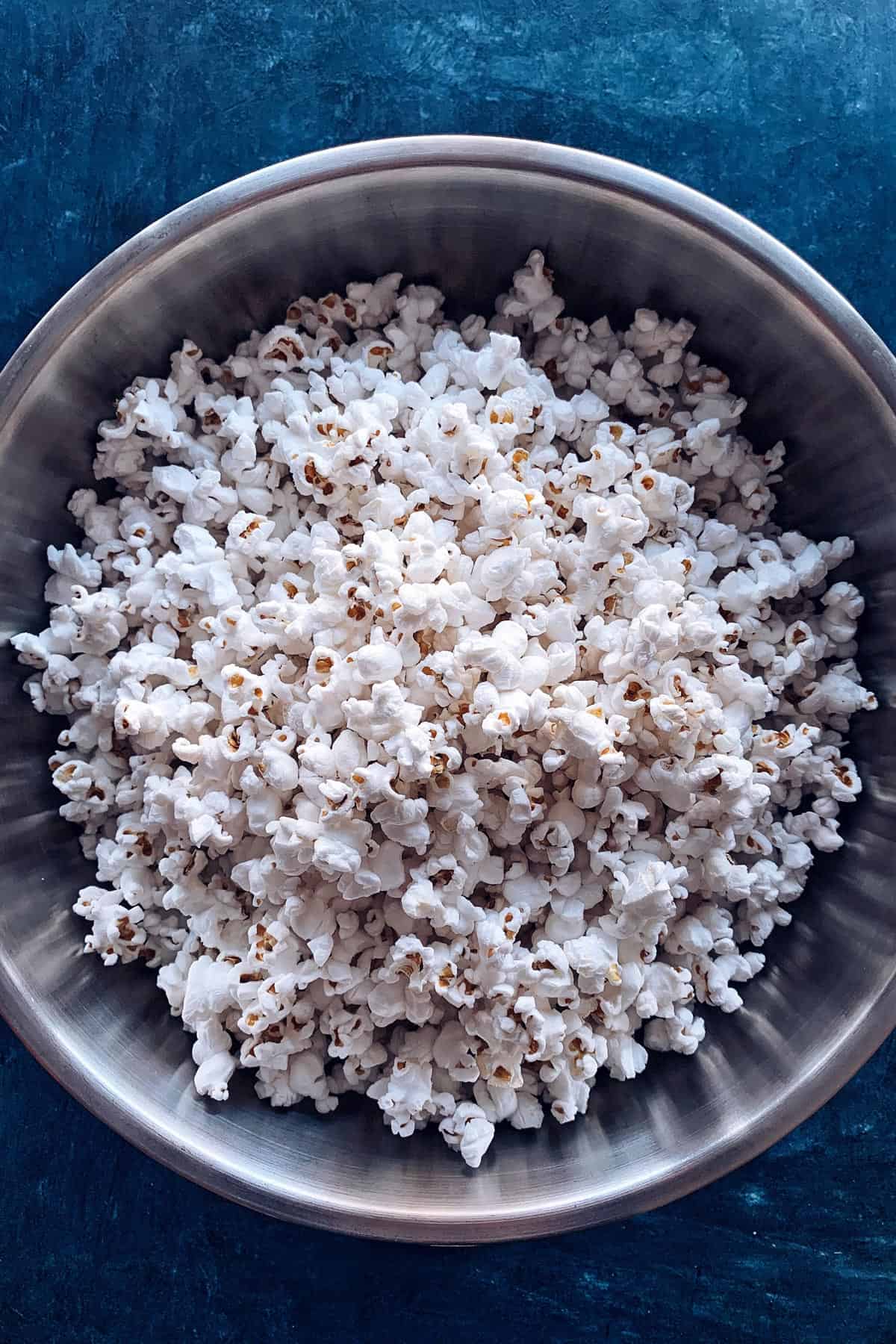 How to make caramel popcorn
This caramel popcorn recipe is an easy one, leaving you with a nice big batch in about an hour's time.
All you need are six ingredients:
popped corn – Our family makes popcorn two to three times a week using this stovetop popper. These are our favorite popcorn kernels. Not only do I like the texture, but I love that it's white – so pretty with the caramel!
butter
brown sugar
light corn syrup
salt
baking soda
Spread the popped corn onto two large rimmed pans and keep it warm and crisp in a 250° F oven.
In a saucepan on the stovetop, combine the butter, brown sugar, corn syrup, and salt. Bring it to a boil. When the temperature reaches 248° F, also called firm ball stage, remove pan from the heat. This only takes about 5 minutes.
Stir in the baking soda. I know this might sound like an odd ingredient, but it's really so neat.
Why use baking soda?
The baking soda reacts with the acid in the brown sugar and corn syrup, creating a chemical reaction of tiny carbon dioxide air bubbles. It will cause the caramel mixture to foam and turn lighter in color. These bubbles aerate the caramel, making it smoother and easier to coat the popcorn, while also preventing the caramel from becoming rock-hard once it cools.
Remove warm popcorn from the oven and drizzle the hot caramel mixture over the top. Fold to coat as evenly as you can. Don't fret if it's not coated quite as well as you'd like, as you'll fold the caramel corn 3 more times before it's finished baking.
Place the caramel corn back into the oven and bake for 45 minutes, folding every 15 minutes.
Done!
You are now the proud maker of the best caramel corn on earth!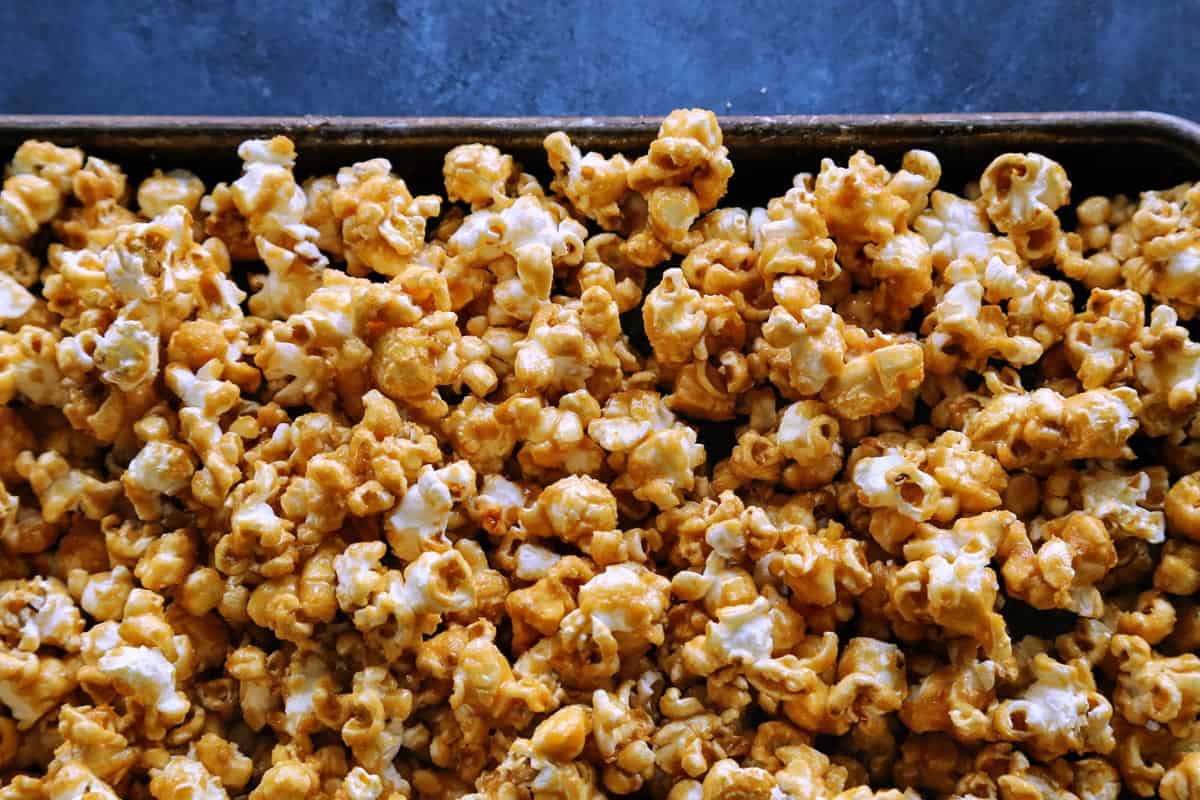 It's absolutely not possible for me to snitch a few pieces, hot from the oven. I've burnt my tongue many times, too impatient to wait.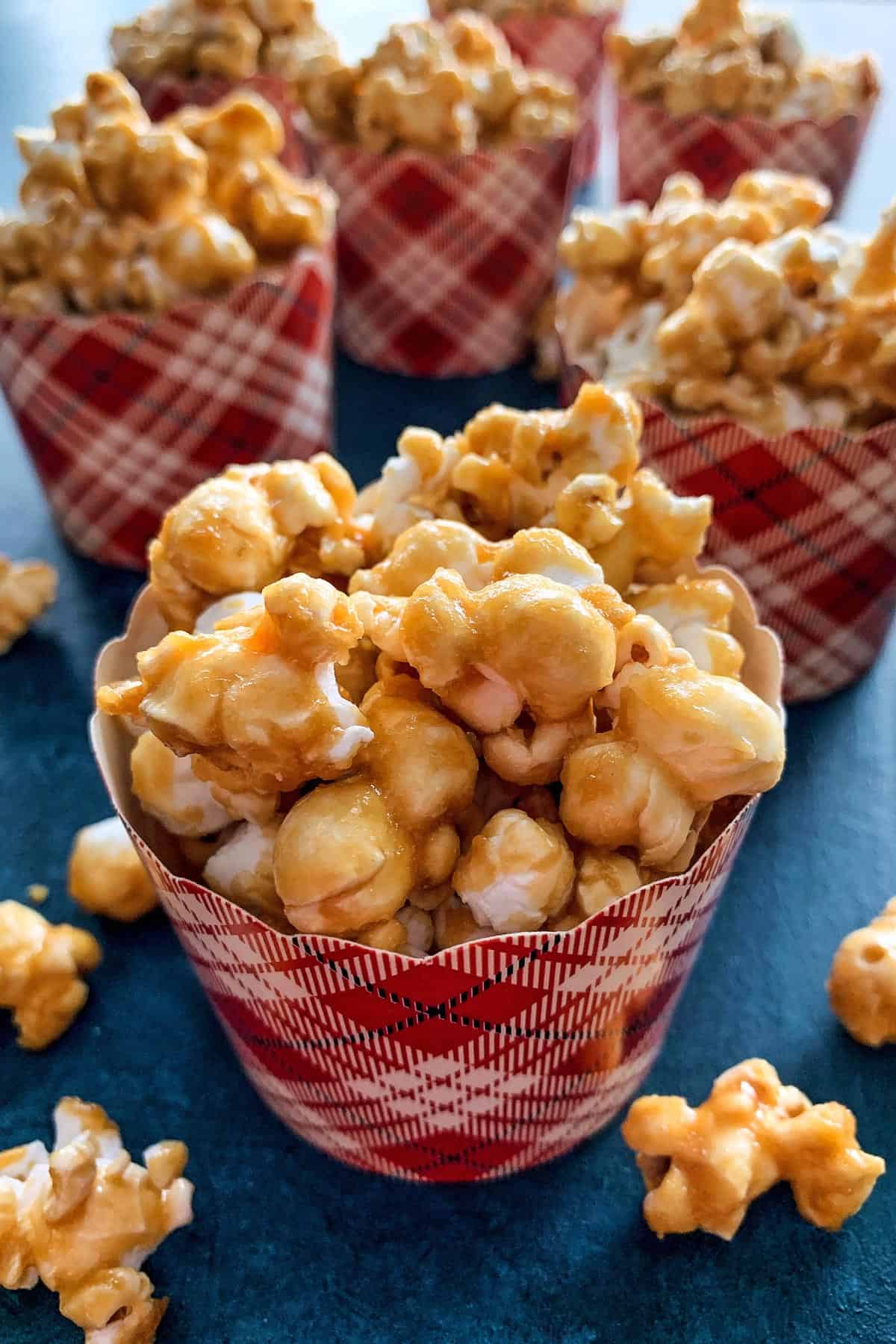 This homemade treat makes a great gift!
So many people appreciate really great caramel corn. That's why I think it's one of the best edible food gifts, especially during the holidays.
This year I used these swell little baking cups to hold the homemade caramel corn. A friend gave them to me, and I just love them! You can find a good variety of these cups here.
I like to fill the cups with caramel corn and add them to treats platters. Or slip them into a small clear food bag, twist the bag top, and tie on some ribbon. It makes a beautiful little homemade gift.
Here are a few more recipes, great for gifting! Chocolate Peanut Butter Ritz Cookies and Oreo Truffle Balls are no-bake treats that are ALWAYS a hit. Nobody can resist this buttery Toffee that tastes like a Heath bar, or homemade Peanut Butter Cups. And you just gotta have some roasted nuts at Christmastime – Rosemary Thyme Spiced Nuts and these Spiced Nuts are my absolute favorites!
Like this recipe? Save it to Pinterest!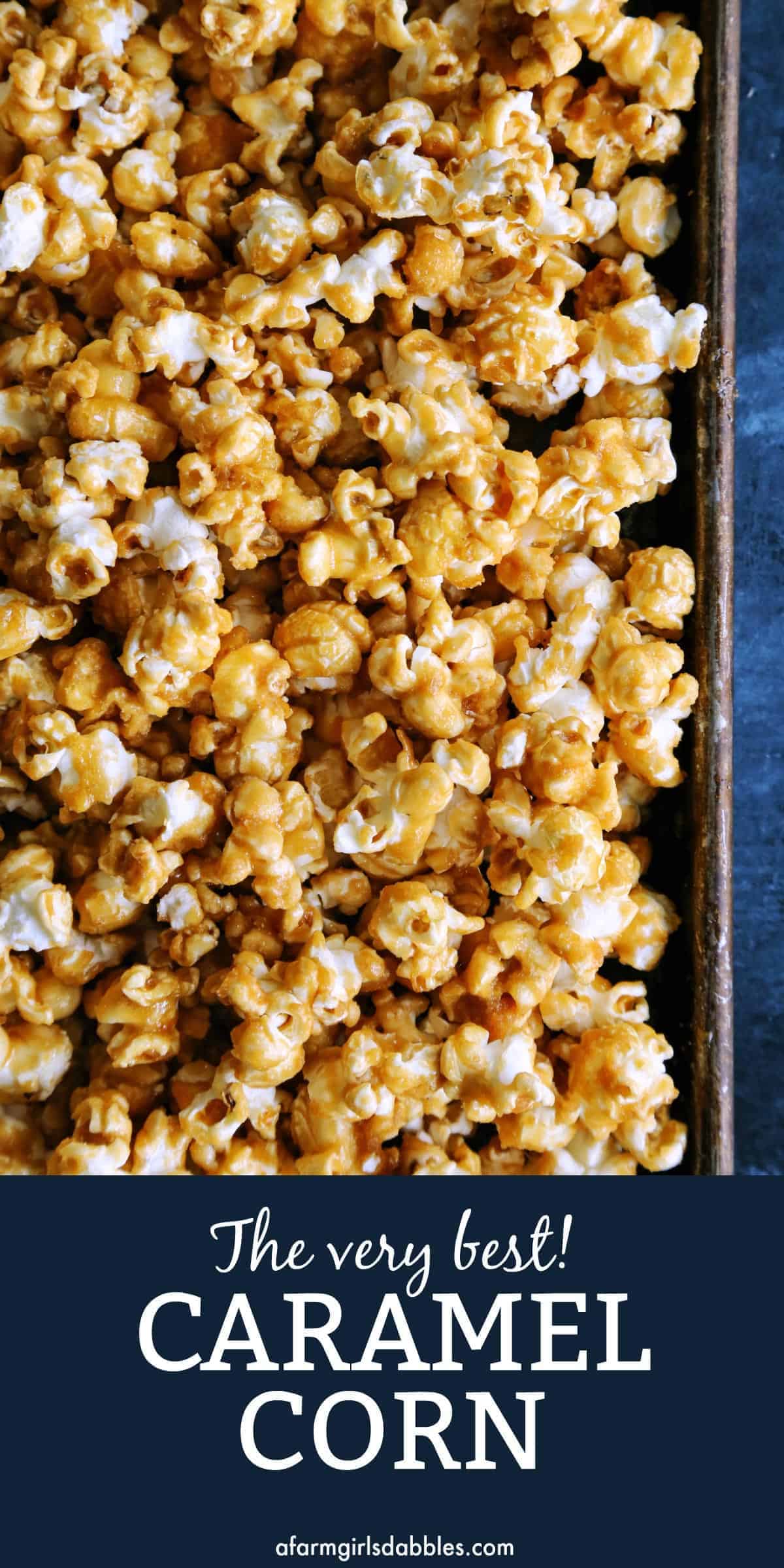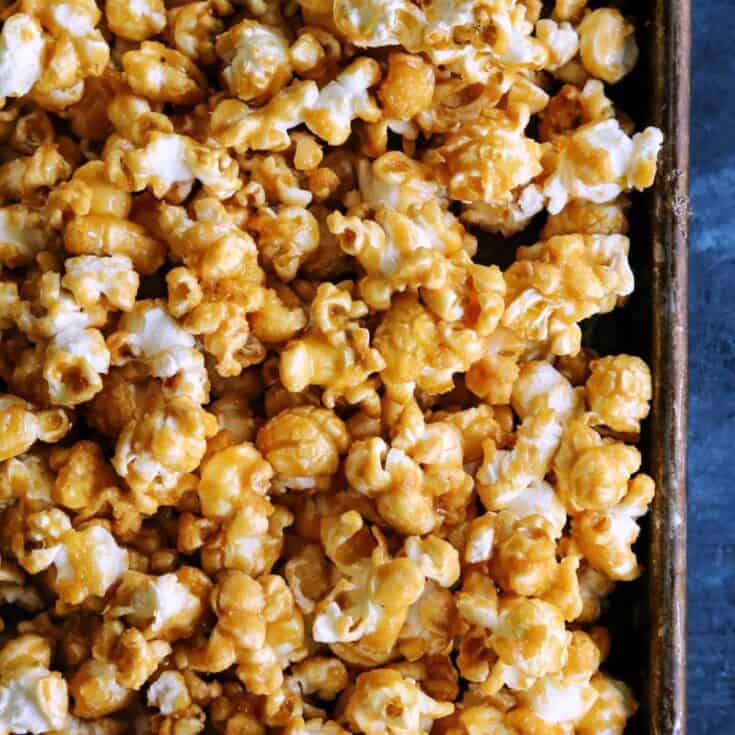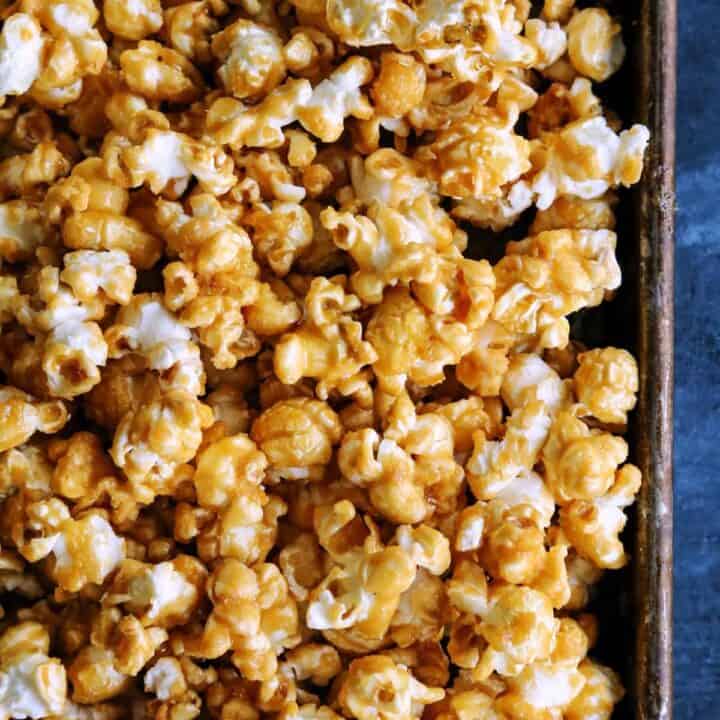 Oven-Baked Caramel Corn
Yield: 6 quarts caramel corn
Prep Time: 10 minutes
Cook Time: 50 minutes
Total Time: 1 hour
This homemade caramel popcorn is SO much better than store-bought. It's crispy, sweet, buttery perfection! And it makes a great gift!
Ingredients
6 quarts popped corn - I like to use these white popcorn kernels – I think the white popped corn is prettier and I like the texture better
1 cup unsalted butter
2 cups packed light brown sugar
½ cup light corn syrup
1 teaspoon kosher salt
½ teaspoon baking soda
Instructions
Preheat oven to 250° F.
Spread freshly popped corn (we use this stovetop popper) onto two large rimmed pans. Place in the oven to keep popcorn warm and crisp.
In a heavy 2-quart saucepan over medium heat, combine butter, brown sugar, corn syrup, and salt. Stir every now and then, dissolving the sugar. Bring mixture to a boil and cook until it reaches the firm ball stage of 248° F, using a candy thermometer. This should take about 5 minutes or so.
Remove from heat and stir in baking soda. Caramel mixture will foam.
Remove popped corn from oven and pour hot caramel mixture over it, in a fine stream. Fold to mix well. Return pans to oven for 45 minutes, stirring and scraping up caramel from bottom of pans every 15 minutes. Remove pans from oven to a cooling rack. Once caramel corn is cool enough to handle, and not yet hardened, break up any large clumps using your fingers. Then let caramel corn cool completely. Serve immediately or store in an airtight container for up to a week.
Notes
from the recipe box of friend Ann Hauer, who got the recipe from a high school Home Ec cookbook
A great twist on this recipes is to drizzle melted chocolate over the cooled caramel corn while it is still in the pans. I melt 4 ounces of chocolate bark and 6 ounces of dark or semisweet chocolate chips together and drizzle over the caramel corn. This can be altered to your own chocolate preference - I've just found this ratio pleases both the milk chocolate and dark chocolate lovers in our family. Let the chocolate set completely (can refrigerate briefly to speed up the process) and then break the caramel corn into chunks.
Recommended Products
As an Amazon Associate and member of other affiliate programs, I earn from qualifying purchases.
Nutrition Information:
Yield: 16
Serving Size: 1
Amount Per Serving:
Calories: 442
Total Fat: 15g
Saturated Fat: 8g
Trans Fat: 0g
Unsaturated Fat: 6g
Cholesterol: 31mg
Sodium: 139mg
Carbohydrates: 79g
Fiber: 6g
Sugar: 41g
Protein: 8g
Nutrition information is automatically calculated by Nutritionix. I am not a nutritionist and cannot guarantee accuracy. If your health depends on nutrition information, please calculate again with your own favorite calculator.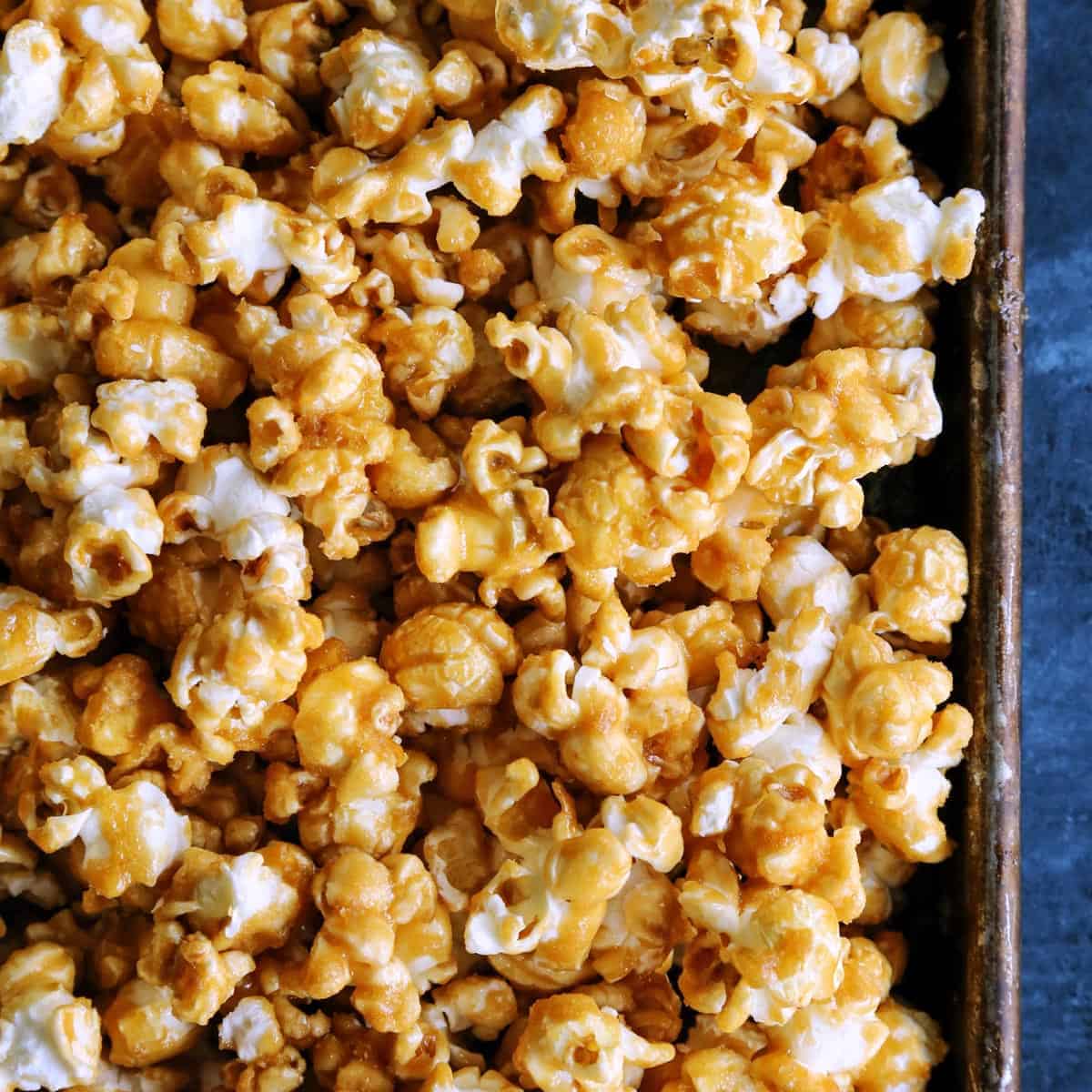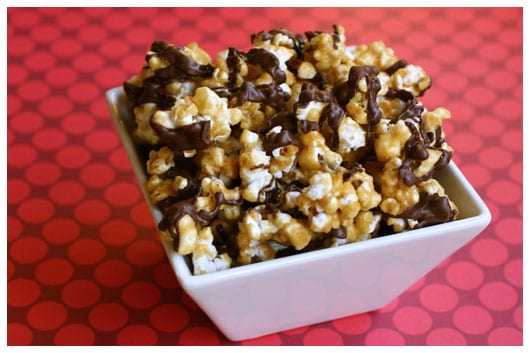 For an extra special treat, especially during the holidays, I like to add a drizzle of dark chocolate. When I gift a beribboned bag of this chocolate adorned caramel corn, the only complaint I hear is that there wasn't enough.
This post was previously published in 2010. Photographs and text were updated in 2019.