Ann's Oven-Baked Caramel Corn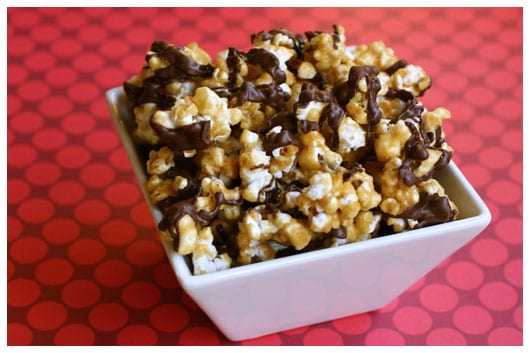 WARNING:
Do not eat one single piece of this caramel corn
unless you are prepared to indulge in the whole bowl!
************************
This Oven-Baked Caramel Corn is downright addictive.  If it's on the counter, I simply cannot leave it alone.  The caramel glaze is utter perfection – not too thick, not too thin – with a wonderful buttery flavor.  And for an extra special treat, especially during the holidays, I like to add a drizzle of dark chocolate.  When I gift a beribboned bag of this chocolate adorned caramel corn, the only complaint I hear is that there wasn't enough.
It's really in your best interest to make this when you are expecting company.  Otherwise, seriously, you will be tempted to take care of this all on your own.  You have been warned.
************************
This caramel corn recipe is the first in a series of easy holiday treats I will be sharing over the next couple of weeks.  Over the past weekend, I shared a presentation titled "Sweet (and easy!) Christmas Gifts from One Day in the Kitchen" with a bunch of lovely ladies.  I showed them some of my favorite treats for gifting at Christmas.  Gifts that are very easily crafted from your own hands.  Gifts that show you're giving from your heart, and not just your ever draining pocketbook. And gifts that give back to YOU, the kitchen mess-maker, by prompting a special baking day with your children, grandchildren, or friends.
If you haven't given gifts from your heart and hands in the past, I hope that this little series will tempt you to give it a shot this year.  And if you are already accustomed to gracing your friends, family, kids' teachers, and coworkers with yummies each Christmas, maybe I will be able to add a recipe or two to your list.  That would just make my day.   :)
Do you give Christmas gifts from the kitchen?
What do you like to gift?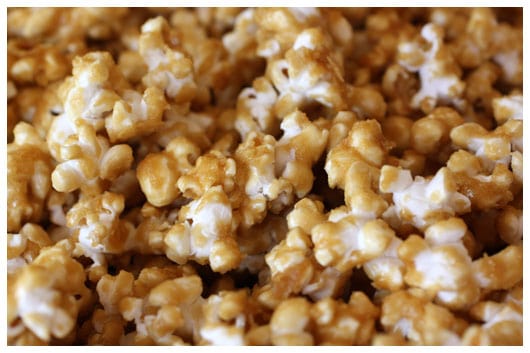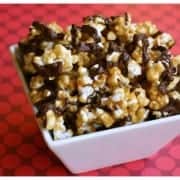 Ann's Oven-Baked Caramel Corn
Yield: 6 qts. caramel corn

Cook Time:50 minutes
Ingredients:
5 to 6 qts. popped corn, from 1 c. unpopped corn (I like to use white pop corn – I think it's prettier!)
1 c. unsalted butter
2 c. brown sugar, firmly packed
1/2 c. light corn syrup
1 tsp. salt
1/2 tsp. baking soda
Directions:
Preheat oven to 250°.

Spread freshly popped corn in two large, shallow sheet pans. Place in the oven to keep warm and crisp.

Combine butter, brown sugar, corn syrup, and salt in a 2-quart heavy saucepan. Place on medium heat, stirring until sugar dissolves. Continue to boil to the firm ball stage (248°), about 5 minutes.

Remove from heat and stir in baking soda. Syrup will foam.

Take popped corn from oven and pour hot caramel mixture over it, in a fine stream. Stir to mix well. Return to oven for 45 minutes, stirring and scraping up caramel from pan bottom every 15 minutes. Cool and serve or store in an airtight container for up to a week.

My twist on this great recipe…for an extra special treat, as shown in pictures on this post, try drizzling chocolate over the cooled caramel corn while it is still in the pans. Simply melt 4 ounces of chocolate bark and 6 ounces of dark chocolate chips together and drizzle over the caramel corn. This can be altered to your own chocolate preference, I've just found this ratio to please both the milk chocolate and dark chocolate lovers in our family. Let the chocolate set completely (can refrigerate briefly to speed up the process) and then break the caramel corn into chunks.

Adapted from the recipe box of my friend Ann Hauer. She got the recipe from a high school Home Ec cookbook.

© a farmgirl's dabbles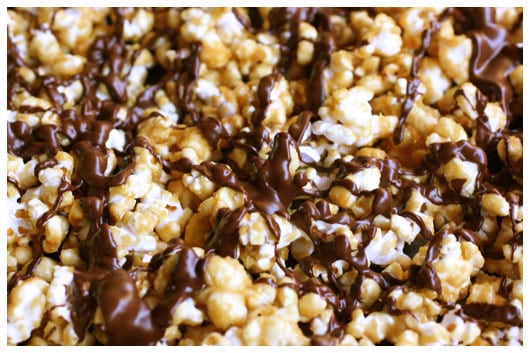 And…I've been adopted!  Yes, I have!  Robyn at Add a Pinch has adopted me, and I'm feeling ever so blessed.  If you want to find out more, please head on over to her site for the info.  I've also linked up this here caramel corn as part of Robyn's Mingle Monday.  So, go on!  Mingle!
We participate in the Amazon Services LLC Associates Program, an affiliate advertising program designed to provide a means for us to earn fees by linking to Amazon.com and affiliated sites. See our disclosure policy for more info.