Oreo Truffle Balls
With just 4 ingredients, Oreo Balls are a quick and easy no-bake dessert. Also known as Oreo truffles, they're the perfect bite-sized treat that also freeze well – so you can enjoy them whenever the chocolate craving strikes!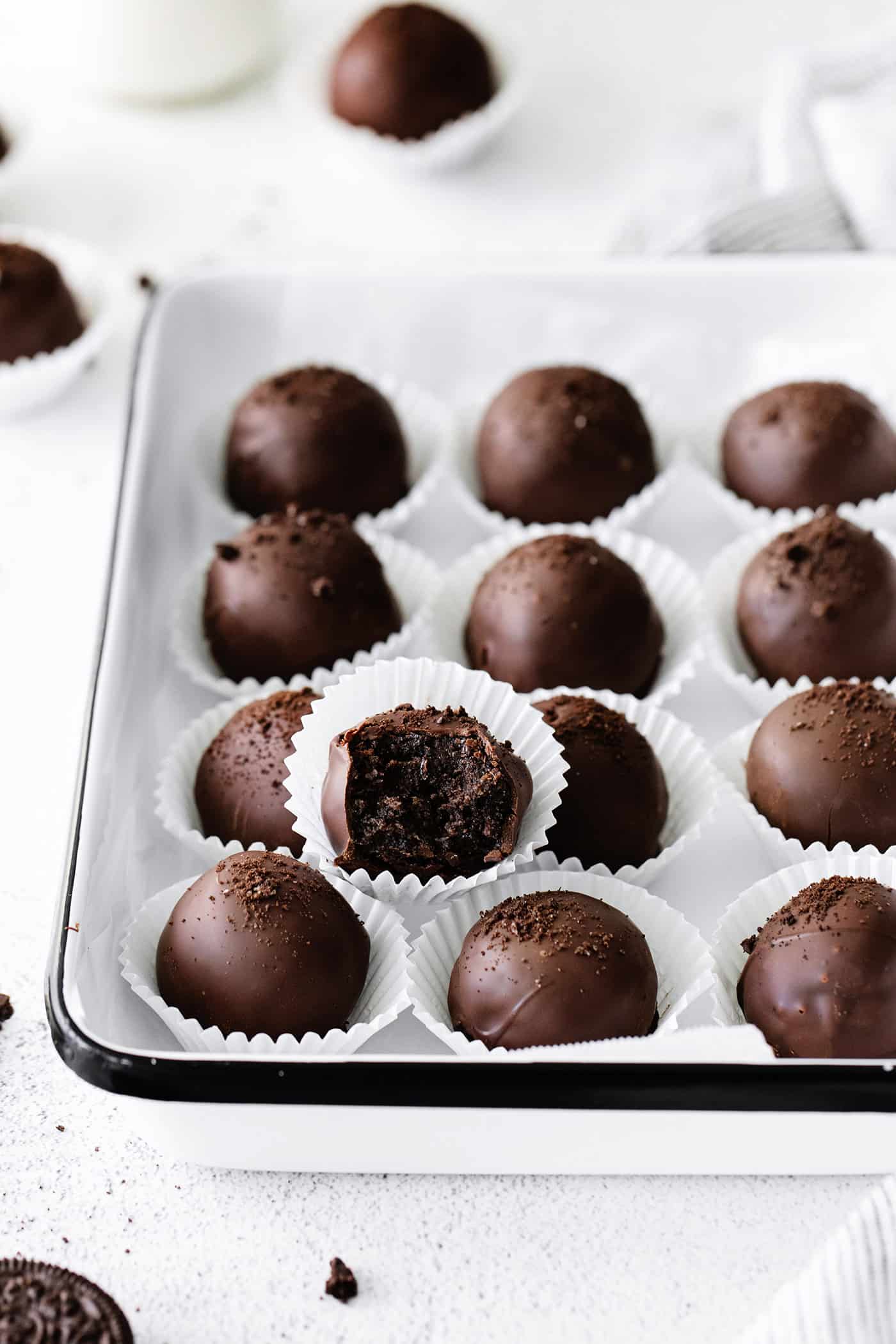 Easy Oreo Truffles Recipe
Like the cookie dough truffles I shared recently, these Oreo Truffles are also a huge hit around our house. They're made with crushed Oreos (including the filling!) and cream cheese that's dipped in the best chocolate coating, and then topped with more crushed Oreos.
Sounds like heaven, right? We definitely think so!
These Oreo cream cheese balls are so easy to make and they're perfectly sized for sharing. This truffles recipe makes over 85 balls of delightful chocolate fun – enough for a big group, gifting, or freezing for later.
And I just have to say, I think this Oreo truffles recipe is a notch above the rest because of its outer chocolate shell. I use an easy mixture of good quality semi-sweet chocolate + chocolate bark. This combination gives a stable outer chocolate shell that doesn't get overly soft when it sits at room temperature – and it actually tastes rich and chocolatey (I'm not a huge fan of 100% chocolate bark)!
I've been rollin' & dippin' these treats for 20+ years. And even though we make the truffles year-round, they're still the #1 request from our girls when we make Christmas cookies each year.
To make them festive for any occasion, simply swap the crushed cookie topping for some colorful sprinkles. You'll love how we jazzed them up for a sweet Valentine's Day treat – look for those beauties near the end of this post!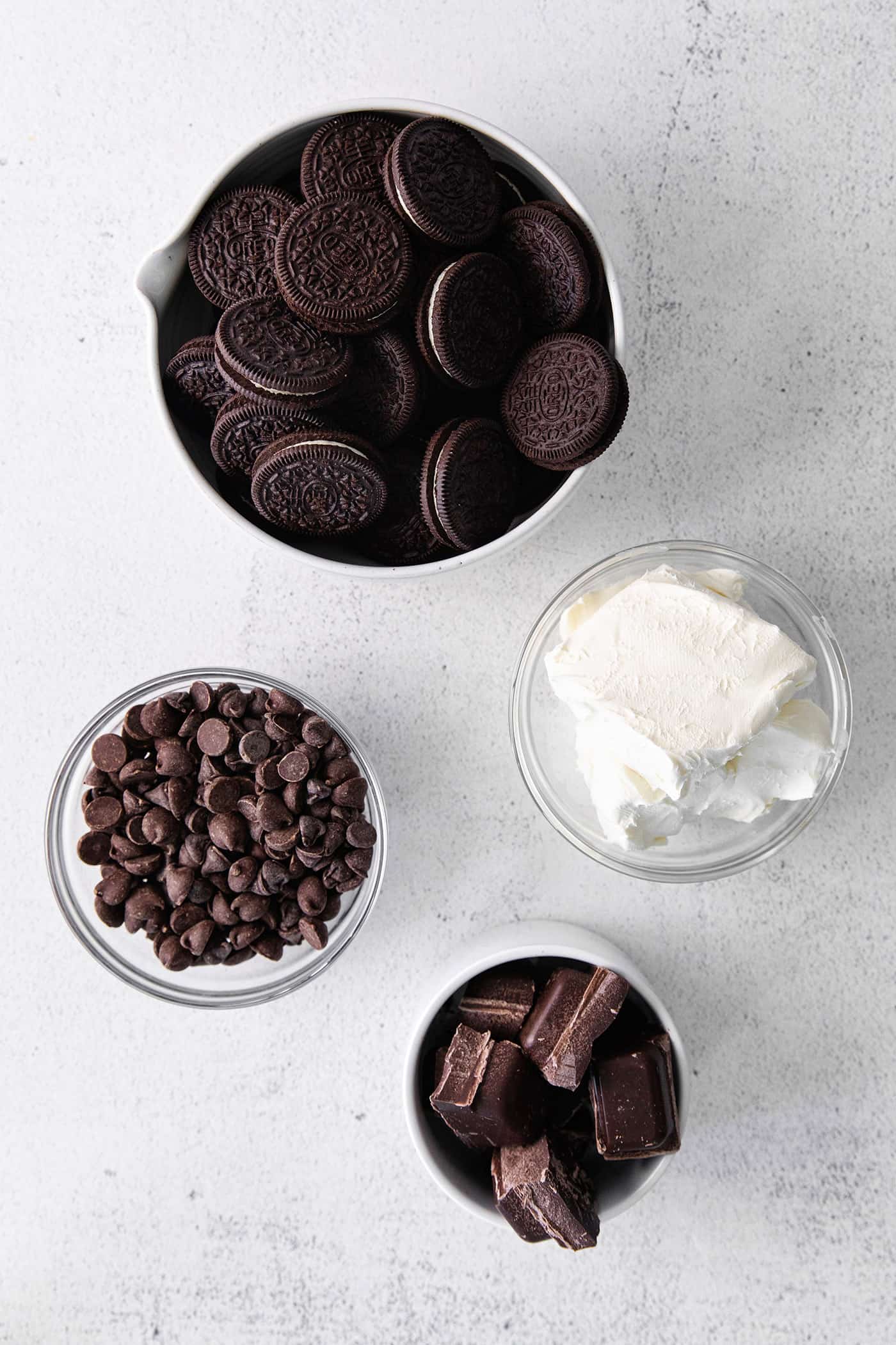 What You'll Need
My recipe for no-bake Oreo truffles is made with just 4 ingredients:
Oreos – I've always used the "Double Stuf" variety for these truffles, because they're the only Oreos I ever buy – I LOVE that extra filling!! Crush whole Oreos for the inside filling. And then crush just the chocolate cookie (filling removed) and sprinkle over the top for garnish, so pretty!
Cream cheese – Cream cheese is what makes the inside creamy and deliciously tangy, and also helps to hold it all together.
Chocolate almond bark – Chocolate almond bark is ideal for dipping as it provides more structure than just chocolate chips. But I've never really been a fan of eating 100% chocolate bark…
Semi-sweet chocolate chips – That's why I always incorporate some quality chocolate chips – these are my favorite chocolate chips. When melted with the almond bark, the outside chocolate coating is strong + has a richer, more delicious chocolate flavor!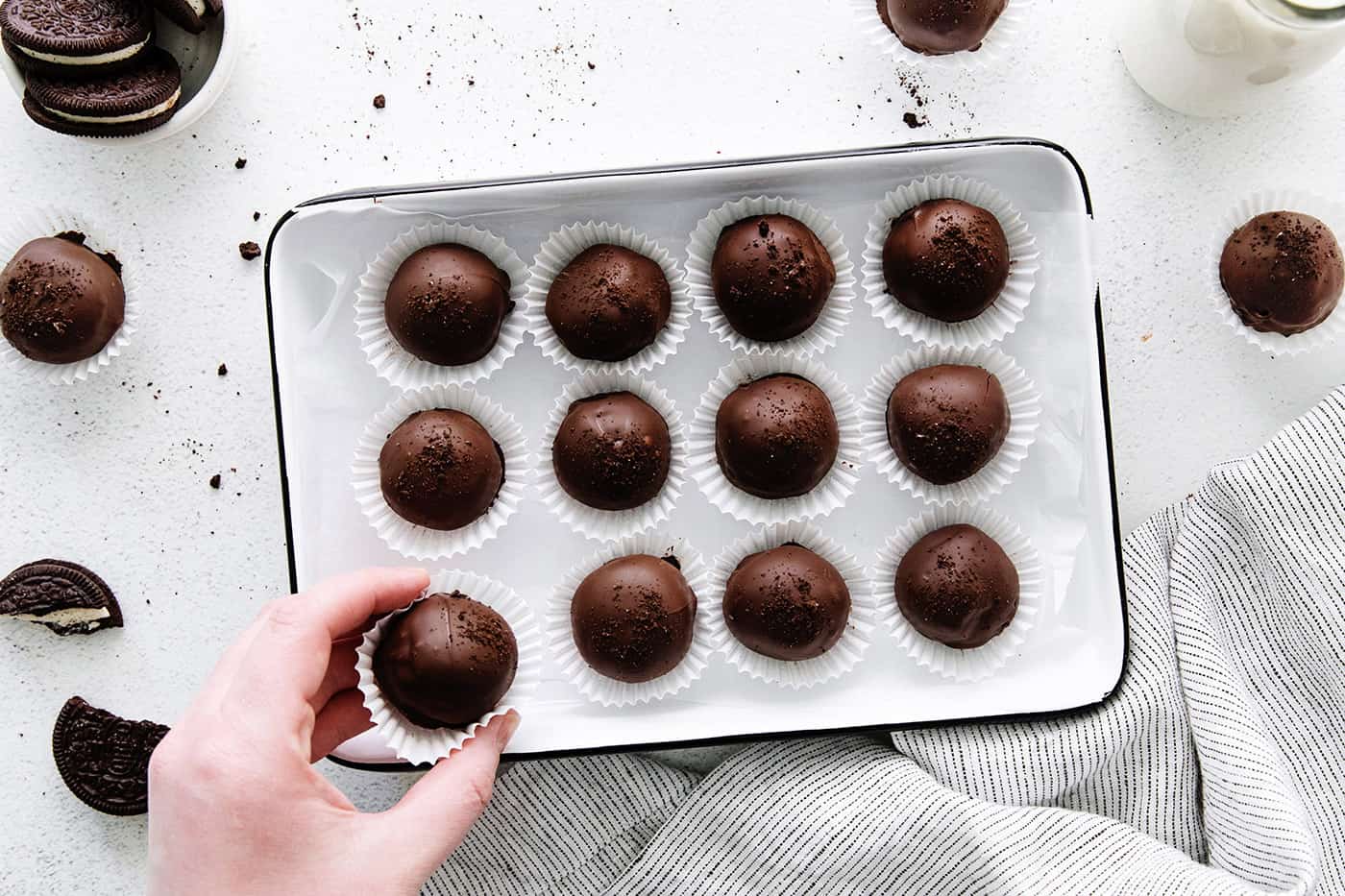 What's the best chocolate for dipping?
I prefer chocolate almond bark for dipping, although any baking melts will work. Ghirardelli makes a great brand of melting wafers. What you don't want to do is use just straight chocolate chips. Chocolate chips don't have the structure of almond bark and melting wafers, and will become softer faster, as they sit at room temperature. Using melted chocolate chips alone also gives more of the chance for that white discoloration to appear, known as "bloom". And I've never had an issue with bloom when I use this almond bark + chocolate chips combo.
For this Oreo truffle recipe, I use a combination of semi-sweet chocolate chips and chocolate almond bark for the best flavor and perfect texture. It's my favorite technique, one that I also use in these popular, no-fail recipes: cookie dough truffles and chocolate peanut butter Ritz cookies.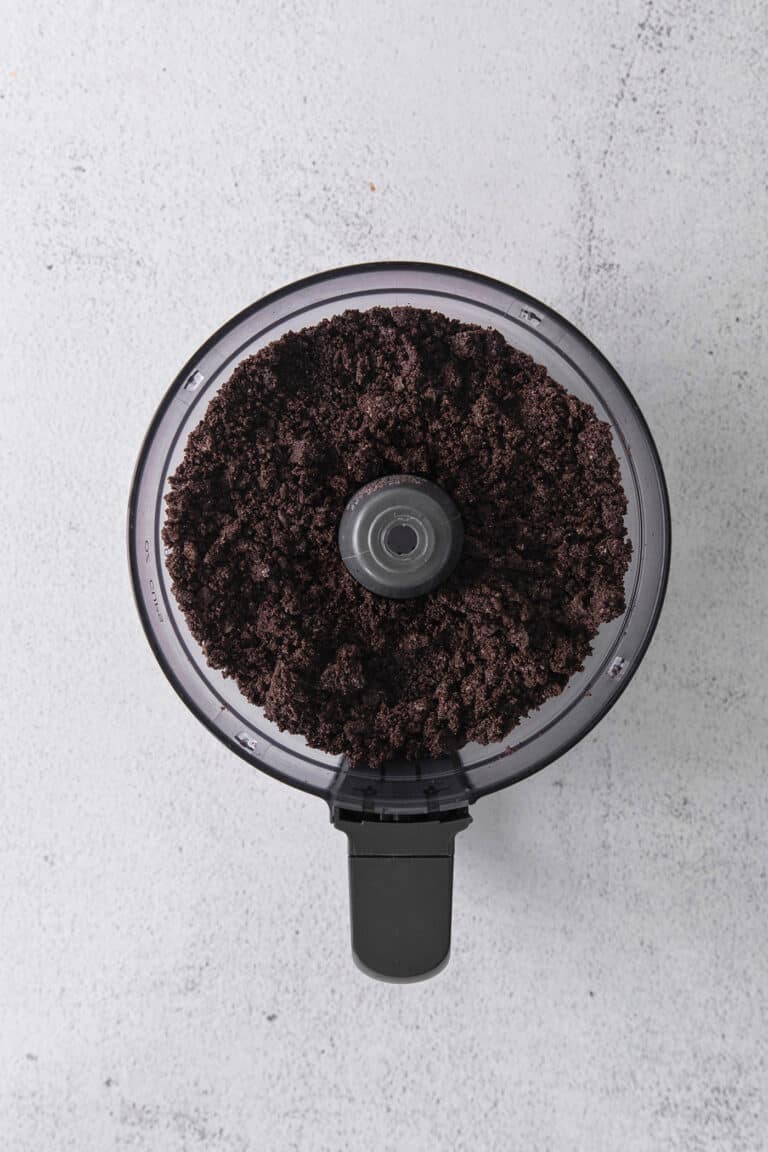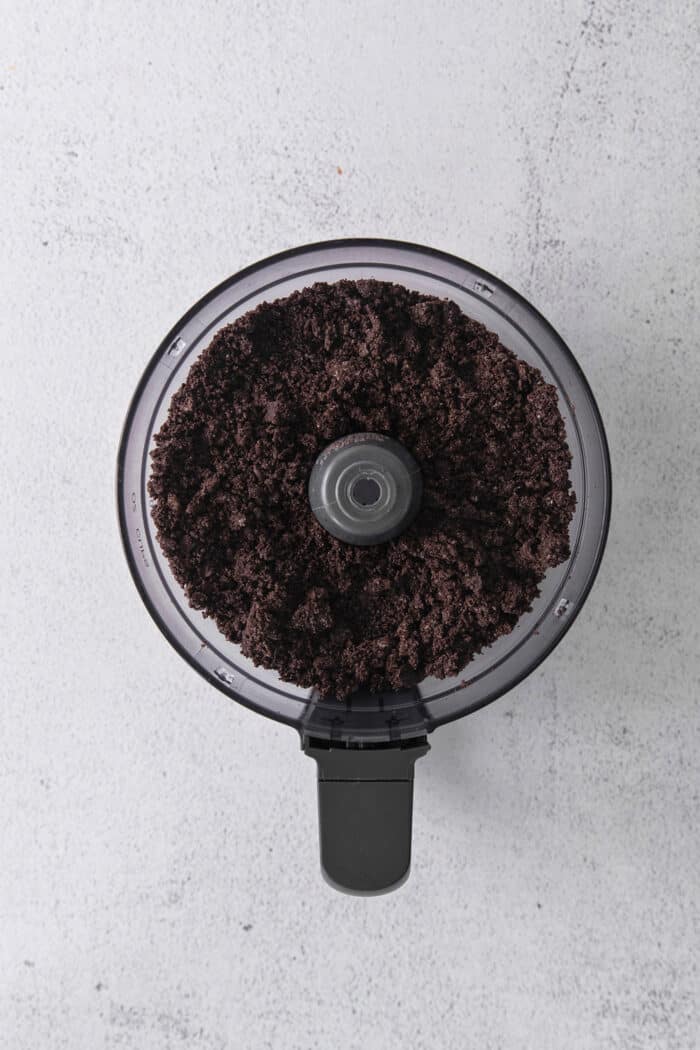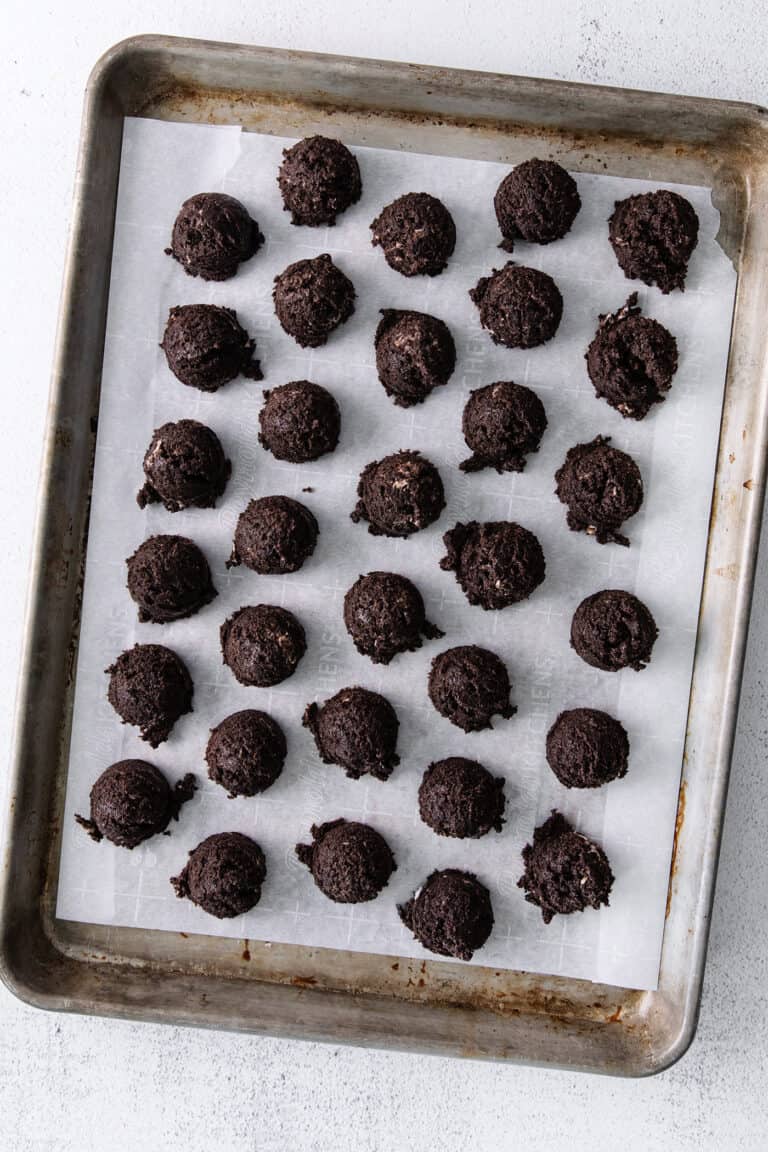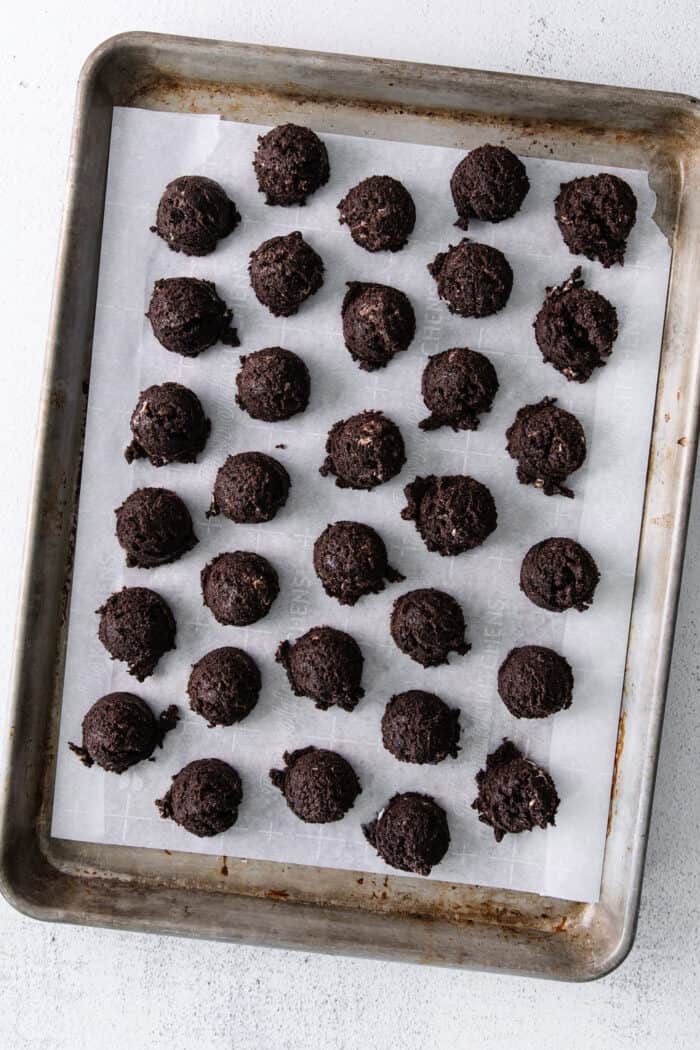 How to Make Oreo Truffle Balls
Oreo cream cheese balls are super easy to make and come together quickly – especially if you have a helper or two with the rolling. Our daughters grew up rolling these treats!
Form the balls. Pulse the Oreos into fine crumbs. Add the cream cheese and pulse until fully incorporated. Scoop the mixture into 1 tablespoon portions and roll them into balls. Place on a sheet pan and set in the freezer.
Melt the chocolate. Melt the almond bark and chocolate chips. You can either use a double boiler or the microwave.
Dip the balls into chocolate. Drop the chilled balls into the melted chocolate, using forks to quickly lift them out and shaking off any excess chocolate. Transfer coated balls to the baking sheet. Repeat with all remaining balls.
Add the topping. If desired, sprinkle crushed Oreos over the top before the chocolate sets.
Chill. Chill in the refrigerator or freezer until the chocolate sets completely.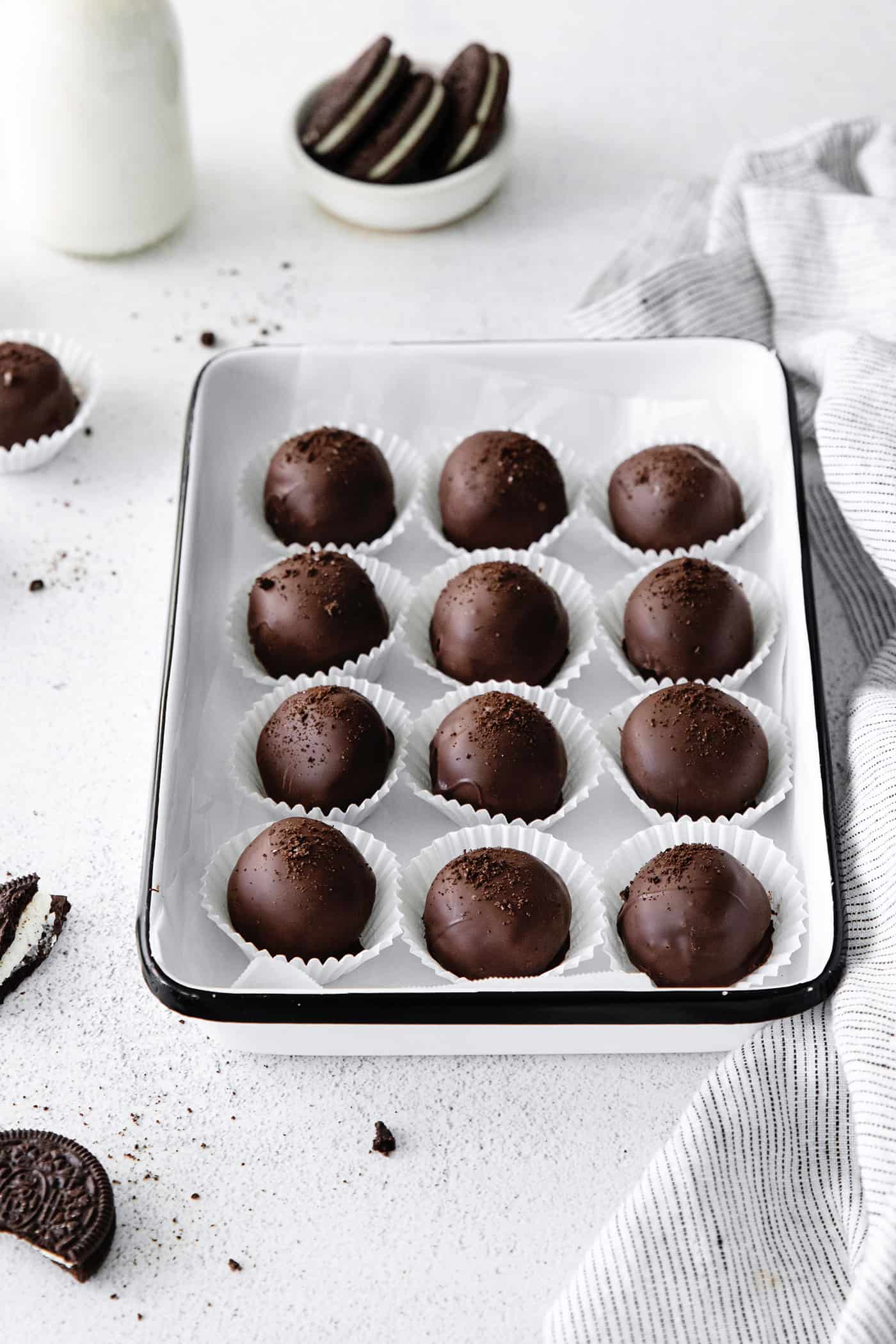 Tips for Success
If this is your first time making chocolate truffles, these tips may be helpful.
Crush the Oreos. If you don't have a food processor, you can simply crush the Oreos in a ziploc baggie with a kitchen mallet or rolling pin.
Use a cookie dough scoop. For ease, and to make sure all the balls are even, use a cookie dough scoop to divide up the dough.
Chill the dough balls. Because the inside ball is made only of cream cheese and crushed Oreos, it's very soft. So it definitely helps to chill the balls before dipping them into the warm melted chocolate.
Reheat the chocolate. If the dipping chocolate cools and becomes thick and hard to work with, just warm it up a bit!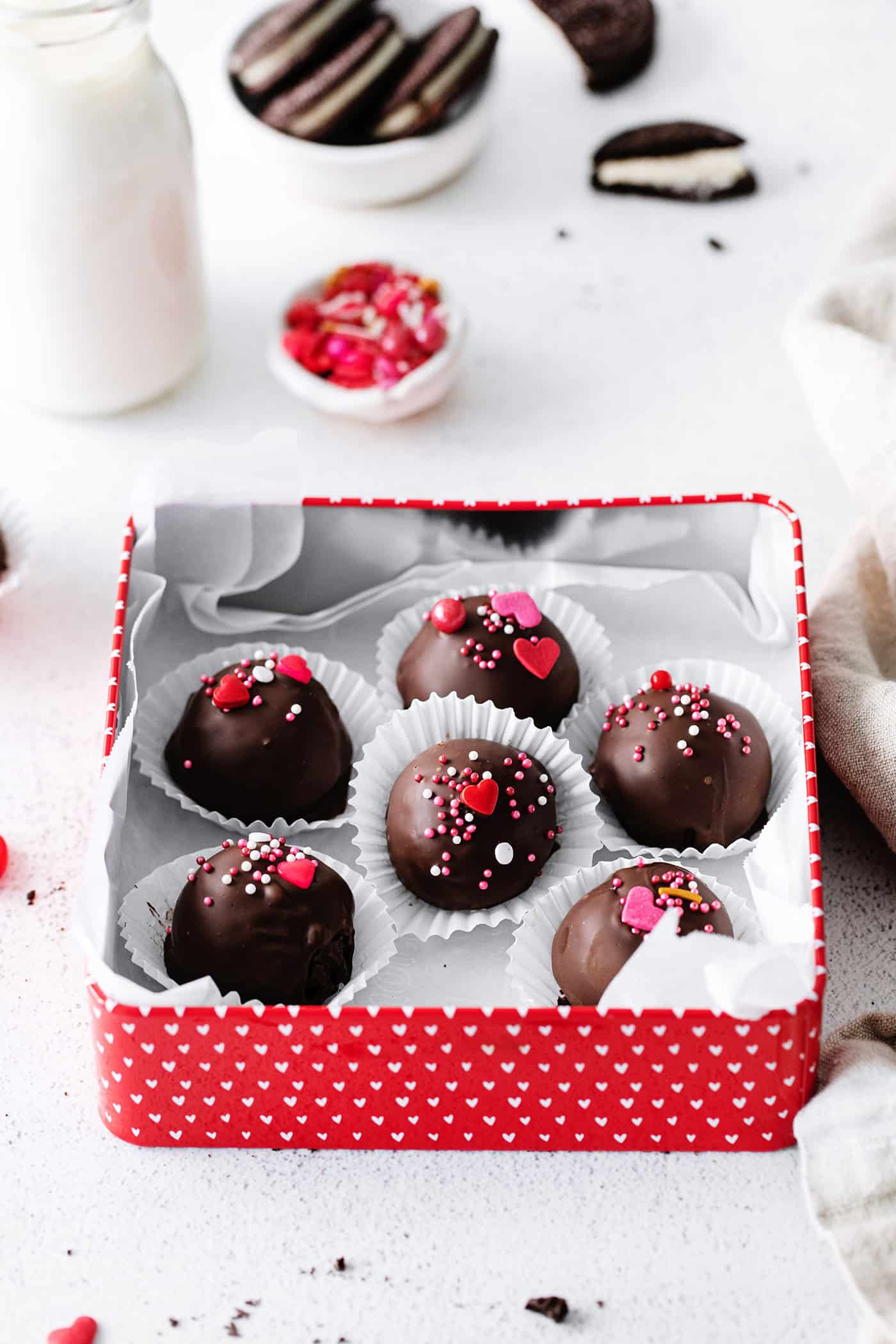 Oreo Balls: Easy Variation Ideas
It's very easy to adapt this Oreo ball recipe.
Make them festive! These Oreo truffles can easily be adapted to any holiday or season or occasion, just by switching up the topping. Use hearts for Valentine's day, red and green sprinkles for Christmas, orange and purple for Halloween, etc. You could even use colored candy melts instead of chocolate if you like!
Use different chocolate. If you prefer dark chocolate or white chocolate, you can use either for dipping. However, I do recommend still incorporating some almond bark. Straight chocolate chips will not have the structure or set as well as the almond bark does. White almond bark pairs perfectly with white chocolate.
Switch up the toppings. Instead of crushed cookies, you can add crushed peppermint, sprinkles, or just drizzle some more melted chocolate over the top.
Give them a mint twist. If you want some minty chocolate truffles, just add in a drop or two of mint extract when preparing the filling. Or use mint flavored Oreos!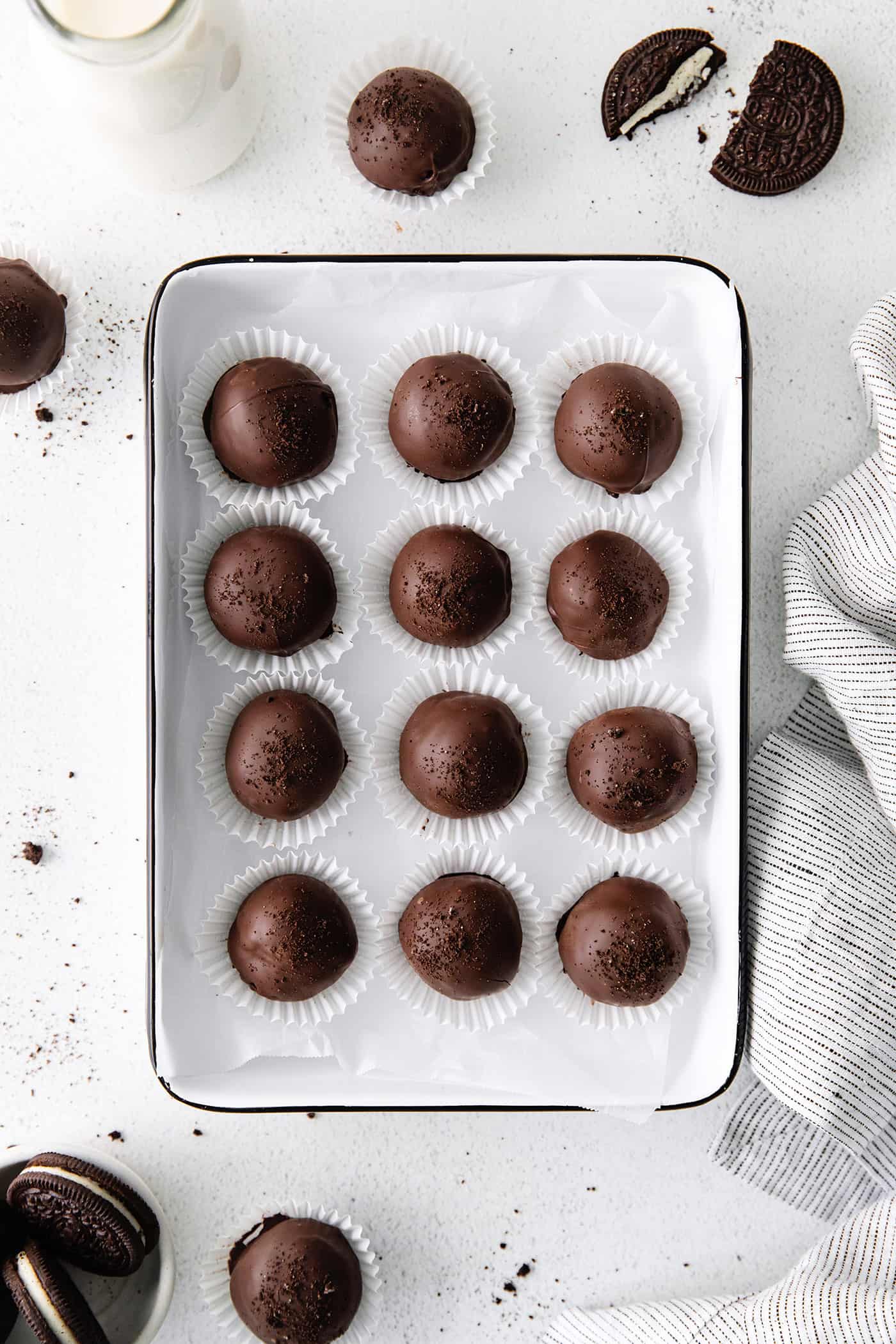 How to Store Oreo Truffles
In the fridge. Oreo balls will stay fresh in the fridge for up to a week, when stored in an airtight container.
In the freezer. One of the great things about chocolate truffles is how well they freeze. They'll stay fresh for up to 3 months when stored in an airtight freezer container. I recommend separating layers with wax paper or parchment paper.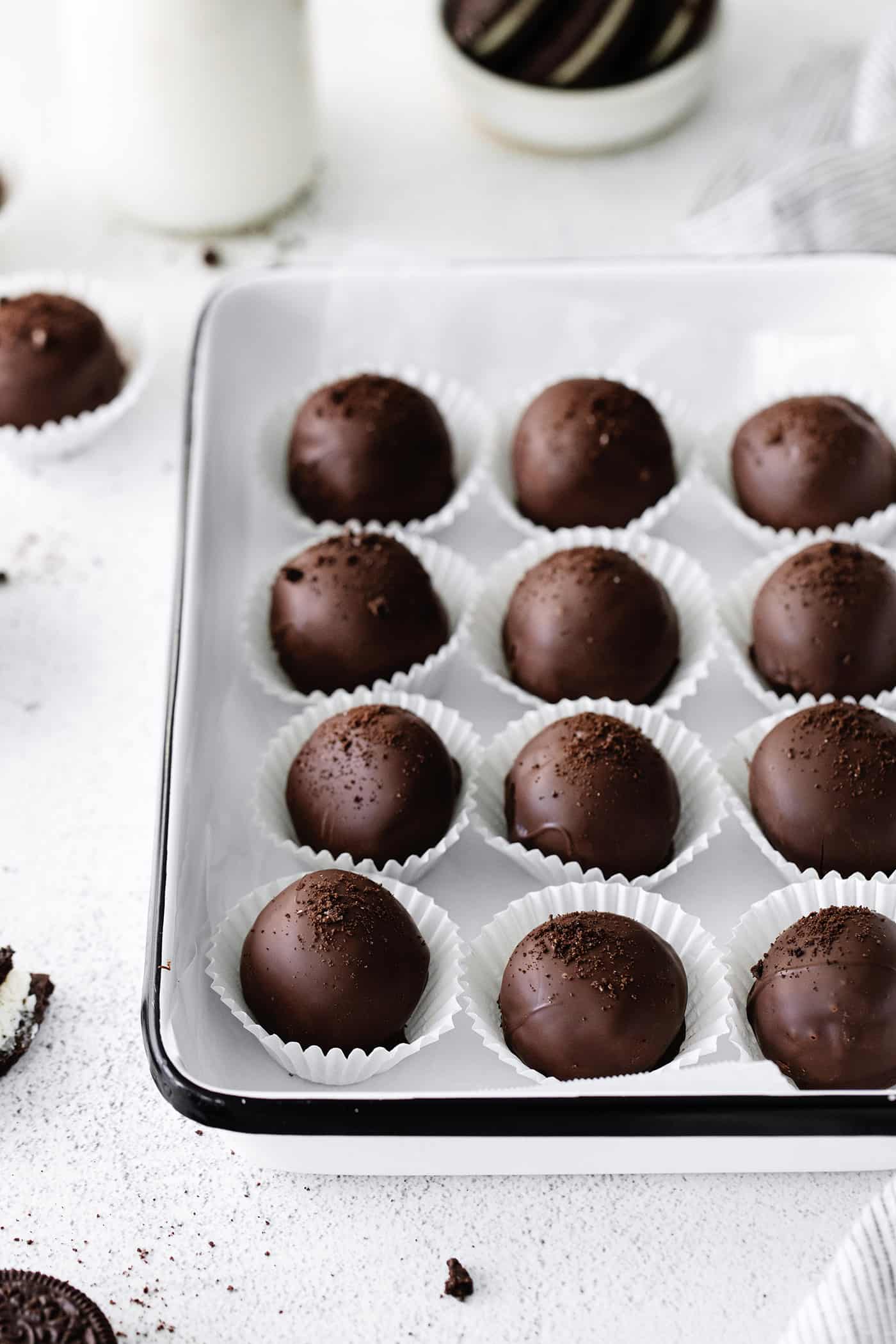 More Truffles Recipes:
Like this recipe? Save it to Pinterest!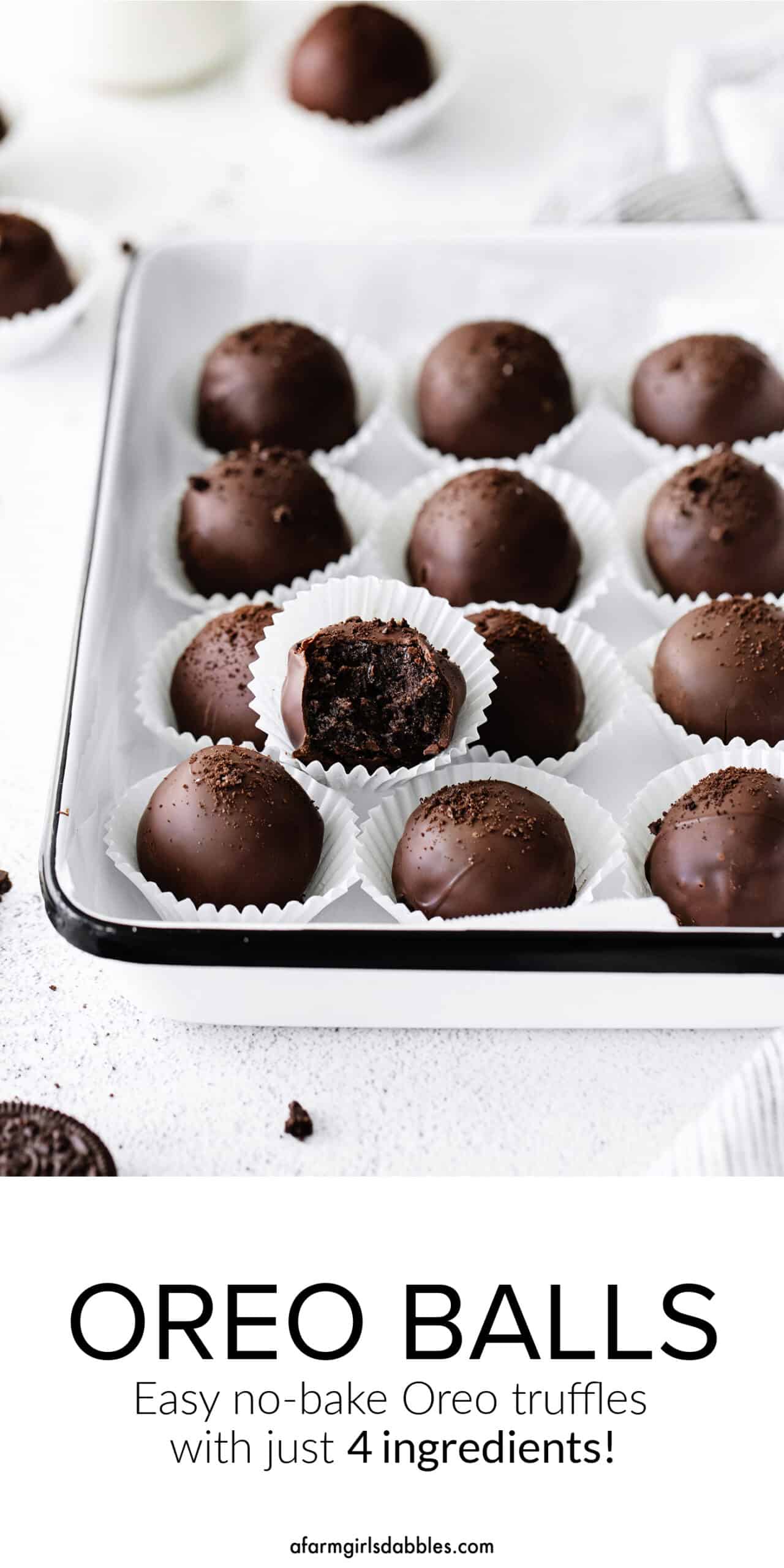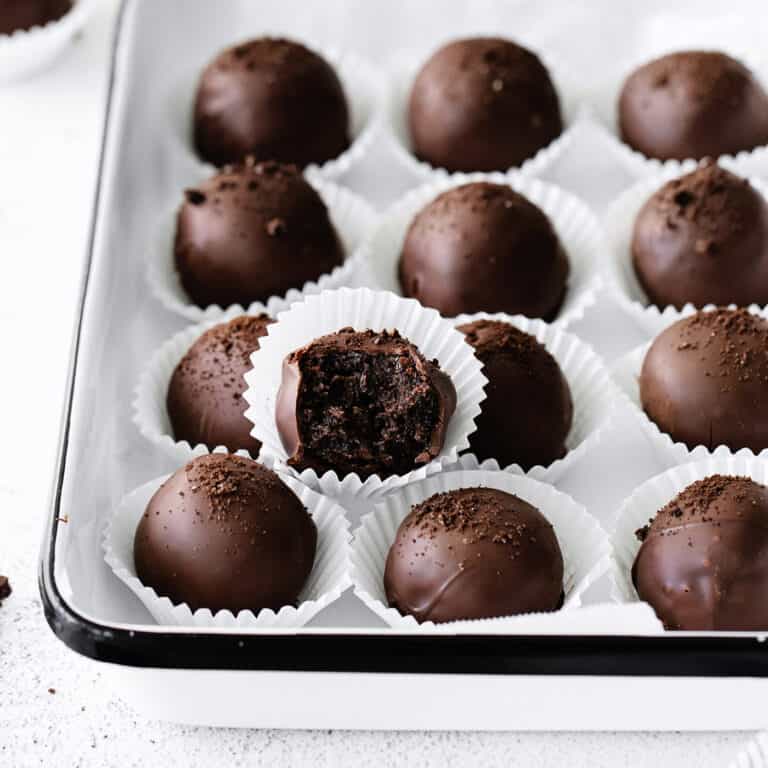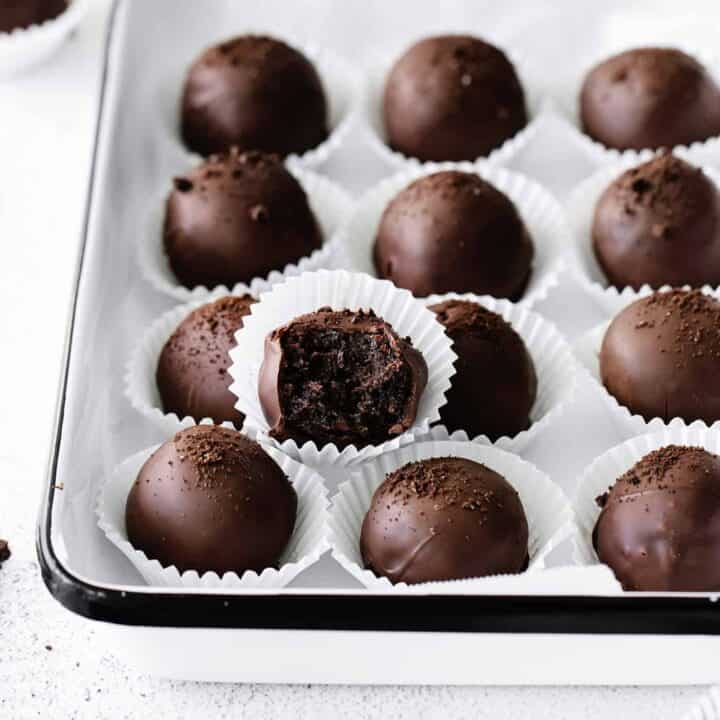 Oreo Balls
Yield: 85 Oreo balls
Prep Time: 10 minutes
Total Time: 10 minutes
With just 4 ingredients, Oreo Balls are a quick and easy no-bake dessert. Also known as Oreo truffles, they're the perfect bite-sized treat that also freeze well - so you can enjoy them whenever the chocolate craving strikes!
Instructions
Line a large rimmed sheet pan with wax paper or parchment paper and set aside.
Reserve 1 cookie for garnish, if desired. Then place remaining Oreos in a food processor (entire cookie, do not remove the cream filling) and pulse into fine crumbs. (Or place the cookies in a double layer of ziploc baggies and use a kitchen mallet or rolling pin to crush the cookies into fine crumbs.)
Add cream cheese to food processor and pulse until well combined with the cookie crumbs. (Or mix the cookie crumbs with the cream cheese in a medium bowl, until fully incorporated.)
Scoop mixture into portions 1 tablespoon each - I like to use a small scoop for even portioning. Place portions onto prepared sheet pan. Then roll portions into balls - they should be about 1" in size. Set sheet pan in the freezer to chill while you melt the chocolates.
Melt chocolate almond bark and chocolate chips in a double boiler on the stovetop or very carefully in the microwave (taking care to not let the chocolate scorch).
Remove balls from freezer and drop one by one into the melted chocolate. Using two forks, quickly turn the ball to completely cover it with chocolate. Lift the ball out with one of the forks, and tap the fork handle lightly on the side of the bowl to force excess chocolate down through the fork's tines and back into the bowl. Slide the fork outward from the bowl, dragging the bottom of the tines along the rim of the bowl, letting excess chocolate drip down the inside of the bowl. Transfer back to the lined sheet pan, using a toothpick to aid in sliding it off the fork's tines. Repeat until all balls are dipped. If the chocolate becomes thick and hard to work with, simply warm it up a bit more.
If desired, add a sprinkle of finely crushed chocolate cookie (without the cream filling) to the top of each ball before the chocolate coating sets. Then allow chocolate to set completely, chilling in the refrigerator or freezer if desired.
Store in an airtight container for up to 1 week in the refrigerator or up to 3 months in the freezer.
Nutrition Information:
Yield: 85
Serving Size: 1
Amount Per Serving:
Calories: 50
Total Fat: 4g
Saturated Fat: 2g
Trans Fat: 0g
Unsaturated Fat: 2g
Cholesterol: 5mg
Sodium: 34mg
Carbohydrates: 3g
Fiber: 0g
Sugar: 2g
Protein: 1g
Nutrition information is automatically calculated by Nutritionix. I am not a nutritionist and cannot guarantee accuracy. If your health depends on nutrition information, please calculate again with your own favorite calculator.