Chocolate Truffles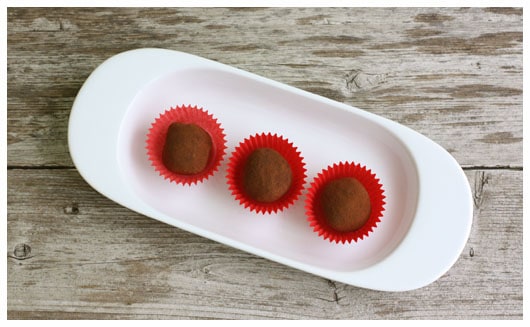 Wanna know one of my biggest indulgences?
Chocolate Truffles. Red wine. "Julie & Julia".
All at once.
Yep.
Kids in bed.
Computer put away.
Lights turned low.
No distractions to interfere with the movie…
except having to reach for another truffle.
If only this could be a weekly occurrence!
Many people think that making your own truffles is too much work. Or they find the process intimidating. But really, you just need a recipe you can rely on. I've tried a number of recipes over the years, and this is what I've come up with. This is my recipe for no-fail Chocolate Truffles. And they are easy to make. I promise.
My thoughts on flavor: Truffles can be easily tweaked to your own tastebuds by altering the liqueur. I prefer Grand Marnier (orange), but Kahlua (coffee) and Chambord (raspberry) are also excellent. These truffles can also be made completely without the liqueur and are still luxury in chocolate.
My thoughts on size: I like an ample 2-bite sized truffle. So that while the inside of my mouth is enjoying that first bite, my eyes can be taking in the beautiful creamy chocolatey innards of the remaining bite.
My thoughts on coating: For me, the simpler the better here. I prefer a classic coating of cocoa powder. Did you know there are different types of cocoa powder? Natural and Dutch Process. And I find that Dutch Process cocoa powder has a richer, smoother flavor. It guarantees truffle enjoyment.
What is one of your biggest indulgences?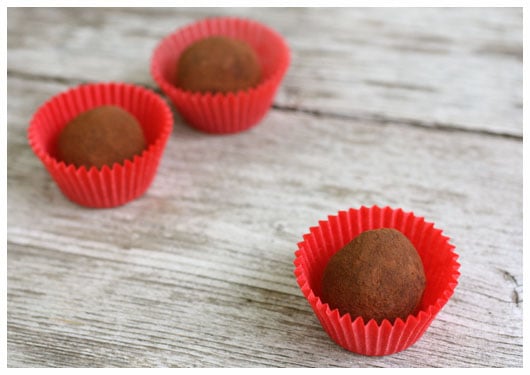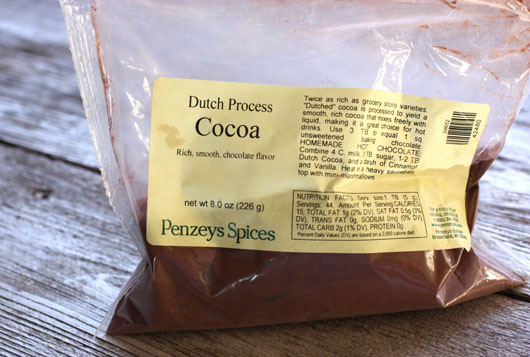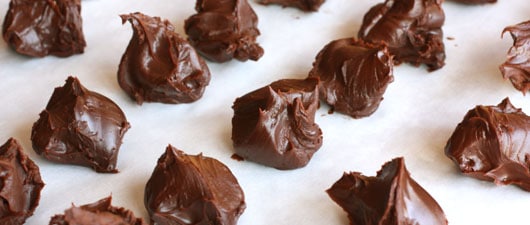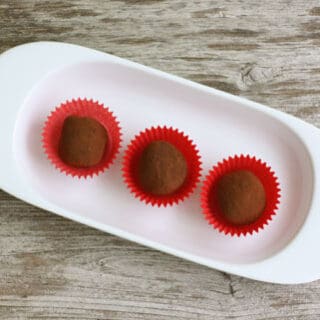 Chocolate Truffles
Yield: about 35 truffles
Prep Time: 25 minutes
Cook Time: 5 minutes
Additional Time: 55 minutes
Total Time: 1 hour 25 minutes
These Chocolate Truffles are such a treat. Whether it's Valentine's Day, or just a cozy night in, homemade truffles are the perfect sweet to make and then enjoy!
Ingredients
8 oz. high quality bittersweet chocolate (The better your chocolate, the better your truffles!)
8 oz. high quality semisweet chocolate
1 c. heavy cream
1 T. prepared coffee
1/2 tsp. vanilla extract
2 T. Grand Marnier (orange flavored liqueur) or liqueur of your choice, optional
Dutch Process cocoa powder, for coating (I highly recommend Penzey's Spices!)
Instructions
Line a baking pan with parchment paper and set aside.
Chop both chocolates into small pieces (about 1/4″ or so) with a sharp knife. Place chocolates in a medium heat-proof bowl.
In a small saucepan over medium heat, warm the cream just until it boils. Remove the cream from the heat and let sit for about 30 seconds. Slowly pour the hot cream over the chocolate. Whisk the mixture gently until combined and completely melted. Add the coffee, vanilla, and Grand Marnier (if using). Whisk until combined. Set bowl in refrigerator for 25 minutes, then let it sit at room temperature for another 30 minutes.
With a teaspoon, scoop up a rounded ball of truffle mixture, about 1-1/4″ in diameter. With a second teaspoon, scrape the truffle mixture onto your prepared baking sheet. Repeat until you have used up all the truffle mixture and you have a full pan of roughly shaped balls. Set pan in refrigerator for 10 minutes.
Place cocoa powder in a small bowl. After the balls have chilled and firmed up a bit, roll each one in your hands. Aim for a "rough roundness", not perfect balls. I will gently dent mine here and there if they are looking too round, to mimic classic truffles. Roll in cocoa powder. I don't like eating a mouthful of cocoa powder, so I try to get any excess off by giving the truffles a small gentle toss between my two hands (over the bowl of cocoa powder).
These store very well for about a week in the refrigerator and can be frozen for about a month. Either way, always bring them to room temperature before serving. If the cocoa powder seems to get absorbed, simply roll the truffles in cocoa powder again.
Nutrition Information:
Yield: 35
Serving Size: 1
Amount Per Serving:
Calories: 99
Total Fat: 8g
Saturated Fat: 5g
Trans Fat: 0g
Unsaturated Fat: 3g
Cholesterol: 8mg
Sodium: 4mg
Carbohydrates: 6g
Fiber: 1g
Sugar: 4g
Protein: 1g
Nutrition information is automatically calculated by Nutritionix. I am not a nutritionist and cannot guarantee accuracy. If your health depends on nutrition information, please calculate again with your own favorite calculator.
Happy Valentine's Day!