Chocolate Peanut Butter Sandwich Cookies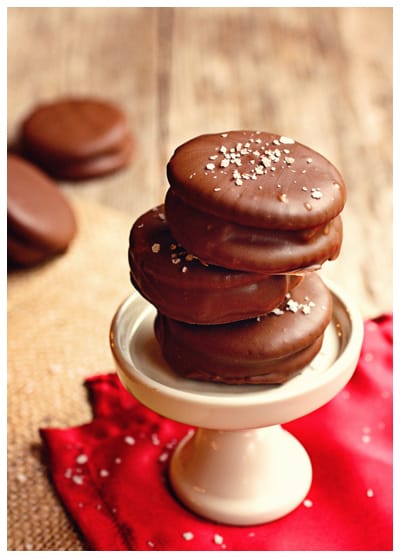 Welcome to one of my favorite childhood Christmas memories! Chocolate Peanut Butter Sandwich Cookies.
These cookies have it all going on at once. Chocolate, creamy peanut butter, and crunchy buttery salty crackers. Very simply put, they're an awesome homemade candy bar!
And you won't believe how easy they are to make. With just 3 ingredients and no time in the oven, our youngest daughter helped me crank out a batch in about half an hour. Tessa was an awesome helper who took charge of laying out the bottom cracker layer and then sandwiching the PB with another cracker on top. She was also pretty darn good in the final testing department.  :smile:
I know there are many variations to this recipe. My friend Robyn at Add a Pinch stirs a little honey into the peanut butter layer, something I will definitely try next time. Others add Christmasy sprinkles or drizzles of colored candy coating. And some use expensive top-notch chocolate, shunning the chocolate bark used in the recipe of my childhood. While I'm known to tweak almost every recipe that crosses my counter top, I just couldn't make these cookies with anything but chocolate bark. It's about nostalgia.
Howeverrrrrrr…I did experiment with adding a sprinkling of sea salt this time around, an ingredient unfamiliar to the cookies I made as a kid. It's just a little something to up the salt quantity and please my grown-up taste buds. So that addition would make this a 4 ingredient recipe. I only salted half the batch, as I wasn't sure what the rest of my family would prefer. Turns out, both versions disappeared at about the same rate. FAST!!!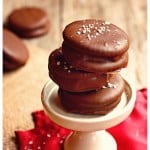 Chocolate Peanut Butter Sandwich Cookies
Yield: 50 sandwich cookies
Ingredients:
100 round buttery salted crackers, such as Ritz
1-1/2 c. creamy peanut butter
24 oz. chocolate bark
flaky sea salt or Christmas sprinkles, optional
Directions:
If you are in a hurry, lay some wax paper on two baking sheets. This will allow you to place the chocolate dipped cookies in the refrigerator for a quick set. If you have a little more time, simply lay some wax paper on the counter and allow the cookies to set up there, which really only takes about 20 minutes.
Place a 1/2 tablespoon of peanut butter into the center of half the crackers. No need to spread the peanut butter. Place the cracker with peanut butter on the counter and center another cracker on top. With one finger at the center of the top cracker, gently press the cracker down a bit. This will spread the peanut butter out in between the two crackers. Repeat until you have 50 sandwich cookies made.
In a medium sized bowl, melt the chocolate bark in the microwave (or use a double boiler on the stove top) on a low setting, stirring regularly. Take care to not let it scorch. When it is mostly melted, with just a few small lumps, stir the chocolate bark until it is completely smooth. Let it sit for a minute or so to cool just slightly. Then drop a sandwich cookie into the chocolate. Using a fork, quickly dunk the cookie to completely cover it with chocolate. Lift the cookie out with the fork and tap the fork handle lightly on the side of the bowl to force excess chocolate down through the fork's tines. Bring the fork outward, dragging the bottom of the tines along the rim of the bowl, letting any other excess chocolate drip down the inside of the bowl. Place chocolate dipped cookie on the wax paper. Repeat until all cookies are dipped. If the chocolate becomes thick and difficult to work with, simply warm it up a bit in the microwave.
If you wish to top the cookies with sea salt or sprinkles, be sure to sprinkle the cookies before the chocolate bark sets up.
These freeze really well. Keep layers separated with wax paper.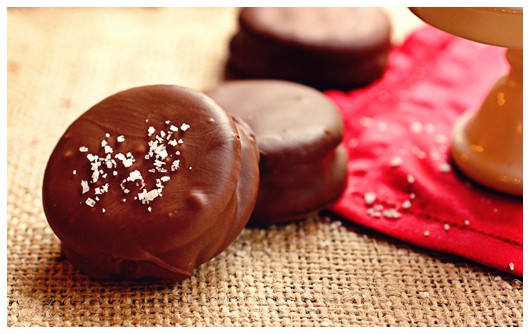 I'm linking up with the following this week:
We participate in the Amazon Services LLC Associates Program, an affiliate advertising program designed to provide a means for us to earn fees by linking to Amazon.com and affiliated sites. See our disclosure policy for more info.