Marshmallow Caramel Rice Krispies Puffs
Marshmallow Caramel Rice Krispies Puffs are a cheery, soft and gooey, no-bake treat. Fun for the holidays, game day, movie night, or any casual gathering!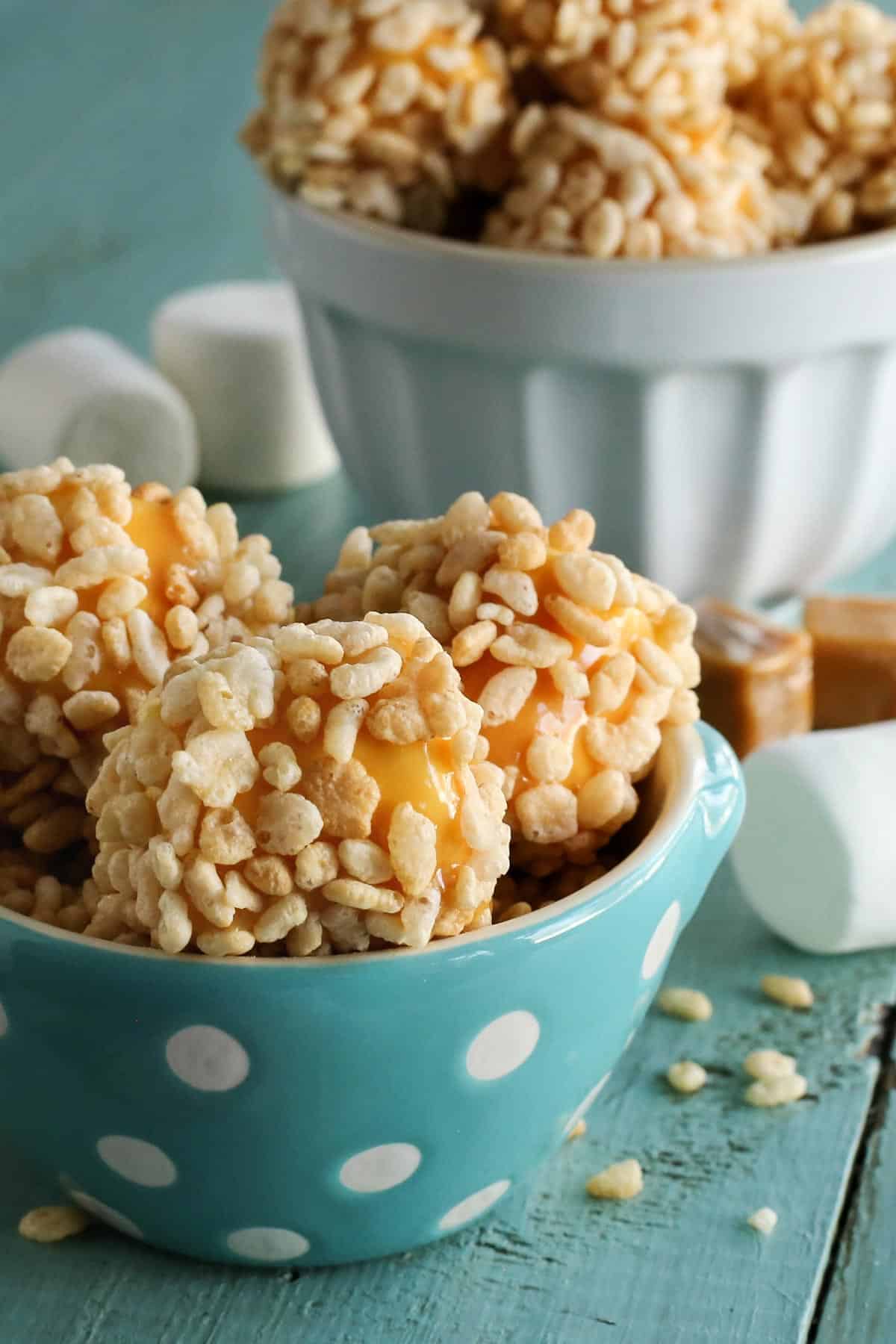 Caramel Marshmallow Rice Krispie Balls are a Fun Treat
Some treats are just more fun than others. And these Marshmallow Caramel Rice Krispies Puffs rate pretty darn high on the fun factor scale!
The fun all starts in the kitchen. Dip big puffy marshmallows in caramel and then roll them in crispy rice cereal. It's a no-bake project with big-time fun results.
This caramel marshmallow recipe is a Christmas tradition for our family. But it's also great for any casual gathering. Think movie night, game day, or just a happy Friday hooray!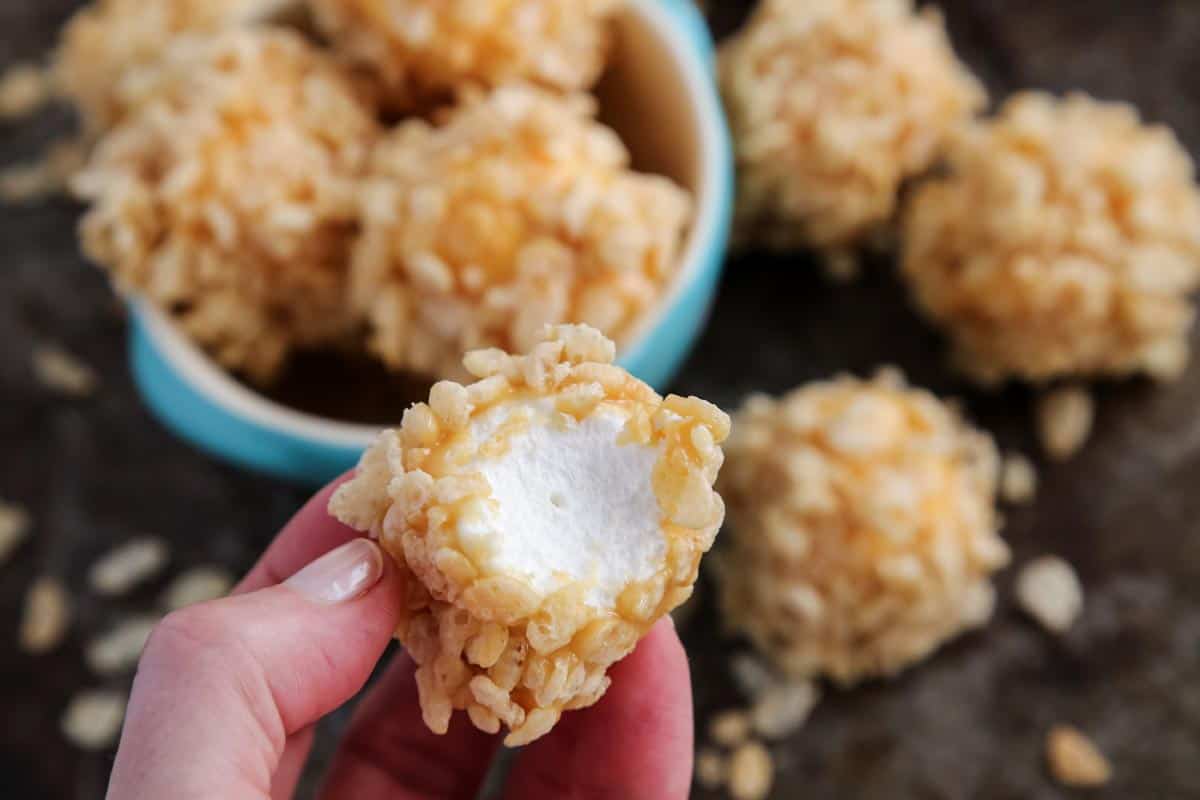 Where This Recipe Comes From
A dear family friend introduced my family to this recipe when I was young.
As a kid, I thought these were one of the most amazing food inventions EVER.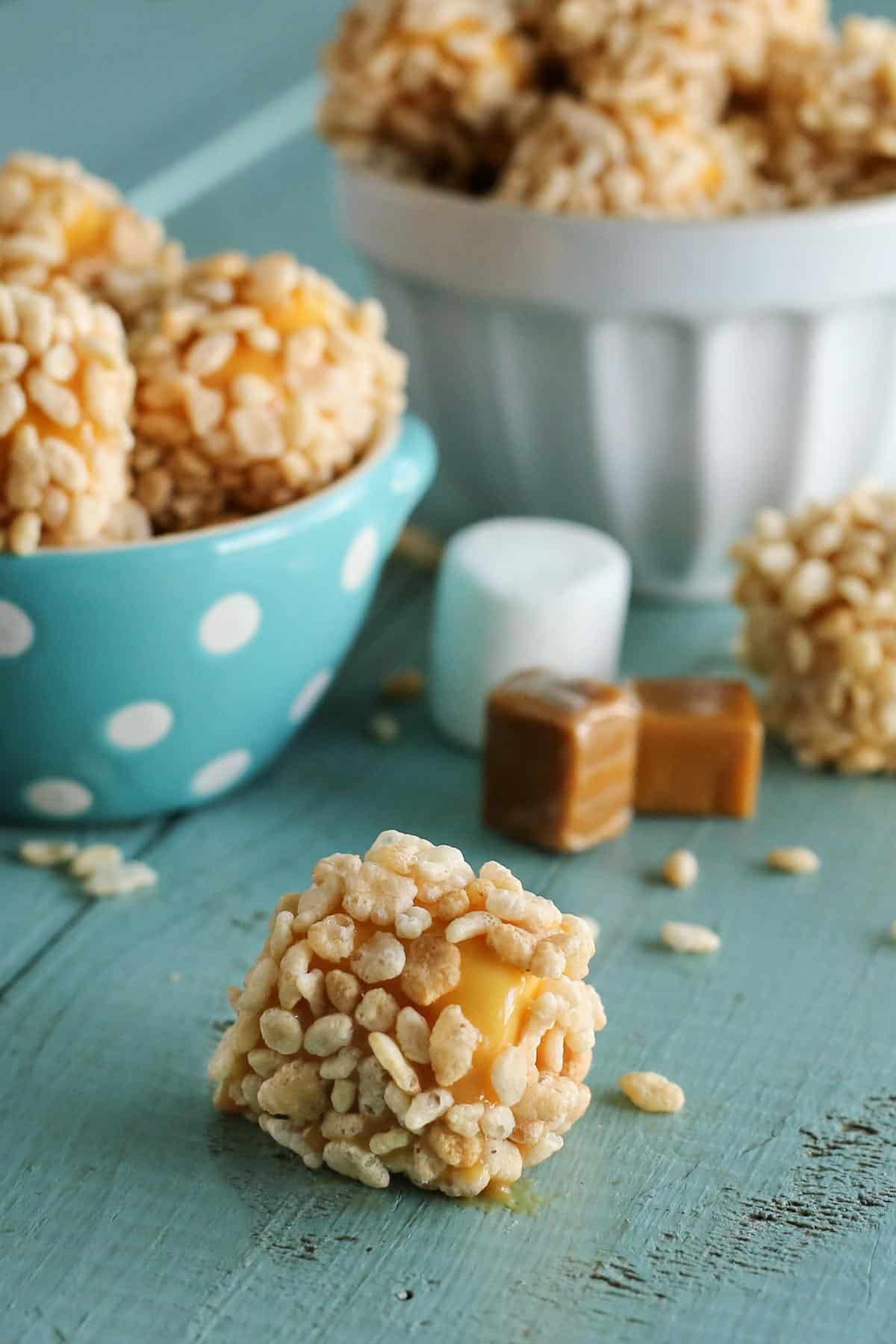 So it comes as no surprise that our daughters request these, too.
And they share them with their friends.
And then their friends want the recipe, to give to their own moms. I'm not sure if their moms appreciate the gesture, but I ABSOLUTELY LOVE THAT!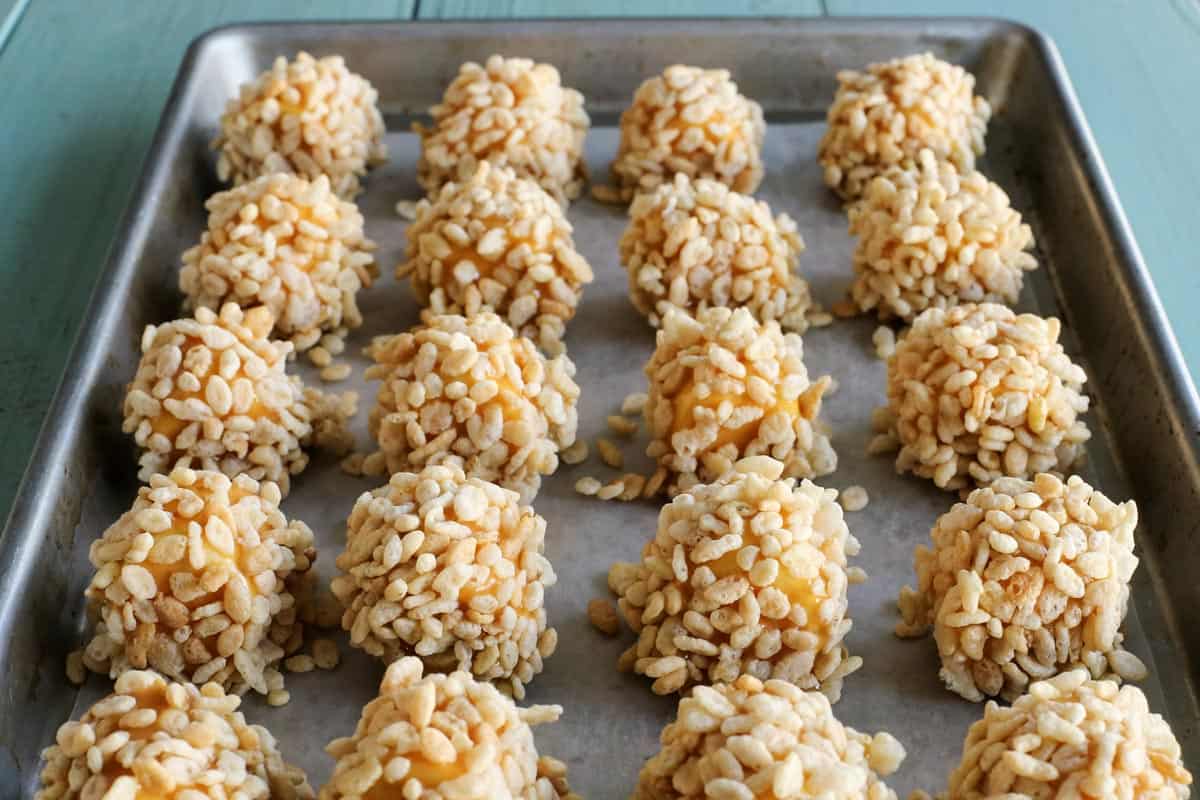 This Recipes Calls For Just 5 Ingredients:
individually wrapped caramels, such as Kraft brand
sweetened condensed milk
butter
large marshmallows
crispy rice cereal, such as Rice Krispies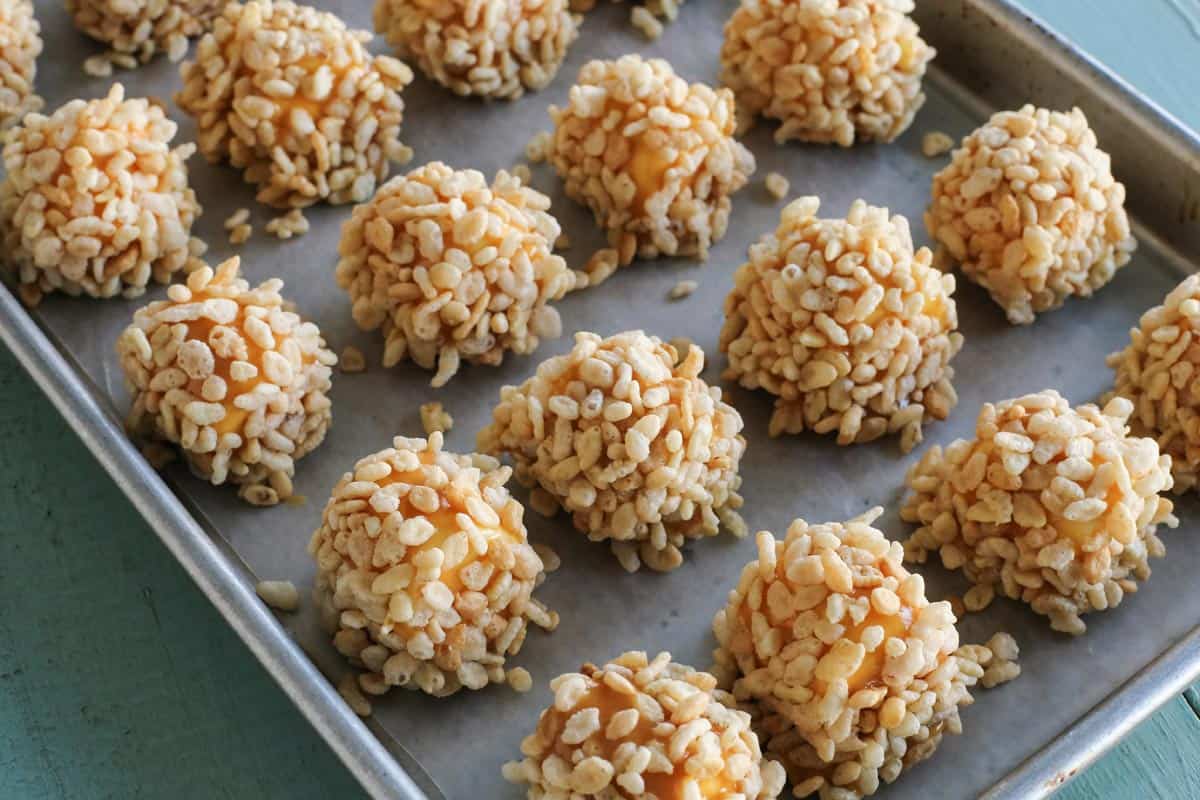 How to Make These No-Bake Treats
First off, know that you WILL get sticky fingers when making these. There's just no way around it!
But I've gotten the technique down much better over the years. I'm sharing with you my less-sticky-fingers-method!
Make the caramel: Simply melt together the caramel candies, sweetened condensed milk, and butter until it forms a smooth caramel. I like to use a double boiler method on the stovetop, but you can also use a microwave to gently melt.
Dip the marshmallows: Drop a large marshmallow into the warmed caramel. Using 2 forks, quickly roll the marshmallows in the caramel to coat them completely. Lift the caramel marshmallow up out of the bowl with a fork, tapping the fork to let excess caramel drip back into the bowl.
Coat with Rice Krispies: Drop caramel marshmallow into a bowl of Rice Krispies and using 2 forks, roll the marshmallow to completely coat with cereal. Place finished Rice Krispie caramel marshmallow onto a pan lined with wax paper or parchment paper. Let sit until the caramel sets. If desired, place in fridge to speed up the set.
Be sure to try one of these marshmallow Rice Krispie balls while they're still warm and ultra soft and gooey – they're delightful!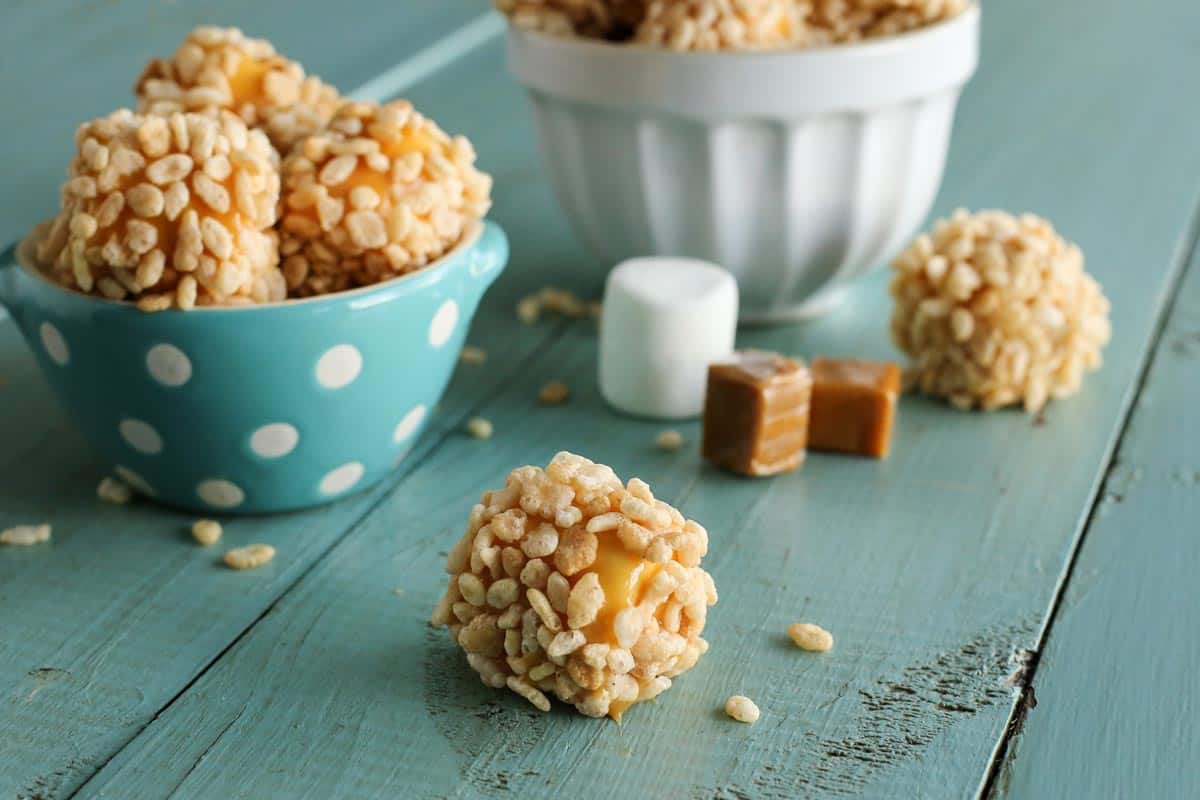 One last piece of advice.
You HAVE to try a caramel marshmallow frozen. It was my favorite way to eat them when I was a kid. There's something so completely fun about biting into a big frozen marshmallow!
Like this easy treat? Save it to Pinterest!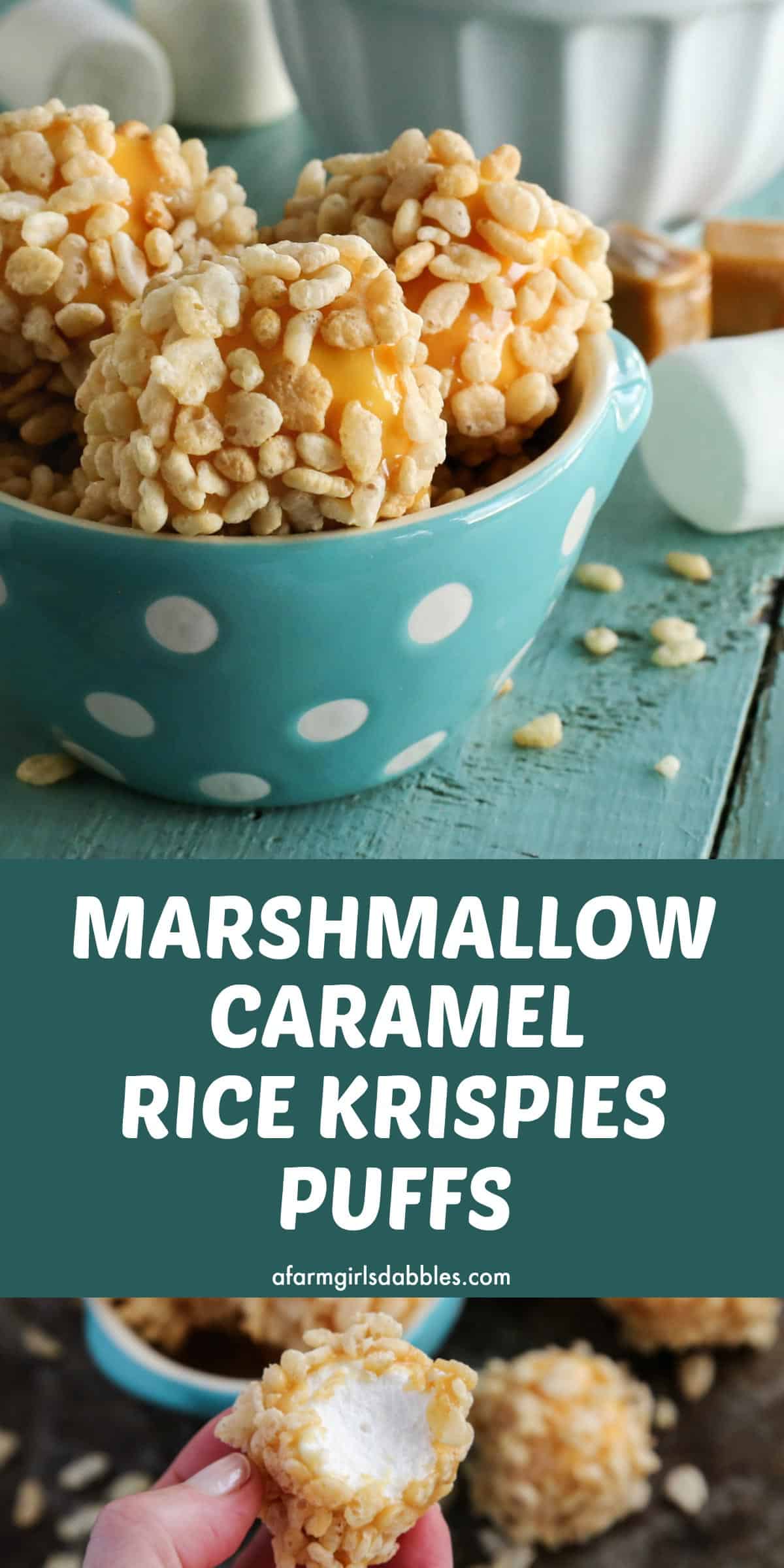 More Easy No-Bake Dessert Recipes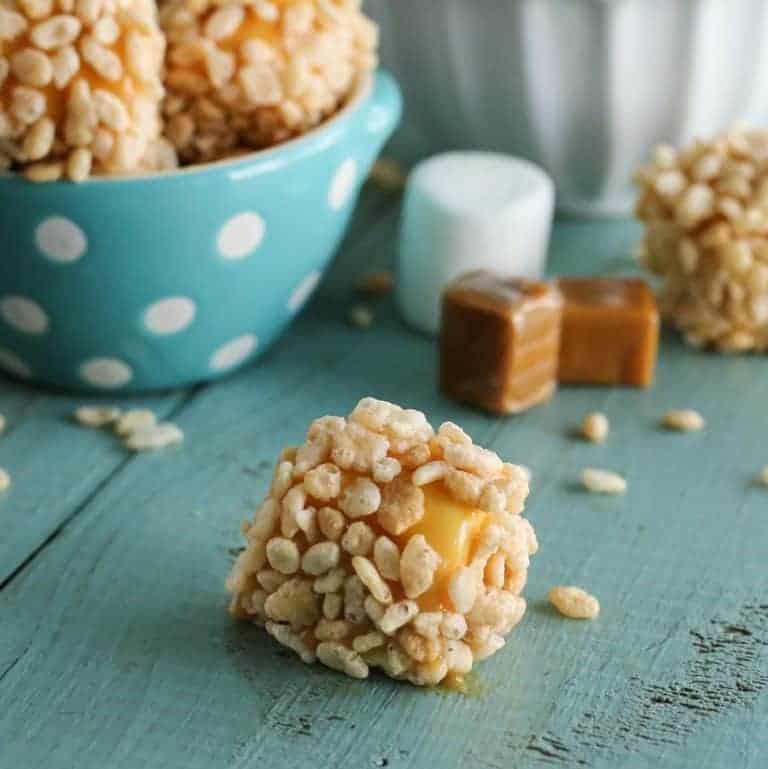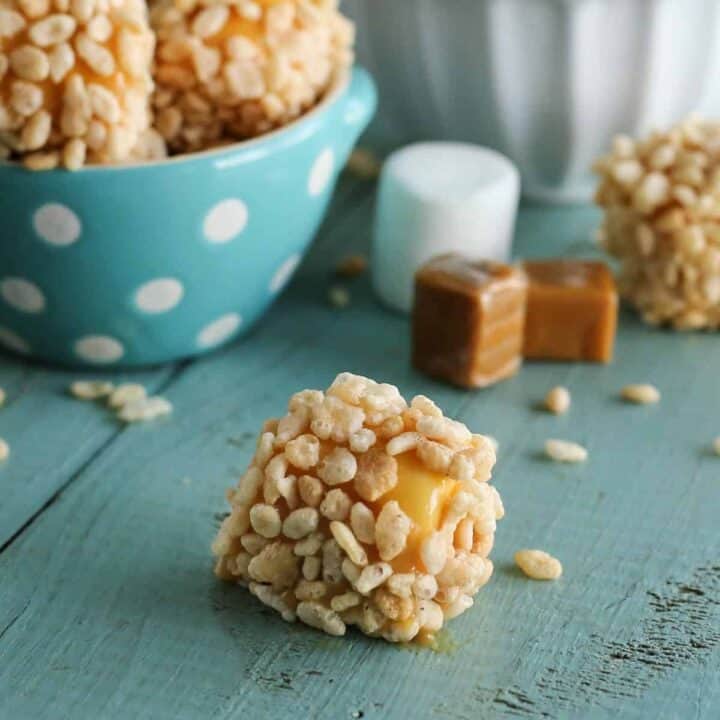 Marshmallow Caramel Rice Krispies Puffs
Yield: 60
Prep Time: 30 minutes
Cook Time: 20 minutes
Total Time: 50 minutes
Marshmallow Caramel Rice Krispies Puffs are a cheery, soft and gooey, no-bake treat. Fun for the holidays, game day, movie night, or any casual gathering!
Ingredients
14 ounces individually wrapped caramels candy, unwrapped (I use Kraft or sometimes find them in the grocery store bulk candy section.)
1 (14-oz.) can sweetened condensed milk
4 tablespoons unsalted butter
60 large marshmallows (fresh and soft are the best!)
8 cups crispy rice cereal, such as Rice Krispies
Instructions
Set up a double boiler over medium-low heat and melt the caramels, sweetened condensed milk, and butter until a smooth caramel mixture forms - this is my preferred method. You could also use a medium heat-proof bowl and melt the ingredients in the microwave on a low setting, stirring regularly. Just be careful to not let the mixture scorch.
Line a large rimmed baking pan with a layer of wax paper. Place a couple cups of rice cereal into a medium-size, low, wide bowl. Set aside.
Drop a marshmallow into the caramel. Using a fork in each hand to maneuver the marshmallow, quickly turn the marshmallow to completely cover it with caramel. Lift the marshmallow out with one of the forks, and tap the fork handle lightly on the side of the bowl to force excess caramel down through the fork's tines and back into the bowl. Slide the fork outward from the bowl, dragging the bottom of the tines along the rim of the bowl, letting any other excess caramel drip down the inside of the bowl. Transfer caramel-dipped marshmallow to the bowl of rice cereal. Dedicate a third fork for rolling the caramel-dipped marshmallow around in the cereal. Once marshmallow is coated with a layer of cereal, transfer it to the prepared baking pan. Repeat with remaining marshmallows. Add more rice cereal to the bowl as needed. I like to drop three to four marshmallows in the caramel at a time, and then work quickly to cover each one with caramel and then rice cereal. This makes the process go much faster!
Once caramel is set, store in an air-tight container with wax paper separating any layers. I like to store these in the refrigerator if I'm anticipating them being completely devoured within a day or two. For longer storage, place container in freezer. The puffs are also fun to eat frozen or just slightly thawed - it's how I liked to eat them when I was a kid!
Notes
From the recipe box of a family friend, Rosanne Long.
Nutrition Information:
Yield: 60
Serving Size: 1
Amount Per Serving:
Calories: 73
Total Fat: 1g
Saturated Fat: 1g
Trans Fat: 0g
Unsaturated Fat: 1g
Cholesterol: 3mg
Sodium: 45mg
Carbohydrates: 15g
Fiber: 0g
Sugar: 9g
Protein: 1g
Nutrition information is automatically calculated by Nutritionix. I am not a nutritionist and cannot guarantee accuracy. If your health depends on nutrition information, please calculate again with your own favorite calculator.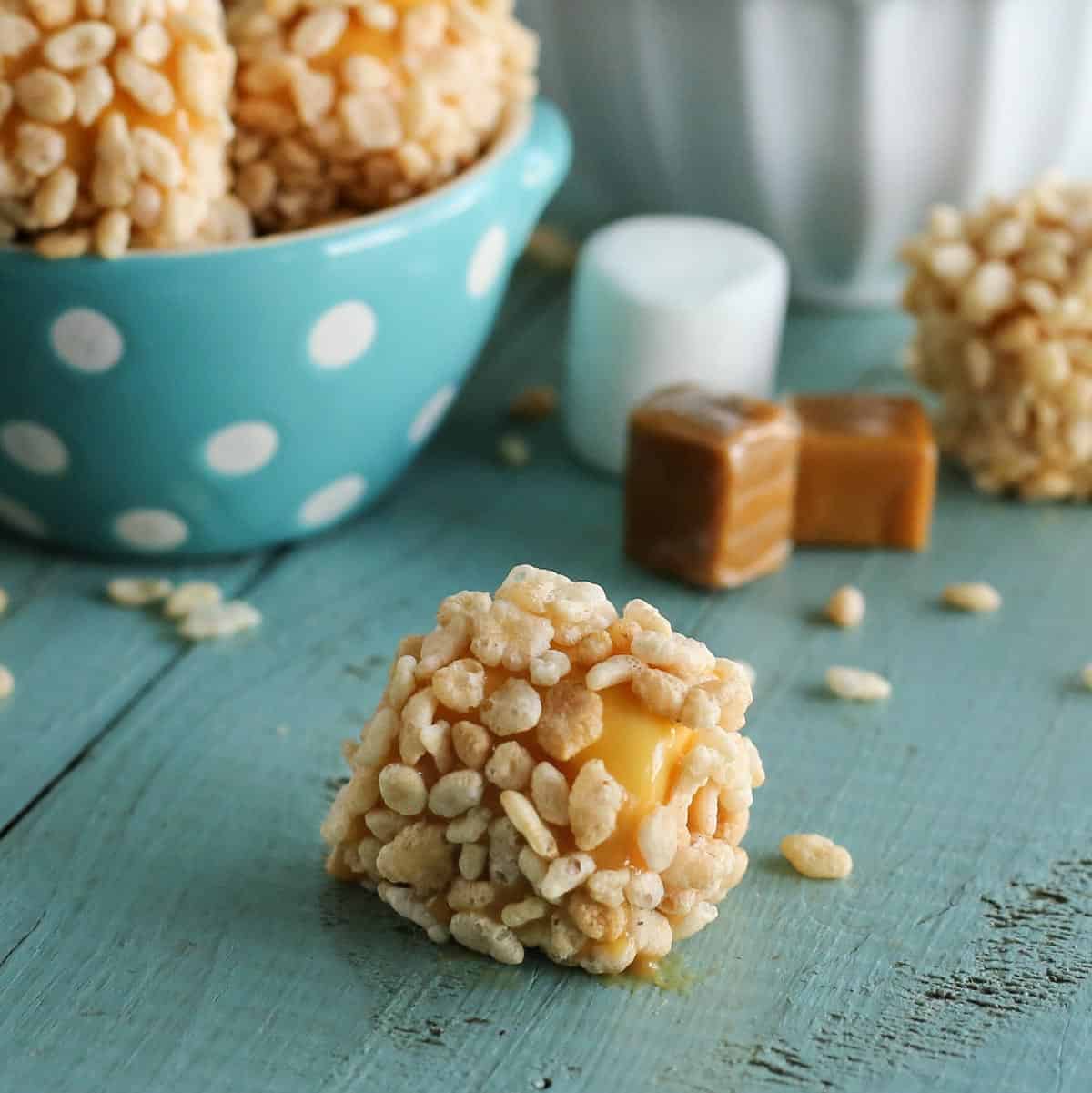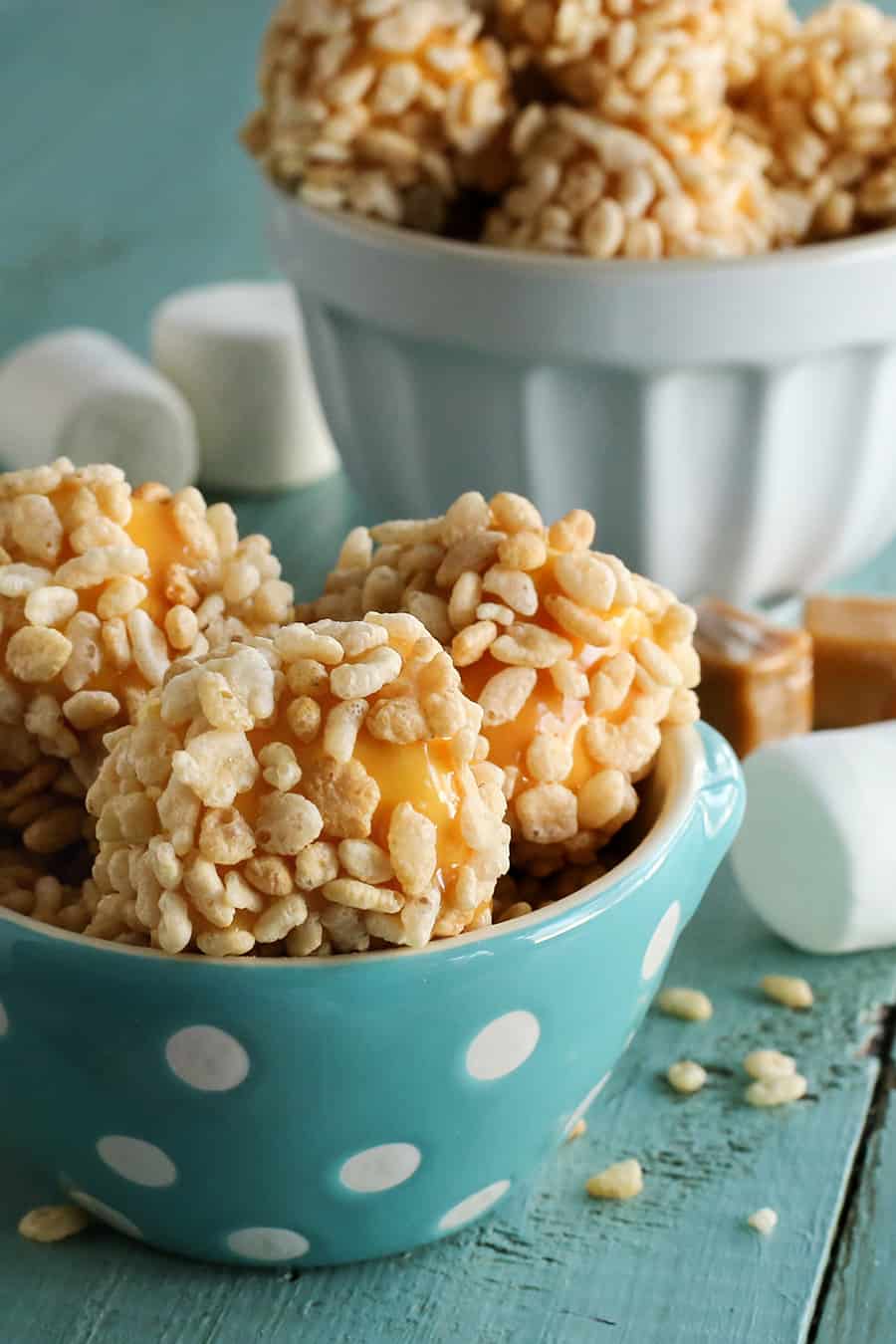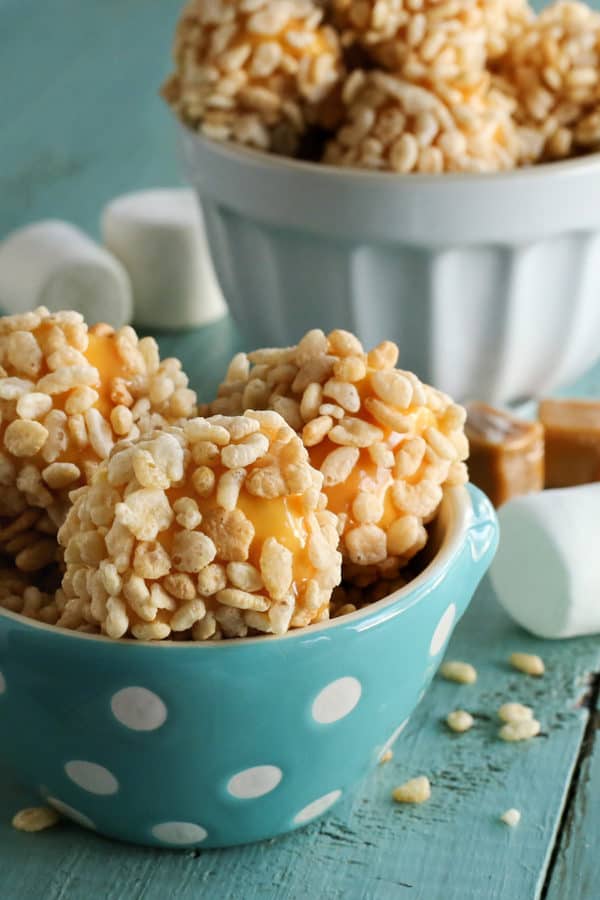 This post was previously published in 2012. Photographs and some of the text were updated in 2020.