Marshmallow Caramel Rice Krispies Puffs
These Marshmallow Caramel Rice Krispies Puffs are a cheery no-bake treat. Fun to make, fun to eat!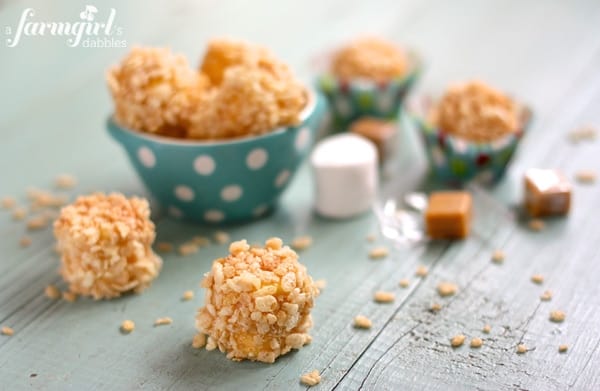 Some treats are just more fun than others. And these Marshmallow Caramel Rice Krispies Puffs rate pretty darn high on the fun factor scale!
The fun all starts in the kitchen, as they make for a cheerful no-bake project…dipping big puffy marshmallows in caramel and then rolling them in crispy rice cereal. Yes, your fingers will be sticky and gooey for awhile, but that's really part of enjoying the process. You just need to have a playful mindset when you start. ;)
These sweet treats are a hoot to eat, as well. They're soft and gooey, with a little Snap! Crackle! Pop! (Did you know Rice Krispies are known as Rice Bubbles in Australia and New Zealand?!) I love listening to our girls eat these – it just makes me smile.
A dear family friend introduced my family to this recipe when I was just a kid. It quickly turned into a Christmas treat that could be found on our sweets platter every year. I hope you give these a try. It's never too late to start a new tradition. And, hey, you HAVE to try these frozen, too. It was my favorite way to eat them when I was a kid!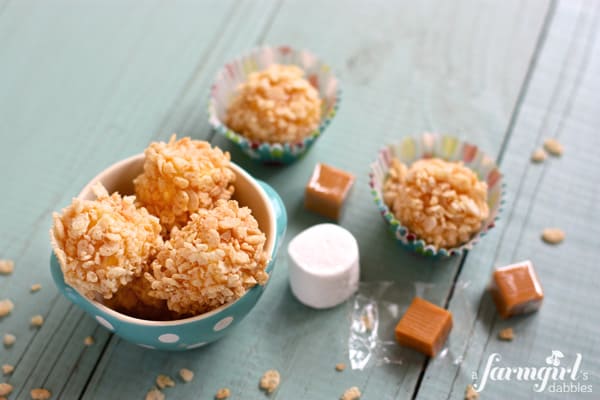 Marshmallow Caramel Rice Krispies Puffs
Ingredients
1 14-oz. package Kraft caramels
1 14-oz. can sweetened condensed milk
4 T. butter
50 to 60 large marshmallows (fresh and soft are the best!)
8 c. Rice Krispies cereal
Preparation
Melt caramels, sweetened condensed milk, and butter in a double boiler. You can also use a microwave, but watch it carefully so it doesn't scorch, and stir regularly. Individually dip marshmallows into the caramel mixture, letting excess caramel drip off. Then roll in Rice Krispies. Place on wax paper to set.
These keep very well in the freezer. Just separate layers of marshmallows with wax paper. They are fun to eat frozen or just slightly thawed!
Do you

Instagram

?
I think it puts the FUN in social media!

And I'd love for you to follow along with me.
You can find me at:
"afarmgirlsdabbles"

I'm linking up with: