Ritz Cracker Toffee
Made with just 5 ingredients, this easy Ritz Cracker Toffee is sweet & salty, and totally addictive. It's no wonder it's been nicknamed "Christmas crack"! Perfect for gift giving or to serve at your next holiday party.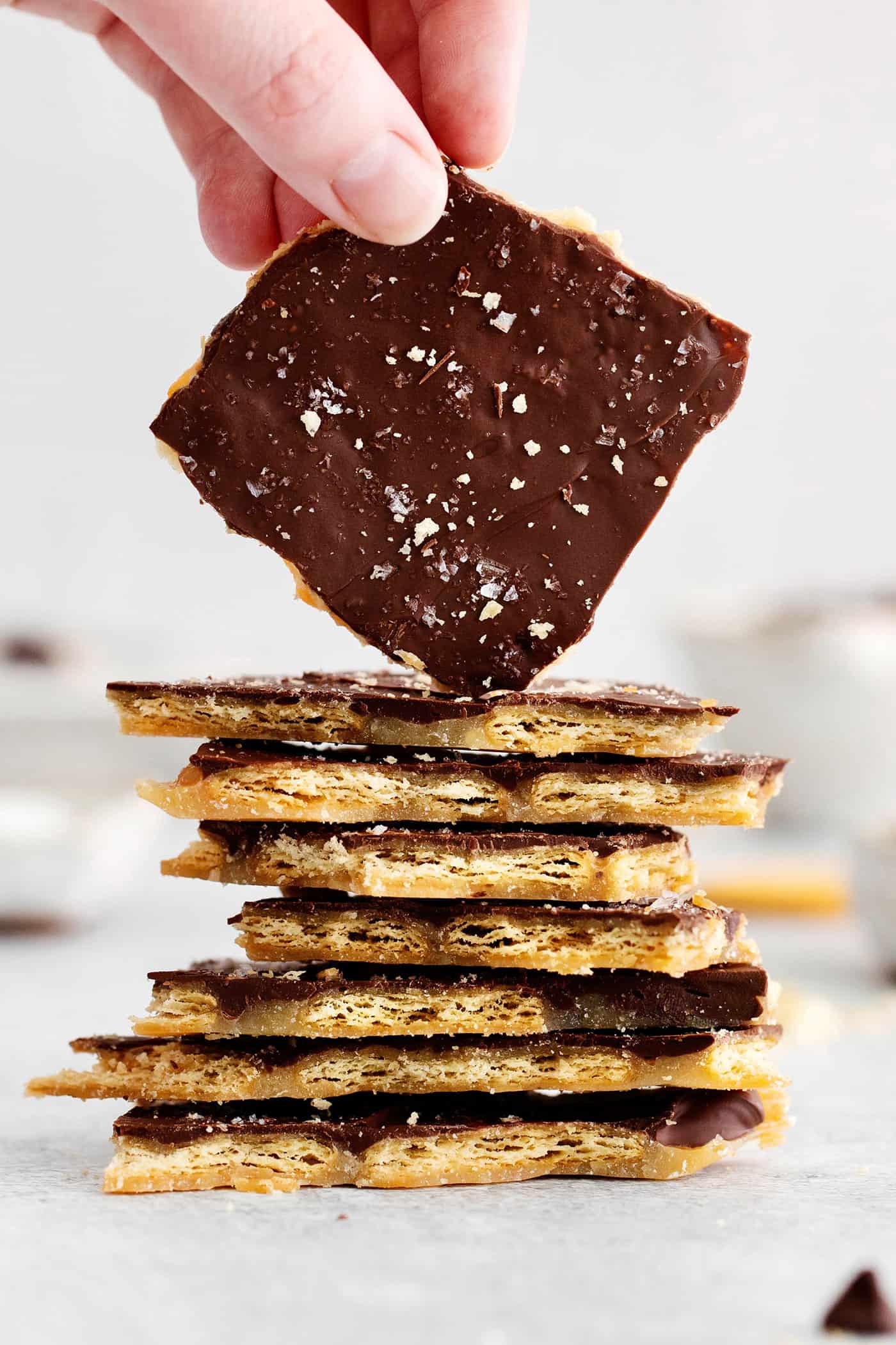 Easy Christmas Crack Recipe
This Ritz Cracker Toffee is super simple to make, and unexplainably delicious!
It's made with a layer of Ritz crackers, an easy homemade caramel made from butter and brown sugar, and a layer of melted chocolate chips. I like to finish it off with a sprinkle of sea salt flakes, for a perfect salty-sweet creation – but you can opt for festive sprinkles to add extra holiday cheer!
You actually may have heard of this recipe by another name – Christmas Crack. This is a popular nickname based on how addicting the toffee is, plus the fact that it's most often served during the holidays.
Whatever you prefer to call it, I think we can all agree – Ritz toffee is something we all need this holiday season. Or anytime, really!
Our family LOVES Ritz cracker treats – have you tried my Chocolate Peanut Butter Ritz Cookies or Ritz Turtles?!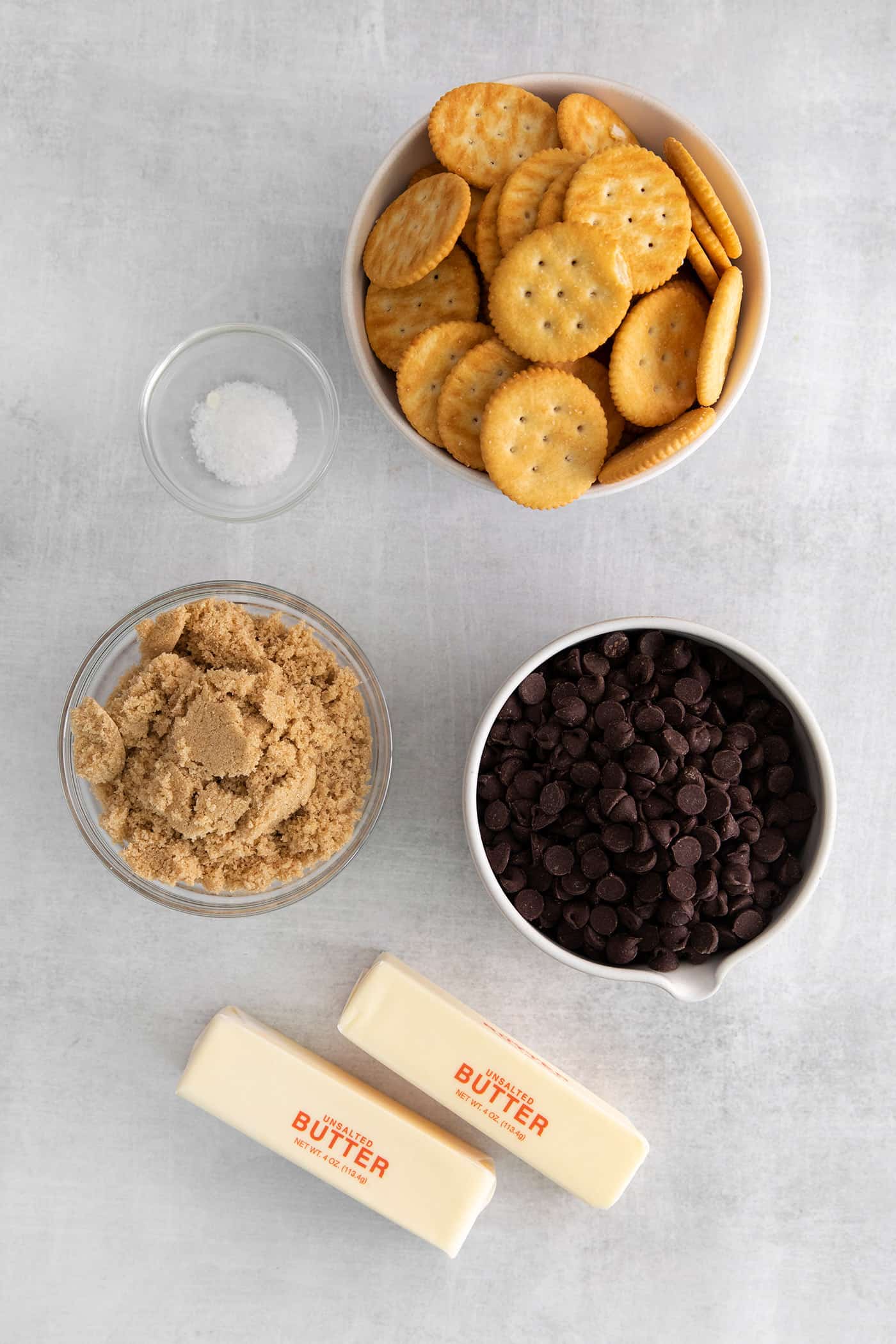 What You'll Need
This super easy homemade toffee recipe is made with just 5 ingredients. Scroll down to the recipe card for exact measurements.
Ritz – These popular crackers make up the bottom layer of this homemade toffee. They're crisp and flaky, rich and buttery, and lightly salty – a great start for this easy treat!
Butter – I recommend unsalted.
Brown sugar – Brown sugar is a key ingredient in making toffee. It gives a deeper, caramel-y flavor.
Semi-sweet chocolate chips – Be sure to use a good quality chocolate. I recommend the Guittard brand.
Sea salt – Sea salt flakes add a pronounced salty element that balances out the sweetness of the toffee. It's excellent with caramel and chocolate. And it's optional, but highly recommended!
Can I Use Other Crackers?
Yes, Christmas crack can also be made with other buttery, flaky crackers, or with saltine crackers.
If using saltines, just know that the end result will have a slightly different flavor and texture. They're still very good – it really depends on whether you prefer Ritz crackers or saltines.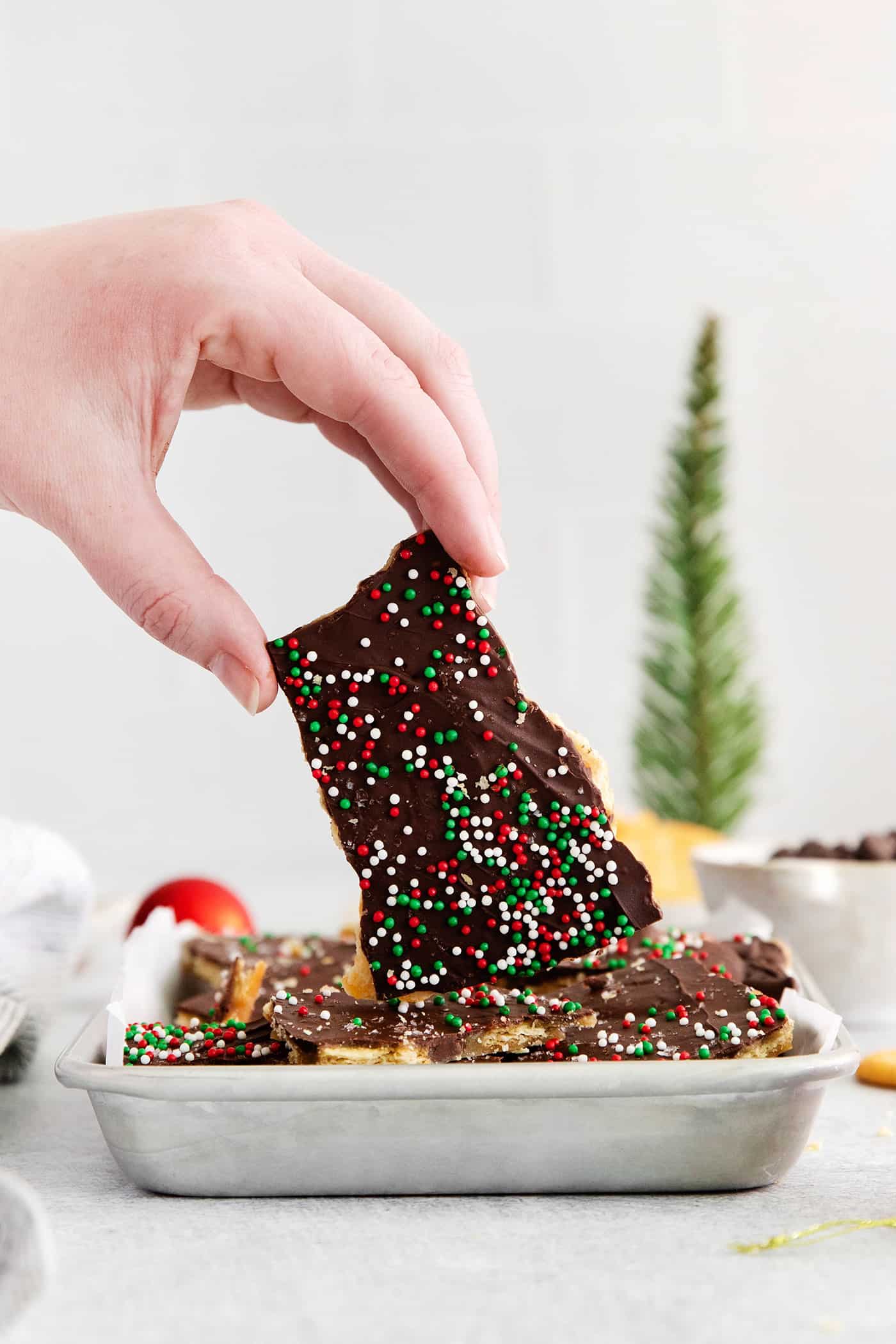 Topping Ideas
Want to make your Ritz toffee a little festive and really lean into the "Christmas crack" nickname? Try adding some additional toppings. A few popular variations:
M&Ms – especially red and green for the holidays! I like to use the red and green mini M&Ms – look for them during the holidays.
Sprinkles – there are so many great festive options out there!
Nuts – like halved or chopped pecans, cashews, or peanuts.
Pretzels – crush or coarsely chop them.
Toffee bits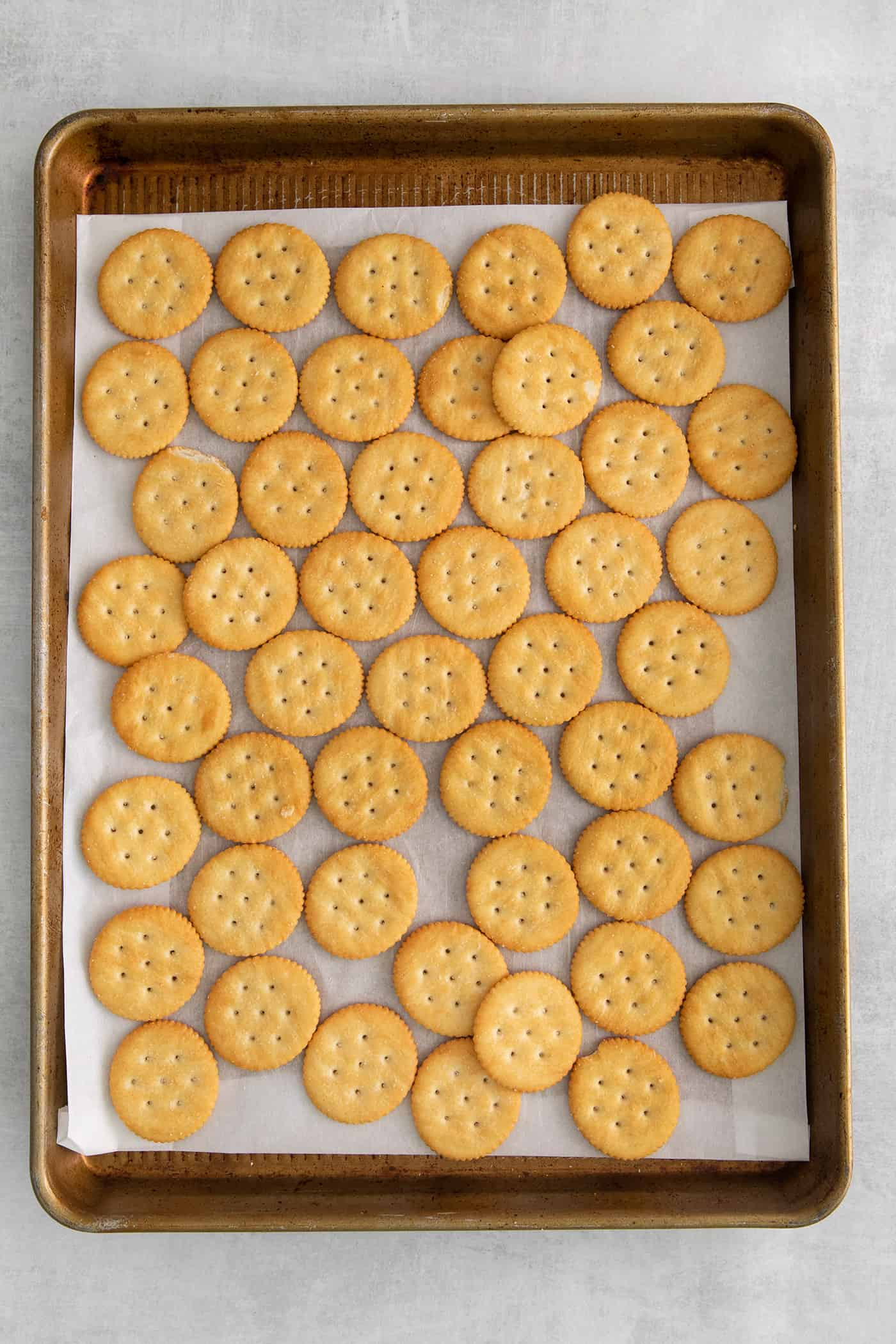 How to Make Ritz Cracker Toffee
Besides being addicting, one reason this Ritz cracker candy is so popular is because it's so easy to make.
Lay out the crackers. Spread the Ritz crackers on a baking sheet lined with parchment paper.
Make the caramel. Bring the butter and brown sugar to a boil over medium heat. Stir gently and constantly for 2 to 3 minutes, until the mixture thickens. Pour the hot caramel over Ritz crackers and spread evenly.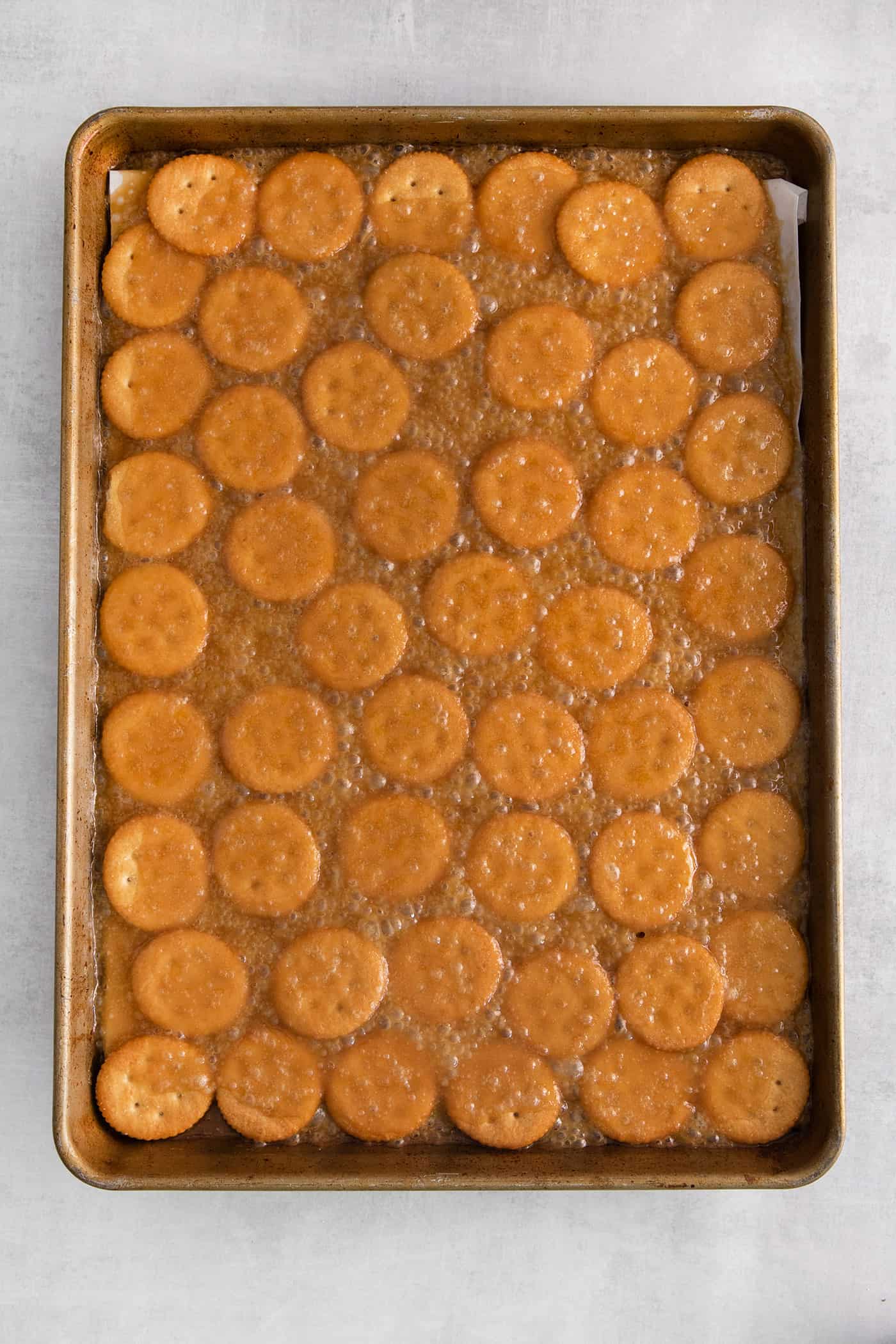 Bake. Bake the toffee for 5 minutes. The edges should begin to bubble and brown.
Add the chocolate chips. Immediately after removing the pan from the oven, sprinkle an even layer of chocolate chips over the top. Let sit for 5 minutes to melt the chocolate, then use a spatula to spread it evenly over the top.
Add the salt. Let the chocolate cool for 2 minutes, then sprinkle sea salt flakes over the top. (Or use festive sprinkles, or don't add anything!)
Freeze. Place the pan in the freezer for 1 hour, then break the slab into pieces.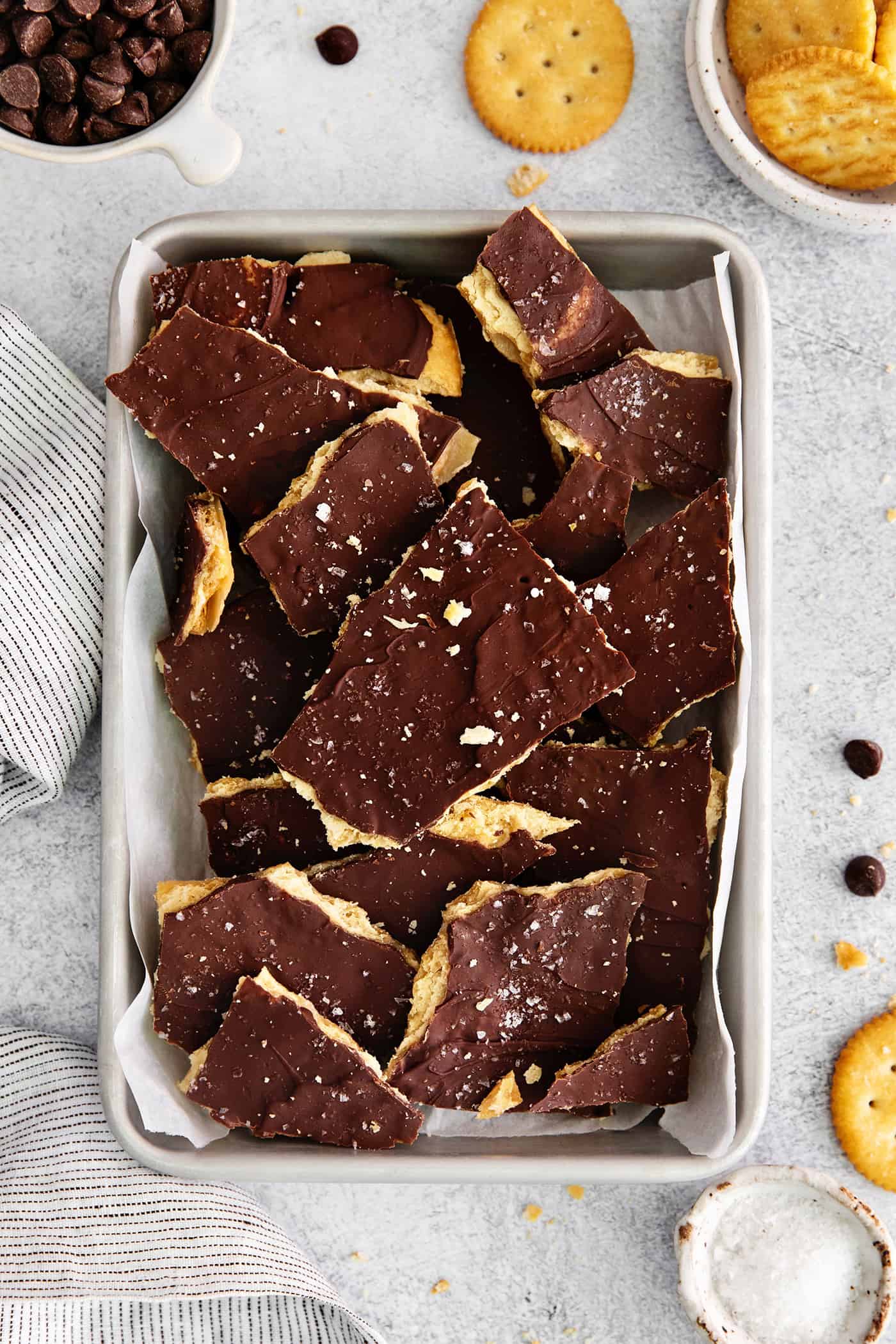 Tips for Success
Here are a few tips for making the best Ritz cracker toffee.
Always line the baking sheet. The caramel layer is sticky and will fill in the places between the crackers. For this reason, you definitely want to lay down a piece of parchment paper. Otherwise the toffee will stick to the baking sheet.
Do not burn the caramel mixture. When boiling the brown sugar mixture, keep a close eye on it. It should boil and thicken, but not burn.
Pop the chocolate into the oven. If the chocolate chips don't melt enough from just sitting on top of the baked caramel mixture, place the pan back into the warm oven for a minute to help melt the chocolate.
Don't sprinkle the salt right away. Let the melted chocolate cool for a couple minutes before you sprinkle it with sea salt flakes. This allows the chocolate to set a bit, for the salt to stay on top and not sink into the chocolate.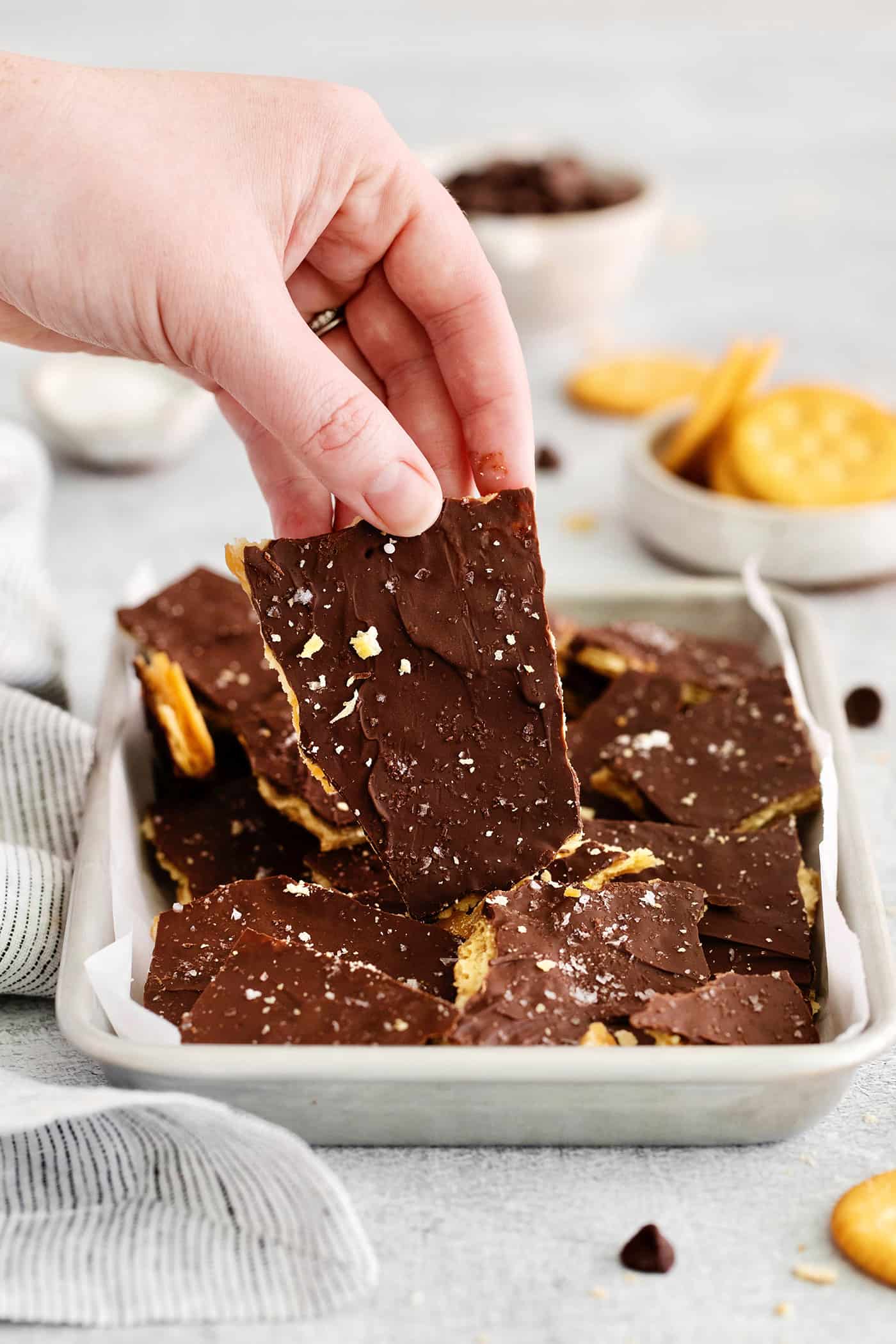 Serving Suggestions
When I break up the slab of Ritz toffee, I aim for pieces that are approximately 2 inches. I find this is the perfect size for snacking and munching. (Plus small enough that if you want a second piece…no shame!)
When serving these at a gathering, I just add the pieces to a fun tray and let everyone grab what they wish.
Ritz cracker toffee also makes a great homemade edible gift. I like to package it in little cellophane bags, close it tightly with a twist tie, then tie on a festive ribbon!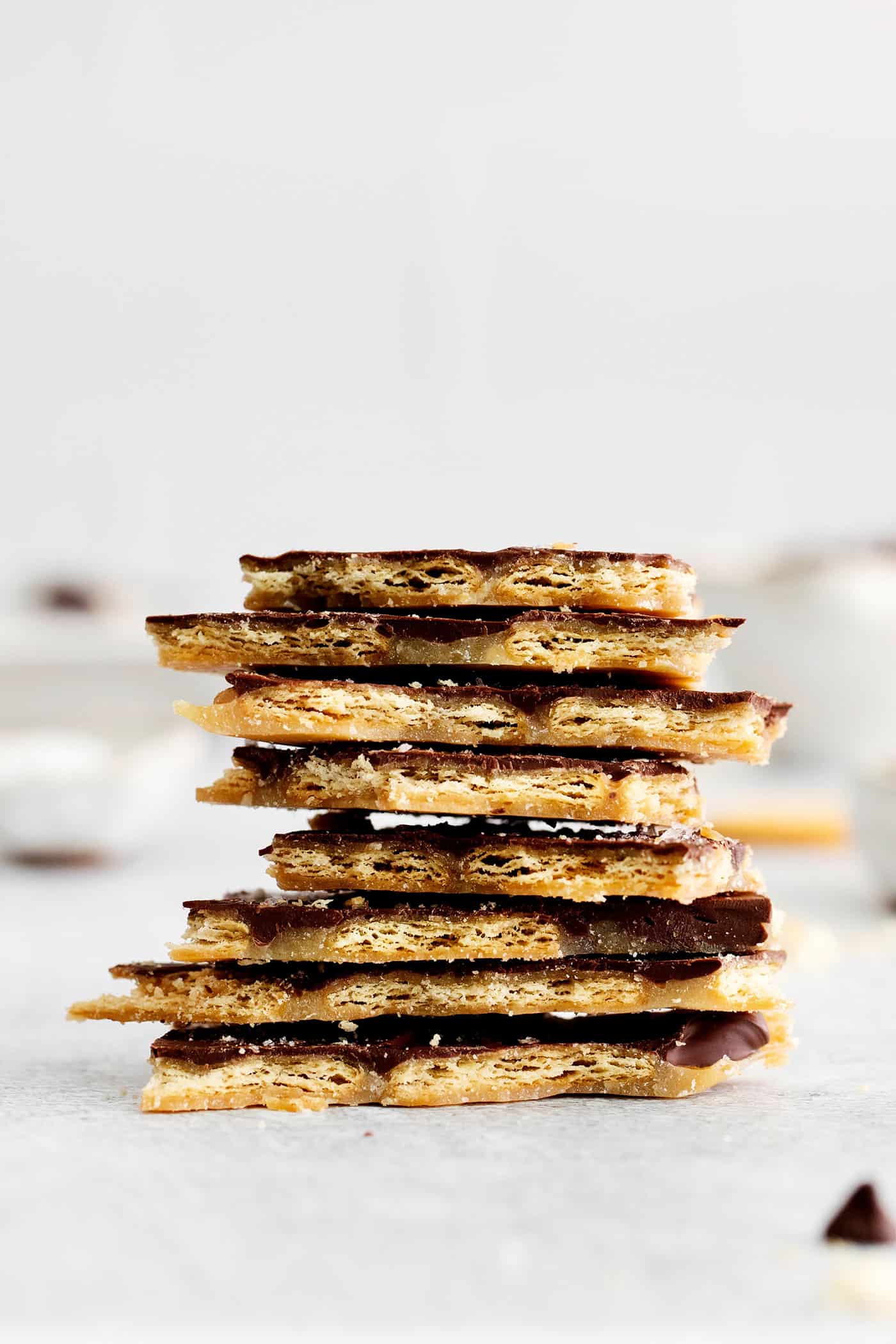 How to Store Leftovers
Ritz cracker toffee will keep well at cool room temperature in an airtight container for up to 4 days. Just be sure to keep it out of direct sunlight and heat, to avoid melting it.
You can also store it in the fridge for up to 2 weeks, in an airtight container.
And for longterm storage, you can freeze it for up to 3 months. Once it's chilled and broken into pieces, transfer the toffee pieces to an airtighter, freezer-safe container or baggie. I like to separate any layers with parchment paper or wax paper. Freeze, and then thaw on the counter before enjoying.
More Easy Desserts:
Like this recipe? Save it to Pinterest!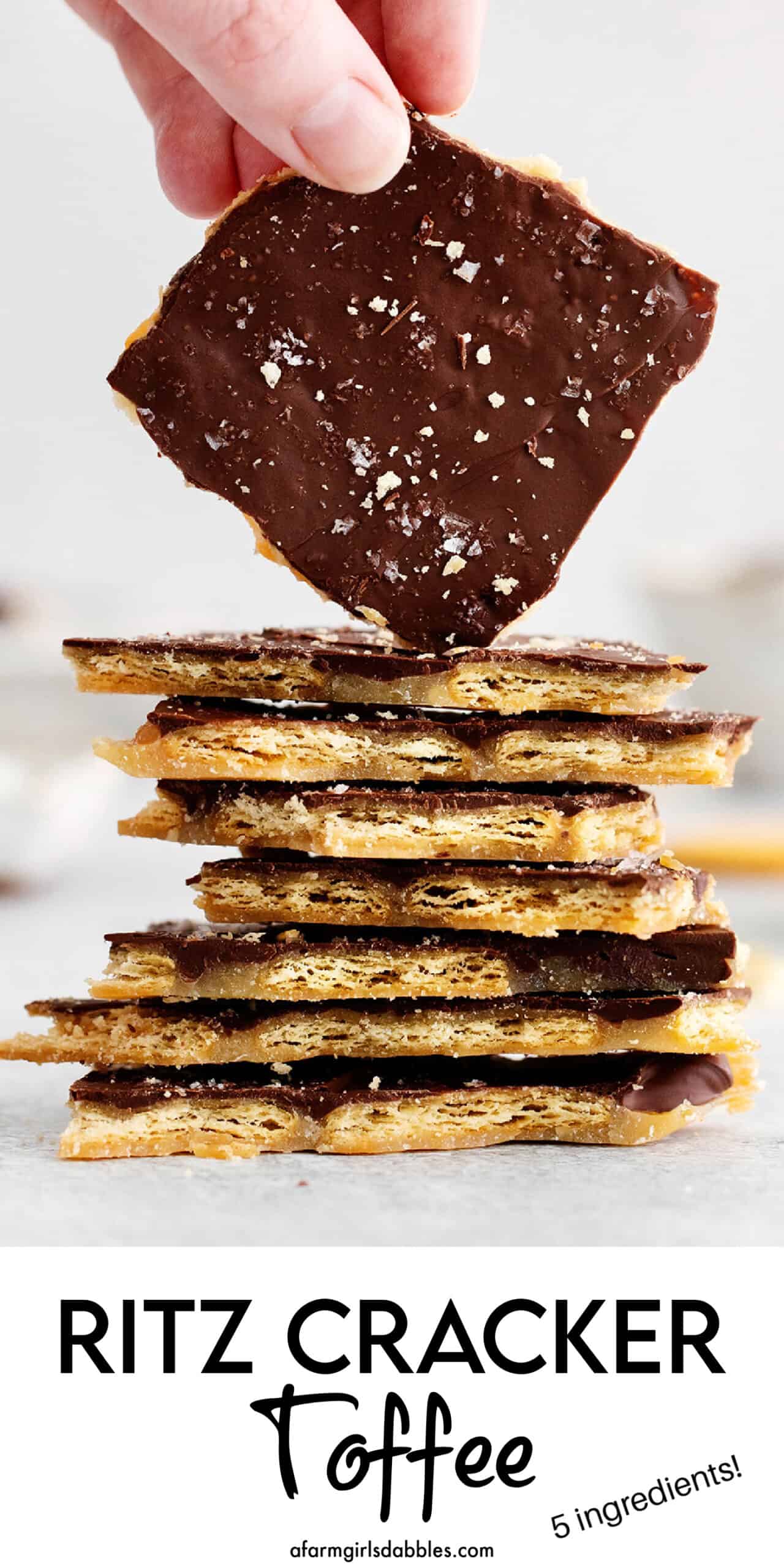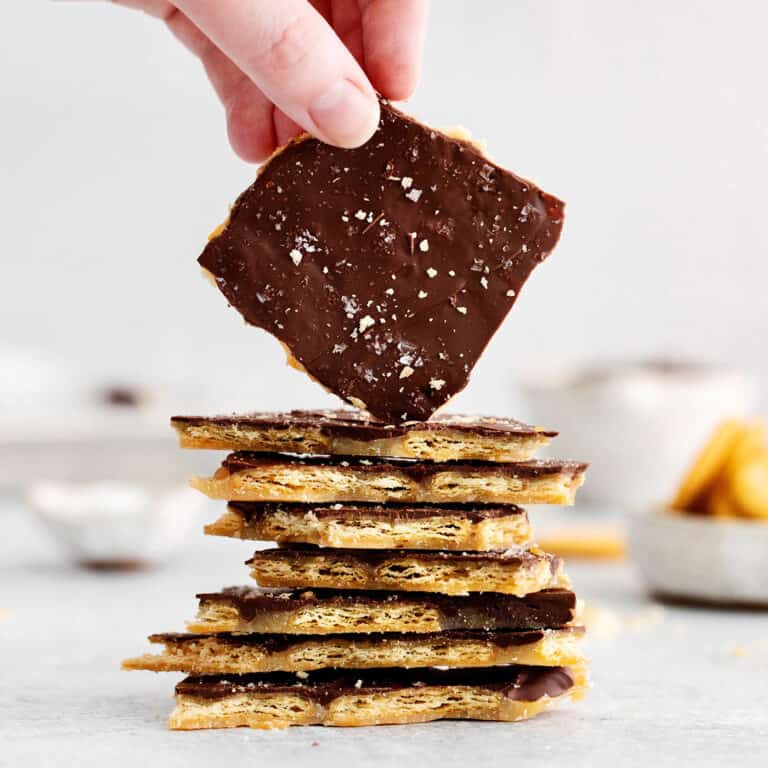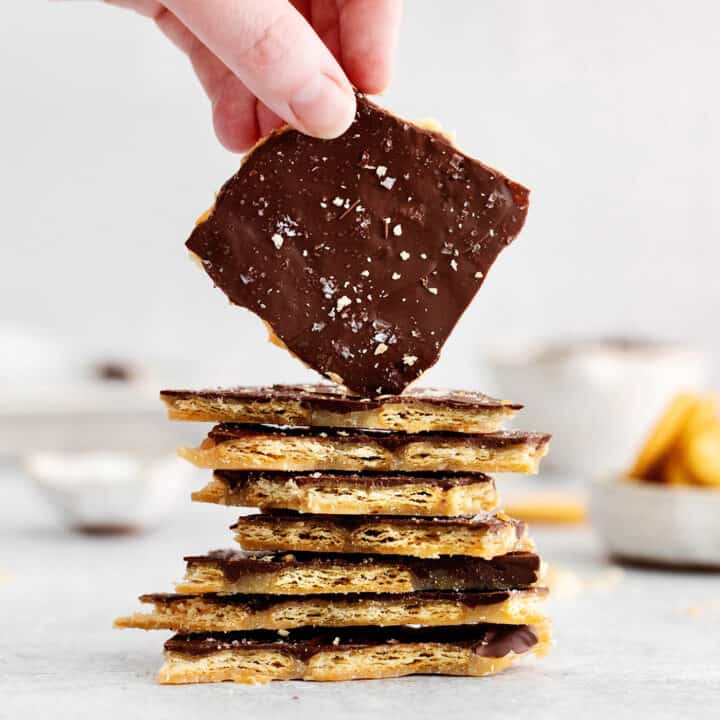 Ritz Cracker Toffee
Yield: 50 servings
Prep Time: 10 minutes
Cook Time: 10 minutes
Additional Time: 1 hour
Total Time: 1 hour 20 minutes
Made with just 5 ingredients, this easy Ritz Cracker Toffee is sweet & salty, and totally addictive. It's no wonder it's been nicknamed "Christmas crack"! Perfect for gift giving or to serve at your next holiday party.
Ingredients
50 Ritz crackers
1 cup unsalted butter
1 cup brown sugar
2 cups good quality semi-sweet chocolate chips - I recommend Guittard brand
2 teaspoons sea salt flakes
Instructions
Preheat oven to 375° F and line a rimmed 12" x 17" baking sheet with parchment paper.
Place Ritz crackers on prepared pan, in a single layer.
Once oven is preheated, stir together butter and brown sugar in a saucepan over medium to medium-high heat. Bring to a boil. Then stir gently and constantly for 2-3 minutes, until caramel mixture is thickened.
Pour hot caramel mixture over Ritz crackers. Spread evenly with a spatula.
Bake for 5 minutes, or until the edges start to bubble and brown.
Remove from oven and immediately sprinkle chocolate chips over the top, in an even layer. Let sit for about 5 minutes, until chocolate chips are glossy and super melty. Then use a spatula or the back of a spoon to spread the melty chocolate evenly over the top.
Let sit for 2 minutes to let the chocolate set a bit, and then sprinkle sea salt flakes over the top.
Place pan in freezer for 1 hour, to set firmly. Then break the slab of cracker toffee into pieces (I aim for pieces about 2" in size)
Notes
Store toffee in the fridge in an airtight container for up to 1 week. Or in the freezer, in a freezer-safe baggie or container, for up to 3 months. Separate any layers with parchment paper or wax paper, if desired.
Nutrition Information:
Yield: 50
Serving Size: 1
Amount Per Serving:
Calories: 96
Total Fat: 7g
Saturated Fat: 4g
Trans Fat: 0g
Unsaturated Fat: 2g
Cholesterol: 10mg
Sodium: 113mg
Carbohydrates: 10g
Fiber: 0g
Sugar: 8g
Protein: 0g
Nutrition information is automatically calculated by Nutritionix. I am not a nutritionist and cannot guarantee accuracy. If your health depends on nutrition information, please calculate again with your own favorite calculator.