Mom's Homemade Peanut Butter Cups
This post may contain Amazon or other affiliate links. As an Amazon Associate I earn from qualifying purchases.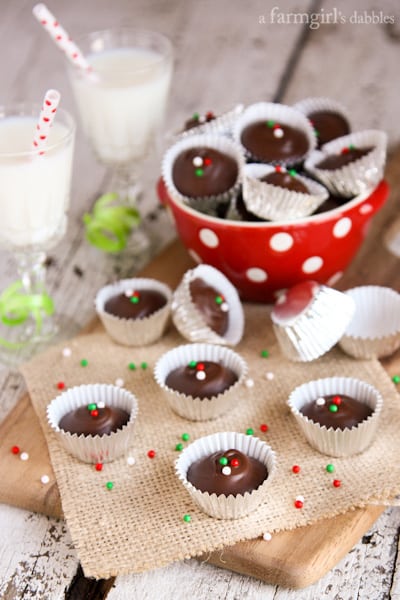 I'd take one of these Homemade Peanut Butter Cups over the store bought version any day! My Mom's Homemade Peanut Butter Cups are the best. But you already knew I'd say that, right?!
I know that there are a zillion and one recipes out there for homemade peanut butter cups, but I really do treat this blog and its recipe archives as a cookbook/scrapbook for my family. Slowly, slowly, I am getting all of our favorites added in here, and I simply can't leave this one out. It's a sweet treat that I made with Mom and my sisters each year when we lived on the farm, and is very much a Christmas tradition in our family. So now that this special recipe is officially in the archives here at a farmgirl's dabbles, when it's time to make these next year, all we have to do is search this site for "Mom's Homemade Peanut Butter Cups". Cool, huh?!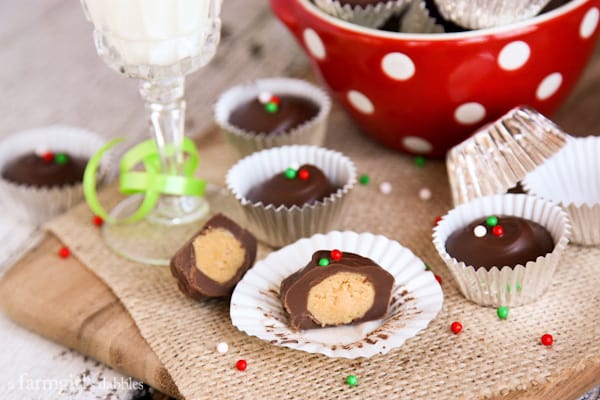 With only 4 ingredients (plus sprinkles, if you so desire), these peanut butter cups are super easy to put together. All you need is peanut butter, powdered sugar, butter, and almond chocolate bark. I do like to add just a bit of bittersweet chocolate to my chocolate bark coating, which is shown here. It gives the chocolate flavor a bit more depth, and I like the pretty sheen it offers. My husband, however, is not much of a fan of that bittersweet chocolate addition. Blake prefers all chocolate as close to the milk chocolate variety as possible. With my preference for dark, darker, and darkest chocolate…I think this is a pretty fair compromise.
Notice how small these peanut butter cups are. Mom always made these using little bon bon cups, and I think they really are just the perfect size. I experimented with increasing the size just a bit by using mini cupcake liners, but my family did not like them as well. Sometimes it just pays to stick to tradition!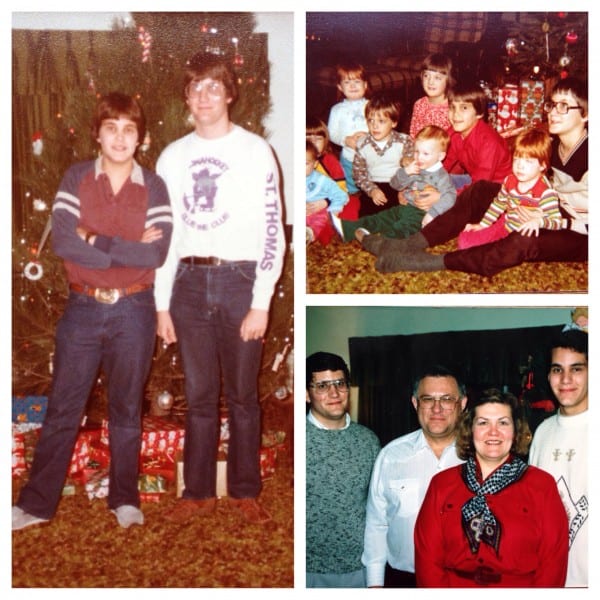 I cannot make these peanut butter cups without remembering my cousins Dave and John, and the many Christmas Eves we spent together in the 70's and 80's. My mom's side of the family usually came to our house for Christmas Eve, and Dave and John and their dad and mom would often spend the night with us. We would feast on shrimp dip, oyster stew, meatballs and gravy, homemade vanilla ice cream, and trays of homemade sweets. And Dave and John could always be found hanging around the tray piled with Mom's peanut butter cups. Knowing how much her nephews loved them, Mom even sent care packages of peanut butter cups to them while they were in college.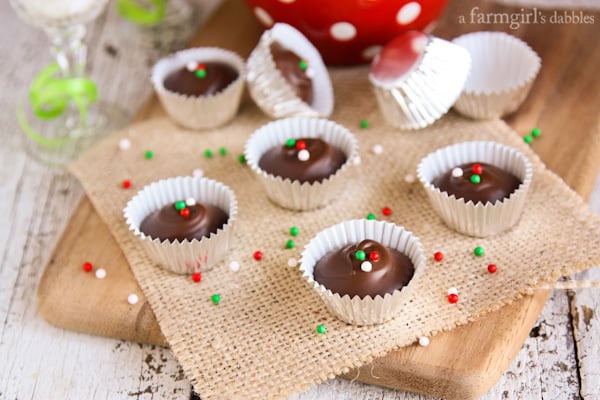 Not many people can pass up a peanut butter cup. Personally, I'd take these over the orange packaged ones found on the candy rack any day of the week. And I don't think it's about saving tradition or my mom's feelings. These are just plain awesome!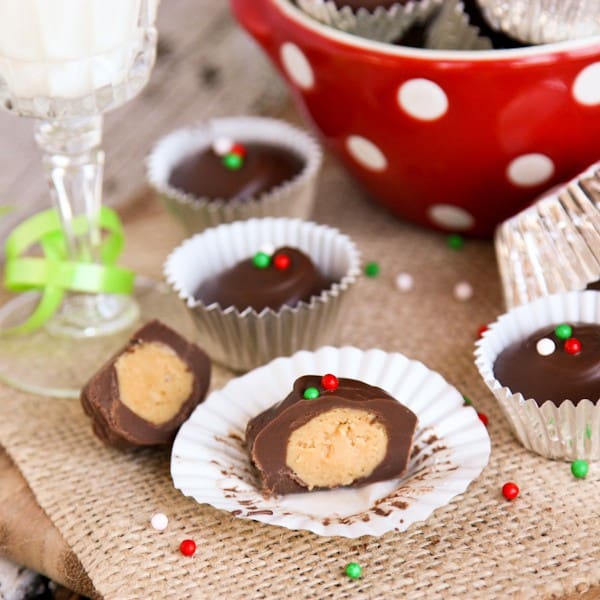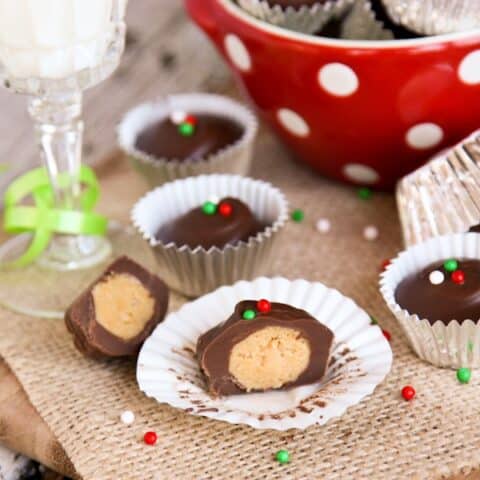 Mom's Homemade Peanut Butter Cups
Yield: 65 mini peanut butter cups
Prep Time: 20 minutes
Total Time: 20 minutes
I'd take one of these Homemade Peanut Butter Cups over the store bought version any day!
Ingredients
1/2 cup creamy peanut butter (I use Skippy)
1 cup powdered sugar
1/4 cup unsalted butter, melted and slightly cooled
24 ounces chocolate almond bark
4 ounces good quality bittersweet chocolate chips
Instructions
In a medium bowl, combine peanut butter, powdered sugar, and butter. Place in refrigerator for an hour to chill. Then roll mixture into balls, about 5/8'' in diameter. Place the balls in the bottom of a 9'' x 13'' pan, in a single layer, and refrigerate for 30 minutes.
Set up a double boiler, or make your own by placing a small saucepan of water over medium heat and bringing it to a simmer. Place a heatproof bowl over the pan, making sure it does not touch the surface of the water.
Add the chocolate almond bark and chocolate chips to the bowl. Allow the chocolate to melt, stirring often. It should take about 5 to 10 minutes. When the chocolate has fully melted, remove the saucepan from the heat.
Place a bit of chocolate bark into the bottom of a few paper candy cups (I use a "bon bon cup", also called candy cup #4). Gently top each chocolate layer with a peanut butter ball and then add more melted chocolate bark to cover the peanut butter balls. Let cool until set - or place in refrigerator to speed up the setting, if desired.
Notes
These freeze extremely well. Just store in a freezer-safe container and separate layers with wax paper.
If you have leftover chocolate, stir in any nuts you like, and mini marshmallows are good, too. Then drop mixture by big spoonfuls onto wax paper and allow to set. This make a fun sweet treat!
Adapted slightly from Mom's recipe box.
Nutrition Information:
Yield: 65
Serving Size: 1
Amount Per Serving:
Calories: 100
Total Fat: 8g
Saturated Fat: 2g
Trans Fat: 0g
Unsaturated Fat: 6g
Cholesterol: 2mg
Sodium: 68mg
Carbohydrates: 5g
Fiber: 2g
Sugar: 3g
Protein: 3g
Nutrition information is automatically calculated by Nutritionix. I am not a nutritionist and cannot guarantee accuracy. If your health depends on nutrition information, please calculate again with your own favorite calculator.
We participate in the Amazon Services LLC Associates Program, an affiliate advertising program designed to provide a means for us to earn fees by linking to Amazon.com and affiliated sites. See our
disclosure policy
for more info.