Buckeyes
These homemade Buckeyes feature creamy peanut butter balls dipped in rich, smooth semi-sweet chocolate – a truly addictive treat! With just 7 ingredients and no baking required, make them year-round and definitely add them to your cookie tray during the holidays!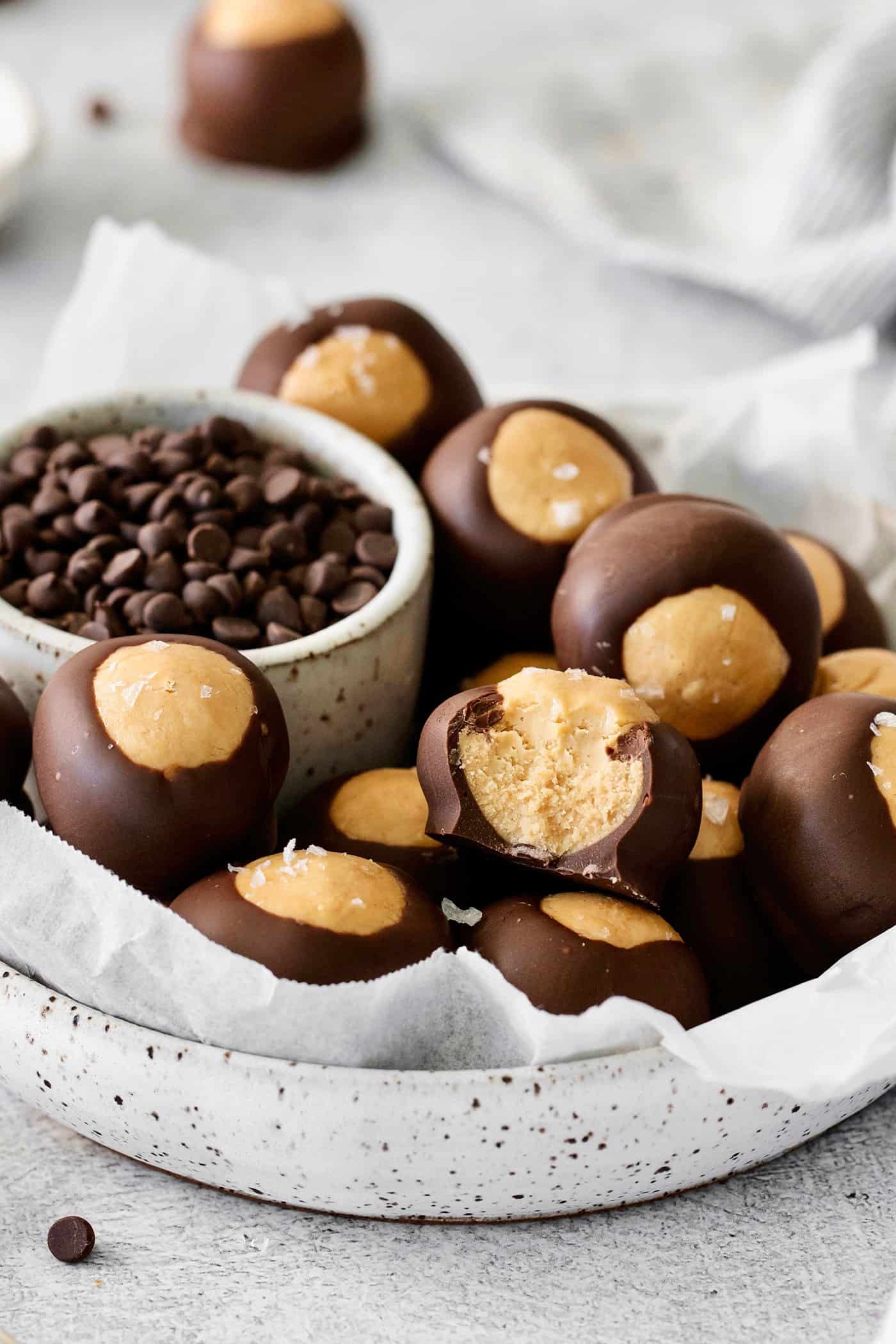 No-Bake Peanut Butter Chocolate Balls
Is there anything more addictive than peanut butter dipped in chocolate? My husband would say not! Whether it's a classic Reese's or these homemade Buckeyes, chocolate and peanut butter is one flavor combo that our family agrees on 100% – we LOVE it!
While these are a great PB & chocolate treat year-round, the holidays absolutely beg for them. Buckeyes deserve to be sprinkled across every cookie tray and treats platter, at every gathering. Because I promise you, they're always one of the first things to disappear, right along with my chocolate peanut butter Ritz cookies and peanut butter blossoms!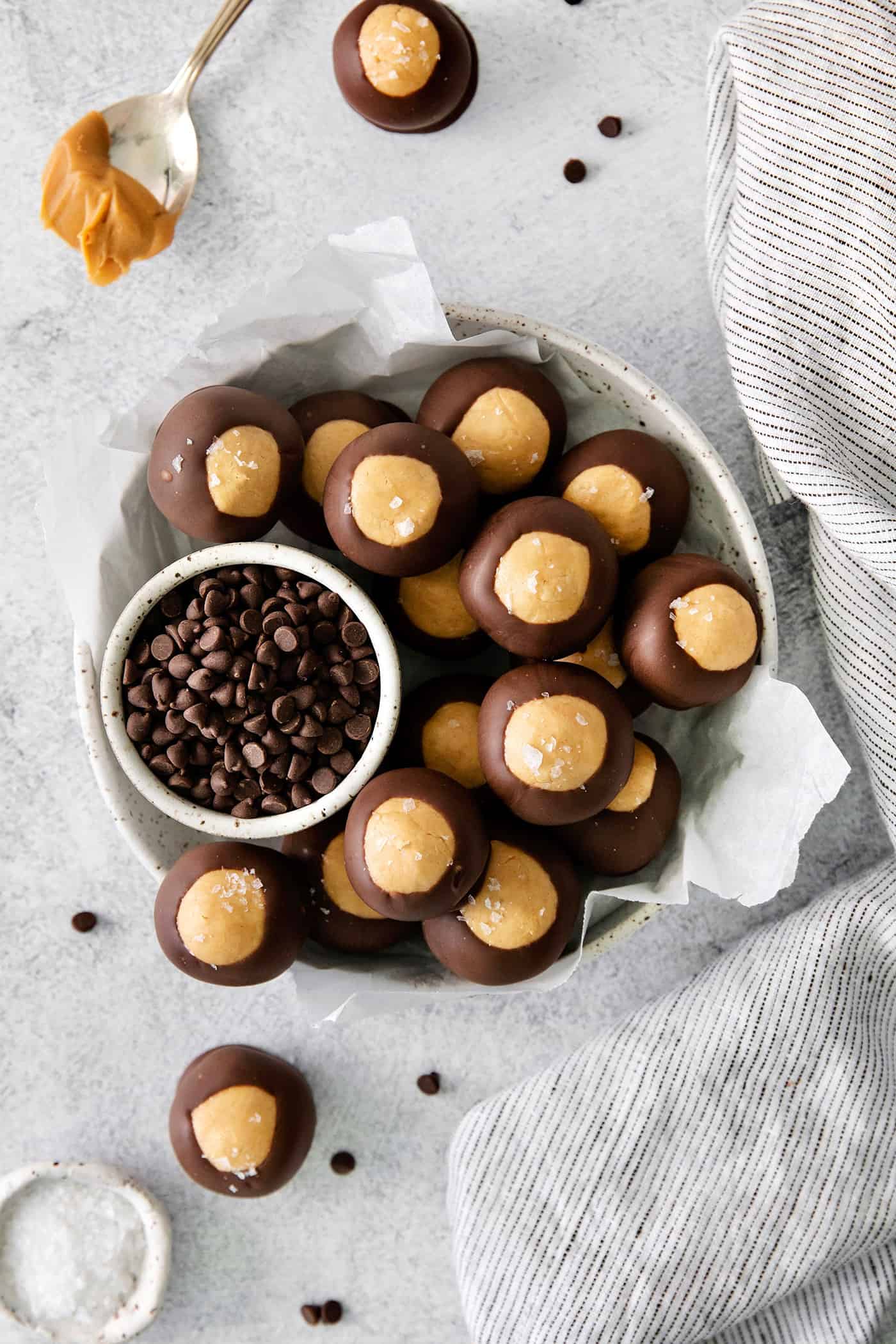 What Are Buckeyes?
Put simply, buckeyes are no-bake chocolate peanut butter balls.
Peanut butter is creamed with butter and powdered sugar for a sweet, creamy center and then dipped in melted chocolate, with just a small circle of peanut butter showing at the top.
This candy originated in Ohio, which is known as "The Buckeye State". And it's named after the buckeye nut, which looks very similar to this candy, with a dark brown shell and just a small circle of a lighter tan color at the top.
The Ohio State University mascot is the breathing version of a buckeye, called Brutus Buckeye, so needless to say these chocolate dipped peanut butter balls are quite the hit in Ohio. (And now the rest of the country, because they're just THAT good.)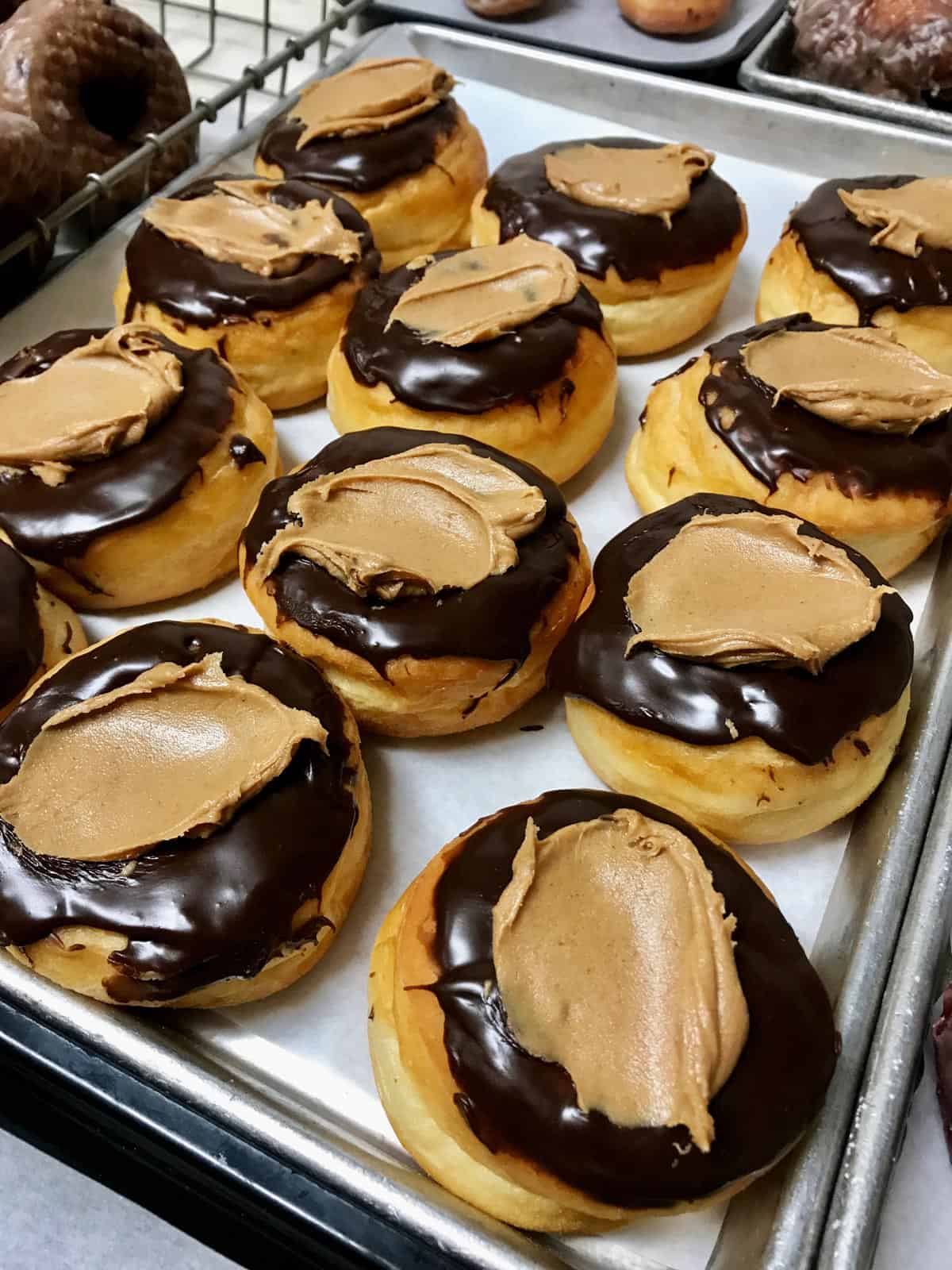 While I'm not from Ohio, I did visit Columbus, Ohio a number of years ago and enjoyed their famous buckeye candy AND their amazing buckeye donuts.
Buckeye Donuts is located across from OSU (The Ohio State University) campus, and it's where I fell in love with their buckeye donuts.
While on a tour of this donut bakery's kitchen, I got to enjoy one of these beauties, straight from the pan! It was ultra soft and tender, with delicious PB & chocolate flavor. Perfection!!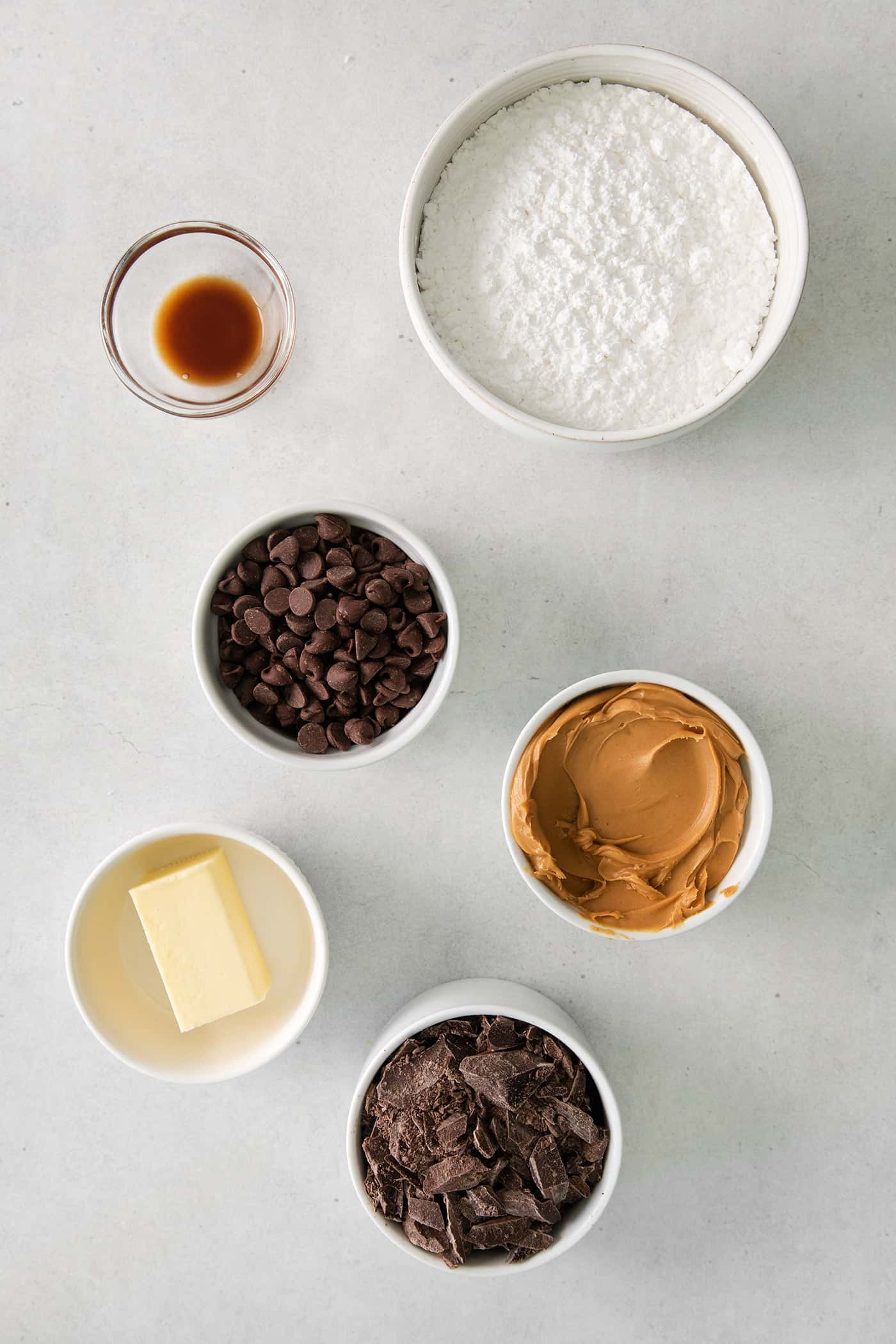 Ingredients
You'll need just 7 ingredients to make this buckeye candy. Chocolate, peanut butter, and a few pantry staples. See the recipe card below for full measurements.
Peanut butter – For that classic peanut flavor. The key is to use good quality classic peanut butter (we use Skippy) – all natural peanut butter is just too wet for this recipe.
Butter – Butter helps hold the buckeyes together and gives them creamy structure, plus adds delicious rich flavor. Make sure it's fully softened so it incorporates smoothly into the peanut butter.
Vanilla – Vanilla extract enhances the flavor in these sweet treats.
Powdered sugar – Powdered sugar gives the buckeyes sweetness and smooth, creamy structure. I recommend sifting the powdered sugar as it lightens it and removes any clumps.
Chocolate chips & chocolate bark – I recommend my favorite Guittard semi-sweet chocolate chips, but feel free to use your own favorite brand of chocolate chips.
Sea salt – Flaky sea salt adds a subtle crunch, plus its saltiness contrasts perfectly with peanut butter and chocolate. This is my own little riff, as I adore that salty flavor with my chocolate and peanut butter!
What's the Best Chocolate for Melting?
I love the combination of chocolate chips and chocolate bark for this recipe – it melts smoothly, has a better structure (doesn't get overly melty after sitting out for a while), and has much better flavor than chocolate bark alone.
Whatever chocolate you use, be sure to use a good quality brand that you personally love. For me, it's Guittard semi-sweet chocolate chips.
Also. Feel free to add in some dark chocolate if you like. This is one of my favorite riffs, although it's not completely appreciated throughout the rest of our household. Ha!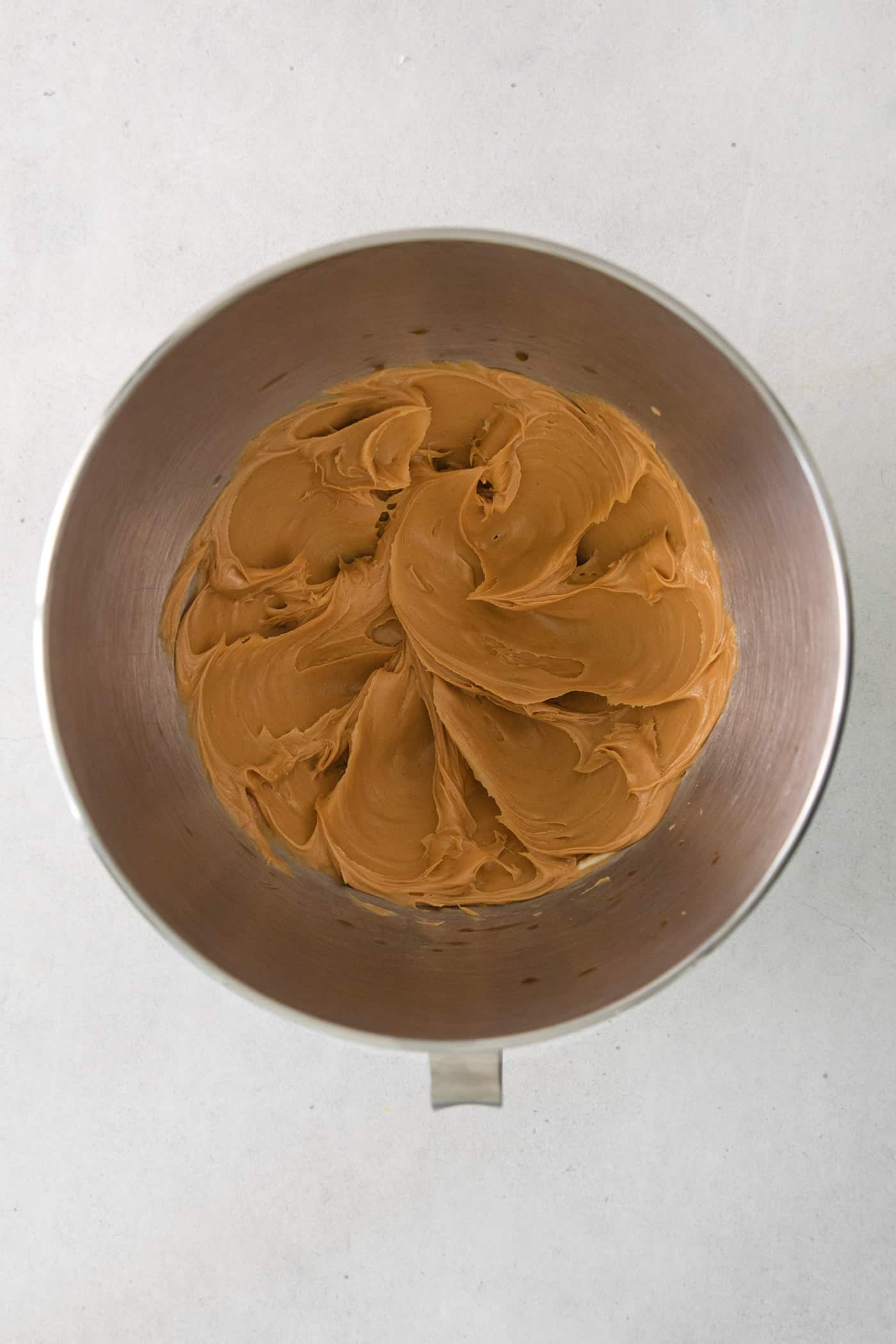 How to Make Buckeyes
These buckeye balls come together in just a few steps. There's no baking required. The hardest part is simply waiting for them to chill before diving in!
Make the peanut butter mixture. Beat the peanut butter and butter until well combined. Add the vanilla and the powdered sugar a bit at a time. Be sure to scrape down the sides of the bowl.
Form the balls. Roll tablespoon-sized portions of the mixture into small balls. Place on a baking sheet lined with parchment paper and freeze for 20 minutes.
Melt the chocolate. Melt the chocolate either in a double boiler or by placing a heatproof bowl over a pan of simmering water – or melt very carefully in the microwave, taking care to not let it scorch. Heat until the chocolate is completely melted, stirring regularly.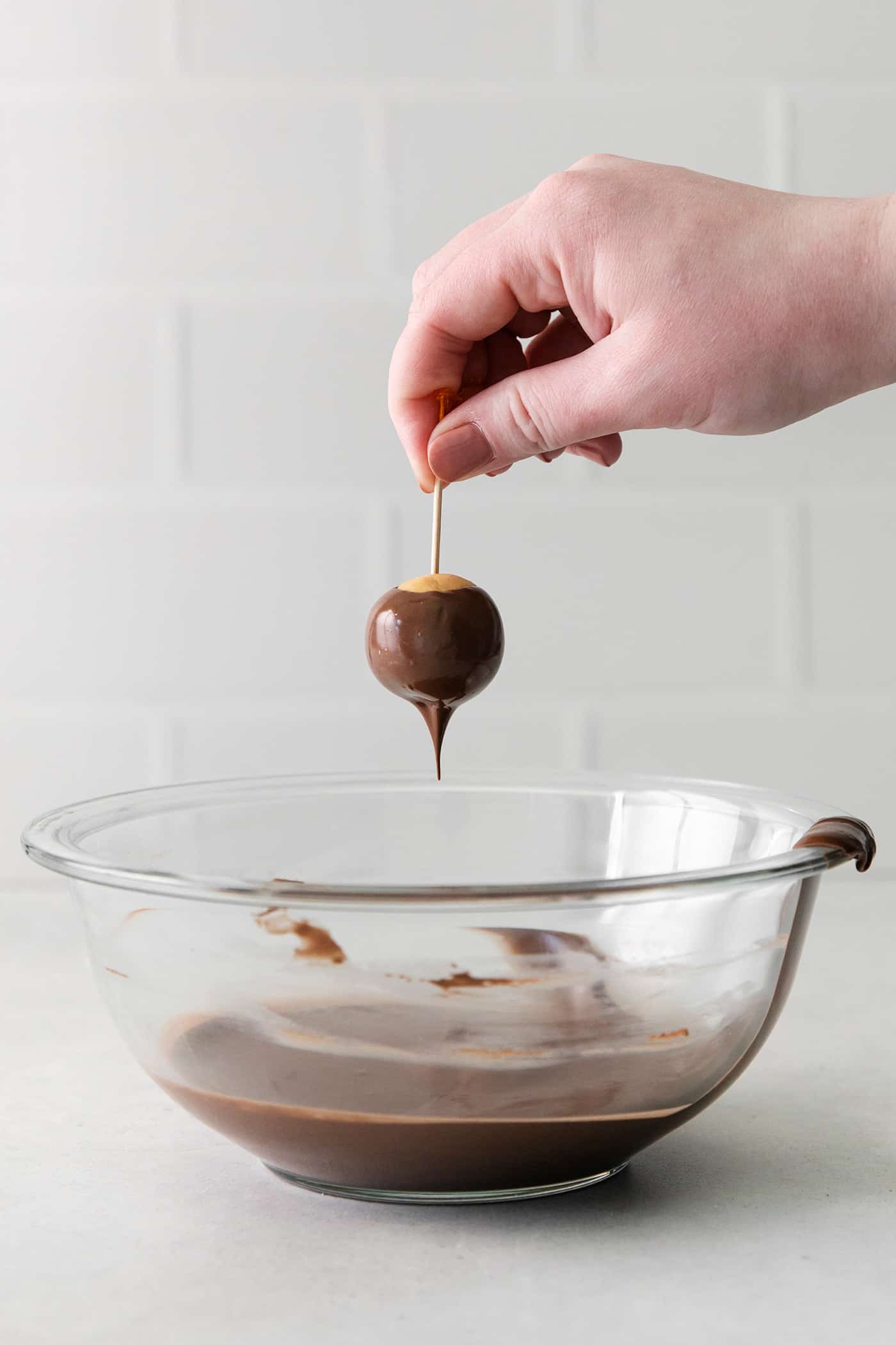 Dip the balls in chocolate. Dip the peanut butter balls into the chocolate using a toothpick. Leave a circle of peanut butter visible at the top.
Chill. Return the chocolate peanut butter balls to the baking sheet. Sprinkle with sea salt flakes if desired. Then refrigerate for at least 10 minutes before enjoying.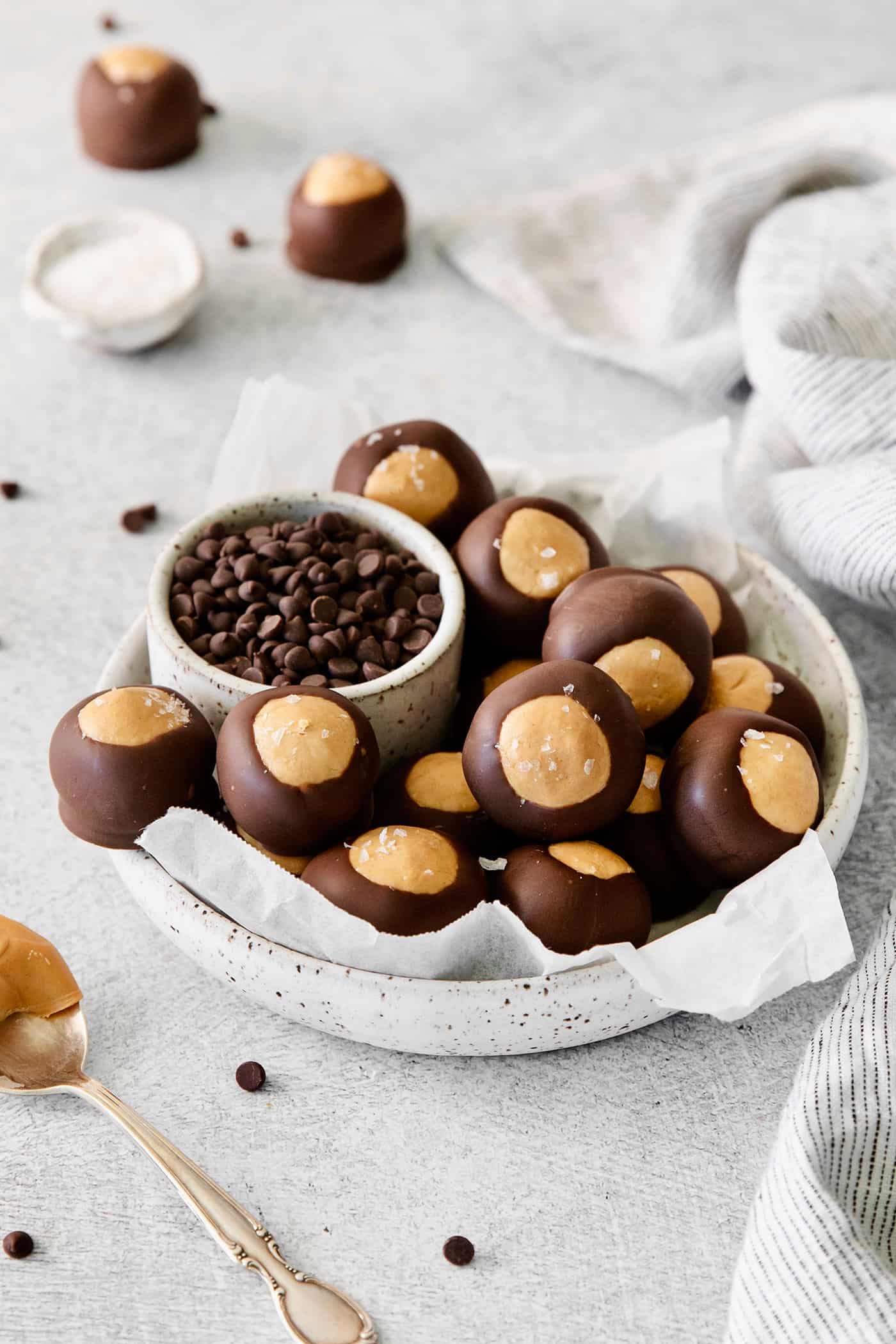 What If The Texture Isn't Right?
With the ratio in this recipe, you'll end up with perfectly smooth peanut butter balls. However, different product brands may cause the mixture to be either too sticky or somewhat crumbly.
If the mixture is too sticky, add some extra powdered sugar. If it's too crumbly, add another tablespoon or so of peanut butter.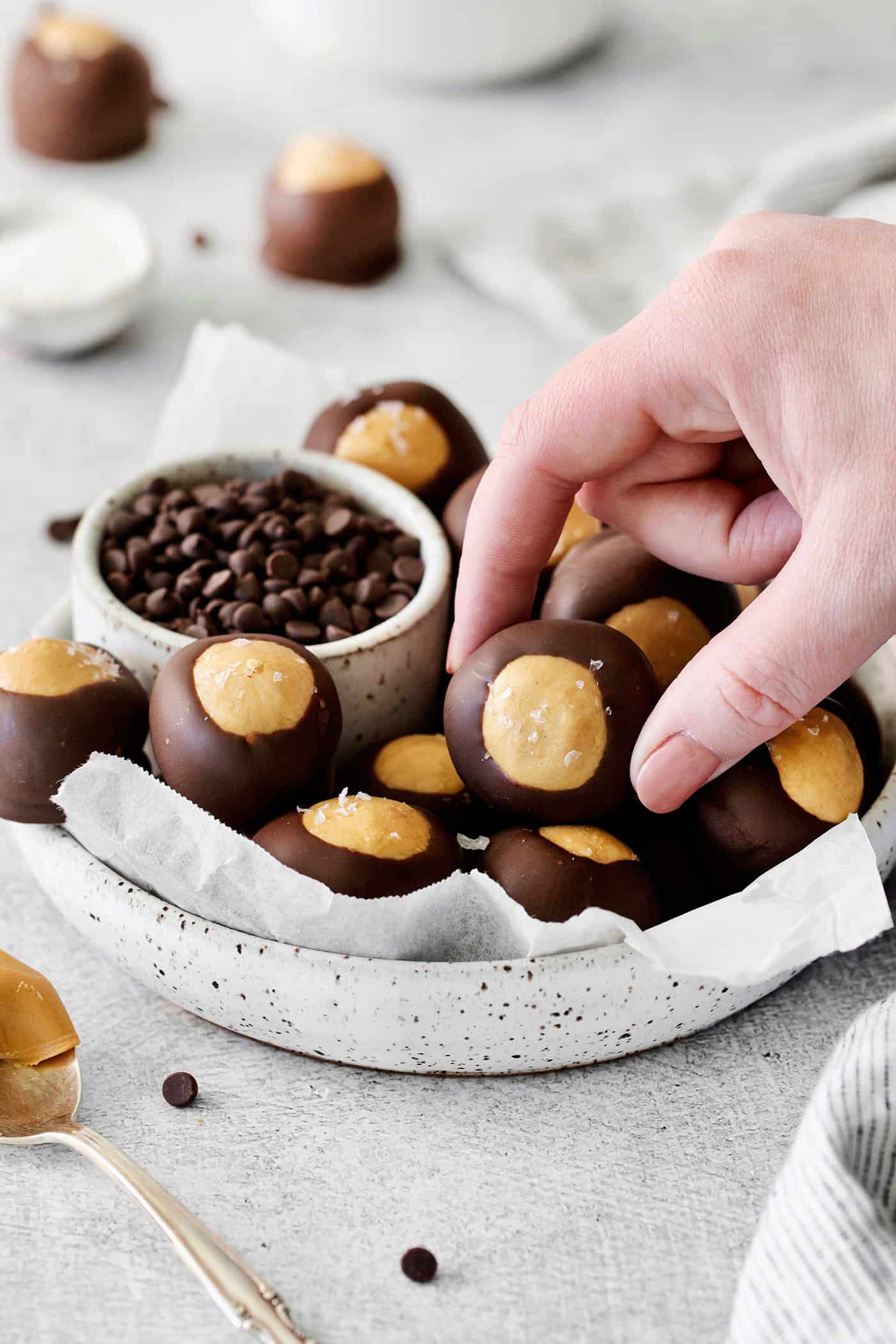 Tips for Success
Here are a few tips & hints for the best buckeye balls!
Add the powdered sugar slowly. The powdered sugar should be added a little bit at a time. If you dump it all in at once, it can not only be messy but also doesn't allow the mixture to get perfectly smooth.
Make sure the peanut butter balls are hardened. It's important to freeze the peanut butter balls before dipping them in chocolate, since the peanut butter mixture is quite soft. This step helps everything hold together and will help the chocolate harden faster.
Keep a close eye on the chocolate. As the chocolate is melting, be sure to keep a close eye on it and stir frequently. If using a double boiler method on the stovetop, the water underneath should be at a simmer, not a boil. If it boils too much, the chocolate can burn more easily.
Add some flaky sea salt. This is my own little delicious riff on the classic buckeyes recipe. I love me some sea salt flakes with my chocolate and peanut butter, as you can see from my chocolate peanut butter Ritz cookies!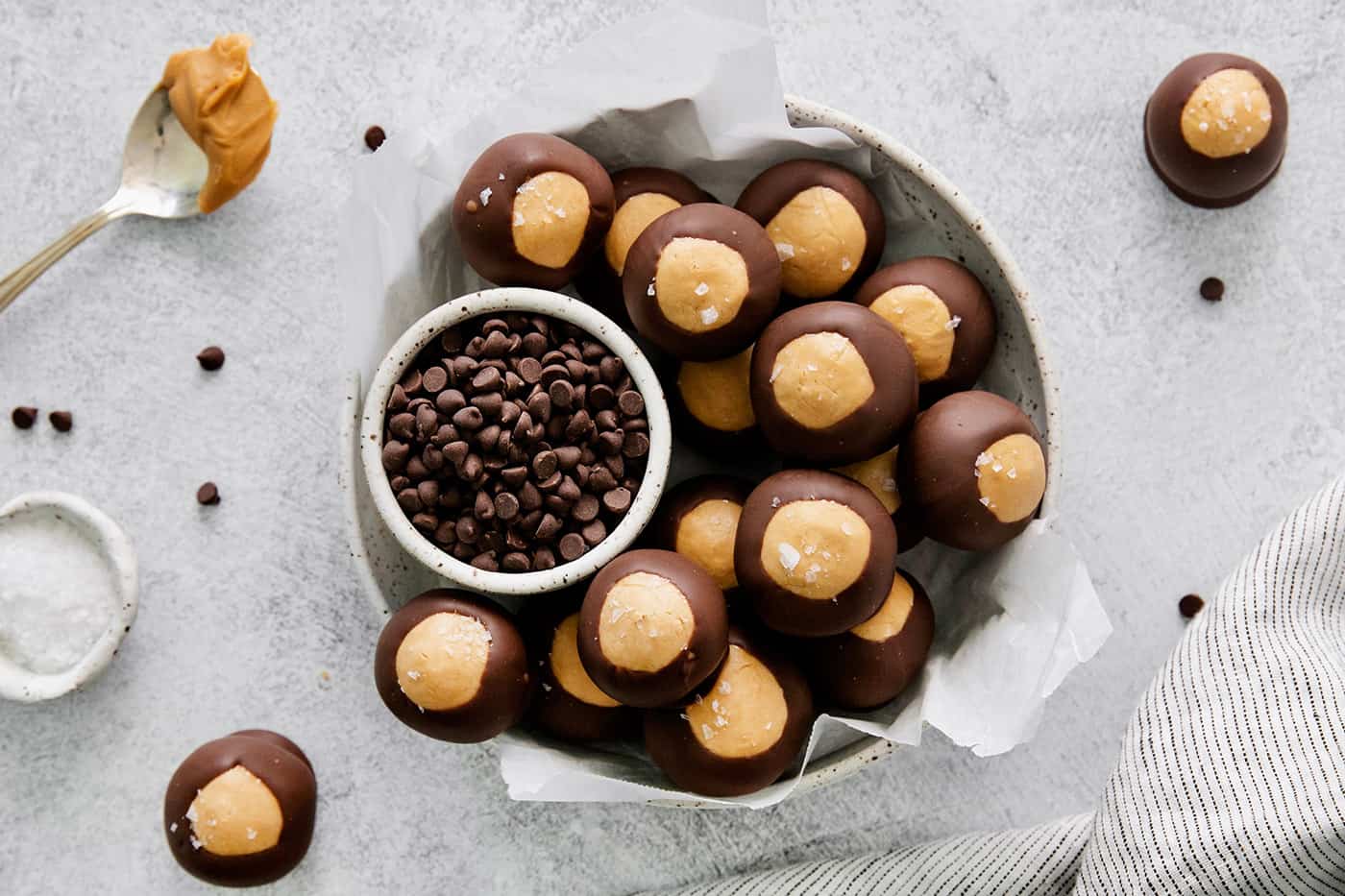 How Do You Store Buckeyes Candy?
Leftover buckeye balls should be stored in an airtight container in the fridge. They'll keep well for up to 1 week, though good luck keeping them around that long!
Buckeyes also freeze extremely well. Once the chocolate has hardened, transfer them to a freezer-safe container. Separate any layers with parchment paper. Freeze for up to 3 months. Thaw on the counter or in the fridge.
More Peanut Butter Recipes:
Like this recipe? Save it to Pinterest!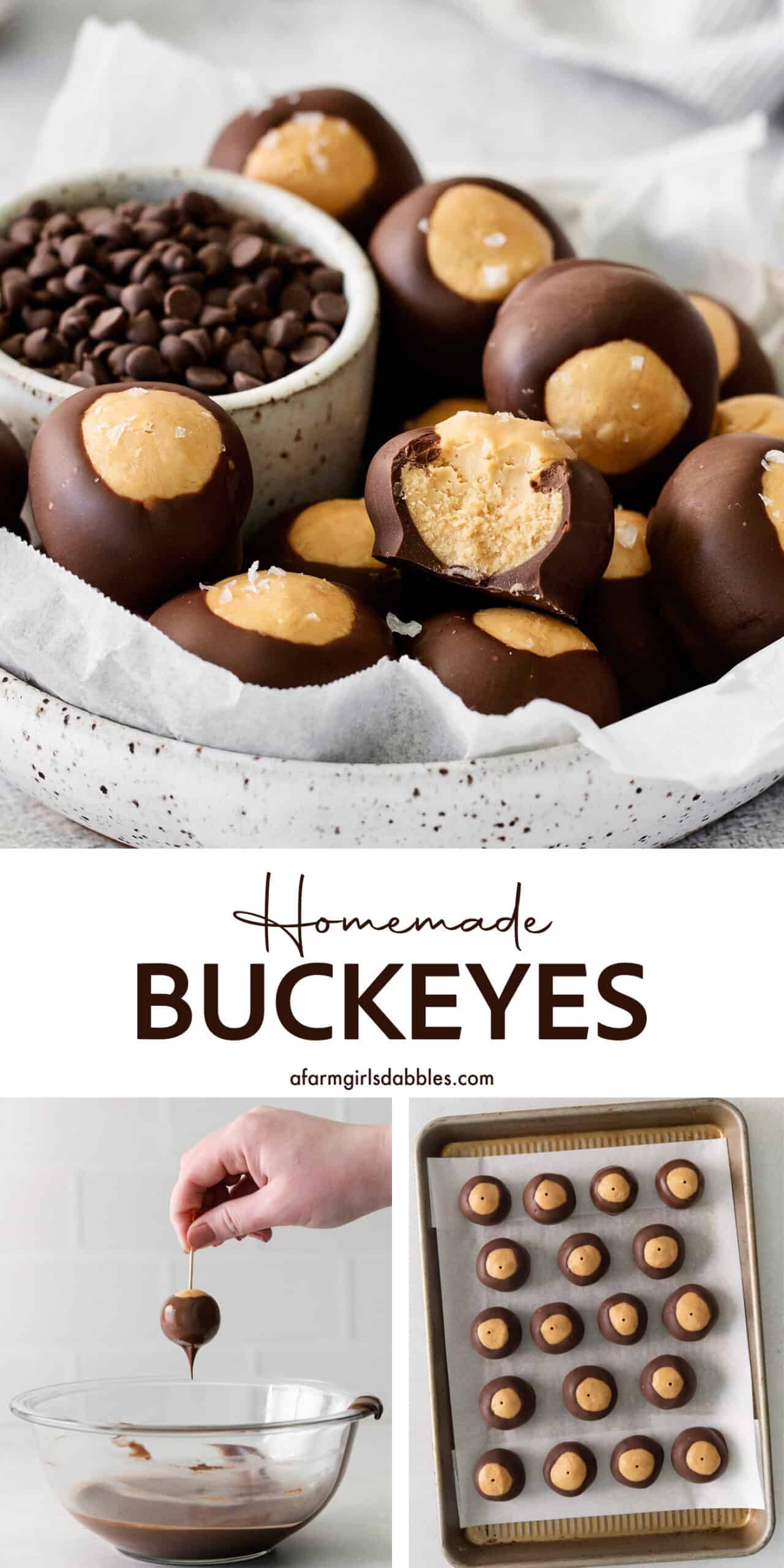 Buckeyes
Yield: 18 buckeyes
Prep Time: 15 minutes
Additional Time: 30 minutes
Total Time: 45 minutes
These homemade Buckeyes feature creamy peanut butter balls dipped in rich, smooth semi-sweet chocolate - a truly addictive treat! With just 7 ingredients and no baking required, make them year-round and definitely add them to your cookie tray during the holidays!
Ingredients
1 cup smooth classic peanut butter (not all natural) - we use Skippy
4 tablespoons unsalted butter, softened
1 teaspoon pure vanilla extract
2 cups powdered sugar, sifted
1 cup semi-sweet chocolate chips - I recommend Guittard brand
8 ounces chocolate bark, roughly chopped
Flaky sea salt, for garnish – I recommend Malden brand
Instructions
Add the peanut butter and softened butter to the bowl of a stand mixer fitted with the paddle attachment. Beat on medium speed until well combined.
With the mixer on low speed, add the vanilla extract. Then slowly add the powdered sugar. If you add it all at once, you'll end up with a mess!
Once all of the powdered sugar has been added, scrape down the sides of the bowl and mix again, just until everything is evenly incorporated.
Scoop out 1-tablespoon sized portions of peanut butter mixture and roll them into smooth balls. Place them on a parchment lined baking sheet and freeze for 20 minutes.
When the buckeyes are chilled, heat a small saucepan of water to a simmer over medium heat. Place a heatproof bowl on top of the pan and add the chocolate chips and chocolate bark to the bowl. (or use a double boiler, if you have one)
Cook, stirring occasionally, until the chocolate has melted completely, about 5 minutes. Remove the chocolate from the heat.
Stick a toothpick into the center of one peanut butter ball and dip it into the melted chocolate, making sure to leave a circle of peanut butter visible at the top. Repeat with the remaining buckeyes. Smooth out the toothpick hole with the back of a spoon, if desired.
If you want to add a sprinkle of flaky sea salt, do that now. Then place the finished buckeyes back into the fridge to chill for 10 minutes, or just until the chocolate is set.
Notes
Store in a covered container in the fridge for up to 1 week. Or freeze in a freezer-safe container for up to 3 months, with layers separated by parchment paper.
Nutrition Information:
Yield: 18
Serving Size: 1
Amount Per Serving:
Calories: 279
Total Fat: 17g
Saturated Fat: 7g
Trans Fat: 0g
Unsaturated Fat: 8g
Cholesterol: 10mg
Sodium: 121mg
Carbohydrates: 30g
Fiber: 2g
Sugar: 25g
Protein: 5g
Nutrition information is automatically calculated by Nutritionix. I am not a nutritionist and cannot guarantee accuracy. If your health depends on nutrition information, please calculate again with your own favorite calculator.