Honey Garlic Carrots
This Honey Garlic Carrots recipe is impressive enough for holidays, plus quick & easy for every day. The whole family will love these roasted carrots that are richly flavored with honey, garlic, and a touch of butter!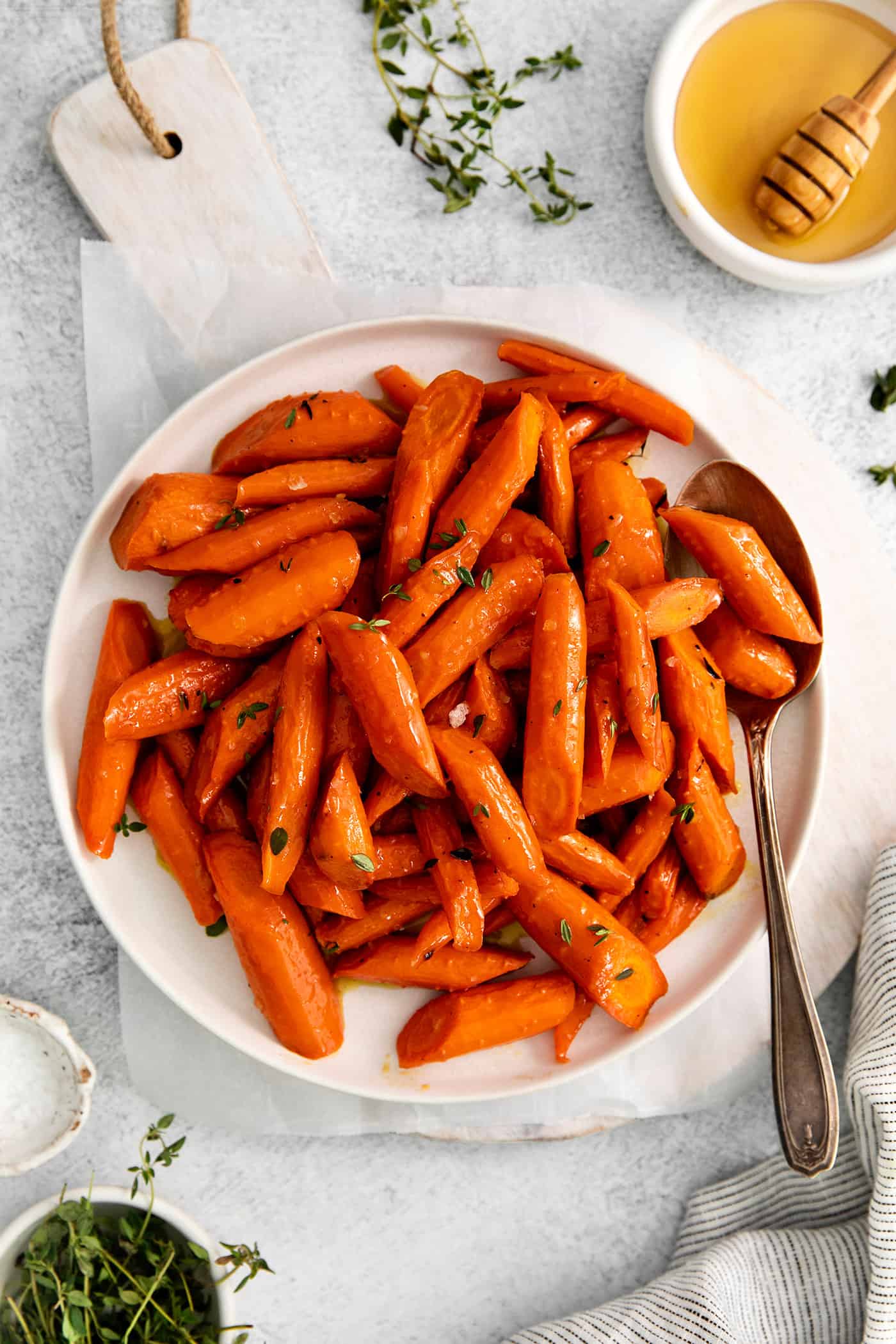 Easy Honey Garlic Roasted Carrots
My family loves these Honey Garlic Carrots! They're so easy to make and have become a staple not only during the holidays but for everyday meals as well.
This simple recipe features fresh carrots roasted with sweet honey, plenty of fresh garlic, and a touch of butter. A sprinkling of fresh thyme finishes it off.
The honey brings out the natural sweetness of the carrots. And the garlic, when roasted, tastes and smells absolutely AMAZING with the sweetened carrots!
This vegetable side dish is one that the whole family will enjoy – even those who may not be huge fans of carrots. And you only need a few common ingredients, which makes this an easy veggie when I'm in a pinch.
If you're looking for something easy to serve for Thanksgiving, Christmas, or Easter, definitely try these honey garlic carrots!
Like carrots? Also give my cinnamon honey carrots and quick pickled carrots a try!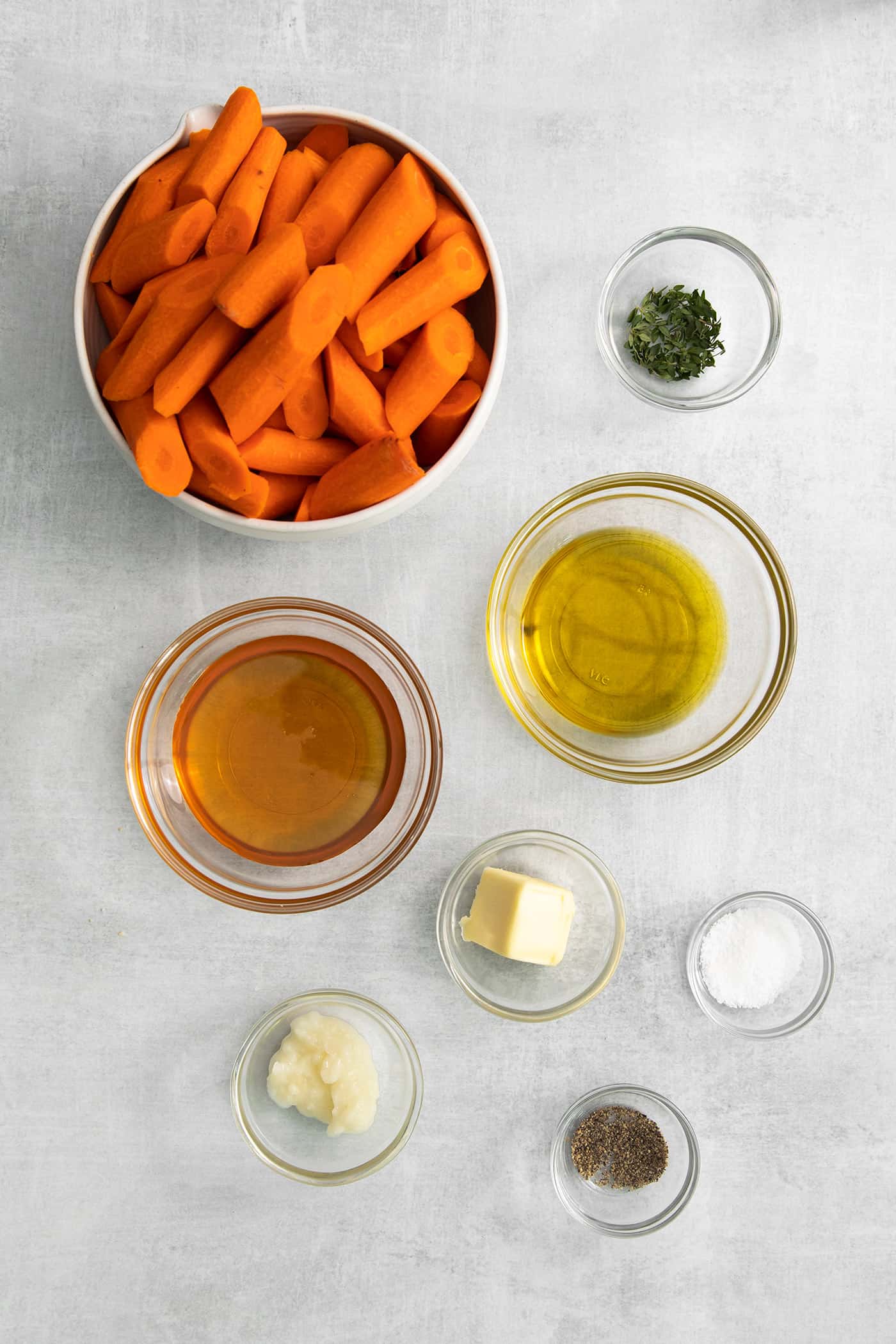 What You'll Need
I love the simple ingredients list for this recipe! Scroll down to the recipe card for the measurements.
Carrots – I'm using classic orange carrots that are about ½" to 1″ thick. Feel free to use any color or size carrot you have. Just make sure that all of the pieces are about the same size so they cook evenly.
Olive oil – Olive oil helps the carrots roast so they become golden brown.
Kosher salt & black pepper – Salt and pepper season the carrots. Feel free to season to taste.
Honey – Honey enhances the natural sweetness of the carrots. I recommend using a good quality honey for even better flavor to the finished dish.
Butter – Butter helps thin the honey sauce and adds a lovely touch of richness in both flavor and texture. Plus it helps the carrots brown nicely.
Garlic – Grated garlic is the key to getting great garlic flavor without burning it, or having big bites of garlic. I recommend grating fresh garlic with a microplane zester.
Thyme leaves – Thyme adds another layer of earthy fresh flavor to the carrots.
Sea salt flakes – I like to sprinkle a little flaky sea salt over the top right before serving.
Do I Need To Peel Carrots Before Roasting Them?
I do peel my carrots before roasting them. However, you don't have to.
As long as you scrub and clean the carrots well, it just comes down to personal preference. My family simply prefers the flavor and texture of peeled carrots.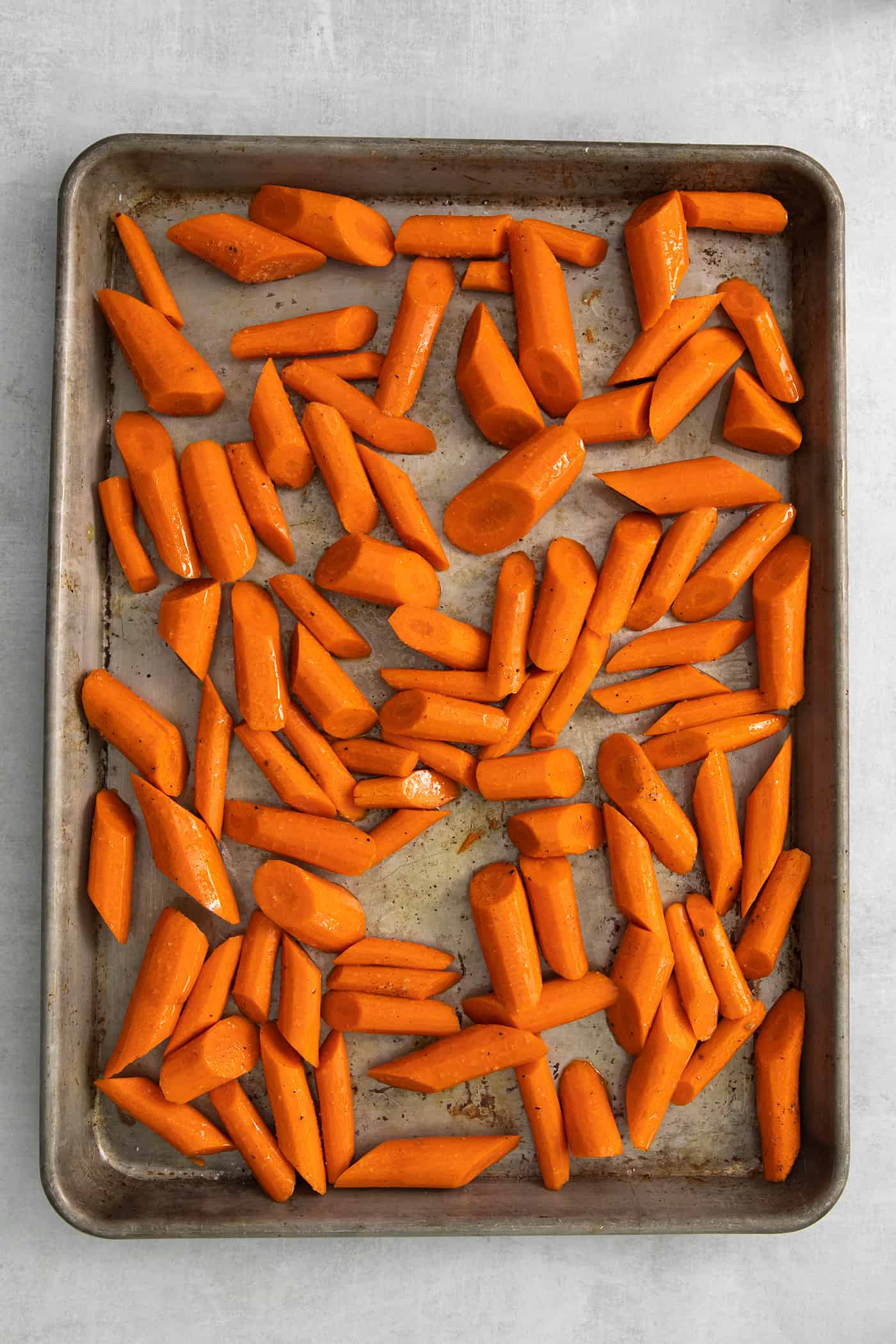 How to Make Honey Garlic Carrots
These honey garlic butter roasted carrots are easy to make. It's a great recipe for both weeknights and special holiday dinners.
Roast the carrots. Spread the carrots on a baking sheet. Drizzle with olive oil, salt, and pepper. Roast at 400° F for 15 minutes.
Add the glaze. Combine the honey, butter, and garlic in a bowl. Microwave to melt the butter. Remove the carrots from the oven, drizzle with the honey garlic butter, and toss to coat.
Continue roasting. Roast for an additional 15 to 20 minutes, until the carrots begin to brown and are fork-tender.
Garnish and serve. Transfer the carrots to a serving dish. Sprinkle lightly with sea salt flakes, plus a bit more black pepper and fresh thyme leaves if desired. Enjoy!
How Long To Roast Carrots?
For this recipe, it takes 30 to 35 minutes to completely roast the carrots. This includes the 15 minutes before adding the honey butter, which ensures that the carrots cook fully without burning the butter or garlic.
Note, however, that the exact amount of time to roast carrots will depend on how big your pieces are and how crisp or tender you like your carrots. The largest ones in this recipe measure about 1″ or so in diameter. If yours are smaller, you'll want to reduce cooking time. If they're larger, you'll need to add cooking time.
Tips & FAQs
Here are a few tips for the best roasted carrots, as well as the answers to a few common questions.
Make sure all carrots are equal in size. To ensure that all the carrots cook completely and some don't end up undercooked or overcooked, be sure to cut them all into equal sizes.
Keep an eye on them to prevent burning. For the last 10 minutes or so of the cooking time, keep an eye on the carrots. You want them to brown and caramelize a bit, but not burn.
How can I tell when roasted carrots are done? You can tell the carrots are ready when they are beginning to brown and are fork-tender to your liking (just poke fork tines into a large piece of carrot to test).
Can I use baby carrots? Yes, you can also use baby carrots to make these honey garlic roasted carrots. They will likely take a little less time to cook, but still test for doneness to ensure they're fork-tender.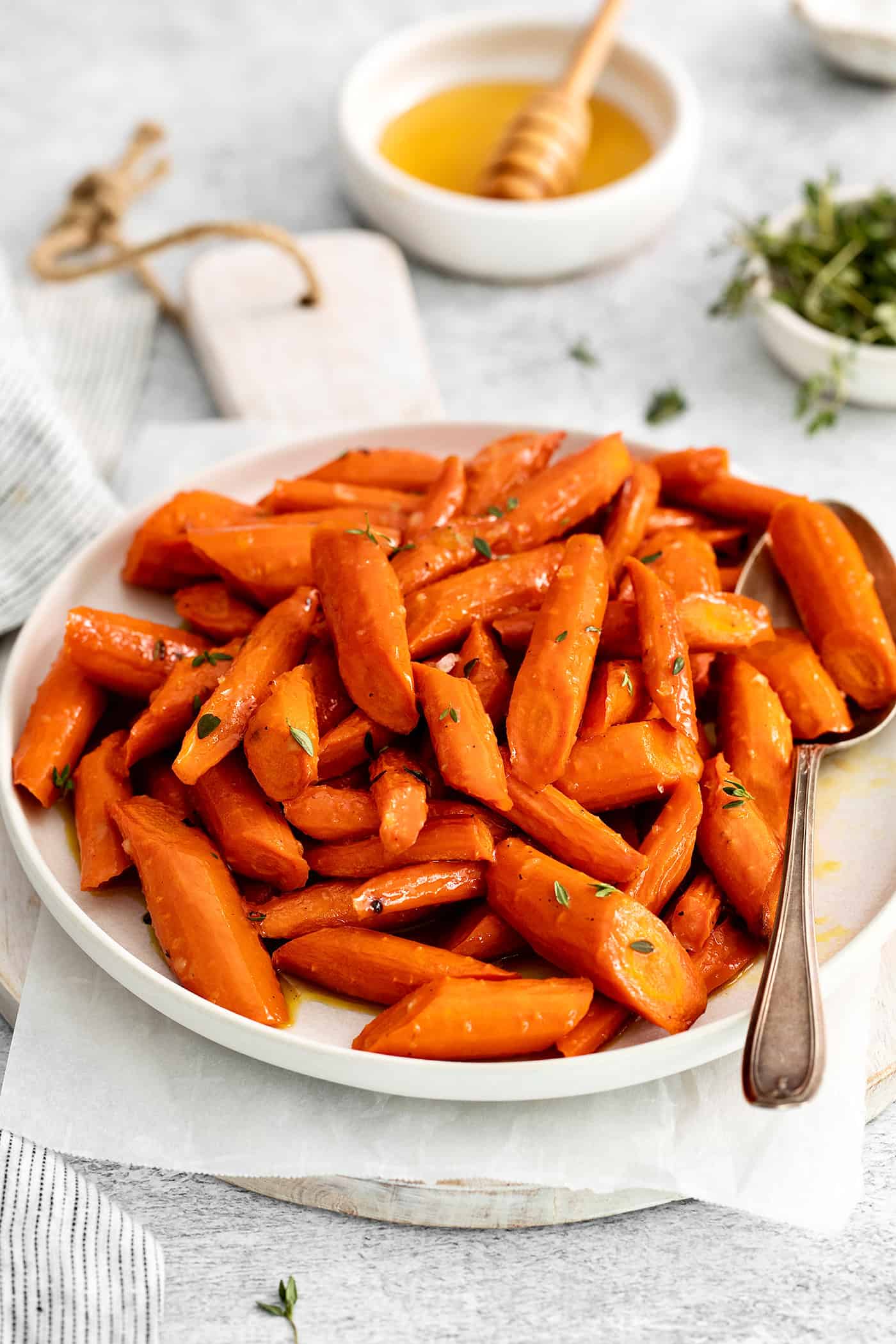 Serving Suggestions
These honey garlic carrots add an elegant touch to almost any meal. They've been a staple on our holiday table the last few years, next to Thanksgiving turkeys, and Christmas and Easter hams.
And, because my family likes these carrots so much, I also make this dish throughout the year. That's the beauty of this dish – sometimes the simplest recipes are the best, no matter the season!
A few of my favorite main dishes to serve with these roasted carrots include grilled turkey tenderloin, mustard pork loin roast, and beer can chicken.
How to Store Leftovers
Leftover honey garlic carrots can be stored in an airtight container in the fridge for up to 5 days. Reheat over medium-low heat in a skillet on the stovetop, stirring frequently. Or just use the microwave.
More Holiday Side Dishes:
Like this recipe? Save it to Pinterest!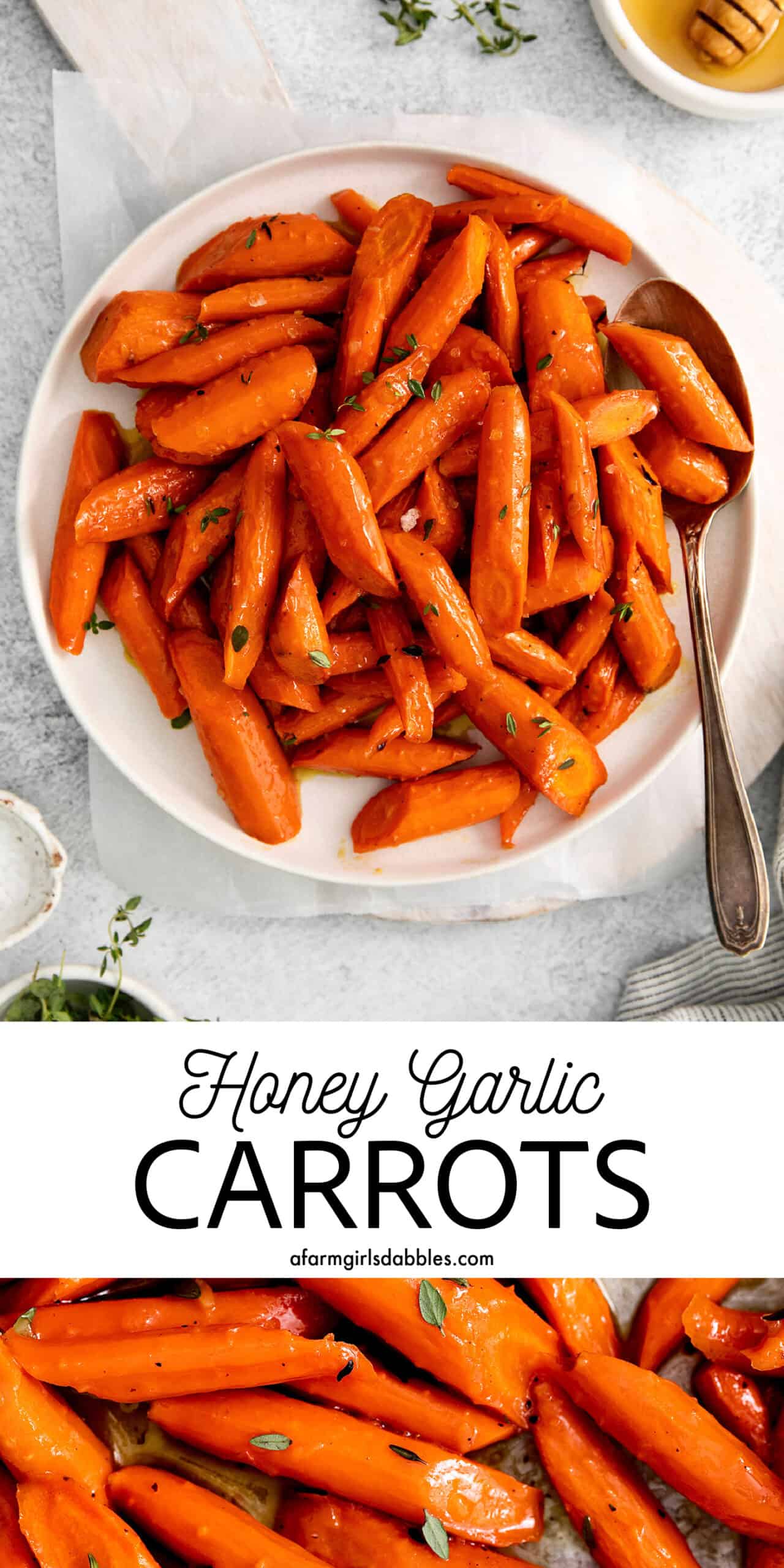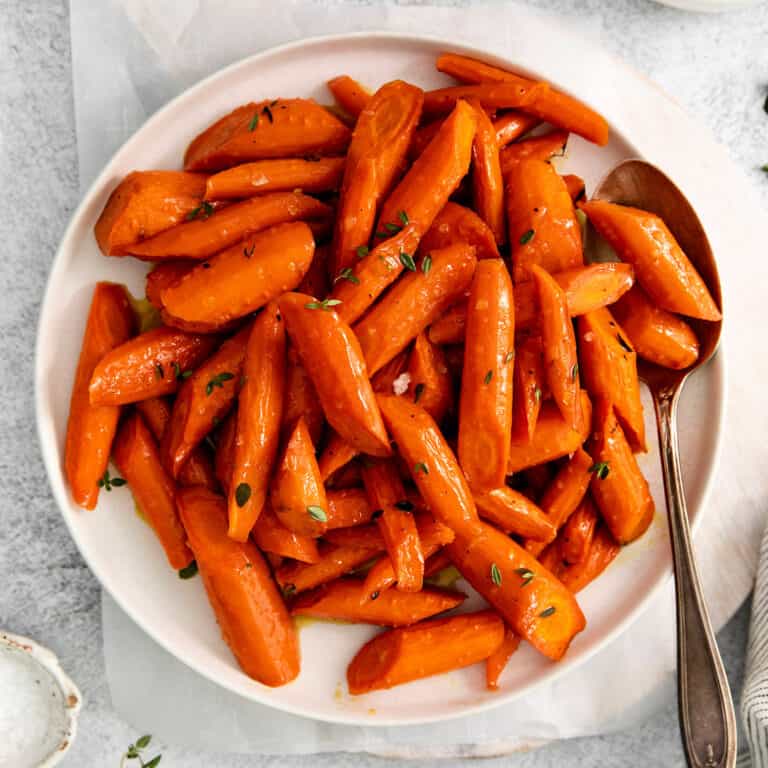 Honey Garlic Carrots
Yield: 8 servings
Prep Time: 10 minutes
Cook Time: 30 minutes
Total Time: 40 minutes
This Honey Garlic Carrots recipe is impressive enough for holidays and super easy for every day. The whole family will love this sweet veggie side dish that's richly flavored with honey, roasted garlic, and a touch of butter.
Ingredients
3 pounds carrots, peeled and cut into 1½" pieces
3 tablespoons olive oil
1 teaspoon kosher salt
½ teaspoon freshly cracked black pepper
⅓ cup honey
2 tablespoons unsalted butter
6 large garlic cloves, grated
1 teaspoon fresh thyme leaves
½ teaspoon sea salt flakes
black pepper + additional fresh thyme leaves, optional garnish
Instructions
Preheat oven to 400° F.
Spread out carrots on a large rimmed baking sheet. Drizzle them with olive oil and sprinkle with salt and pepper. Toss to coat the carrots evenly.
Roast for 15 minutes.
Meanwhile, in a small bowl, combine the honey, butter, and grated garlic. Microwave for 1 minute, or until the butter has melted. Whisk to combine.
Drizzle the honey butter over the carrots and sprinkle with fresh thyme. Toss again to coat the carrots in the honey butter.
Roast for an additional 15-20 minutes, or until the carrots are beginning to brown and are fork-tender to your liking.
To serve, transfer the carrots to a serving dish and sprinkle lightly with sea salt flakes, plus additional black pepper and fresh thyme leaves if desired.
Notes
Store any leftover carrots in an airtight container in the fridge for up to 5 days.
Nutrition Information:
Yield: 8
Serving Size: 1
Amount Per Serving:
Calories: 177
Total Fat: 8g
Saturated Fat: 3g
Trans Fat: 0g
Unsaturated Fat: 5g
Cholesterol: 8mg
Sodium: 390mg
Carbohydrates: 27g
Fiber: 5g
Sugar: 17g
Protein: 2g
Nutrition information is automatically calculated by Nutritionix. I am not a nutritionist and cannot guarantee accuracy. If your health depends on nutrition information, please calculate again with your own favorite calculator.