Roasted Garlic and Mushroom Dressing with Sausage
This post may contain Amazon or other affiliate links. As an Amazon Associate I earn from qualifying purchases.
This Roasted Garlic and Mushroom Dressing with Sausage is loaded with flavor and texture, the perfect dish to grace your Thanksgiving table.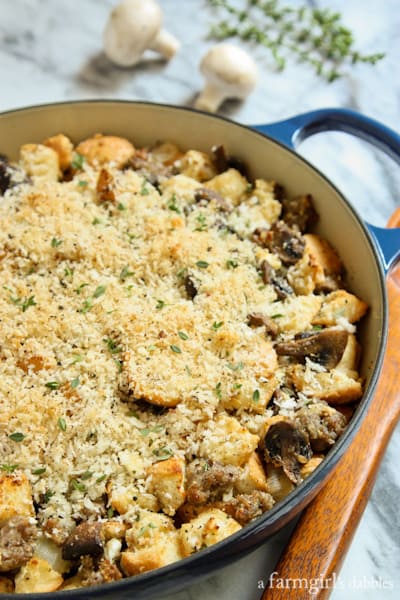 When you start to plan your Thanksgiving menu, do you find it difficult to narrow down the dishes? I'm horrible about wanting to include too many. Of course, all the traditional family favorites must be included. And, you know me, I always need to dabble with something new, never satisfied to leave well enough alone. But I'm not complaining or wishing I was less curious about finding new ways to enjoy Thanksgiving eats with my family and friends. No. I'm embracing it. And I'm full-on confident that this Roasted Garlic and Mushroom Dressing with Sausage would be welcome at your Thanksgiving feast, too.
[rss-cut]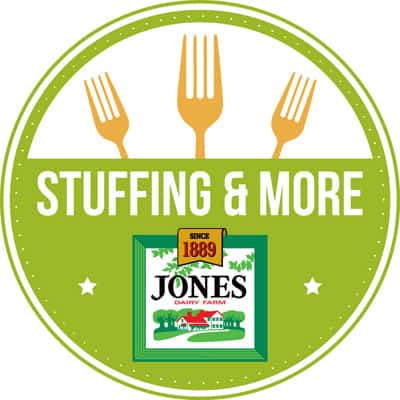 I've realized over the past few years how much I love Thanksgiving dressing that includes sausage. Last year I shared a cornbread and pecan version, so wonderful! And this year Jones Dairy Farm, a Midwest company just across the state line in Wisconsin, asked me to create a recipe to be featured on their new site, StuffingandMore.com. If you're looking for Thanksgiving inspiration, there are more than 25 unique stuffing recipes, cooking tips, and a Stuffing vs. Dressing Poll. I'm a "dressing" sort of gal. How about you?!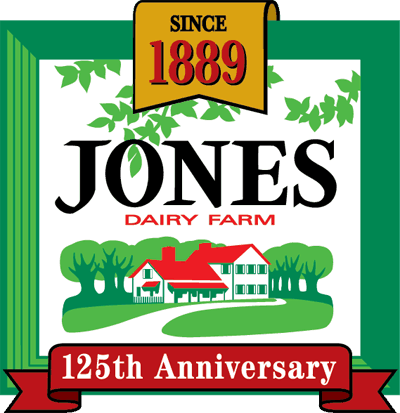 Jones Dairy Farm has been making great tasting, all-natural sausages, hams, and bacons for than 125 years using century-old recipes. In 1920, they became the first meat packing company to quick-freeze sausage. This technique locks in freshness and facilitates shipping throughout the U.S. and abroad without the need for chemicals or preservatives.
And that farmhouse you see on their packaging? It's much more than a nod to a simpler time on the farm. It's an illustration of the actual farmhouse on the Jones Dairy Farm complex in Fort Atkinson, Wisconsin, between Madison and Milwaukee. Family members still live in that house. Family-style meals still come out of its kitchen. Currently under the direction of Philip Jones, the sixth generation CEO and president, this company is proud of its heritage and committed to keeping things honest and real.
Check out more about the Jones Dairy Farm history and products, and follow along with them on Facebook and Twitter. For a $1.00 off coupon, click here.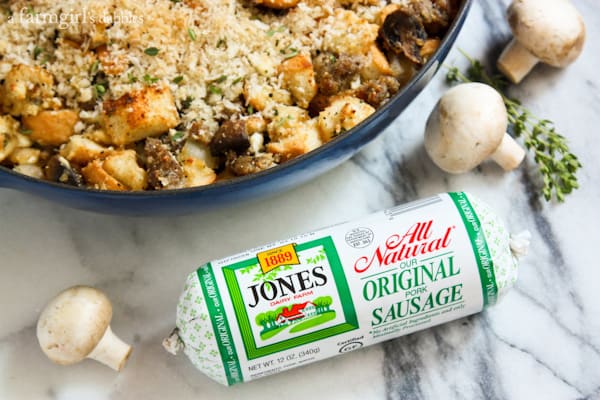 Jones Dairy Farm makes a plethora of beautiful all natural pork sausage products. I chose the sausage roll for my recipe, as I like those craggy chunks of browned pork sausage in my dressing. The sausage roll contains just 4 ingredients – pork, water, salt, and spices – a short and simple ingredient list.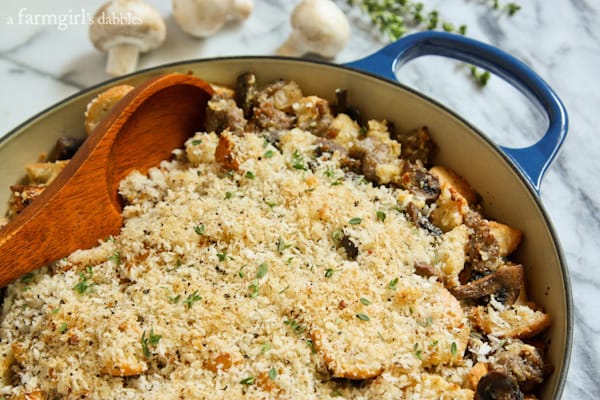 This dressing with Jones sausage is diverse in both flavor and texture.
A huge amount of flavor comes from first roasting mushrooms, an onion, and a whole bulb of garlic in the oven. Add to that the browned sausage, Parmesan, goat cheese, and fresh thyme, and you have one gorgeous flavor medley going on.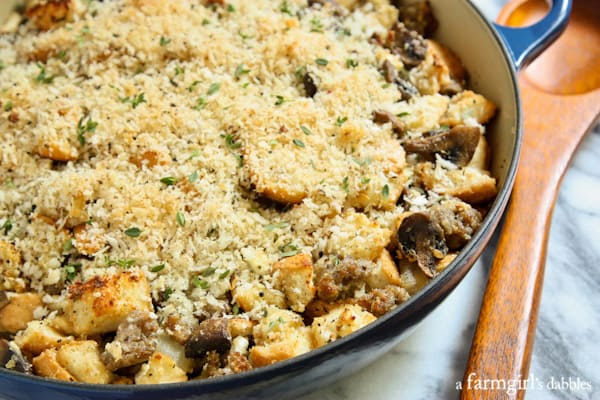 But the fun part of this dressing (did you know dressing can be FUN?!) comes from the garlic toast crumb topping. Crisp and light in texture, with a buttery garlicky yumminess, it wears the royal crown of this dish.
For my original RECIPE, click here. And may you enjoy a very blessed and delicious Thanksgiving with family and friends!
Disclaimer: This post is sponsored by Jones Dairy Farm. THANK YOU for reading a farmgirl's dabbles, and for supporting the companies that I carefully choose to partner with. Your support allows me to create more unique content and new recipes for you. As always, all opinions are my own.
We participate in the Amazon Services LLC Associates Program, an affiliate advertising program designed to provide a means for us to earn fees by linking to Amazon.com and affiliated sites. See our
disclosure policy
for more info.