Green Bean Casserole from Scratch
Learn how to make Green Bean Casserole – completely from scratch! With fresh green beans, bacon, fried shallots, and a creamy gravy, it's a holiday dinner must!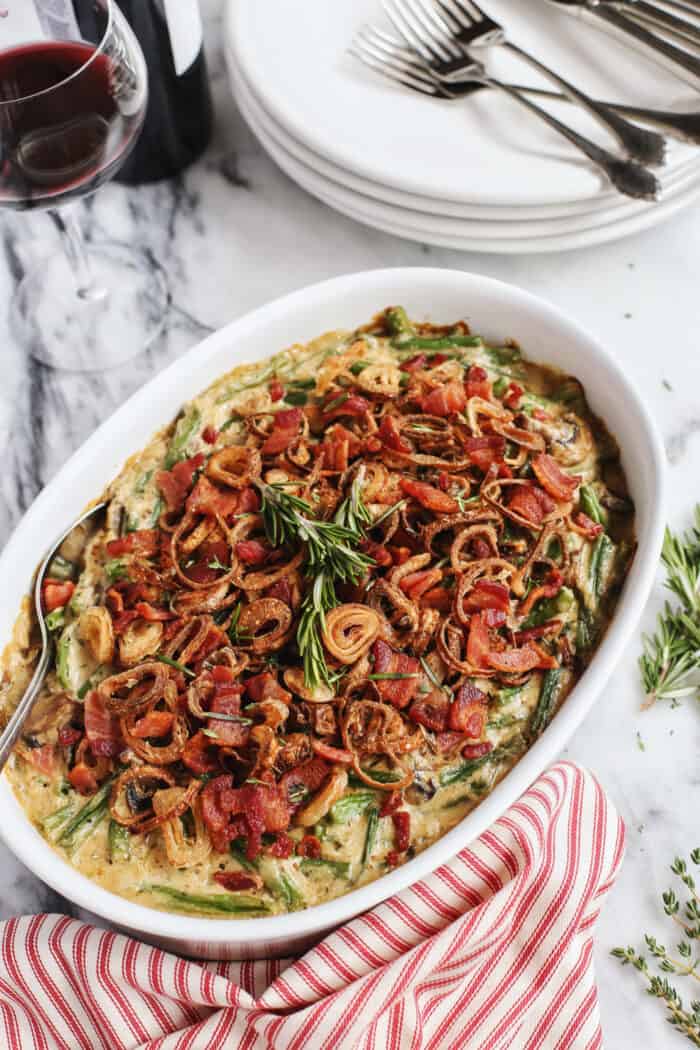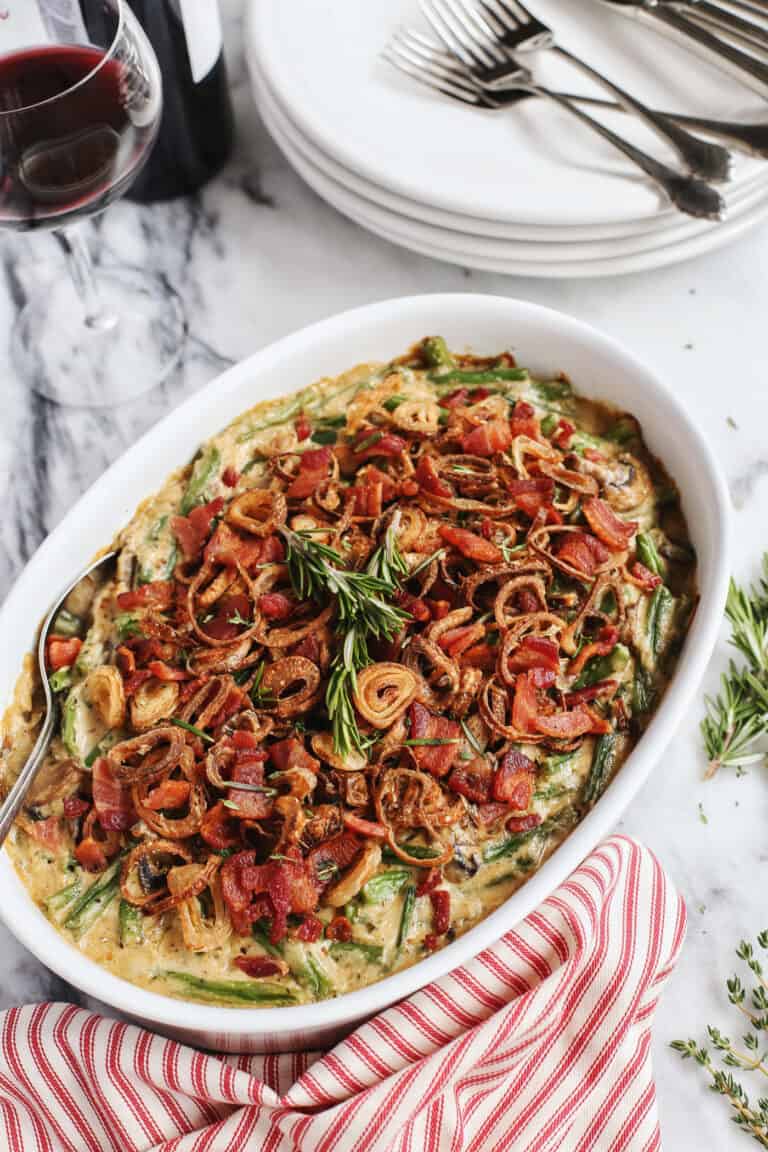 Green Bean Casserole From Scratch, For The Win!
For a number of Thanksgivings, I experimented with creating my own green bean casserole from scratch. With fresh green beans and mushrooms. And no canned cream soups…because homemade gravy is such a wonderful thing (and so easy to make!). I kept notes from year to year to year, making improvements and honing in on the prize.
Yes, I did receive some pushback from Blake during the process. That was to be expected. My husband's a diehard fan of the traditional green bean casserole-from-cans. He thought, "Why mess with a good thing?"
But you know me. I love playing around with old hotdish and casserole recipes, updating them with fresh new twists. And I simply couldn't rest until I got this one right.
It's true what they say. Good things – really good things – come to those who wait. This Green Bean Casserole from Scratch will have a place on our Thanksgiving table for many years to come. It's a total win!
You can also find this recipe over at The Pioneer Woman – check it out!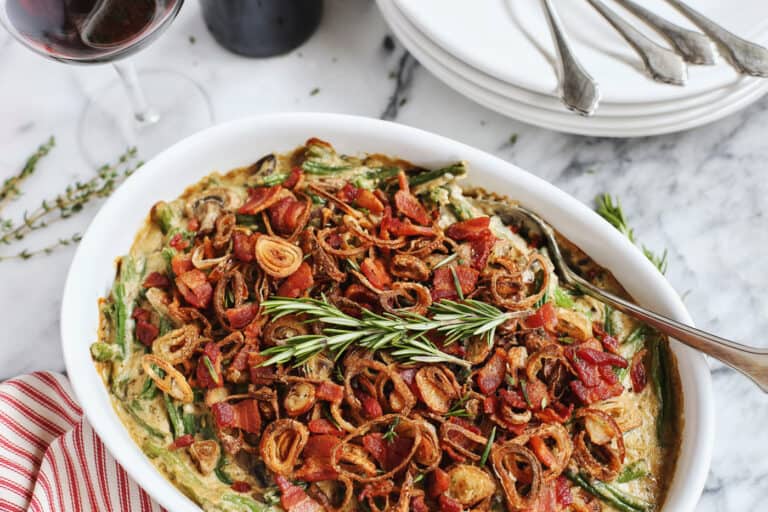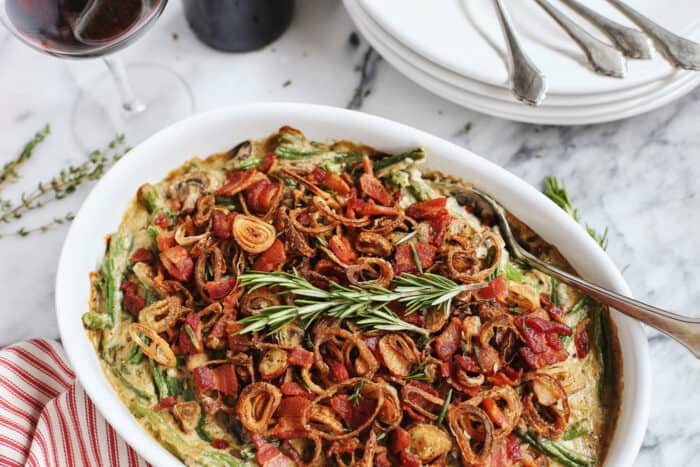 How Do You Make Green Bean Casserole With Fresh Ingredients?
I can't remember a single Thanksgiving meal without green bean casserole.
Oh. Wait. There was that one year when we were vacationing in Mexico, with no green bean casserole to be found. (Chips and guac were happily substituted, don't you worry!)
When it comes to this famous holiday side dish, you simply have no idea what you've been missing until you make it from scratch, with fresh ingredients.
Here's what's inside this casserole:
Fresh green beans
Fresh mushrooms
Homemade gravy – no cans of cream soup!
Homemade fried shallots
Bacon – yes, I said BACON!!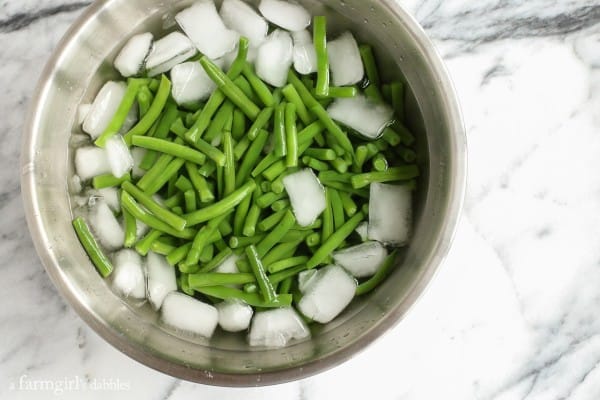 Use Fresh Green Beans for the Best Holiday Side Dish!
What I love best about this green bean casserole is the fresh green beans. They're one of my family's favorite vegetables, so this conversion was an easy sell in our house.
To prepare the green beans, simply cook them in a pot of boiling water for just a few minutes, until bright green and just tender crisp. Then plunge them into a bowl of ice water to stop them from cooking further.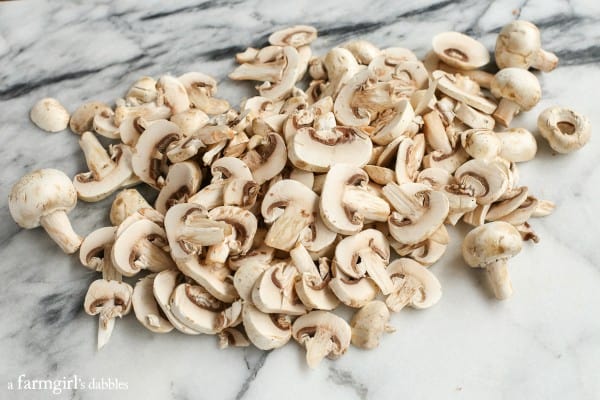 I'm also quite fond of fresh mushrooms.
I seem to keep adding more mushrooms each time I make this. Which doesn't make our youngest daughter very happy, but she's learned to just pick around them. We're all good. :)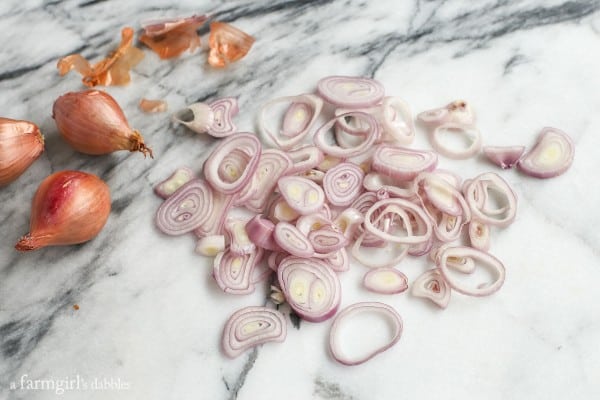 Slice up a few shallots, nice and thin, and then (mostly) separate them into rings.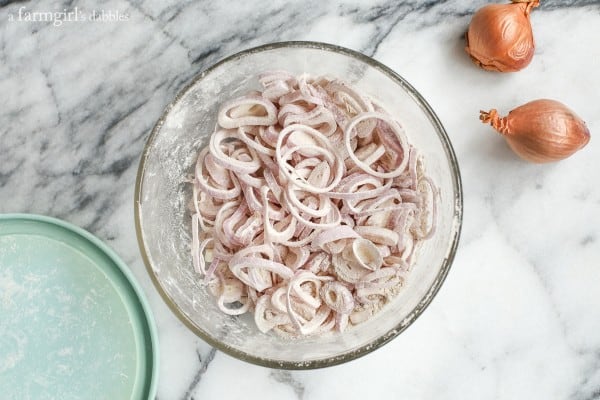 Then toss the shallots in a lightly spiced flour mixture.
Fry the shallots until lightly brown and crispy. If you like onion rings, you'll find it hard to resist snitching these fabulous little bites. I always make extra fried shallots and bacon, just so I can enjoy some while I'm cooking!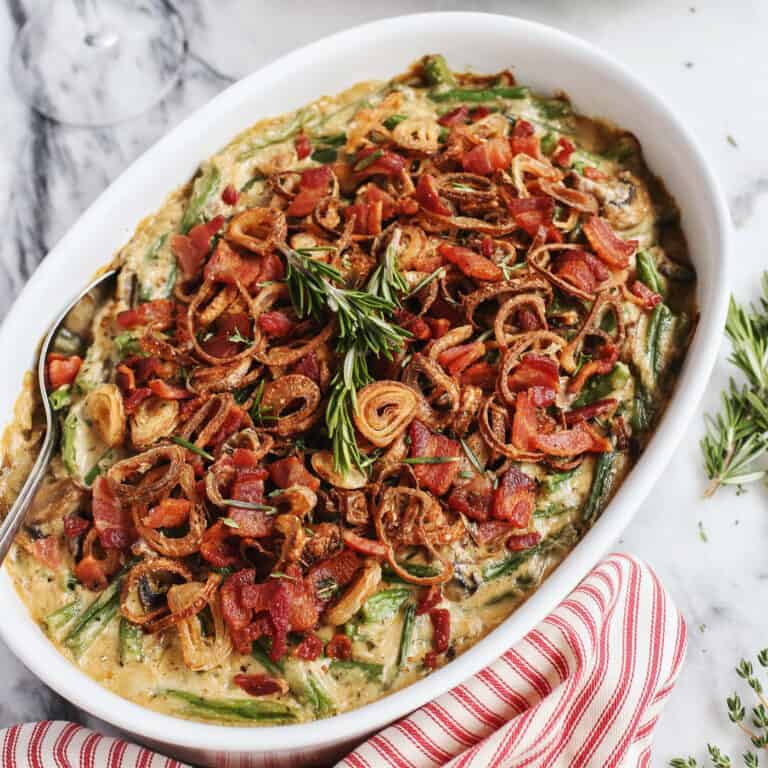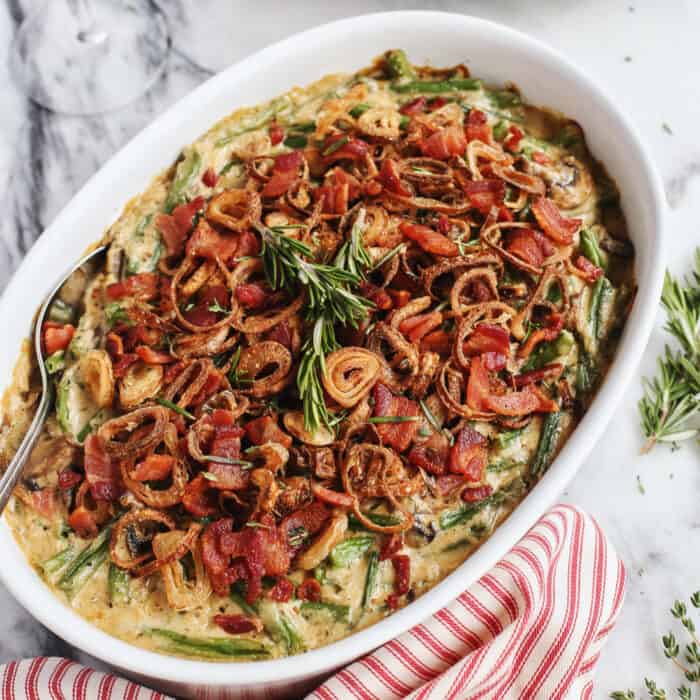 The homemade gravy is so easy to make – if you have cans of cream soup in your pantry, you might be tempted to get rid of them! The gravy is creamy and luscious, and beautifully flavored with fresh rosemary and thyme. It's absolutely perfect for hugging up all those bright, fresh green beans.
This homemade green bean casserole – topped with the awesomeness of savory bacon and fried shallots – has won over my family. Even my once skeptical husband.
More Thanksgiving Recipes
If you're looking for more great recipes for your Thanksgiving feast, I'm here for ya!
Like this recipe? Save it to Pinterest!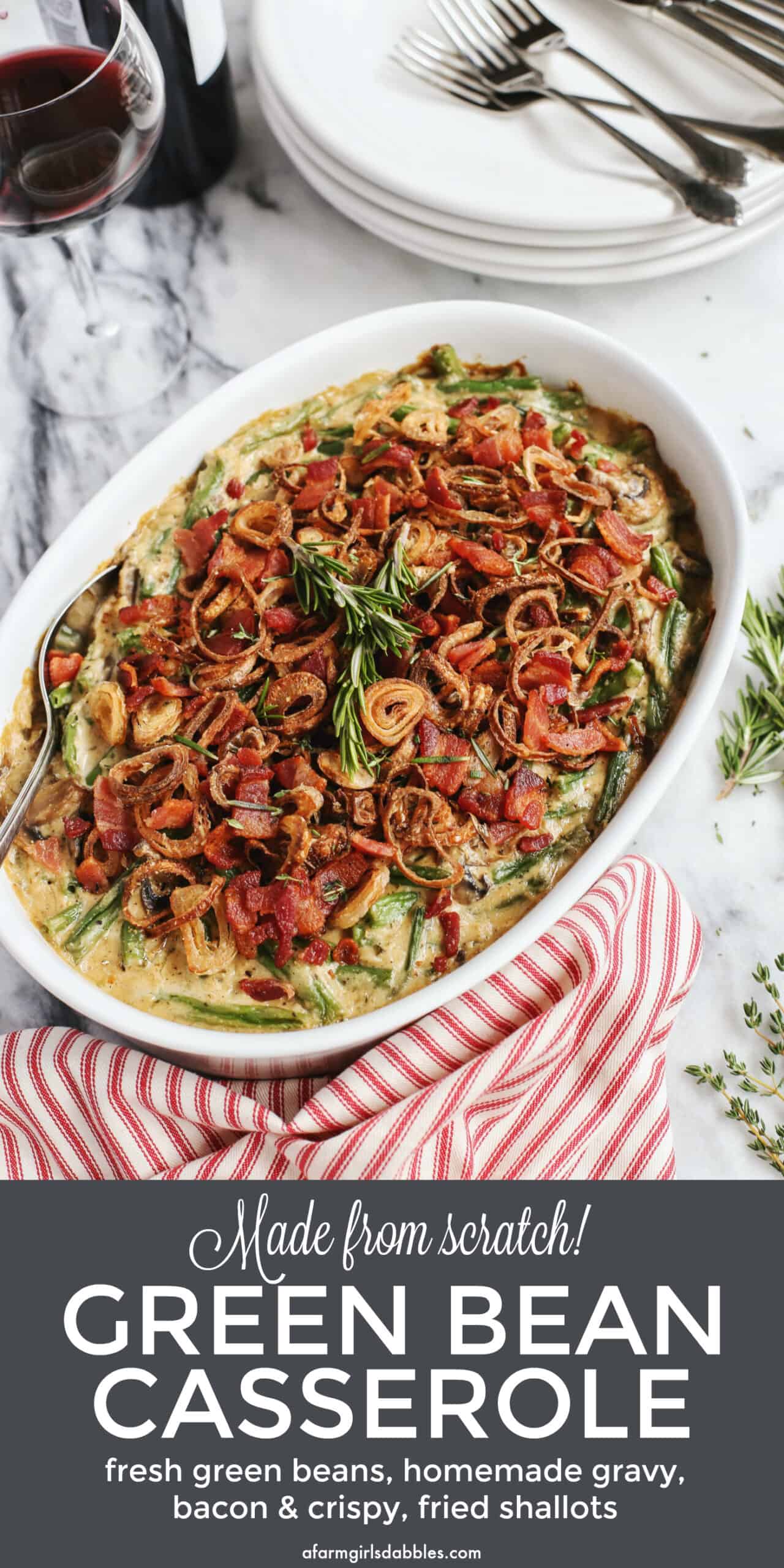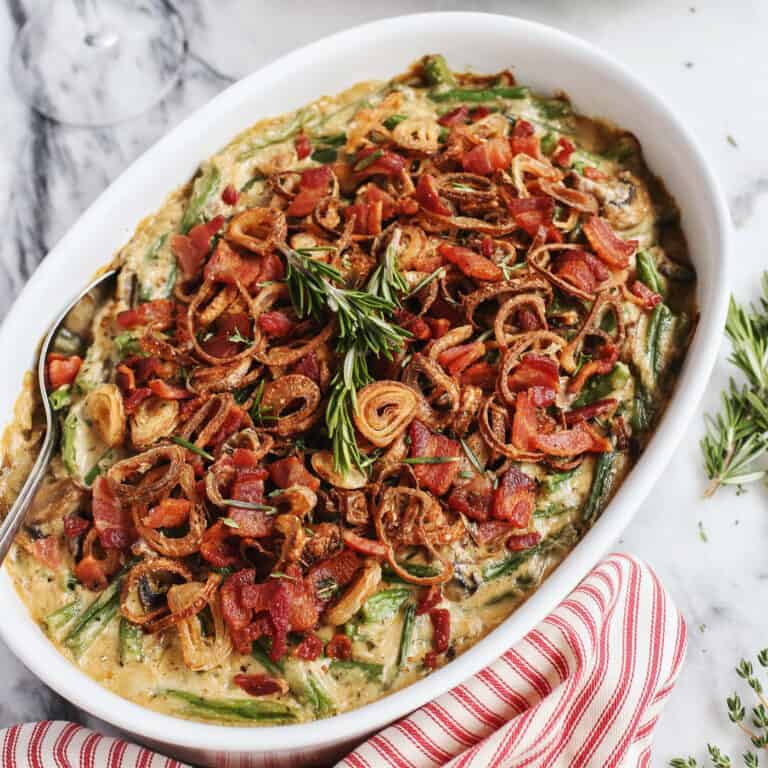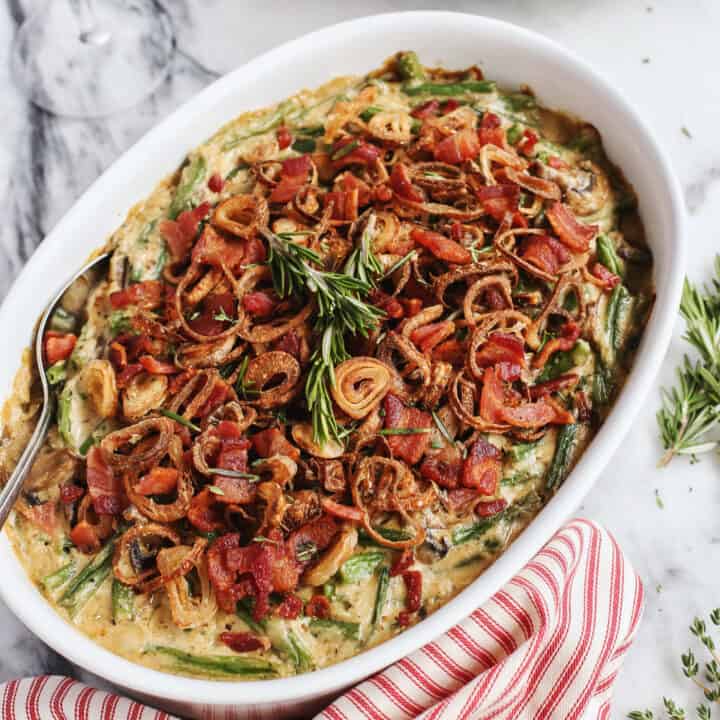 Green Bean Casserole from Scratch
A delicious homemade version of the classic holiday dish, with fresh green beans, a creamy homemade gravy, bacon, and crispy fried shallots!
Ingredients
for the fried shallots:
1/3 c. all-purpose flour
1/2 tsp. cayenne
1/2 tsp. garlic powder
1/4 tsp. kosher salt
1/4 tsp. black pepper
4 large shallots, peeled and thinly sliced into rings
canola or your favorite vegetable oil
for the green beans, bacon, and homemade gravy:
2.5 lbs. fresh green beans, trimmed and halved (use 2 lbs. if you like a larger gravy to beans ratio)
8 oz. bacon
6 T. unsalted butter, divided
16 oz. sliced button mushrooms (for more mushroom flavor, use cremini variety)
1/3 c. finely chopped shallots
3 large cloves garlic, minced
1/2 c. all-purpose flour
1 c. low-sodium chicken stock
2 c. half and half
2 T. soy sauce
1 T. Worcestershire sauce
2/3 c. grated Parmesan cheese
2 tsp. chopped fresh rosemary
2 tsp. chopped fresh thyme
kosher salt and freshly ground black pepper, to taste
Instructions
For the fried shallots: In a medium bowl that has a lid, whisk together flour, cayenne, garlic powder, salt, and black pepper.
Add sliced shallots. Place lid tightly on bowl and shake the bowl a few times to evenly coat shallots with flour mixture.
Pour canola oil into a medium saucepan to a 1" depth and place over medium-high heat. Heat to 325° F, using a deep-frying thermometer.
Fry shallots in batches until golden brown and lightly crispy. Take care to not let them get too dark, as they will also bake for a bit in the oven on top of the casserole. This should take about 3 to 5 minutes per batch. Transfer to a paper towel lined baking sheet. Sprinkle lightly with kosher salt and set aside.
For the green beans, bacon, and homemade gravy: Preheat oven to 375° F.
Bring a large pot of salted water to a boil and add green beans. Cook beans for 2 to 3 minutes, until bright green in color and tender crisp. Drain beans and pour into a large bowl of ice water to stop from cooking. Drain again and set aside.
In an extra-large skillet with tall sides, over medium to medium-high heat, fry bacon until chewy-crisp. Transfer bacon from skillet to a paper towel lined plate to drain and cool. Once bacon has cooled, roughly chop and set aside.
Discard all but 2 tablespoons of the bacon fat from the skillet. Return skillet to stove top over medium heat. Add 2 tablespoons of the butter to the skillet. Once butter is melted, add the mushrooms and stir to incorporate. Cook, stirring regularly, until mushrooms are softened. Add chopped shallots and garlic, stirring to incorporate. Cook for another 2 to 3 minutes, until garlic is fragrant.
Now slide everything in the skillet to one side. Add remaining 4 tablespoons of butter to other side of skillet. When the butter is melted, sprinkle the flour over the butter, whisking all the while. A flat whisk works awesome here. Draw in as much liquid as you can, into the flour. The mixture will be very thick. Let it cook for one minute, until slightly browned and fragrant. Slowly whisk in chicken stock until flour mixture is smooth. Then whisk in the half and half. Now bring the entire contents of the skillet together, scraping the bottom of the skillet, and folding to incorporate. Turn heat up to medium-high and cook until thickened and bubbly, about 4 to 5 minutes, stirring periodically.
Remove skillet from heat. Stir in soy sauce and Worcestershire sauce. Then sprinkle Parmesan, rosemary, and thyme over the top and stir to combine. Now is the time to taste test and add more salt and pepper, if desired. I usually add about 1/2 teaspoon of salt and 1/4 teaspoon of black pepper at this point.
Fold in blanched green beans. Transfer mixture to a large baking dish and place in oven for 30 minutes. Remove casserole from oven and arrange fried shallots and chopped bacon over the top, leaving green beans exposed around the perimeter of the dish. Place in oven and bake for another 5 to 10 minutes, or until edges of casserole are bubbling and the top is golden. Remove from oven and let rest for a few minutes before serving.
Notes
To prepare (mostly) ahead of time: Simply fry the bacon, chop, place in a container, and refrigerate. Fry the shallots, place in a container, and refrigerate. And prepare the casserole all the way up to placing it in a baking dish. Cover and refrigerate. Remove casserole, bacon, and shallots from refrigerator 30 minutes prior to baking. Place foil over the dish and bake for 30 minutes at 375° F. Then remove foil and bake for another 5 or 10 minutes, or until center is hot (dip a spoon into the center to test) and edges are just starting to bubble. Then top with bacon and fried shallots and bake for another 5 to 10 minutes, or until casserole edges are bubbling. To crisp up the shallots, place under broiler for a minute or two.
Nutrition Information:
Yield: 8
Serving Size: 1
Amount Per Serving:
Calories: 466
Total Fat: 29g
Saturated Fat: 14g
Trans Fat: 0g
Unsaturated Fat: 14g
Cholesterol: 79mg
Sodium: 1084mg
Carbohydrates: 33g
Fiber: 7g
Sugar: 11g
Protein: 20g
Nutrition information is automatically calculated by Nutritionix. I am not a nutritionist and cannot guarantee accuracy. If your health depends on nutrition information, please calculate again with your own favorite calculator.
This post was originally published in 2015, and then updated in 2020.