Candied Carrots
Tossed in a mixture of cinnamon, brown sugar, and honey, these Candied Carrots are perfectly sweet and savory. A quick & easy side dish for Easter, Thanksgiving, or Christmas – or ANYTIME!!
The Honey Best Glazed Carrots
This candied carrots recipe is one of my favorite easy side dishes for holiday meals – I especially like to serve it for Easter and Thanksgiving! It also makes a frequent appearance for weeknight dinners as well.
I learned about these delicious glazed carrots from my mom, who likes to add brown sugar and cinnamon to her cooked carrots. I added in some honey with this recipe, for a bit more texture and decadence – these carrots are always a hit!
For a less sweet and more savory version, check out my honey garlic carrots too. And if you need more holiday side dish inspiration, check out my buttermilk mashed potatoes and parsnip puree.
Why You'll Love These Candied Carrots
Sweet and savory. The honey glaze is spiced abundantly with cinnamon and plays so beautifully with the sweet, earthy flavor of carrots.
Quick and easy. This dish is quick and easy to prepare, with fresh carrots + a few common kitchen staples, and mostly hands-off prep time.
Perfect for the holidays. These honey glazed carrots are one of the few dishes I make for nearly every holiday, including Easter and Thanksgiving.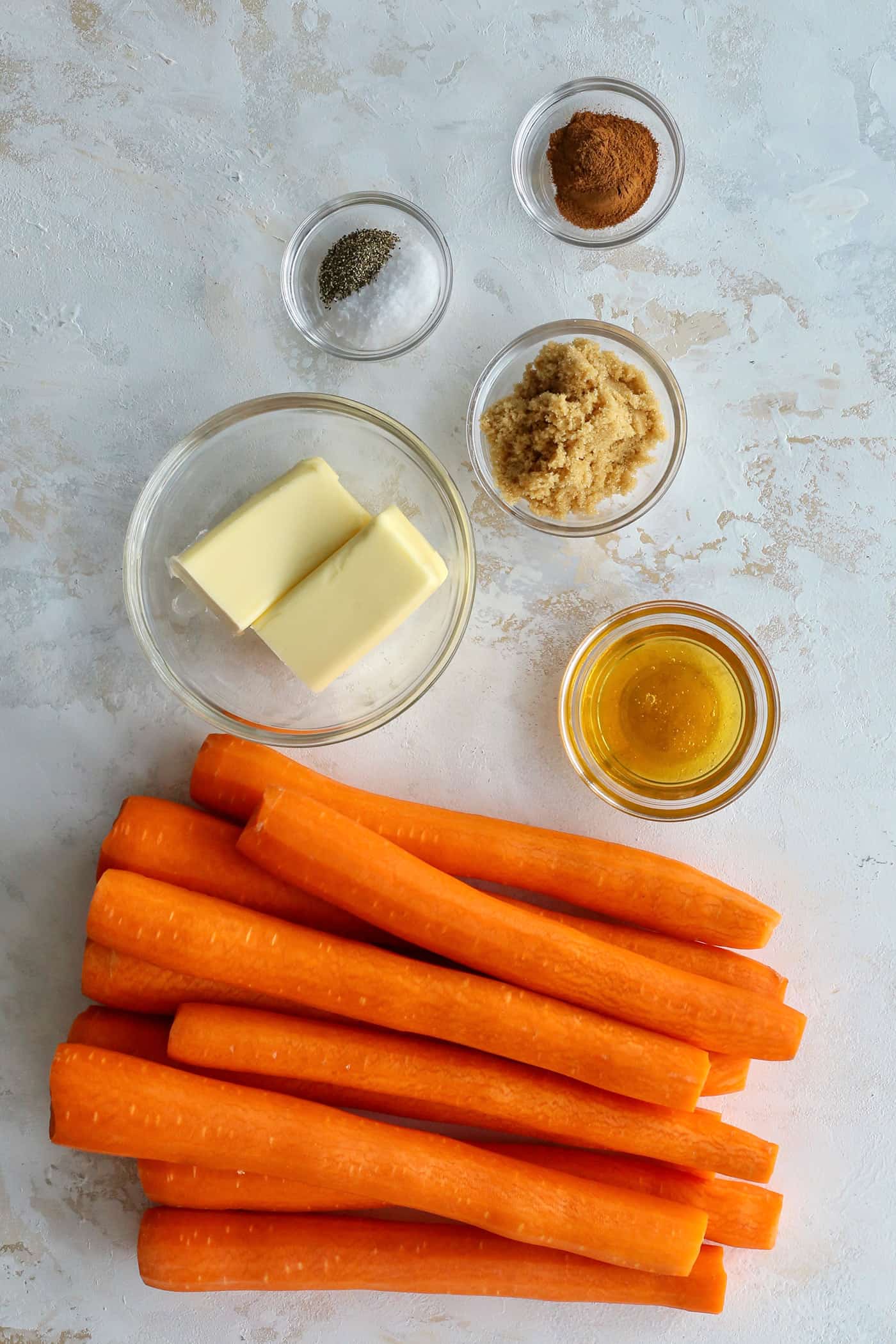 What You'll Need
You only need 7 ingredients, including salt & pepper, for this easy vegetable side dish! Scroll down to the recipe card for exact measurements.
Unsalted butter – Since we're adding salt to the recipe, I prefer unsalted butter to control the flavor.
Carrots – Peel and slice diagonally into 1/2″ pieces.
Salt – A great contrast to the sweetness of the other ingredients.
Honey – Creates the sweet glaze.
Brown sugar – The brown sugar adds another level of sweet flavor.
Cinnamon – I'm a big fan of cinnamon. And I don't hold back in this recipe!
Pepper
How to Make Candied Carrots
Here's a quick overview of how to make honey glazed carrots. Scroll down to the recipe card for more detailed instructions.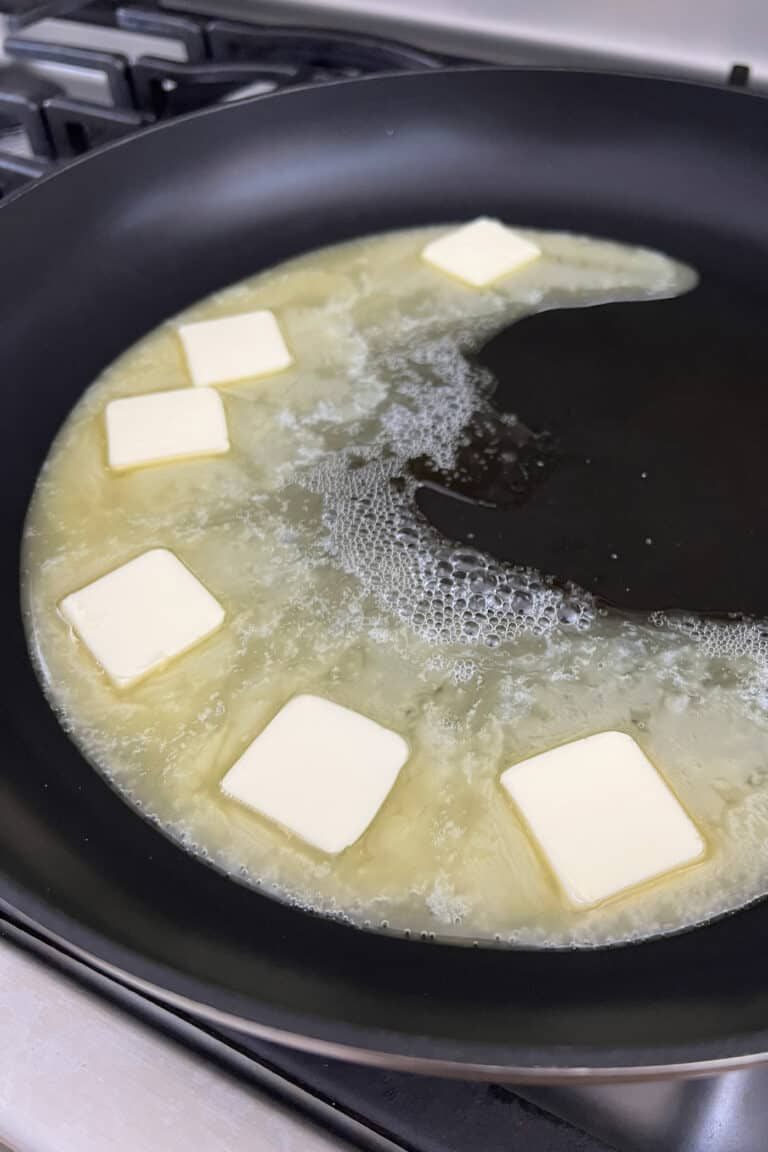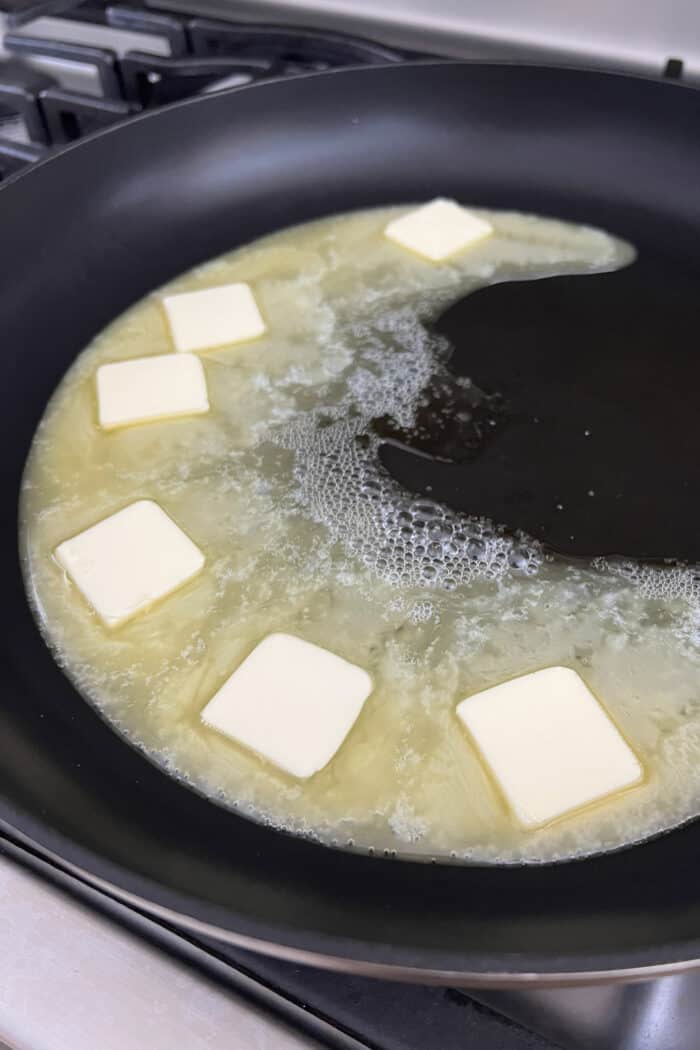 Cook the carrots. Melt better in a skillet. Add the carrots. Cover and cook for 25 minutes, then remove the cover and continue cooking for 5 to 10 minutes, or until fork tender.
Add the other ingredients. Add the remaining butter, honey, brown sugar, cinnamon, salt, and black pepper to the carrots. Increase the heat and cook until the honey glaze is syrupy and thickened. That's it!!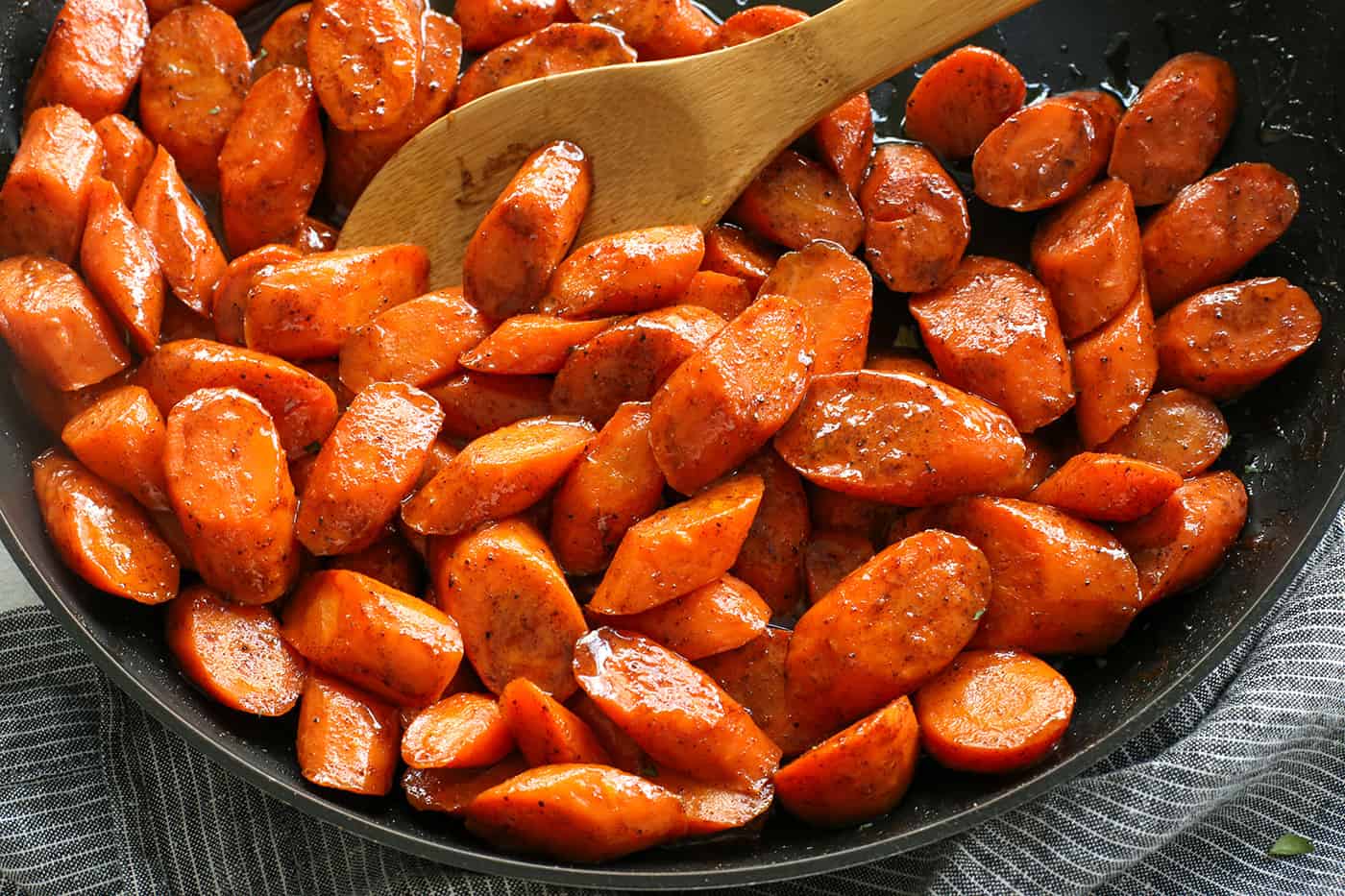 Tips & Variations
Here are some tips and tricks to making the perfect glazed carrots every time.
Cut carrots thinner if needed (or if desired!). If any of the carrots are exceptionally large, cut them slightly thinner than 1/2″, so they cook more evenly. I like the big chunks of carrots, but if you prefer smaller bites then cut them accordingly. Smaller pieces will take less time to cook.
Keep an eye on the honey. Once you increase the heat, watch to make sure the honey doesn't overcook and take on a burnt texture and flavor.
Taste test. Once the glaze has thickened, give the carrots a quick taste test to see if you'd like more salt. While you don't want them to be overly salty, don't under-salt either.
Can I use baby carrots instead? If you want to use baby carrots instead of slicing regular carrots, that will work perfectly fine in this recipe.
Switch up the seasoning. I love the combo of cinnamon, honey, and brown sugar for flavor. However, you can also add flavors like nutmeg and ginger, and then garnish the dish with thyme or parsley.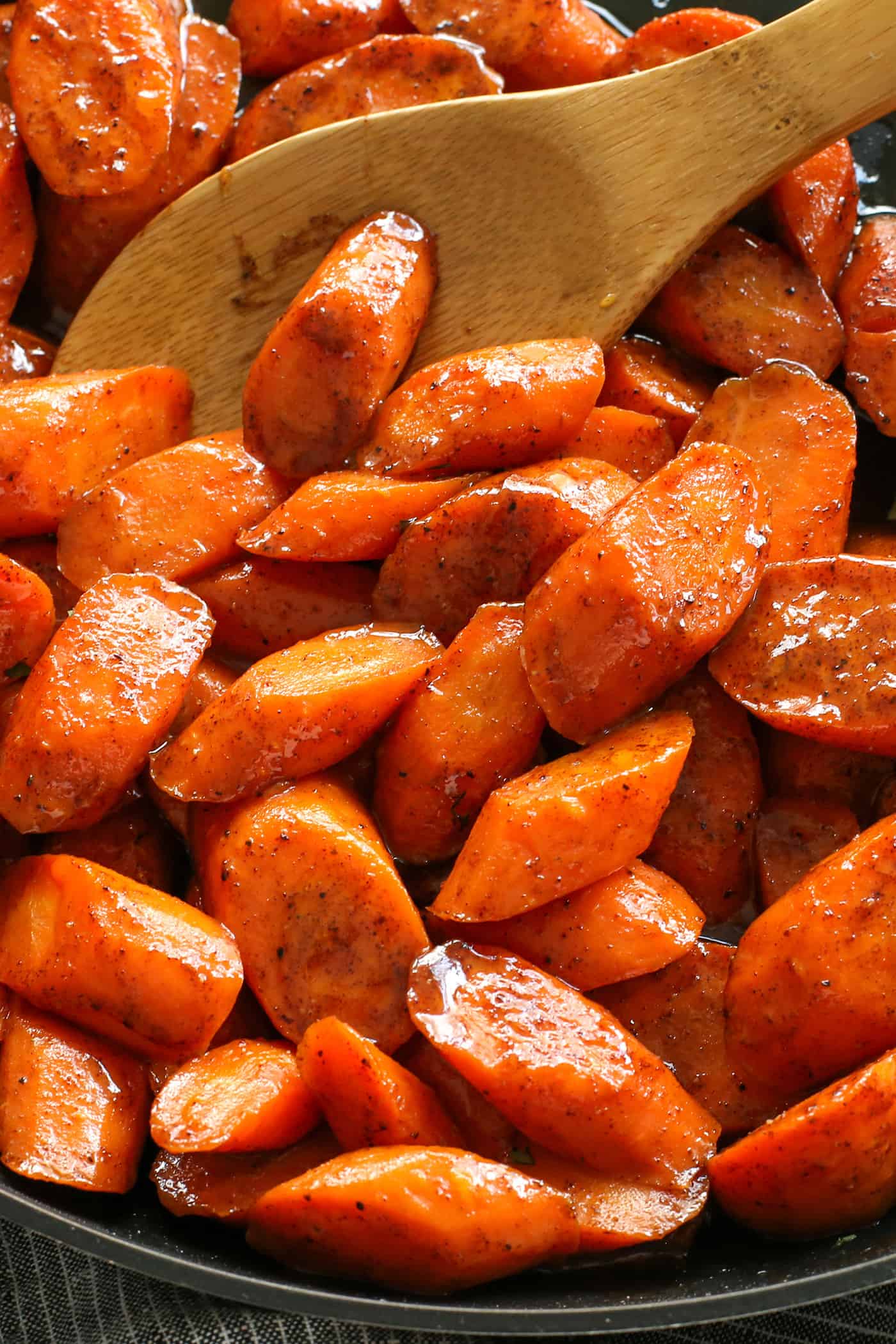 Serving Suggestions
These honey glazed carrots always make a great Easter side dish, but they're also great for Thanksgiving, Christmas, and even non-holidays as well. They pair well with main courses such as smoked turkey or turkey tenderloin, a holiday ham, mustard pork loin roast, or stuffed pork chops.
For a non-holiday meal (or untraditional holiday meal), they'd also pair amazingly with some sugar grilled steaks, easy grilled pork chops, or baked pork chops & stuffing.
As far as other side dishes to serve with these carrots, mashed potatoes and baked potatoes are always a great choice!
How to Store & Reheat Leftovers
Fridge. Leftover candied carrots can be refrigerated for up to 5 days.
Freezer. You can also freeze your glazed carrots in a freezer-safe container for up to 3 months.
Reheat. They reheat perfectly in the microwave, though you can reheat them on the stovetop as well.
More Holiday Side Dish Recipes
Like this recipe? Save it to Pinterest!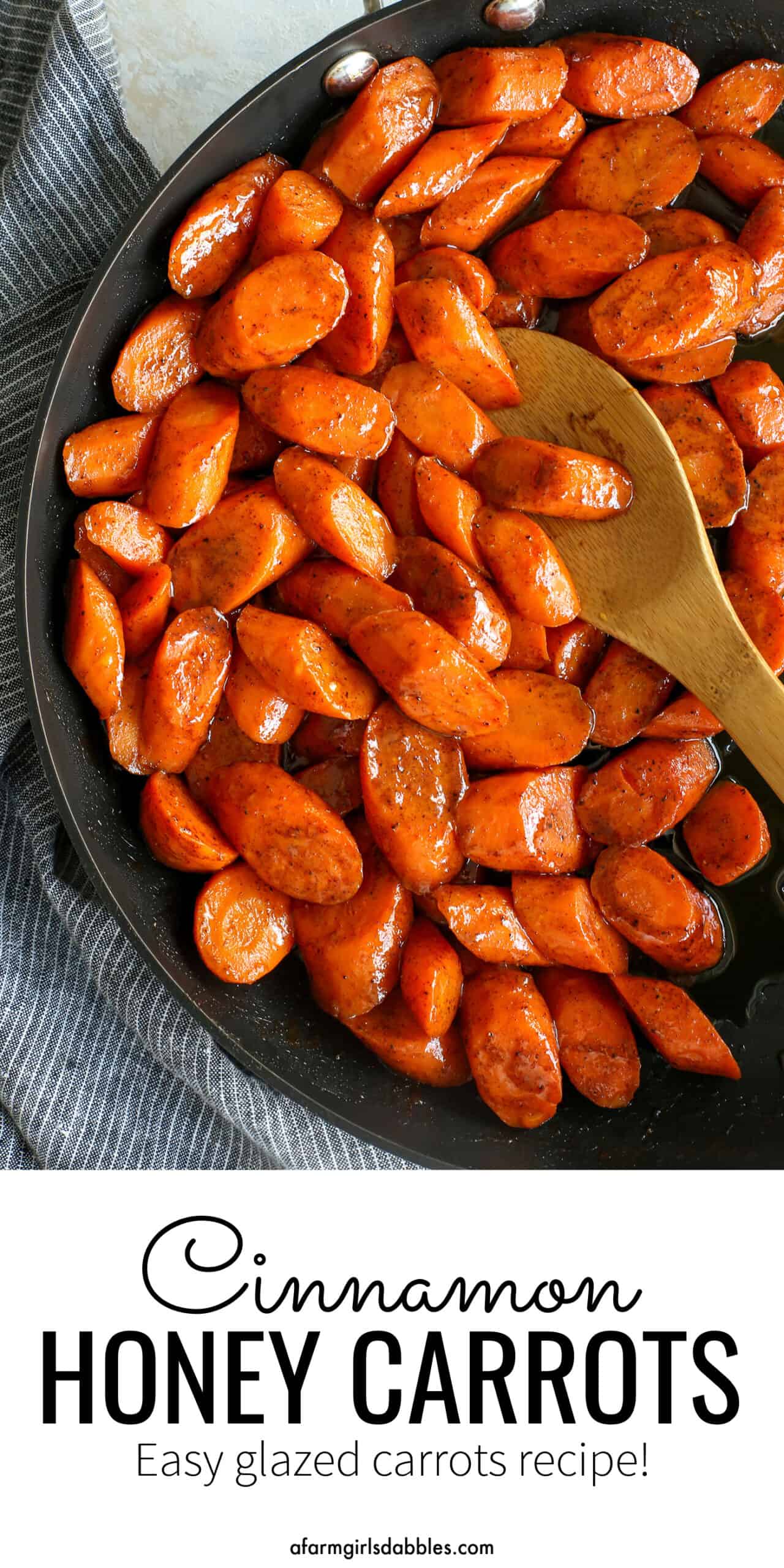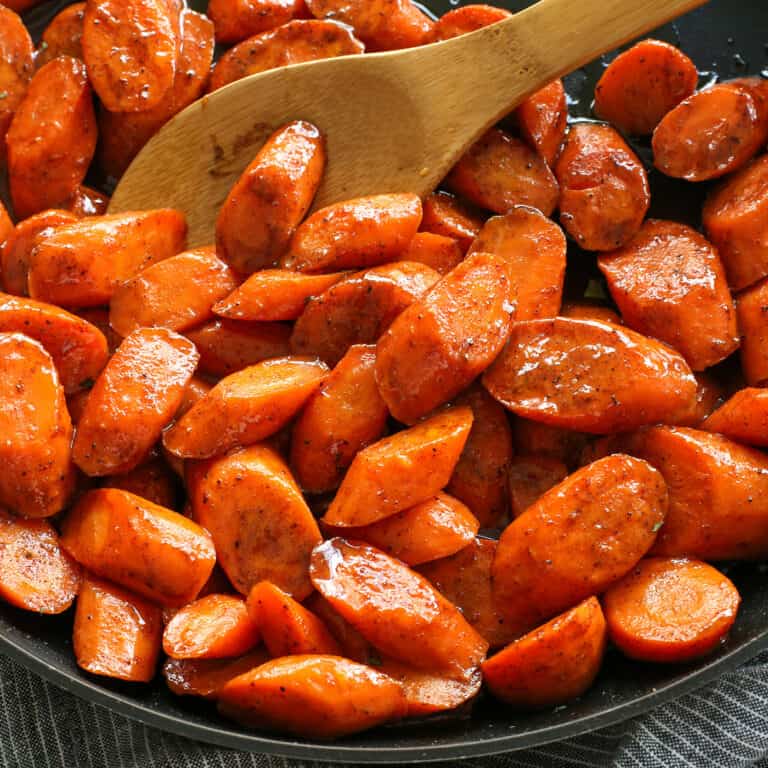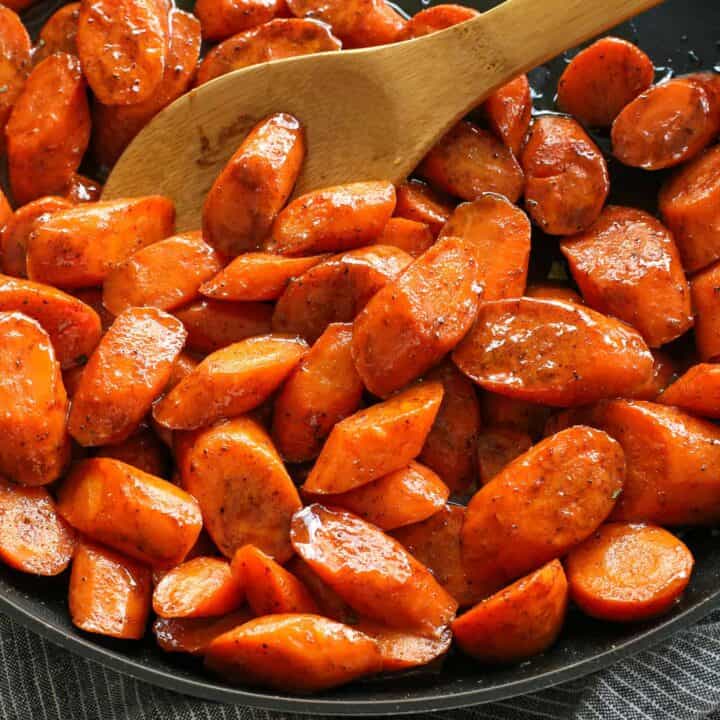 Candied Carrots
Yield: 8 servings
Prep Time: 10 minutes
Cook Time: 35 minutes
Total Time: 45 minutes
Tossed in a mixture of cinnamon, brown sugar, and honey, these Candied Carrots are perfectly sweet and savory. A quick & easy side dish for Easter, Thanksgiving, or Christmas - or ANYTIME!!
Ingredients
1/2 cup unsalted butter, divided
3 pounds carrots, peeled and sliced into 1/2" pieces on the diagonal (if you have especially large carrots, slice them a bit thinner)
2 tablespoons honey
2 tablespoons brown sugar
1.5 teaspoons cinnamon
1.5 teaspoons kosher salt
1/2 teaspoon black pepper
Instructions
Heat a 12" skillet over medium heat. Add 6 tablespoons of the butter. Once butter melts, add carrots, and stir to coat. Place cover on skillet and cook for 25 minutes.
Remove cover and cook for 5 to 10 minutes more, stirring occasionally, until carrots are fork tender. If your carrot pieces are on the large side, you may need to cook a bit longer.
Add remaining 2 tablespoons of butter, plus honey, brown sugar, cinnamon, salt, and black pepper. Bump up the heat just a bit, to medium-high, and cook for another 3 to 5 minutes until honey mixture is syrupy and thickened. Taste test and add more salt if needed. Serve warm.
Nutrition Information:
Yield: 8
Serving Size: 1
Amount Per Serving:
Calories: 189
Total Fat: 12g
Saturated Fat: 7g
Trans Fat: 0g
Unsaturated Fat: 4g
Cholesterol: 31mg
Sodium: 337mg
Carbohydrates: 22g
Fiber: 5g
Sugar: 13g
Protein: 1g
Nutrition information is automatically calculated by Nutritionix. I am not a nutritionist and cannot guarantee accuracy. If your health depends on nutrition information, please calculate again with your own favorite calculator.