Quick Pickled Carrots
These sweet Quick Pickled Carrots can be jarred and chilling in your fridge in no time at all. No special canning equipment or processing is needed. If you can boil water, you can make pickled carrots!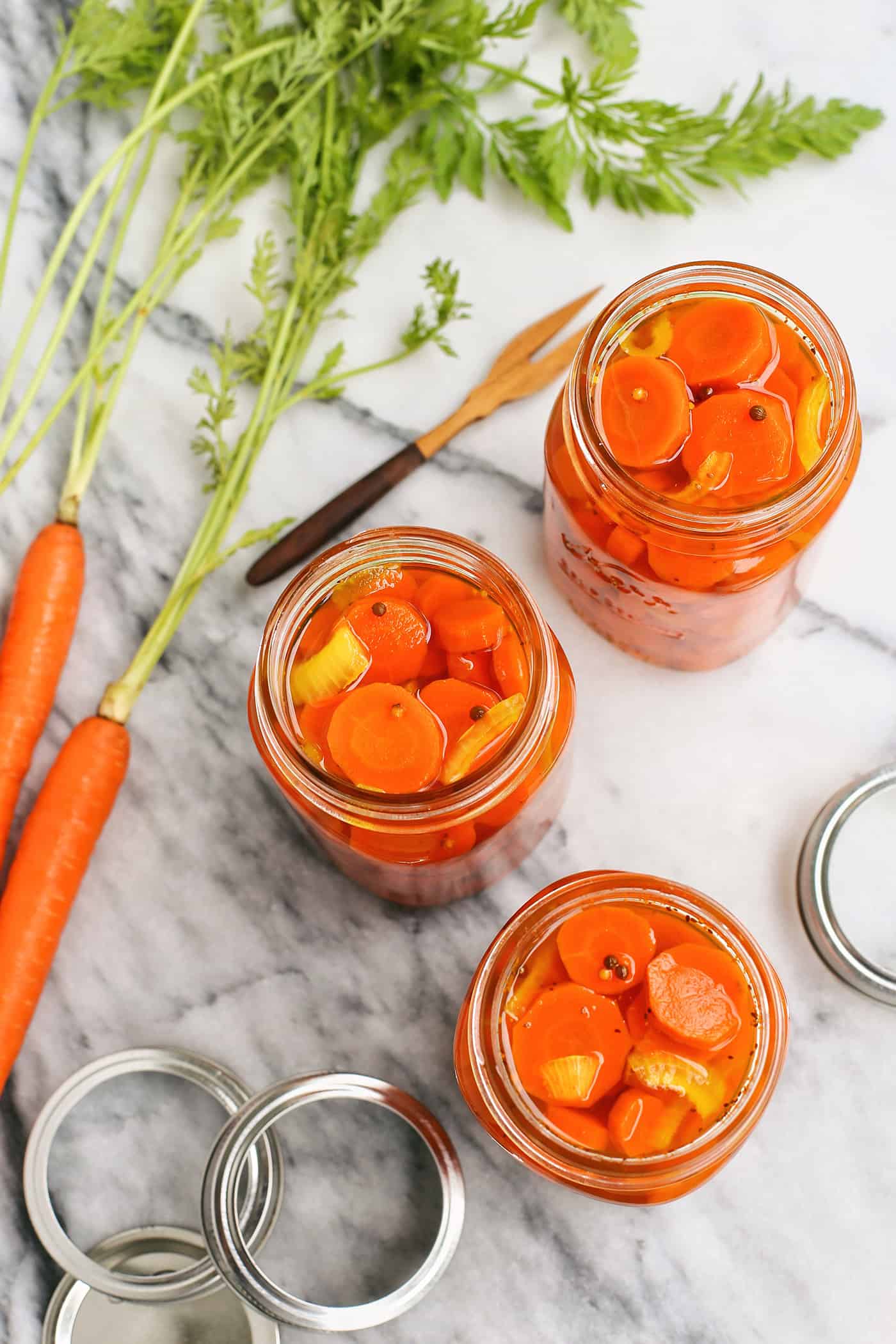 Sweet Pickled Carrots
These sweet, easy Pickled Carrots became a household staple when our daughter Tessa began to share my love for pickled vegetables. She was about five years old, and I remember sitting with her on the stools at our kitchen countertop, feeling so proud of her as she asked for a second and third helping. Until that time, I had been the lone pickle lover in the house!
I have no problem admitting to you that oftentimes my lunch consists solely of pickled vegetables. It's true. A small bowl piled high, crispy and vinegary and sweet. When these pickled carrots are in the fridge, I'm constantly snacking on them and adding them to every meal possible!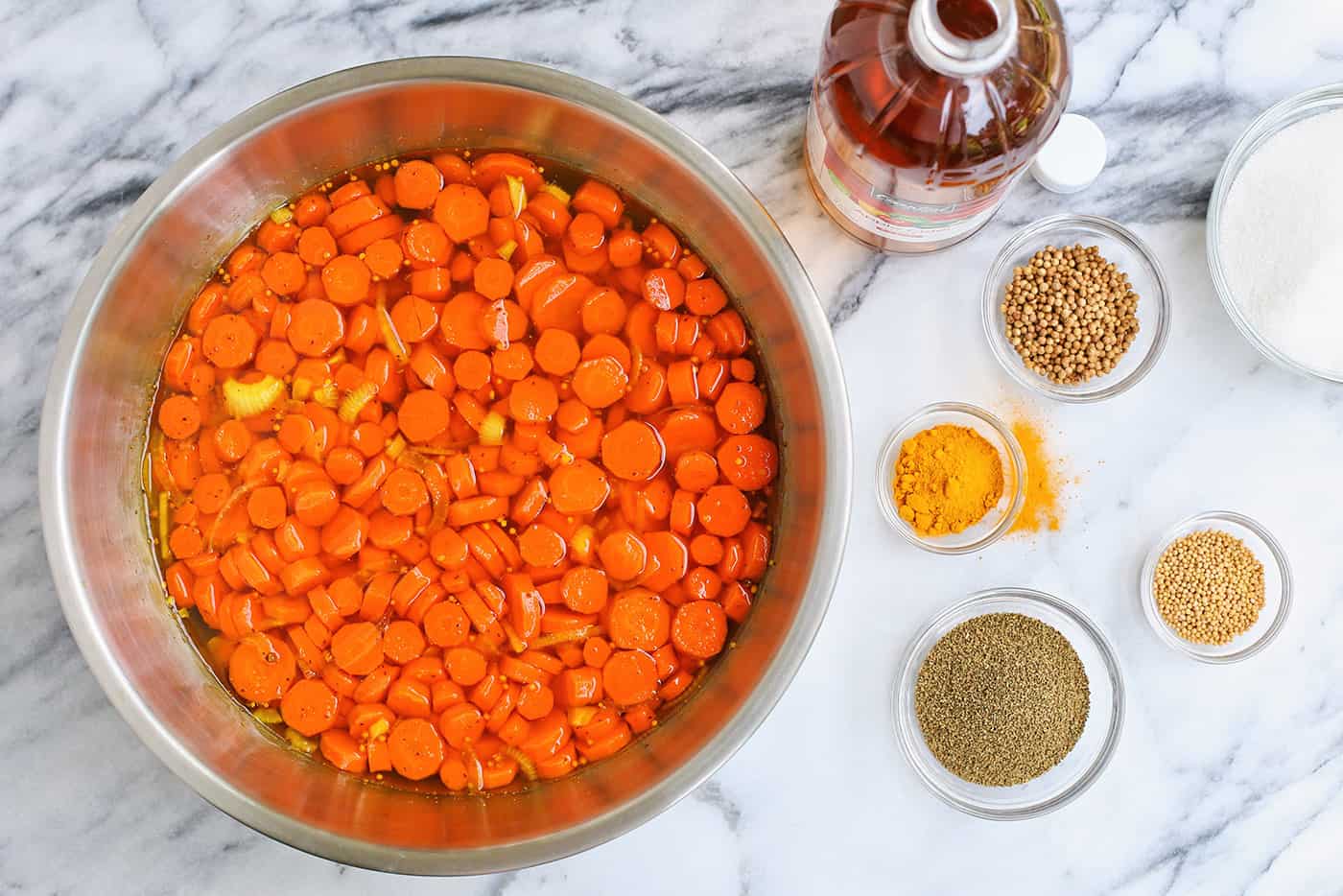 What You'll Need
If you like sweet pickles (any bread & butter pickle fans out there?!), I have a hunch you'll like this pickled carrots recipe. To make these pickled carrots, grab a handful of fresh carrots, plus cider vinegar, sugar, and some seasonings!
Carrots – Carrots should be peeled before pickling.
White Onion – Onion adds flavor to the pickled carrots.
Water
Cider Vinegar – Provides the pickled tang.
Sugar – These pickled carrots are perfectly sweet – not spicy!
Seasonings – For the flavor of these carrots, I use yellow mustard seeds, celery seeds, coriander seeds, turmeric, ginger, and salt.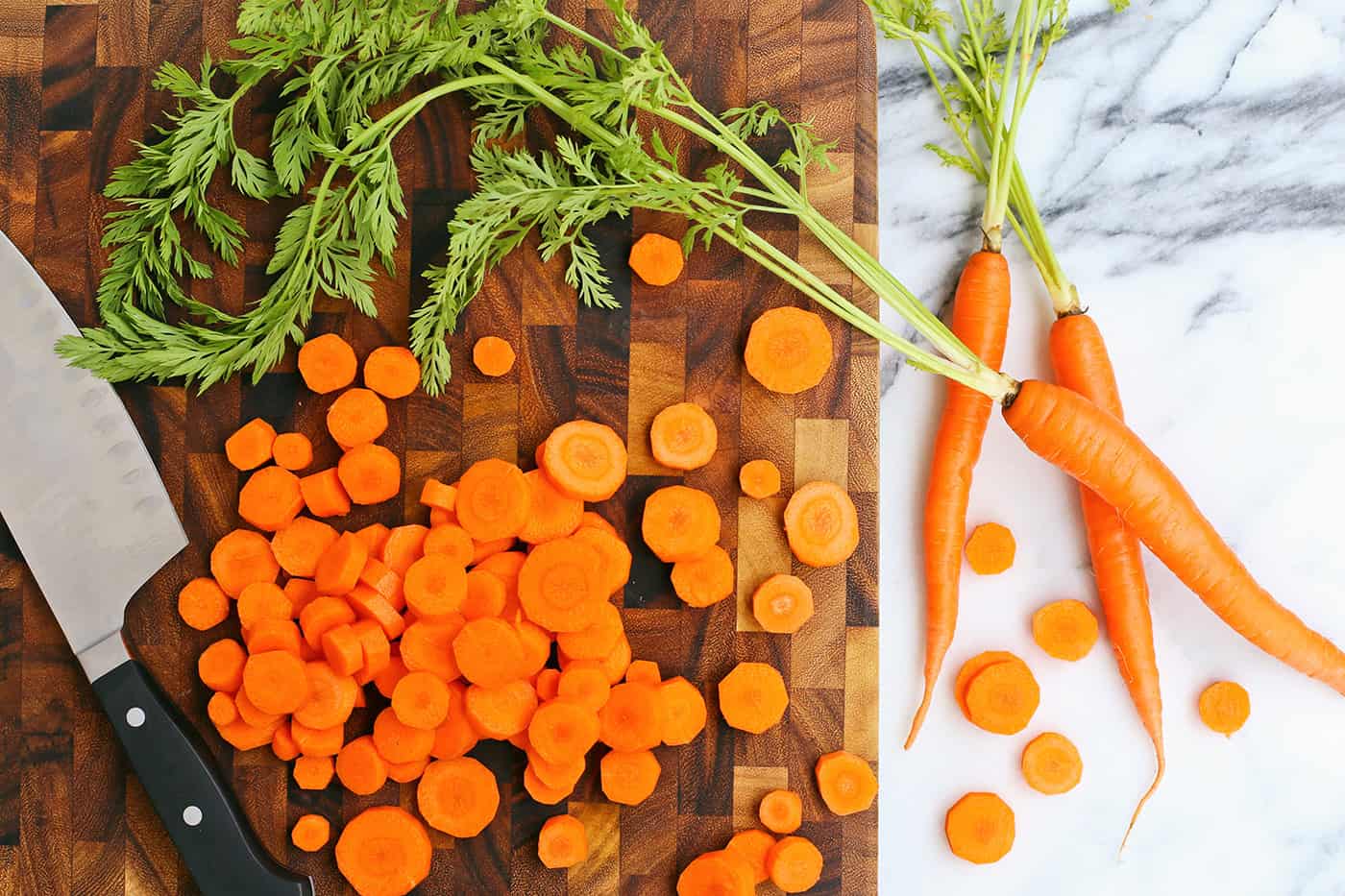 How to Make Quick Pickled Carrots
The best part is that these quick pickled carrots can be jarred and chilling in your fridge in no time – there's just 30 minutes of hands-on time to this recipe. No special canning equipment or processing is needed either. It's no exaggeration to say that if you can boil water, you can make quick pickled carrots!
Cook the carrots. Add carrots to boiling water and cook until just oftened. Drain and transfer to a large bowl. Add the onion and set aside.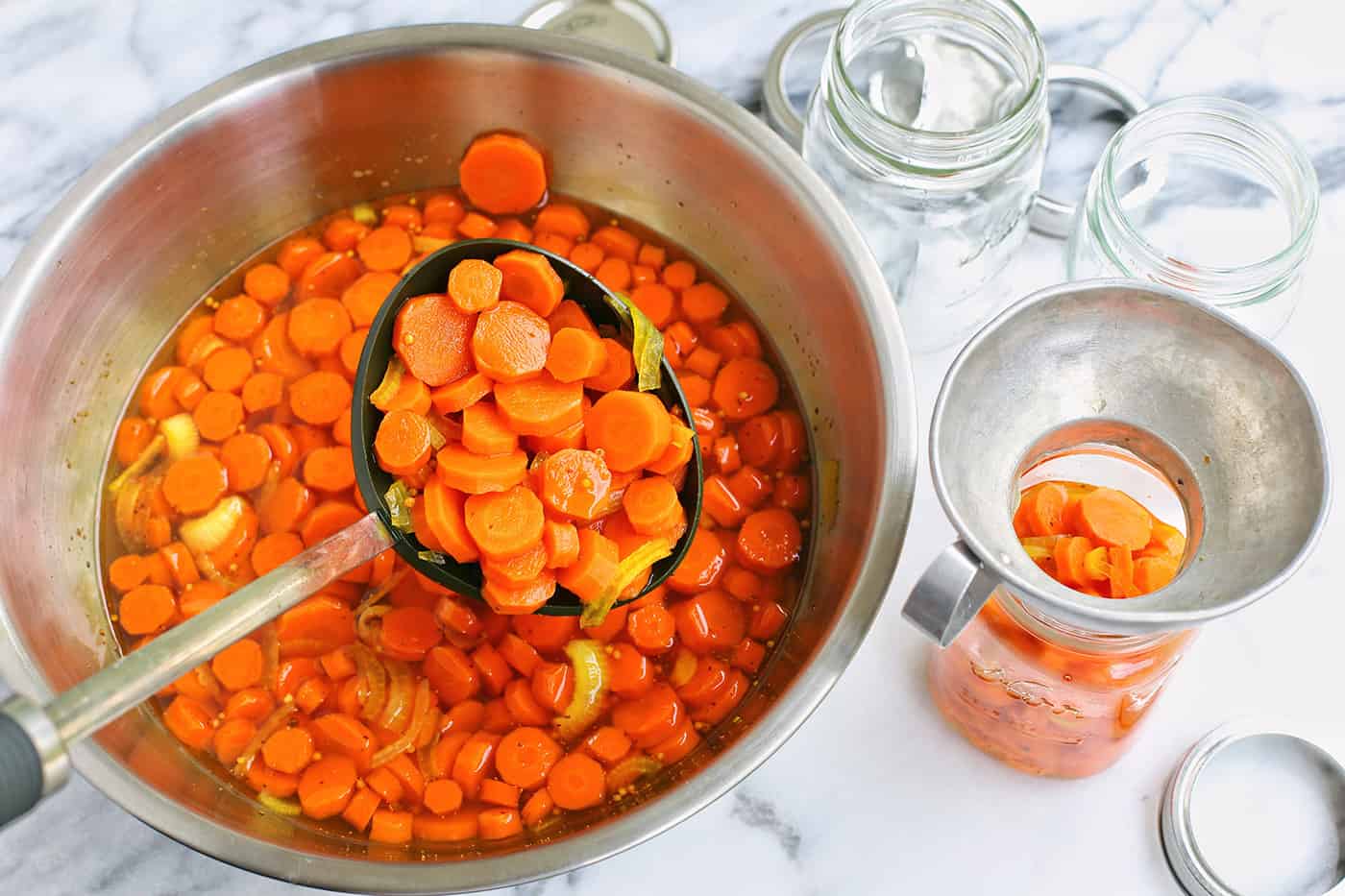 Prepare the pickling brine. Combine remaining ingredients and bring to a boil. Reduce to a simmer until sugar is dissolved. Pour over carrots and onions. Allow to cool to room temperature then divide into pint jars. Seal tightly and refrigerate.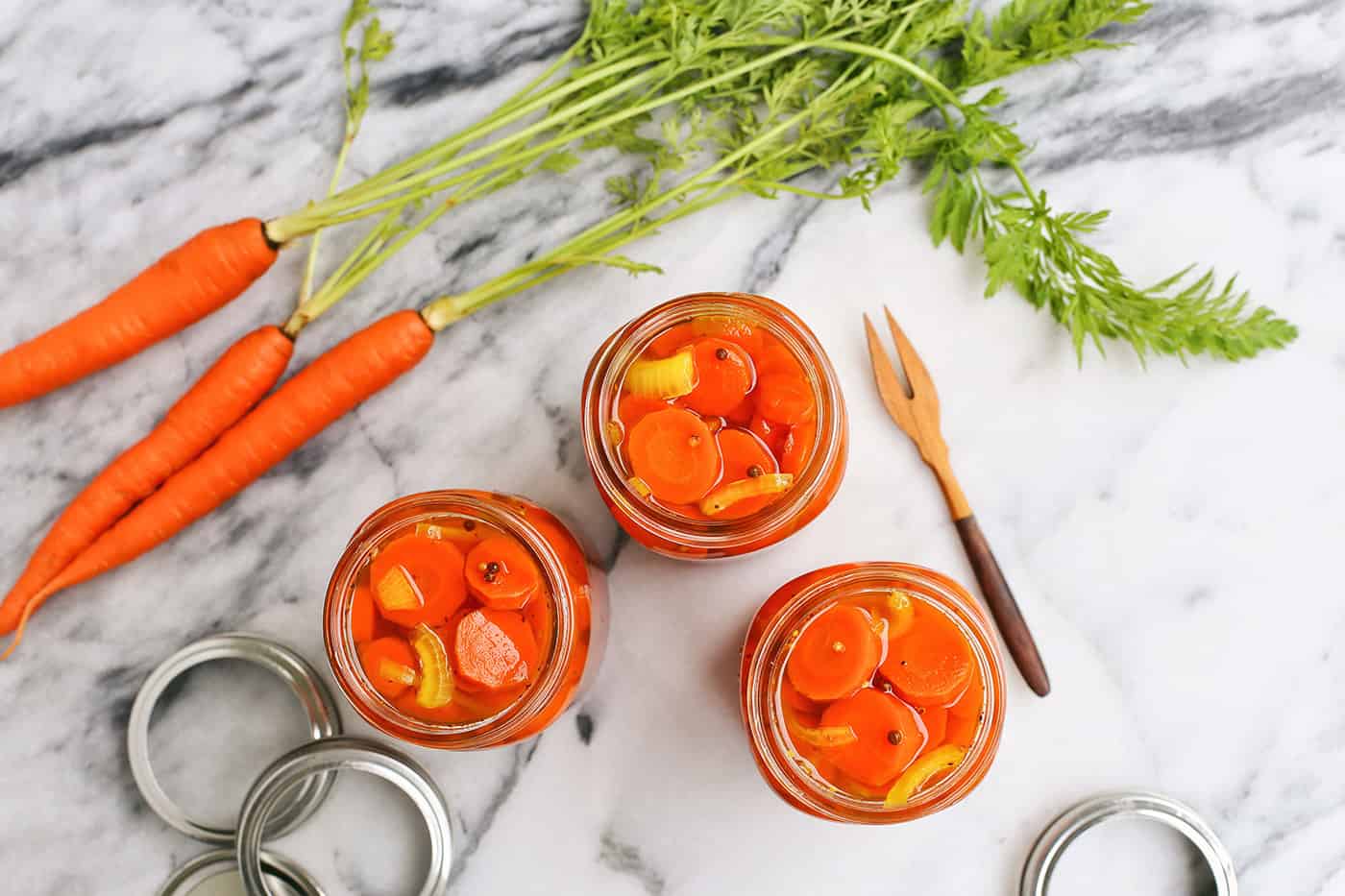 Variations & Tips for Success
If this is your first time quick pickling vegetables, here are a few things to keep in mind.
Don't overcook the carrots. Remove from the heat as soon as they start to soften. It's better to have the carrots be a little too crisp than too soft. I am not a fan of mushy pickled vegetables!
Don't overfill the jars. Leave half an inch at the top of your jars, to allow them to settle in properly.
Allow to chill for at least one hour. After the carrots have cooled to room temperature and been placed in the mason jars, allow them to chill in the fridge for at least an hour before you dig in.
Try this with cucumbers. The brine flavor used for these carrots also pairs well with cucumbers to make quick pickled cucumbers!
What to Serve with Pickled Carrots
Pickled carrots perk up any breakfast, lunch, or dinner. They are a beautiful contrast to a meal of rich and tender pulled pork or beef, or perfectly grilled Beer Can Chicken – a match made in heaven!
I'm also quite fond of eating pickled veggies with a couple of fried eggs. Tuck them into sandwiches. Top your tacos. Add them to your favorite salads.
Or eat them straight-up, piled high in a little bowl, all to your smug pickle-loving self. Go ahead. You already know you have my full approval.
How Long Do Quick Pickled Vegetables Last?
Quick pickles are not the same as traditionally canned pickles that can be stored in the pantry for months upon months. Quick pickled vegetables must be stored in the refrigerator (thus they are often called "refrigerator pickles") and they will be good for up to a month.
Traditional canning does have the perk of preserving vegetables for a much longer time, but I really do love the simplicity of quick pickled vegetables. This kind of shorter preservation method also lends a fresher, snappier flavor, which I LOVE!!
How to Store
Keep your quick pickled carrots tightly sealed in the fridge. It's important to use glass containers to avoid the acidity of the brine breaking down the container. I always use traditional canning jars, but any glass vessel with a tight lid will work.
More Easy Vegetable Recipes:
Like this recipe? Save it to Pinterest!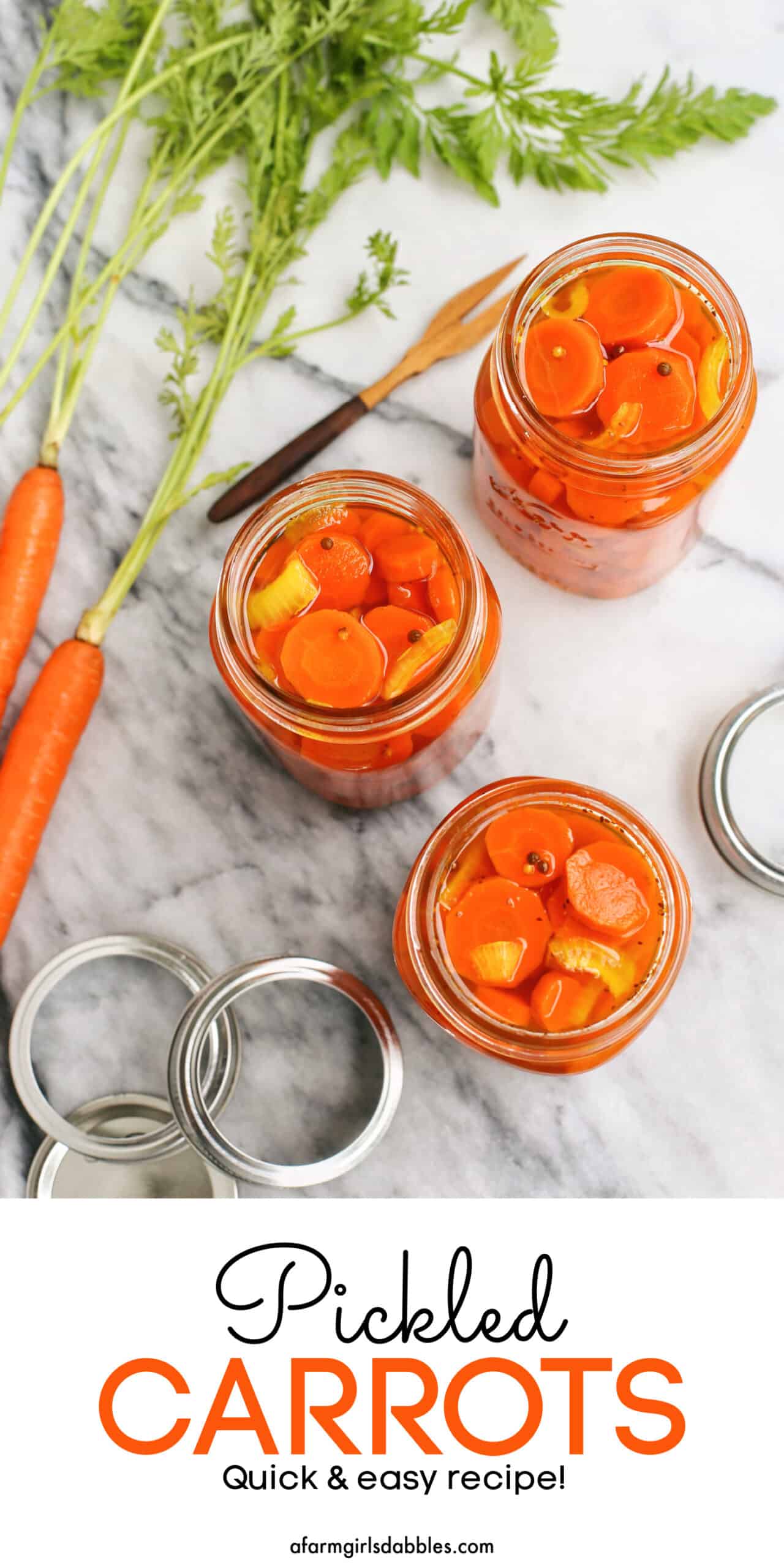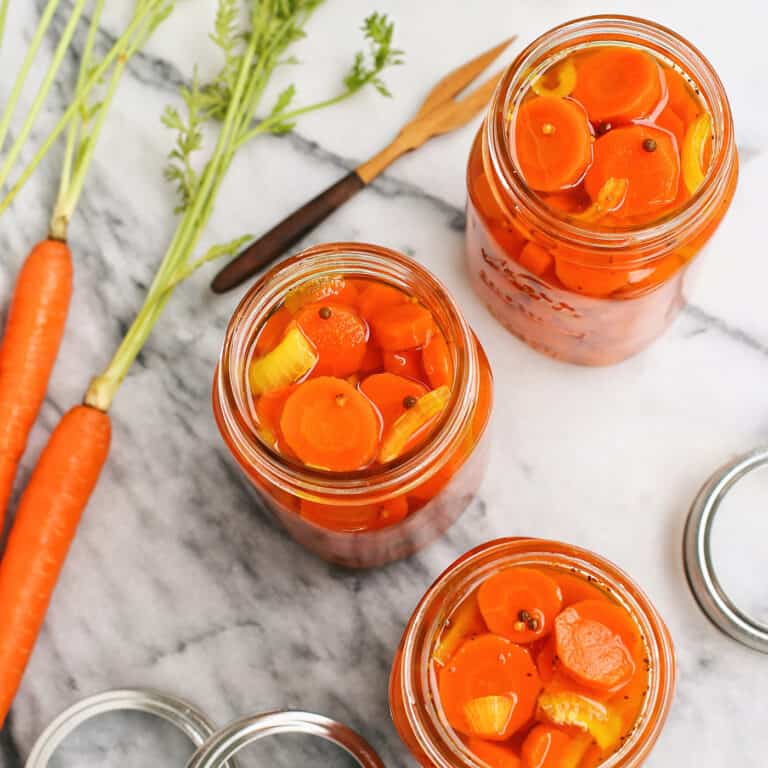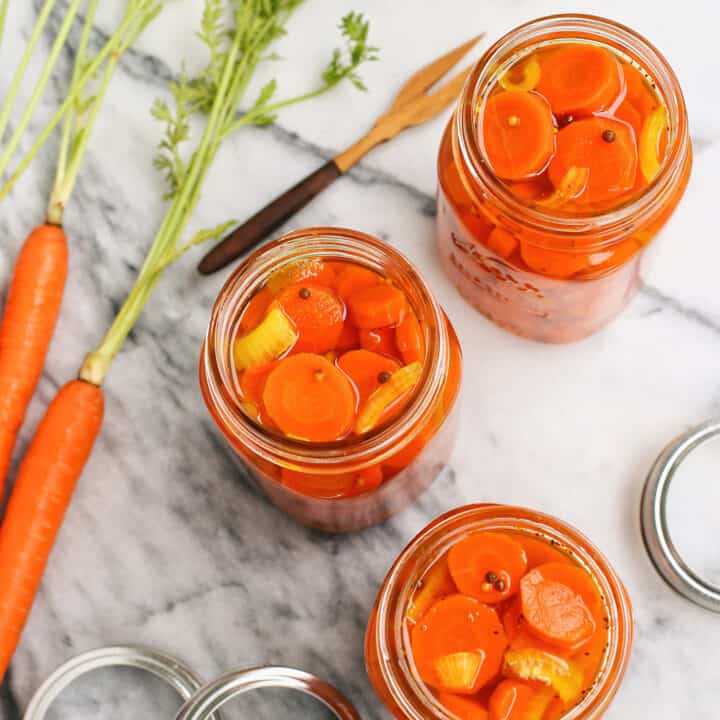 Quick Pickled Carrots
Yield: 16 servings
Prep Time: 30 minutes
Cook Time: 10 minutes
Total Time: 40 minutes
These sweet Quick Pickled Carrots can be jarred and chilling in your fridge in no time at all. No special canning equipment or processing is needed. If you can boil water, you can make quick pickled carrots!
Ingredients
3 pounds fresh carrots, peeled and sliced ¼" thick
1/4 large white onion, thinly sliced
2 cups water
2 cups cider vinegar
3 cups sugar
1 teaspoon whole yellow mustard seeds
1 teaspoon celery seeds
1 teaspoon whole coriander seeds
1 teaspoon turmeric
1/2 teaspoon minced fresh ginger
1/2 teaspoon kosher salt
Instructions
Fill a medium-large saucepan half-full with water and bring to a boil on the stove top. Carefully add carrots to boiling water and cook for about 5 minutes, until just softened. It's better to have the carrots be a little too crisp than too soft. Drain carrots and transfer to a large non-reactive bowl. Add onion and set aside.
Combine the remaining ingredients in a medium saucepan and bring to a boil over medium-high heat. Then turn the heat down to medium-low and simmer for 5 minutes, stirring a couple times to completely dissolve the sugar.
Slowly pour the hot liquid over the carrot and onion mixture. Let cool completely to room temperature. Then divide between 4 to 5 pint jars or other glass vessels, adding carrots and liquid to within half an inch of each jar top. Seal jars tightly with lids and refrigerate. This recipe is for refrigerator pickling only and needs to be stored in a refrigerator. Enjoy within 1 month.
Nutrition Information:
Yield: 16
Serving Size: 1
Amount Per Serving:
Calories: 184
Total Fat: 0g
Saturated Fat: 0g
Trans Fat: 0g
Unsaturated Fat: 0g
Cholesterol: 0mg
Sodium: 96mg
Carbohydrates: 45g
Fiber: 3g
Sugar: 41g
Protein: 1g
Nutrition information is automatically calculated by Nutritionix. I am not a nutritionist and cannot guarantee accuracy. If your health depends on nutrition information, please calculate again with your own favorite calculator.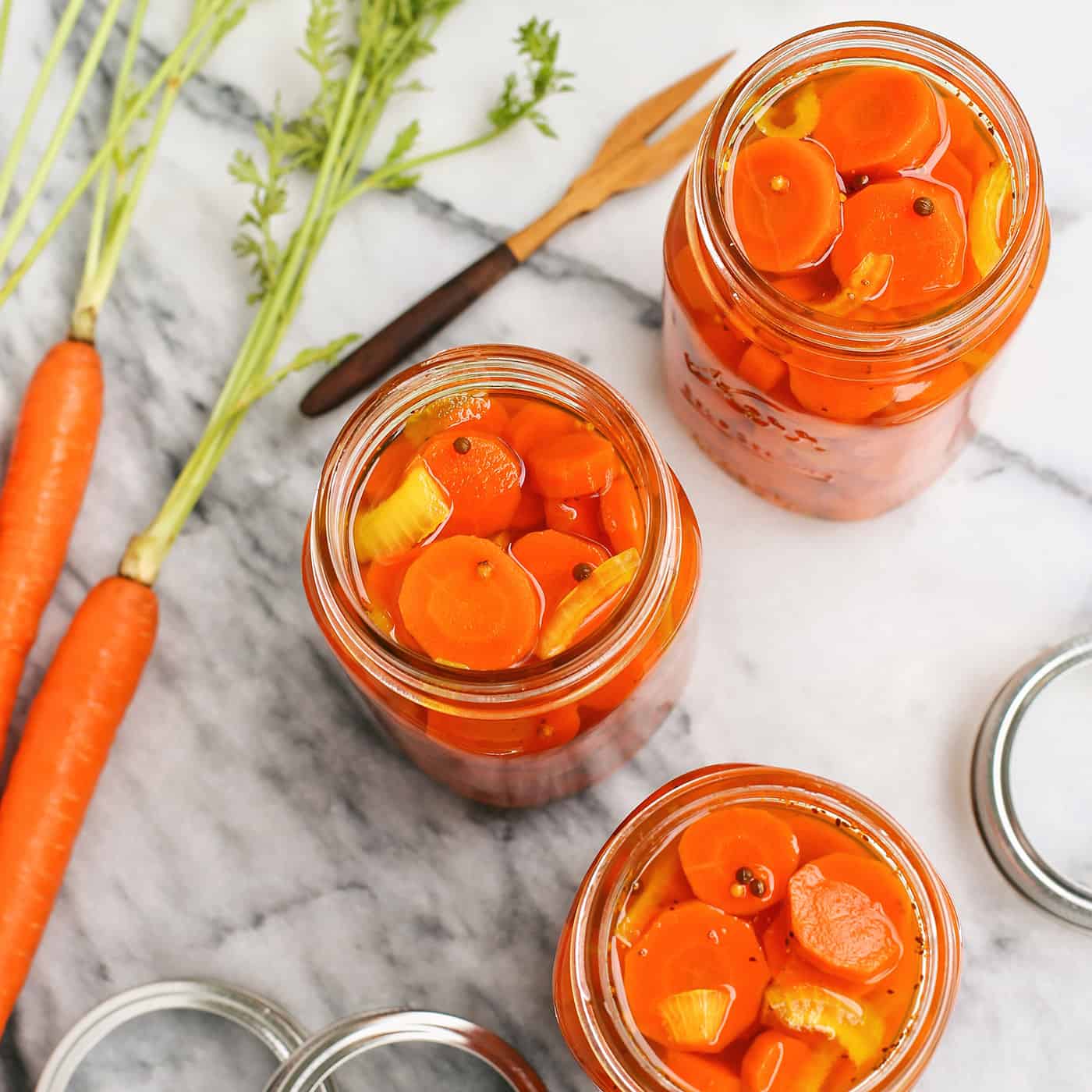 This post was originally published in 2015, and then updated in 2021. You can also find this recipe over on The Pioneer Woman!