Homemade Peanut Butter Cups
Made with just 5 ingredients, these easy Homemade Peanut Butter Cups are so much better than ones bought at the store! They're perfect all year long, and especially fun on holiday treat platters. They also make a fantastic edible gift!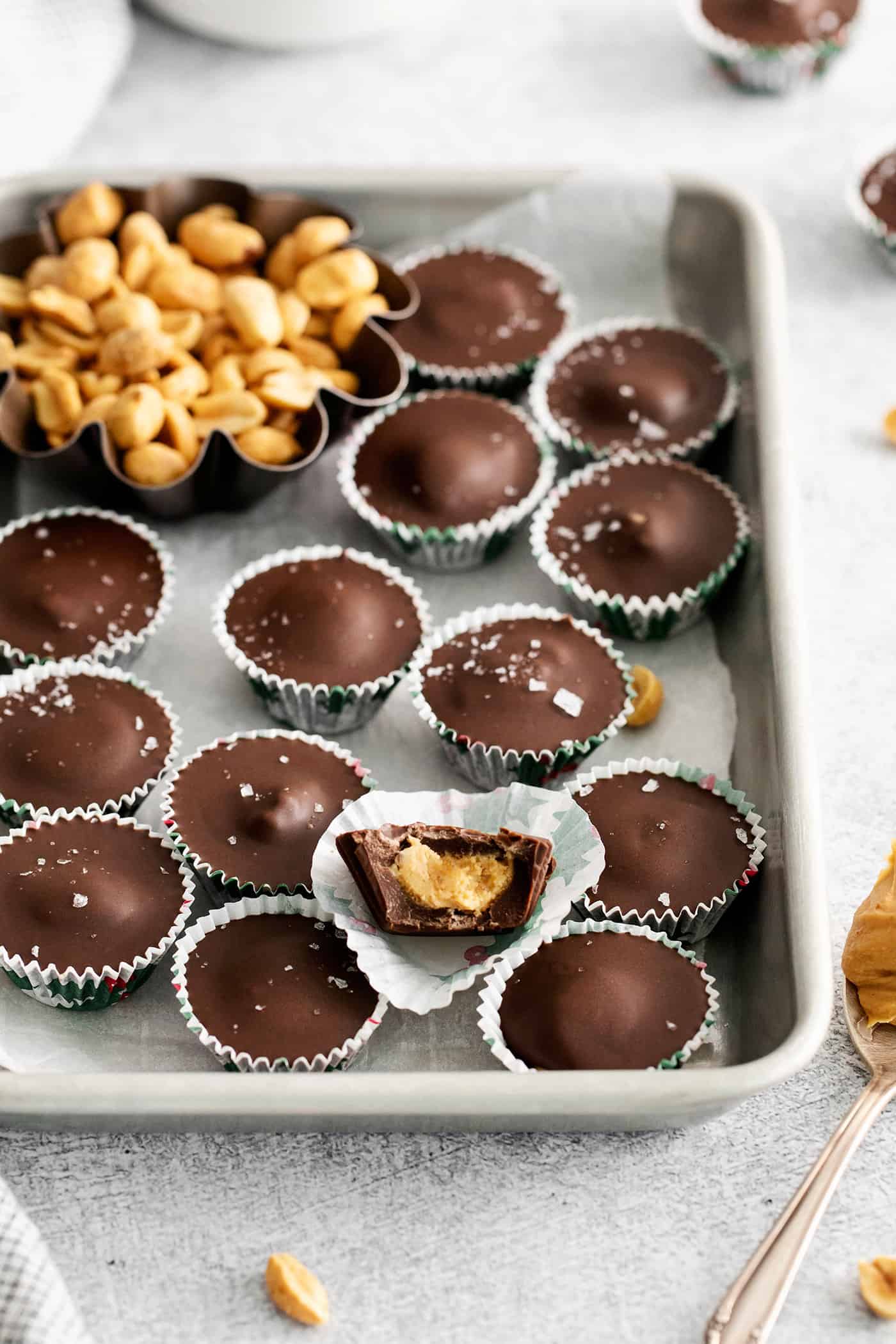 5 Ingredient Chocolate Peanut Butter Cups
I've been making my mom's homemade Peanut Butter Cups recipe for as long as I can remember. This treat has been a longtime tradition in our family, always on our Christmas cookie platters!
These are basically homemade Reese's peanut butter cups, but so much better.
This recipe features a sweet, soft peanut butter center that's surrounded by the perfect mixture of chocolate. The chocolate tastes awesome, plus it sets up so nicely, doesn't get all soft and melty when it sits out for a long time. And to finish the treat, I like to add a little sprinkle of (optional) sea salt flakes, my favorite!
If your family's like our family, you can never have too many chocolate & peanut butter treats. So be sure to also check out my Chocolate Peanut Butter Ritz Cookies, Peanut Butter Blossoms, and Buckeyes – all of these are great all year long, but we especially like to make them during the holidays!
I like how Mom has always used small paper cups with a Christmas design of holly and berries whenever she makes this treat. Of course, I have to follow suit!
Here's the exact Christmas Candy Cup #4 that I use – it really is the perfect size for a 1-bite treat. Especially during the holidays, when there's usually a large variety of treats I want to indulge in!
Otherwise, Wilton makes a candy cup that's the same size. If you have access to Michael's or Jo-Ann stores, they often carry these cups in a variety of colors – just be sure to look for the candy cups that are 1″ diameter size.
It's fun to add some sprinkles to all or just some of the peanut butter cups. It adds a festive touch, no matter the holiday or special occasion.
But what I've found to be the favorite topping? It's a sprinkle of sea salt flakes. These peanut butter cups are ALWAYS the first to disappear!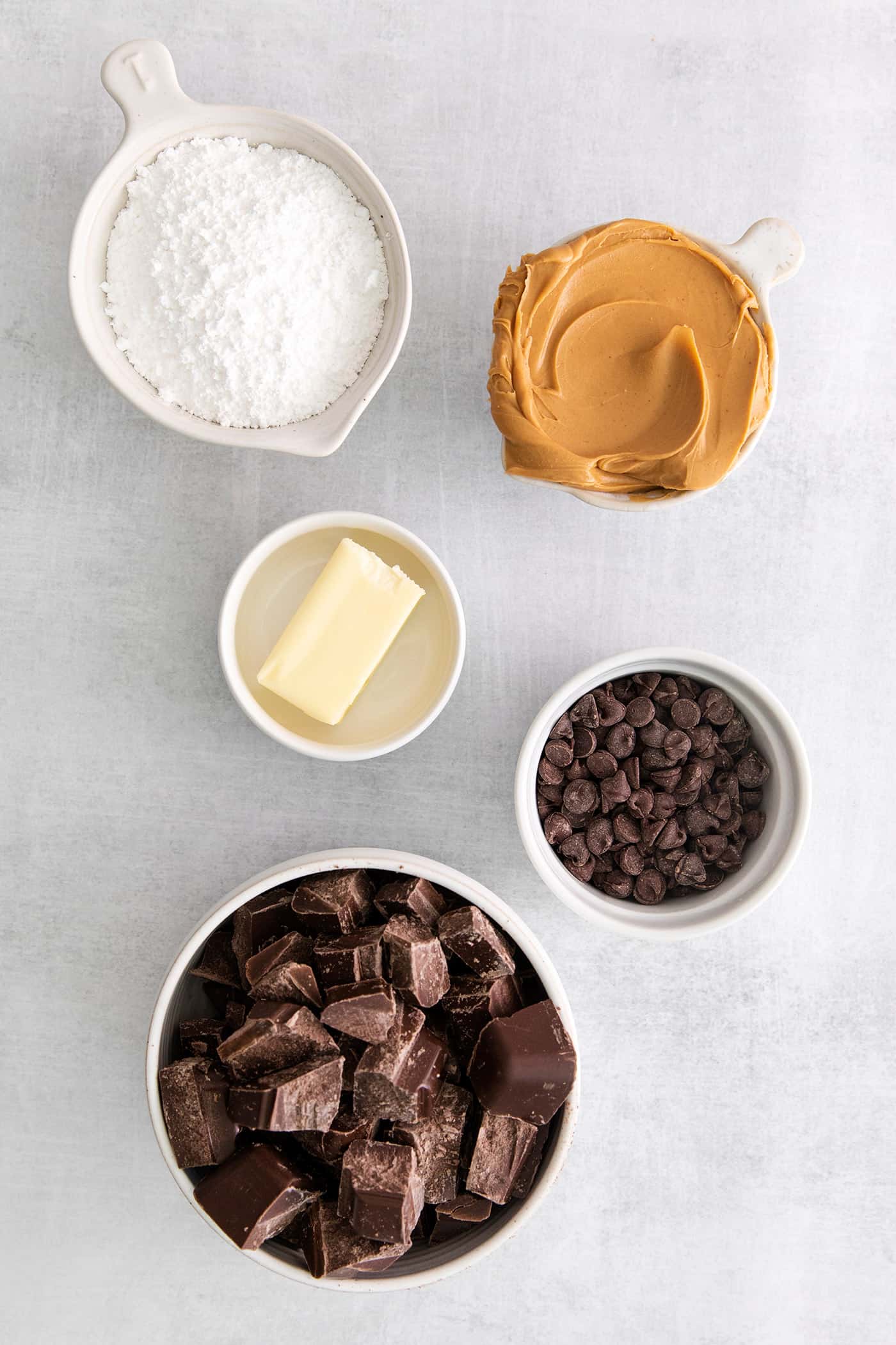 What You'll Need
These homemade peanut butter cups require just 5 ingredients, which makes them super easy to whip up whenever you get that chocolate-peanut butter craving!
Peanut butter – I recommend creamy peanut butter as that gives you the Reese's copycat texture – I use Skippy or Jif. Just do not use a natural peanut butter, as it doesn't have the right texture for this recipe.
Powdered sugar – Powdered sugar is combined with peanut butter to sweeten the filling and give it that Reese's peanut butter cup texture.
Unsalted butter – Unsalted butter gives the peanut butter filling a rich flavor and smoother texture.
Chocolate almond bark – Almond bark is great because it melts easily and provides structure to the chocolate mixture. Which means it doesn't get overly melty when the peanut butter cups sit out for awhile!
Chocolate chips – I like to add bittersweet chocolate chips for a more robust chocolate flavor that's not quite so sweet. And semi sweet chocolate chips are my next choice, a little sweeter option, preferably Guittard brand. When mixed with the sweeter chocolate almond bark, either of these combinations seem to please everybody!
What Chocolate Should I Use?
I like to use a combination of chocolate almond bark and bittersweet or semi sweet chocolate chips. Almond bark is great for melting, while I love the deeper chocolate flavor of bittersweet or semi sweet chocolate chips.
You can use all chocolate almond bark if you like, for a sweeter flavor. This will also set up very well.
However, I would stay away from using only chocolate chips, as I find the peanut butter cups become overly soft when left out for awhile. I really do recommend using at least a portion of chocolate almond bark.
In either case, make sure to grab a quality chocolate brand like Guittard or Ghiradelli for the best flavor.
One thing to keep in mind is that the darker the chocolate, the harder it is when solid. Milk chocolate and semi-sweet chocolate tend to be softer, while darker chocolates can be much firmer.
Can I Use Natural Peanut Butter?
For this recipe, I do not recommend a natural peanut butter. Different brands vary greatly, and all of them tend to have a much looser texture.
If you want to use natural peanut butter or other nut butters, such as almond butter or cashew butter, you will need to experiment to get the right ratio of nut butter, butter, and powdered sugar.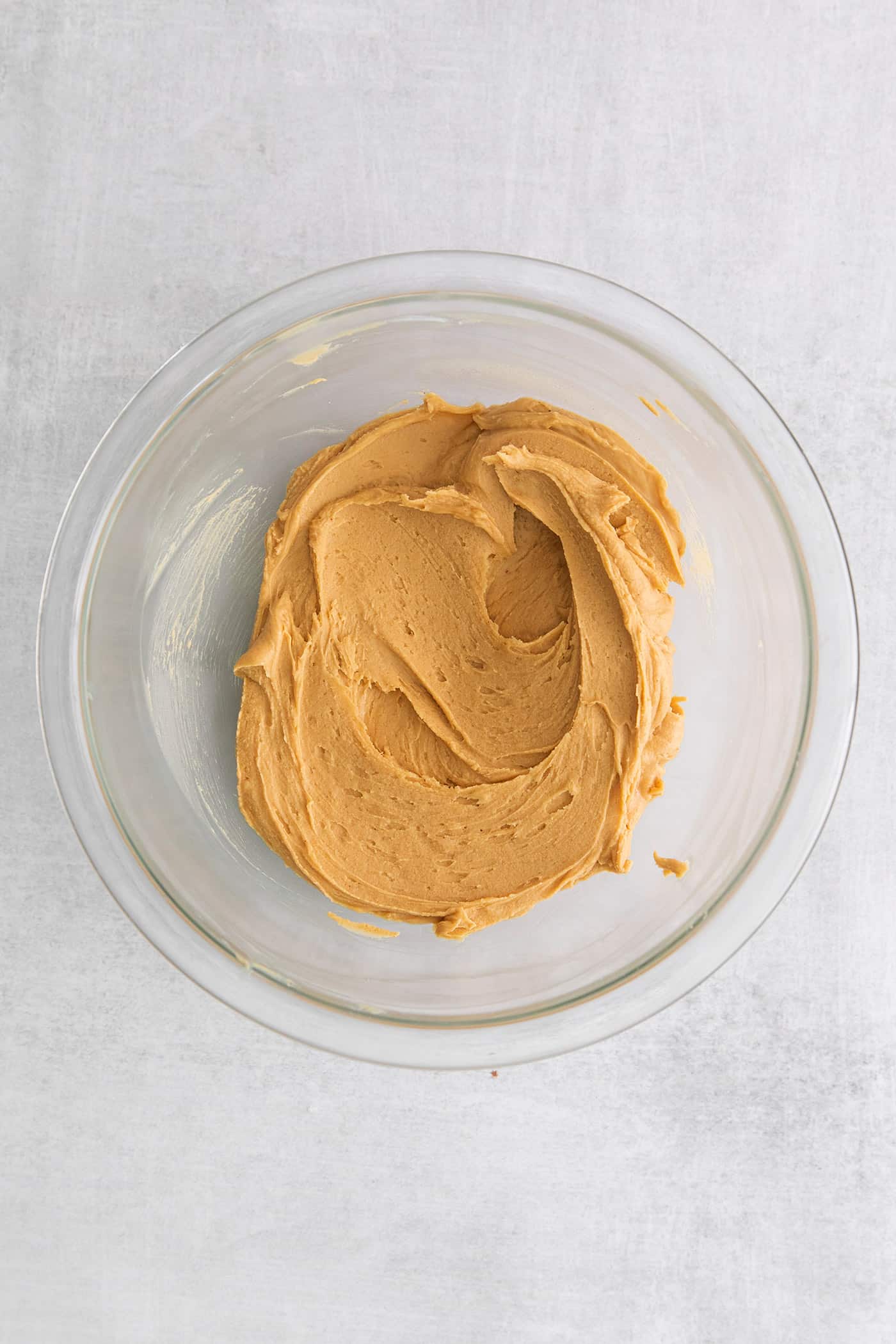 How to Make Homemade Peanut Butter Cups
This is a very easy recipe. Just know that you will need to allow time for the peanut butter mixture to chill.
Make the peanut butter mixture. Mix the peanut butter, powdered sugar, and butter until well combined. Refrigerate for an hour to firm it up, then form the mixture into small balls, about 5/8″ in diameter. Refrigerate the balls for 30 minutes.
Melt the chocolate. While PB balls are chilling, melt the chocolates with a double-boiler or by placing a heatproof bowl over simmering water. You can also use the microwave – just take care to not let the chocolate scorch. Either way, stir often, to melt evenly and prevent the chocolate from burning. Once smooth, remove from heat.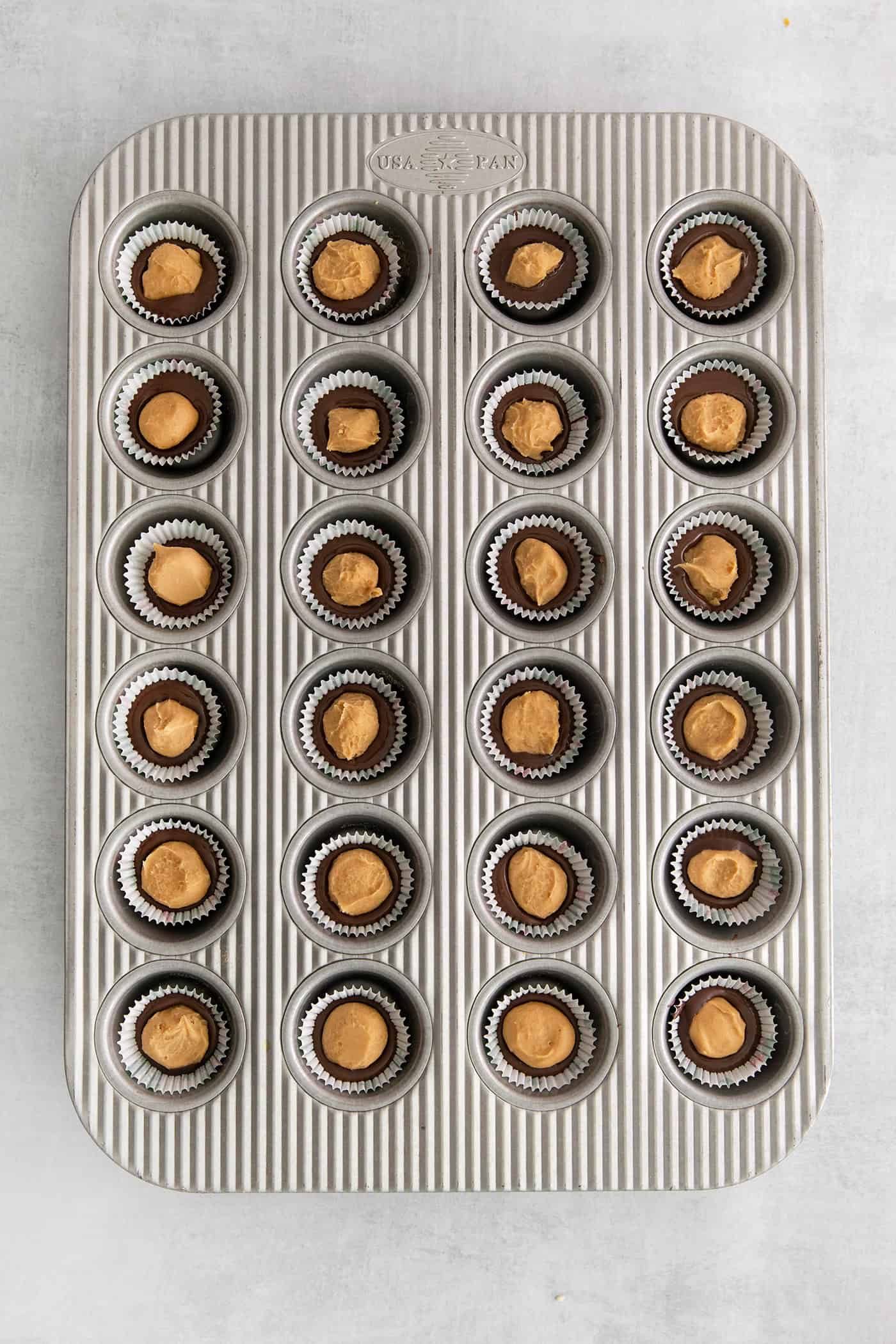 Assemble the peanut butter cups. Place paper cups in mini cupcake pans or just use a rimmed baking sheet. Add a small amount of the melted chocolate mixture to each paper cup – use a small spoon or for the easiest, least-messy method, transfer the melted chocolate to a disposable piping bag (works awesome!). Top with a peanut butter ball. Cover with chocolate.
Sprinkles? If desired, add festive sprinkles or a bit of flaky sea salt while the chocolate is still melty.
Cool. Allow to cool on the counter or pop them in the fridge to speed up the process.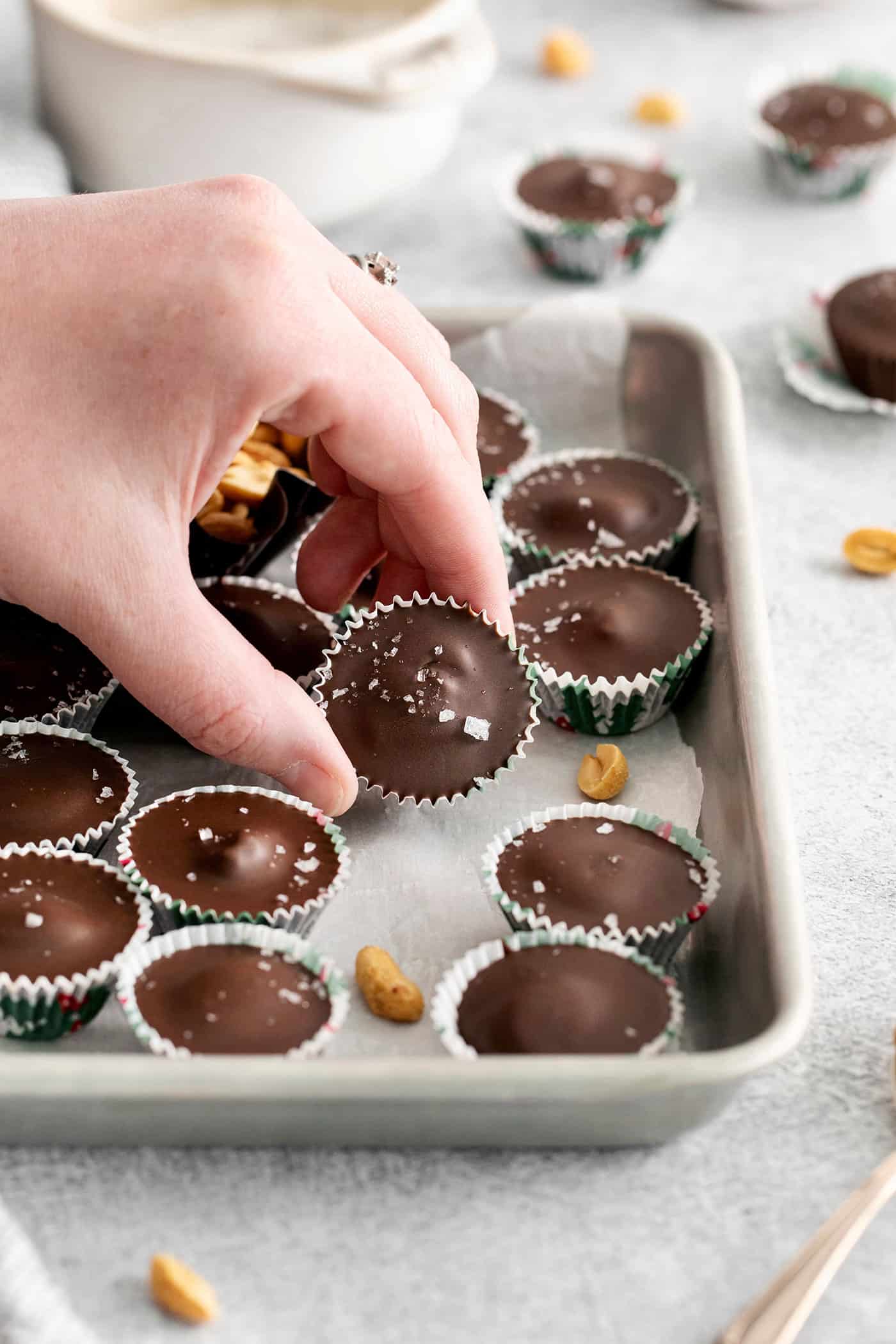 Tips for Success
Here are a few tips to make your chocolate peanut butter cups even better.
Watch the chocolate carefully. Whether using a double boiler or the microwave, stir the chocolate frequently while you're melting it. The double boiler is your safest bet when it comes to melting chocolate, as it's meant to prevent scorching. If microwaving the chocolates, use a lower temperature and stir very frequently.
Use a disposable piping bag. You can certainly use a spoon to add the chocolate to the little paper cups, but it's much easier and quicker to use a disposable piping bag.
Chill in the fridge. While you can let these set at room temperature, you can speed up the process by popping them in the fridge for 30-60 minutes.
Add a topping. If you're a fan of salty-sweet, sprinkle some sea salt flakes on top of the peanut butter cups before the chocolate sets. For a festive touch, add some sprinkles!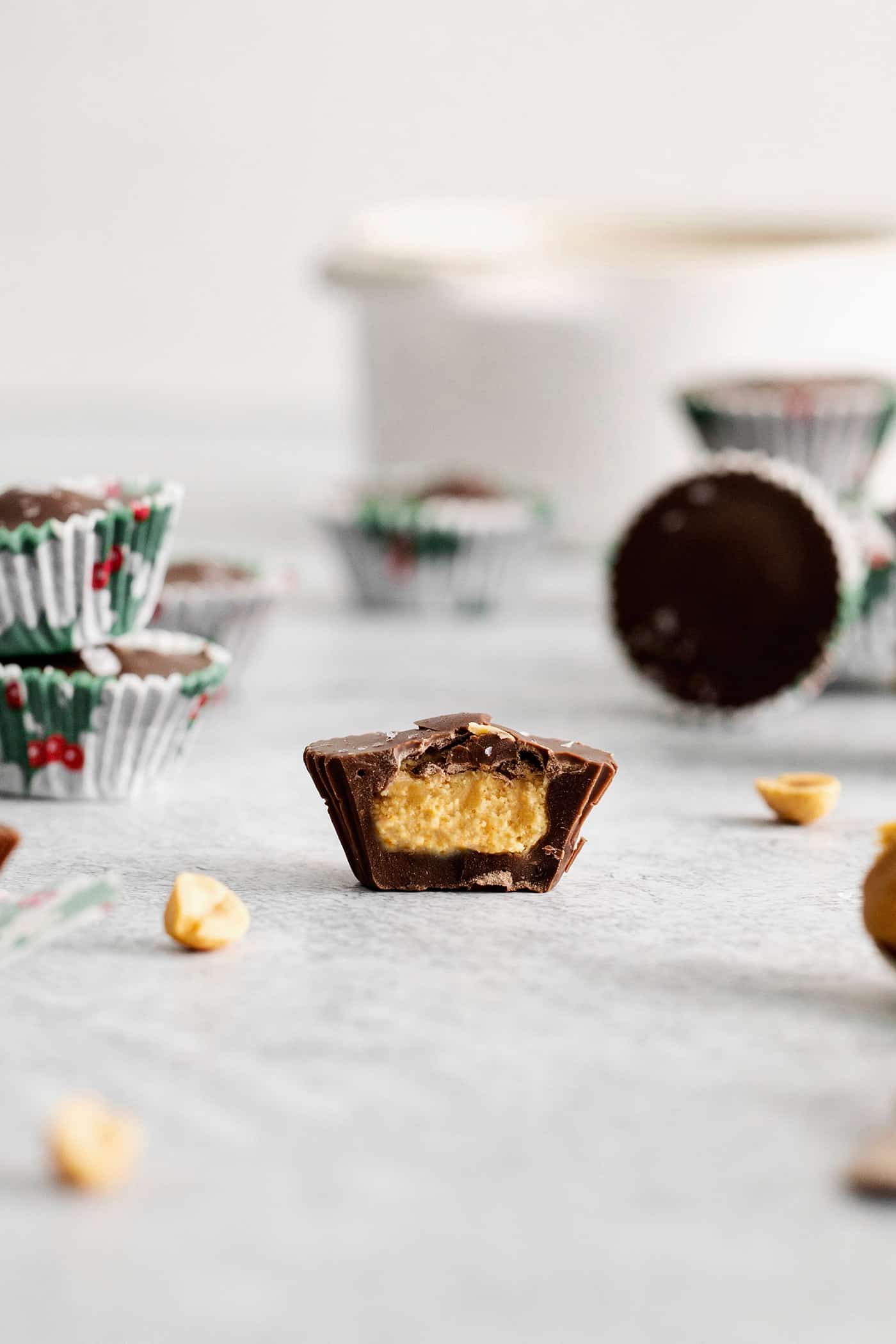 How to Store
Store your homemade peanut butter cups in the fridge for up to 2 weeks, or on the counter for up to a few days.
In either case, keep them stored in an airtight container. I recommend layering parchment paper between any layers, so they don't stick together.
If you store these in the fridge, you might want to let them come to room temperature for 20 minutes or so before enjoying. Personally, I like to eat them cold!
Can I Freeze These?
Yes, these homemade Reese's cups freeze super well, I do it all the time!
Place them in an airtight container with parchment paper between layers, then freeze for up to 3 months.
Whenever the craving strikes, just pull out one or two (or five!), let thaw on the counter for 20-30 minutes (or not…again, I like to eat them cold!), and enjoy.
This recipe makes over 60 chocolate peanut butter cups so I often freeze at least half, unless I'm giving them away. Remember – these make a great edible gift!
More Peanut Butter Treats:
Like this recipe? Save it to Pinterest!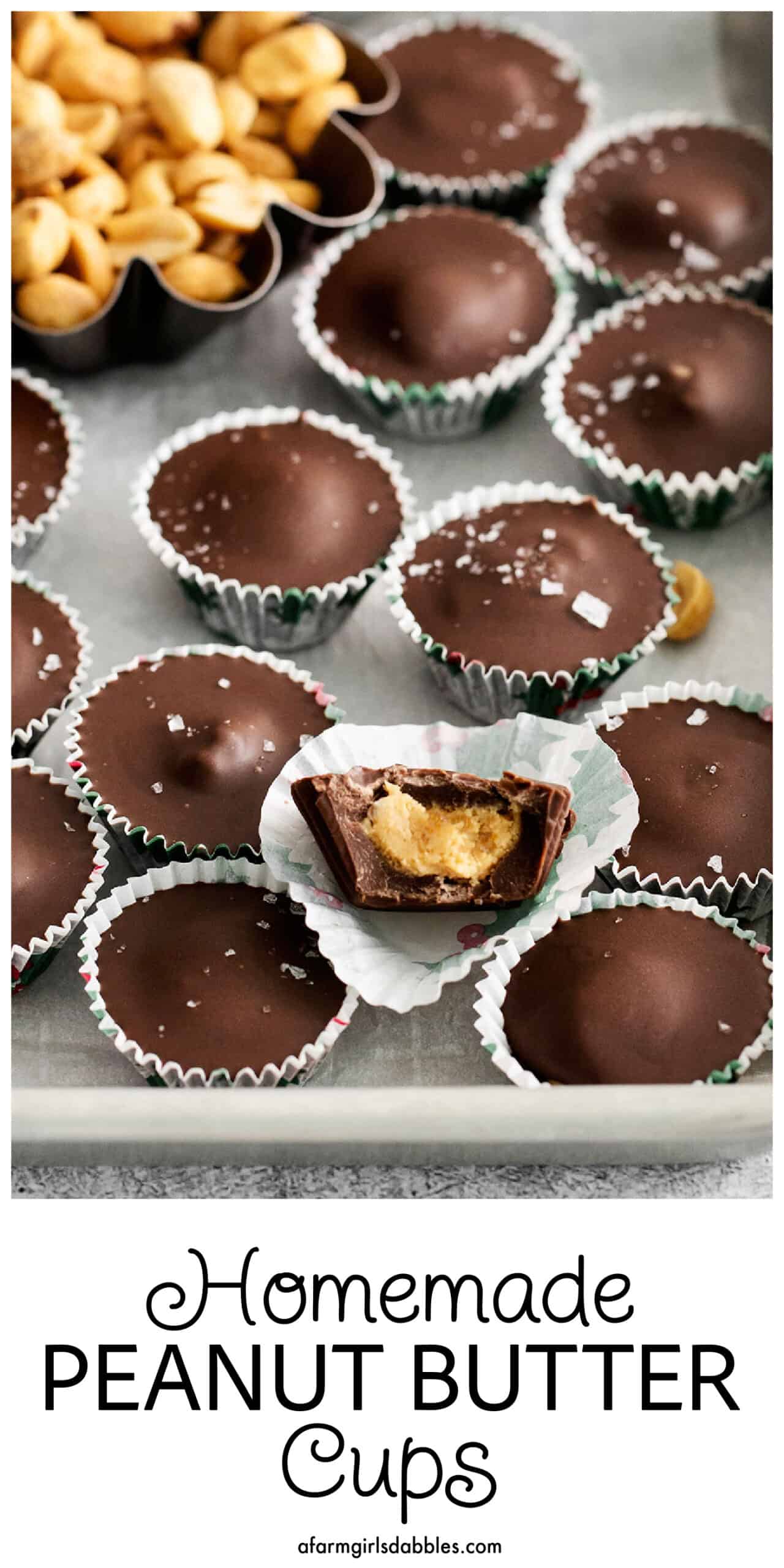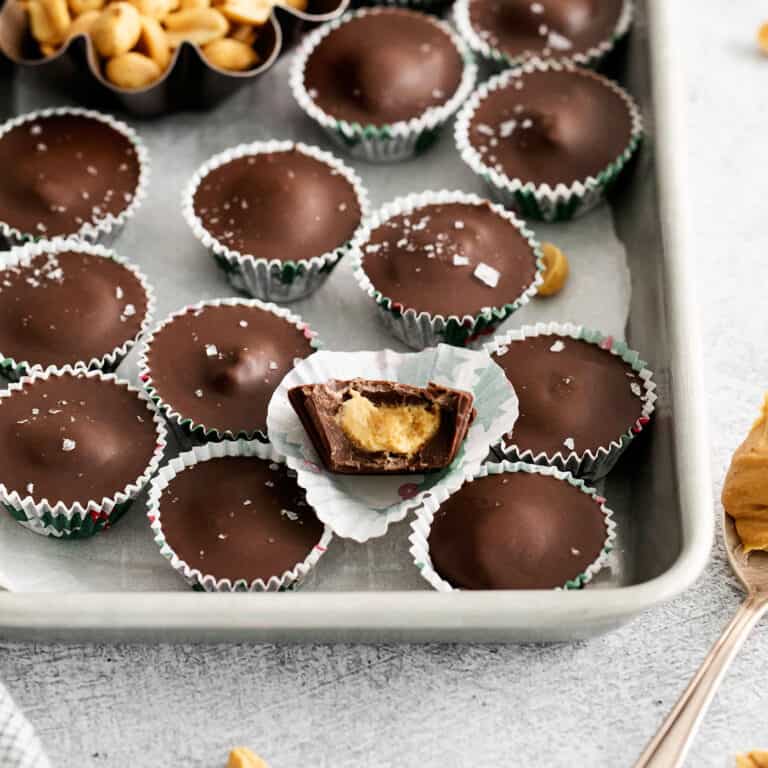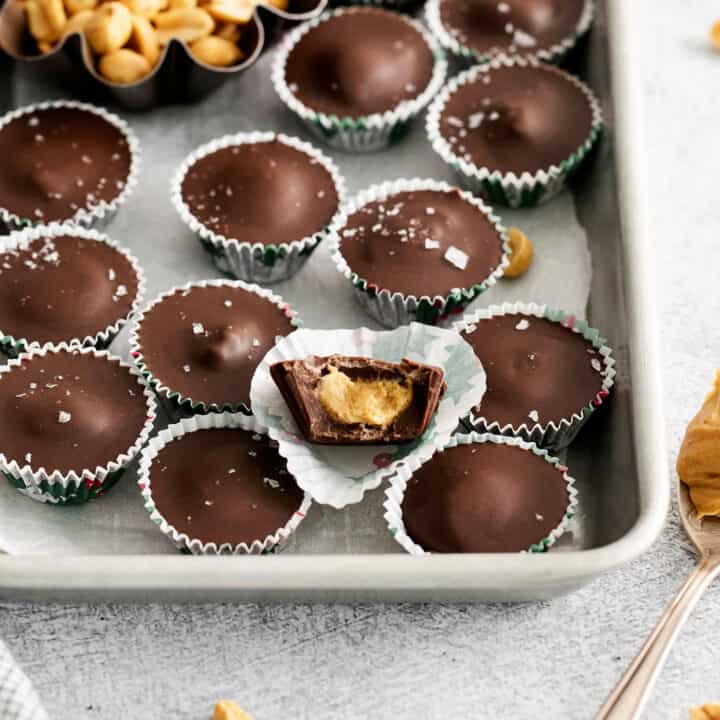 Homemade Peanut Butter Cups
Yield: 65 mini peanut butter cups
Prep Time: 20 minutes
Total Time: 20 minutes
Made with just 5 ingredients, these Homemade Peanut Butter Cups are a million times better than anything you can buy at the store. Easy to make and perfect to give as an edible gift!
Ingredients
½ cup creamy peanut butter (I use Skippy or Jif)
1 cup powdered sugar
¼ cup unsalted butter, melted and slightly cooled
24 ounces chocolate almond bark
4 ounces good quality bittersweet chocolate chips
2 teaspoons sea salt flakes, optional
Instructions
In a medium bowl, combine peanut butter, powdered sugar, and butter. Place in refrigerator for an hour to chill. Then roll mixture into balls, about 5/8'' in diameter. Place the balls in the bottom of a 9'' x 13'' pan, in a single layer, and refrigerate for 30 minutes.
Set up a double boiler, or make your own by placing a small saucepan of water over medium heat and bringing it to a simmer. Place a heatproof bowl over the pan, making sure it does not touch the surface of the water.
Add the chocolate almond bark and chocolate chips to the bowl. Allow the chocolate to melt, stirring often. It should take about 5 to 10 minutes. When the chocolate has fully melted, remove the saucepan from the heat.
Place a bit of chocolate bark into the bottom of a few paper candy cups (I use a "bon bon cup", also called candy cup #4). Gently top each chocolate layer with a peanut butter ball and then add more melted chocolate bark to cover the peanut butter balls. Let cool until set - or place in refrigerator to speed up the setting, if desired.
Notes
These freeze extremely well. Just store in a freezer-safe container and separate layers with parchment paper.
Adapted slightly from Mom's recipe box.
Recommended Products
As an Amazon Associate and member of other affiliate programs, I earn from qualifying purchases.
Nutrition Information:
Yield: 65
Serving Size: 1
Amount Per Serving:
Calories: 100
Total Fat: 8g
Saturated Fat: 3g
Trans Fat: 0g
Unsaturated Fat: 4g
Cholesterol: 2mg
Sodium: 79mg
Carbohydrates: 6g
Fiber: 2g
Sugar: 2g
Protein: 3g
Nutrition information is automatically calculated by Nutritionix. I am not a nutritionist and cannot guarantee accuracy. If your health depends on nutrition information, please calculate again with your own favorite calculator.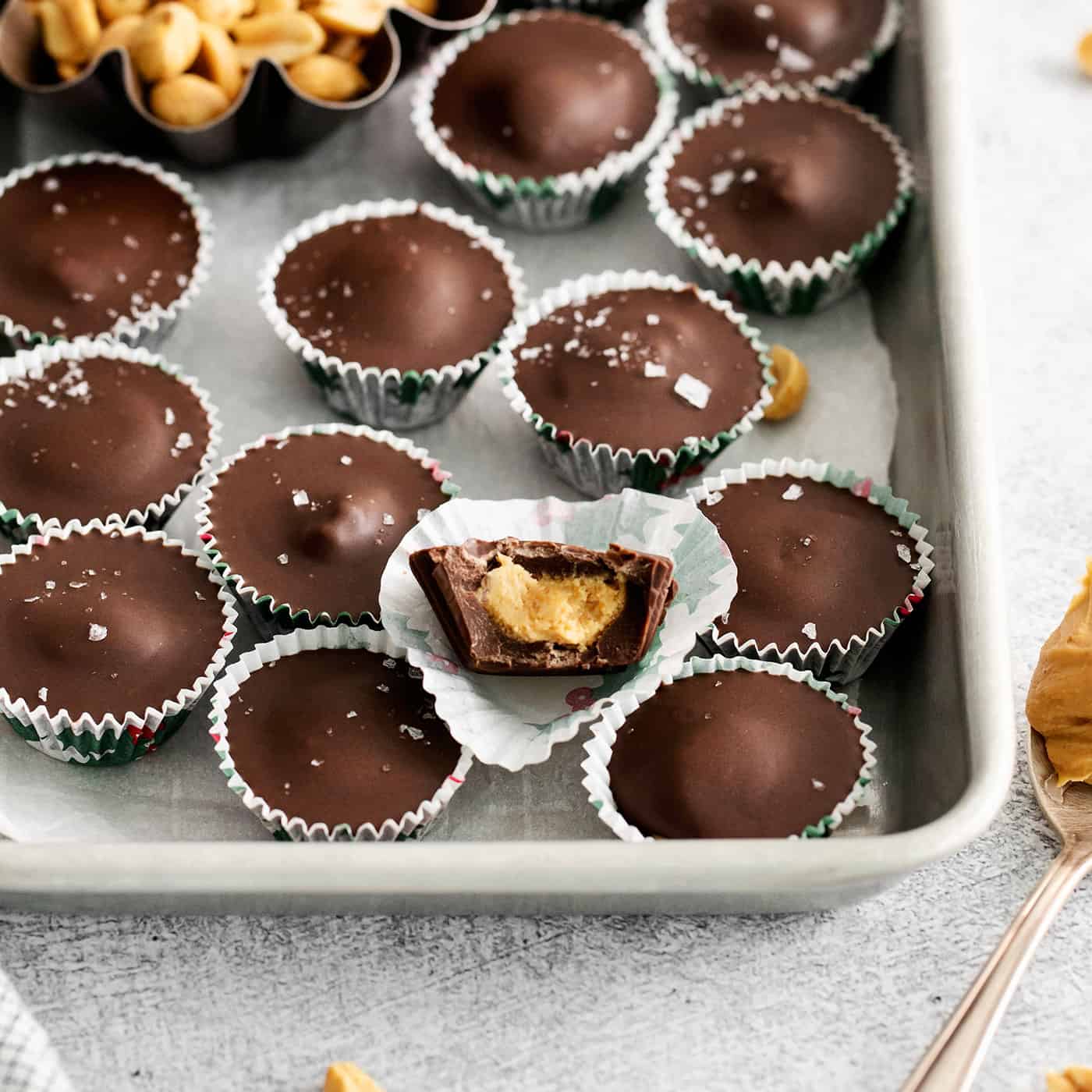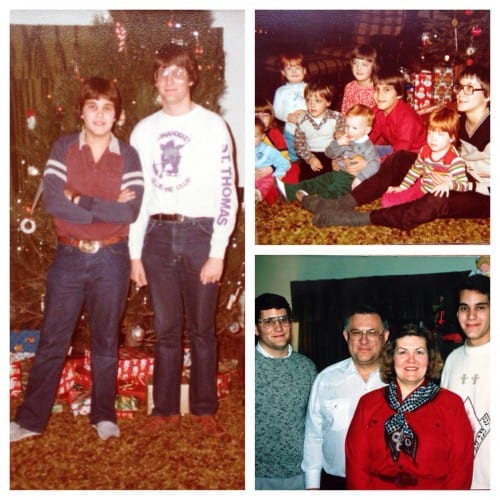 I can't make peanut butter cups without thinking about my cousins Dave and John, and the many Christmas Eves we spent together when we were kids.
My mom's side of the family usually came to our house for Christmas Eve, and Dave and John and their dad and mom would often spend the night with us. We would feast on shrimp dip, oyster stew, meatballs and gravy, homemade vanilla ice cream, and trays of homemade sweets.
And Dave and John could always be found hanging around the tray piled with Mom's peanut butter cups. Knowing how much her nephews loved them, Mom would send care packages of peanut butter cups to them while they were in college.
This post was originally published in 2013 and then updated in 2020.