Microwave Caramel Popcorn
Microwave Caramel Popcorn is ready in just 15 minutes – with a handful of ingredients, a microwave, and a brown paper bag. A quick & easy homemade caramel popcorn recipe – no candy thermometer or baking required!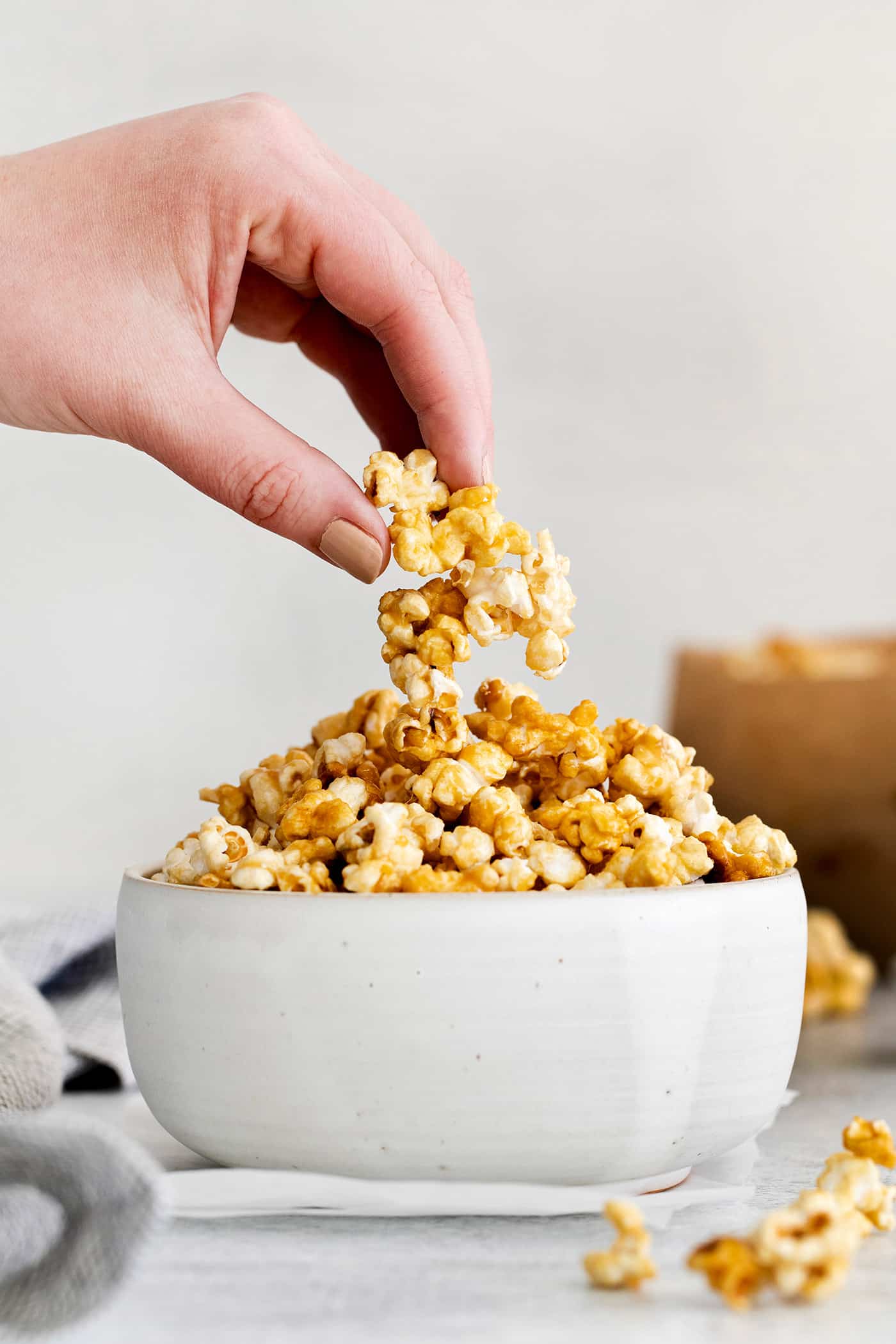 Easy Caramel Popcorn Recipe
When I'm craving homemade caramel popcorn, and I'm needing it asap, this Microwave Caramel Popcorn is the recipe I turn to.
This recipe comes from my mom; it's a quick and easy treat that I grew up on. All you need is popped corn, a few ingredients for the caramel, a microwave, and a brown paper bag. No candy thermometer or baking required!
In about 15 minutes, you'll have a batch of popped corn that's lightly coated in rich & buttery caramel flavor. It's delightfully delicious AND easy!!
Looking for a caramel popcorn recipe that's baked in the oven? This oven-baked caramel popcorn recipe is my absolute favorite. You will need a candy thermometer, plus more time and effort — but this extra-crispy caramel popcorn is 100% AMAZING!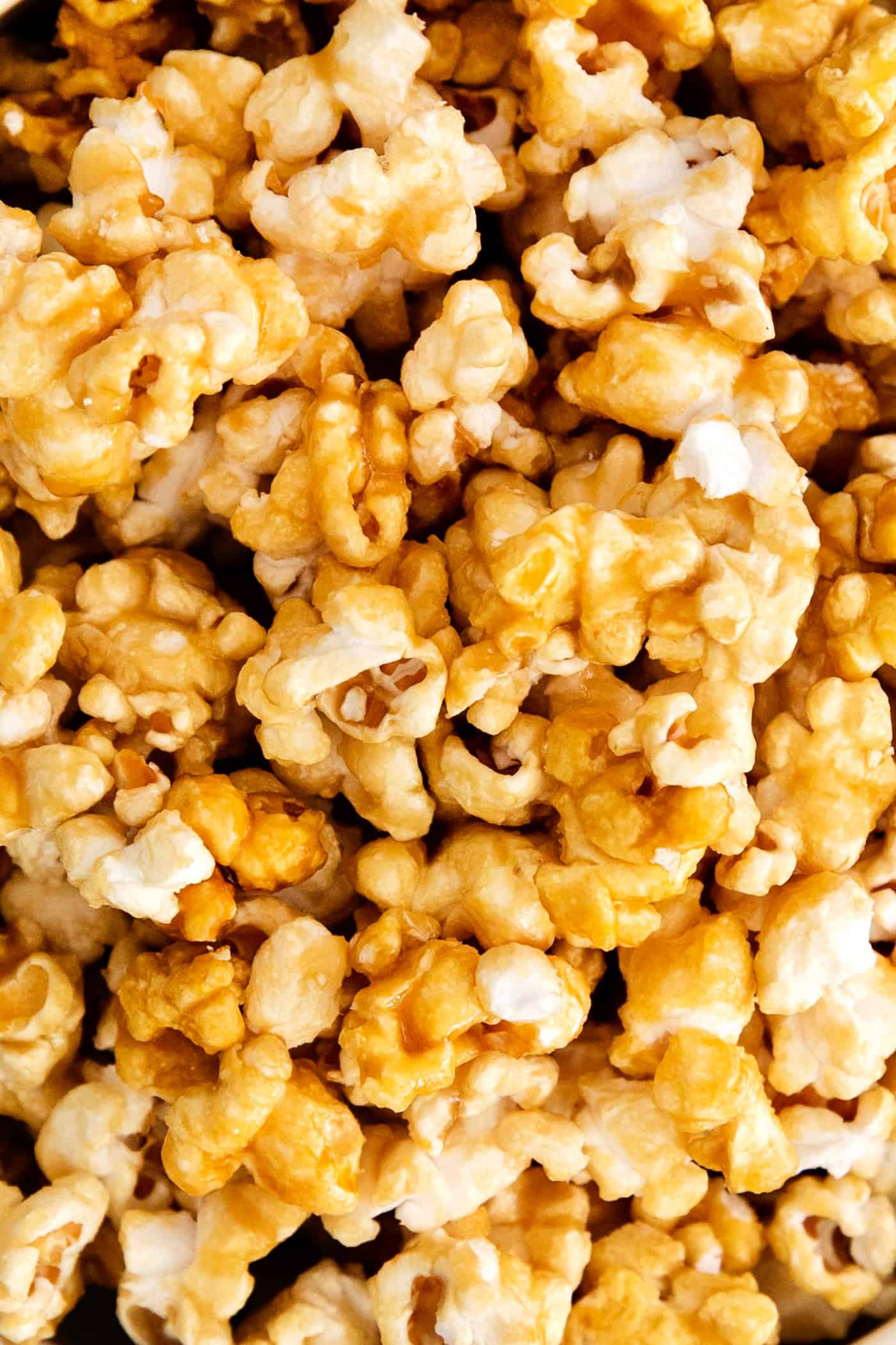 What's The Difference Between Caramel Corn and Kettlecorn?
Both are crunchy, sweet varieties of popcorn, but there is a difference in how they're made and the ingredients.
Kettlecorn is typically cooked in a large pot, with large quantities of sugar stirred in as it pops. It caramelizes on the corn as it melts, resulting in a thin, crispy coating of sweetness on the popped corn. Kettle corn also has more of a notable salty flavor than caramel corn.
Caramel corn, on the other handle, is made by stirring melted caramel into the popped corn. Caramel corn has a thicker sweet coating than kettle corn, and is usually sweeter and sometimes a bit sticky.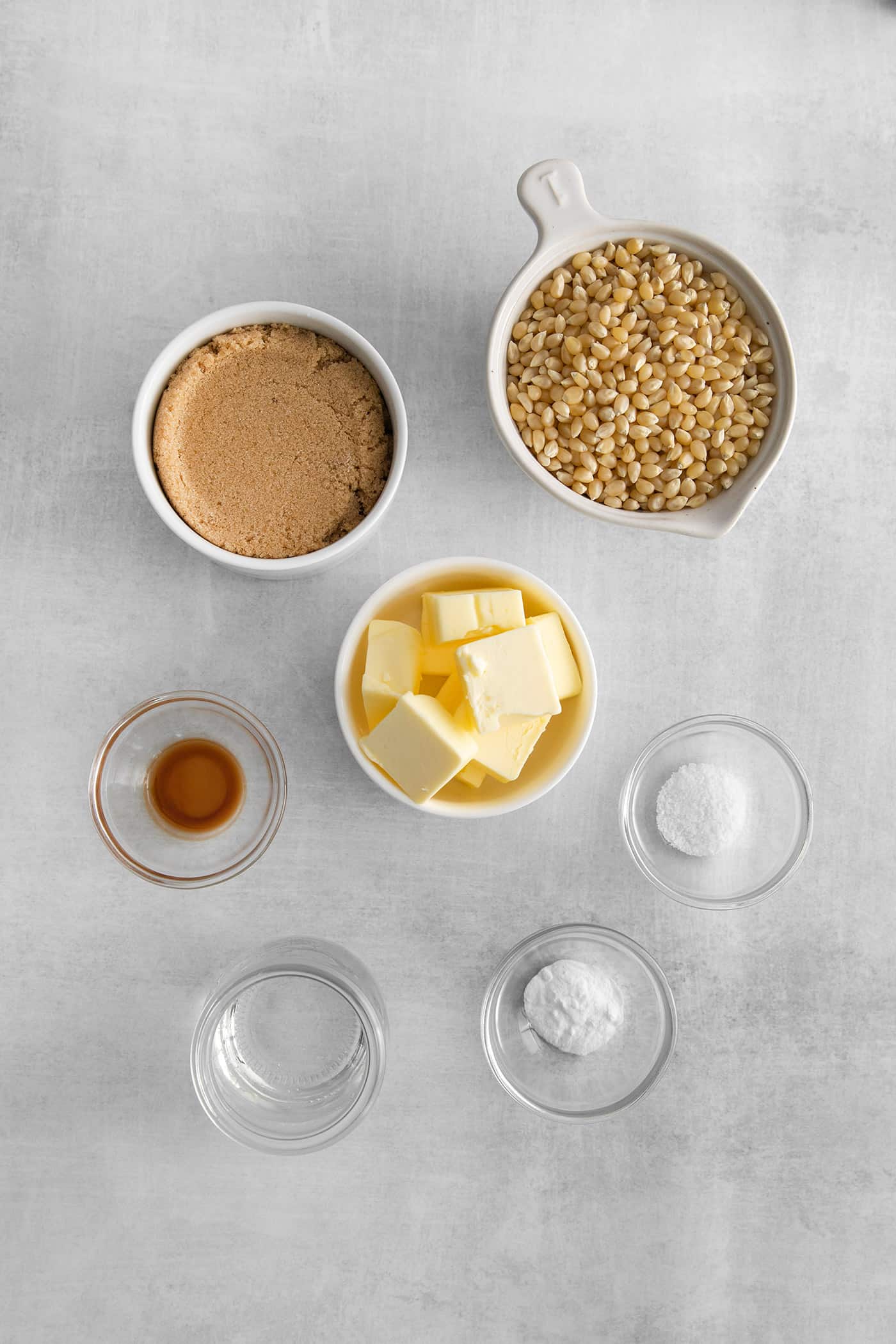 What You'll Need
This easy caramel popcorn recipe is made with just 7 ingredients. Scroll down to the recipe box for full measurements.
Popped corn – While you can use microwave popcorn for this recipe, I highly recommend popping your own corn. Either the "old fashioned way" on the stovetop or with an air popper. Here's the stovetop popper we use.
Brown sugar – A key ingredient in making caramel.
Butter – I always use unsalted butter, then adjust by adding as much salt as I want.
Light corn syrup – Corn syrup helps prevent the caramel from crystallizing when you heat it, so you don't have grainy caramel.
Kosher salt
Pure vanilla
Baking soda – Baking soda reacts with the acid in the brown sugar and corn syrup, creating tiny carbon dioxide air bubbles. Once the caramel has cooled on the popped corn, the air bubbles inside the caramel help to create a softer texture. This means you won't be biting into rock-hard caramel.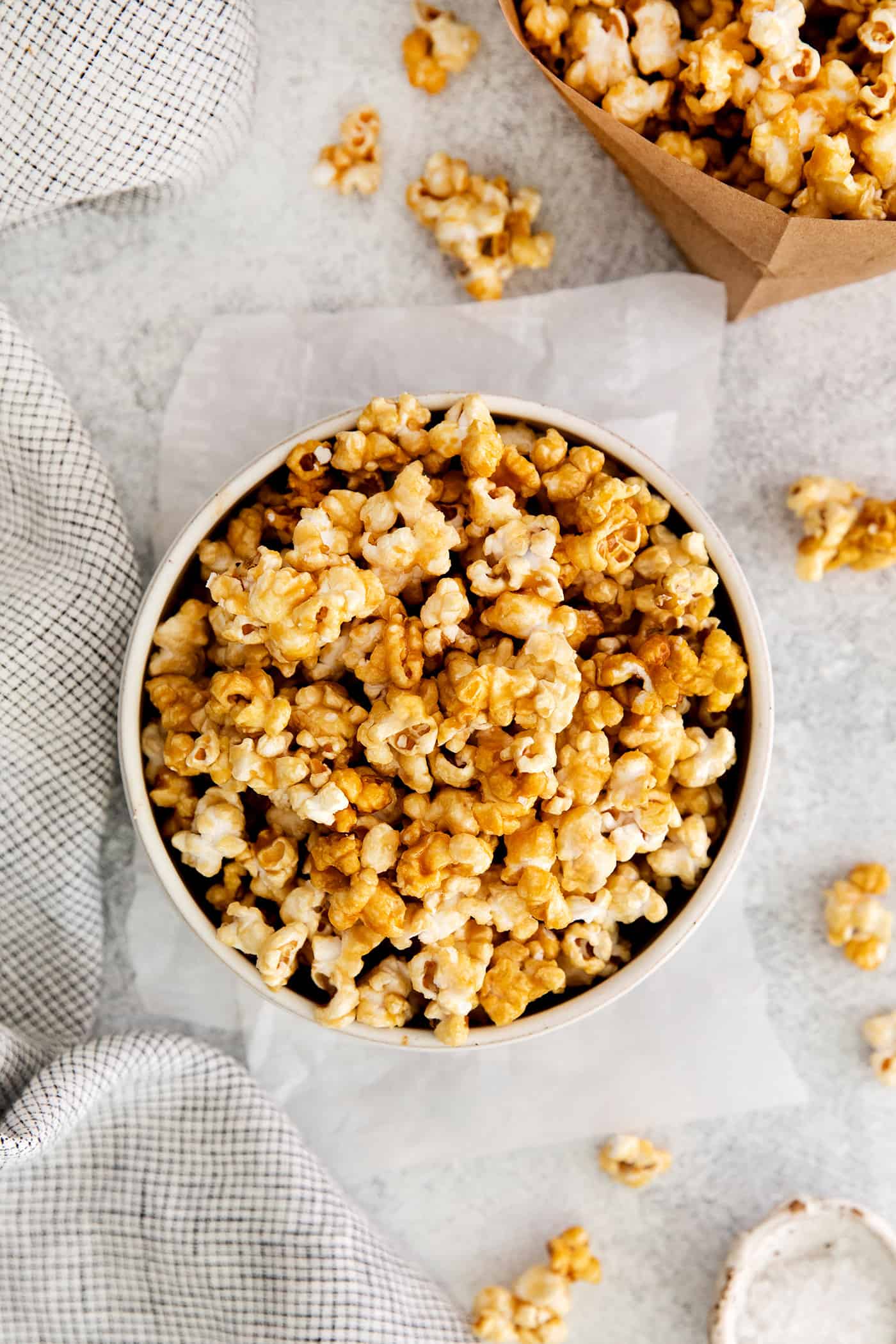 Mix-Ins & Flavor Variations
Want to switch up your homemade caramel popcorn a bit? You can both change up the flavor itself or add a mix-in or two after it cools for some variety.
Flavor ideas:
A splash of sriracha for some heat
Sea salt – amp it up for salted caramel
Mix-In Ideas:
M&Ms
candy corn
Chocolate chips
Mini marshmallows
Chopped nuts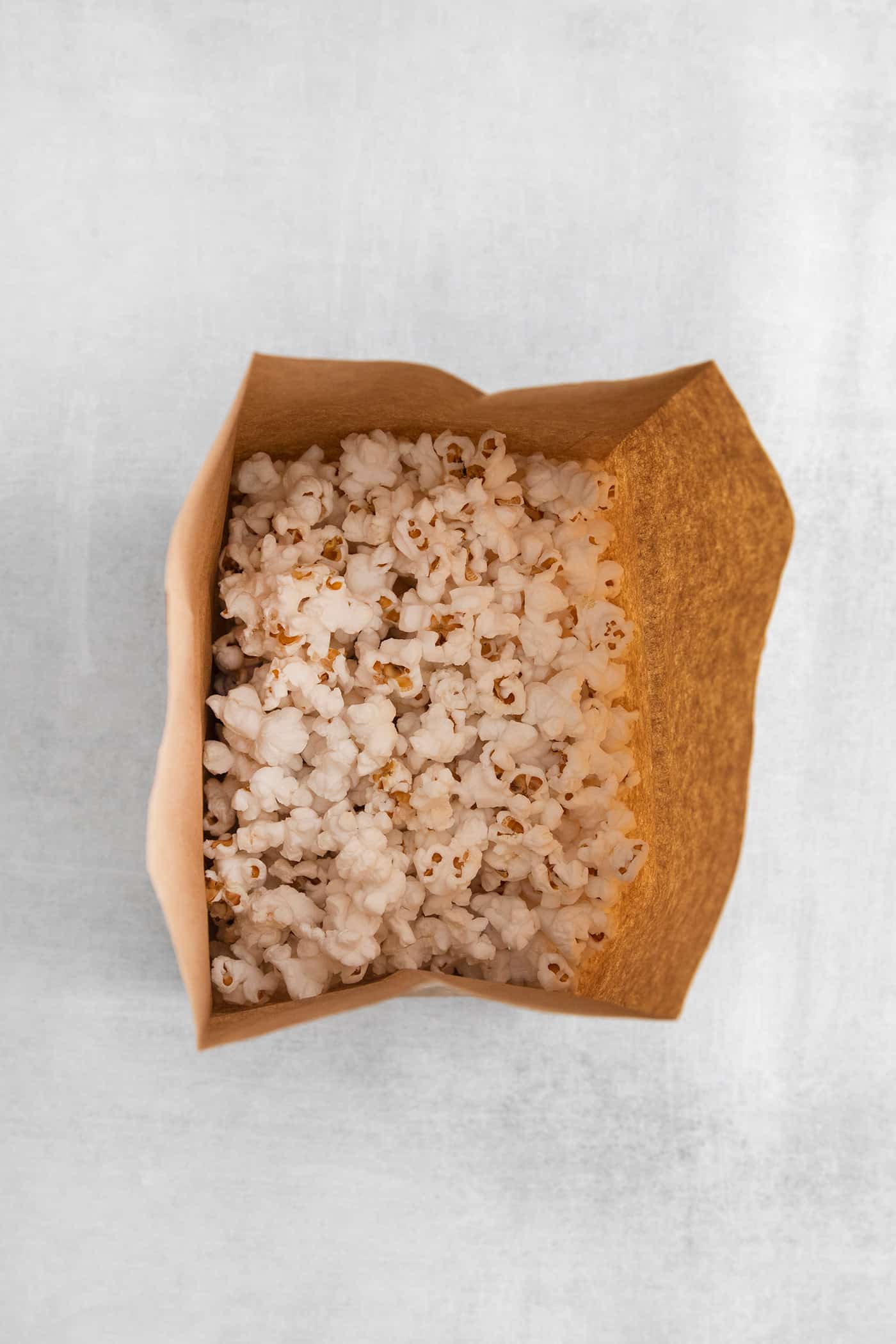 How to Make Microwave Caramel Popcorn
Here's how to make your homemade caramel popcorn.
Prepare the popcorn. Pop the popcorn as desired and place in a brown paper bag.
Make the caramel. Combine the brown sugar, butter, corn syrup, and salt in a microwave-safe bowl. Microwave on high for 2 minutes. Stir in the vanilla and baking soda until combined. Drizzle over the popcorn in the paper bag.
Shake. Fold the paper bag over and then shake well to coat the popcorn.
Microwave. Place the bag in the microwave for 1 1/2 minutes. Shake again, then microwave for an additional 1 1/2 minutes.
Allow to cool. Spread the caramel corn on a baking sheet, breaking up any clumps. Sprinkle with salt and allow to cool.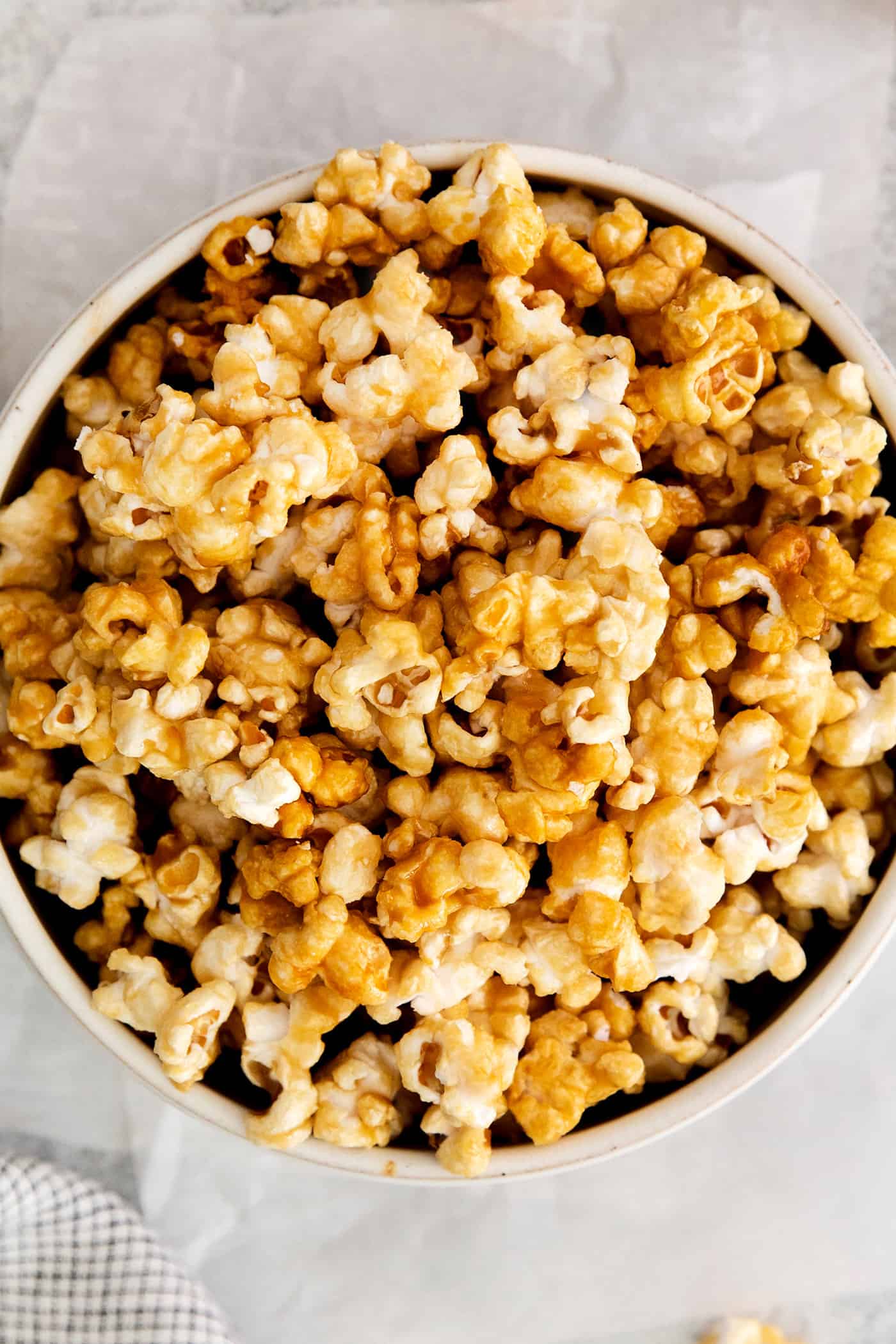 Tips for Success
Here are a few tips for making the best microwave caramel popcorn.
What popcorn should I use? The most important thing is to use fresh popcorn, as you want it to pop into big, fluffy pieces. Because popcorn kernels can get old and/or stale! I prefer to use a white popcorn, this is my favorite, I order it by the case. (Yes, we go through a lot of popcorn around here!)
What popcorn popper should I use? We pop corn the "old fashioned way" with this stovetop popper (affiliate link). If you'd like to make it on the stovetop, but don't have one of these crank poppers, try this method from my friend Bridget – it works great. You could also use an air popper. I don't recommend microwave popcorn, but if you use it, opt for a plain variety.
Keep an eye on the caramel. The caramel should bubble and you'll likely see steam, but keep an eye out for any burning or smoke. If your microwave heats high, you may want to stop and stir it halfway through.
Shake the popcorn between intervals. For the most evenly coated and cooked caramel popcorn, be sure to shake the bag each time you microwave it.
Avoid touching the caramel. At all stages of the recipe, keep in mind that the caramel will be HOT. Avoid touching it with your hands as it can definitely burn you.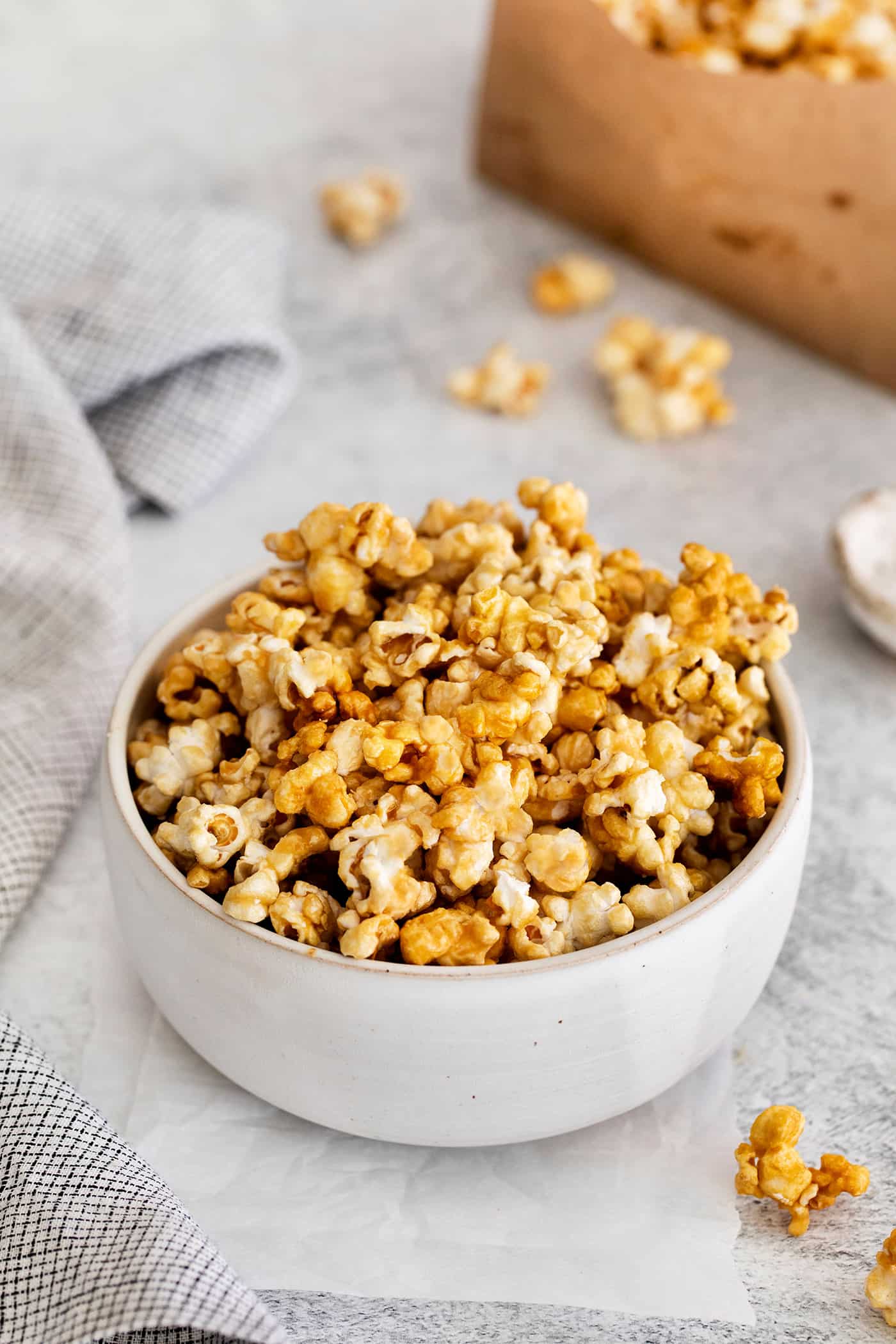 How to Store
Homemade caramel popcorn can be stored in an airtight container for up to two weeks, although it will always be at its best when it's fresher.
If you notice it getting soft, don't throw it out – you can easily make it crispy again by placing it in the oven. I recommend heating it at 250° F and stirring every 5 to 10 minutes, until it's nice and crispy again.
This microwave popcorn also makes a great edible gift. I like to package it in little cellophane bags, sealed tightly with a twist tie so it won't go stale, then finish it with a pretty ribbon.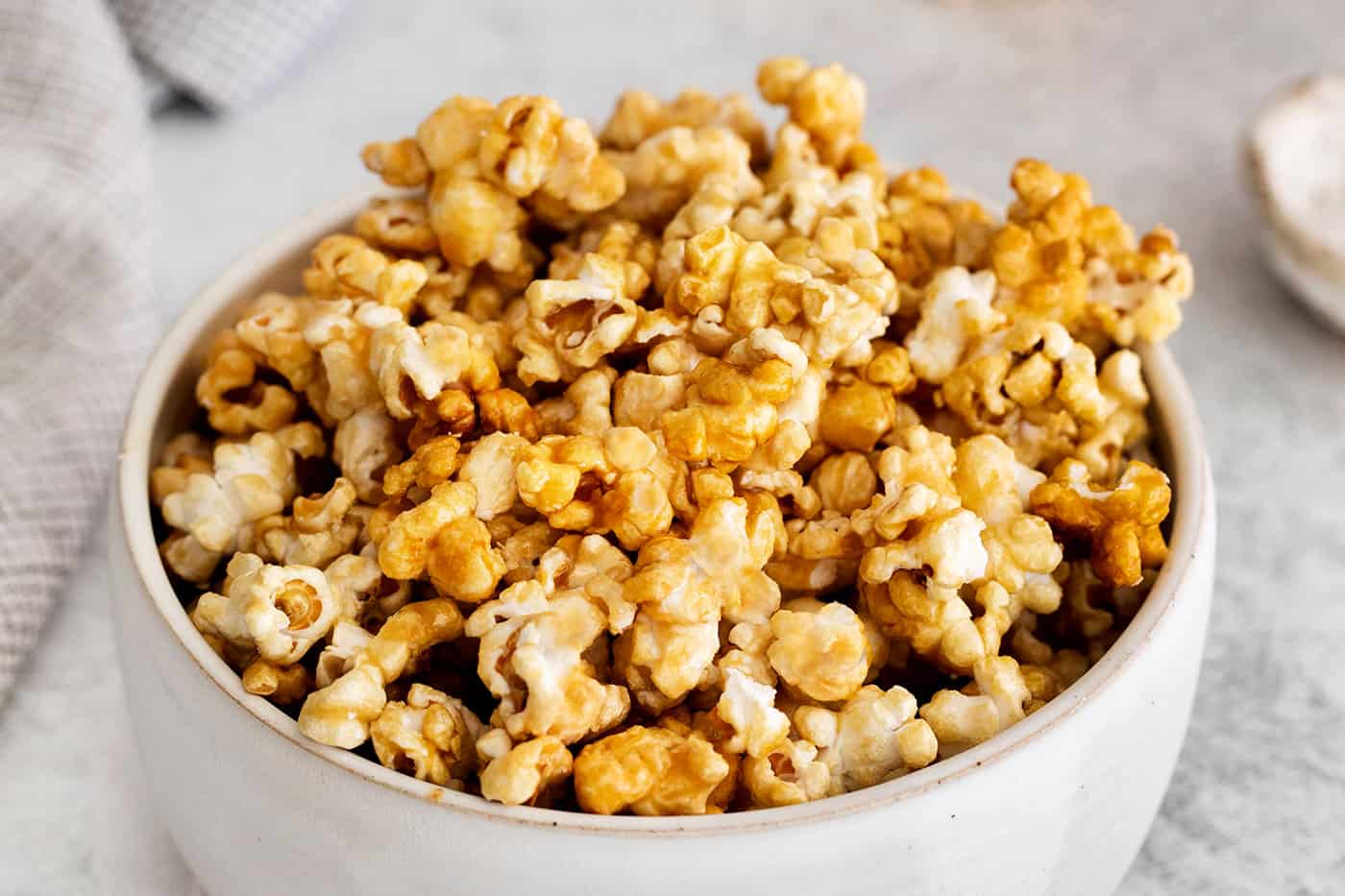 More Holiday Snacks & Treats:
Like this recipe? Save it to Pinterest!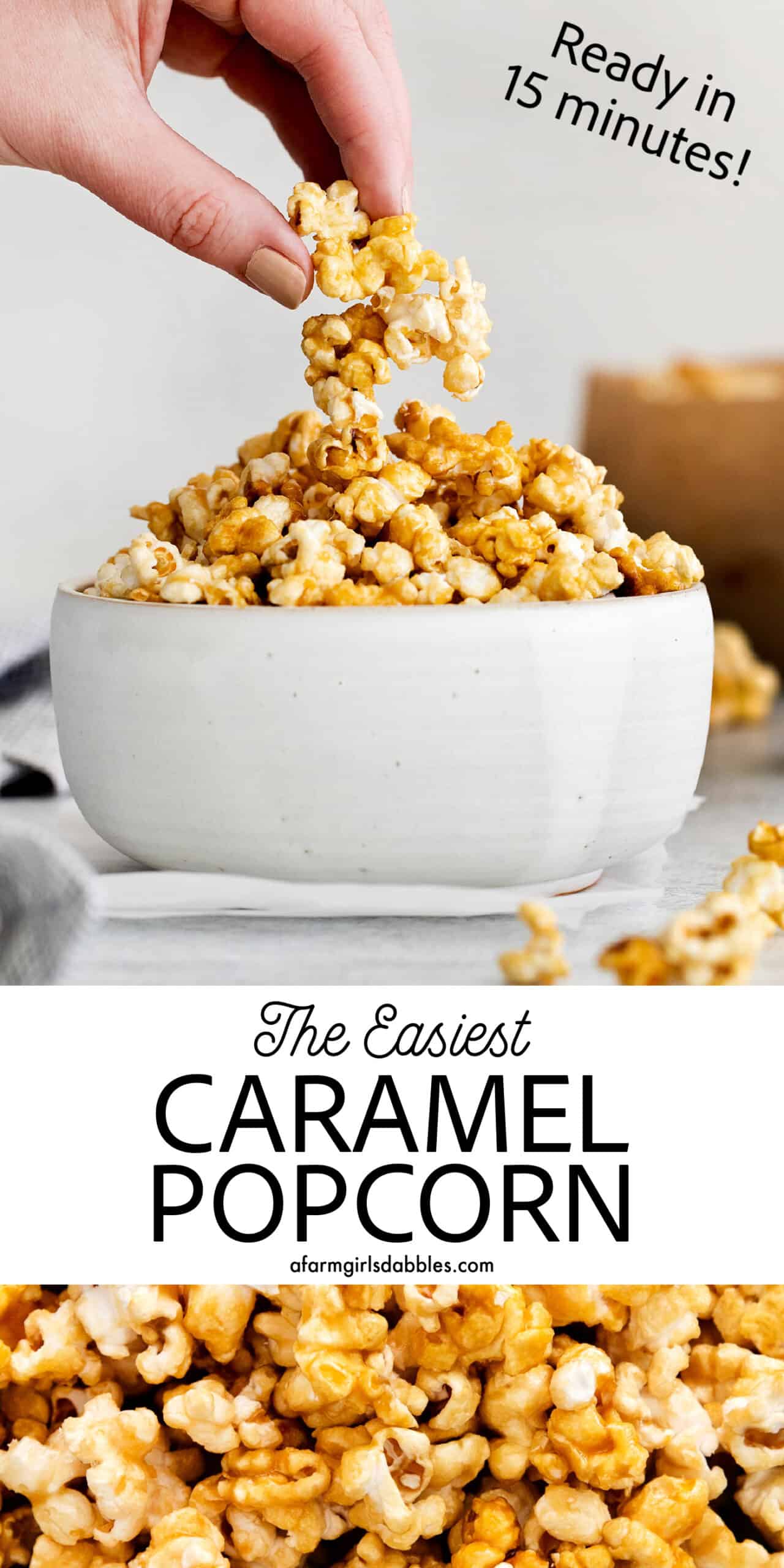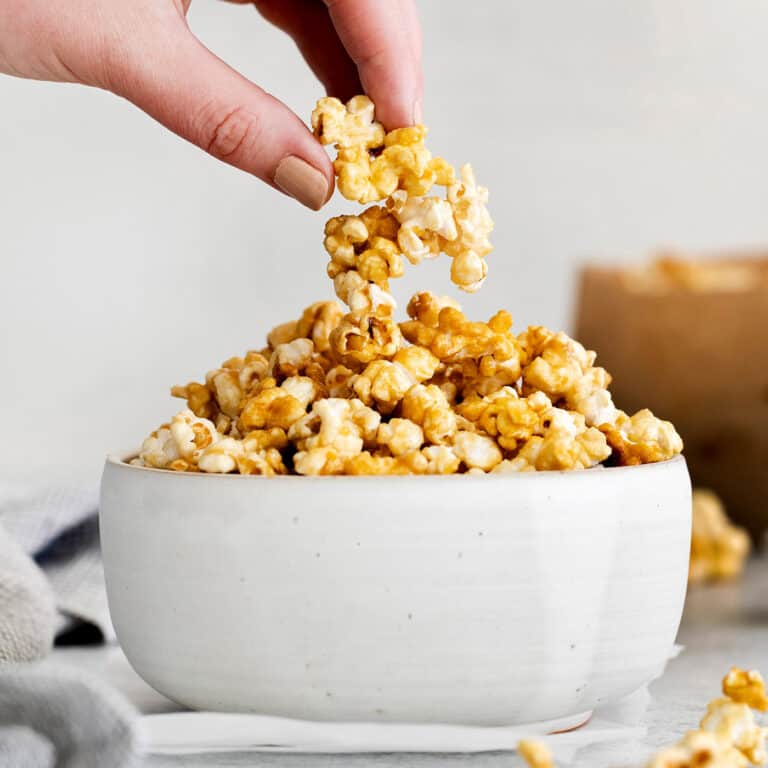 Microwave Caramel Popcorn
Yield: 4 quarts caramel corn
Prep Time: 10 minutes
Cook Time: 5 minutes
Total Time: 15 minutes
Microwave Caramel Popcorn is ready in just 15 minutes, with a handful of ingredients, a microwave, and a brown paper bag. A quick & easy homemade caramel popcorn recipe - no candy thermometer or baking required!
Ingredients
4 quarts popped corn
1 cup packed brown sugar
½ cup unsalted butter
¼ cup light corn syrup
½ teaspoon kosher salt, plus more sprinkled on at the end, if desired
1 teaspoon pure vanilla extract
½ teaspoon baking soda
Instructions
Place popped corn in a grocery-size brown paper bag. Set aside.
In a medium microwave-safe bowl (a bowl with a spout works great), combine brown sugar, butter, corn syrup, and salt. Microwave on high for 2 minutes. It will be boiling. Stir in vanilla, and then the baking soda, until combined. Immediately drizzle caramel mixture over popped corn in the paper bag. Fold top of paper bag over a couple times to secure tightly, then shake well to evenly coat the popcorn.
Set bag in microwave and cook for 1-1/2 minutes. Remove bag, shake again, and then microwave for another 1-1/2 minutes. Pour caramel corn out onto a rimmed cookie sheet. Spread out caramel corn, breaking up any clumps if desired. Immediately sprinkle with a bit more kosher salt, if desired. Let cool completely.
Notes
Note: Microwave power can vary quite a bit from microwave to microwave. Adjust cook time accordingly.
Adapted slightly from Mom's recipe box.
Nutrition Information:
Yield: 8
Serving Size: 1
Amount Per Serving:
Calories: 506
Total Fat: 16g
Saturated Fat: 8g
Trans Fat: 0g
Unsaturated Fat: 7g
Cholesterol: 31mg
Sodium: 175mg
Carbohydrates: 93g
Fiber: 7g
Sugar: 44g
Protein: 10g
Nutrition information is automatically calculated by Nutritionix. I am not a nutritionist and cannot guarantee accuracy. If your health depends on nutrition information, please calculate again with your own favorite calculator.