Dragon Roll
This post may contain Amazon or other affiliate links. As an Amazon Associate I earn from qualifying purchases.
One of the most popular sushi rolls out there, this Dragon Roll features tempura shrimp, cucumber, and avocado wrapped in nori and rice. It's easy, healthy, and contains no raw fish.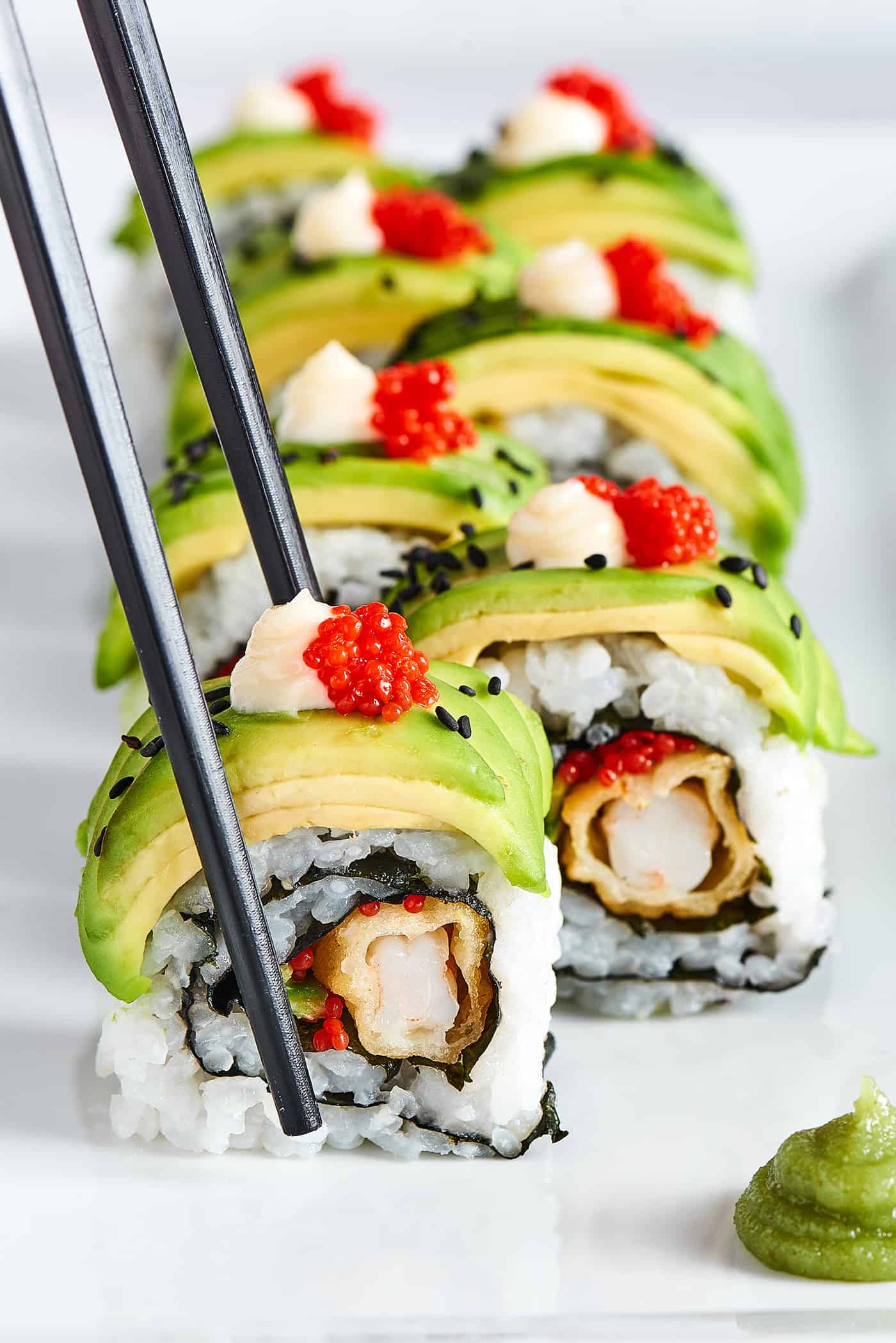 Homemade Dragon Roll Recipe
Sushi is one of my favorite eats, and it makes me so happy that our entire family is now onboard. Also lucky for me, this Dragon Roll is something we can all agree on!
Our girls aren't the biggest fans of raw fish, although they've definitely been more curious lately and have been trying bites of mine…they'll come around with time! So this dragon roll, or shrimp tempura roll, is a great choice for all of us since it doesn't include raw fish or seafood.
If you've always wanted to make your own sushi, give this recipe a try. I show you just how to make a dragon roll – and it's oh so good!
What Is A Dragon Roll?
A dragon roll is one of the most popular sushi rolls in the US. It's an "Uramaki" roll or "inside out roll", which means that the rice is on the outside (the nori sheet is rolled through the inside of the roll, not on the exterior). It typically includes shrimp tempura, cucumber, and avocado.
While I think that pretty much all sushi rolls are works of art – so pretty! – the dragon roll is especially eye catching. The "dragon scales" are created by layering thinly sliced avocado over the top of the roll. Can you see the scales?!
Unlike many other sushi rolls, the dragon roll is completely cooked, with no raw fish. The shrimp is tempura shrimp, which is a form of fried shrimp. This makes my family love this roll even more!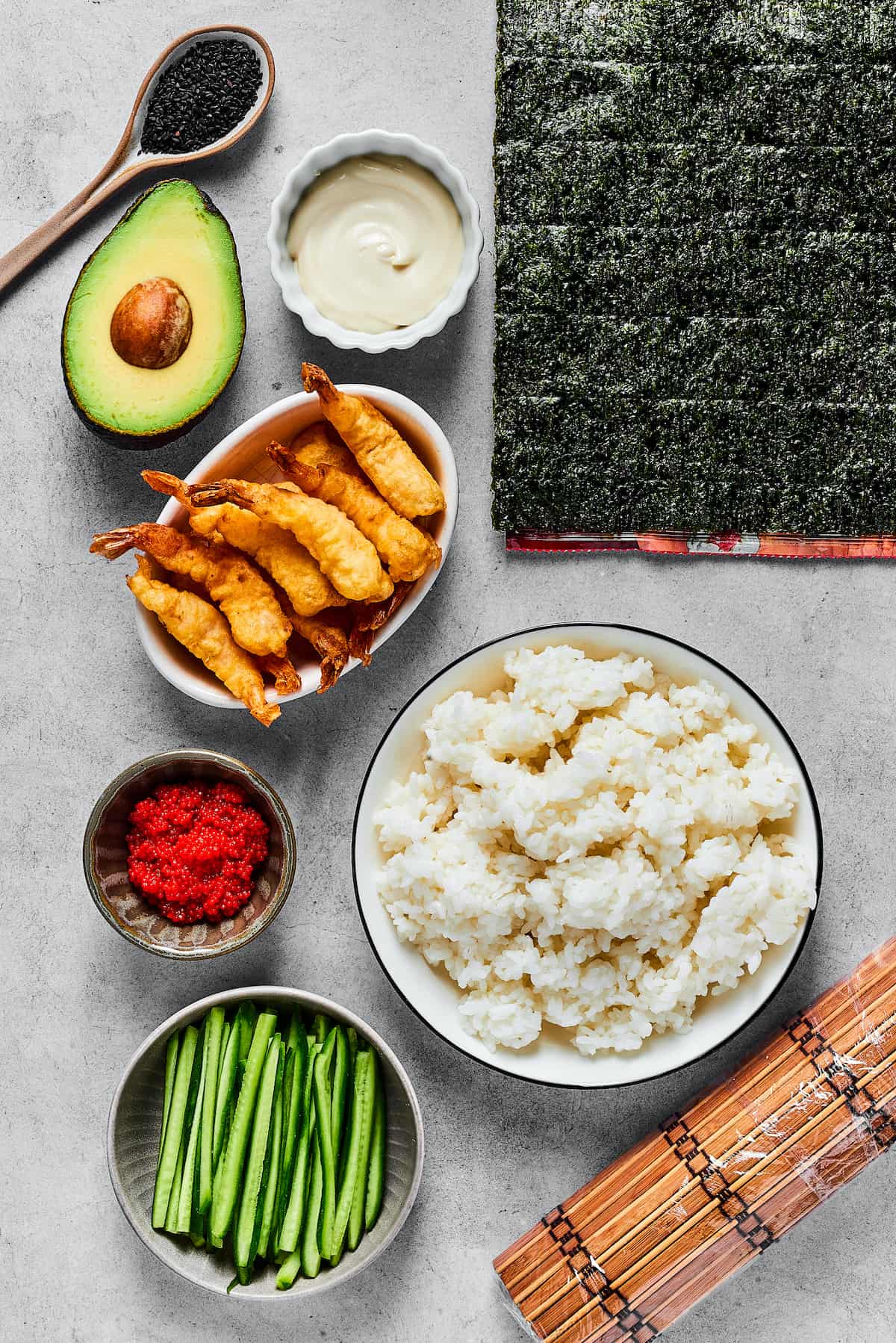 Ingredients
This sushi recipe calls for specific Japanese cuisine ingredients. However, they're all pretty common these days and can be easily found at your local Asian market, or even in the local grocery store. Scroll down to the recipe card for the full measurements.
Nori – Nori is the sheet of seaweed that holds the sushi roll together.
Sushi rice – Cooked and seasoned. (See instructions in the recipe card.)
Shrimp tempura – Follow my easy shrimp tempura recipe to make it at home.
Cucumber – Adds fresh crunch to the sushi roll. Look for Japanese cucumber for the most authenticity – they have very few, or at least very small, seeds. Persian cucumbers would also work well.
Tobiko – Tobiko is a type of flying fish roe (eggs). You can skip this if desired (our kids do!).
Avocado – Toss with lime juice to keep it from browning.
Mayo – Japanese mayonnaise or spicy mayo is ideal.
Sesame seeds – A final garnish. I especially like black sesame seeds for their pretty contrast.
Soy sauce – For serving.
Water + vinegar – Dipping your hands in water and vinegar will make the sushi roll much easier to work with.
What's The Difference Between White Rice and Sushi Rice?
White rice and sushi rice are not the same thing, so be sure to grab rice labeled "sushi rice" when making sushi.
Sushi rice has a much shorter grain than regular white rice and therefore more starch, which creates a sticky texture. Long-grain white rice will not hold together well in this recipe.
Recipe Variations
This is my variation on the popular dragon roll sushi, but you will find other versions that include additional ingredients or variations. Here are a few things you can include in/on your dragon roll (and still call it a dragon roll):
Imitation crab
Unagi (grilled eel)
Spicy mayo
Unagi eel sauce
Mango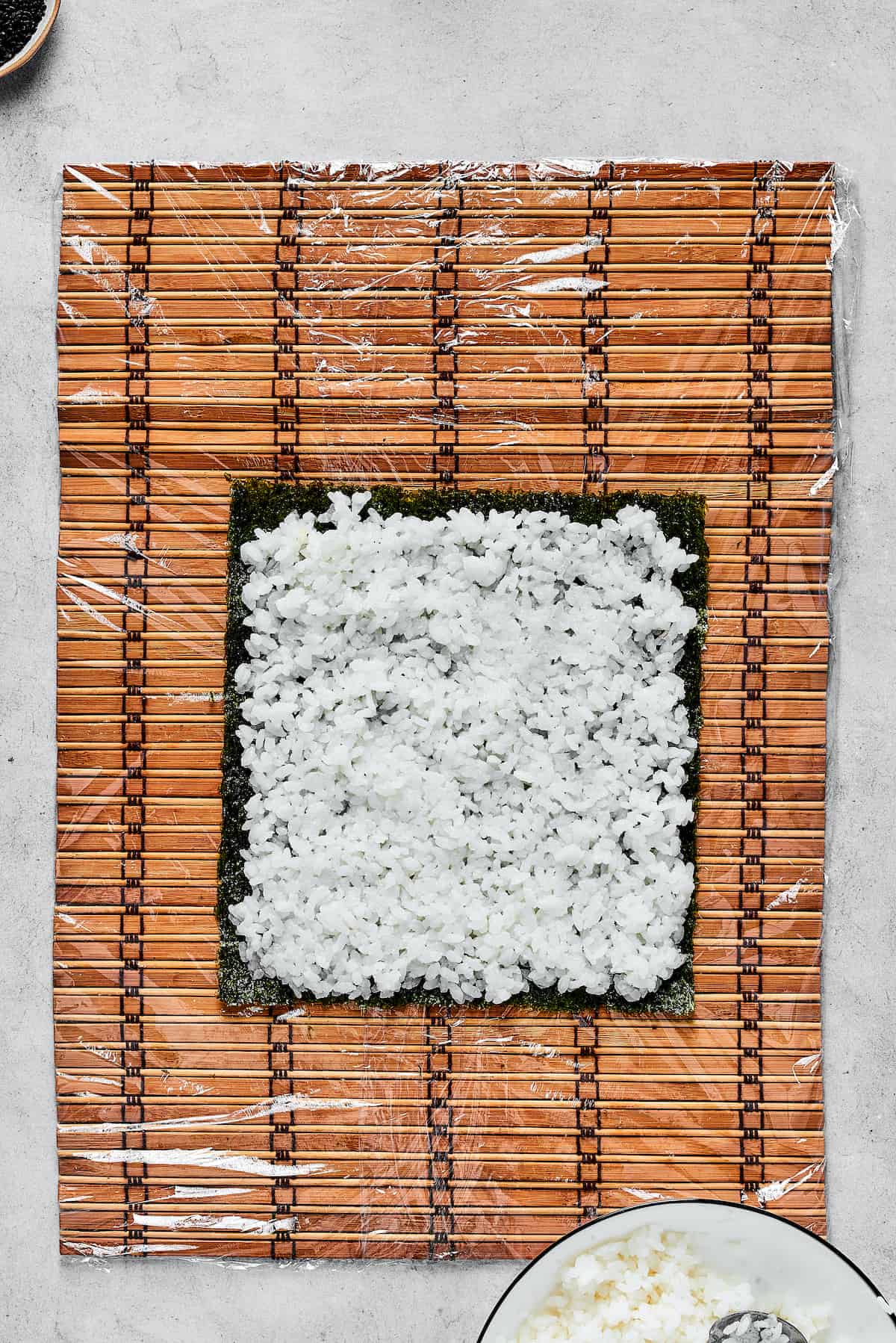 How to Make a Dragon Roll
Ready to try your hand at making homemade sushi rolls? It's easier than you may think!
Prepare all of the ingredients. Before beginning, the sushi rice should be cooked and cooled (see recipe card for ingredients and instructions), the shrimp tempura made, and the cucumber cut into thin strips with any seeds removed.
Add rice to the nori. Place the nori on the rolling mat. Spread half of the rice on the sheet.
Add the other ingredients. Flip the nori so the rice is on the bottom. Add 3 to 4 pieces of shrimp to the long edge, followed by the cucumber and tobiko.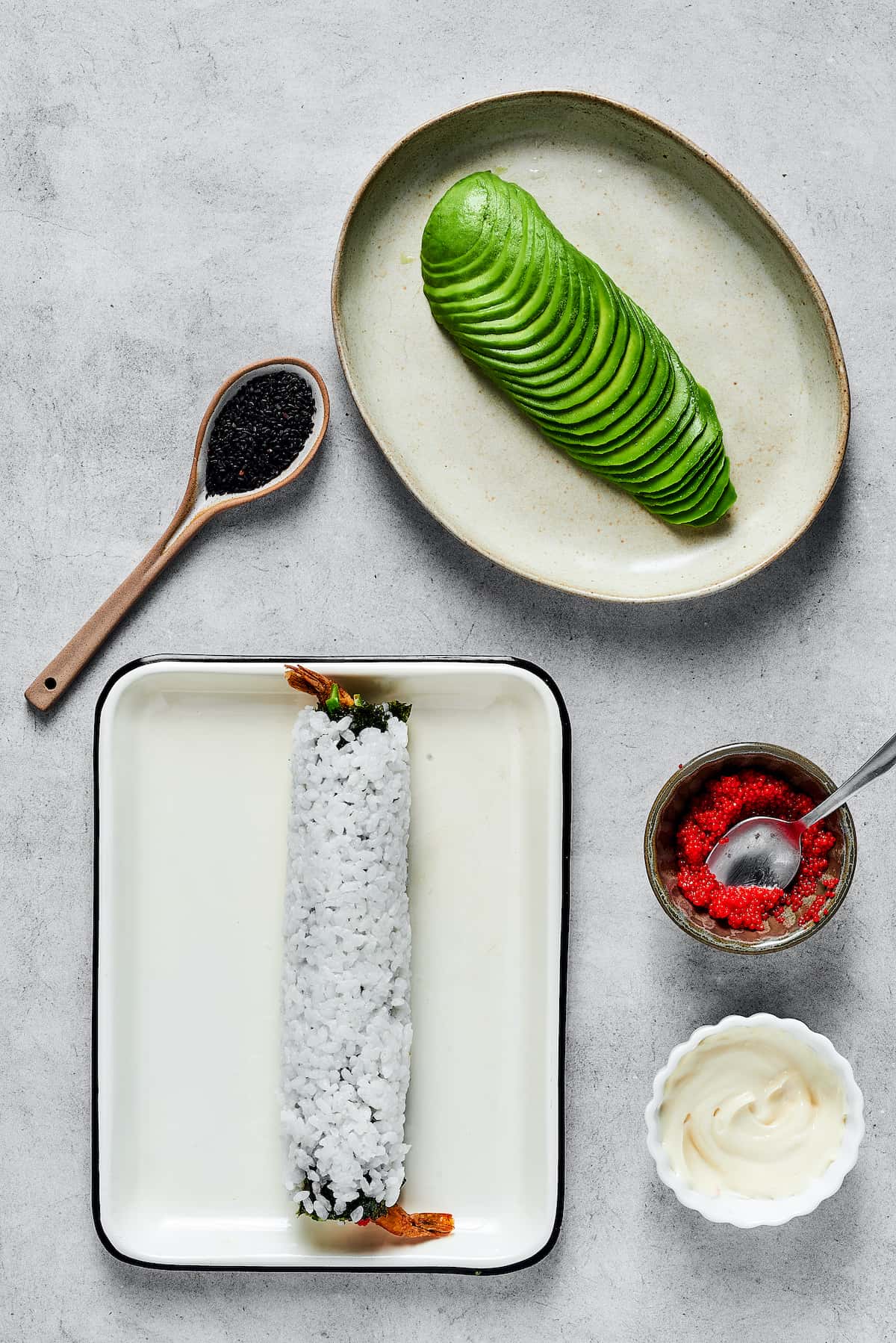 Roll the sushi. Start from the bottom edge, gently pinch and press the roll with the mat. Repeat with the remaining ingredients.
Add the avocado. Place the sliced avocado on top. Wrap in plastic, cover with the bamboo mat and gently squeeze.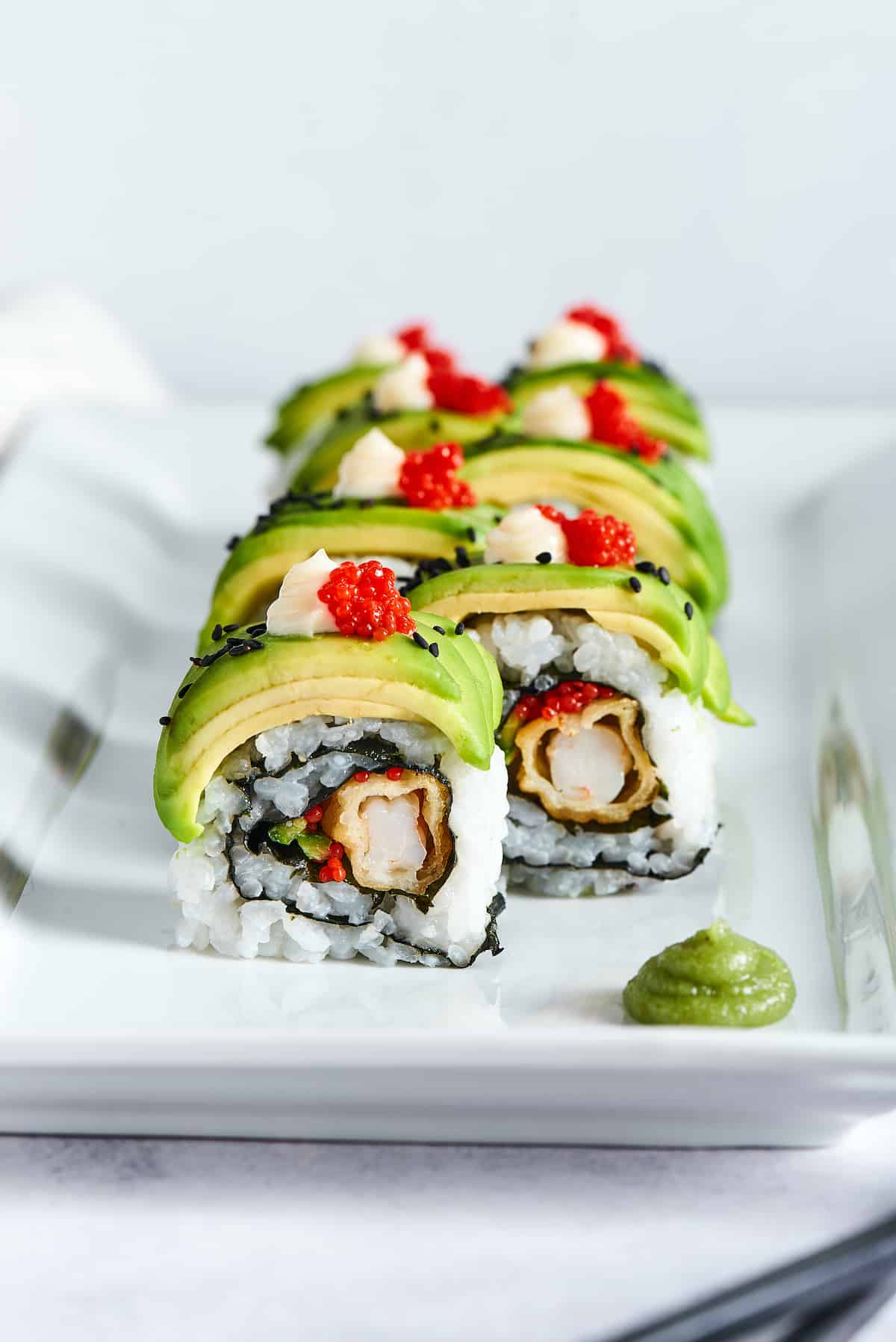 Serve. This recipe makes 2 rolls. Slice each roll into 8 pieces. Top with Japanese mayo, tobiko, and black sesame seeds.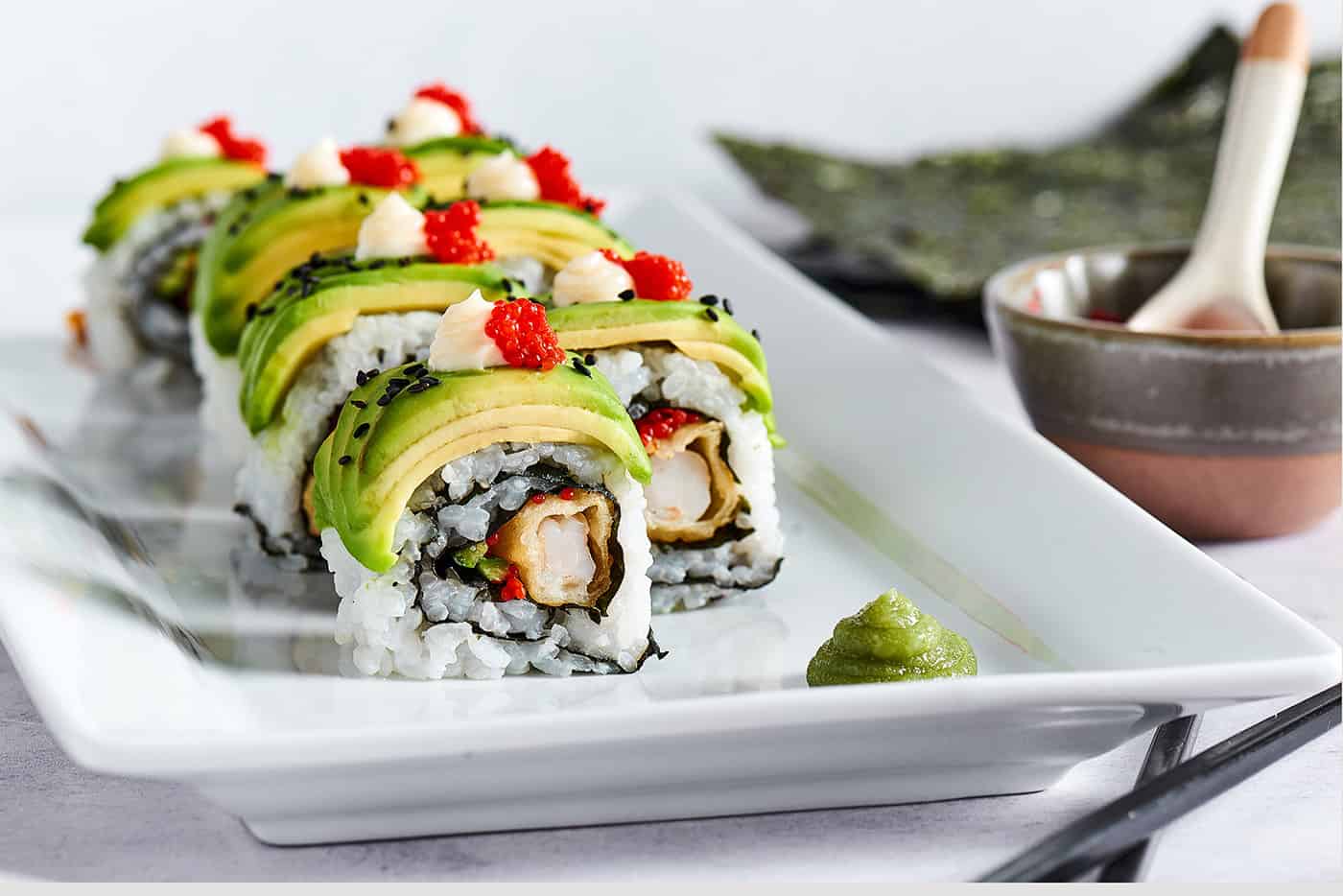 Tips for Success
Keep these tips in mind for the best sushi roll.
Make sure the rice is cool. Always work with room temperature rice when making sushi. Not only is it nice to not burn your fingers while making the roll, but it also makes the rice easier to work with.
Don't over-stuff the center. As tempting as it can be to load up the nori with the ingredients, keep in mind that you still need to be able to tightly roll the sushi.
Don't squeeze too hard. Once you add the avocado, don't press too hard on the mat. Otherwise, you may end up with squished avocado mash instead of pretty slices.
Dip your fingers in vinegar water. Sushi rice is quite sticky and will likely end up all over your hands. To prevent this, before touching the rice, dip your fingers into a small bowl of water that has a splash of vinegar added to it.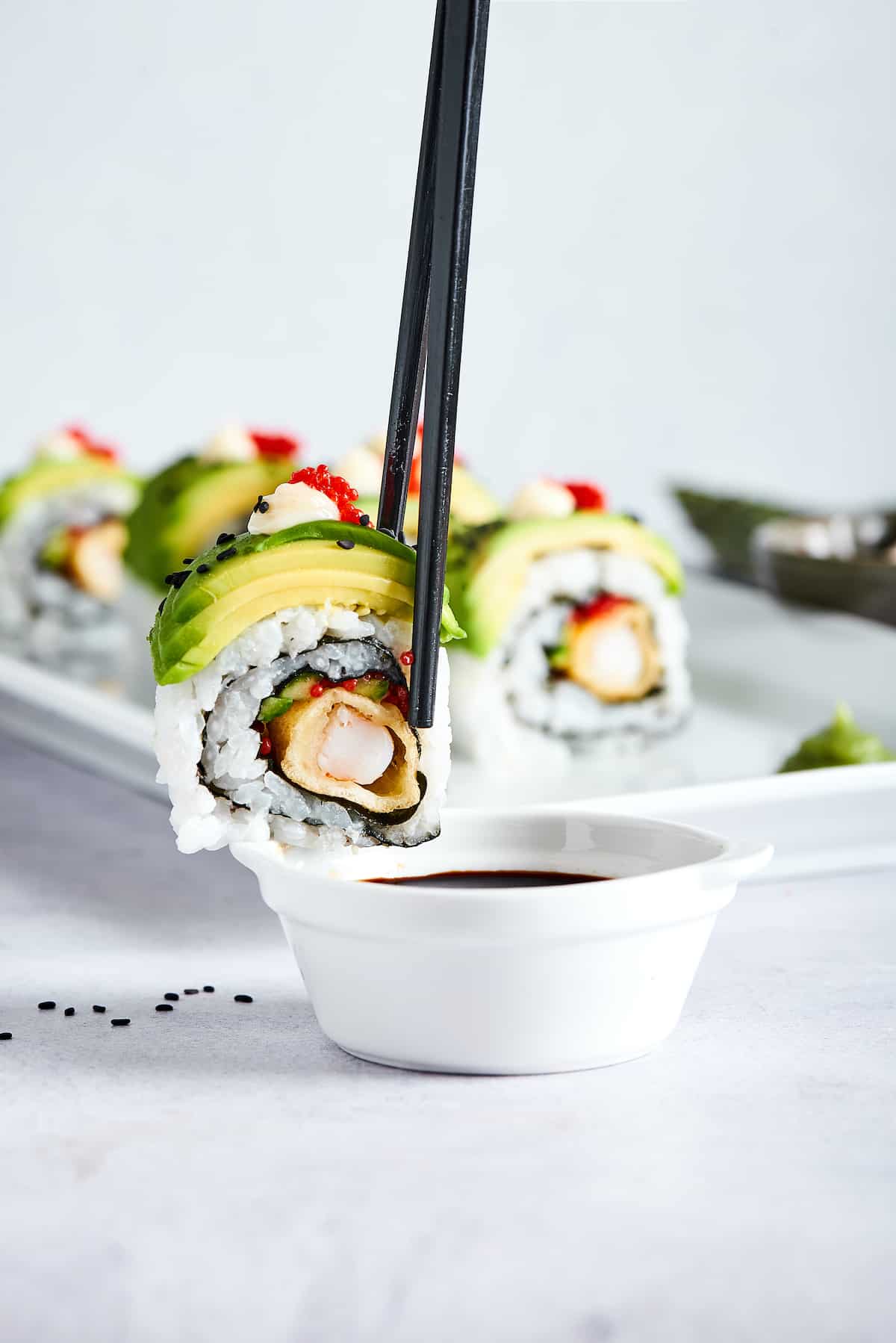 Serving Suggestions
Like most sushi, a dragon roll is typically served with sides of soy sauce, wasabi, and pickled ginger. You can also top it with Japanese mayo, spicy mayo, or eel sauce if desired.
This sushi roll makes a great appetizer to share, maybe before some yaki udon. As an appetizer, this recipe works great for 4 to 6 people.
Or enjoy as a main course. If I'm hungry enough, I want a whole roll to myself! So in that case, this recipe would feed 2 hungry people as a main course.
How to Store
Sushi in general is best enjoyed immediately after it's assembled.
However, since dragon roll sushi contains no raw fish, it can be refrigerated for up to a day. Just keep in mind that the sushi rice tends to dry out a bit and the tempura shrimp will not have as good of a texture.
More Shrimp Recipes:
Like this recipe? Save it to Pinterest!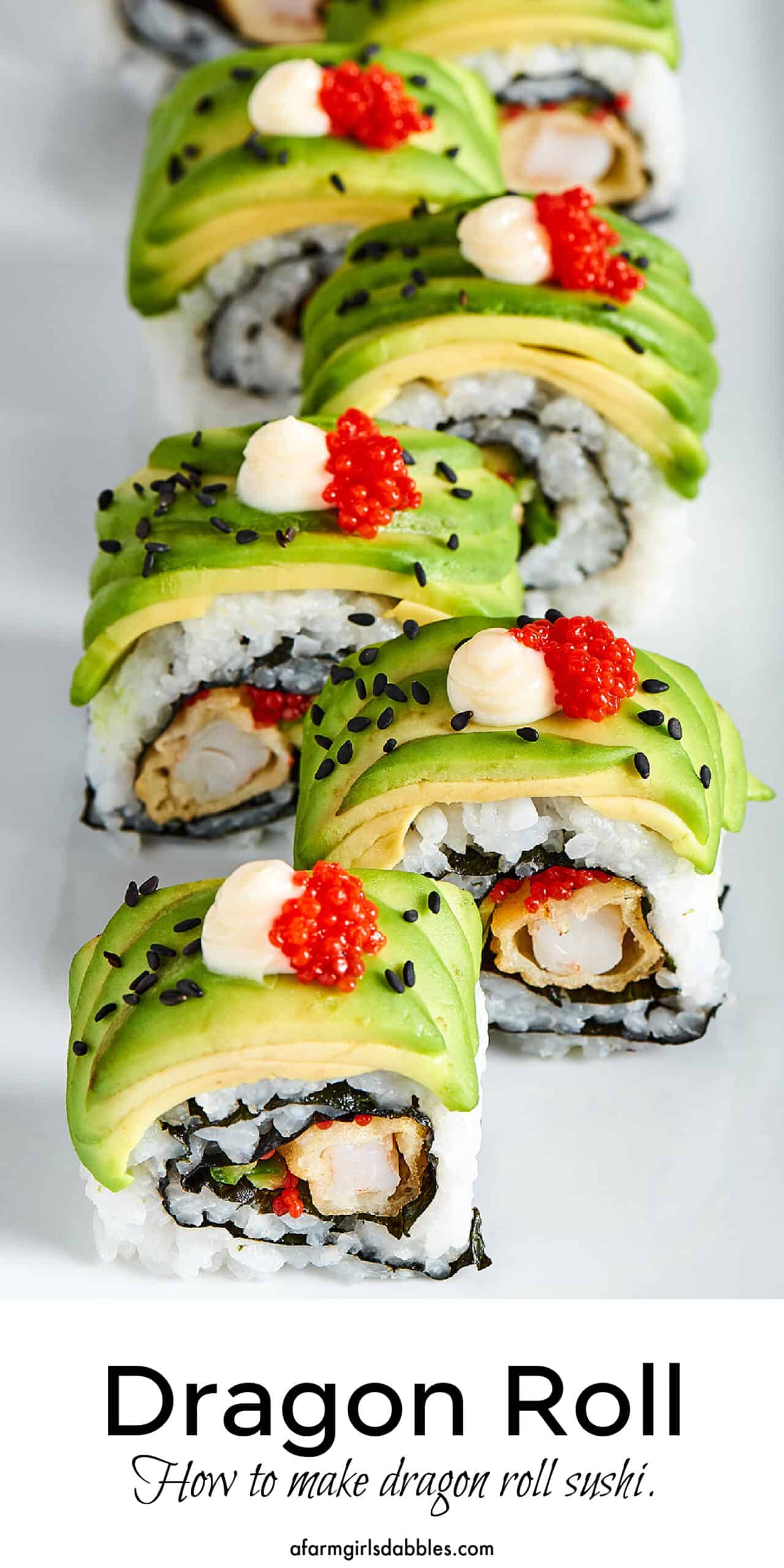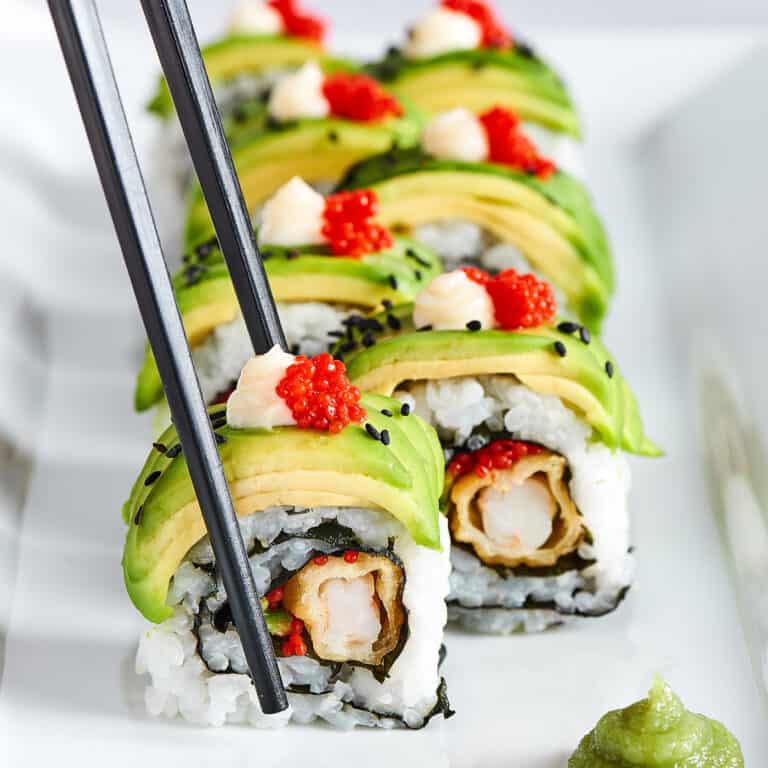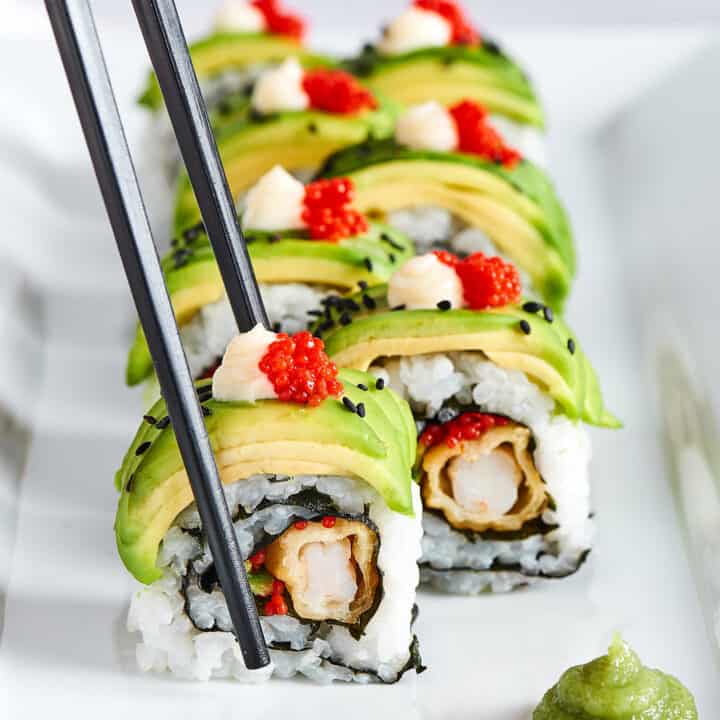 Dragon Roll
Yield: 4 servings
Prep Time: 1 hour
Cook Time: 10 minutes
Total Time: 1 hour 10 minutes
One of the most popular sushi rolls out there, this Dragon Roll features tempura shrimp, cucumber, tobiko, and avocado wrapped in nori and rice. It's easy, healthy, and contains no raw fish.
Ingredients
For the dragon roll:
2 sheet nori
200 grams cooked and seasoned sushi rice (see ingredients and instructions below)
6-8 pieces of shrimp tempura
1 Japanese cucumber (or Persian cucumbers)
5 teaspoons tobiko (optional)
1 avocado, thinly sliced for topping (toss in lime juice to keep fresh)
Soy sauce
Black sesame seeds
Mayo - preferably Japanese Mayonnaise
A small cup of water + a splash of vinegar, to wet your hands, to aid working with the sticky rice
For the sushi rice:
1 cup sushi rice
2 cups water
1 tablespoon rice vinegar
1 tablespoon sugar
1 teaspoon sea salt
Instructions
For the dragon roll:

First, make the sushi rice, so it has time to cool. See instructions below.
Cut the cucumber lengthwise and then again to form quarters. Remove any
seeds from the center. Then cut further, into thin strips.
Wrap the bamboo rolling mat with plastic wrap and place on a clean
surface. Fill a small bowl with water + a splash of vinegar, to wet your hands as you work with the sticky rice. Have all ingredients ready to start rolling.
Place the nori sheet on bamboo rolling mat, shiny side down. Dip your
hands in the vinegar water to prevent sticking, then spread half of prepared
sushi rice across the nori.
Flip it over so the nori is now on the top.
Arrange 3 to 4 pieces of shrimp tempura on long edge closest to you, then add the
cucumber strips and tobiko to the bottom edge of the nori sheet.
Using mat, starting from the bottom edge, gently pinch and press roll to
make sure it's tight. Gently squeeze the roll with the bamboo mat. Repeat
with remaining nori, rice, and fillings.
Using the side of the knife, carefully place the thinly sliced avocado on top
of the sushi roll. Wrap the roll in plastic wrap and cover with the bamboo
mat. Gently squeeze the roll to help the avocado slices adhere to the
sushi.
Repeat these steps to create a second roll.
Cut each sushi roll into eight pieces with a sharp knife and then remove the
plastic wrap.
Pipe Japanese Mayonnaise over sushi and top each section with tobiko. Garnish with black sesame seeds. Serve with soy sauce, wasabi, and ginger
alongside.
For the sushi rice:
Wash the rice until the washing water becomes clear, and then drain the water.
Place washed rice in a rice cooker and add the water.
Set rice cooker to cook the rice according to the cooker's automatic time option.
While the rice cooks, prepare the sushi vinegar by mixing the rice vinegar, sugar, and salt in a bowl until combined.
Once the rice is cooked and hot, pour the sushi vinegar mixture over the rice and quickly fold the rice with a wooden spatula. Take care to not smash the rice.
Let rice cool to room temperature before using in sushi rolls.
Nutrition Information:
Yield: 4
Serving Size: 1
Amount Per Serving:
Calories: 473
Total Fat: 24g
Saturated Fat: 3g
Trans Fat: 0g
Unsaturated Fat: 19g
Cholesterol: 92mg
Sodium: 1405mg
Carbohydrates: 51g
Fiber: 5g
Sugar: 8g
Protein: 14g
Nutrition information is automatically calculated by Nutritionix. I am not a nutritionist and cannot guarantee accuracy. If your health depends on nutrition information, please calculate again with your own favorite calculator.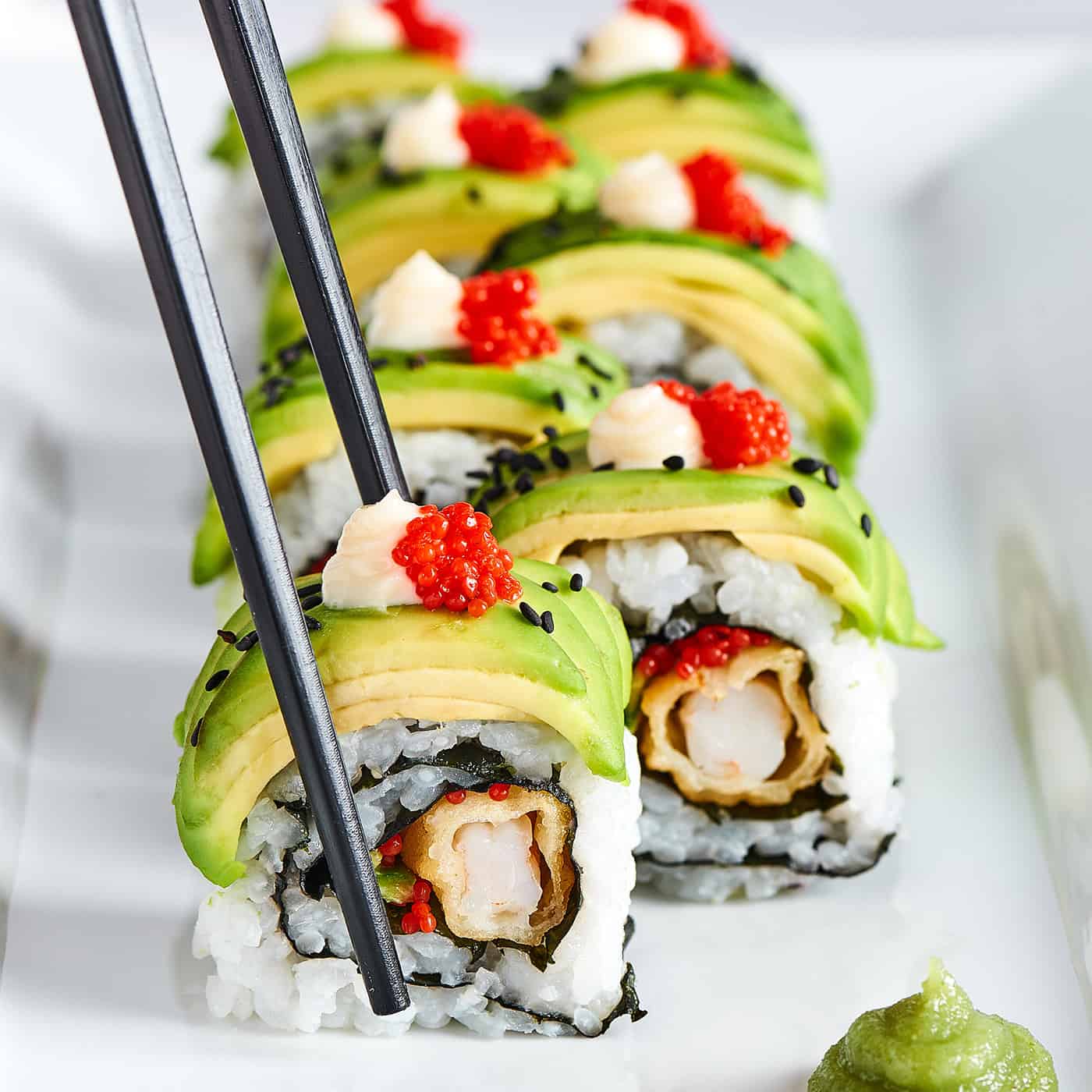 We participate in the Amazon Services LLC Associates Program, an affiliate advertising program designed to provide a means for us to earn fees by linking to Amazon.com and affiliated sites. See our
disclosure policy
for more info.