Yaki Udon
This post may contain Amazon or other affiliate links. As an Amazon Associate I earn from qualifying purchases.
This easy Yaki Udon recipe is perfect for busy weeknights, with soft, chewy udon noodles coated in a simple sauce, plus protein and veggies. A fun, delicious meal for adults and kids alike, and ready in 25 minutes!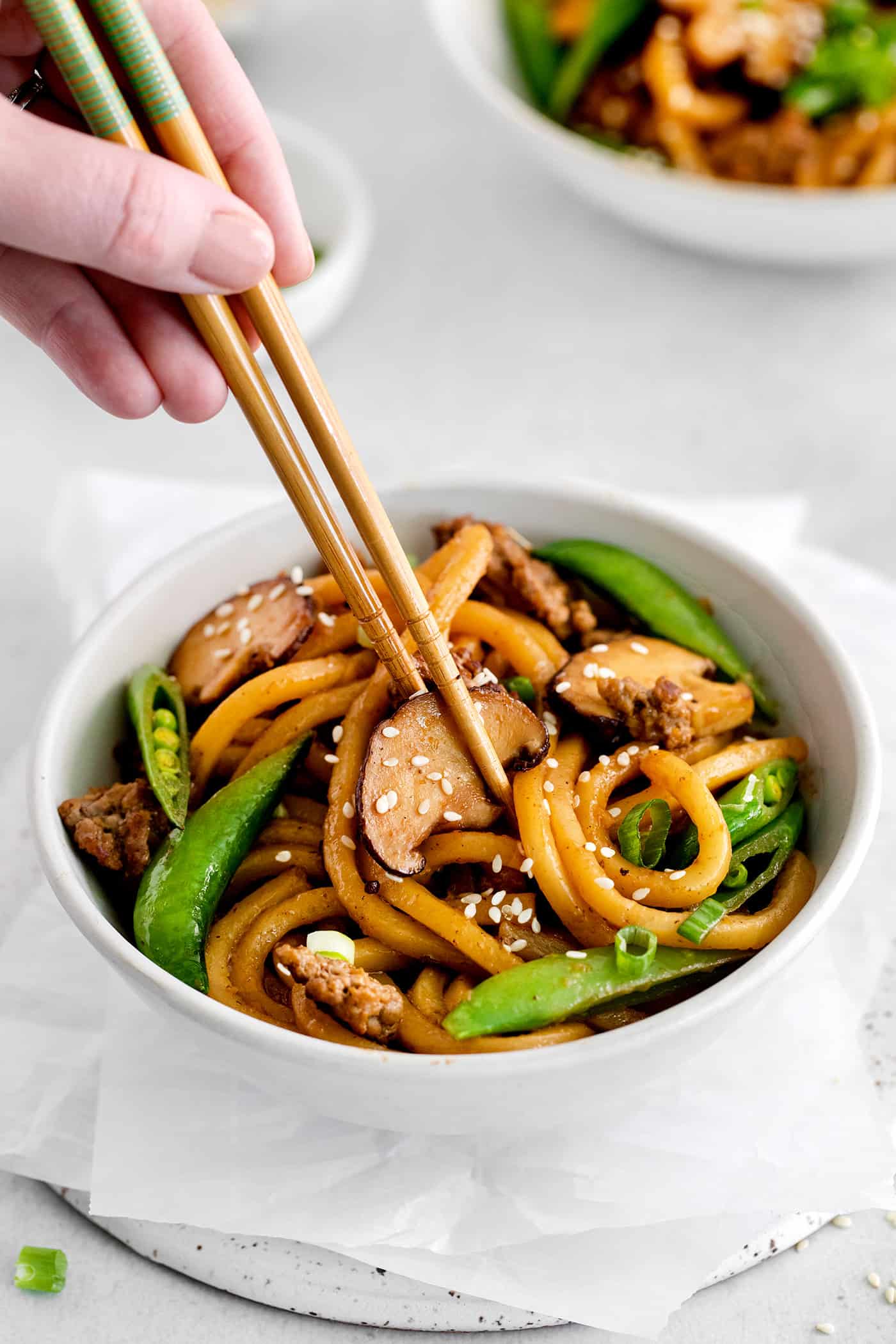 Quick & Easy Stir Fry
I'm a huge fan of stir frys for quick and easy dinners. They're versatile, filling, and come together quickly. This Yaki Udon recipe is no exception, made with soft, chewy udon noodles (our kids LOVE them!!) and a ready-in-seconds sauce.
I like to use ground beef and mushrooms, a combination my family loves, along with sugar snap peas – but you can use any protein or veggies you like. Pork yaki udon is especially delightful, but chicken and shrimp are wonderful as well!
My advice? Give this recipe a try, fall in love, and play around with new flavor combinations each time you make it (because you will make it again and again!).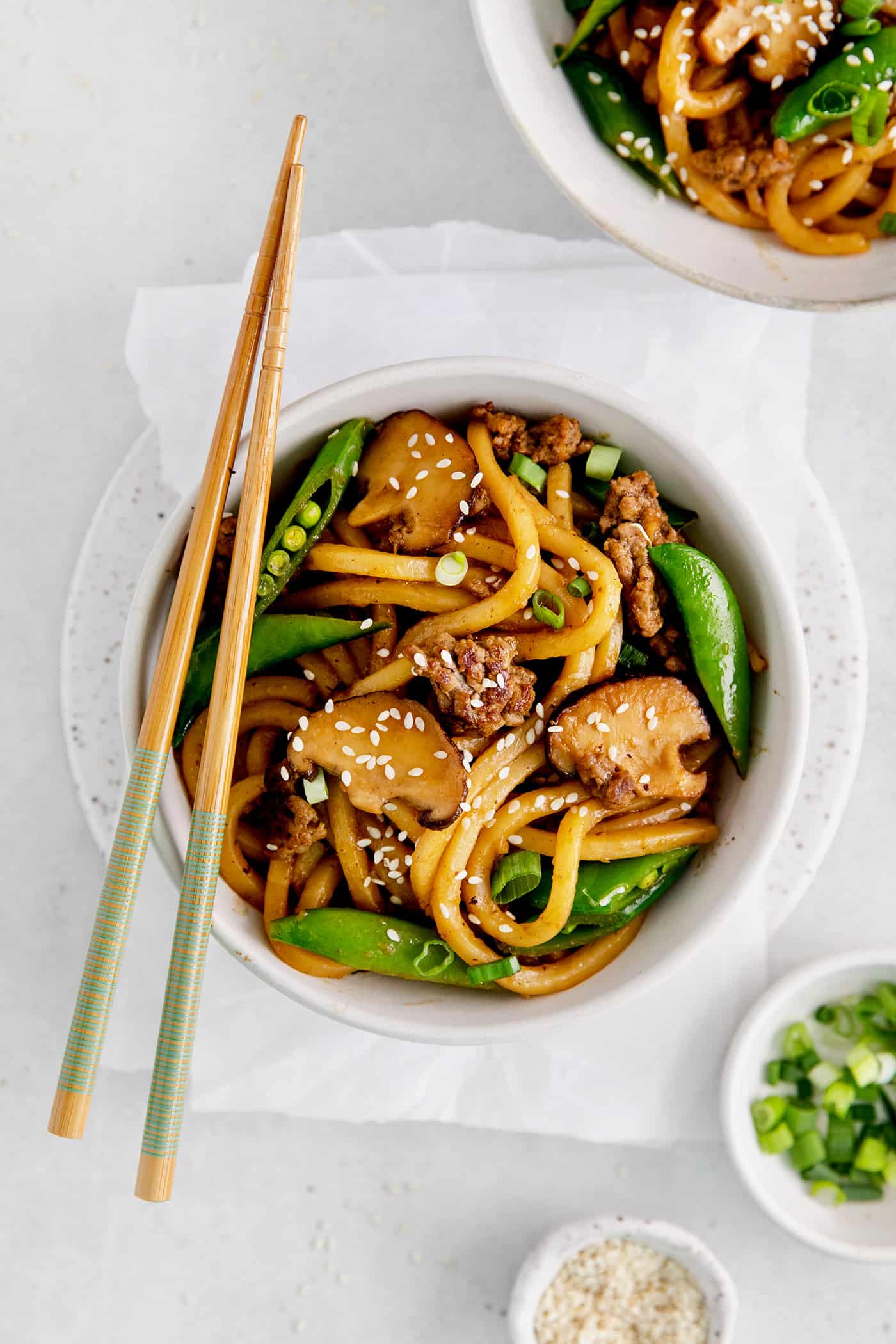 What is Yaki Udon?
Yaki udon is a stir fry made with Japanese udon noodles. It is similar to lo mein, though lo mein is made with egg noodles. Udon noodles are made from wheat flour and can be purchased fresh from your local Asian market or regular grocery store, usually in the frozen Asian food section. Udon noodles are thick and chewy and delicious – downright irresistible!
Yaki udon can be made in many different variations, similar to other stir fry and noodle dishes. This recipe uses ground beef and mushrooms, but vegetarian, shrimp, pork, and chicken yaki udon are also options.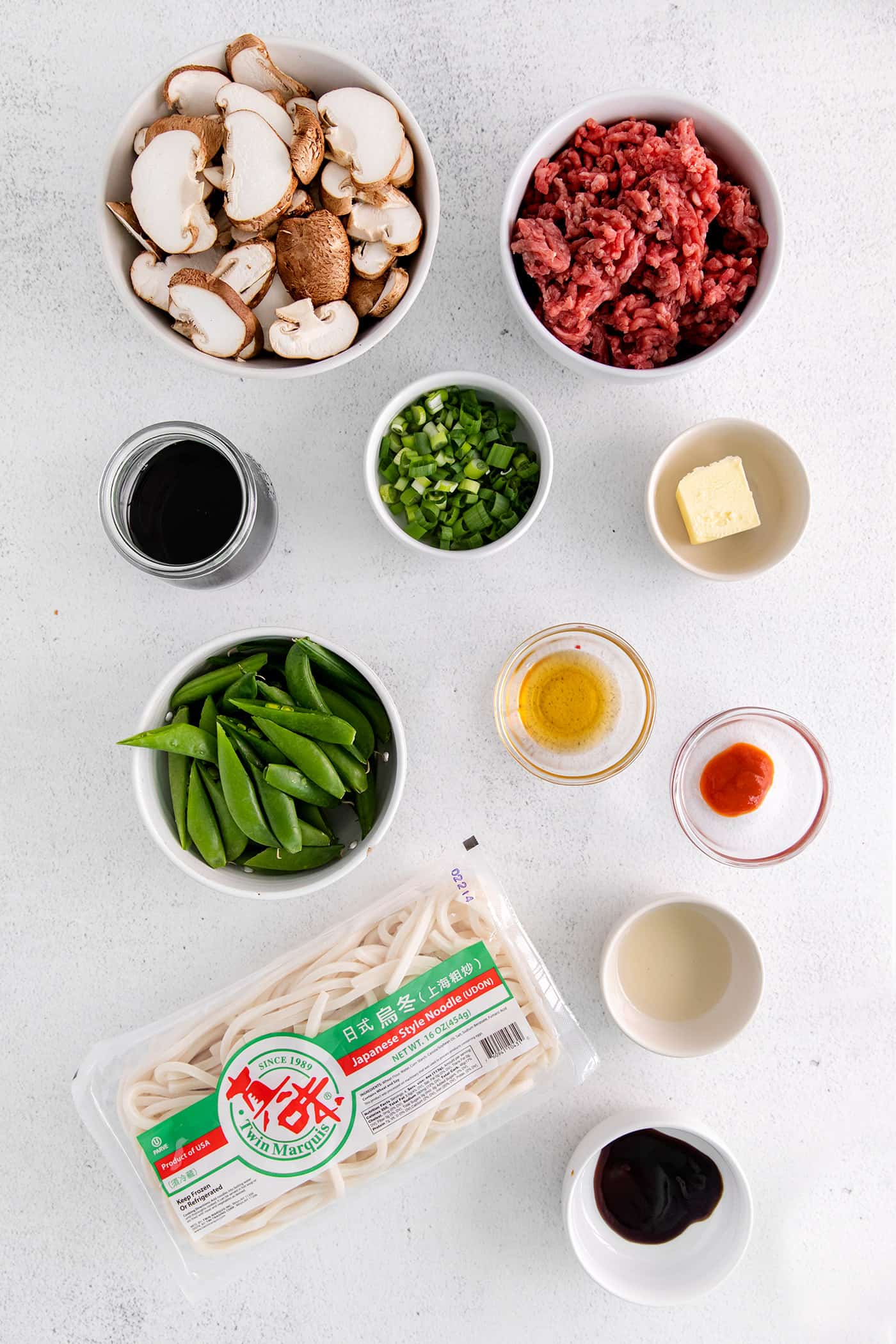 What You'll Need
This is one of those recipes that call for just a few ingredients, that equals an amazingly tasty meal!
For the Sauce
Soy sauce – Soy sauce adds a salty umami flavor that pairs perfectly with beef and mushrooms.
Seasoned rice vinegar – Rice vinegar adds a bit of acidity to cut through all of the richness in the sauce.
Oyster sauce – Oyster sauce tastes smokey and earthy– and is great paired with beef! You could substitute hoisin sauce for a sweeter flavor – this would be especially good with chicken or pork.
Sriracha – Sriracha adds heat. Feel free to use as little or as much as you like.
For the Stir Fry
Udon noodles – I recommend using fresh udon noodles, which I get at our local Asian market. You can use fresh or frozen – just be sure to cook them according to the package directions, just until they're tender. Cooking them too much can cause them to break up.
Ground beef – Ground beef helps make this noodle dish a full meal. You could use pork or chicken, shrimp, or thinly sliced steak – or leave meat out entirely for a vegetarian dinner.
Toasted sesame oil & butter – I love the combination of sesame oil and butter for sauteeing the mushrooms – sesame oil adds a rich nutty flavor, while butter adds beautiful flavor and helps the mushrooms brown nicely.
Shiitake mushrooms – I like to use shiitake mushrooms but button, oyster, or portobello would also work.
Sugar snap peas – Sugar snap peas add a delicious fresh crunch.
Green onion – Green onion adds a subtle fresh onion flavor.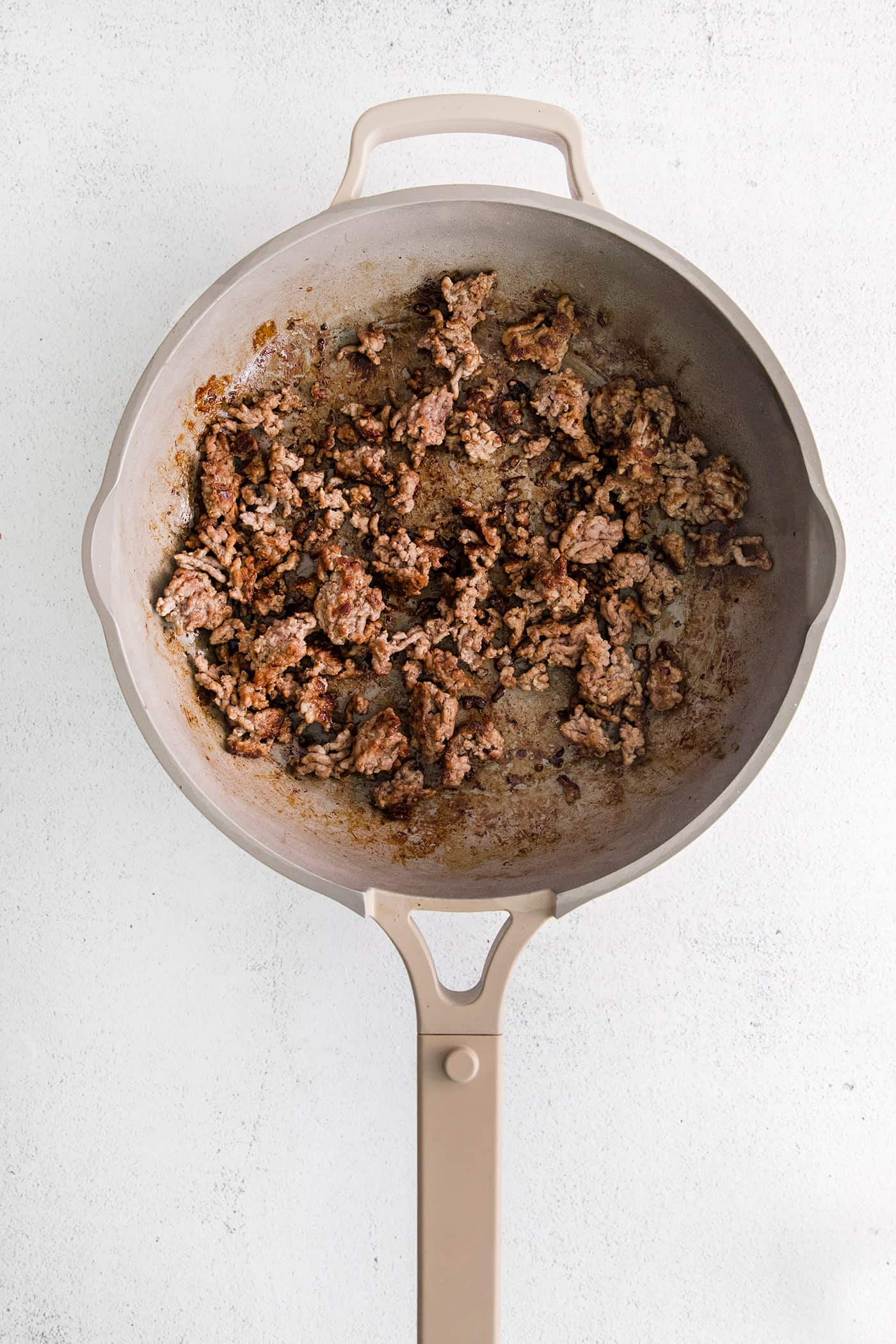 How to Make Yaki Udon
Here's how to make this simple stir fried udon with beef and mushrooms.
Make the sauce. Whisk all sauce ingredients together and set aside until ready to use.
Cook the noodles. Prepare the noodles according to package instructions, then drain and rinse under cold water.
Cook the ground beef and mushrooms. Brown the ground beef and then remove from skillet. Discard any grease. Add the sesame oil and butter to the skillet, then saute the mushrooms until golden brown. Set aside with the browned beef.
Assemble the stir fryer. Add the prepared sauce to the pan and bring it to a boil. Add the cooked noodles, followed by the beef, mushrooms, snap peas, and green onions. Toss and cook until the peas are warmed through.
Serve. Serve immediately with green onions and sesame seeds.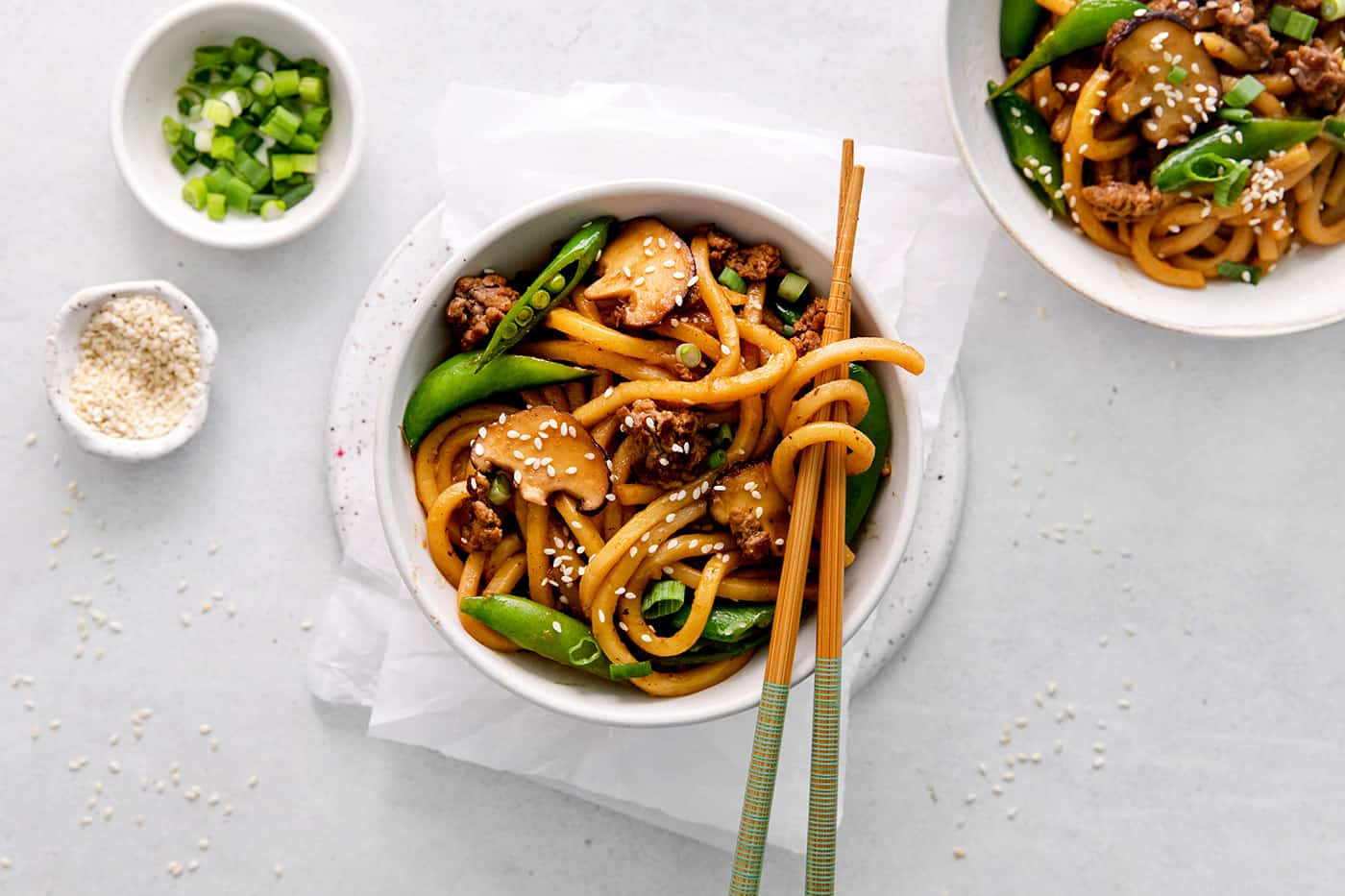 Tips & Variations
Here are a few tips, as well as ways to get creative with your stir fried udon noodles.
Do not overcook the noodles. The most important tip I can give about making beef udon stir fry is to not overcook the noodles. When overcooked, they can be soft and mushy .
Use tongs and a large pan. Tongs and a large pan with tall sides will make cooking and stirring these udon stir fried noodles so much easier. Trying to stir this with a spatula just doesn't work!
Add your favorite protein and veggies. Like most stir frys, yaki udon can be made with almost any protein or veggies. Bok choy, water chestnuts, edamame beans, green beans, and carrots are all popular additions – I also love to use asparagus! For proteins, pork udon is very popular. Shrimp and chicken are other good alternatives as well. If you like beef, also try thinly sliced steak in place of ground beef.
Use fresh or frozen udon noodles. While you can find dried udon noodles as well, I highly recommend using fresh or frozen noodles instead – they're so worth it! If you have a local Asian market, definitely seek out some fresh udon noodles. If not, look for frozen udon noodles at your grocery store. These options will have the best texture, especially compared to the dried noodles.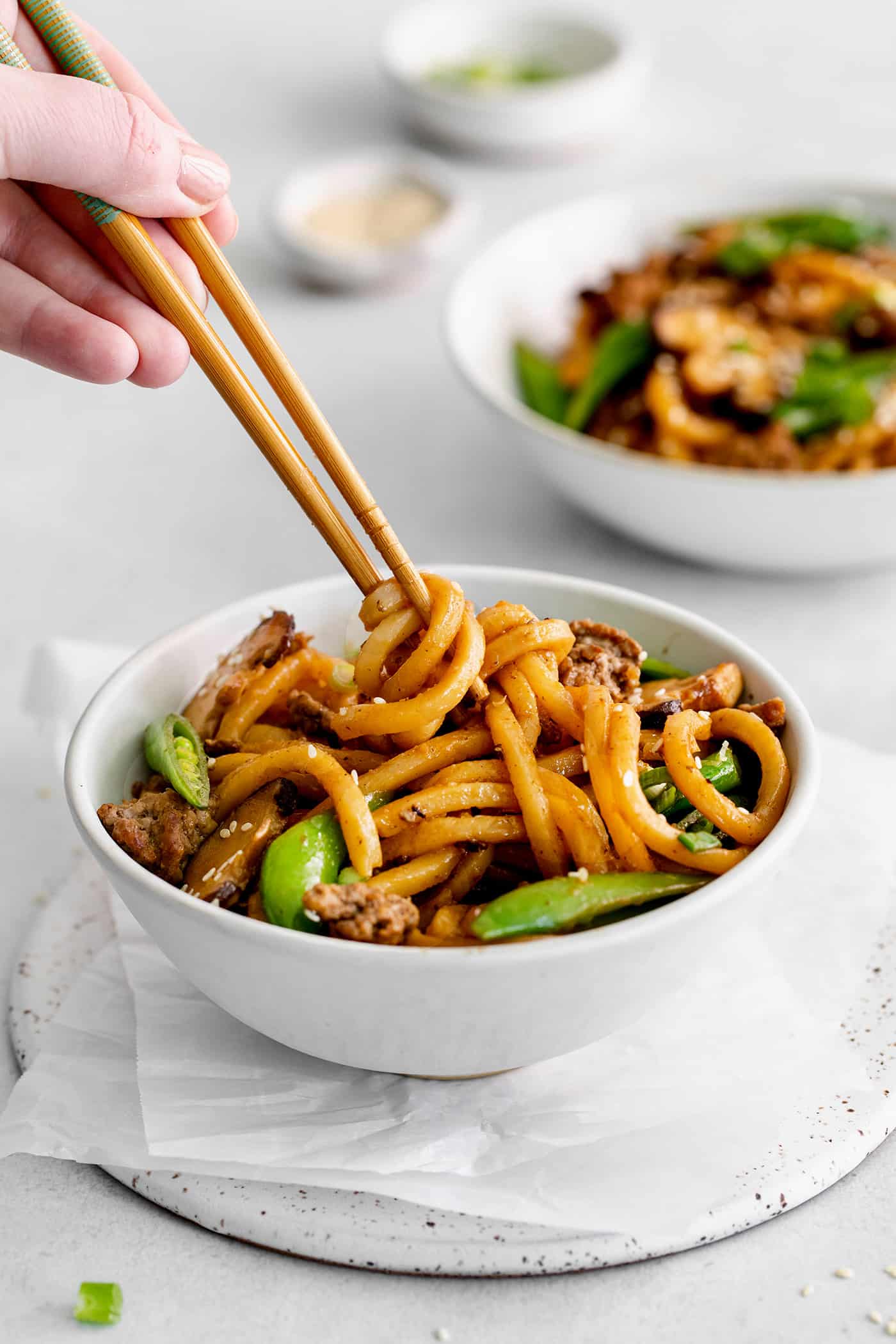 Serving Suggestions
Yaki udon should be served immediately. It's a great meal on its own, but you can serve with other Asian sides like kimchi, cucumber kimchi, sriracha cashews, or pot stickers. I love to mix and match, as if we were ordering takeout from our favorite restaurant!
How to Store Leftovers
Leftover yaki udon can be stored in the fridge for up to 3 days. Reheat it gently on the stovetop or super easily in the microwave.
I don't recommend freezing this, as the wonderful texture of the noodles and veggies can deteriorate when frozen and thawed.
More Easy Asian Dinner Ideas:
Like this recipe? Save it to Pinterest!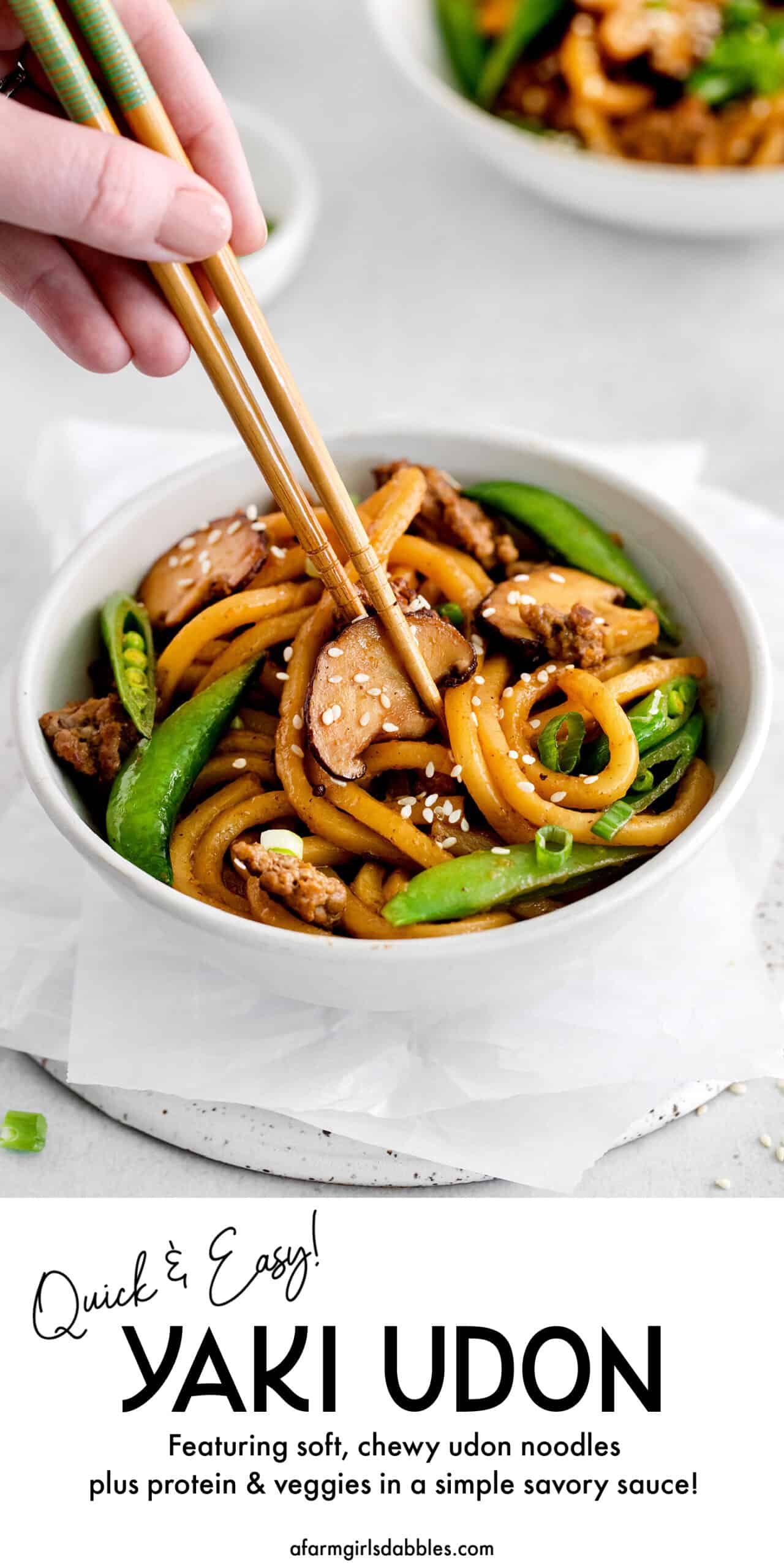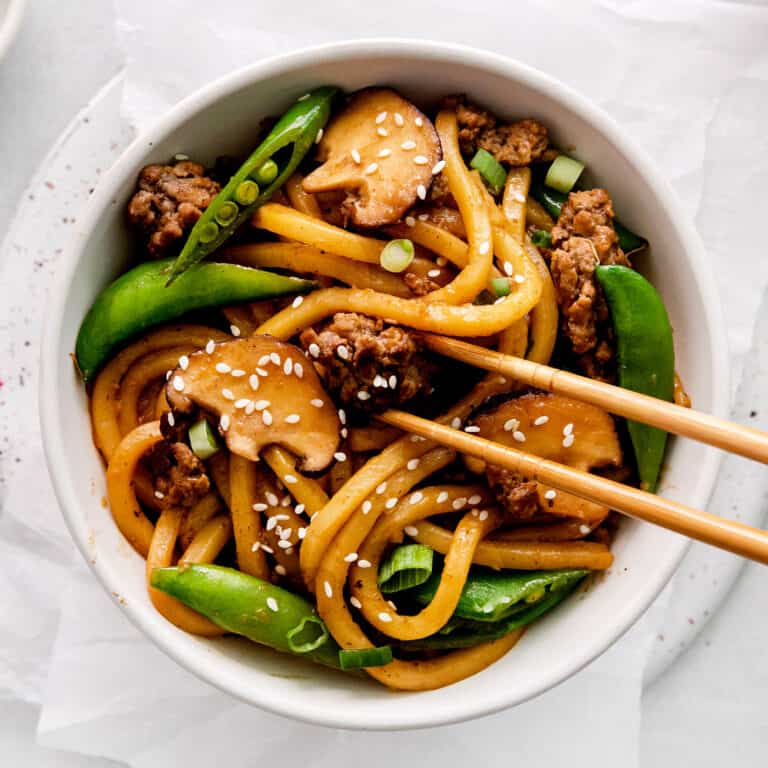 Yaki Udon
Yield: 4 servings
Prep Time: 10 minutes
Cook Time: 15 minutes
Total Time: 25 minutes
This easy Yaki Udon recipe is perfect for busy weeknights, with soft, chewy udon noodles coated in a simple sauce, plus protein and veggies. A fun, delicious meal for adults and kids alike, and ready in 25 minutes!
Ingredients
For the Sauce
½ cup soy sauce
1 tablespoon seasoned rice vinegar
2 tablespoons oyster sauce
1 teaspoon sriracha
For the Stir Fry
1 pound udon noodles (see notes)
1 pound ground beef
2 tablespoons toasted sesame oil
2 tablespoons unsalted butter
2 cups thinly sliced fresh shiitake mushrooms
4 ounces sugar snap peas, halved (about 1.5 cups)
¼ cup thinly sliced green onion
Sesame seeds, for garnish
Instructions
For the sauce: Whisk together all of the sauce ingredients (soy sauce through sriracha). Set aside.
For the stir fry: Bring a large pot of salted water to a boil. Add udon noodles and cook according to package directions. Drain noodles and rinse under cold water. Take care to not overcook the noodles, as they can become mushy!
Heat a large skillet over medium-high heat. Add ground beef and cook, stirring occasionally, until the meat is fully browned, about 5-8 minutes. Remove beef to a bowl and discard any grease.
Add sesame oil and butter to the skillet used to cook the beef (no need to wash it). Set the skillet over medium-high heat. When the butter has melted, add the sliced shiitake mushrooms and saute them for 2-3 minutes per side, or until they are golden brown. Remove mushrooms to the bowl with the beef.
Add the prepared sauce to the skillet and bring it to a boil over medium-high heat. Reduce heat to medium and add the cooked udon noodles. Toss to combine (a tongs works great for this).
Add the beef, mushrooms, snap peas, and green onions to the noodles. Toss to combine and cook for 1-2 minutes, or just until the snap peas are warmed through and the sauce evenly coats the vegetables.
Serve immediately, garnished with sesame seeds and additional green onion.
Store any leftovers in an airtight container in the fridge for up to three days.


Nutrition Information:
Yield: 4
Serving Size: 1
Amount Per Serving:
Calories: 594
Total Fat: 36g
Saturated Fat: 13g
Trans Fat: 1g
Unsaturated Fat: 20g
Cholesterol: 116mg
Sodium: 2146mg
Carbohydrates: 27g
Fiber: 4g
Sugar: 3g
Protein: 39g
Nutrition information is automatically calculated by Nutritionix. I am not a nutritionist and cannot guarantee accuracy. If your health depends on nutrition information, please calculate again with your own favorite calculator.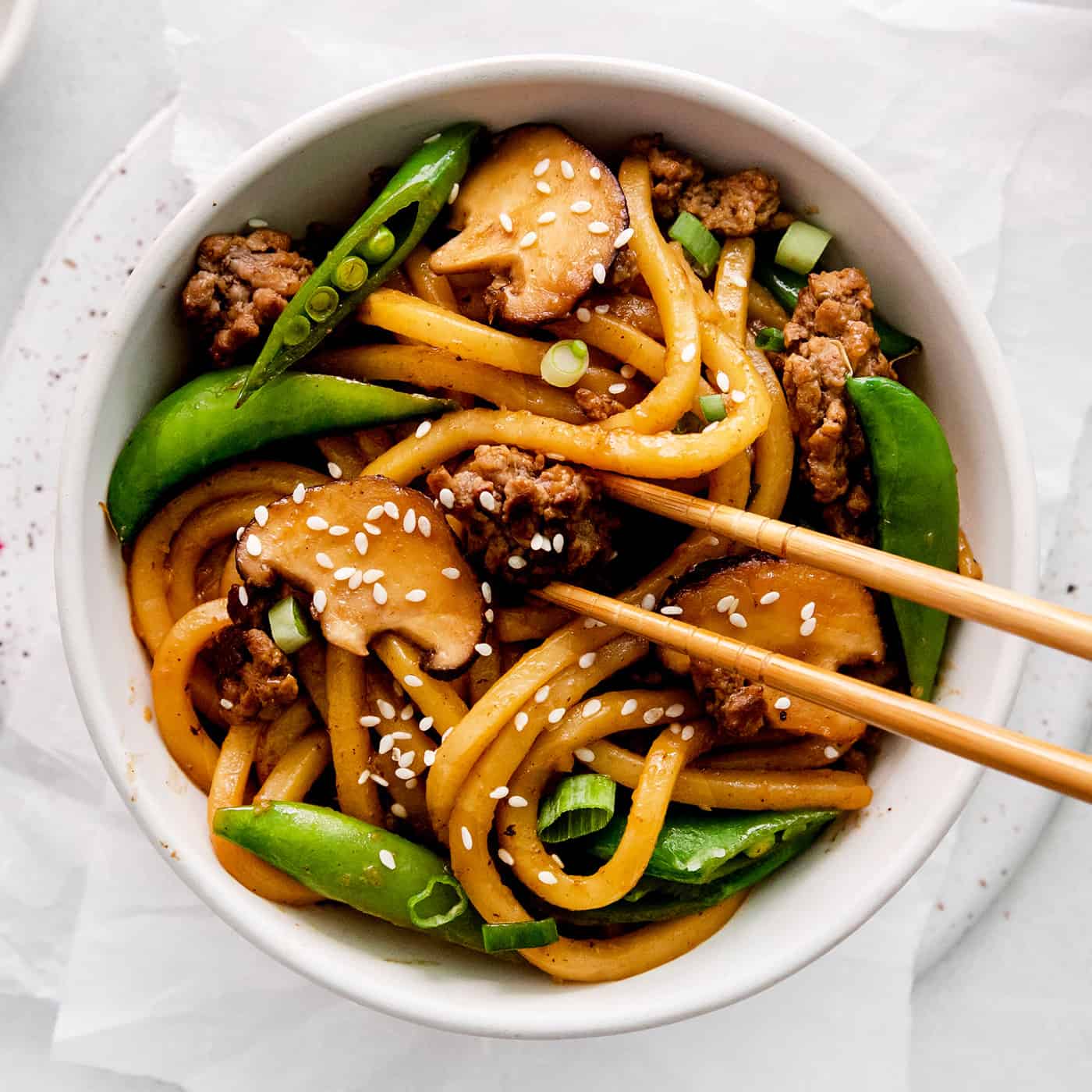 We participate in the Amazon Services LLC Associates Program, an affiliate advertising program designed to provide a means for us to earn fees by linking to Amazon.com and affiliated sites. See our
disclosure policy
for more info.