Banh Mi Meatballs
When you're craving the flavors of bánh mì, these Banh Mi Meatballs come together quickly and easily!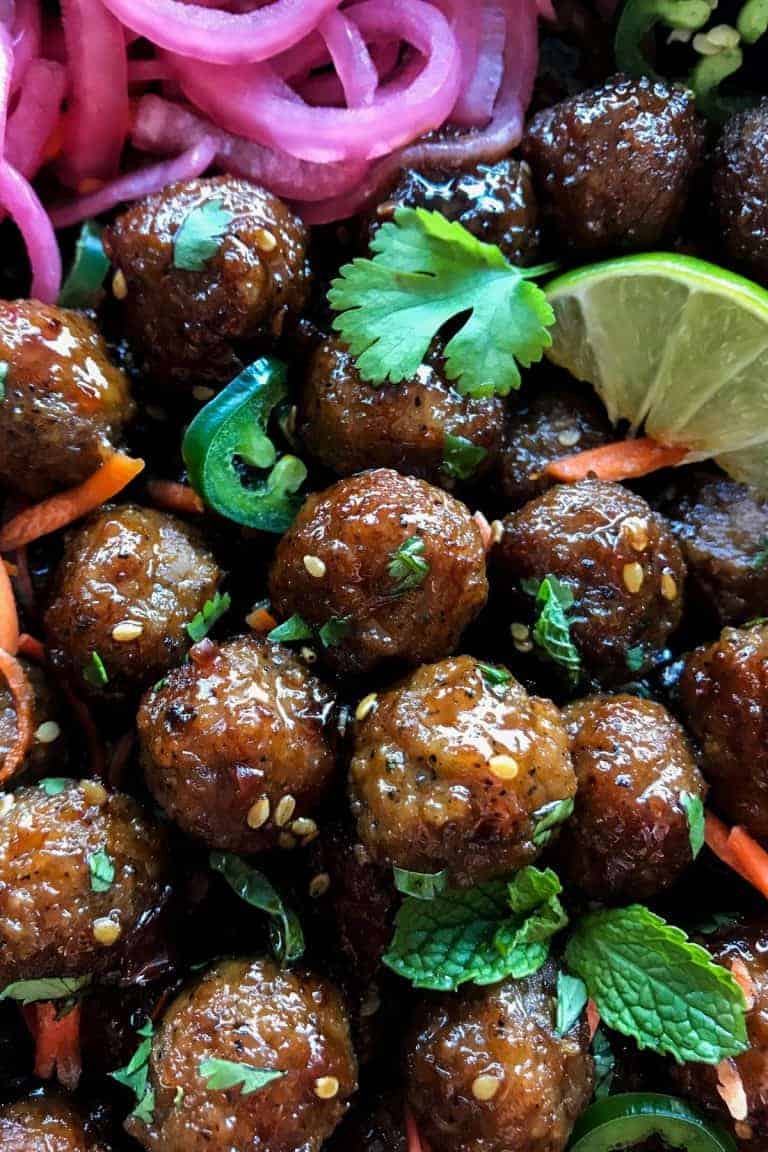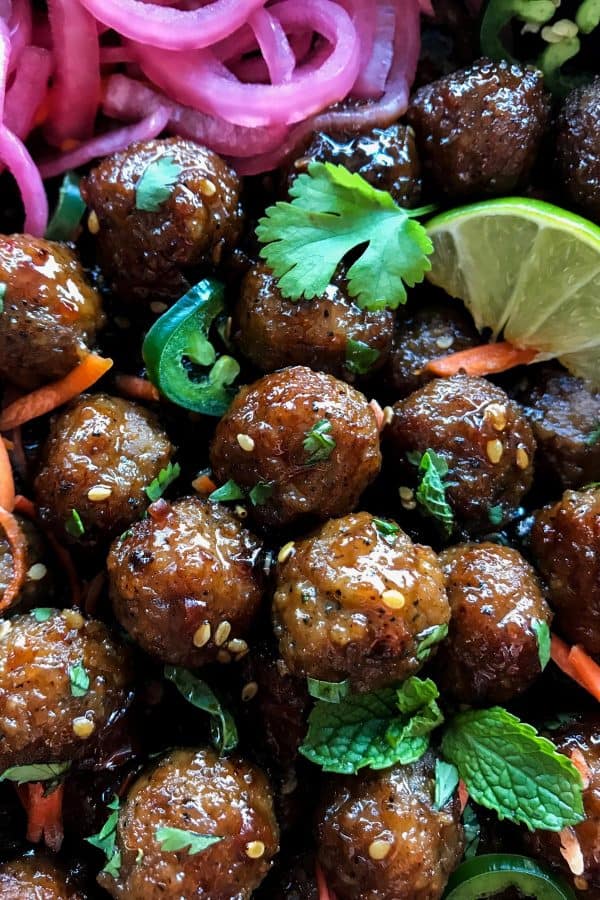 Bánh Mì, that classic Vietnamese sandwich that has me hooked with its pork-meets-fresh-meets-pickled goodness, takes a turn down easy street with this recipe for Banh Mi Meatballs. Enjoying these addictive flavors just doesn't get any easier than this!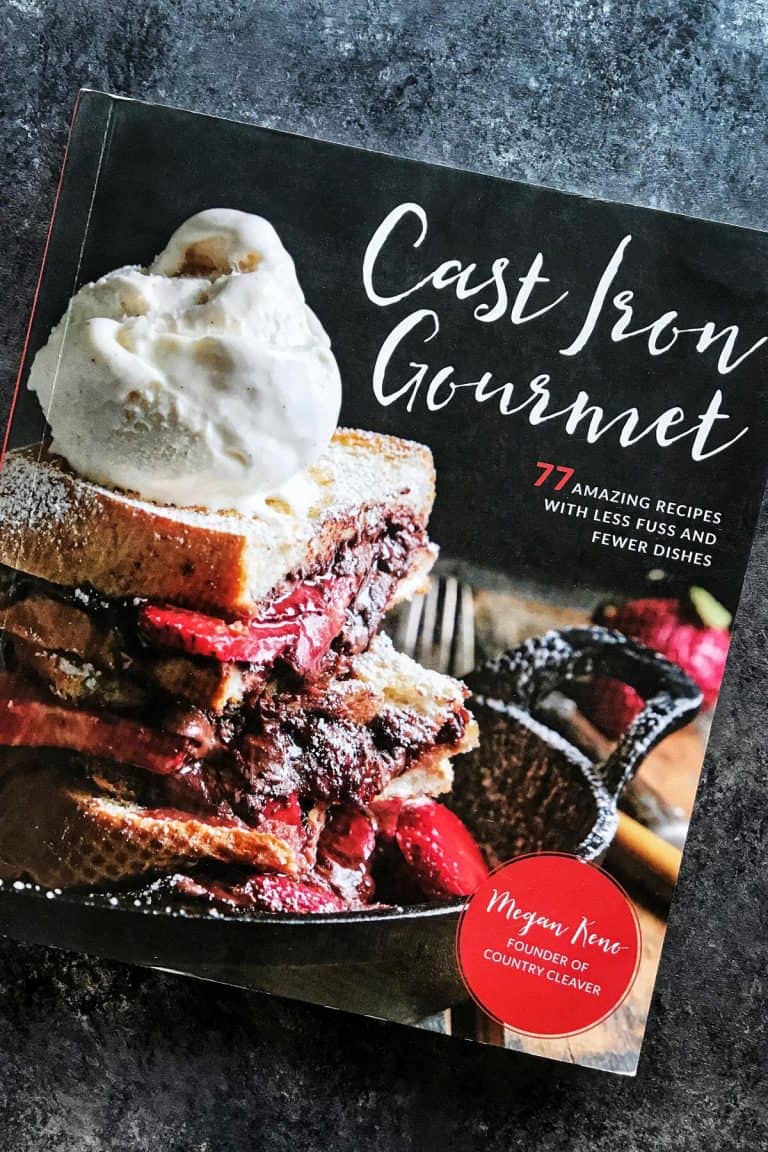 This banh mi meatballs recipe comes straight from the pages of Cast Iron Gourmet, written by my friend Megan of Country Cleaver.
If you follow Megan, then you already know that she loves, loves, loves her cast iron skillets and cookware. And she definitely knows her way around the kitchen, sharing fun recipes that are loaded with flavor and boast a beautiful presentation.
And.
She has a way with her recipes that especially speak to people who are looking for gourmet dishes and flavors, but with simpler time-saving techniques and ingredients. Cast Iron Gourmet is PACKED with deliciousness!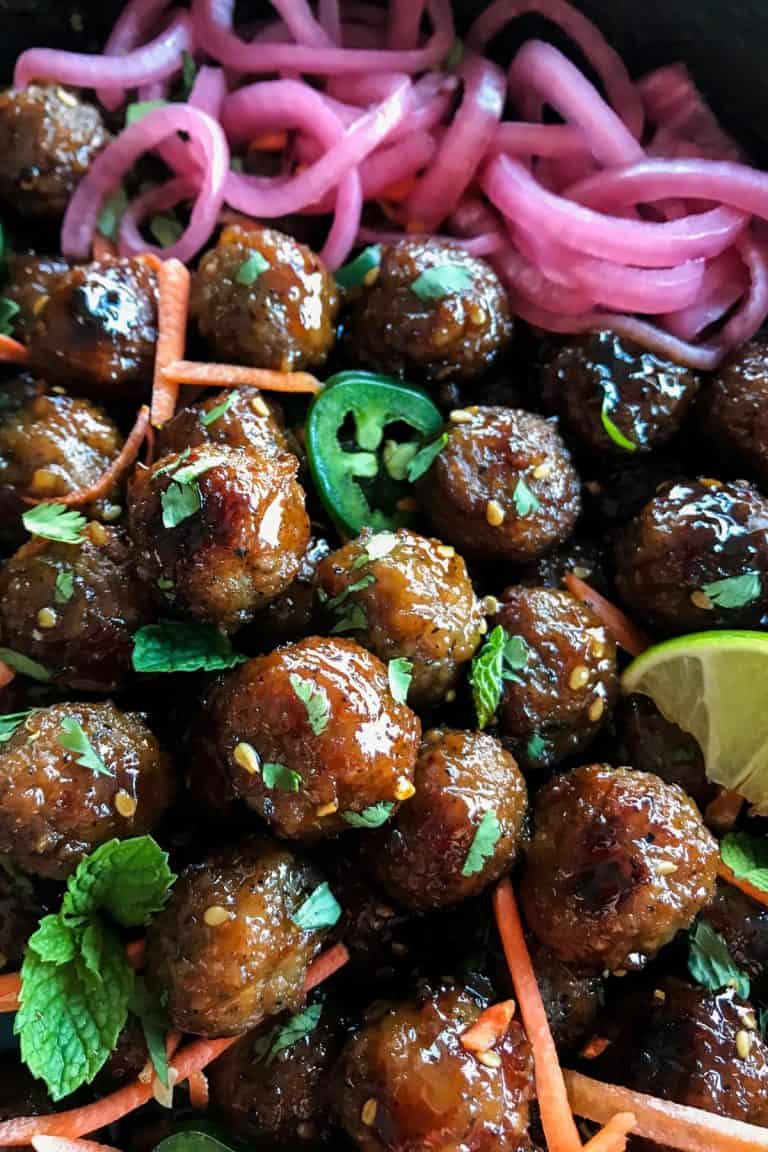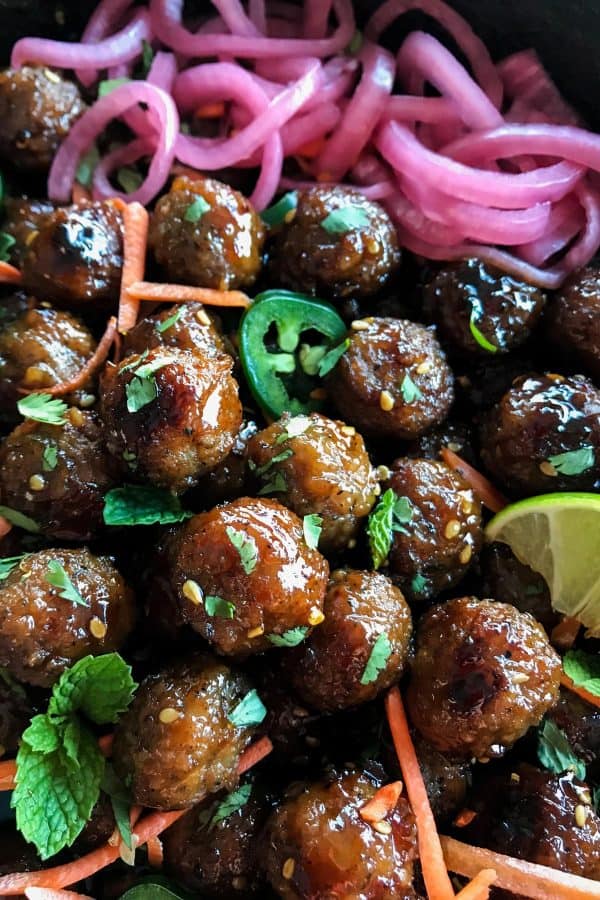 I like to use local Minnesota Simek's mini pork meatballs when I make this recipe. A regular sized pork meatball would also be great.
In her cookbook, Megan suggests that if you can't find pork meatballs, just go ahead and substitute beef meatballs.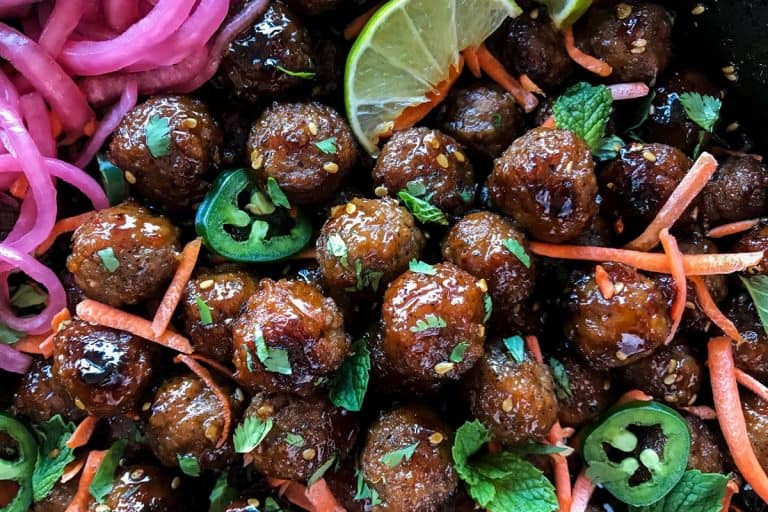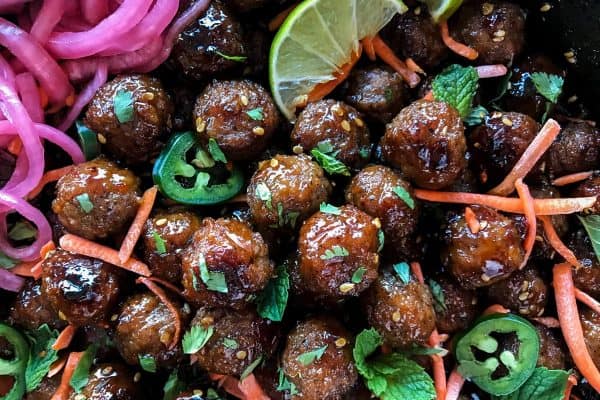 The flavorful sauce comes together super quickly and tastes fantastic. I promise you, you'll be dipping your spoon in the sauce repeatedly, waiting for the meatballs to finish cooking.
Completely addictive!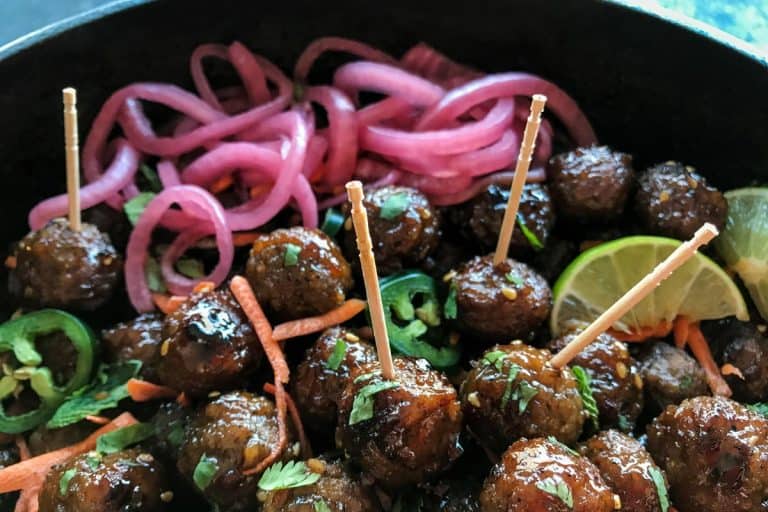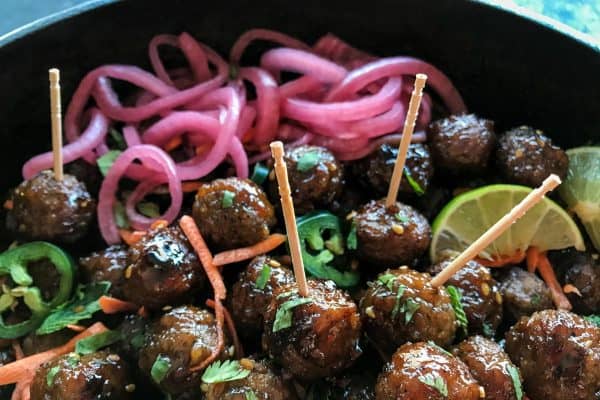 Banh Mi Meatballs are versatile:
Serve them straight from the skillet with toothpicks, as an appetizer.
Tuck them inside buns, similar to a classic bánh mì.
Or serve them over rice, for a full-on meal.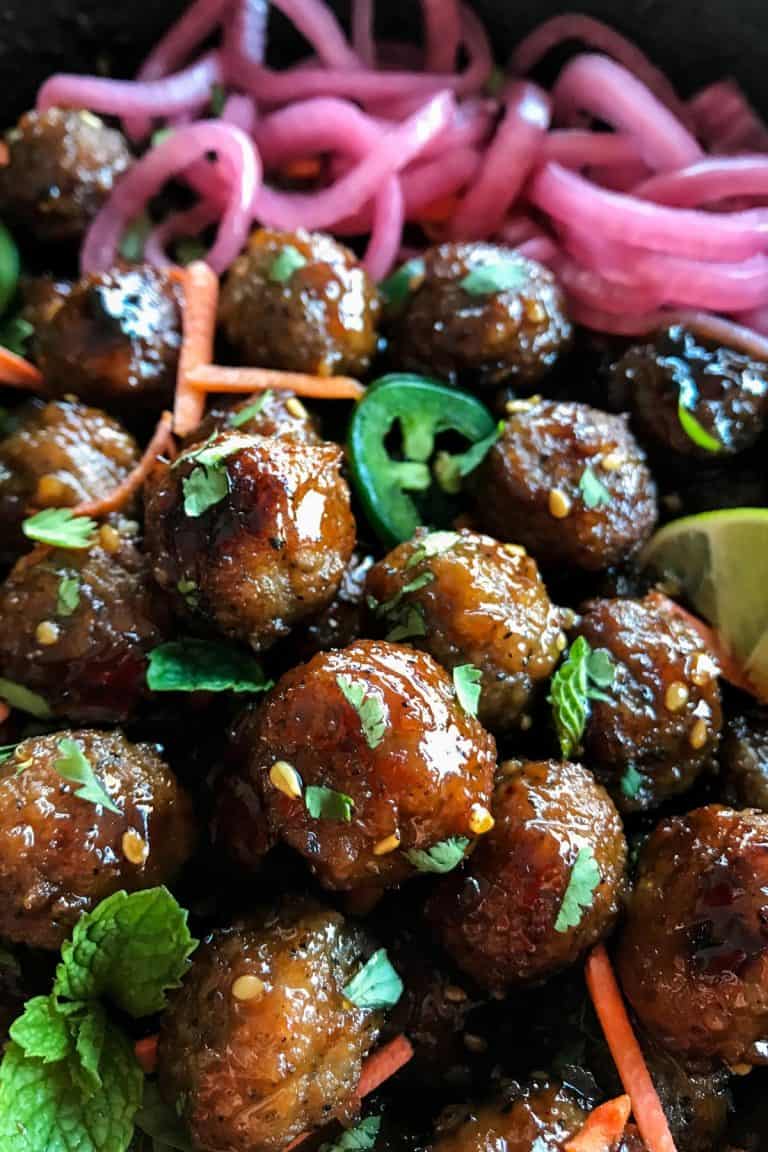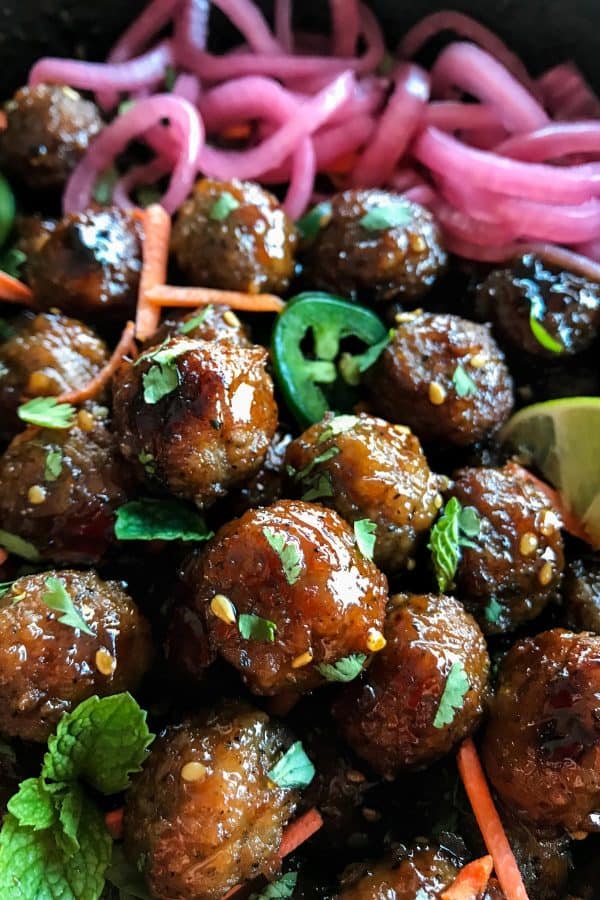 My version of this dish includes my nearly famous pickled red onions, plus fresh mint and lime. I just have to have these items whenever I enjoy bánh mì.
I'm a total condiments girl.
But these extras are definitely not necessary.
Either way, I promise you'll experience awesomeness.
Like this banh mi recipe? Pin it!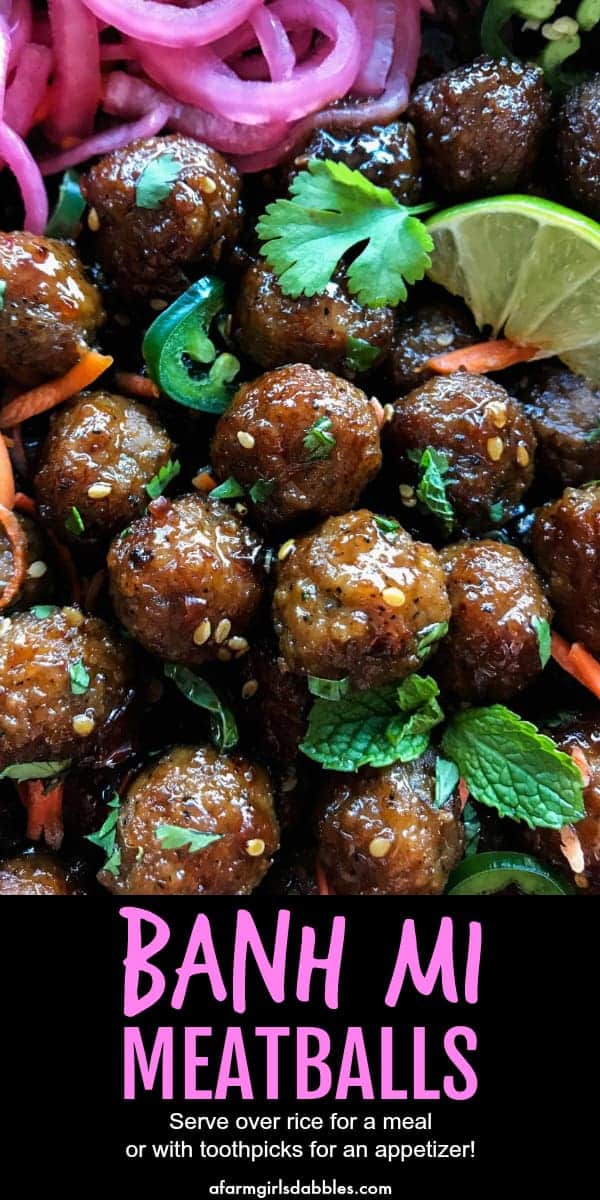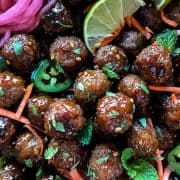 Banh Mi Meatballs
Yield: serves 4 as a meal, 8 as an appetizer
Cook Time:15 minutes
Calories per serving: 158
Ingredients:
24 oz. mini or regular size pork meatballs, frozen (beef meatballs would also work well)
1/4 c. low-sodium teriyaki sauce
1 T. fish sauce
1 c. shredded carrot
1/4 c. chopped cilantro
1/4 c. thinly sliced jalapeño
optional condiments:
1/4 c. chopped mint
lime wedges, for squeezing fresh juice over the top right before eating
Directions:
Heat 12″ cast iron skillet over medium heat. Add meatballs and cook for about 3 to 5 minutes, turning every minute or so.
In a small bowl, combine sweet chili sauce, teriyaki sauce, and fish sauce. Pour sauce into skillet and toss meatballs to coat. Cover skillet and let meatballs cook for about 10 minutes, until thoroughly warmed and meatballs reach 165° F, stirring every few minutes. If you want to thicken the sauce a bit, uncover skillet and turn up heat to medium-high. Stir regularly until sauce is thickened to your liking.
Remove skillet from heat and then scatter carrots, cilantro, and jalapeño over the top. If you like, also sprinkle with fresh mint and serve with pickled red onions and lime wedges.
Serving suggestions:
over rice, as a main entree
tucked inside a bun, like traditional bánh mì
with toothpicks, as an appetizer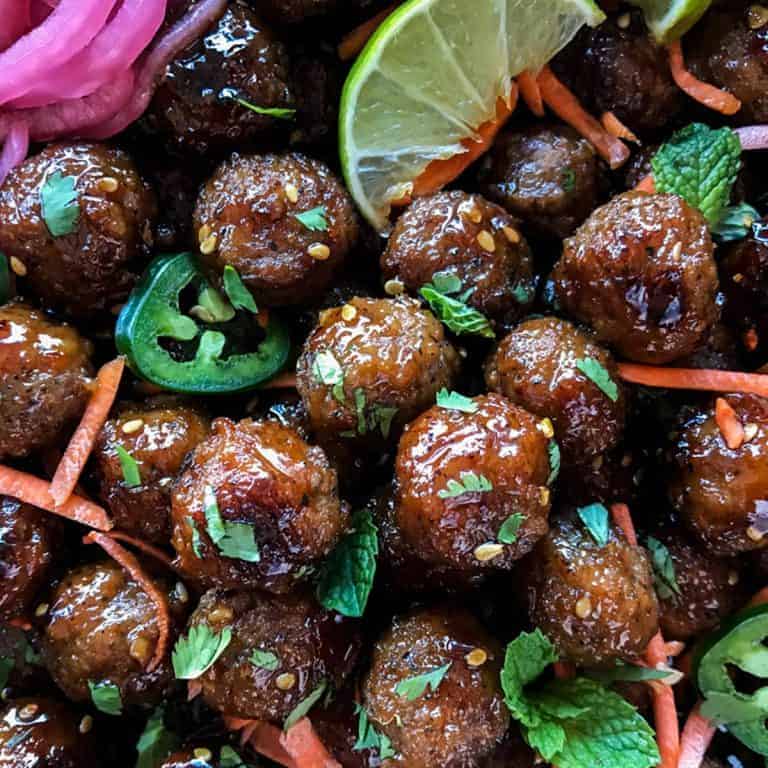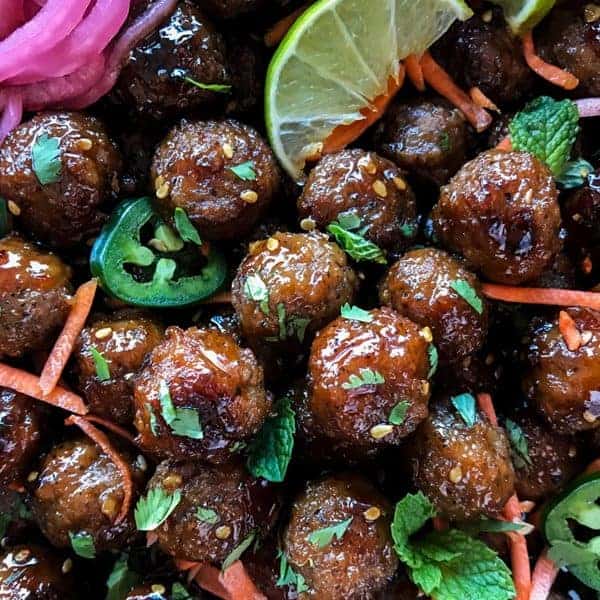 You might also like:
Recommended for this post:
We participate in the Amazon Services LLC Associates Program, an affiliate advertising program designed to provide a means for us to earn fees by linking to Amazon.com and affiliated sites. See our disclosure policy for more info.