Bánh Mì Salad with Sriracha Vinaigrette
The bold colors and flavors of this Bánh Mì Salad with Sriracha Vinaigrette are absolute perfection.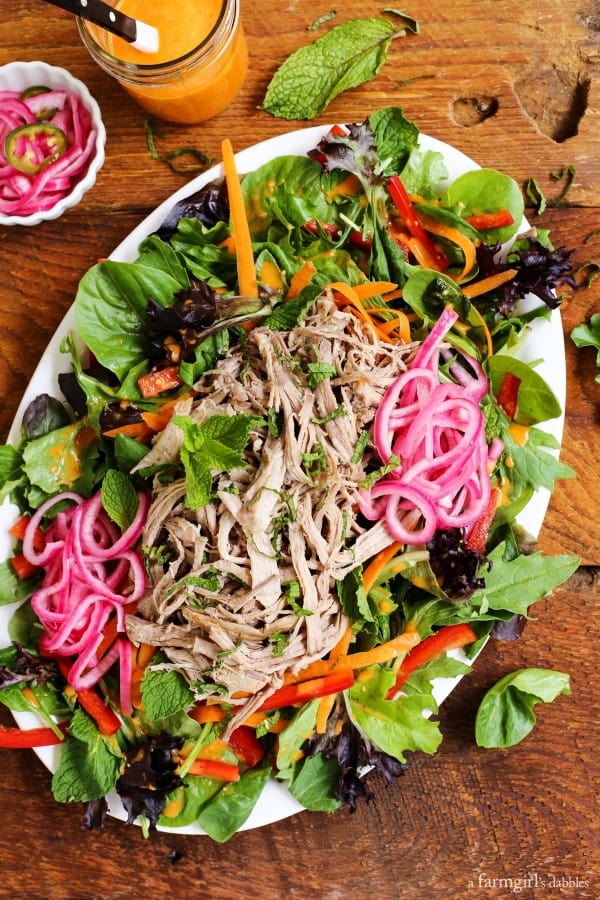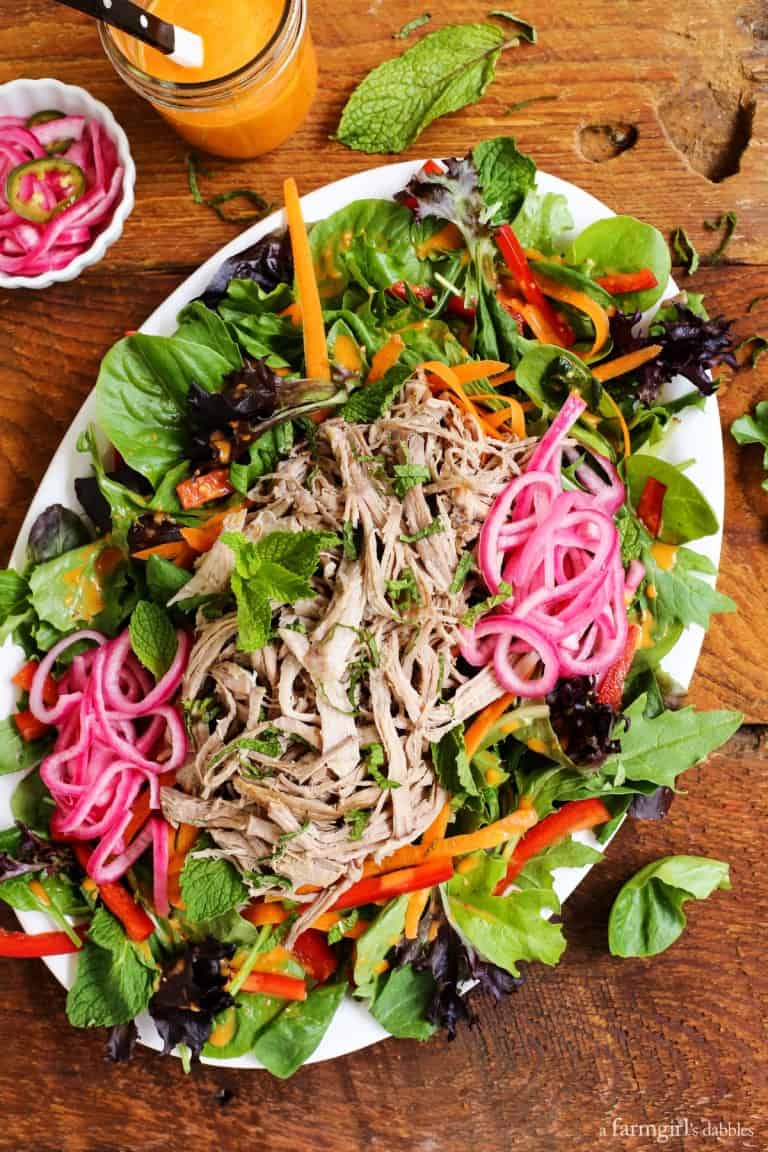 My first experience with bánh mì was about four years ago, at Emeril's gorgeous restaurant Tchoup Chop, in the Loews Royal Pacific Resort at Universal Orlando. My family ate lunch there together, and I'll always remember that meal for the amazingly flavorful bánh mì and our girls' first taste of sushi.
If you're unfamiliar with bánh mì, it's simply a Vietnamese term for all kinds of bread. A bánh mì is basically a sub sandwich comprised of a single-serving baguette filled with meat, fresh and pickled veggies, cilantro, and a spicy sauce. You'll find these sandwiches made many, many different ways, with a wide ranging list of ingredients. And as different as they are, I've never met a bánh mì I didn't like.
This Bánh Mì Salad with Sriracha Vinaigrette is loaded with all the exciting flavors of a bánh mì, but without the bread. It's in big-salad-on-a-platter form, perfect for a lightened-up meal.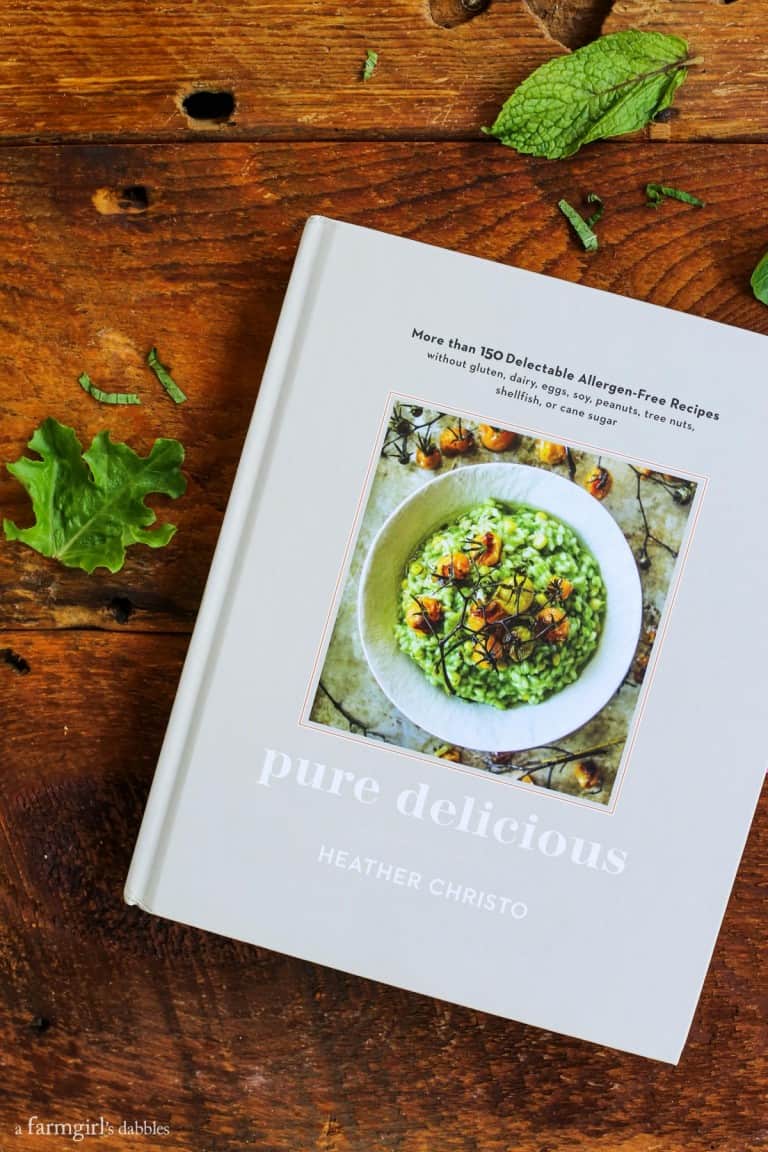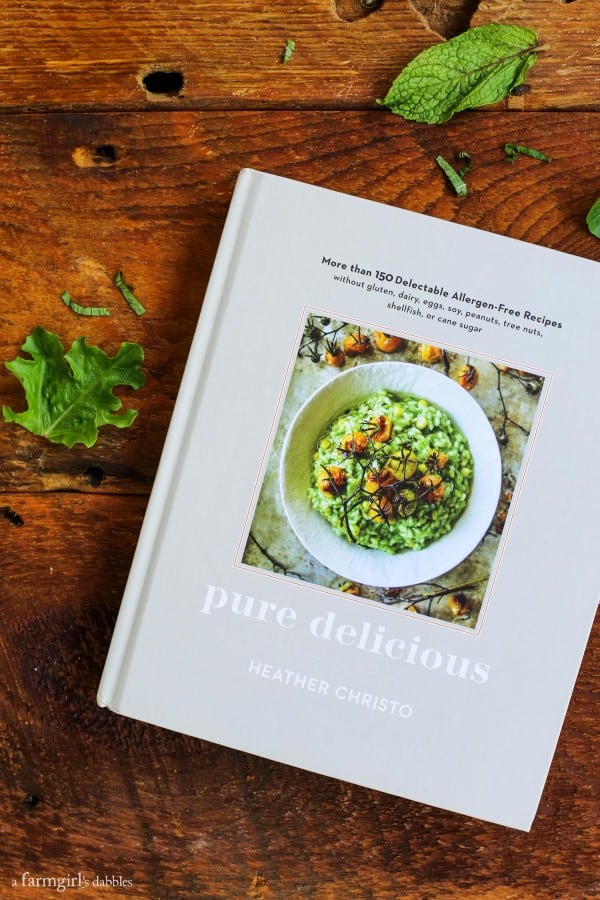 The recipe for this bánh mì salad comes directly from Heather Christo's new cookbook Pure Delicious. I have always had huge respect for Heather's recipes and gorgeous (GORGEOUS!) food photography. But it wasn't until I sat down to read her book that I began to more fully understand her recipes, to feel the unfaltering love for her family that drives her delicious creativity.
Heather's kitchen is free of major known allergens…no gluten, dairy, eggs, soy, peanuts, tree nuts, shellfish, or cane sugar. When she and her daughters were diagnosed with severe food allergies, Heather was not defeated. A trained chef and former caterer, she taught herself how to cook all over again, this time with her family's health at the very heart of it all.
While my family has no (known) food allergies or real "need" for the elimination of these allergen ingredients, I found Heather's recipes in this cookbook to be delightful and incredibly inspiring. From her lovely way of incorporating color and freshness, to making sure there is plenty of texture, flavor, and substance, I have nearly a third of the recipes flagged to try myself. I couldn't stop. Everything looks and sounds so wonderful!
If you or someone you know is dealing with food allergies, and looking for some beautiful meals to put on the table, I highly recommend you check out Pure Delicious. And even if you aren't dealing with food allergies, this book is full of so much inspiration, I promise you will not be disappointed. You will be eating very, very well!
To see more about Pure Delicious on social media, use the hashtag #puredelicious.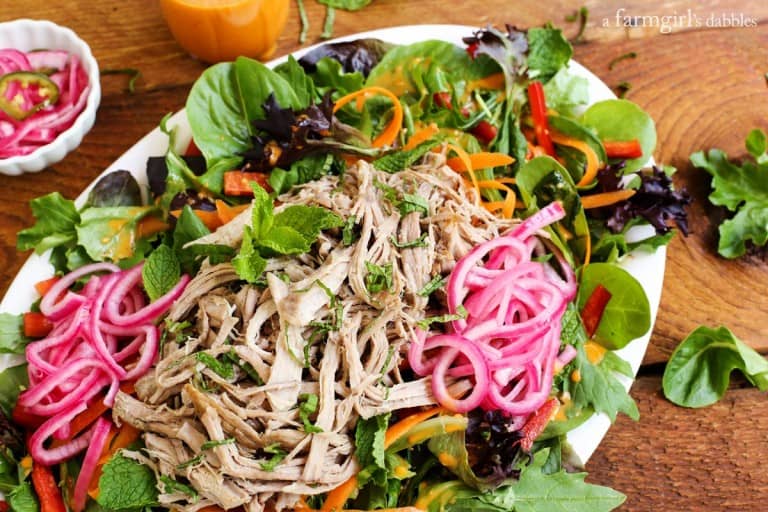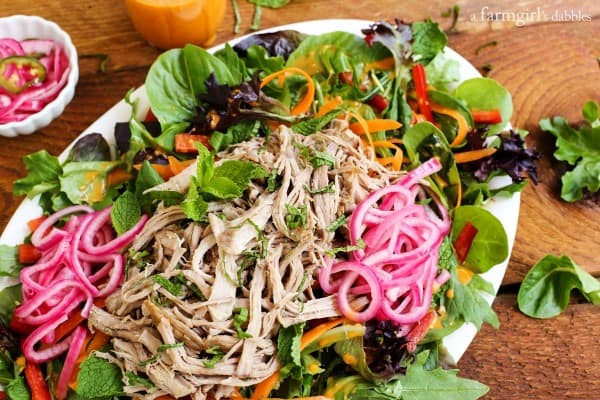 Tender, pulled pork is one of my very favorite things. And this Asian rendition was a bit different than any I'd eaten before, with a lovely rice vinegar tang.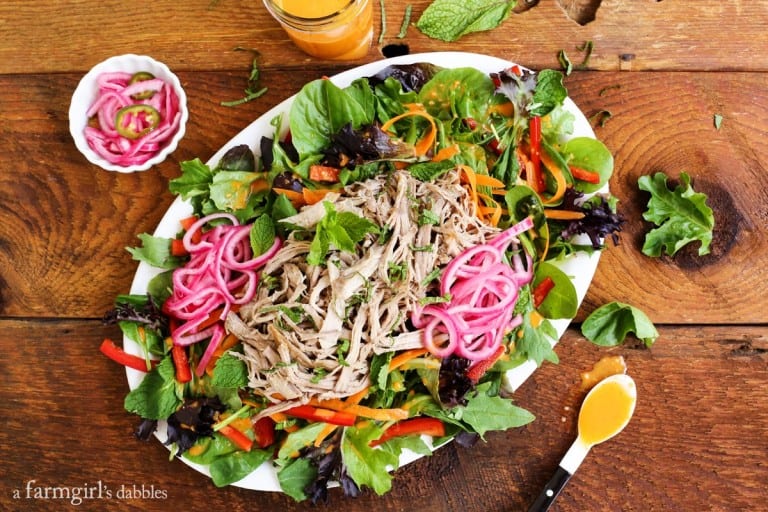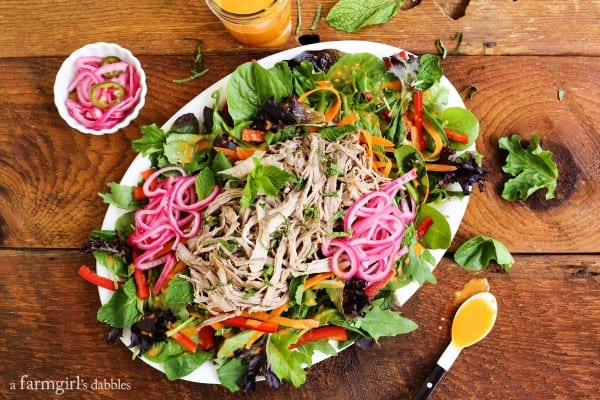 All the colors and flavors in this salad are perfection. I loved every single bite, with fresh mint and cilantro mingling with the gusto of the Sriracha vinaigrette. And those sweet and spicy pickled onions…don't even get me started. They are completely addictive. Must. Make. More. !!!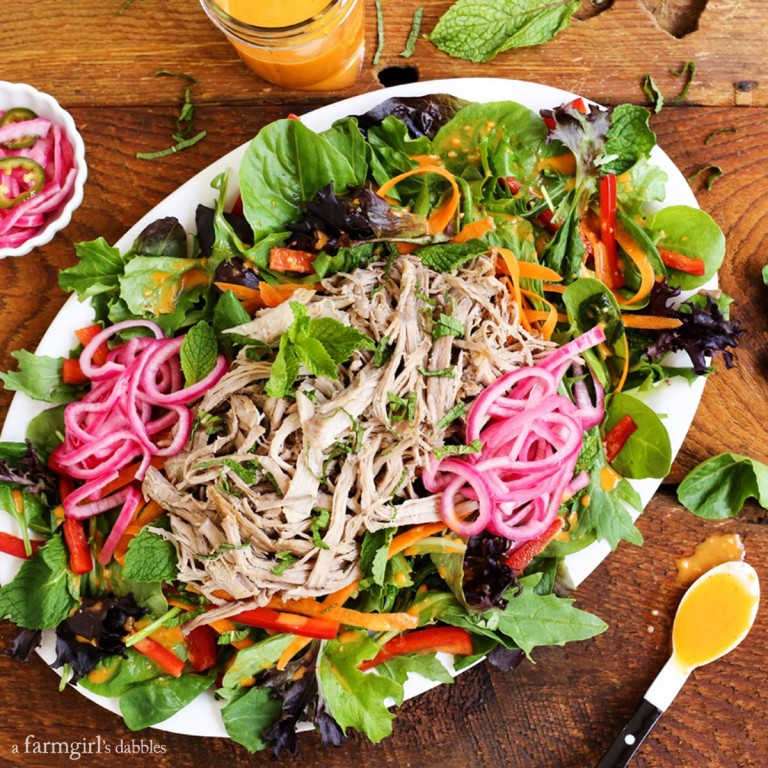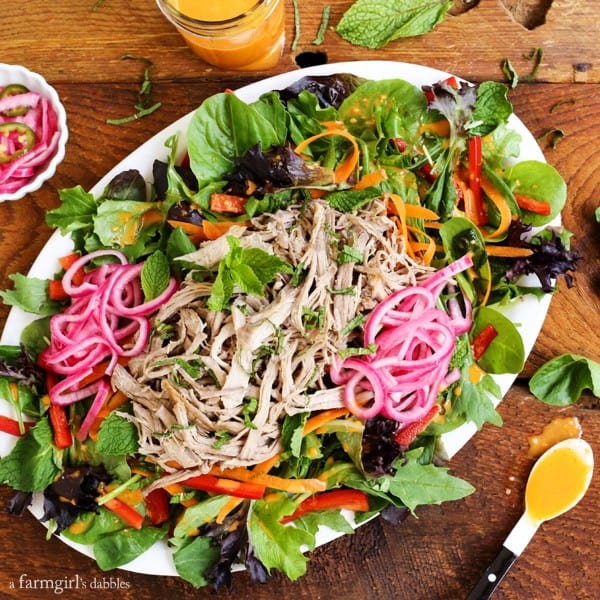 Reprinted from Pure Delicious by arrangement with Pam Krauss Books, a member of Penguin Group (USA) LLC, A Penguin Random House Company. Pure Delicious copyright © 2016, Heather Christo LLC. All photographs within Pure Delicious copyright © 2016, Heather Christo, LLC.

There are affiliate links in this post.
Bánh Mì Salad with Sriracha Vinaigrette
Yield: 4 servings
Prep Time: 25 minutes
Cook Time: 3 hours 30 minutes
Additional Time: 25 minutes
Total Time: 4 hours 20 minutes
The bold colors and flavors of this Bánh Mì Salad with Sriracha Vinaigrette are absolute perfection.
Ingredients
FOR THE SWEET AND SPICY PICKLED ONIONS:
1 large red onion, thinly sliced
1 jalapeno, thinly sliced, with seeds
1 c. rice vinegar
1/2 c. granulated beet sugar
1/2 tsp. kosher salt
FOR THE SRIRACHA VINAIGRETTE:
1 clove garlic, minced
2 T. Sriracha
1/4 c. rice vinegar
1/4 c. vegetable oil
2 T. honey
kosher salt, to taste
FOR THE ASIAN PULLED PORK:
2 T. vegetable oil
4 lbs. pork shoulder
kosher salt
2 yellow onions, quartered
4 garlic cloves, thinly sliced
2 jalapeno peppers, thinly sliced, with seeds
1/4 c. coconut amino acids
1/2 c. rice vinegar
1/4 c. beet or coconut sugar
4 c. chicken broth
FOR THE SALAD:
6 c. mixed greens
1/2 c. lightly packed fresh mint leaves
1/2 c. lightly packed fresh cilantro leaves
1 c. carrot ribbons (made with a peeler)
1 c. thin bell pepper strips
2 to 3 c. Asian Pulled Pork
Instructions
FOR THE SWEET AND SPICY PICKLED ONIONS:
Place onion and jalapeño slices in a heatproof medium-sized bowl.
In a small pot, combine vinegar, sugar, and salt. Bring to a simmer over medium heat and cook, stirring, until sugar has dissolved. This should take just a couple minutes. Pour hot vinegar mixture over onion and jalapeño slices. Cover bowl with plastic wrap and set aside for at least 25 minutes. These can be kept in the refrigerator for about a week.
FOR THE SRIRACHA VINAIGRETTE:
In a blender, or with an immersion blender, combine garlic, Sriracha, vinegar, oil, and honey. Purée until smooth and then season with salt. Set aside.
FOR THE ASIAN PULLED PORK:
Preheat oven to 350°.
In a large heavy pot or French oven, heat vegetable oil over medium-high heat. Sprinkle pork generously with salt, then add pork to the pot and sear on all sides until browned, about 10 minutes total. Add onions, garlic, jalapeños, amino acids, vinegar, sugar, and broth. The liquid will not completely cover the meat. Bring liquid to a simmer, then cover the pot and place in oven for 3-1/2 to 4 hours, turning the pork halfway through. Cook until pork is completely tender and falling apart.
Transfer meat to a platter and let cool slightly. Use a fork to pull meat into shreds, discarding any fat, gristle, and bone. Return shredded meat to the pot with the cooked-down broth, onions, and jalapeños left from the braising. Cook on stove top over medium heat until some of the liquid has further reduced and the meat is very moist. Season with salt. You will have more pork than this salad recipe calls for, but it's so delicious you'll have no problem with eating it at another meal!
FOR THE SALAD:
In a large bowl or on a large platter, combine mixed greens, mint, cilantro, carrots, and bell pepper. Drizzle the salad with the vinaigrette and toss until coated. Top with the pulled pork and pickled onions. Serve immediately.
Notes
Recipe reprinted with permission from Pure Delicious by Heather Christo, and altered just slightly.
Nutrition Information:
Yield: 4
Serving Size: 1
Amount Per Serving:
Calories: 2329
Total Fat: 135g
Saturated Fat: 43g
Trans Fat: 1g
Unsaturated Fat: 80g
Cholesterol: 544mg
Sodium: 4893mg
Carbohydrates: 109g
Fiber: 10g
Sugar: 83g
Protein: 161g
Nutrition information is automatically calculated by Nutritionix. I am not a nutritionist and cannot guarantee accuracy. If your health depends on nutrition information, please calculate again with your own favorite calculator.