Quick Kimchi
This Quick Kimchi is a small-batch version, an easy way to learn how to make kimchi. Serve this traditional Korean recipe as a salty, sour, spicy side at dinner – or use it to make some delicious kimchi fried rice!
Do you love easy pickling recipes? Try these simple pickled red onions!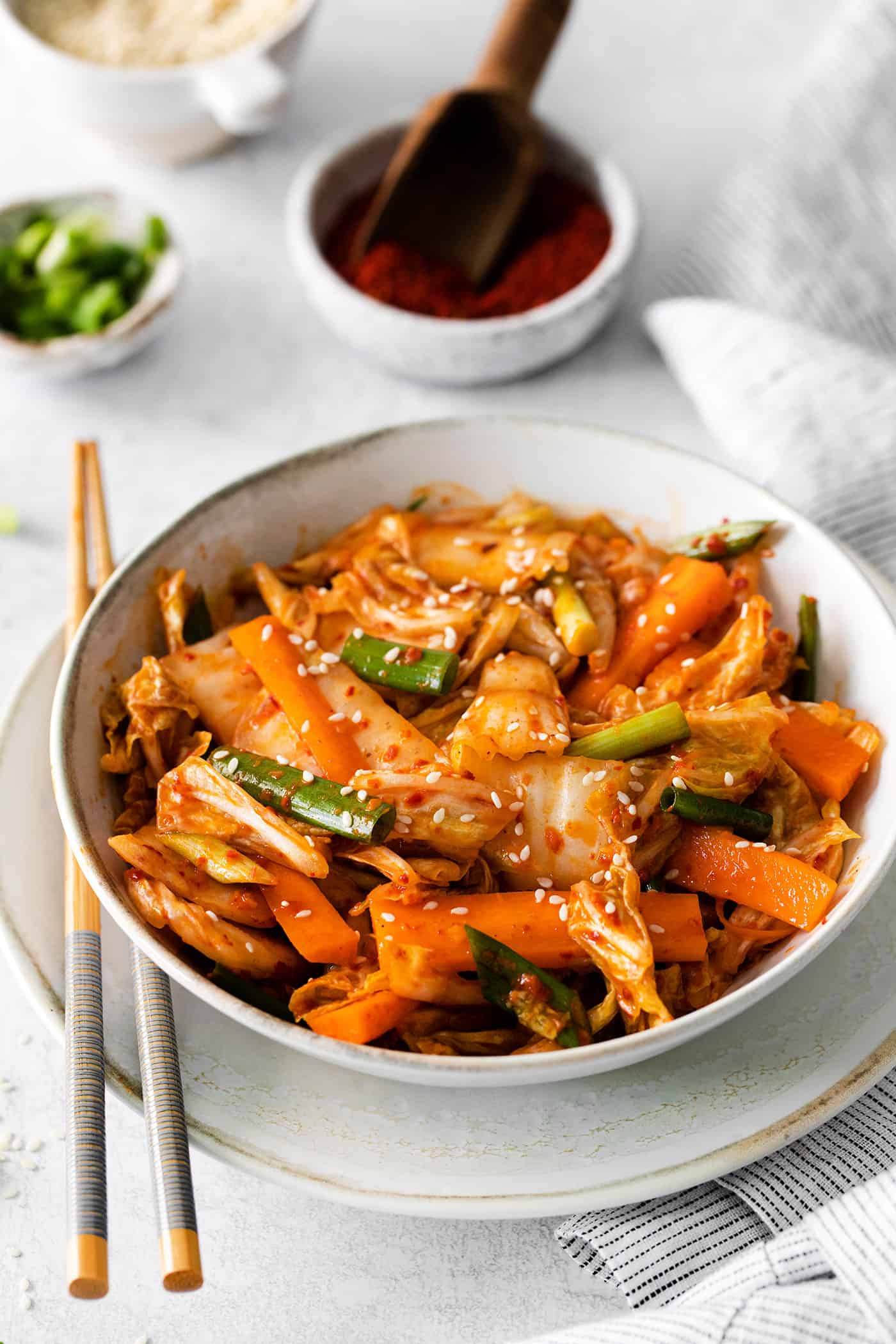 The Best Kimchi Recipe
I readily admit that it took me awhile to come around to liking kimchi. And now this funky, fermented cabbage dish is something that I crave. I love its salty + spicy + sour flavor!
Because I don't have the patience to spend hours making traditional kimchi, I opted for this Quick Kimchi recipe. It comes together in just 45 minutes and lasts in the fridge for up to 2 weeks.
Kimchi makes for an easy, flavorful side dish – and heck, I eat it straight from the jar! It also becomes the shining star in my favorite kimchi fried rice. The kids aren't completely sold on kimchi (yet) but they absolutely adore this version of fried rice…which is plenty enough reason for me to always have a batch of this easy kimchi on hand!
What is Kimchi?
Kimchi is a traditional Korean side dish made with fermented cabbage seasoned with Korean chili flakes (known as gochugaru), ginger, garlic, fish sauce, and vegetables like carrots and onions. There are many, MANY versions of kimchi, as it's traditionally passed down through each family. The most popular versions are made with napa cabbage, but there are nearly 200 "official" varieties in Korea.
Kimchi definitely has some funk to it. It's a lot like sauerkraut in that it's a fermented cabbage dish – but kimchi can be pretty spicy. Plus it has a umami, funky flavor from the fish sauce.
Traditional kimchi making is a communal and much bigger process, resulting in GALLONS of homemade kimchi. In Korea, it was a way to preserve the fall harvest for the long winter ahead.
But we have the convenience of refrigeration, and always the issue of never enough time – so I'm sharing with you my quick kimchi recipe. It requires no special tools and just 45 minutes of time.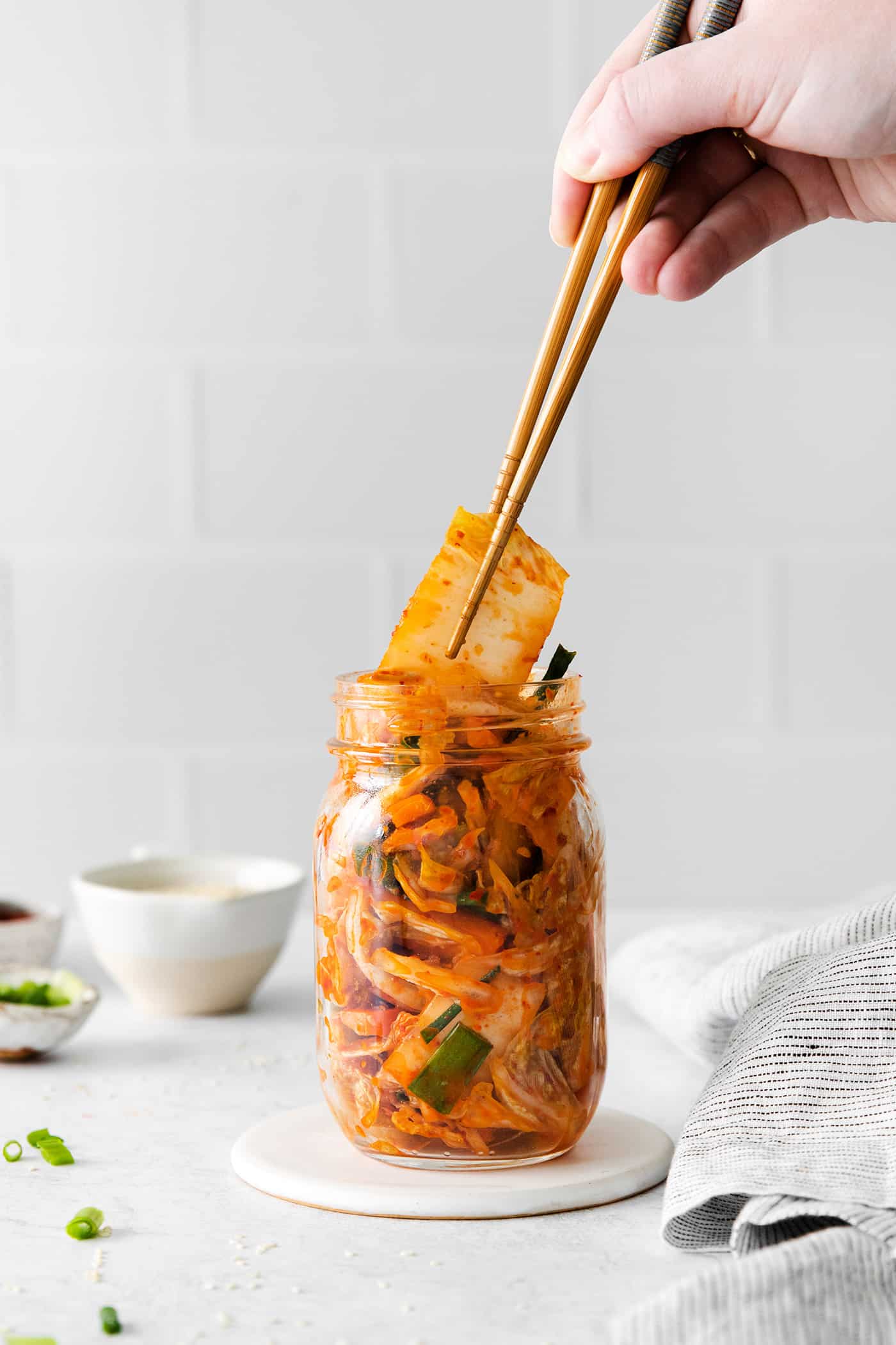 Is Kimchi Healthy?
Yes! In addition to being very low calorie and low carb, the fermentation process loads up the kimchi with probiotics (like the good bacteria found in sauerkraut and yogurt). It also contains antioxidants and other good things, making it a food that's great for boosting digestion and health.
This is definitely a side dish you can enjoy with 0 guilt!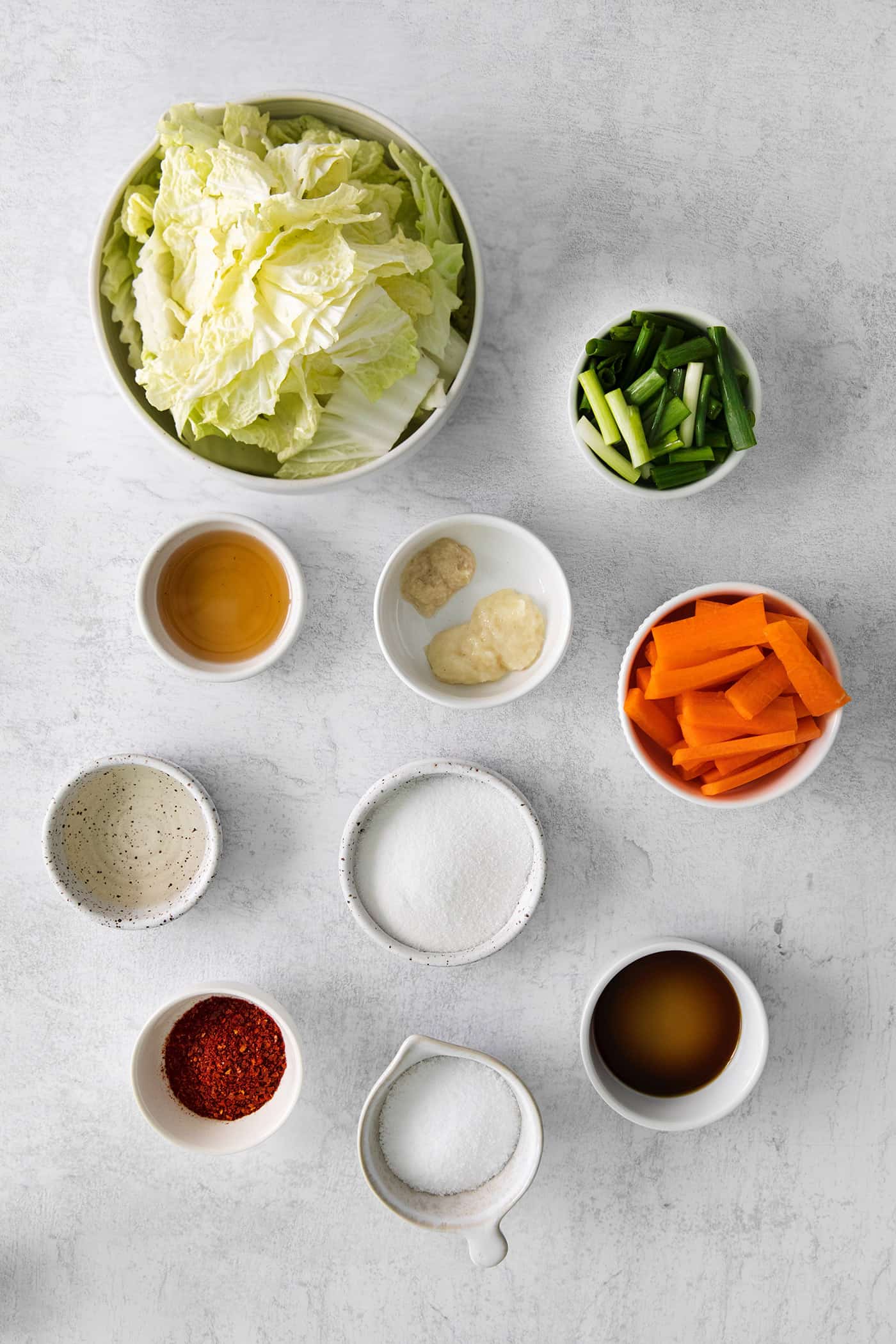 What You'll Need
I find that the Asian sections in our local grocery stores are very good at stocking the ingredients for making kimchi. But you can always visit an Asian grocer or go online if you're having trouble finding anything – Amazon always has plenty of options!
Napa cabbage – Napa cabbage is milder and sweeter than regular cabbage, which allows it to soak up the flavors in the kimchi.
Salt – Salt helps brine the cabbage before seasoning it. This will enhance the flavor of the cabbage and soften it slightly – and will also kill off any harmful bacteria.
Sugar – Granulated sugar also brines the cabbage and brings out its natural sweetness.
Fish sauce – Fish sauce provides the "funkiness" that kimchi is known for. It gives that classic fermented flavor to this quick kimchi.
Toasted sesame oil – Sesame oil adds richness and nuttiness to the kimchi. I recommend using "toasted" sesame oil for even more flavor.
Rice vinegar – Also known as rice wine vinegar, this adds a bit of bright acidity to the kimchi, to balance out the sweet & salty.
Gochugaru – Gochugaru is the same as Korean Chili Flakes. It adds tons of flavor, plus spice and a subtle smoky quality to the kimchi. I like the Mother in Law's brand.
Garlic & ginger – Garlic and ginger are classic additions to kimchi – they add earthiness and aromatic flavor to the spice mixture, and also contribute to the funkiness.
Carrots – Carrots are optional but they add additional crunch and sweetness to the kimchi.
Green onions – Green onions add a subtle onion flavor and additional freshness to the kimchi.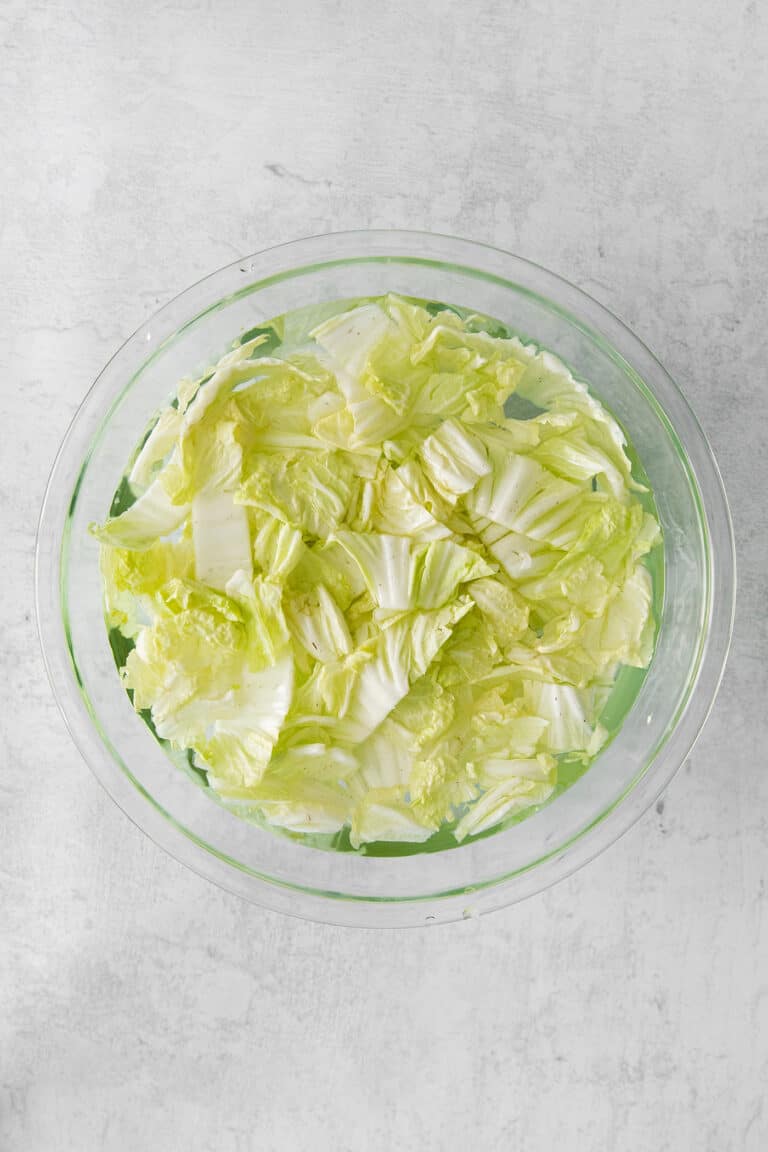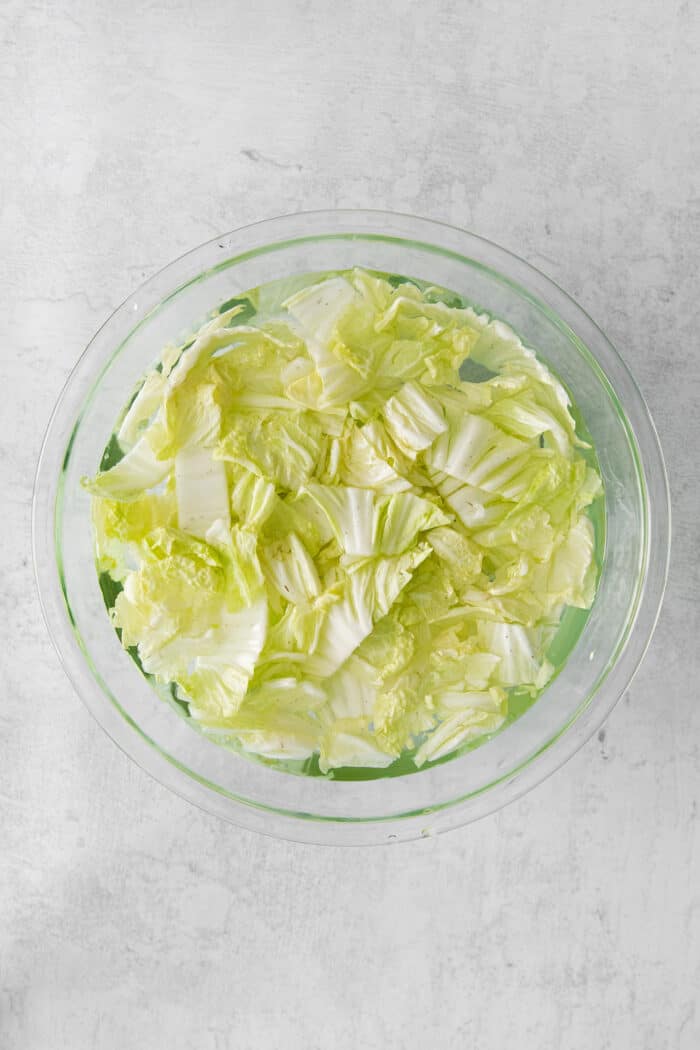 How to Make Quick Kimchi
This simple kimchi recipe comes together in just a few steps.
Soak the cabbage. Sprinkle salt and sugar over the cabbage in a large bowl. Cover with warm water and set aside for 30 minutes. Drain and rinse.
Toss with remaining ingredients. Stir together the fish sauce, sesame oil, rice vinegar, Gochugaru, garlic, and ginger. Add in the cabbage, carrots, and onions. Fold to combine.
Ferment & Chill. Transfer to a jar. For milder flavor, immediately place in the fridge for fermentation and storage. For stronger flavor, let kimchi ferment in a cool, dark place on the counter for up to 2 days before placing in the fridge for further fermentation and storage.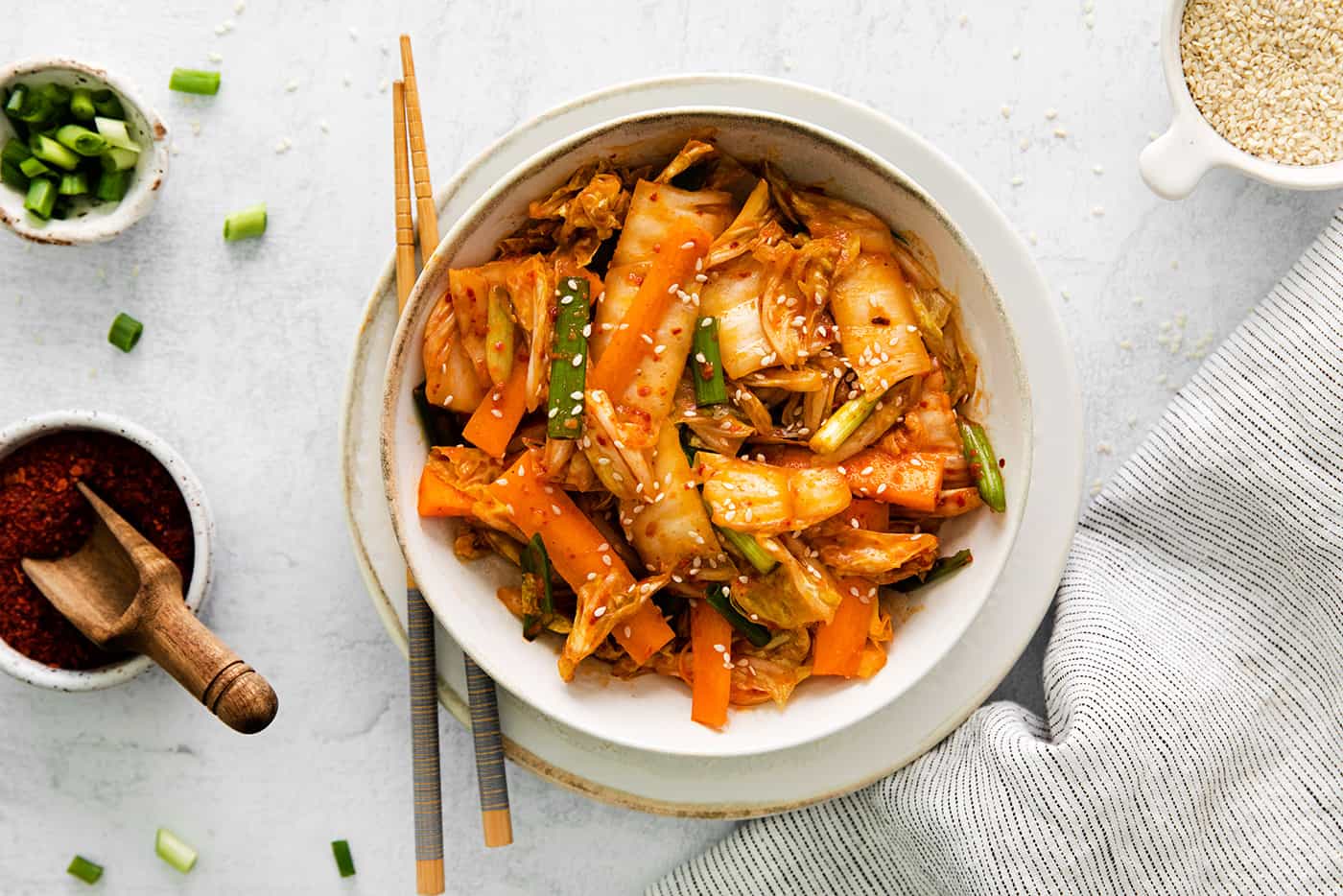 Tips & Variations
If this is your first time making quick kimchi, here are a few things to keep in mind.
Always rinse the cabbage. Once you drain the brine water away be sure to give the cabbage a thorough rinse to remove excess sugar and salt.
What if I can't find Gochugaru? This might be the only ingredient you have trouble finding at your local grocery store, but it's become a very common ingredient. Otherwise, you can easily order these Korea chili flakes online – here's the brand I like, found on Amazon.
Other veggies. The base of kimchi is almost always cabbage, green onion, garlic, and ginger. I like to add carrots. You could also include radish or leeks.
Adjust the spice level. You can make this easy kimchi as fiery as you'd like by adjusting the amount of Korean red pepper flakes used. What's your heat tolerance?!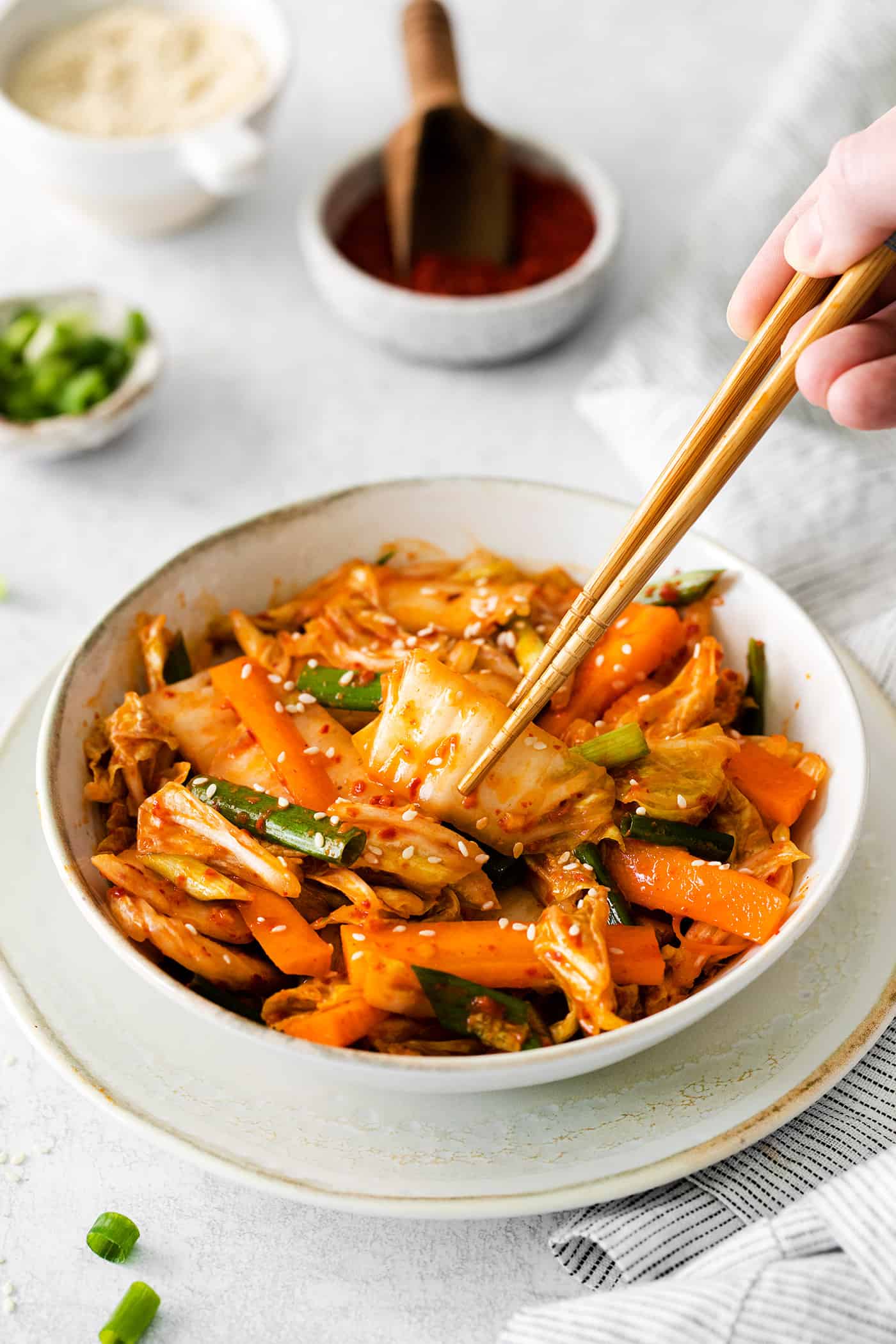 Serving Suggestions
Kimchi is traditionally served as a side dish to Korean dishes. It's also used to make specific dishes like kimchi fried rice and kimchi pancakes.
But even if you don't regularly cook Korean food, you can still enjoy homemade kimchi. Think of it whenever you are serving rice. Sometimes I eat it as a snack, a simple bowl of kimchi with a sprinkling of sesame seeds.
I also serve it as a side dish or condiment to things like grilled steak, fish, or beer can chicken. It's awesome with grilled pork chops!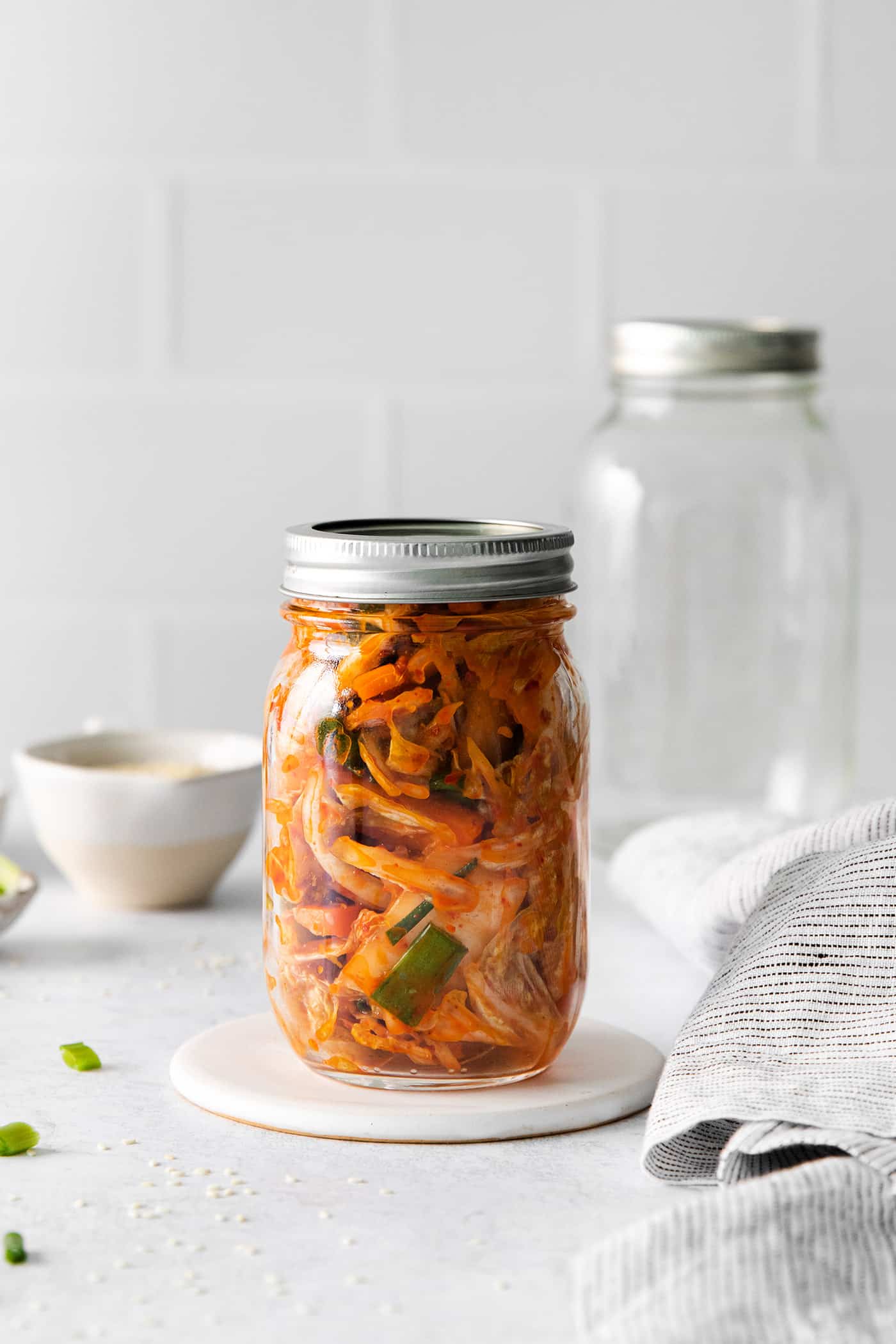 How Long Will This Last?
This quick kimchi will last in the fridge for up to 3 weeks. It's best to store it in a glass, airtight container, and will continue to get more sour and funky-flavorful the longer it sits.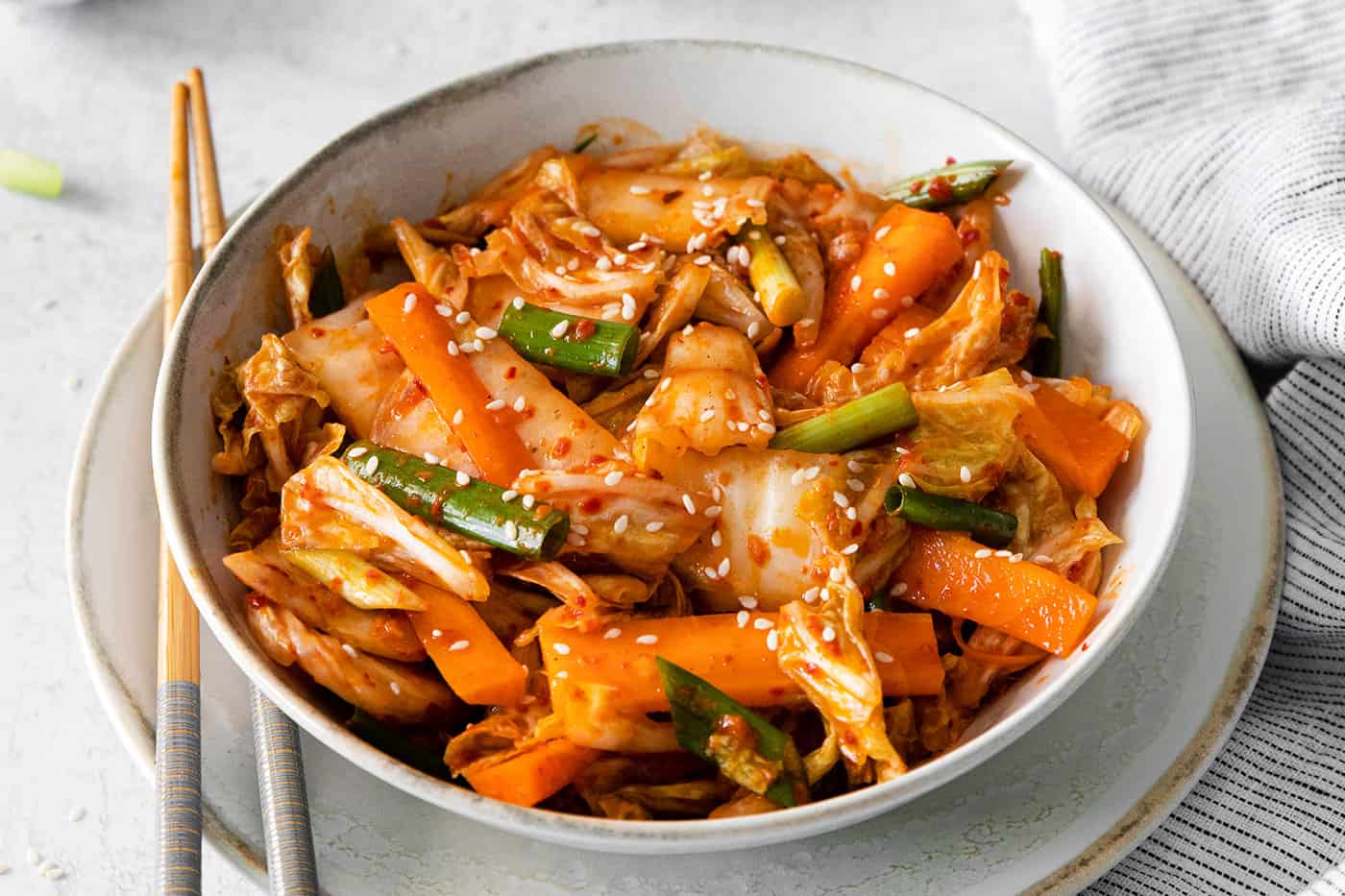 More Vegetable Recipes:
Like this recipe? Save it to Pinterest!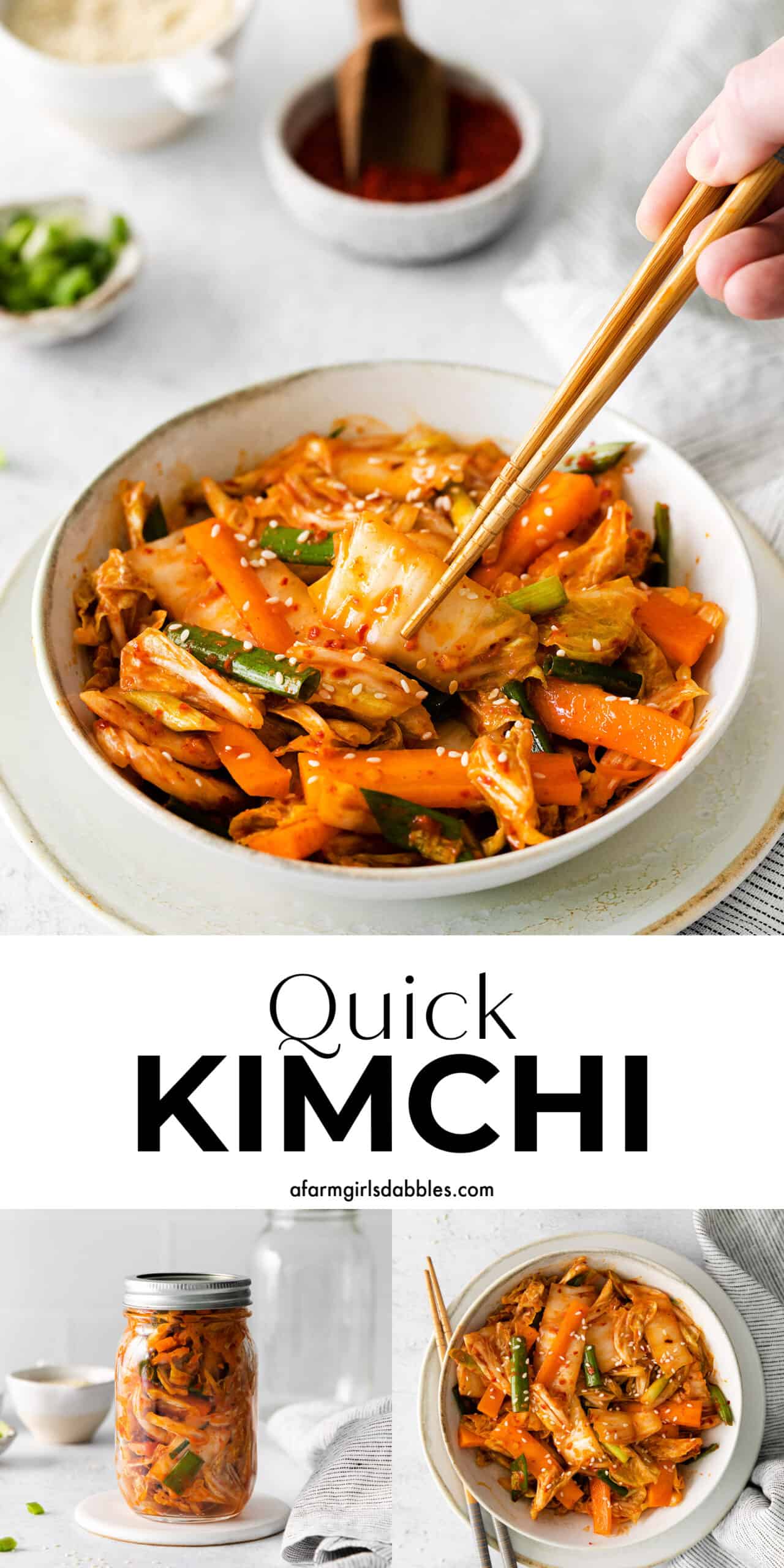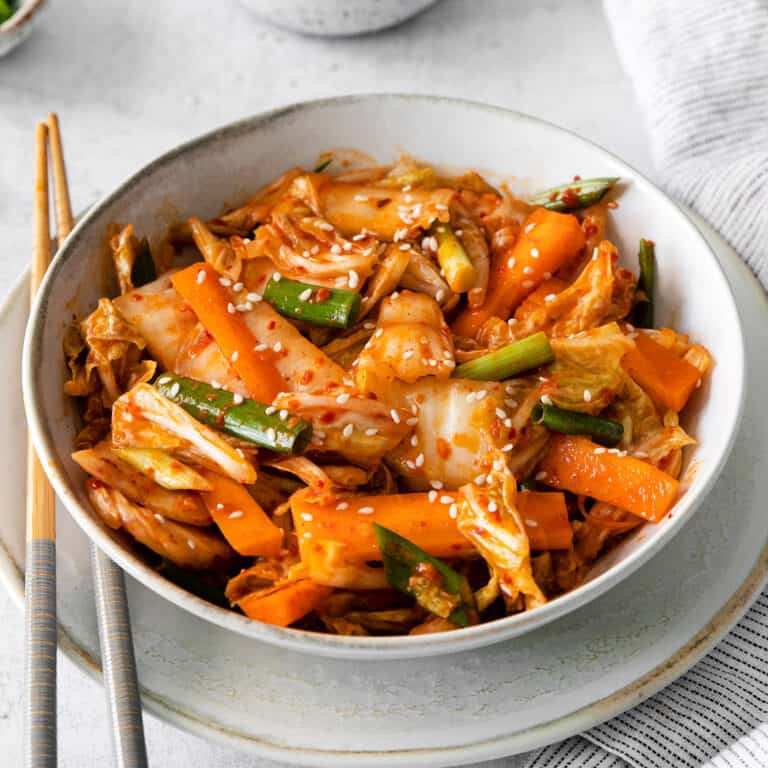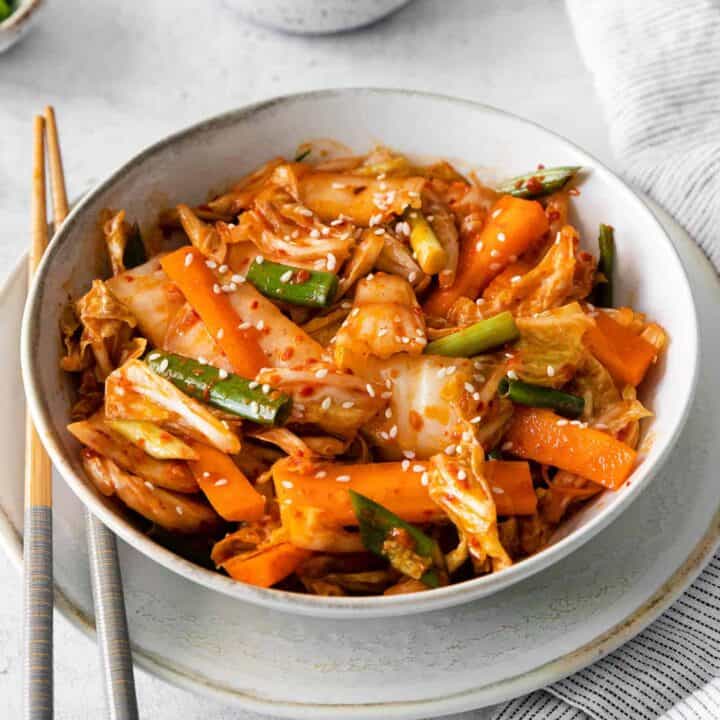 Quick Kimchi
Yield: 3 cups
Prep Time: 45 minutes
Total Time: 45 minutes
This Quick Kimchi is a small-batch version, an easy way to learn how to make kimchi. Serve this traditional Korean recipe as a salty, sour, spicy side at dinner - or use it to make some delicious kimchi fried rice!
Ingredients
1 (1.5 pound) napa cabbage, cored cut into 1" to 1.5" pieces
¼ cup kosher salt
3 tablespoons granulated sugar
1 tablespoon fish sauce
1 tablespoon toasted sesame oil
1 tablespoon rice vinegar
1 tablespoon Gochugaru
2 teaspoons grated garlic
1 teaspoon grated ginger
2 large carrots, cut into matchsticks (or use 1.5 cups pre-shredded carrots)
4 green onions, cut into 1" pieces
Instructions
Add the napa cabbage to a large bowl and sprinkle salt and sugar over the top. Add 4 to 6 cups warm water, or just enough to submerge the cabbage when you press down on the cabbage. Set aside for 30 minutes.
Reserve 1 cup of the salted water. Drain the remaining water and rinse the cabbage to remove any excess salt and sugar.
In another large bowl, stir together the fish sauce, sesame oil, rice vinegar, Gochugaru, garlic, and ginger.
Add the cabbage, carrots, and onions, and fold to thoroughly combine.
Pack cabbage mixture tightly into a 1-quart wide mouth jar with plastic lids, pressing down on the kimchi until the brine rises to cover the vegetables, leaving at least 1" of space at the top. If needed, add a little bit of the reserved salted water to cover the cabbage.
For a milder flavor, place the kimchi in the refrigerator to ferment right after packing. For a stronger flavor, leave it on the counter in a cool, dark place with the lid slightly ajar for up to two days. You may see bubbles inside the jar and brine may seep out of the lid. Then store in the refrigerator to further ferment.
Notes
You can eat the kimchi right away. But it will be more flavorful when you let it ferment for at least a day or two before eating.
Eat it like a simple salad, with a sprinkle of sesame seeds. Or as a side dish. Or make some awesome kimchi fried rice!
Store in the fridge for up to 3 weeks The kimchi will continue to get more sour and stronger in flavor the longer it ferments.
Recommended Products
As an Amazon Associate and member of other affiliate programs, I earn from qualifying purchases.
Nutrition Information:
Yield: 6
Serving Size: 1
Amount Per Serving:
Calories: 62
Total Fat: 2g
Saturated Fat: 0g
Trans Fat: 0g
Unsaturated Fat: 2g
Cholesterol: 0mg
Sodium: 2768mg
Carbohydrates: 10g
Fiber: 1g
Sugar: 8g
Protein: 1g
Nutrition information is automatically calculated by Nutritionix. I am not a nutritionist and cannot guarantee accuracy. If your health depends on nutrition information, please calculate again with your own favorite calculator.