Zesty Sweet Corn Refrigerator Relish
This post may contain Amazon or other affiliate links. As an Amazon Associate I earn from qualifying purchases.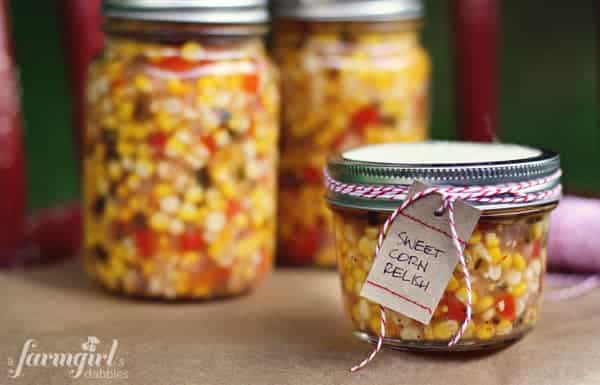 Hello. My name is Brenda. And I'm a condimentaholic.
I'm not afraid or embarrassed to admit it. And I honestly don't want any help in curing this delicious affliction!
I LOVE condiments in every form…dips, sauces, salsas, relishes…you name it. Especially when they are whipped up from scratch, made from fresh ingredients that let the seasons shine.
This Zesty Sweet Corn Refrigerator Relish is one such condiment, bursting with late summer's harvest.

I like to make this fresh relish when the local sweet corn starts showing up at the farmers markets and roadside stands. We hit the jackpot when visiting family in Lake City (MN) a couple weeks ago, when my cousin's wife recommended a particular roadside vendor. Out of his rusty blue Chevy truck, this vendor was selling sweet corn that was just harvested during the night. And lucky me, it was my favorite sweet and tender "peaches and cream" bi-color variety, the kind Dad grew on the farm.
When we got home, I toted my dozen ears to the deck in the back yard. It's my preferred place to husk corn, to keep the mess out of the kitchen. I just drop all the husks and silk into an upright brown paper bag, and then back to the kitchen I go.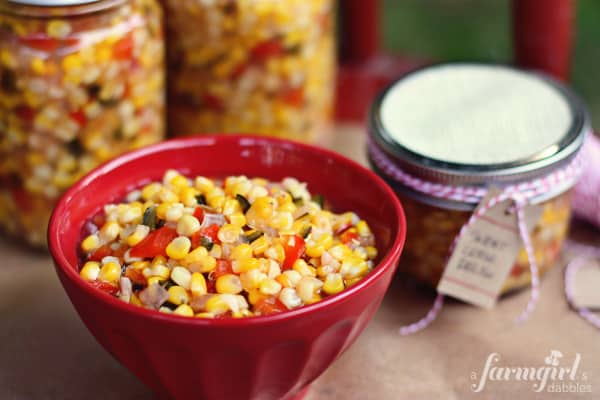 This sweet corn relish captures summer with simple refrigerator preservation. No hot water bath processing involved. The relish stays crisp and fresh and utterly irresistible stored in the refrigerator for 3 months or so. But it truly never lasts that long around here. I expect that I'll actually make a couple more batches before summer is over, as our girls have just discovered how much they like it, too. We sat down to grilled quesadillas this past week, topped with sweet corn relish, and nearly finished off a whole jar in one sitting!
If you have a bunch of cucumbers, you'll also want to check out the recipe for my Mom's Refrigerator Sweet Pickles!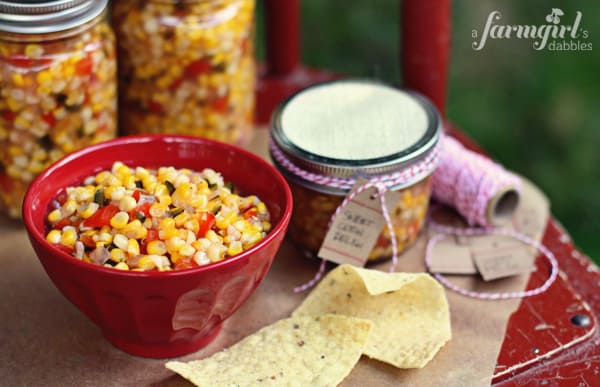 I like to serve sweet corn relish with any meal that has a Mexican twist. With carnitas or my favorite grilled chicken salad, or simply with tortilla chips to scoop up all those tender tangy kernels. It also shines at the breakfast table, atop fried eggs and slices of creamy avocado.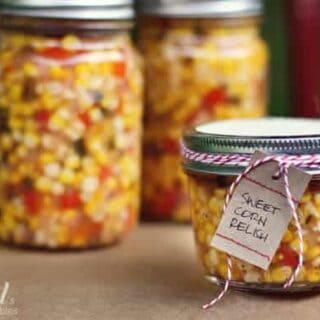 Zesty Sweet Corn Refrigerator Relish
Yield: 4 pint or 8 half-pint jars of relish
Prep Time: 10 minutes
Cook Time: 23 minutes
Total Time: 33 minutes
This sweet corn relish captures summer with simple refrigerator preservation.
Ingredients
8 cups cooked sweet corn kernels, cut from the cobs of 10 to 12 medium ears (Important: read the note below)
1½ cups diced red bell pepper
1 cup finely chopped yellow onion
½ cup diced poblano pepper
2½ cups distilled white vinegar
1¼ cups sugar
2 teaspoons mustard seed
1 teaspoon cumin
1 teaspoon coriander seed
½ teaspoon celery seed
½ teaspoon crushed red pepper
2 teaspoons kosher salt
¼ teaspoon freshly ground black pepper
¼ cup water
2 tablespoons cornstarch
Instructions
In a large bowl, combine the corn, red pepper, onion, and poblano pepper. Set aside.
In a large pot, combine the vinegar, sugar, mustard seed, cumin, coriander seed, celery seed, crushed red pepper, salt, and black pepper. Bring to a boil over medium-high heat, then add the corn mixture. Return to a boil and then reduce heat to low. Simmer uncovered for 15 minutes. Spoon off any accumulated foam.
Whisk together the water and cornstarch and then stir it into the corn mixture. Turn heat up to medium and cook for 5 minutes, or until mixture starts to thicken, stirring occasionally.
Ladle into 4 pint or 8 half-pint sterilized canning jars. Cover jars with lids and screw on the bands. Let cool to room temperature and then refrigerate for up to 3 months.
Notes
Important! Only use the freshest, most tender sweet corn you can find. I learned the hard way that an ear or two of tough or mushy corn can ruin the whole batch. Also take care to not over cook the corn on the cob. After adding the corn to boiling water, and after the water returns to a boil, only cook the ears for about 3 minutes. Then cool immediately in cold water.
from a farmgirl's dabbles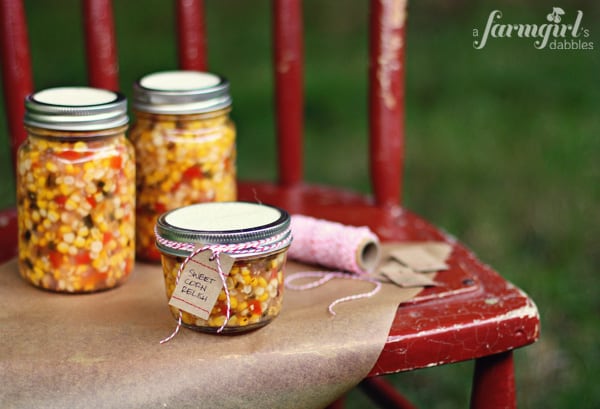 We participate in the Amazon Services LLC Associates Program, an affiliate advertising program designed to provide a means for us to earn fees by linking to Amazon.com and affiliated sites. See our
disclosure policy
for more info.