Ruby Rhubarb Syrup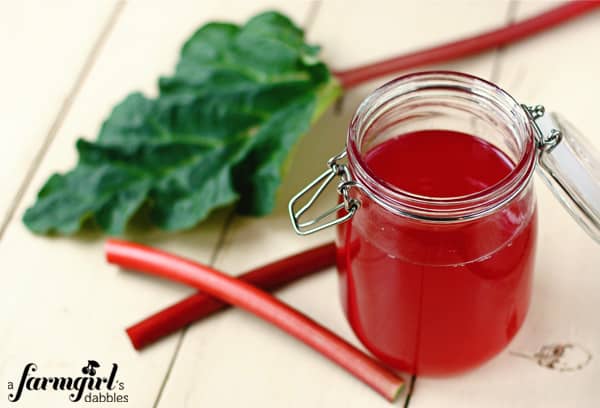 I have been contemplating something for the past few years, and now I am quite certain of two things:
I DO need to plant more rhubarb.
I really AM turning into my mother!!
It's an impossibility for me to cut rhubarb from the yard without thinking of Mom. As a kid, I thought she was completely nutso for her love of "that weed" growing alongside the garage on the farm. But every year for the past 10 years or so, my own fondness for rhubarb has grown. So much so, that I am making plans for a bigger harvest next year. Come fall, I am going to divide my big plant. Its stalks have been smaller the past couple of years, telling me it needs the elbow room anyway.
When I saw the idea for a rhubarb syrup in
Heartland
, I knew I had to try it. The possibilities for its use seemed to be endless!
This Ruby Rhubarb Syrup, while it cooked away on the stove, smelled so lovely. And the color! That shiny  redness is pure rhubarb, with no added colorants. It's absolutely gorgeous. And tasty, too…I burned my tongue (more than once!) because I was too impatient for it to cool down.
I plan to keep experimenting, but our favorite way to use this syrup, so far, is to drizzle it over a bowl of fresh berries with a scoop of vanilla ice cream. Such a simple and beautiful way to snag a sweet bite at the end of a spring meal.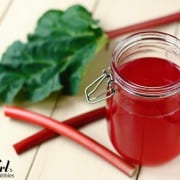 Ruby Rhubarb Syrup
Yield: almost 5 cups of syrup
Cook Time:18 minutes
Ingredients:
6 c. chopped fresh or frozen rhubarb
1-1/2 c. water
3 c. sugar
1/2 c. fresh squeezed lemon juice
Directions:
In a medium saucepan over medium-high heat, bring the rhubarb and water to a boil. Lower the heat to medium-low, cover, and cook the rhubarb until it is tender, about 10 minutes. Stir to break up and release all of its juices.
Set a fine mesh strainer lined with a double layer of cheesecloth over a large bowl. Pour the rhubarb mixture through the strainer to remove the pulp. To get the most rhubarb juice out, pull up the corners of the cheesecloth and gently press on it with a wooden spoon to squeeze out the remaining juice. Measure the strained juice and add enough water to equal 3 cups. Return the liquid to the saucepan over medium-high heat and stir in the sugar. Bring to a boil and cook until the sugar dissolves, about 8 minutes. Remove from the heat, stir in the lemon juice, and let cool. Strain again for the clearest ruby syrup, then pour into a container and refrigerate. Keeps well for up to 1 month.
Adapted from Heartland, by Judith Fertig. (This is so much more than a cookbook. It's a celebration of the Midwest.)
©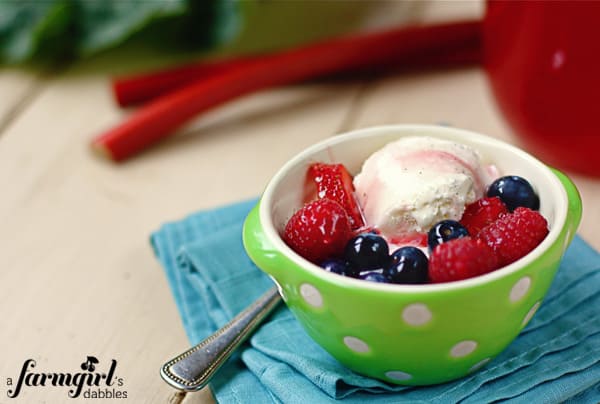 I'm linking up with:
We participate in the Amazon Services LLC Associates Program, an affiliate advertising program designed to provide a means for us to earn fees by linking to Amazon.com and affiliated sites. See our disclosure policy for more info.