Ruby Rhubarb Syrup
With a sweet-tart flavor, Ruby Rhubarb Syrup is just the thing for the best cocktails and mocktails, and is a beautiful, delicious topping for pancakes, waffles, and desserts. Easy to make, with only 3 ingredients, plus water!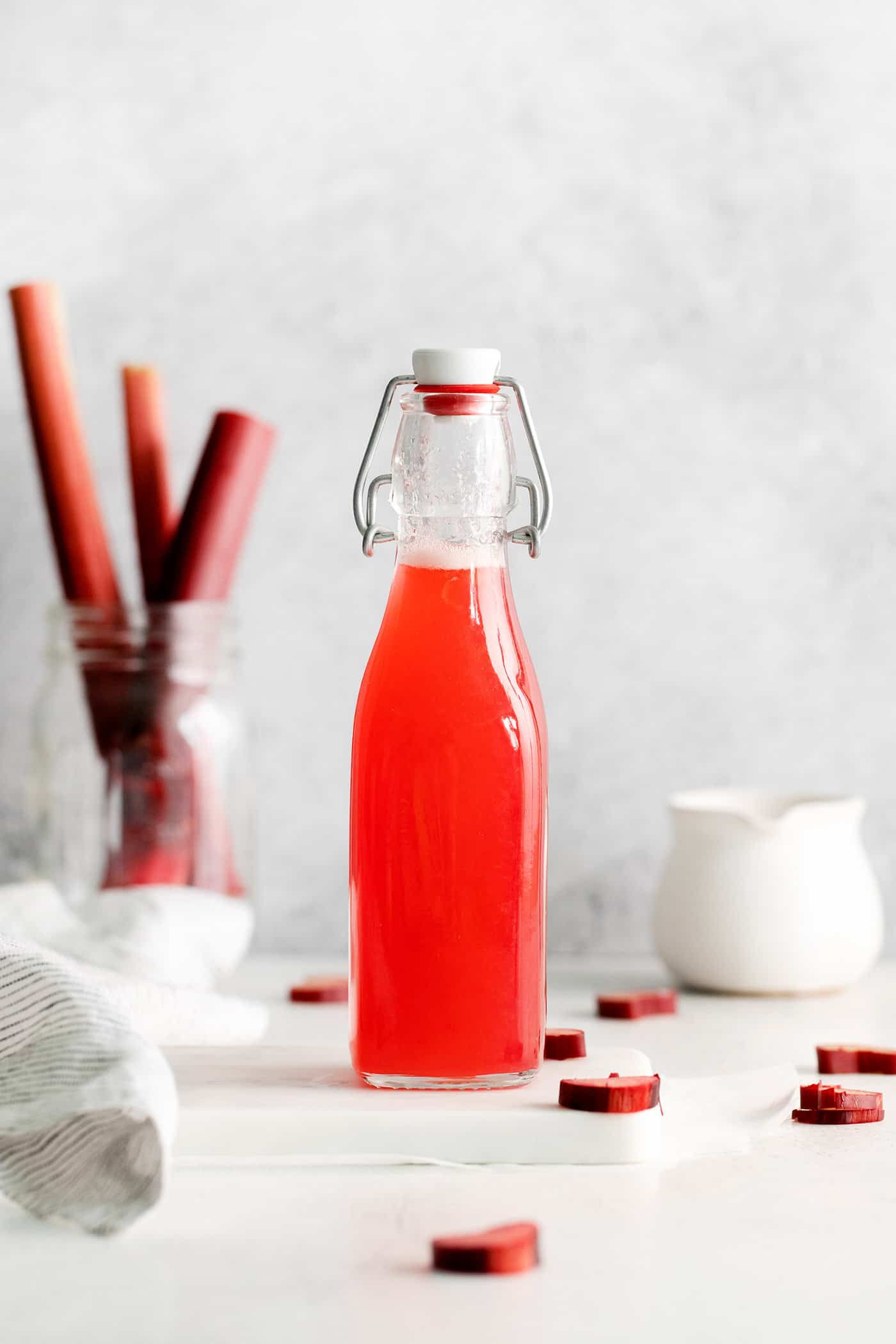 Easy Rhubarb Simple Syrup
This homemade Ruby Rhubarb Syrup has become a spring and summer tradition around here. I first started making it more than 10 years ago, treating friends and family to rhubarb margaritas and rhubarb mojitos…or simply swirling rhubarb syrup into tall glasses of ice with club soda.
Beyond drinks, we use this gorgeous flavored syrup as a topping for ice cream, cheesecake, pancakes, and waffles. It's also pretty wonderful swirled into a bowl of morning yogurt. Anything that needs a pop of color & flavor.
This pretty, ruby-hued simple syrup is so easy to make, I'm certain it'll become a staple of your summertime enjoyment, too!
What You'll Need
I love the simplicity of this rhubarb syrup recipe. You only need 3 ingredients – some chopped rhubarb, sugar, and fresh lemon juice – plus water!
Rhubarb – You can use either fresh or frozen to make this simple syrup. For the prettiest red/pink-hued syrup, use a red or pink variety of rhubarb.
Sugar – This dissolves in the syrup to add sweetness.
Lemon juice – Adds brightness and enhances the rhubarb flavor.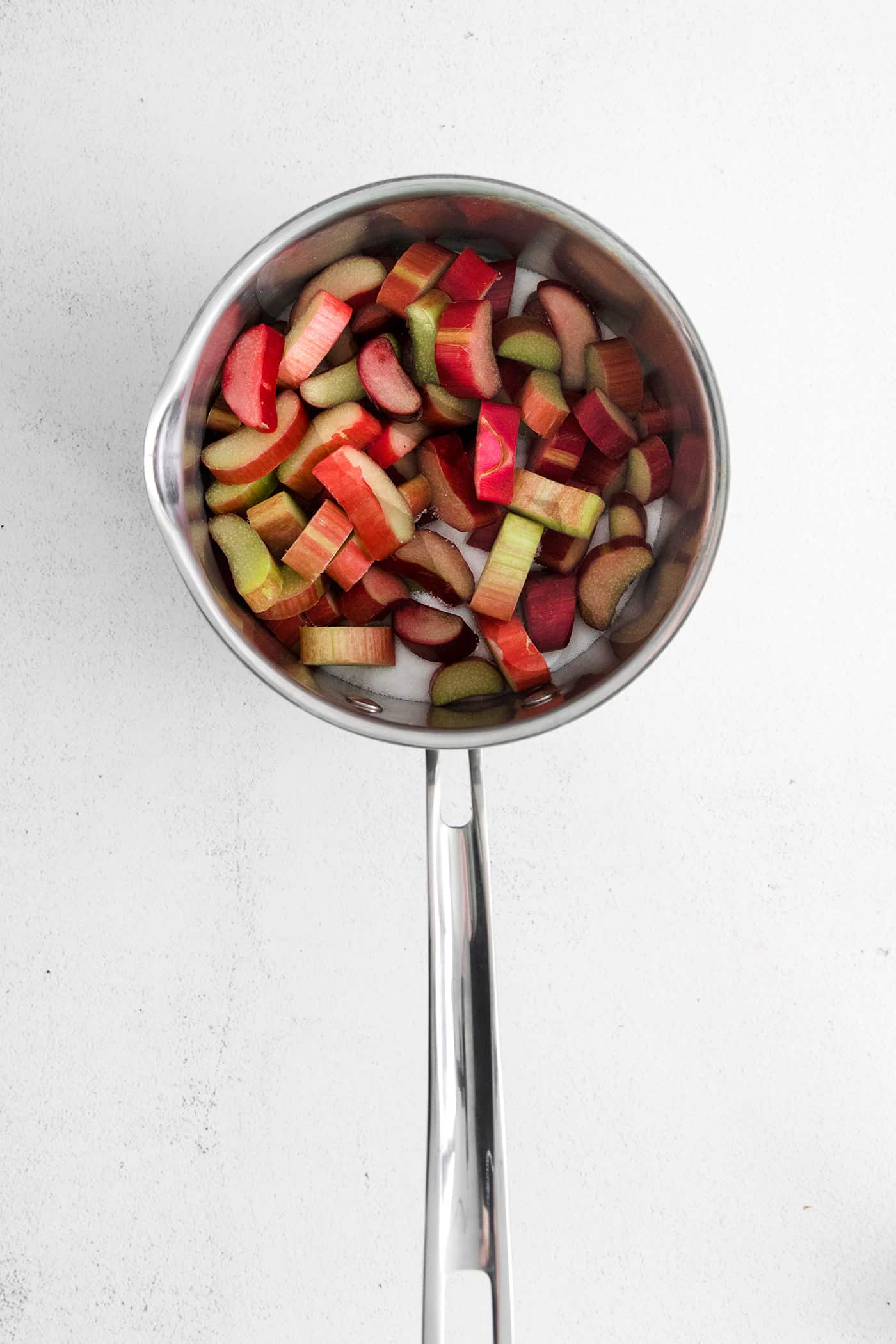 How To Make Rhubarb Syrup
This rhubarb simple syrup is truly "simple"! Here's how to make it:
Cook the rhubarb. Bring the rhubarb and water to a boil in a saucepan. Cook until the rhubarb is tender, then stir and smash it a bit to release all of its flavor and color.
Strain the rhubarb. Strain the rhubarb through a fine mesh strainer lined with a double layer of cheesecloth. Once strained, add enough water to equal 3 cups of liquid.
Dissolve the sugar. Add rhubarb liquid back to saucepan and return to a boil. Stir in the sugar and cook until it dissolves. Remove from heat and add the lemon juice.
Cool. Strain again if you desire a super clear, pure look (or skip this straining). Then pour the finished syrup into a glass container with a lid and store in the refrigerator.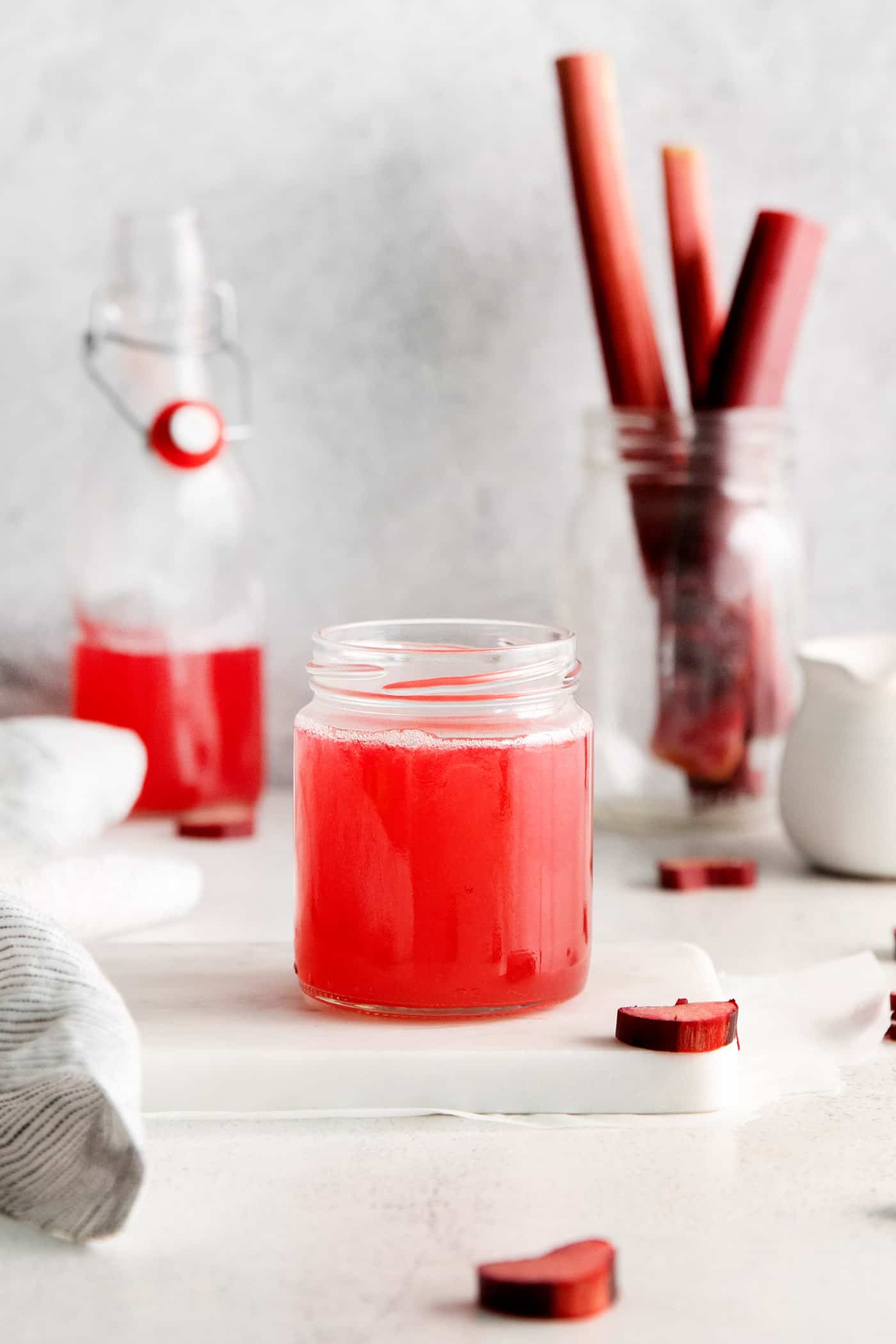 Recipe Variations
Rhubarb pairs so well with other fruit, especially berries, that you can easily change up the flavor to this simple syrup.
Raspberry rhubarb simple syrup. We actually make this combination a lot since we have a raspberry patch in our yard. I love to use the syrup for this raspberry rhubarb cosmopolitan – and I add it to mojitos, margaritas, and gin & tonics as well. Just add raspberries along with the rhubarb, then cook and strain together!
Strawberry rhubarb simple syrup. A classic combination, we love to make this after we pick strawberries at the local u-pick, or when we find great berries at the farmers market. We use it the same as I just mentioned above with the raspberries.
Blueberry rhubarb simply syrup. This would be a lovely way to enjoy a blueberry lemonade – simply add some rhubarb along with the blueberries in my blueberry basil lemonade!
No matter what berry you add, always make sure you end up with 3 cups of liquid to combine with the sugar for the appropriate texture.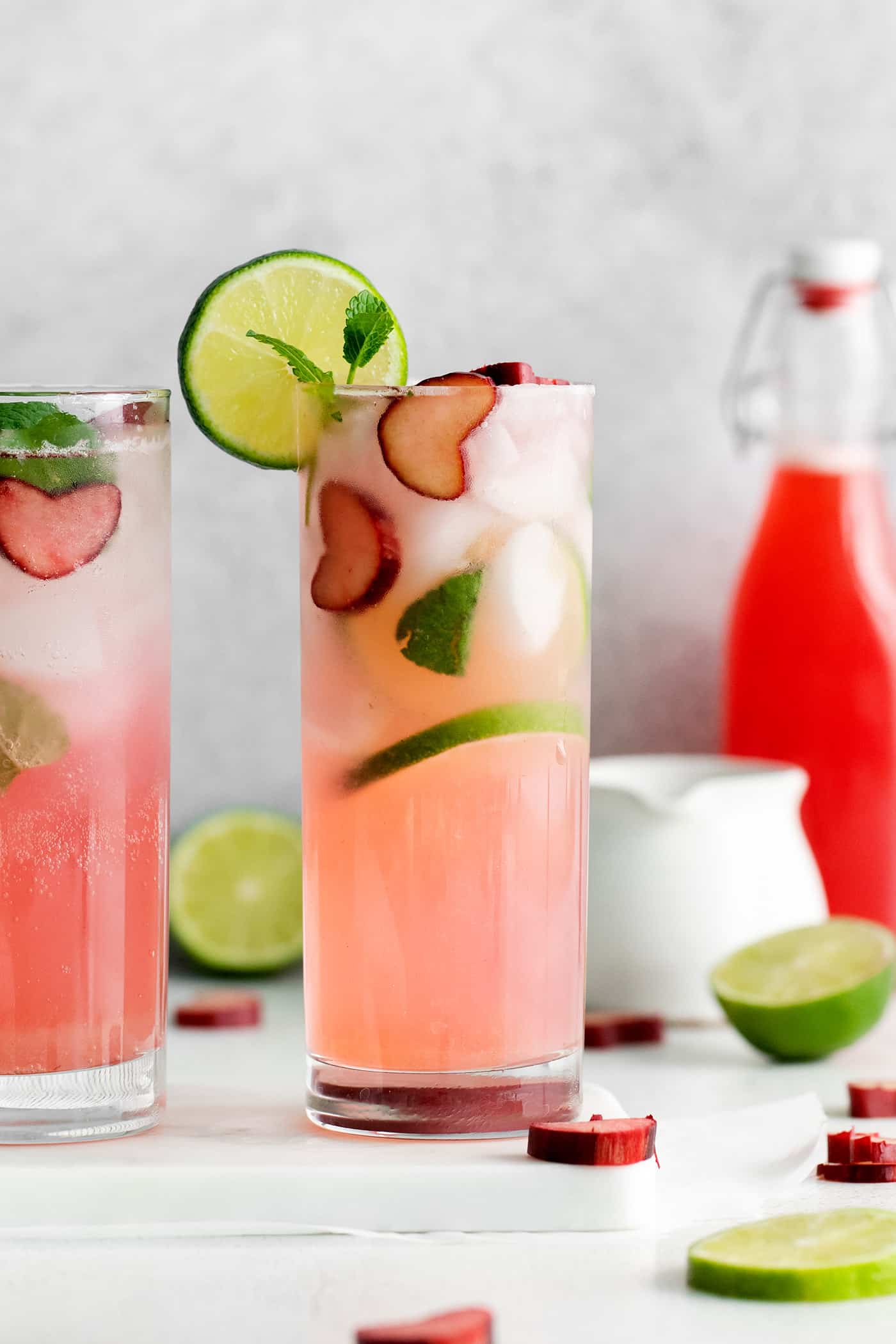 Serving Suggestions
The possibilities for how to use this rhubarb simple syrup are nearly endless.
A couple of my favorite things to make with this rhubarb syrup are the Rhubarb Margarita and the Rhubarb Mojito. These two beverages have been so fun for entertaining during the spring and summer. When our mint is flourishing (rather, taking over the herb garden!), the mojito is the absolute perfect way to enjoy its bounty!
In the cocktail category, beyond margaritas and mojitos, this syrup is also a beautiful addition to mimosas (in place of the traditional orange juice), gin & tonics, and vodka lemonades!
For a non-alcoholic beverage, we like to pour a bit of syrup over ice in a tall glass and then top it off with club soda. Or pour a bit into some lemonade. If you like mint, muddle a few leaves of fresh mint in the glass – our daughters love this drink!
But you don't have to stop with drinks! This rhubarb syrup is fantastic poured over scoops of vanilla ice cream, cheesecake, and pound cake. And it has definitely made an appearance on our summertime breakfast table, replacing the traditional maple syrup – served with pancakes, waffles, and French toast.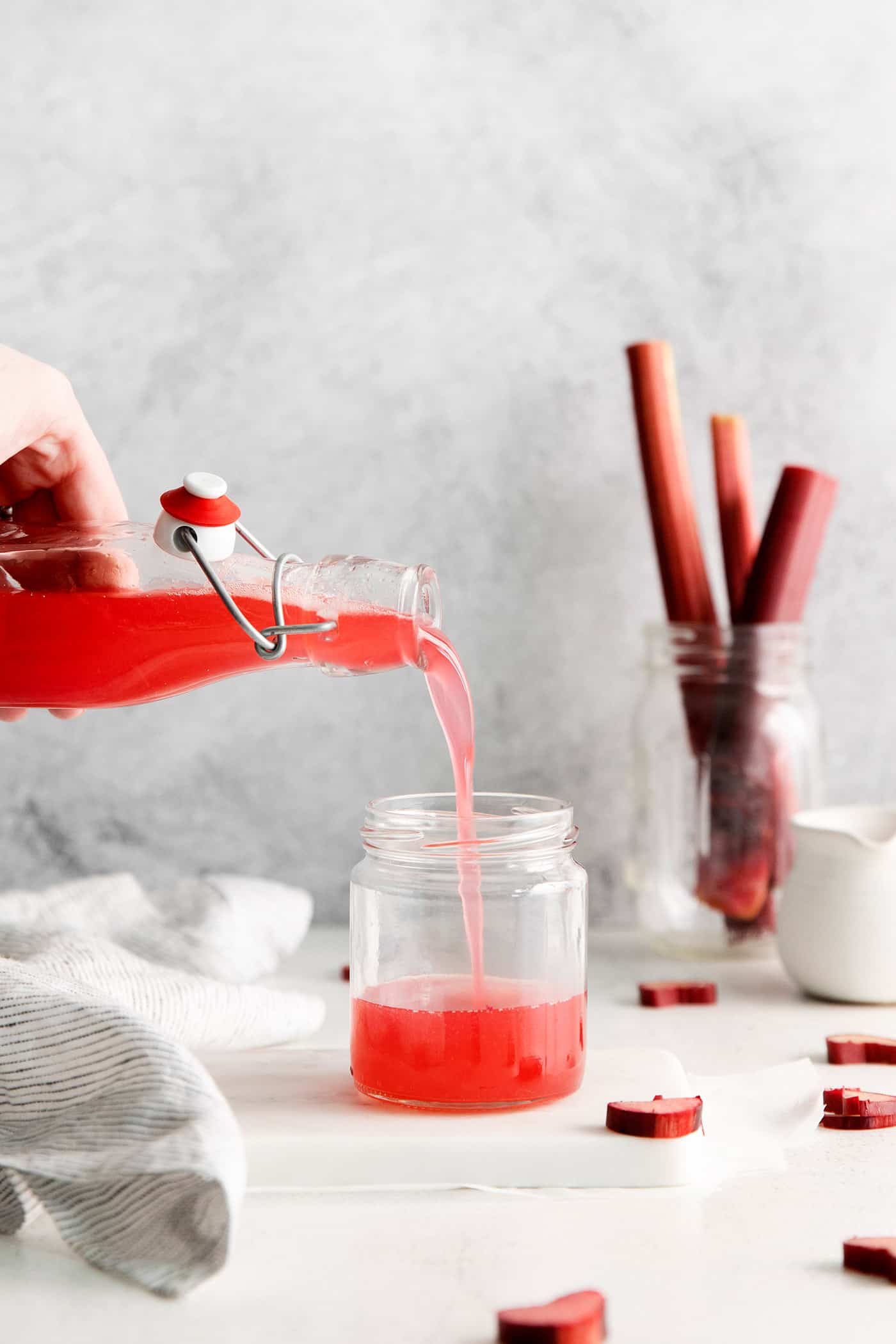 How to Store Rhubarb Syrup
Properly stored in the fridge, this fresh syrup will keep well for 2 to 3 weeks. Store it in a sealed glass jar or container.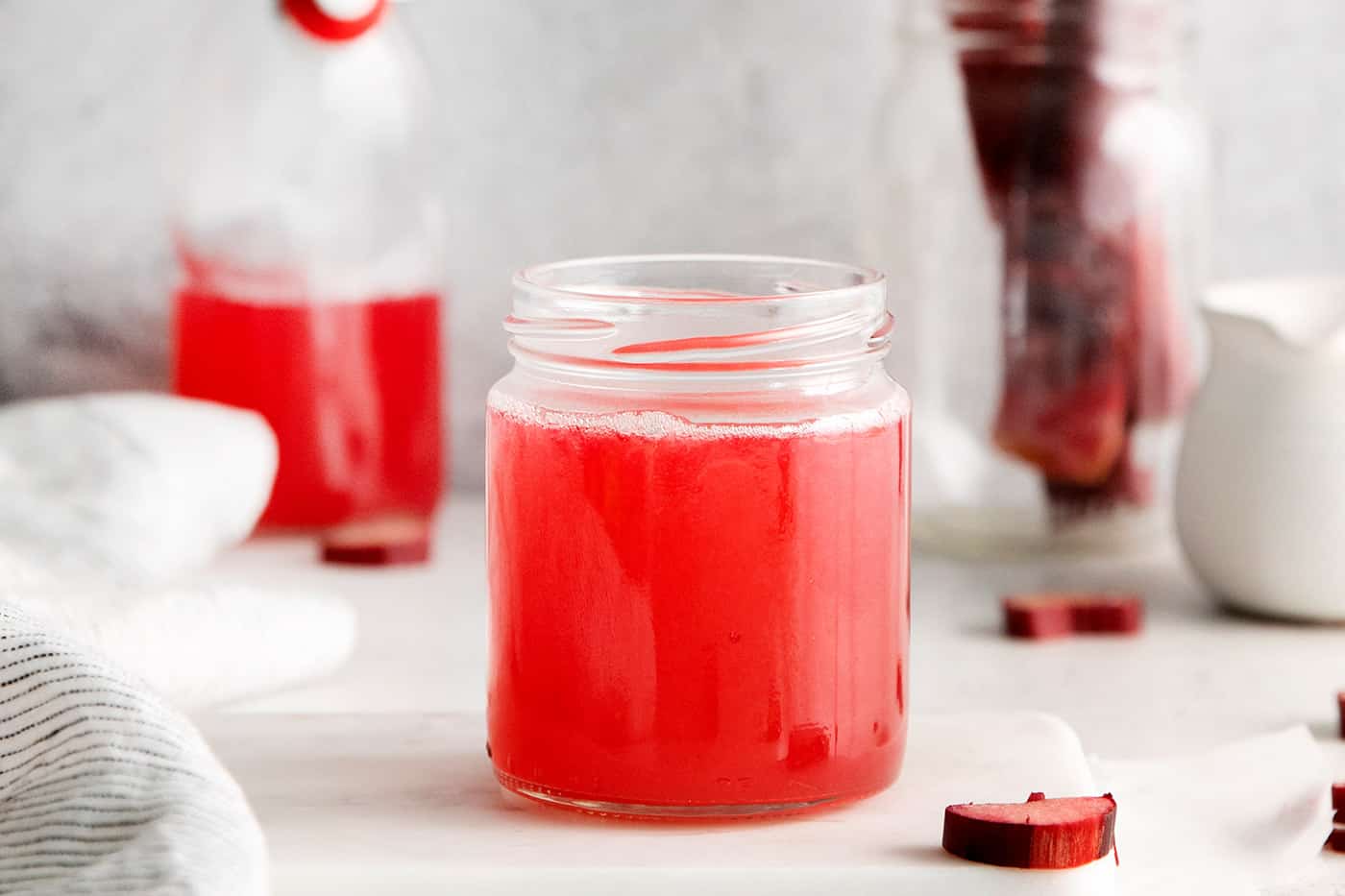 Can You Freeze This?
Yes! It's easy to freeze this syrup! Simply pour the cooled syrup into a glass jar or container, leaving about 2″ at the top for expansion when it freezes and thaws. It'll keep well frozen for about 6 months or so. When you're ready to use it, just let it thaw in the refrigerator or on the counter.
More Rhubarb Recipes:
Like this recipe? Save it to Pinterest!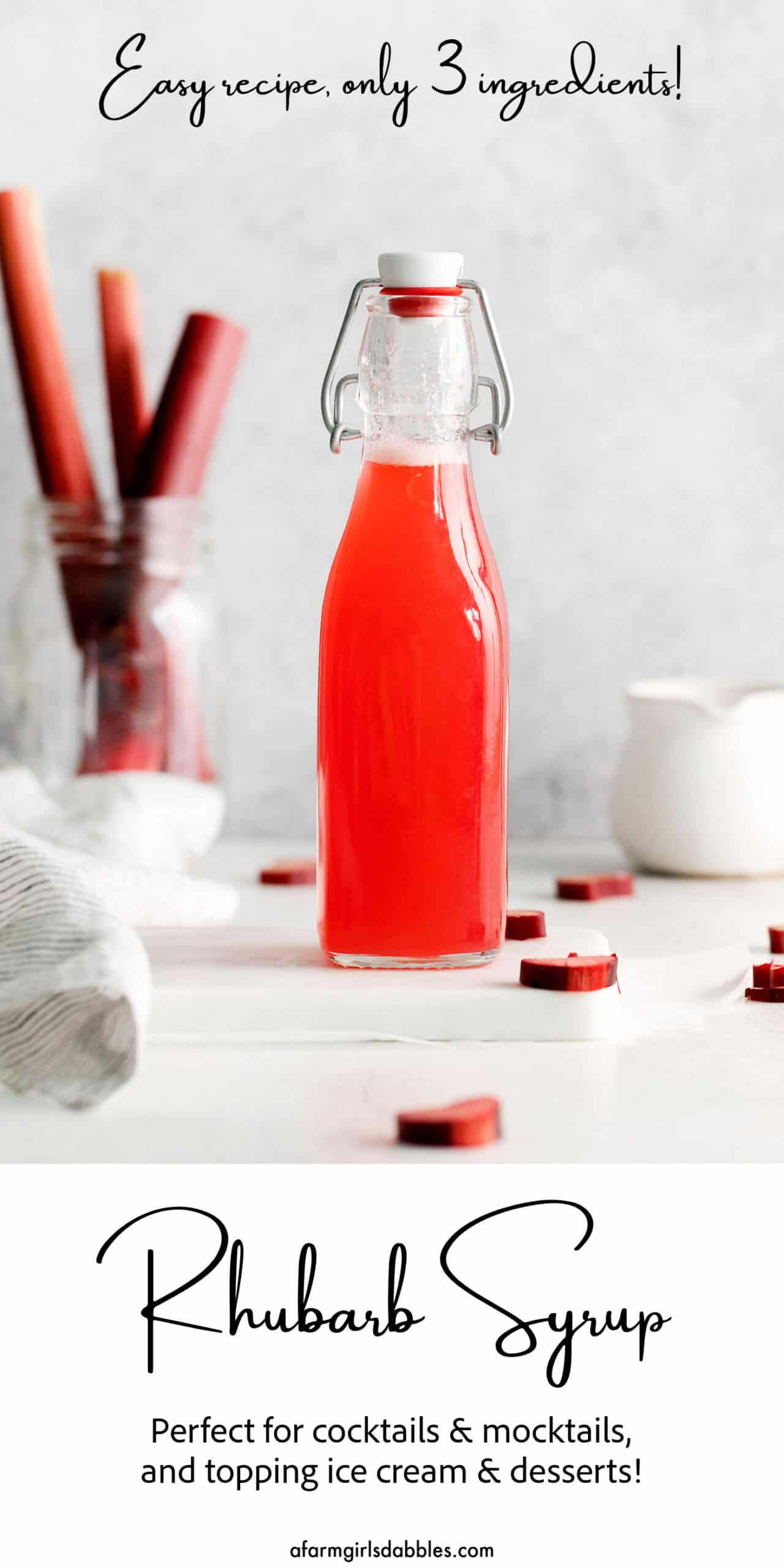 Ruby Rhubarb Syrup
Yield: 5 cups or 40 (2 tablespoon) servings
Prep Time: 20 minutes
Cook Time: 18 minutes
Total Time: 38 minutes
With a sweet-tart flavor, Ruby Rhubarb Syrup is just the thing for the best cocktails and mocktails, and is a beautiful, delicious topping for pancakes, waffles, and desserts!
Ingredients
6 cups chopped fresh or frozen rhubarb - look for red/pink rhubarb for the prettiest color!
1½ cups water
3 cups sugar
½ cup fresh squeezed lemon juice
Instructions
In a medium saucepan over medium-high heat, bring the rhubarb and water to a boil. Lower the heat to medium-low, cover, and cook the rhubarb until it is tender, about 10 minutes. Stir to break up and release all of its juices.
Set a fine mesh strainer lined with a double layer of cheesecloth over a large bowl. Pour the rhubarb mixture through the strainer to remove the pulp. To get the most rhubarb juice out, pull up the corners of the cheesecloth and gently press on it with a wooden spoon to squeeze out the remaining juice. Measure the strained juice and add enough water to equal 3 cups.
Return the liquid to the saucepan over medium-high heat and stir in the sugar. Bring to a boil and cook until the sugar dissolves, about 8 minutes. Remove from the heat, stir in the lemon juice, and let cool. Strain again for the clearest ruby syrup, then pour into a container and refrigerate. Keeps well in the refrigerator for up to 3 weeks.
Nutrition Information:
Yield: 20
Serving Size: 1
Amount Per Serving:
Calories: 126
Total Fat: 0g
Saturated Fat: 0g
Trans Fat: 0g
Unsaturated Fat: 0g
Cholesterol: 0mg
Sodium: 3mg
Carbohydrates: 32g
Fiber: 1g
Sugar: 31g
Protein: 0g
Nutrition information is automatically calculated by Nutritionix. I am not a nutritionist and cannot guarantee accuracy. If your health depends on nutrition information, please calculate again with your own favorite calculator.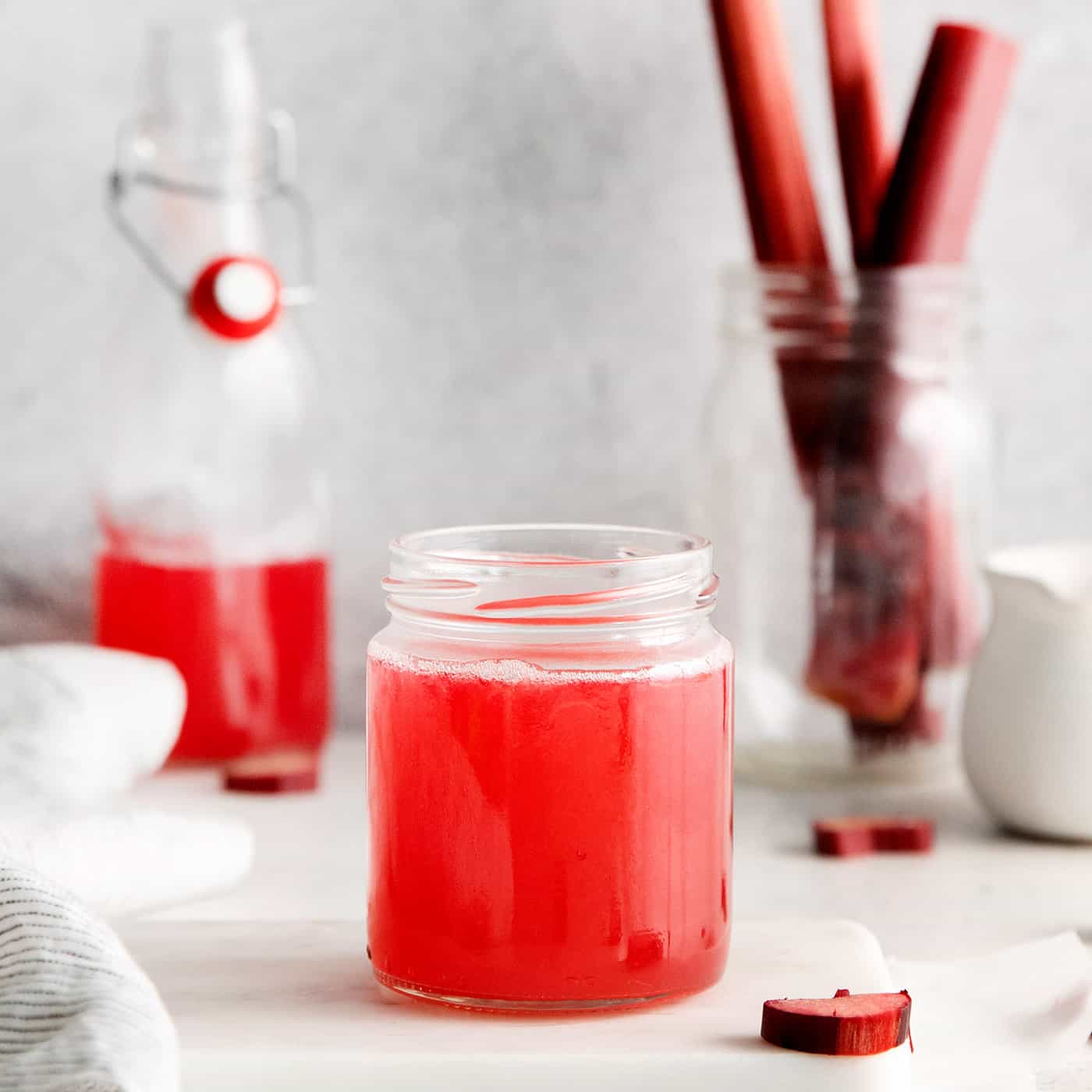 This post was first published in 2012, then updated in 2022.