Air Fryer Bacon Wrapped Asparagus
Air Fryer Bacon Wrapped Asparagus is a quick and easy side dish where crisp bacon wraps around bundles of tender-crisp asparagus. It's a tasty recipe that the whole family will love, ready in just 15 minutes!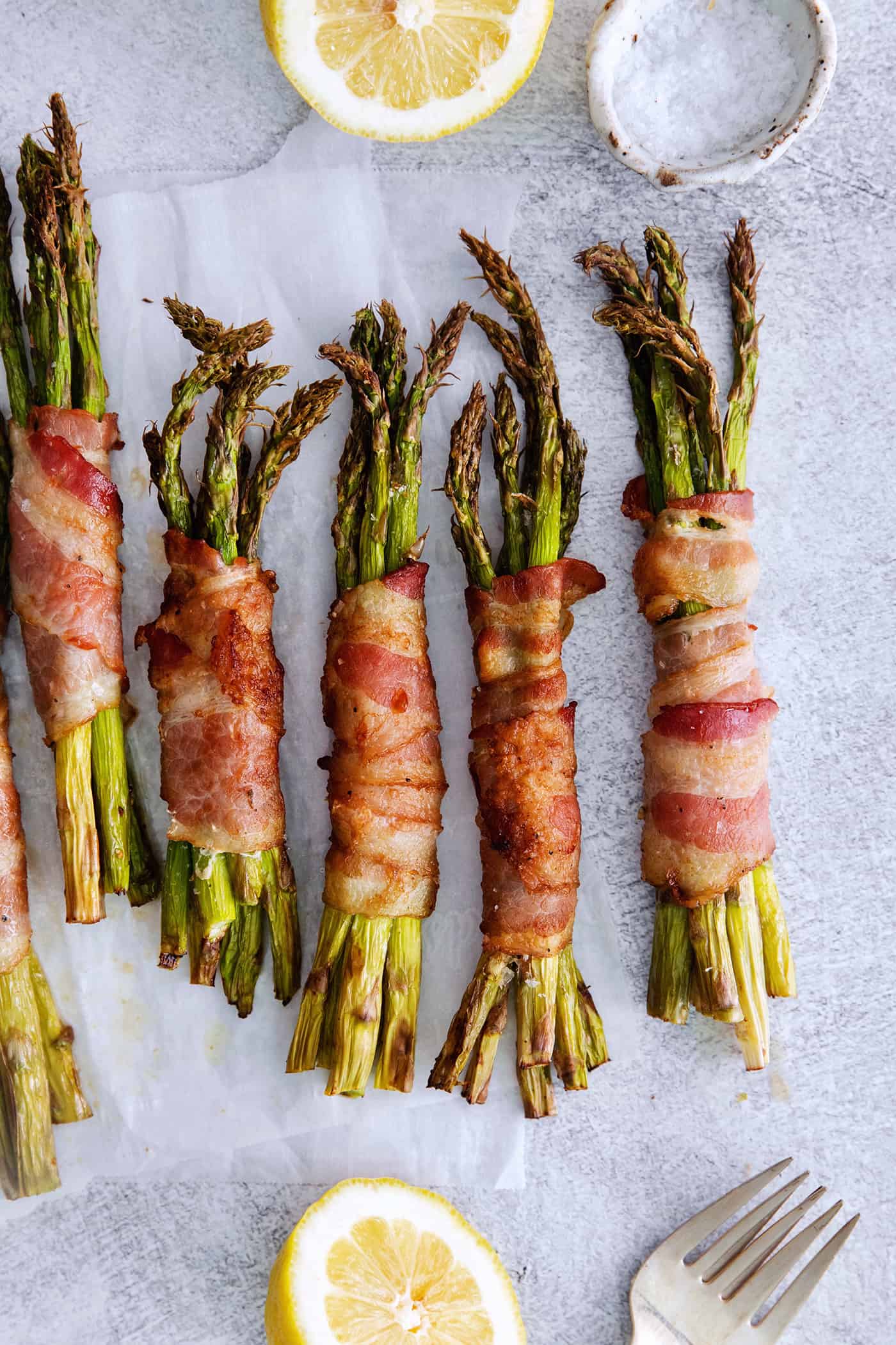 Easy Air Fryer Asparagus with Bacon
Asparagus is one of my favorite veggies. And bacon…who can resist bacon?! It's no wonder that this Bacon Wrapped Asparagus has become a favorite side dish around here!
This asparagus may look kinda fancy. But trust me, it's so quick & easy to make + so fabulous tasting, you'll be putting this on the table at least once a week.
When talking about easy, flavorful, low-carb side dishes, this recipe hits all the marks. Plus the textures are crazy good! All you need is asparagus, bacon, a little oil, salt & pepper, and a light sprinkle of garlic powder. The asparagus bundles cook up FAST in the air fryer, perfectly delicious in only 10 minutes!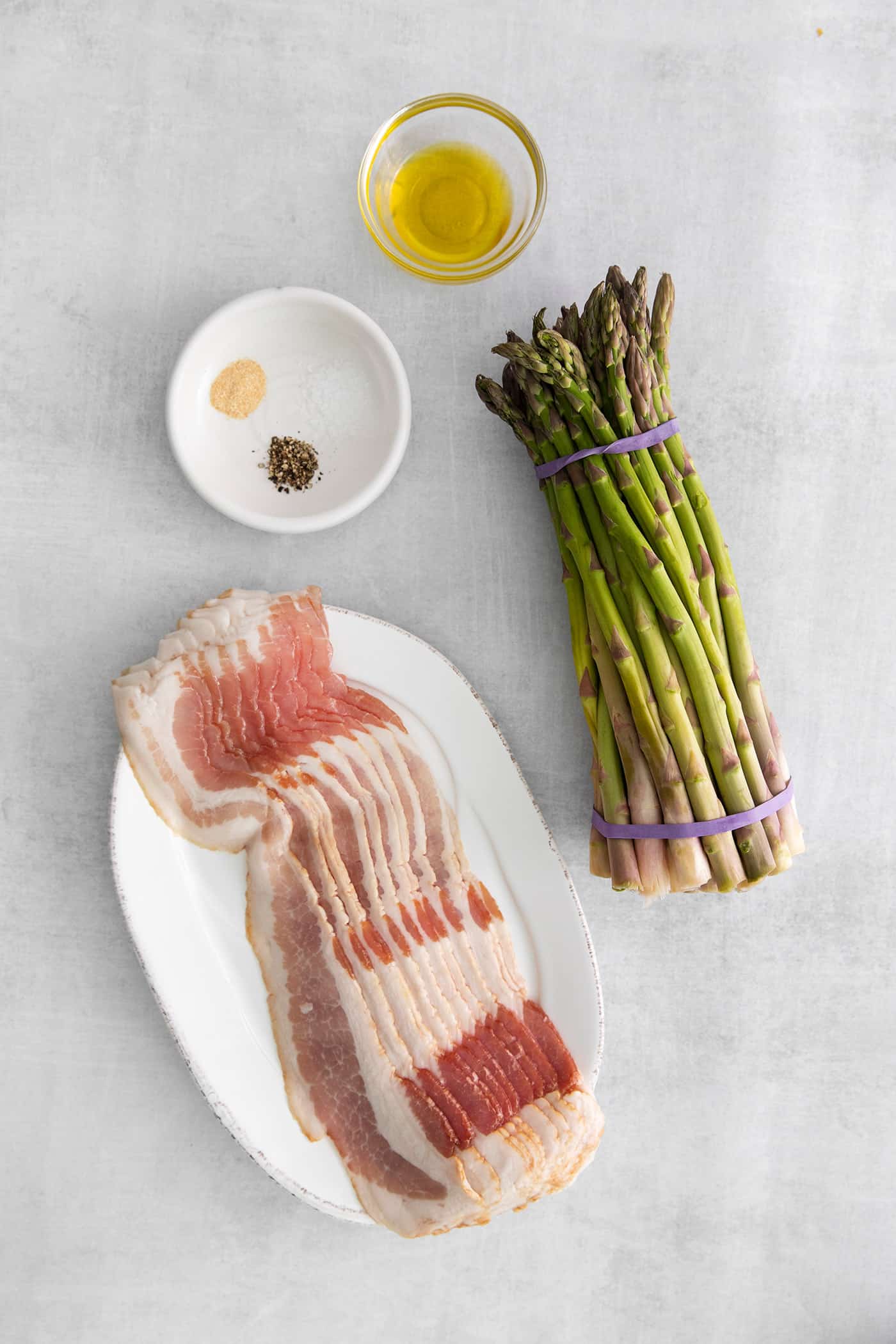 What You'll Need
This easy side dish is prepared with very few ingredients. Scroll down to the recipe box at the bottom for full details!
Asparagus – Thick asparagus spears work best in this recipe, for a tender-crisp result when the bacon is fully cooked.
Olive oil -Olive oil helps the seasonings stick to the asparagus and also give a delightful crisp exterior texture. Feel free to use your favorite neutral cooking oil, or swap it for a few spritzes of olive oil spray.
Seasonings – Salt, pepper, and garlic powder enhance the flavor of the asparagus and make sure they taste extra good! Feel free to measure to taste.
Bacon – Bacon adds a salty, meaty deliciousness to this dish. I recommend a normal-to-thin cut bacon so it cooks quickly. Avoid anything thick-cut as you'll likely end up with undercooked bacon and burnt asparagus.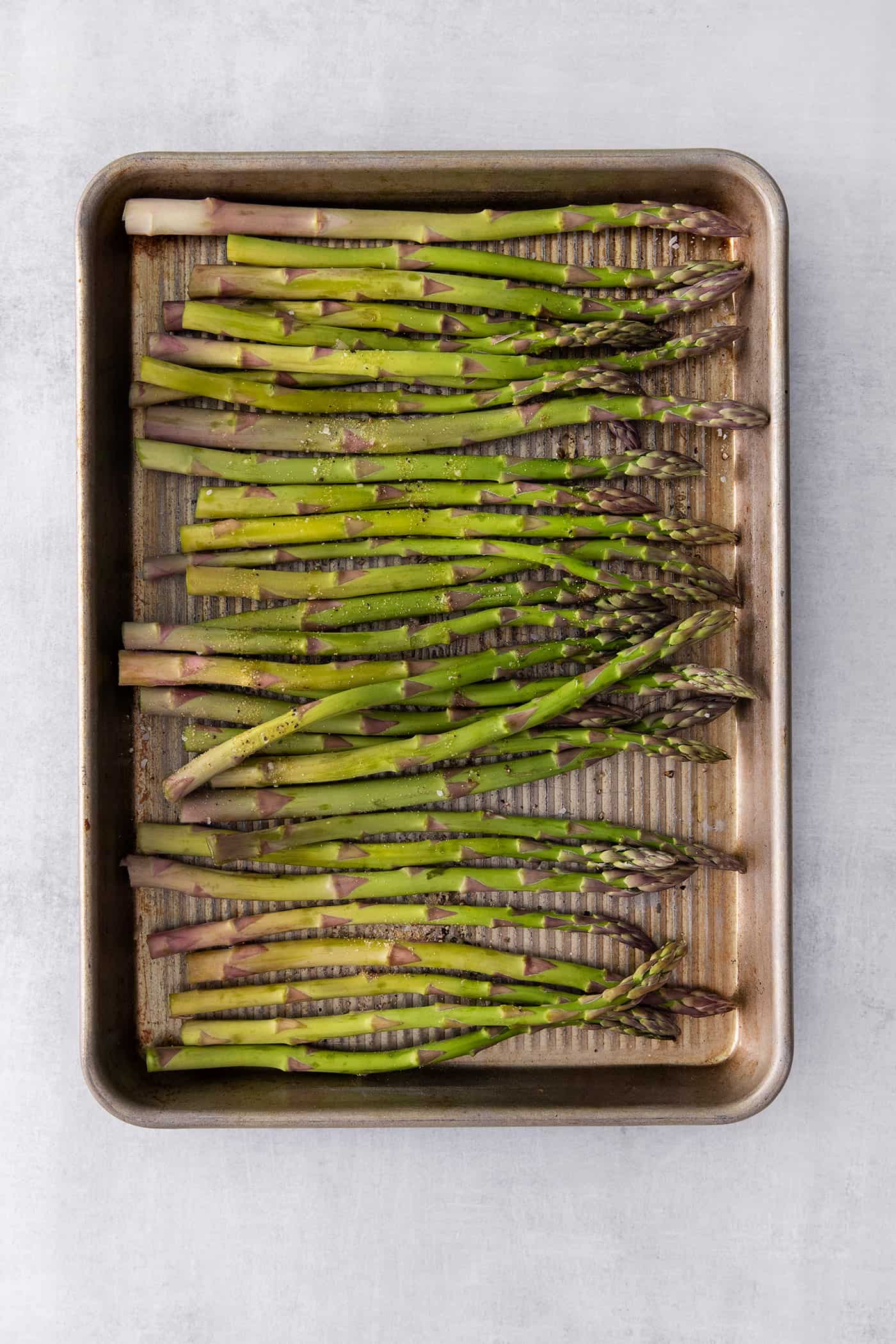 How to Trim Asparagus
Before preparing the asparagus for this air fryer recipe or any other asparagus recipe, it's important to remove the woody ends. They're tough and don't have a great flavor, so they should never be included in any recipe.
The easiest way to remove the woody ends is simply to bend the bottom of the asparagus sharply between your two hands. It will bend and snap off naturally. You can then trim them with a knife for a straight cut or just leave the ends as-is.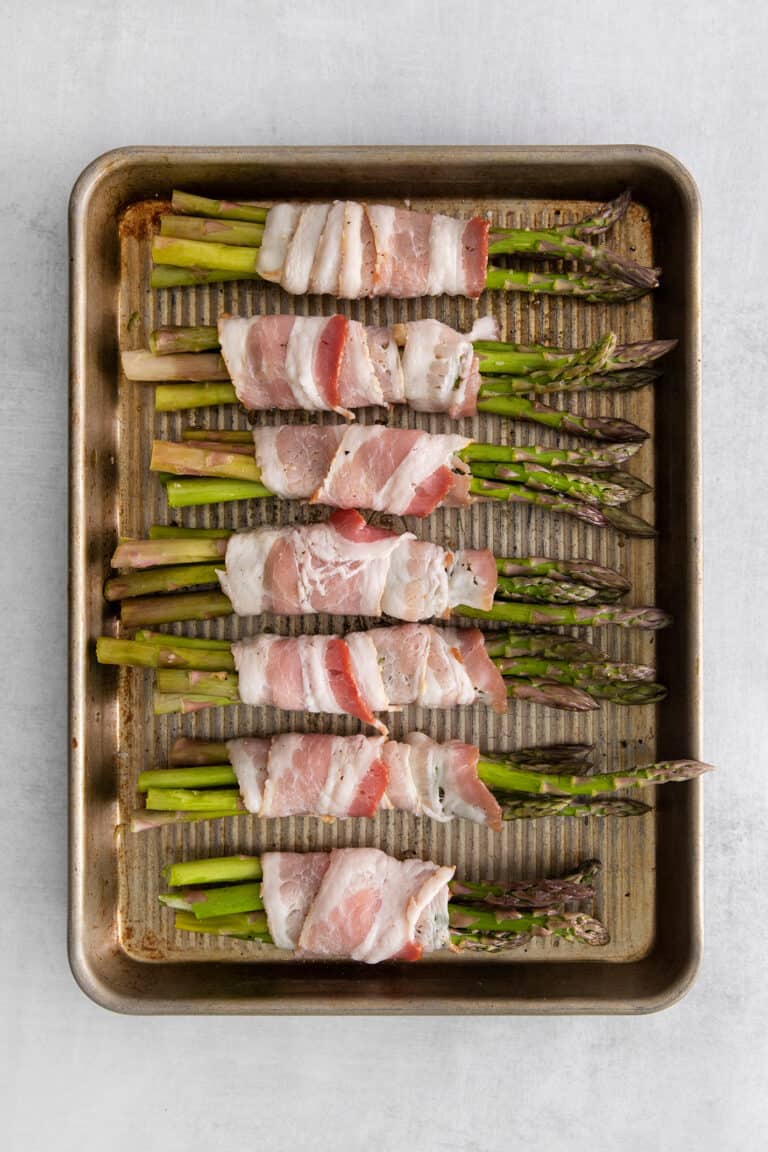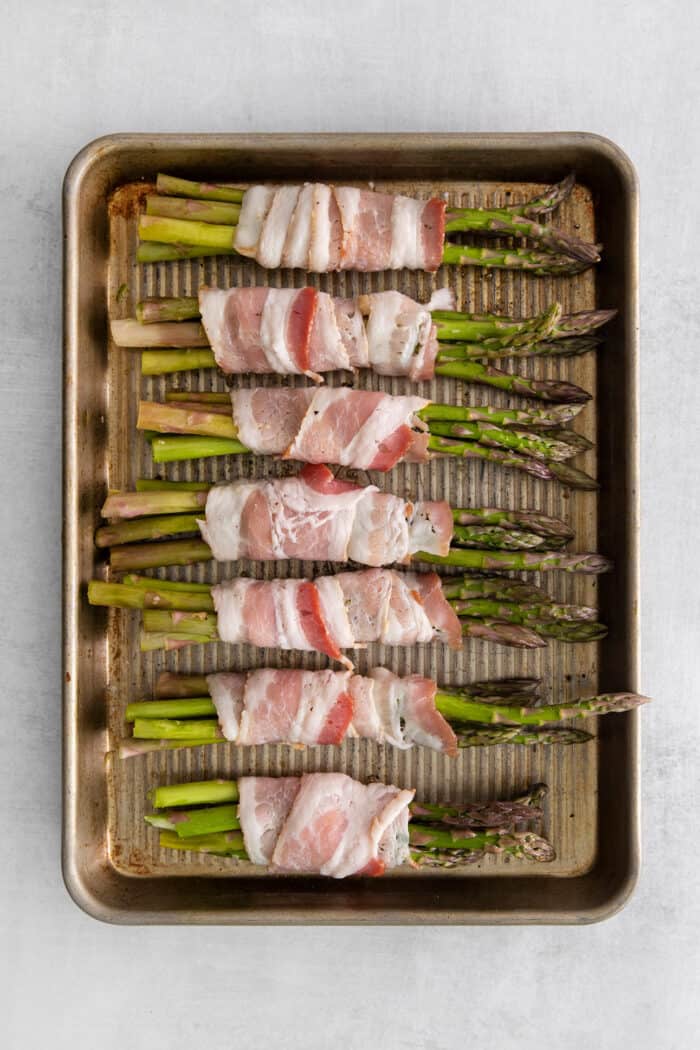 How to Make Bacon Wrapped Asparagus in the Air Fryer
Air fryer asparagus comes together in just a few easy steps.
Season the asparagus. Drizzle the asparagus with olive oil, then add the seasonings. Toss to coat.
Add the bacon. Gather the asparagus into bunches of 4 to 5 pieces. Wrap a bacon strip snuggly around the center of each one.
Cook. Cook the bacon wrapped asparagus in the air fryer for 10 to 12 minutes.
Serve. Serve immediately. Add a squeeze of fresh lemon and some flaky sea salt if desired.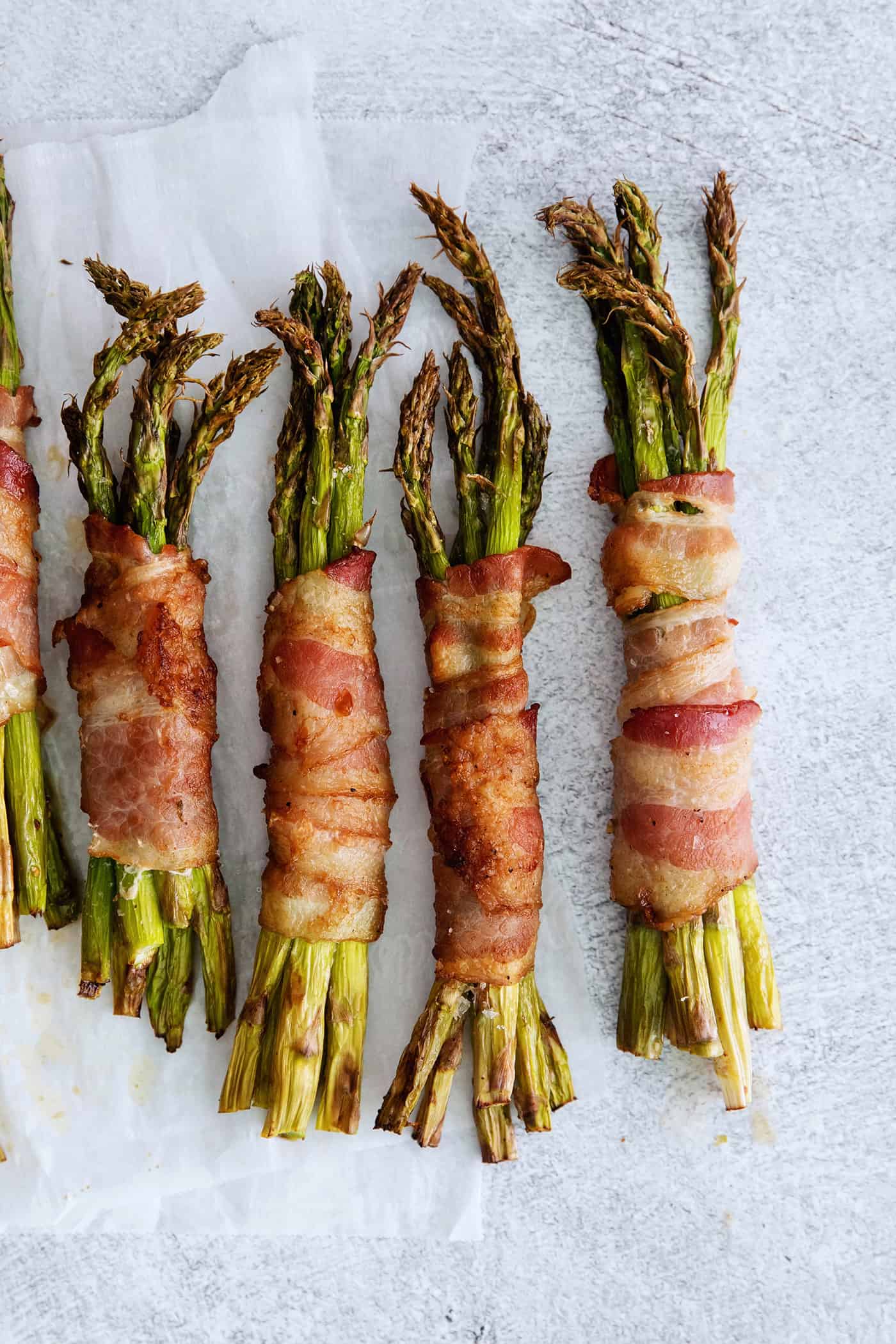 Can I Make This in The Oven?
No air fryer? No problem!
The bacon wrapped asparagus can also be made in the oven. Place it on a rack set inside a rimmed pan (line the pan with foil for extra easy clean-up, if you like) and cook in a preheated 400° F oven for about 30 minutes. The baking time may vary slightly depending on the thickness of your asparagus and bacon.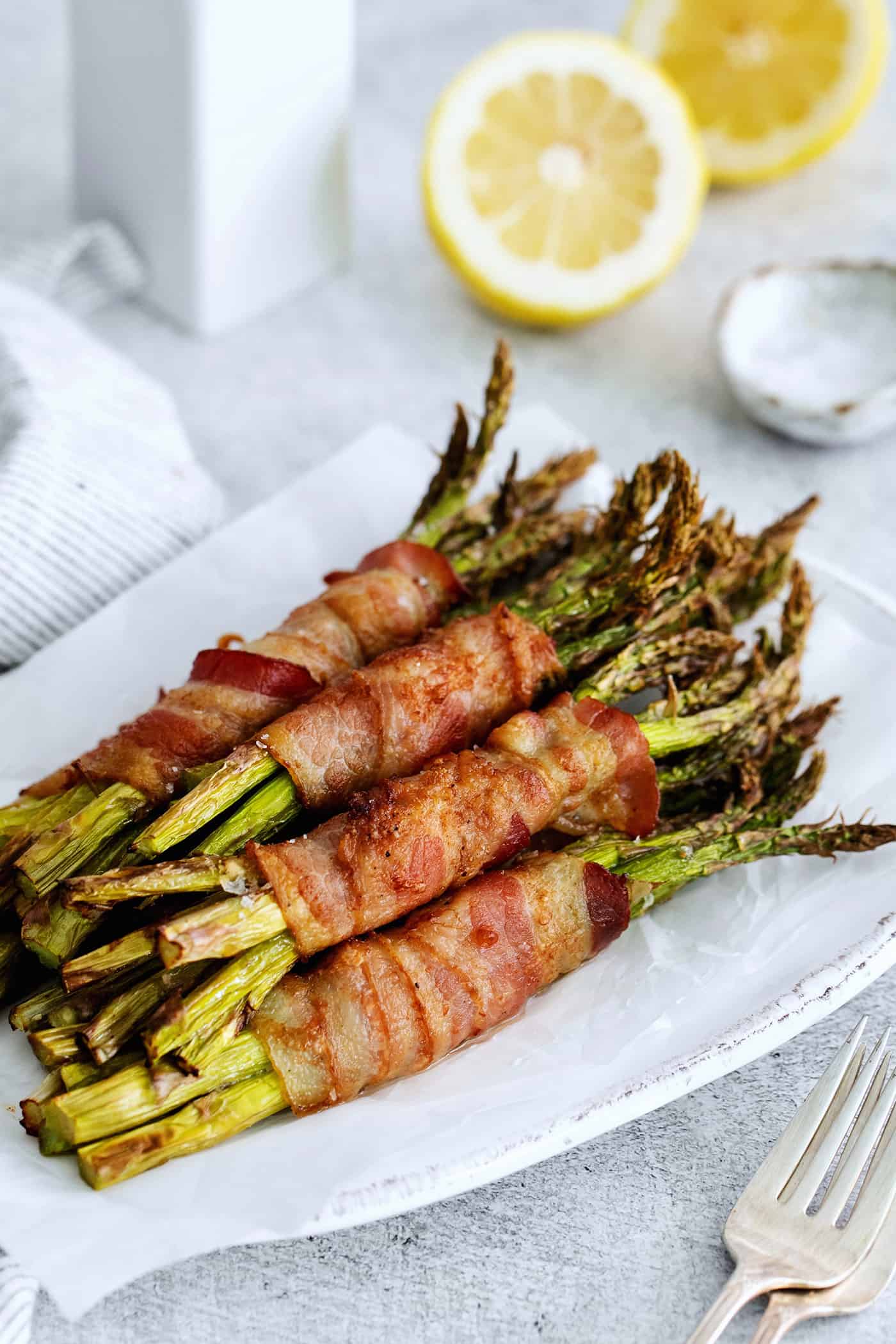 Tips for Success
Here are a few tips for the best air fryer asparagus!
Choose thick stalks of asparagus. Thicker stalks work best for this recipe, as they stay crunchy instead of overcooking before the bacon is ready.
Secure the bacon with a toothpick. If you're having trouble getting the bacon to stay, just use a toothpick to secure it. But I never have any issues with this, as the thinner bacon strips wrap very easily.
Don't crowd the air fryer. Depending on the size of your air fryer, you may need to cook these in batches. It's important to place the bundles in a single layer with a bit of space between them. This 7-quart air fryer works great!
Vary the seasonings. Salt, pepper, and garlic powder are my go-to seasonings for this but feel free to switch it up. Experiment with the spices in your cupboard!
Assemble in advance. If you want to make the dinner process even quicker, you can easily assemble the asparagus bunches in advance and keep them in the fridge for 24 hours or so before cooking.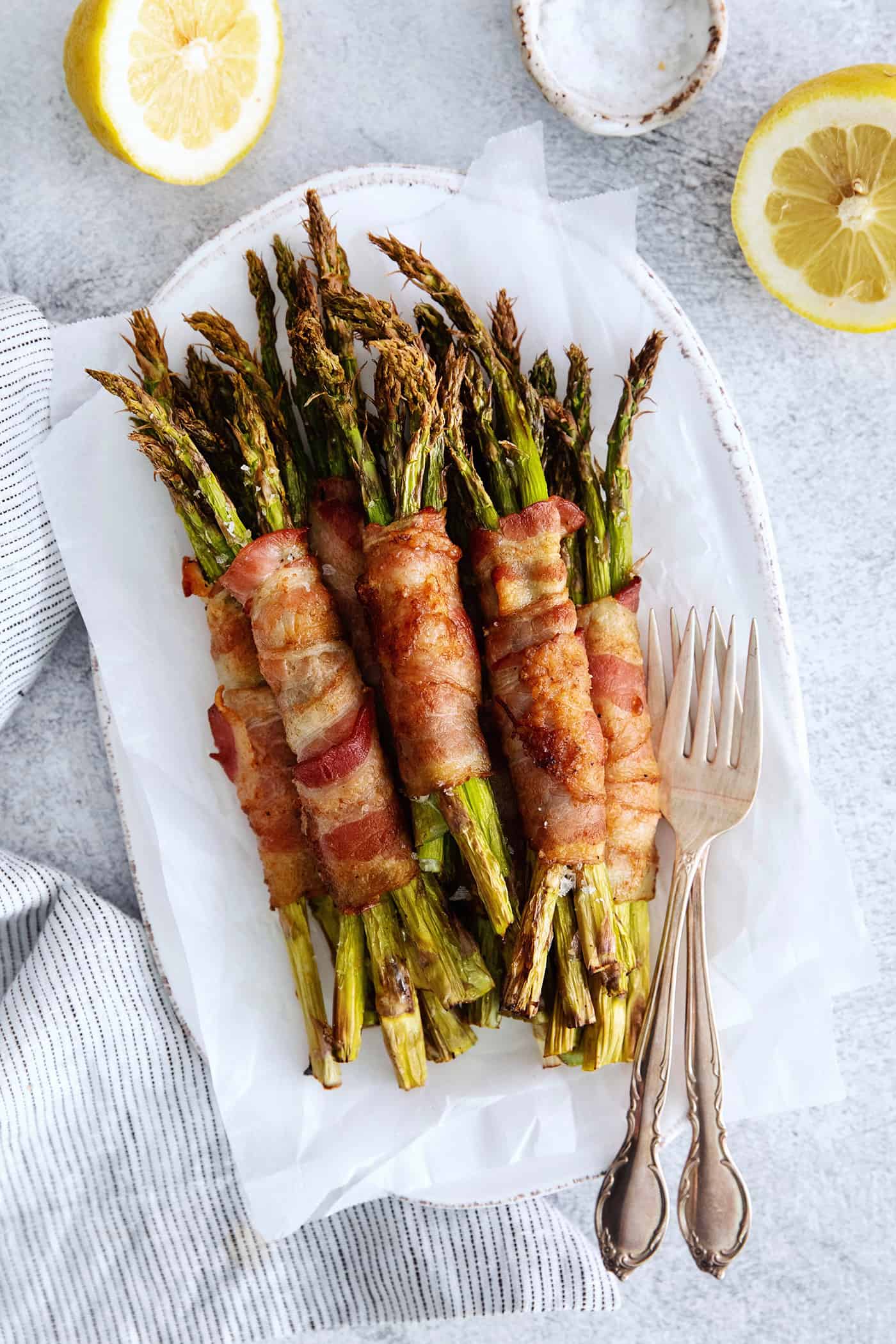 What To Serve It With
This makes a healthy, low carb side for pretty much any meal.
My summertime go-to's for this are grilled chicken, steak, and salmon. For something a little fancier, try stuffed pork chops or pork loin. Round out the dinner with some roasted potatoes or creamy mashed potatoes. Yum!
Storage & Reheating
For the best flavor and texture, enjoy this bacon wrapped asparagus immediately while the asparagus and bacon are both crisp and hot.
If you do have leftovers, keep them in the fridge in an airtight container for up to 4 days. Reheat for just a couple minutes in the air fryer to re-crisp the bacon.
More Asparagus Recipes:
Like this recipe? Save it to Pinterest!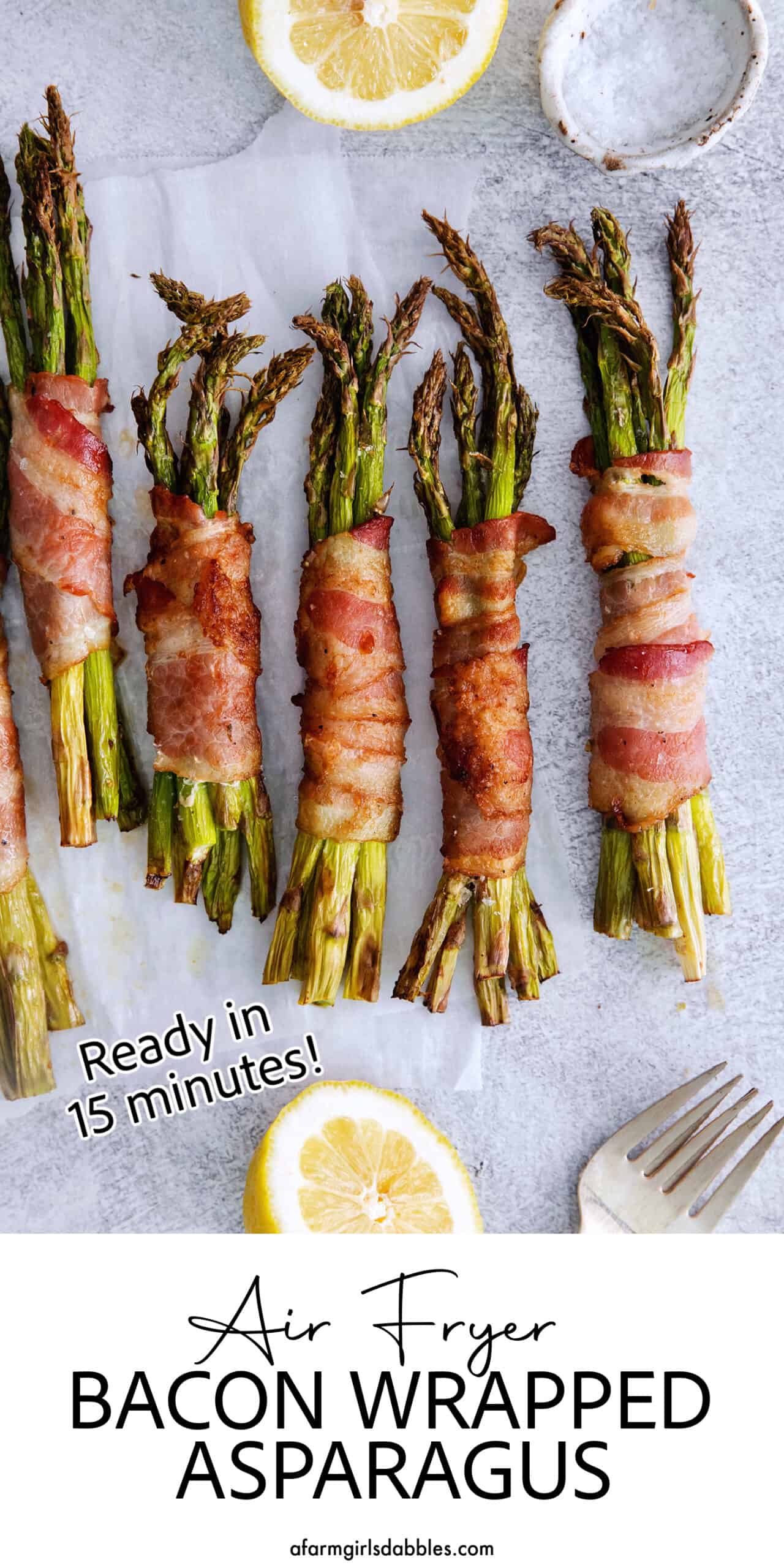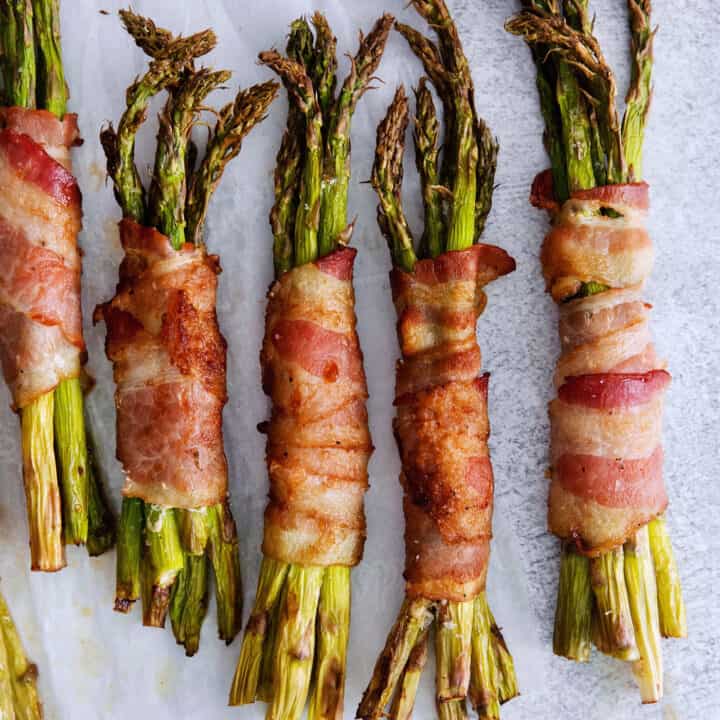 Air Fryer Bacon Wrapped Asparagus
Yield: 6 servings
Prep Time: 5 minutes
Cook Time: 10 minutes
Total Time: 15 minutes
Air Fryer Bacon Wrapped Asparagus is a quick and easy side dish where crisp bacon wraps around bundles of tender-crisp asparagus. It's a tasty recipe that the whole family will love, ready in just 15 minutes!
Ingredients
1½ pounds thick asparagus, woody ends trimmed
2 teaspoons olive oil
½ teaspoon kosher salt
¼ teaspoon ground black pepper
¼ teaspoon garlic powder
6-8 slices center-cut (more meat, less fat) bacon - use regular to thin slices (not thick-cut)
Optional garnishes: fresh lemon and flaky sea salt to finish
Instructions
Place asparagus on a large rimmed pan and drizzle with olive oil. Sprinkle with salt, black pepper, and garlic powder. Toss to coat evenly.
Gather 4-5 pieces of asparagus and wrap a piece of bacon around the center. Secure with a toothpick, if needed.
Place bacon wrapped asparagus in the air fryer, in a single layer, cooking in batches if necessary.
Cook at 375° F for 10-12 minutes, or until bacon is crisp and cooked through.
Enjoy hot. Offer fresh lemon and flaky sea salt to finish, if desired.
Notes
Storage: Bacon wrapped asparagus is best enjoyed immediately after it is prepared but you can keep it in an airtight container in the fridge for up to 4 days. Reheat the asparagus in the air fryer for a couple minutes to re-crisp the bacon.
Nutrition Information:
Yield: 6
Serving Size: 1
Amount Per Serving:
Calories: 43
Total Fat: 2g
Saturated Fat: 0g
Trans Fat: 0g
Unsaturated Fat: 1g
Cholesterol: 0mg
Sodium: 218mg
Carbohydrates: 6g
Fiber: 3g
Sugar: 2g
Protein: 3g
Nutrition information is automatically calculated by Nutritionix. I am not a nutritionist and cannot guarantee accuracy. If your health depends on nutrition information, please calculate again with your own favorite calculator.