Roasted Asparagus with Orange Vinaigrette
This post may contain Amazon or other affiliate links. As an Amazon Associate I earn from qualifying purchases.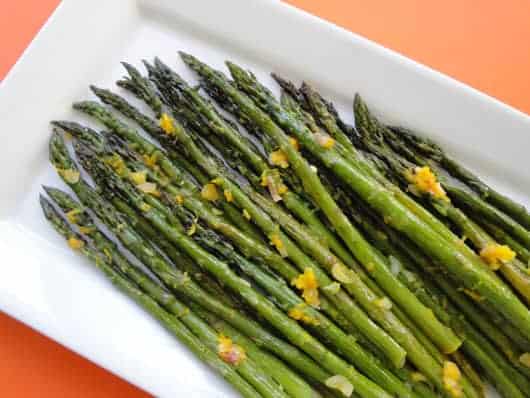 Each spring I look forward to the arrival of beautiful fresh asparagus. I can remember going hunting for it with Mom when I was young, scouring through the tall grass on property adjacent to the farmland. I wasn't overly fond of asparagus back then, but as an adult, I have come to adore these lovely green spears.
Most often, I like to roast the asparagus, which brings out a slightly nutty flavor and gives their tapered tops a little crunch. I prefer a medium to large thickness for the spears, as the thin ones tend to go limp more readily. With just 3 additional ingredients – extra virgin olive oil, plus a sprinkling of kosher salt and freshly ground pepper – come a very flavorful dish. Simply combine the asparagus with these ingredients on a jelly-roll pan and pop them in a 425° oven for about 15 minutes, stirring half-way through.
And when I'm looking for something with a bit of fancy, I turn to this recipe with an orange vinaigrette. It's still super simple and makes a beautiful presentation. The nuttiness of the roasted asparagus and the citrusy yum of the vinaigrette is a perfect combination. This recipe has been a favorite in our home for many years. It's great served alongside a grilled steak or chicken breast.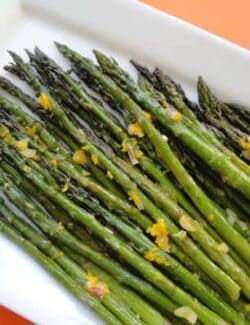 Roasted Asparagus with Orange Vinaigrette
Yield: 4 Servings

Cook Time:15 minutes
Ingredients:
1 T. grated orange rind
2 T. fresh squeezed orange juice
1 T. finely chopped shallots
1/2 tsp. sugar
1/2 tsp. kosher salt, divided
1/8 tsp. freshly ground black pepper, divided
1 pound asparagus spears, with tough ends snapped off
cooking spray
1 T. extra virgin olive oil
Directions:
Preheat oven to 425°.

Combine first 4 ingredients and stir in half of the salt and half of the black pepper.  Set aside.

Prepare a jelly-roll pan by covering with aluminum foil and then lightly coating with cooking spray (for easy clean-up!).  Arrange asparagus in an even layer on the pan.  Drizzle with oil and then roll the asparagus a bit to evenly coat with the oil.  Sprinkle with remaining salt and black pepper.  Roast for 10 minutes, stirring well after 5 minutes.  Remove from oven and drizzle asparagus with the orange juice mixture. Return pan to the oven and roast for another 5 minutes.  Thin spears may require less total roasting time.

Adapted from Cooking Light magazine (My copy of this recipe is an original undated page I tore from a Cooking Light magazine many years ago.  I couldn't find the recipe on their site during a recent search.)

©
We participate in the Amazon Services LLC Associates Program, an affiliate advertising program designed to provide a means for us to earn fees by linking to Amazon.com and affiliated sites. See our
disclosure policy
for more info.