Sweet-and-Salty Honey-Cheese Spread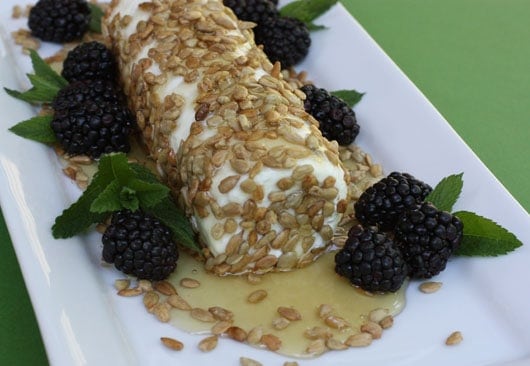 I love getting new cookbooks! It's to the point of dorky, how much I love getting new cookbooks. But you're gonna love me for passing along all the goods, I promise.
On my latest trip to Sam's Club, I could not pass up the Southern Living Farmers Market Cookbook. I tried. Honestly, I did. I looked through it, my mouth watering from all the beautiful food photography. I also liked how the book was categorized according to the seasons, using fresh ingredients harvested during each time period. But I painfully put it back on the shelf, telling myself I didn't need another cookbook. I hurriedly pushed my cart, with a hotdog-eating-3-year-old perched in the seat, out of the book section. I never looked back as we finished up our shopping.
But then, on the way to the check-out, there it was staring at me. Calling me. I leafed through it again. And I was overcome with the season ahead. The farmers market/backyard garden season of Minnesota. The fresh fruits and veggies of spring, summer, and fall. I just couldn't bear to part with it. It had to be mine!
We were invited to a grilling party this past weekend and were in charge of the appetizer. A perfect opportunity to try out a new recipe on our friends. The cookbook's stunning photo of this cheese spread made me want to dip a cracker right into the cookbook. And the real thing did not disappoint.
To start off with, it was ultra easy. No oven involved. Just roll a goat cheese log (Trader Joe's has them for a great price) in sunflower seeds, drizzle with honey, sprinkle on some berries, and garnish with a few mint leaves. Seriously, maybe 10 minutes start to finish.
Then, for the flavors and textures. Amazing! Goat cheese and honey are a match made in heaven. And the salty nuts and juicy berries add wonderful pops of contrast. I served this with Wheat Thins and thought it was the perfect cracker choice – bite-size, flavorful, and sturdy enough to hold up to spreading on the goat cheese. Just make sure you try at least one cracker with a bit of every single ingredient on it. It's alot to stuff in your mouth, especially when using huge blackberries, but you won't regret it.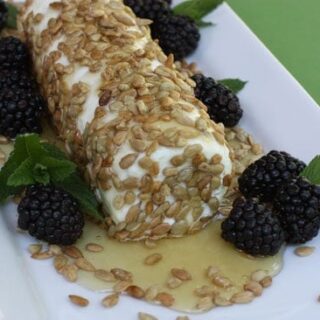 Sweet-and-Salty Honey-Cheese Spread
Yield: 6-8 appetizer servings
Prep Time: 10 minutes
Total Time: 10 minutes
Goat cheese and honey are a match made in heaven. And the salty nuts and juicy berries add wonderful pops of contrast.
Ingredients
1 (10.5 oz.) goat cheese log (may be called chevre cheese)
.5 c. roasted, salted sunflower seeds
1/3 c. honey
1 pt. fresh raspberries, blackberries, or blueberries
fresh mint leaves
assorted crackers
Instructions
Press or roll goat cheese log in sunflower seeds, thoroughly covering goat cheese, including ends. Arrange cheese on a serving platter with any remaining sunflower seeds.
Drizzle with honey. Sprinkle with berries. Garnish with mint leaves, if desired.
Serve immediately with assorted crackers.
Nutrition Information:
Yield: 8
Serving Size: 1
Amount Per Serving:
Calories: 148
Total Fat: 9g
Saturated Fat: 2g
Trans Fat: 0g
Unsaturated Fat: 7g
Cholesterol: 3mg
Sodium: 989mg
Carbohydrates: 15g
Fiber: 2g
Sugar: 12g
Protein: 4g
Nutrition information is automatically calculated by Nutritionix. I am not a nutritionist and cannot guarantee accuracy. If your health depends on nutrition information, please calculate again with your own favorite calculator.