Strawberry Cupcakes with Yellow Butterflies
Strawberry Cupcakes with Yellow Butterflies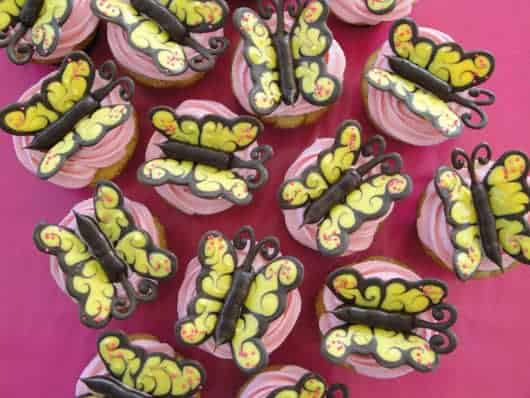 Today my baby turned 3! Happy birthday sweet Tessa!
I could just see the gears turning in that little 2-year-old head. My youngest daughter, Tessa, was listening to a conversation I was having with her older sister, Hatti, who was about to turn 8.
Hatti and I were trying to decide what kind of birthday cake to make for her party. After a little back and forth banter about several very tasty options, Tessa interrupted with, "What kind of cake will be at my birthday?" I asked her what she thought would be good. She said she wanted strawberry cake. Not surprising. She loves strawberries!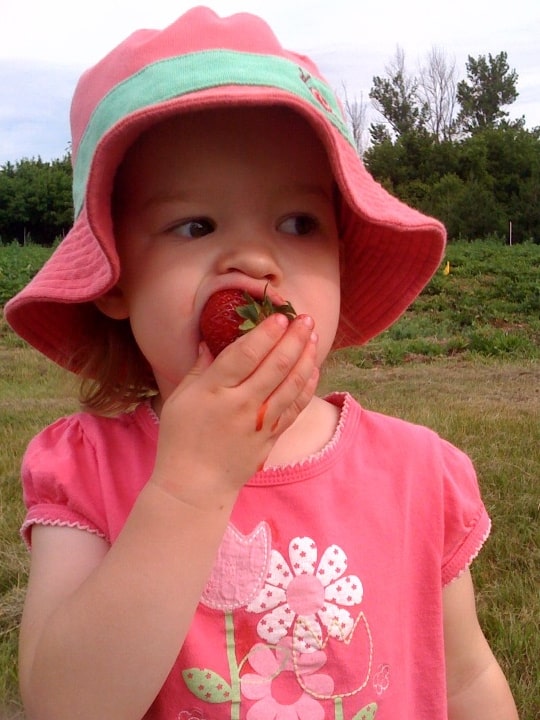 But…I've never made a strawberry cake before. So I did a little research (aka, I googled it) and came upon Annie's Eats, where she featured some tempting strawberry cupcakes with strawberry cream cheese frosting. Helloooooooo! Cream cheese frosting, I'm so there.
Then I needed to think about what I could add to the cupcakes to personalize them for Tessa's birthday. My thoughts turned to "yellow", her favorite color in all the world!
As I was browsing through Annie's site, I came upon her Butterfly Cupcakes, an eye catching treat I had first seen on a friend's facebook post. The recipe comes from the book Hello, Cupcake!, where the orange butterflies resemble beautiful Monarchs. Annie did her butterflies in an array of bright colors. I knew I wanted to try my hand at these. And I knew they needed to be YELLOW!
These strawberry cupcakes turned out to be the real deal, nice and moist, with fresh strawberry flavor throughout. My frosting turned out a bit soft for piping onto the cupcakes, but an hour chilling in the refrigerator did the trick. The frosting is YUM! And the butterflies, well, they are just the perfect adornment for my sweet daughter's birthday celebration.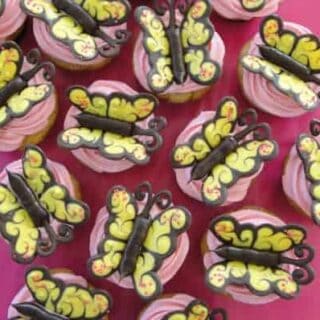 Strawberry Cupcakes with Yellow Butterflies
Yield: 18 cupcakes
Prep Time: 20 minutes
Cook Time: 20 minutes
Total Time: 40 minutes
These strawberry cupcakes turned out to be the real deal, nice and moist, with fresh strawberry flavor throughout.
Ingredients
:
2.5 c. cake flour
1 tsp. baking soda
.25 tsp. salt
.5 cup unsalted butter, at room temperature
1.5 c. sugar
2 large eggs
1/3 c. buttermilk
.25 c. oil
1 tsp. vanilla
2 c. chopped strawberries
for the frosting:
.5 c. strawberry puree (instructions below)
8 oz. cream cheese, at room temperature
1.5 sticks unsalted butter, at room temperature
1.75 c. powdered sugar, sifted
.5 tsp. lemon juice
1 T. vanilla
a couple drops red or pink food coloring, optional
Instructions
Preheat the oven to 350° F. Line cupcake pans with paper liners.
Sift flour, baking soda, and salt into a medium bowl. Set aside. In the bowl of an electric mixer, cream butter and sugar until light and fluffy. Add eggs one at a time until combined. Add buttermilk, oil, and vanilla and beat until combined. Add flour mixture and stir until just combined. Fold in chopped strawberries. Fill cupcake liners ¾ full with batter. Bake for 20 minutes or until a toothpick inserted in the center comes out clean. Cool completely on a wire rack.
For the frosting, first, make the strawberry puree. Place a large handful of strawberries into a food processor and pulse until there are no more chunks. Strain through a mesh sieve to remove seeds. Set aside. Beat the cream cheese and butter in the bowl of an electric mixer until smooth and fluffy, about 5 minutes. Add powdered sugar and mix until smooth. Add lemon juice, vanilla, and about half of the strawberry puree. Adjust the puree to achieve your desired consistency. For a "pinker" frosting, just add a couple of drops of food coloring. If the frosting is a bit soft for piping onto the cupcakes, just put it in the refrigerator to firm up.
Frost cupcakes when completely cool.
Nutrition Information:
Yield: 18
Serving Size: 1
Amount Per Serving:
Calories: 391
Total Fat: 21g
Saturated Fat: 11g
Trans Fat: 0g
Unsaturated Fat: 9g
Cholesterol: 67mg
Sodium: 161mg
Carbohydrates: 48g
Fiber: 1g
Sugar: 32g
Protein: 4g
Nutrition information is automatically calculated by Nutritionix. I am not a nutritionist and cannot guarantee accuracy. If your health depends on nutrition information, please calculate again with your own favorite calculator.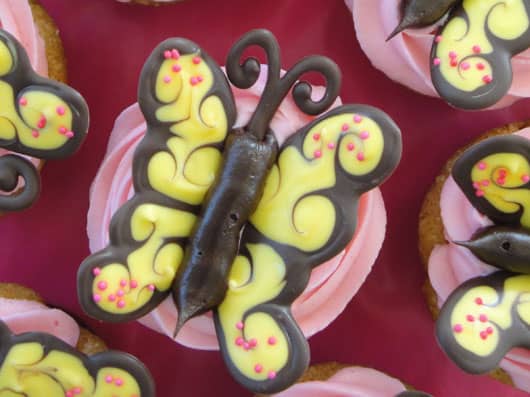 Butterflies
Supplies Needed:
Wax paper
Plastic baggies
Dark cocoa candy melts
Yellow candy melts, or white candy melts with yellow candy coloring added
Toothpicks
Pink nonpareils
1 batch Strawberry Cupcakes, frosted (or whatever cupcakes you prefer)
Canned chocolate fudge frosting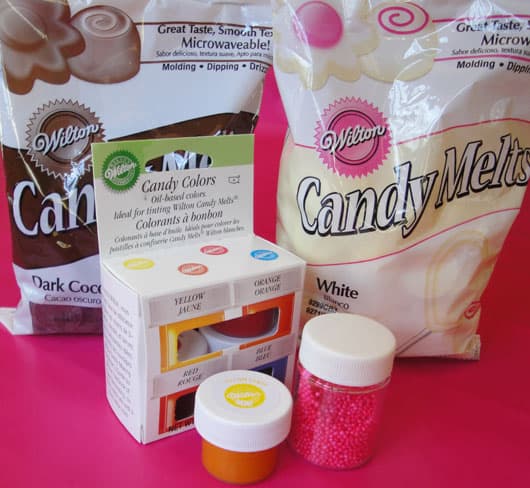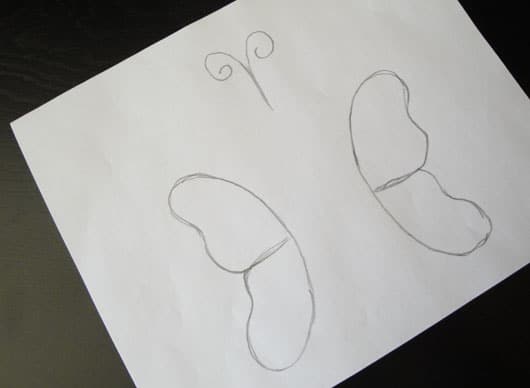 Draw a template for your butterfly, to include 2 wings and a set of antennae, on a piece of paper. My wings measured almost 3" tall. Cut out squares of wax paper large enough to hold your template.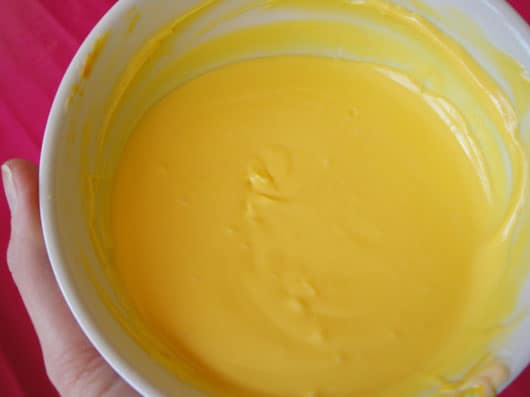 Place about ½ cup of dark cocoa candy melts in a plastic baggie, and the same amount of yellow in another baggie. To make the bright yellow, I mixed some yellow candy color with white candy melts that I had already melted. Pre-colored melts are available in many colors, but I wanted a brighter yellow than I saw at the store. If you tint your own candy melts, be sure to buy the "candy color" and not the "frosting color", as the candy color is oil-based and won't make your candy seize up when you melt it.
Microwave the 2 bags of melts in 10-second intervals, unsealed, gently squishing the candy melts in between, until the candy is completely melted. If you colored your own melts, just spoon your colored melted candy into a baggie. Press out the excess air in the baggies and seal. Push the mixture down to one corner of the baggie and snip off a very small corner. (Better to start small and cut larger if you need to!)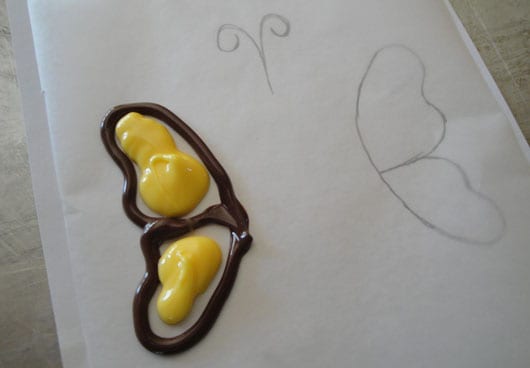 With the dark cocoa melted candy, trace the outline of one wing template. Do not attempt to do more than one wing at a time, as the candy sets up quickly. Just trust me on this! And I do have to be honest, it took me a few wings to get the hang of this. Keep the baggie tip close to the wax paper and take your time. Then use the bag of colored candy melts to fill in the outline. Be generous, so it will spread all the way to the sides.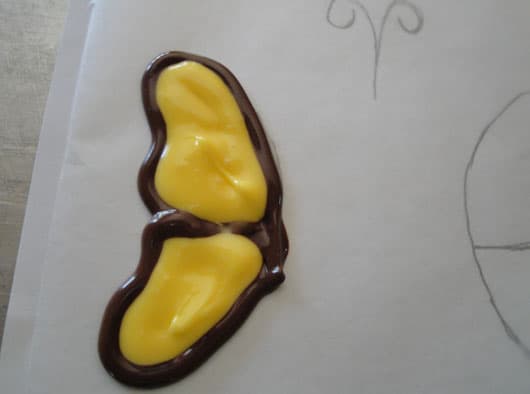 With a toothpick, quickly nudge the colored candy melt outward to fill in the wing outline, until the two colors spread together.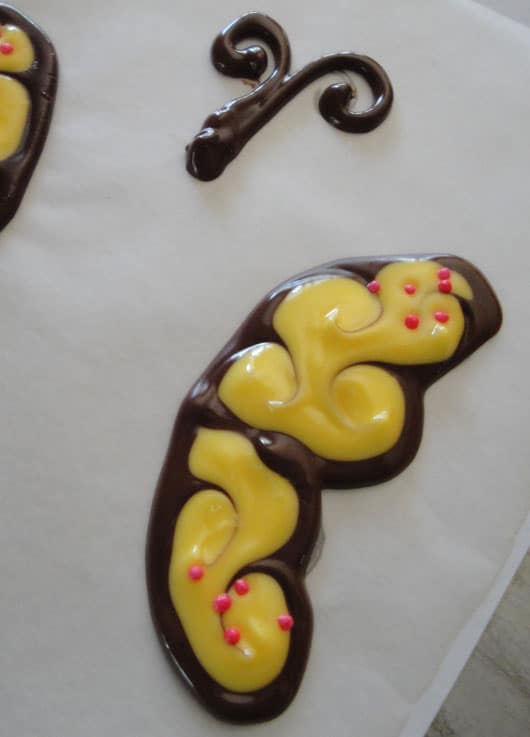 Use the toothpick to swirl the edges and the filling together by dragging the dark cocoa melts inward to the colored melts. Sprinkle the top and bottom of each wing with a few nonpareils. Trace the antennae as you did the wings.
The melted candy will cool and harden rather quickly as you work, so don't dawdle! If it becomes too stiff to work with, microwave for 10 more seconds until melted again. I repeat: If it becomes too stiff to work with, microwave! Save yourself the calories of having to eat a bunch of messed up wings. :-)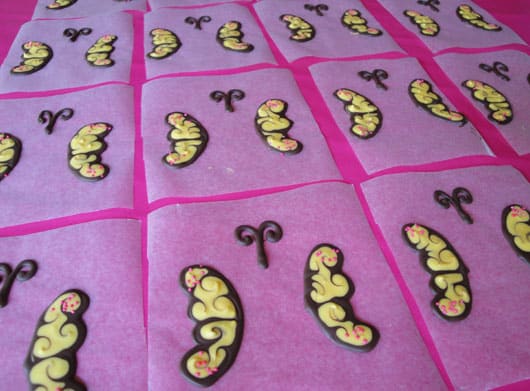 Repeat this process until you have enough for all your cupcakes. Let set completely. I had a feeling this was going to be more than a 5-minute project, so I actually made these a week ahead of time and stuck them in the freezer until I was ready to make the cupcakes. Do allow plenty of time for these – from start to finish, I spent a couple hours making the butterflies.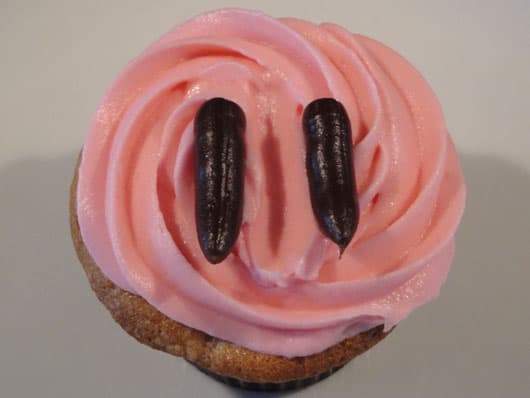 Now let's assemble some butterflies! With the strawberry cream cheese frosting being a bit on the soft side, the wings need some support to sit up. First, swipe a small amount of strawberry frosting from the middle. Then place some fudge frosting in a baggie with a corner snipped off and pipe two small lines on either side of the swipe.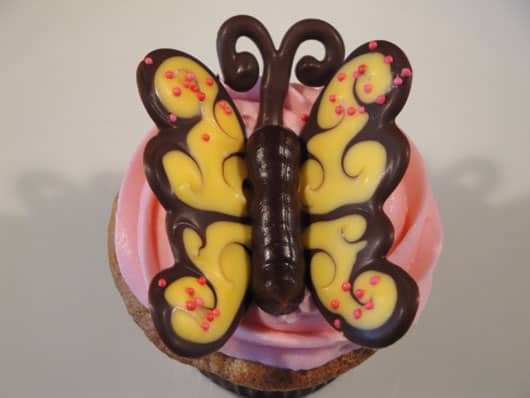 Rest each wing on a line of fudge frosting. Then pipe on the butterfly's body in between the wings. Stick the antennae into the frosting at the head of the butterfly.

And there you go! Strawberry cupcakes with yellow butterflies. Beautiful AND yummy!!