Pineapple Fried Rice
Pineapple Fried Rice is crisp and delicious with sweet, juicy pineapple bites and crunchy, salty cashews. It's a quick and easy dish that's ready in just 30 minutes! Serve as a side or enjoy as a full entree.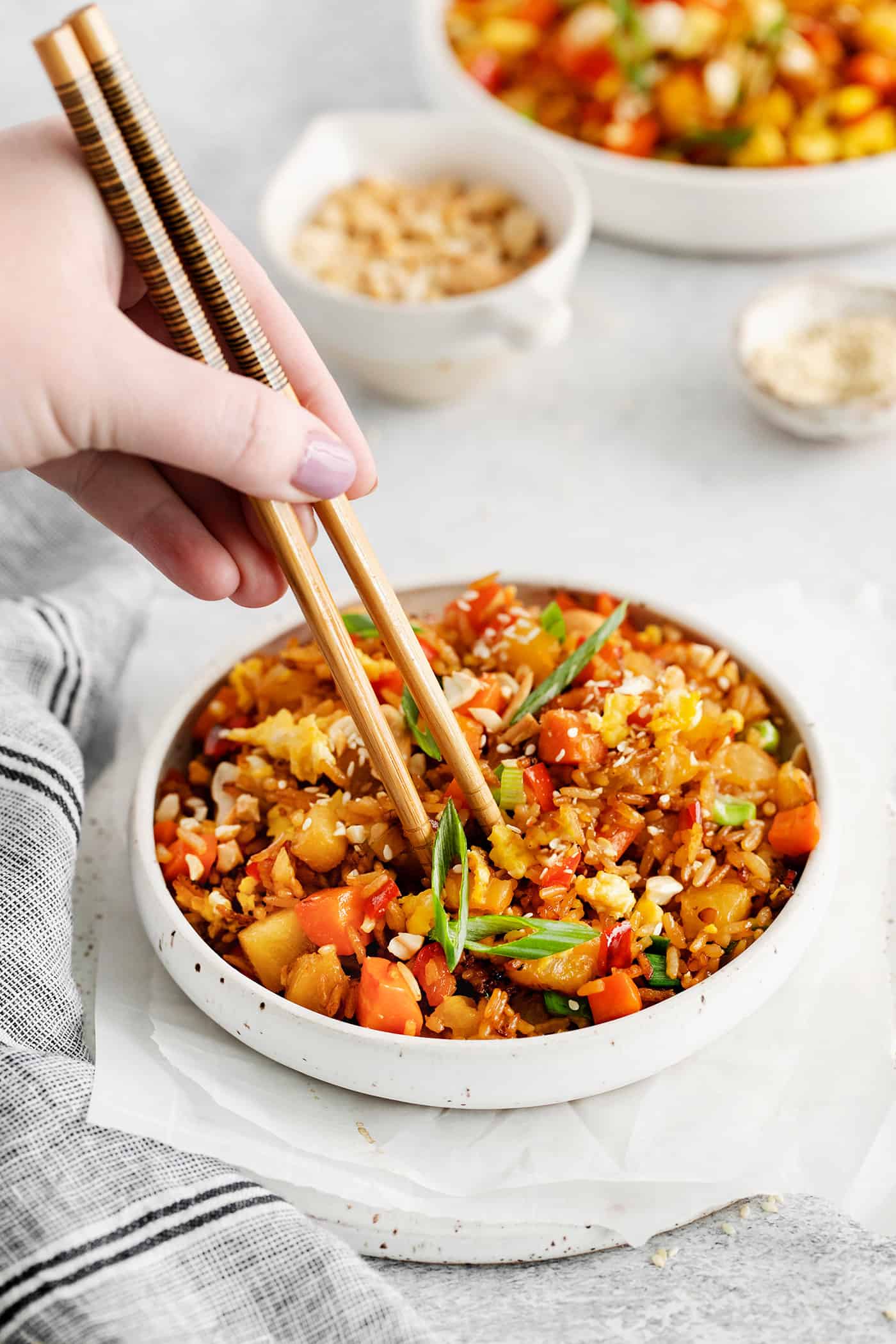 Easy Homemade Fried Rice
Got leftover rice in the fridge? You have to try this Pineapple Fried Rice!
This easy fried rice recipe is my perfect solution for using up leftover rice in our fridge. And when I'm craving fried rice, and there's no leftover rice in the house, I just make a fresh batch and put it in the refrigerator for the next day. It's a super easy way to satisfy my craving!
Pineapple fried rice is one of my favorite Asian dishes because I love the subtle sweetness, especially against salty cashews. Plus any dish that can be started and on the table in 30 minutes is a keeper for sure. While I usually enjoy rice as a side, this is one that I can stretch into a filling meal, which is even better!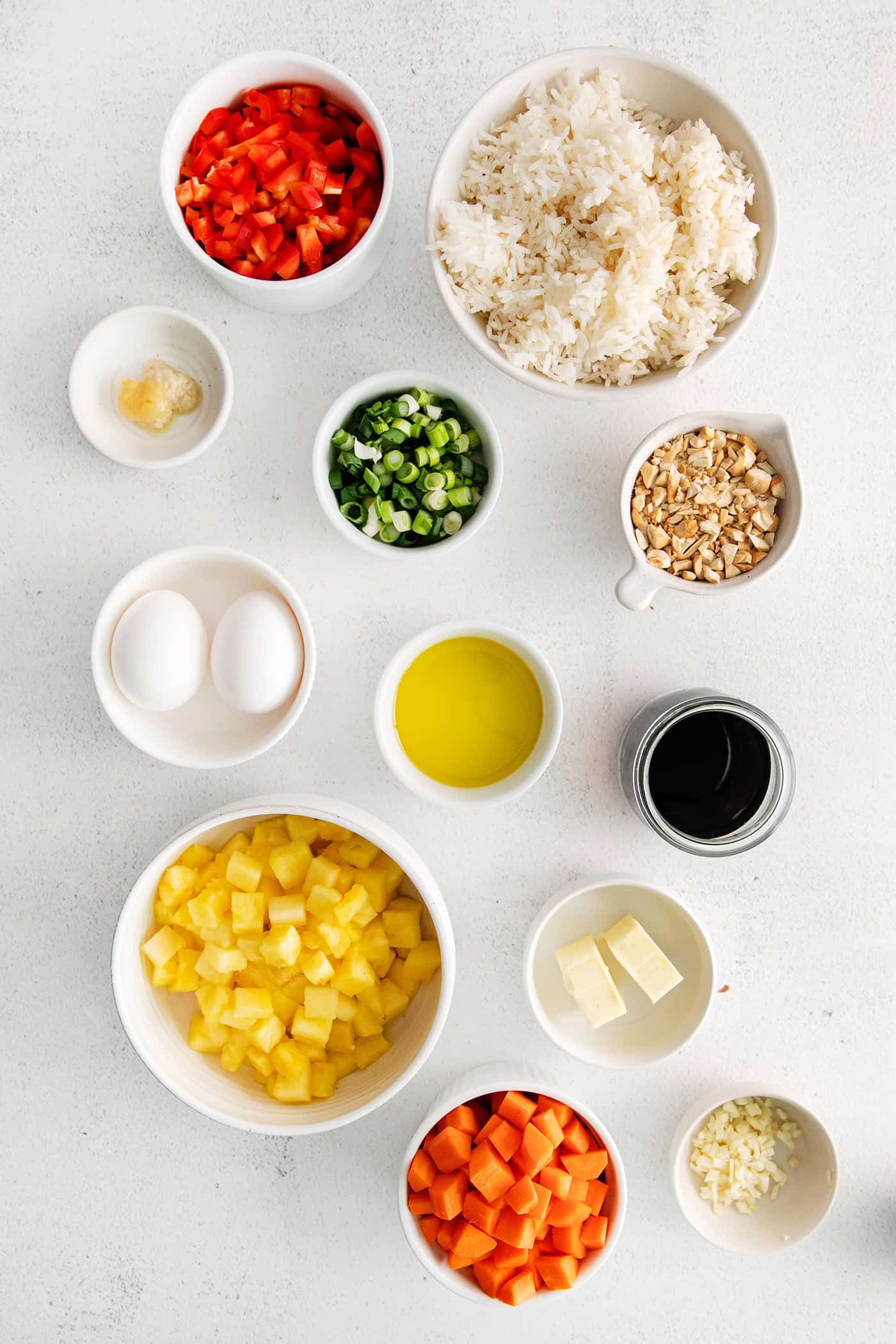 What You'll Need
Here are the ingredients you'll need for this easy fried rice recipe.
Sesame oil – This helps caramelize the vegetables and gives wonderful flavor.
Carrots – Carrots add flavor, crunch, and substance.
Red bell pepper– Red bell pepper adds a bit of crunch and delicious sweet pepper flavor. Our family likes red peppers best, but you could use yellow or green if you prefer.
Pineapple – Fresh pineapple adds a delicious sweetness to the fried rice. You could use canned pineapple in a pinch, but fresh pineapple should always be your first choice.
Garlic & ginger – Garlic and ginger are classic additions to fried rice – they provide great flavor and earthiness. I like these ingredients so much that I often add more than the recipe calls for!
Butter – Butter helps crisp the rice and adds delicious flavor. Feel free to use additional olive oil if you want to make this recipe vegan / non-dairy.
White rice – I'm using cooked long grain white rice in this recipe but you could make it with brown rice or jasmine rice if you prefer.
Soy sauce – Soy sauce adds a salty umami flavor.
Chili garlic sauce – Chili garlic sauce adds great flavor, plus a bit of heat. I often add more than the recipe calls for or just offer some additional sauce on the table for people to add as they please.
Eggs – Eggs add substance and protein to the rice to make it a complete meal. Feel free to add another egg or two. Or leave it out for a vegan meal or substitute it for soft tofu.
Green onion – Green onion adds a subtle onion flavor to the rice. We're adding it at the end to let its bright, fresh flavor shine.
Cashews – Cashews add a salty crunch to the rice – feel free to use peanuts if you prefer.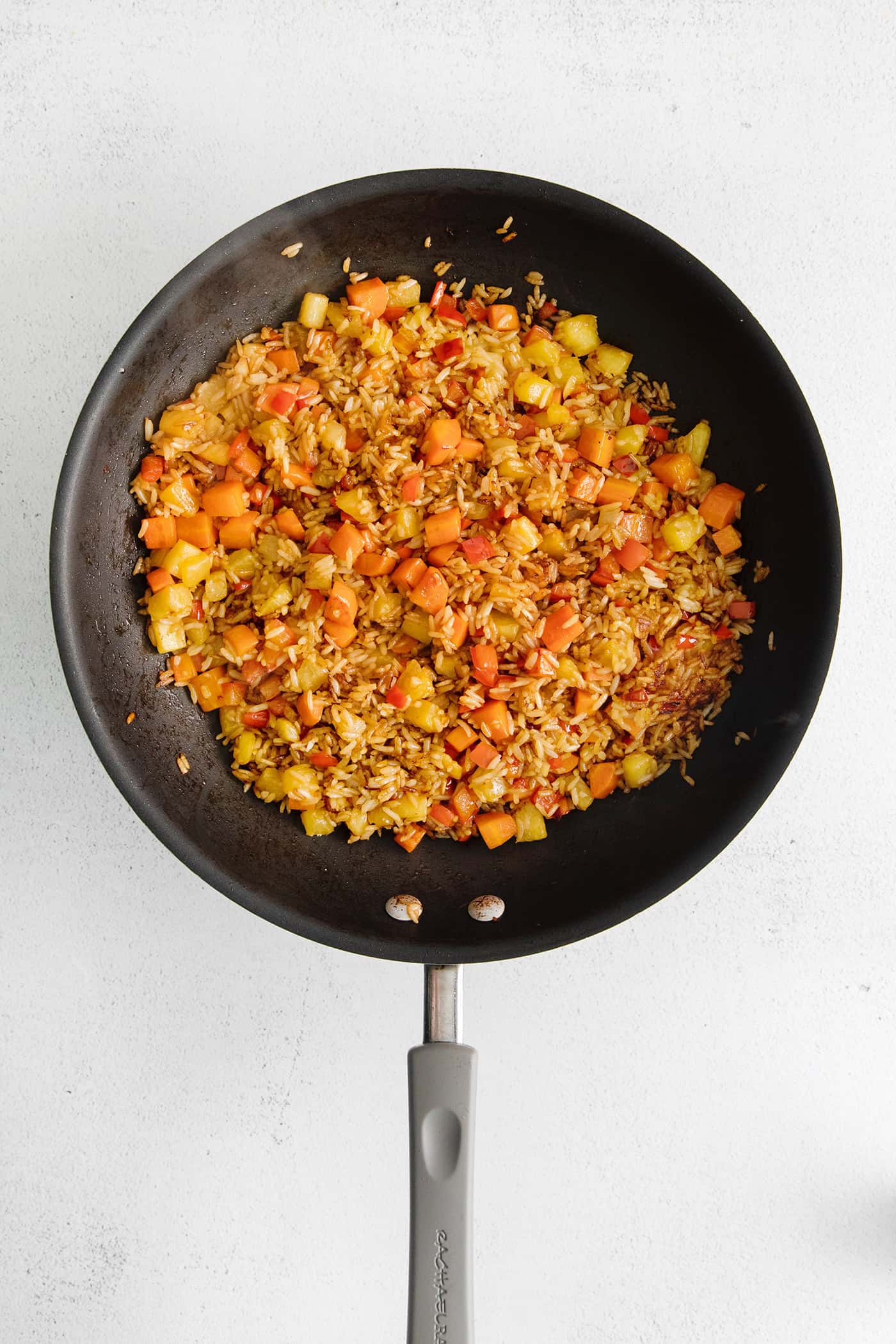 How to make Pineapple Fried Rice
Here are the few steps needed to make this homemade fried rice.
Cook the veggies & pineapple. Cook the carrots for 2 minutes, then add the bell pepper and cook for another 2 minutes. Add the pineapple and cook for 3 minutes more. Stir in the ginger and garlic.
Add the rice. Add the butter. Once melted, fold in the rice. Add the soy sauce and chili garlic sauce. Cook for 8 to 10 minutes, until rice is crisp and golden brown.
Add the eggs. Create a hole in the center of the pan and add the beaten eggs. Once set, mix them into the rice. Add the green onion, remove the pan from heat, and add the chopped cashews.
Serve. Serve immediately with sesame seeds, green onions, and sriracha. Fresh lime wedges are also fun, as well as some fresh cilantro.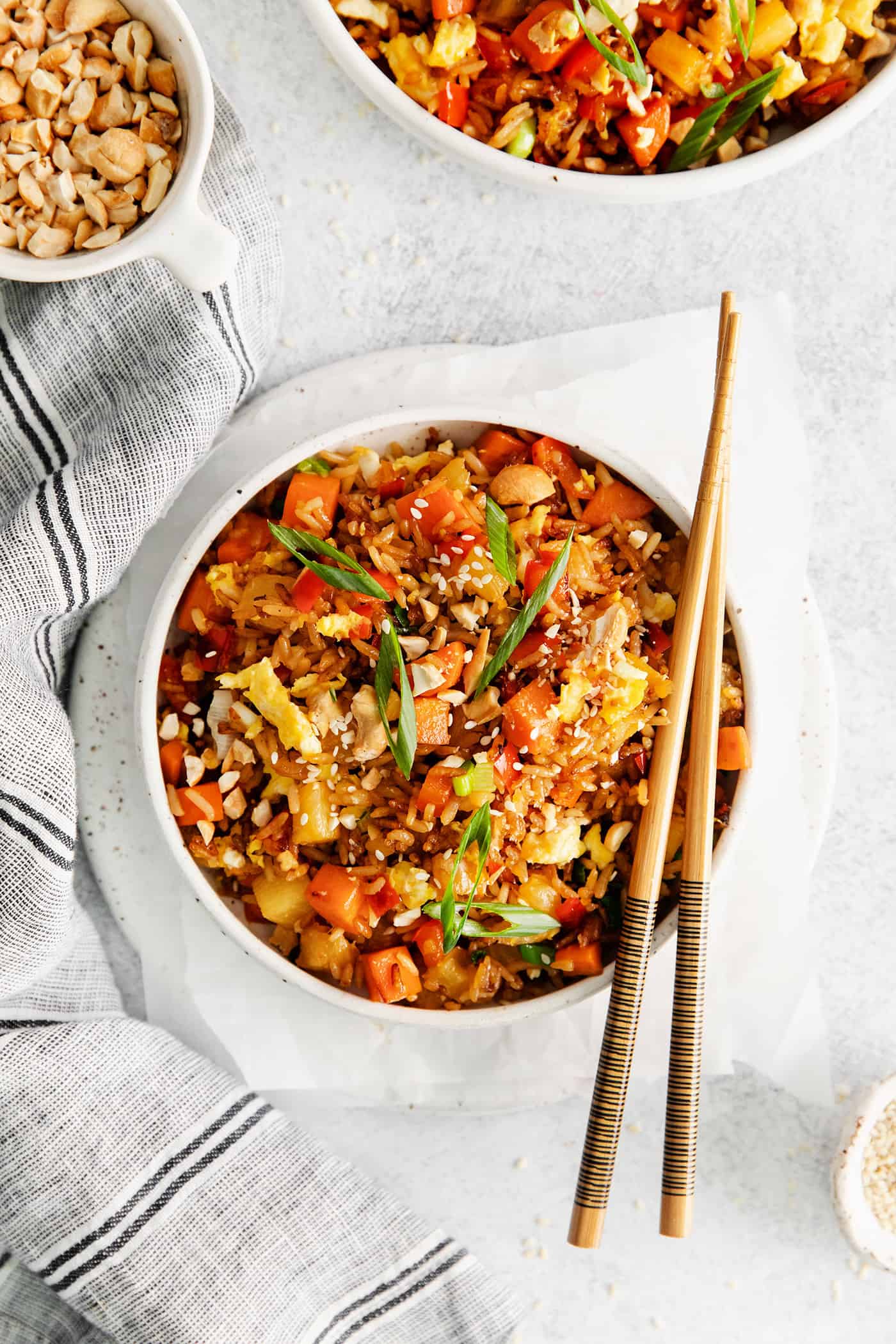 Tips & Variations
Here are a few tips for making the best homemade fried rice.
Use leftover rice. Leftover, chilled rice works infinitely better than freshly cooked rice. So even if you're making it just for this recipe, try to make it a day in advance – or at least several hours prior. Leftover rice is drier, with a firmer texture. And the grains don't stick together – which means your fried rice won't be mushy.
Can I use brown rice? Sure. Brown rice and jasmine rice can both be substituted in this recipe.
Can I use canned pineapple? While fresh pineapple definitely has better flavor and texture, canned pineapple can be used in a pinch.
Try other veggies. If desired, switch up the carrots and red bell pepper by adding onions, peas, green beans, or other veggies.
Add more protein. If you want to turn this into a bigger meal, stir in some cooked ham, Spam, chicken, shrimp, salmon, beef, turkey, or pork. We do this all the time. It's a great way to use up other leftovers!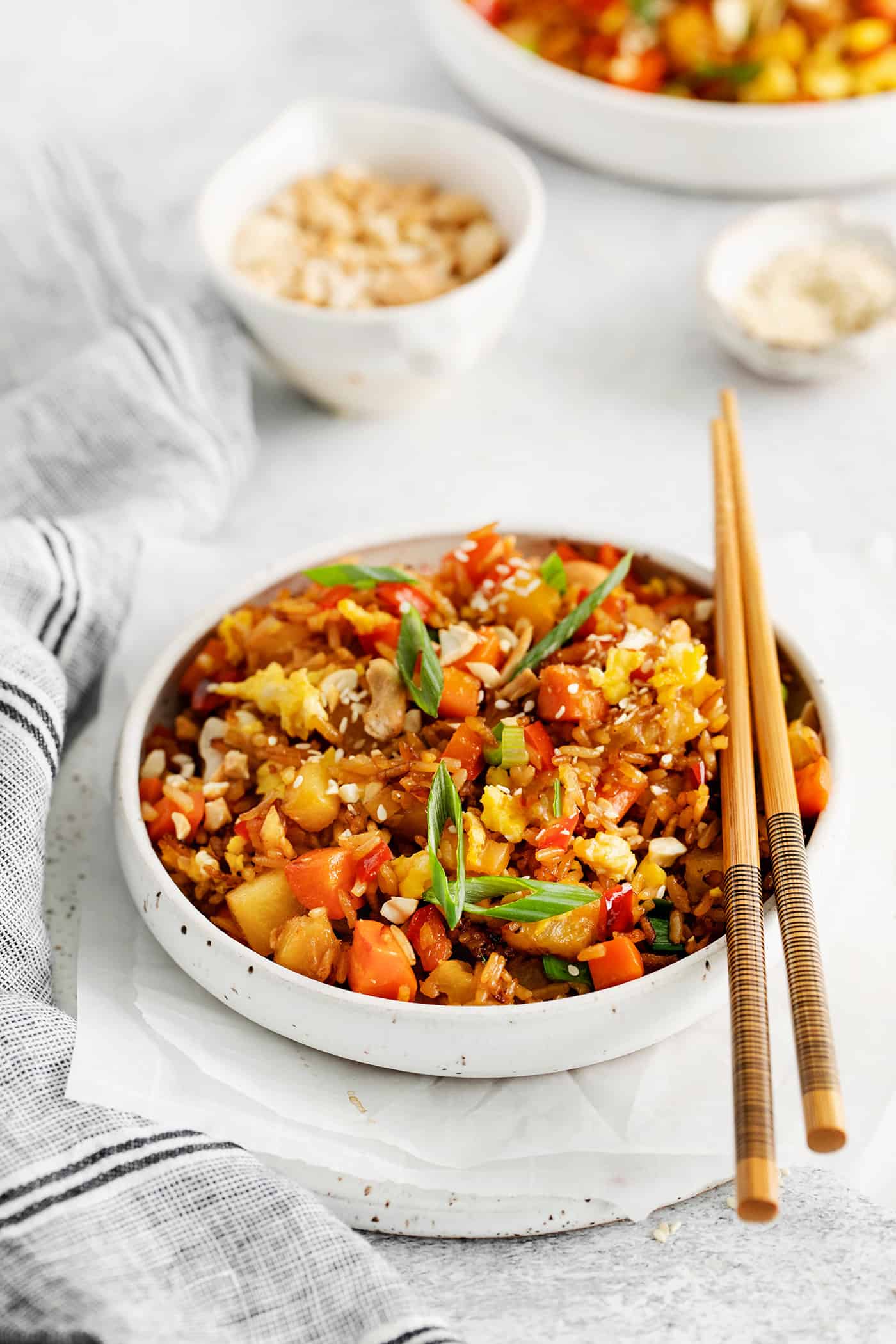 Serving Suggestions
I like to top my pineapple fried rice with some sesame seeds, more green onions, and some sriracha for a little more spice. I'm also a huge fan of fresh lime, so I like to squeeze a wedge over the top!
You can serve fried rice as the main entree or as a side dish. It works great with saucy dishes, like stir-frys, orange chicken, and Beijing beef.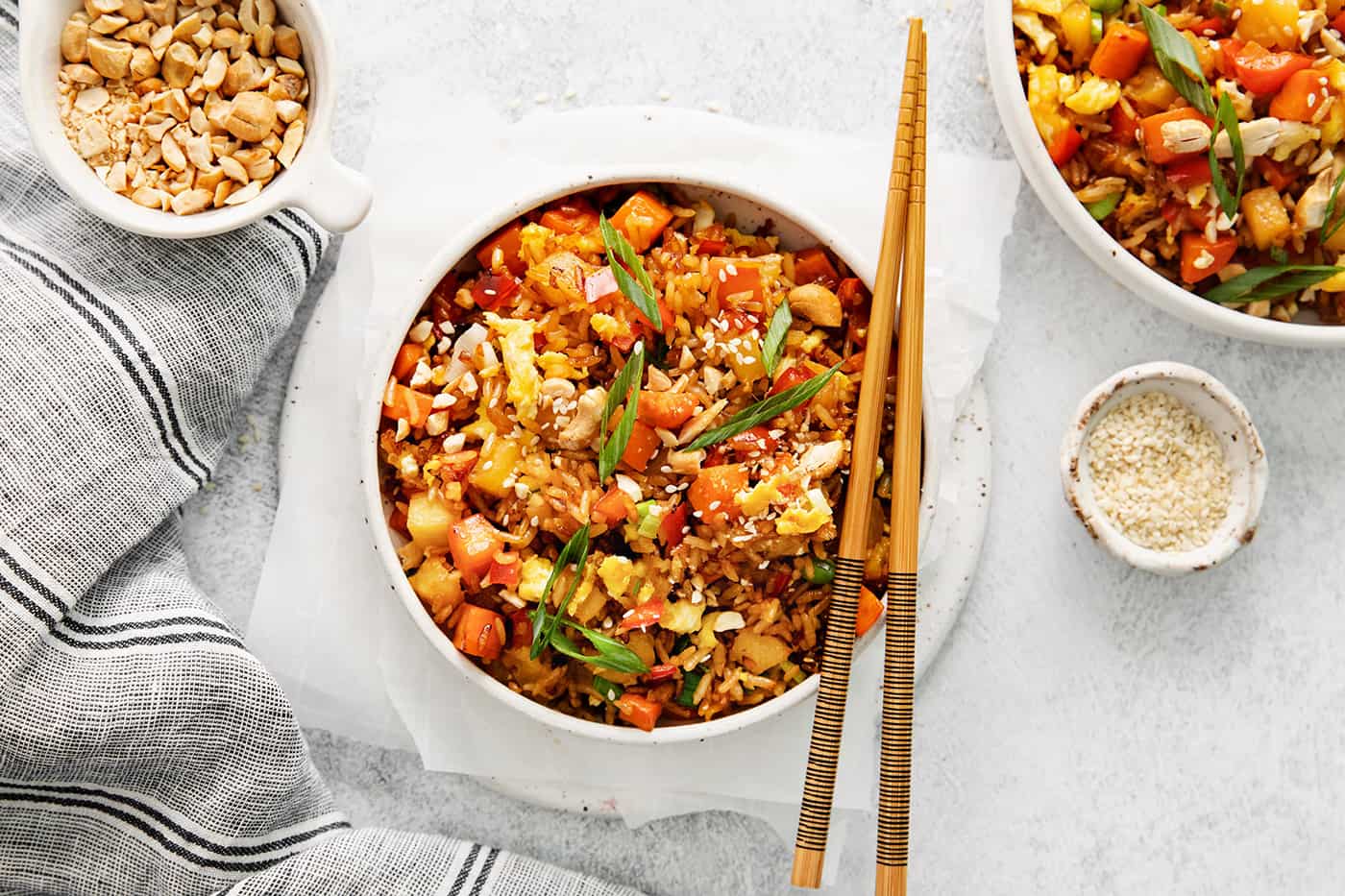 How to Store & Reheat
Leftover pineapple fried rice will keep well in the fridge for up to 4 days. If you're just reheating a small amount, the microwave works perfectly. Otherwise, I'd suggest reheating in a skillet on the stovetop.
Can I Freeze Fried Rice?
Yes! Fried rice freezes very well. Allow your pineapple fried rice to cool to room temperature, then transfer to freezer-safe containers or Ziploc baggies. Freeze for up to 3 months. Thaw in the fridge before reheating on the stovetop or in the microwave.
More Asian Recipes:
Like this recipe? Save it to Pinterest!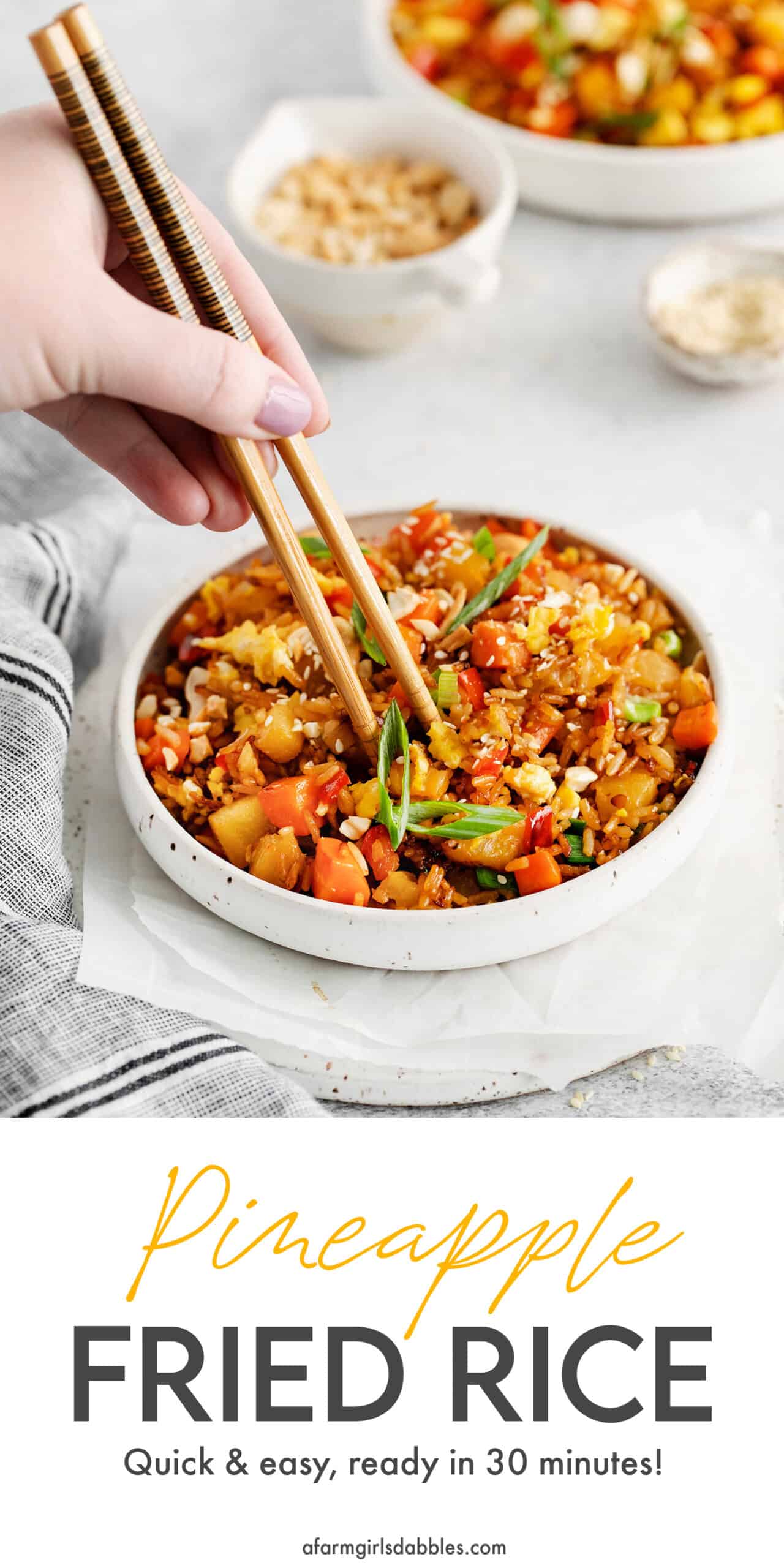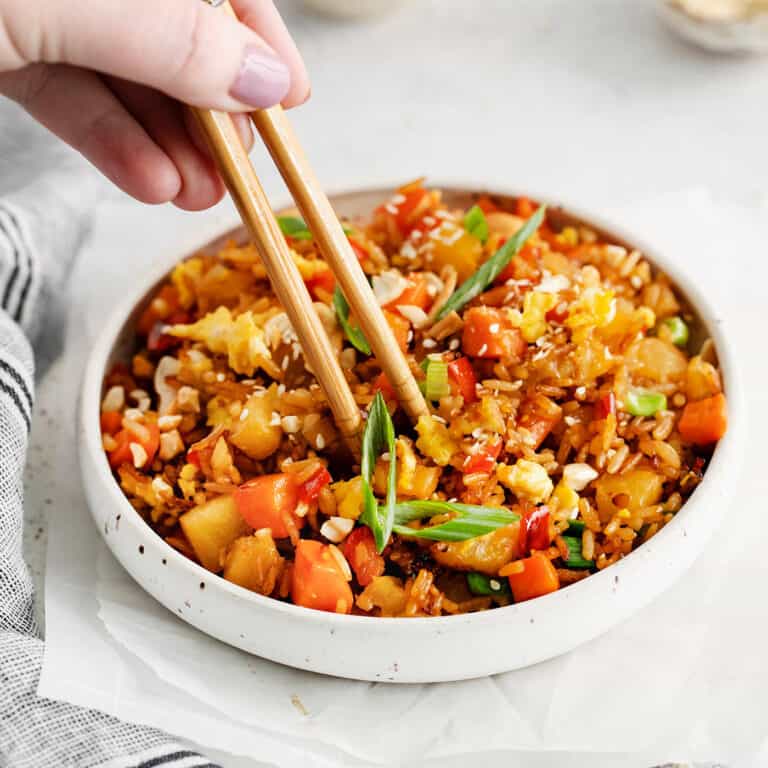 Pineapple Fried Rice
Yield: 4 servings
Prep Time: 10 minutes
Cook Time: 20 minutes
Total Time: 30 minutes
With sweetness from the pineapple and crunch from the salty cashews, Pineapple Fried Rice is crisp and delicious. It's a quick and easy dish that you can have ready in just 30 minutes! Serve as a side or enjoy as the full entree.
Ingredients
2 tablespoons toasted sesame oil
1 cup diced carrots
1 cup diced red bell pepper
2 cups chopped fresh pineapple
3 cloves garlic, minced
2 teaspoons grated ginger
2 tablespoons butter
3 cups cooked and chilled white rice - preferably leftovers that were refrigerated overnight
⅓ cup soy sauce
1 teaspoon chili garlic sauce
2 large eggs, beaten
¼ cup sliced green onion
¼ cup roasted salted cashews, chopped
Instructions
Heat a large high-sided skillet set over medium-high heat. Add the sesame oil.
When the oil is shimmering, add the carrots. Cook for 2 minutes, stirring occasionally. Then add the red bell pepper and cook for 2 more minutes, stirring occasionally. Finally, add the pineapple and cook for 3 more minutes, stirring occasionally.
Stir in the garlic and ginger and cook for 1 minute.
Add the butter and allow it to melt. Then add the rice and fold to combine. Next add the soy sauce and chili garlic sauce, and stir to combine. Cook the rice, stirring occasionally, for 8-10 minutes or until it is crisp and golden brown.
Create a hole in the center of the pan by scooting the rice out to the sides. Add the beaten eggs to the center and stir them gently inside the hole to scramble them.
When the eggs are set (no longer runny or watery), mix them into the rice. Add the sliced green onion and stir to combine. Remove the pan from the heat and sprinkle the chopped cashews over the top.
Serve immediately garnished with sesame seeds, additional green onions, and/or sriracha (if you like a little spice). Fresh lime wedges would also be good, squeezed over the top. Store any leftovers in an airtight container in the fridge up to 4 days.
Nutrition Information:
Yield: 4
Serving Size: 1
Amount Per Serving:
Calories: 432
Total Fat: 20g
Saturated Fat: 6g
Trans Fat: 0g
Unsaturated Fat: 12g
Cholesterol: 108mg
Sodium: 1342mg
Carbohydrates: 55g
Fiber: 4g
Sugar: 12g
Protein: 11g
Nutrition information is automatically calculated by Nutritionix. I am not a nutritionist and cannot guarantee accuracy. If your health depends on nutrition information, please calculate again with your own favorite calculator.