Slow Cooker Orange Chicken with Fresh Asian Slaw
This post may contain Amazon or other affiliate links. As an Amazon Associate I earn from qualifying purchases.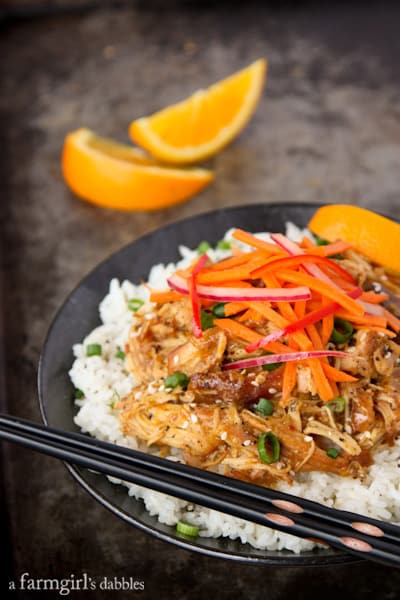 When our weather turned chilly last fall, I made a vow to use my slow cooker more often until spring arrived. Not that our fair weather months don't warrant the use of the slow cooker, but once the snow melts and the warmer temperatures come around, we are all about grilling. It's almost a daily affair. And right now I'm missing it so much! Blake was doing a great job at keeping a path through the snow to our grills for most of the winter, but then we just kept getting hit over and over again with snow. And there just isn't enough time or energy in the day to keep up with it when the snowfall is on constant repeat and there are kids and jobs and everything else to attend to. Needless to say, we lost the battle. So now we're just waiting for some warmer temps to shrink away all this snow.
In the meantime, I'll just keep experimenting with new slow cooker recipes. This Slow Cooker Orange Chicken with Fresh Asian Slaw has quickly become a favorite around here. And be sure to check back next week when I share a recipe that you've all been waiting for…a slow cooker version of that awesome lasagna soup. It's been such a popular recipe, and I've received so many requests for a slow cooker version. So I incorporated not only the use of a slow cooker, but also a number of other things you've been asking for. It's as wonderful as the original!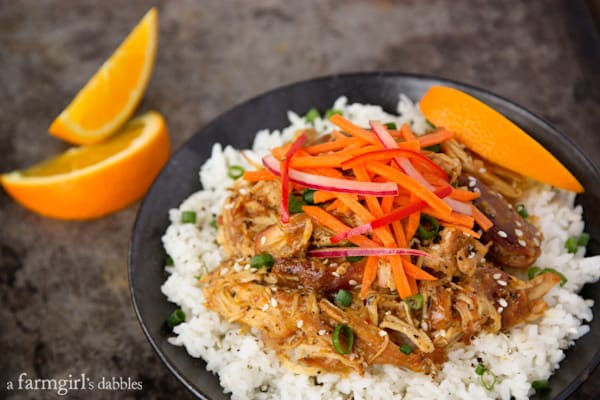 If you find most orange chicken dishes at restaurants to be cloyingly sweet and almost fake in their orange flavor…and if you try to stay away from fried versions of orange chicken…then I have a treat for you!
I love the fact that this dish of orange chicken comes together in a slow cooker. And that I can get that wonderfully warm and bright citrus flavor that I'm craving, and it actually tastes like orange! I am one of those people who tries to avoid fried foods (although I definitely have moments of indulgence here and there), so that part is also a plus for me. The recipe calls for a combination of both white and dark chicken and is topped with a simple optional fresh veggie slaw, packing in extra flavor. It's the perfect meal solution when the path to your grills is piled high with snow!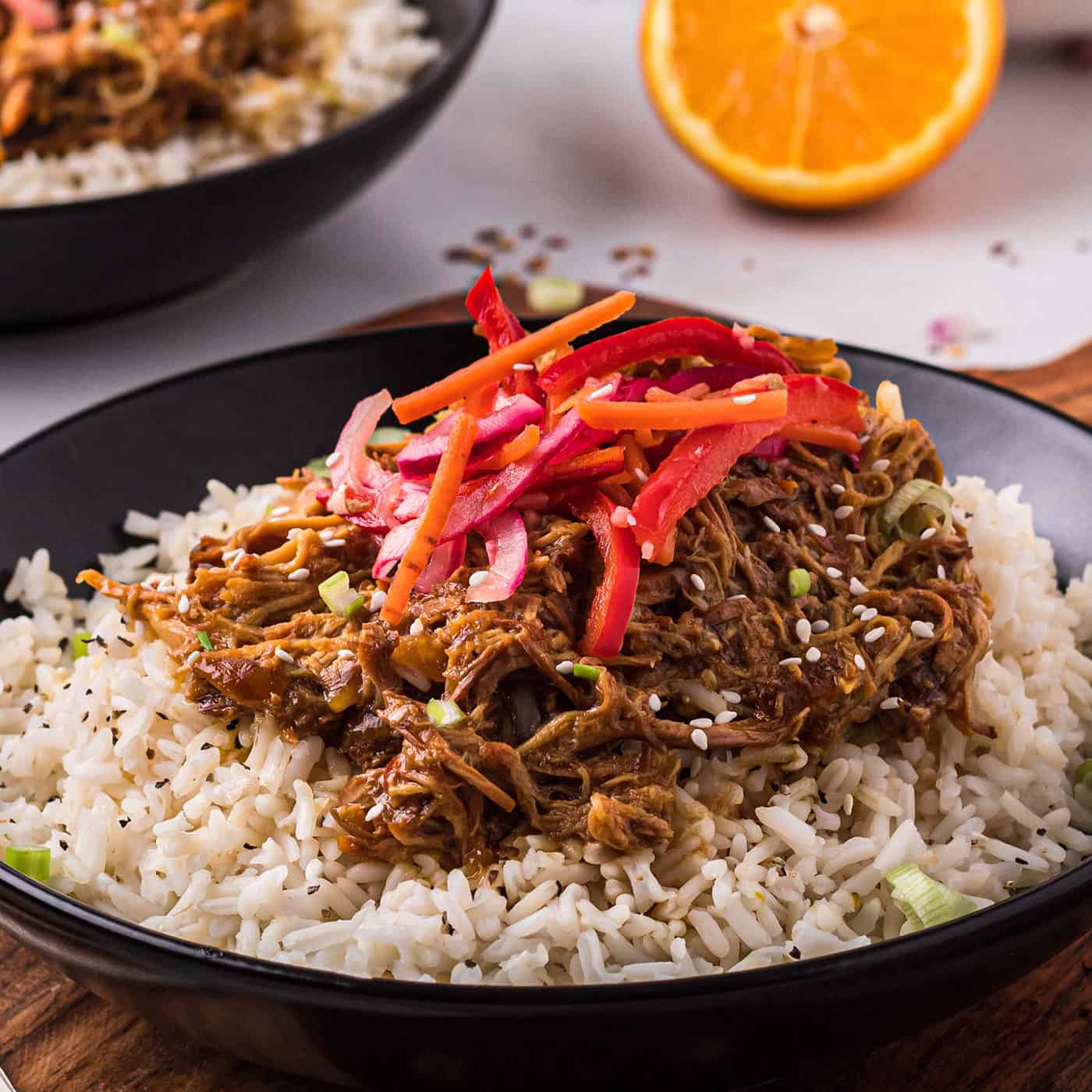 Slow Cooker Orange Chicken with Fresh Asian Slaw
Yield: 6 servings
Prep Time: 20 minutes
Cook Time: 4 hours
Total Time: 4 hours 20 minutes
With a sweet and tangy citrus sauce, this Slow Cooker Orange Chicken is the healthier version of your favorite takeout! Enjoy this crockpot orange chicken over a bed of rice, topped with fresh Asian slaw for an easy, healthy weeknight dinner.
Ingredients
for the orange chicken:
2 pounds boneless skinless chicken thighs
2 pounds boneless skinless chicken breasts, cut into 3 pieces each
1 cup orange marmalade
3/4 cup freshly squeezed orange juice, from about 3 large oranges, divided
zest from 3 large oranges, divided
1/4 cup soy sauce
1/4 c. Trader Joe's General Tsao Stir Fry Sauce (or substitute hoisin sauce)
1 tablespoon olive oil
2 teaspoons sesame oil
1 cup chopped red onion
6 cloves fresh garlic, minced
2 tablespoons minced fresh ginger
1/4 teaspoon crushed red pepper flakes
2 tablespoons cornstarch
sliced green onions
sesame seeds
fresh orange slices
freshly ground black pepper
for the fresh Asian slaw:
1/4 cup rice wine vinegar
2 tablespoons freshly squeezed lime juice
1 tablespoon honey
1 teaspoon soy sauce
1/8 teaspoon sesame oil
1 tablespoon minced fresh ginger
1 clove garlic, minced
2 cups thinly sliced fresh vegetables - I like to use a combination of carrots, red bell pepper, and red onion, plus a little bit of minced Fresno chile pepper
Instructions
For the orange chicken: Place chicken thighs and breast pieces in the slow cooker.
In a medium bowl, stir together the marmalade, 1/2 cup of the orange juice, the zest from 2 oranges, soy sauce, stir fry sauce, olive oil, sesame oil, onion, garlic, ginger, and red pepper flakes. Pour over the chicken and gently combine to coat the chicken. Cover the slow cooker and cook on low for 4 to 5 hours, stirring a couple times to incorporate.
Use a tongs or large spoon to remove the chicken pieces from the slow cooker to a cutting board. With two forks, shred the chicken into bite size pieces. The chicken should be very tender.
Transfer the liquid from the slow cooker into a medium saucepan over medium-high heat. Return the shredded chicken to the warm slow cooker. Bring liquid in saucepan to a boil. In a small bowl, whisk together the remaining 1/4 cup of orange juice with the cornstarch, and then whisk the orange slurry into the boiling liquid. Cook until the liquid reduces a bit and thickens, about 3 to 5 minutes. Stir in the remaining orange zest and then pour sauce over the chicken in the slow cooker, stirring to combine.
Serve orange chicken over rice with sliced green onions, sesame seeds, fresh orange wedges for squeezing over the top, and fresh Asian slaw. A couple grindings of black pepper are lovely, too.
For the fresh Asian slaw: In a medium bowl, whisk together rice wine vinegar, lime juice, honey, soy sauce, sesame oil, ginger, and garlic. Add thinly sliced mix of vegetables and toss to combine.
This can be made a day ahead of time, stored in the refrigerator, and is actually better when the flavors have a chance to mingle for at least a few hours before eating. I like the contrast of crunchy tangy vegetables in this slaw with the sweet and tender orange chicken. But this slaw is completely optional, and the orange chicken is perfectly wonderful without it.
Notes
from a farmgirl's dabbles
Nutrition Information:
Yield: 12
Serving Size: 1
Amount Per Serving:
Calories: 471
Total Fat: 12g
Saturated Fat: 3g
Trans Fat: 0g
Unsaturated Fat: 8g
Cholesterol: 157mg
Sodium: 752mg
Carbohydrates: 47g
Fiber: 5g
Sugar: 31g
Protein: 46g
Nutrition information is automatically calculated by Nutritionix. I am not a nutritionist and cannot guarantee accuracy. If your health depends on nutrition information, please calculate again with your own favorite calculator.
We participate in the Amazon Services LLC Associates Program, an affiliate advertising program designed to provide a means for us to earn fees by linking to Amazon.com and affiliated sites. See our
disclosure policy
for more info.