Mom's Toffee Butter Crunch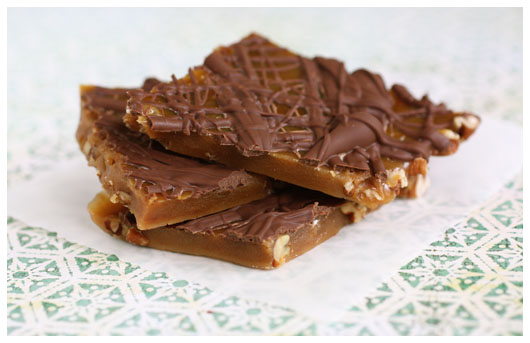 Growing up, my sisters and I would find a large package outside our door each December 6th morning.  This present was preceded by a couple of knocks, but when the door was opened, there was nobody in sight.  Just the package.
But it really wasn't just any ol' package.  It was filled with all of our favorite candies and nuts.  The really good stuff!
Do you celebrate Saint Nicholas Day?
This tradition comes from my dad's side of the family, and is one that he wanted to see survive.  So each December 6th, he would take a silent leave of absence from our breakfast table.  Before my sisters and I realized he was even gone, he was able to quietly exit the kitchen, deposit that really good stuff outside the door, knock a couple of times, and return to his waiting bowl of cereal with bananas.
He was so sneaky.  And I'm sure his insides were chuckling at our bewildered expense.
Needless to say, Cheryl, Jessica, and I loved this morning.  It was magical and mysterious.  And we got to eat candy for breakfast!
Mom and Dad still carry on the Saint Nicholas tradition to this very day, although it's a little different scene with their girls all grown up and moved away.  They now package up goodies and mail them to each of our families, making sure we have them by December 6th.
My girls are starting to see the annual benefits of this custom, and are eating it up just as heartily as I did way back then.  I think this tradition is a keeper.
The recipe I'm sharing with you today is pretty much a homemade candy bar, very similar in taste to Skor or Heath.  It has a buttery toffee base studded with nuts, and a thick drizzle of chocolate on top.  Mom used to make this during the holidays when I was a kid.  And it's really good stuff!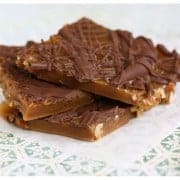 Mom's Toffee Butter Crunch
Yield: 1-1/2 lbs. Toffee Butter Crunch
Cook Time:15 minutes
Ingredients:
1/2 c. coarsely chopped almonds or pecans
1 c. butter, plus additional for buttering sauce pan
1 c.  sugar
1 T. light corn syrup
3 T. water
3/4 c. semi-sweet chocolate chips
1 tsp.  shortening
1/2 c. finely chopped almonds or pecans, optional (I prefer it without these nuts)
Directions:
Line a 9″ x 13″  pan with foil, extending over the edges.  Sprinkle the coarsely chopped nuts in pan.
Butter sides of heavy 2 quart sauce pan.  Melt 1 cup of butter in the pan over medium heat.  Add sugar, corn syrup, and water.  Stir until boiling.  Clip candy thermometer to pan.  Stir until candy thermometer reaches 290 degrees, about 15 minutes.  Watch carefully, as the temperature goes up quickly at the end.
Remove sauce pan from heat.  Pour toffee into foil lined pan.  Let stand 6 to 7 minutes.
In small pan, melt  chocolate chips with shortening over medium low heat, stirring to combine.  Drizzle over toffee in pan.   Sprinkle with finely chopped nuts (optional).  Chill until firm.  Lift candy out of pan and break  into pieces.  Store tightly covered.  Keeps well in the freezer.
Mom's recipe box
© a farmgirl's dabbles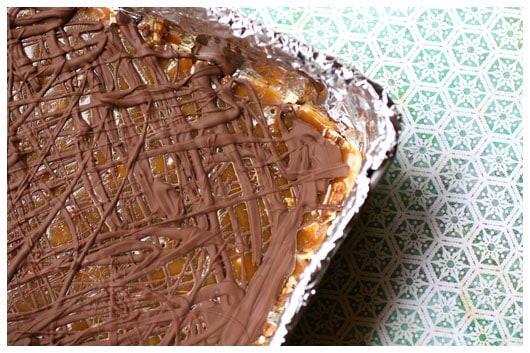 We participate in the Amazon Services LLC Associates Program, an affiliate advertising program designed to provide a means for us to earn fees by linking to Amazon.com and affiliated sites. See our disclosure policy for more info.