Toffee Butter Crunch (Homemade Heath Bar)
This post may contain Amazon or other affiliate links. As an Amazon Associate I earn from qualifying purchases.
This easy homemade toffee recipe comes from my mom – a Christmas tradition I've been enjoying since I was a kid. With buttery toffee, chocolate, and nuts, it tastes like a Heath candy bar!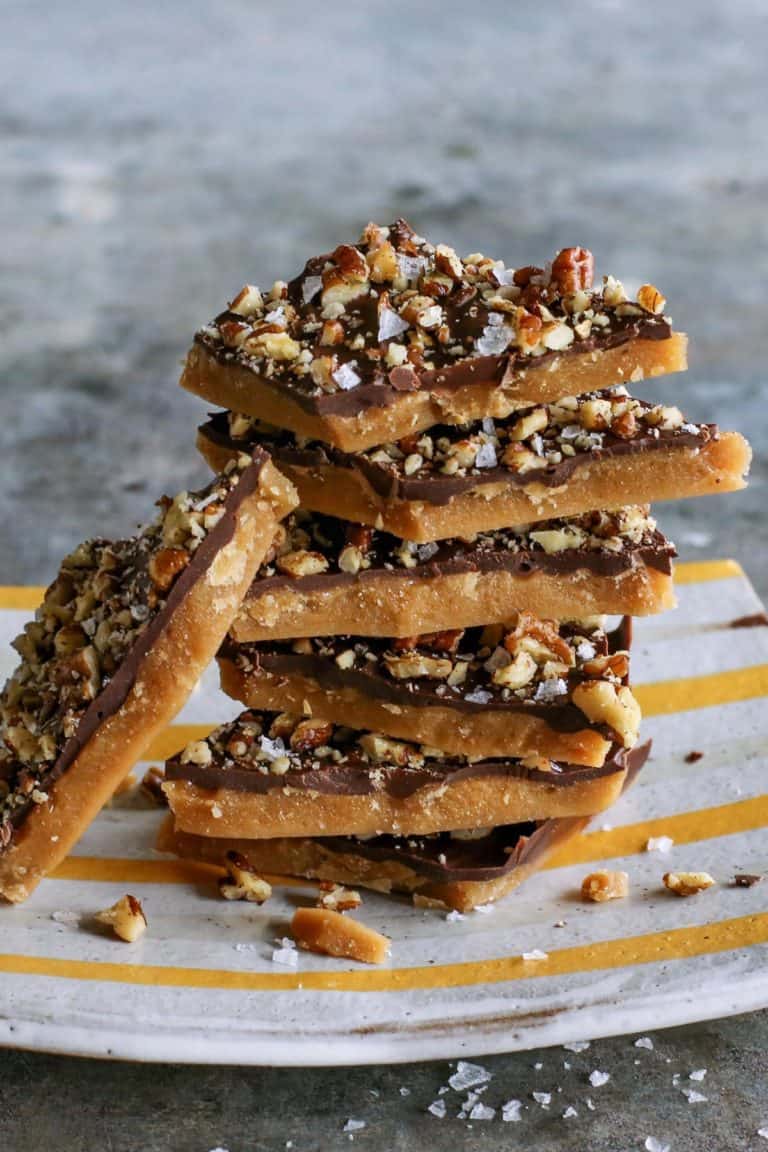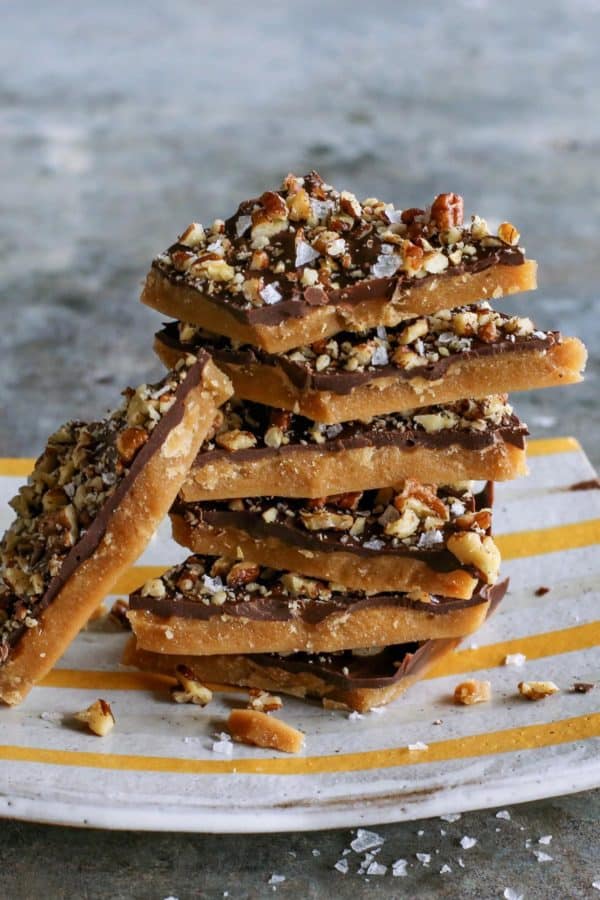 An Easy Homemade Toffee Recipe
I'm sharing my mom's toffee recipe with you today.
It's pretty much a homemade Heath candy bar. It tastes almost identical! It has a buttery toffee base, plus chocolate and salty nuts. Mom has been making this treat during the holidays ever since I was a kid. It's really good stuff!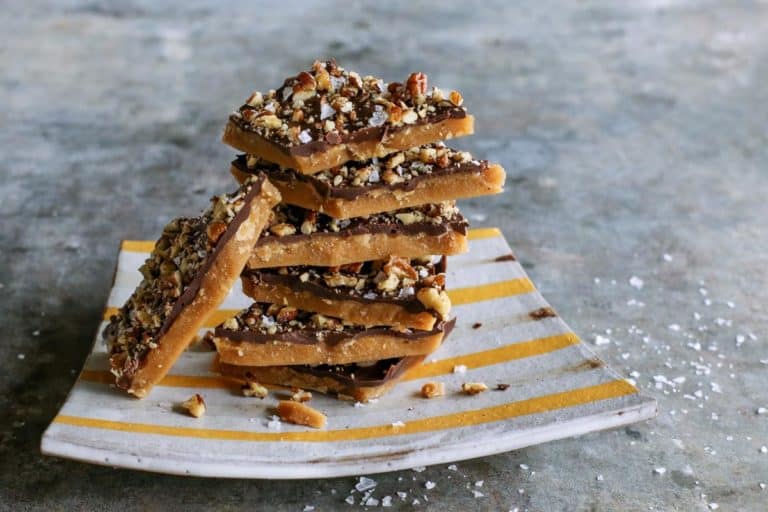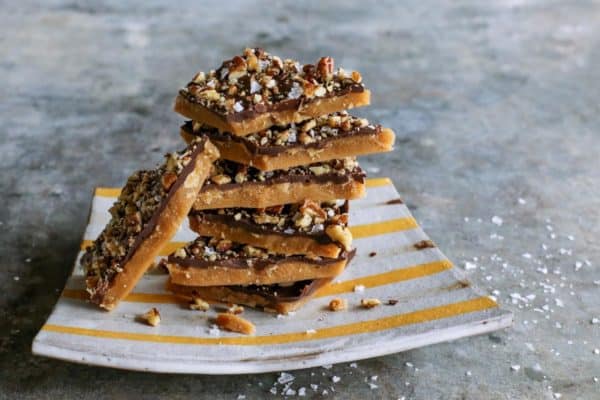 A Christmas Tradition
Mom's homemade toffee, Grandma's homemade Chocolate Caramels, and Chocolate Peanut Butter Ritz Cookies are traditions during the Christmas season for my family. And so is the celebration of Saint Nicholas Day – which is today, December 6th.
Growing up on the farm, each December 6th morning, my sisters and I would hear a couple knocks on our front door. We'd open the door, to find not a soul in sight.
But there was always a package waiting for us.
It wasn't just a package, though. It was stuffed with candies and nuts and fun little treats. Some of our favorite things, like gummy bears and Reese's peanut butter cups and Heath bars. The really good stuff!
The Saint Nicholas Day tradition is from my dad's side of the family, one that Dad wanted to pass along to his own children. So each Saint Nicholas Day, he would take a silent leave of absence from our breakfast table. He would quietly exit the kitchen, deposit that really good stuff outside the door, knock a couple of times, and return to his waiting bowl of cereal. We were oblivious to Dad's brief and stealthy absence, caught up in our own excitement.
Dad was sneaky. And Mom was his willing accomplice. I'm sure they were greatly amused, at our bewildered expense.
Needless to say, Cheryl, Jessica, and I loved this special morning each year. It was magical and mysterious. And we got to eat candy for breakfast!
Dad and Mom still carry on the Saint Nicholas tradition to this very day. Although it's a little different scene with their daughters grown up and with families of their own. They now mail treats to each of our families, making sure we have them by December 6th.
Our own girls have seen the annual benefits from this custom (ha!). And they've been eating it up, quite literally. I think this tradition is a keeper.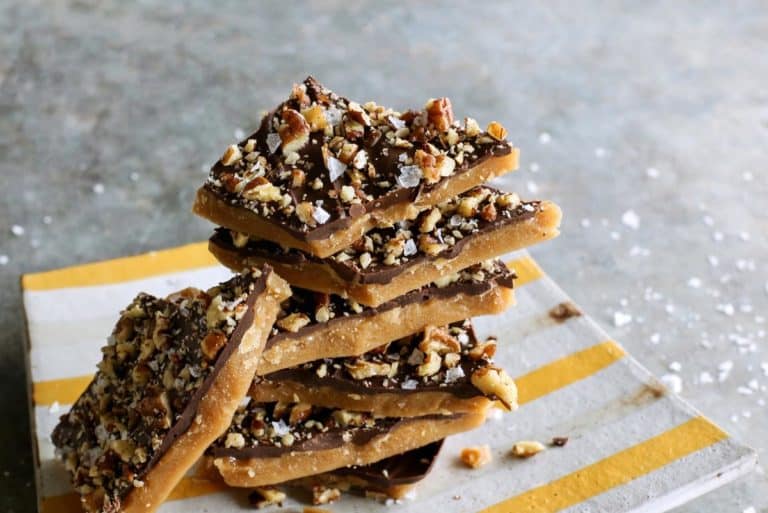 What is Toffee?
Toffee is basically butter and sugar. Some call this candy "toffee butter crunch".
While its flavor and color are much like chewy, gooey caramel, toffee's texture is crunchy and crackly, and breaks into jagged pieces. This harder texture results from cooking the butter and sugar to a higher temperature than caramel.
What is in a Heath Bar?
Heath Bars are made by the Hershey company and the ingredients are nearly identical to my mom's homemade toffee. English toffee is covered in a thick layer of milk chocolate. The difference between Heath Bars and this toffee is that my recipe has salty peanuts on top and is not coated with another layer of chocolate.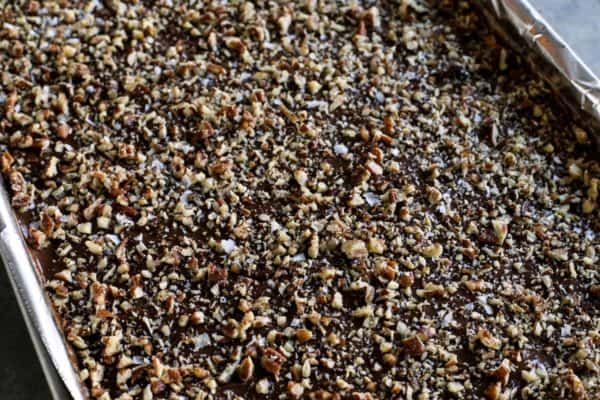 How to Make Toffee
When it comes to candy recipes, toffee is an especially fun one. The process always amazes me. From watching the butter and sugar bubble away on the stovetop, to seeing it quickly harden into a beautiful sheet of brittle, amber toffee.
First, make the toffee layer by cooking butter, sugar, and a little corn syrup and water in a saucepan on the stovetop. Let it boil for only about 15 minutes, until it reaches 305° Fahrenheit.
Some say you can do without a candy thermometer. But I always rely on one when it comes to making toffee and caramel. Besides, it adds an element of fun – watching the temperature rise, waiting for the precise moment to take the pan off the heat. Do NOT let a candy thermometer scare you away from making these treats!
Then spread the hot mixture into a rimmed pan and let it sit for a few minutes to harden. While the toffee layer is still hot, sprinkle chocolate chips over the top. Once the chocolate chips are all glossy and melty, spread them into an even layer over the hardened toffee. And the final hurrah – sprinkle chopped nuts over the top (I prefer roasted & salted pecans from Trader Joe's), along with some sea salt flakes.
That extra punch of sea salt is the absolute perfect finish, such a wonderful contrast to the sweet toffee and chocolate!
Like this toffee recipe? Save it to Pinterest!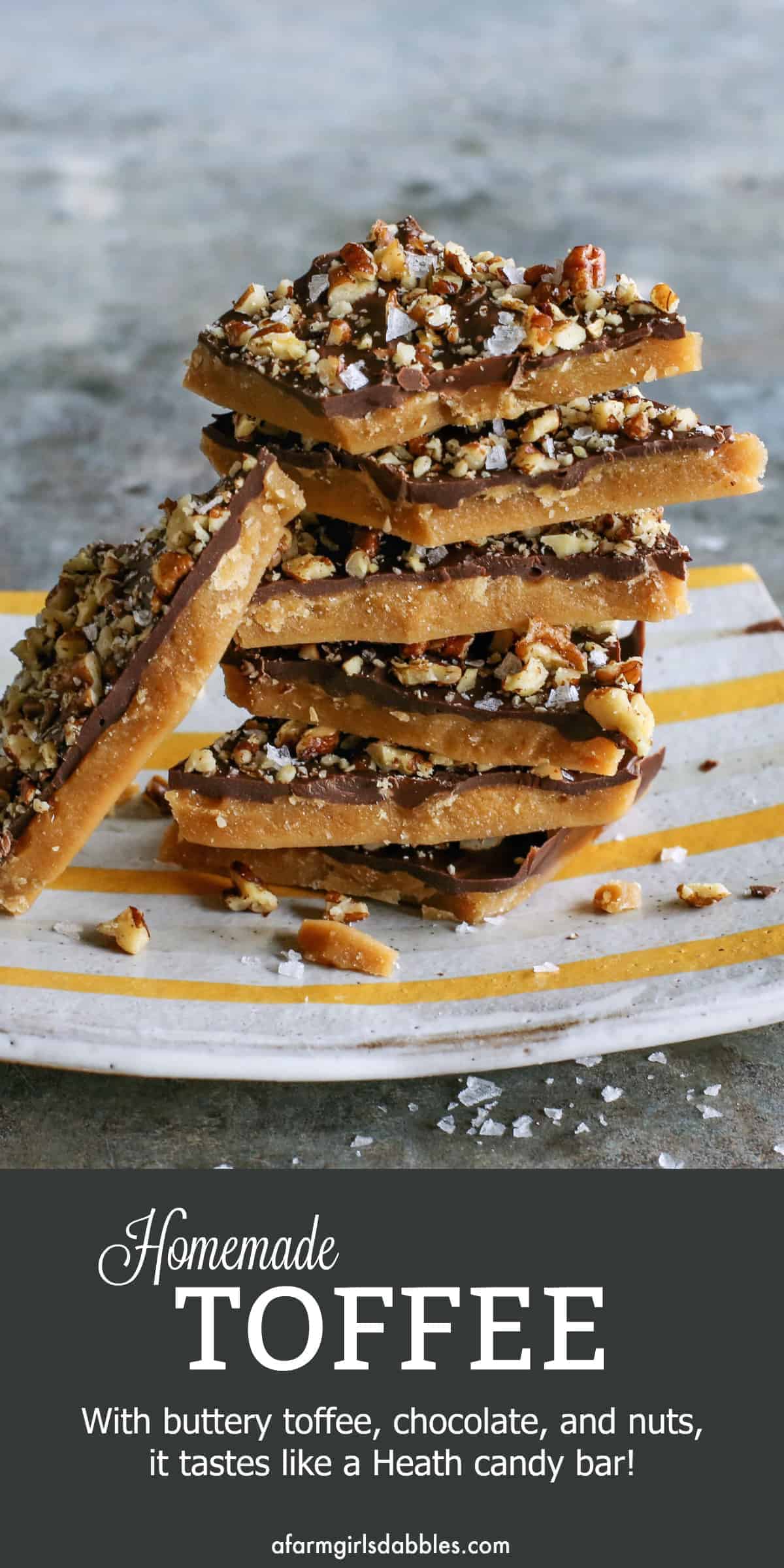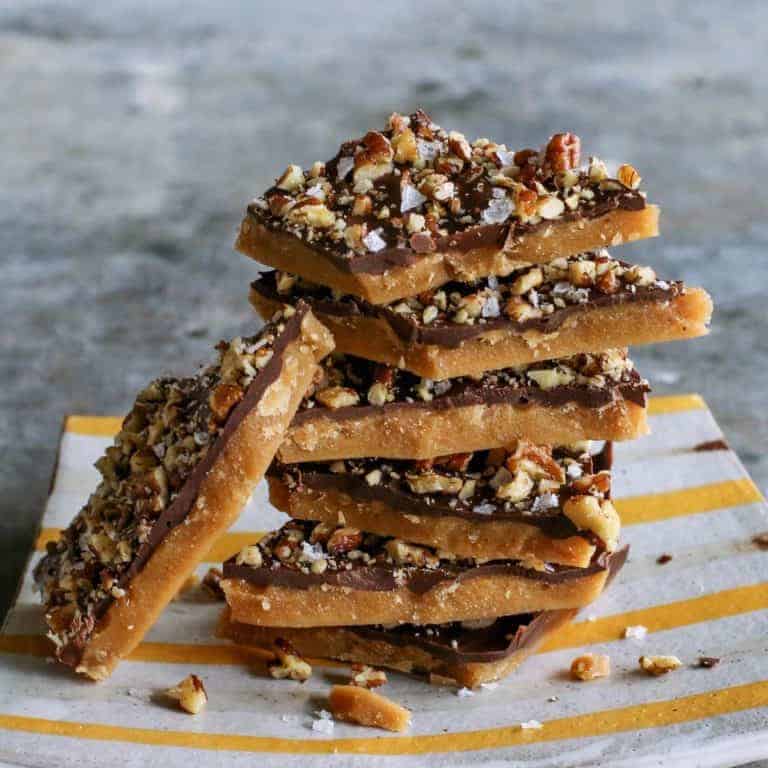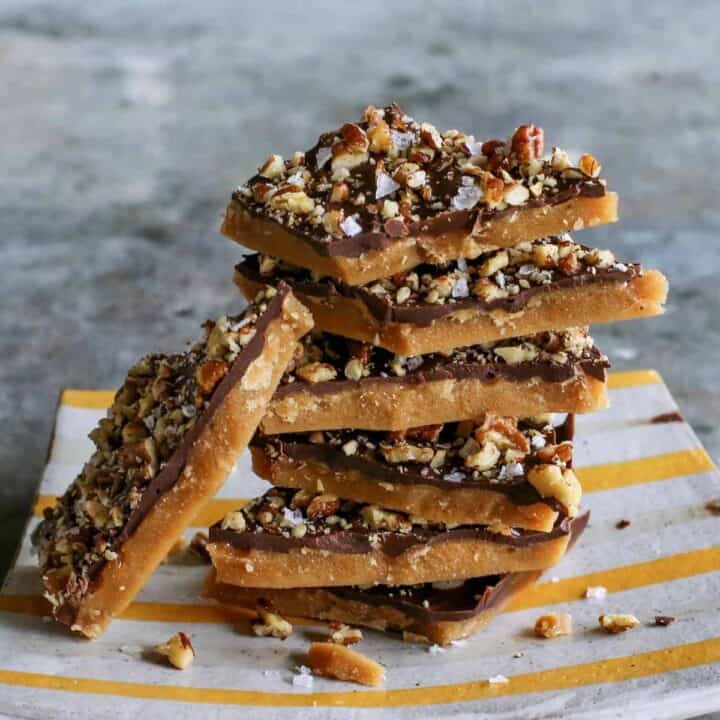 Toffee
Yield: 48 servings
Prep Time: 20 minutes
Cook Time: 15 minutes
Total Time: 35 minutes
This recipe comes from my mom - a Christmas tradition I've been enjoying since I was a kid. With buttery toffee, chocolate, and nuts, it tastes like a homemade Heath bar!
Instructions
This recipe works best when you prep everything first. Line a 15″ x 10″ rimmed pan with foil, extending over the edges. Butter the sides of a heavy-bottomed 2-quart sauce pan with the 1/2 teaspoon of butter. And measure out all ingredients.
Place sauce pan over medium heat and melt remaining 1-1/2 cups butter. Then stir in sugar, corn syrup, and water with a wooden spoon. Nudge the heat up just a bit (nearly medium-high) and stir fairly constantly, until mixture comes to a boil.
Clip candy thermometer to the inside of the sauce pan. Stir only occasionally and briefly with a wooden spoon, slowly and evenly, until candy thermometer reaches 305° F - this should take about 15 to 17 minutes. The mixture will change color as it cooks, from very light to deep amber. Watch carefully, especially near the end, as the temperature rises at a faster rate right at the end. Immediately remove sauce pan from heat.
Pour hot liquid toffee mixture into foil-lined pan. Allow to sit until mixture is stable, but still hot - this should take 2 to 3 minutes.
Quickly sprinkle mini chocolate chips over the top of the hot toffee, in an even layer. Cover pan with foil to seal in heat and melt the chocolate chips. Let sit for 3 minutes undisturbed, or until all the chocolate chips look glossy. Then spread the melty chocolate chips into an even layer - an offset spatula works great for this. Immediately sprinkle with the chopped nuts and sea salt flakes.
Chill until firm - I place the pan in the freezer for 30 minutes. Remove pan from freezer, lift toffee out of pan by pulling up on the foil, and transfer to a large cutting board. With a large, heavy, sharp-tipped knife, press into the top of the candy to crack it into pieces. Start toward the outer edge and work your way in. Store in airtight container in a cool place. Keeps very well in the freezer.
Notes
adapted from Mom's recipe box
Recommended Products
As an Amazon Associate and member of other affiliate programs, I earn from qualifying purchases.
Nutrition Information:
Yield: 48
Serving Size: 1
Amount Per Serving:
Calories: 147
Total Fat: 11g
Saturated Fat: 6g
Trans Fat: 0g
Unsaturated Fat: 4g
Cholesterol: 20mg
Sodium: 37mg
Carbohydrates: 14g
Fiber: 1g
Sugar: 13g
Protein: 1g
Nutrition information is automatically calculated by Nutritionix. I am not a nutritionist and cannot guarantee accuracy. If your health depends on nutrition information, please calculate again with your own favorite calculator.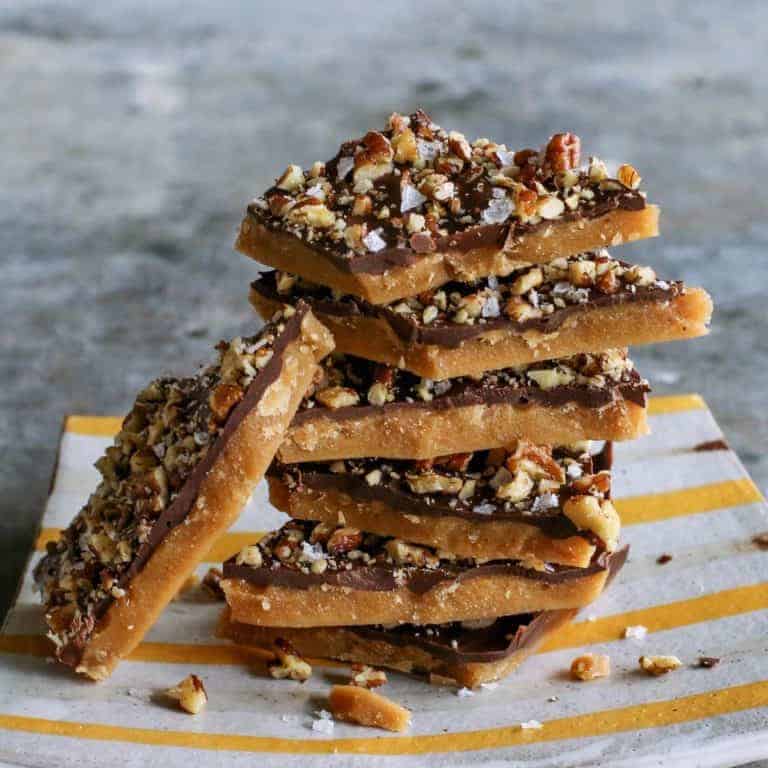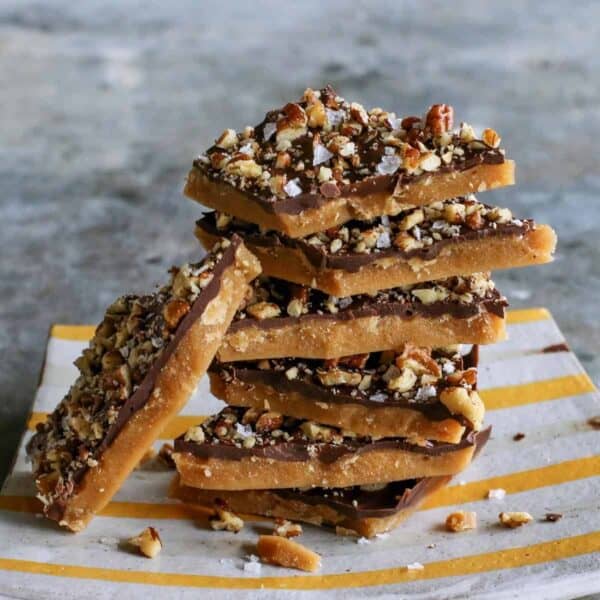 This post was previously published in 2010. Photographs and some of the text were updated in 2019.
We participate in the Amazon Services LLC Associates Program, an affiliate advertising program designed to provide a means for us to earn fees by linking to Amazon.com and affiliated sites. See our
disclosure policy
for more info.