Homemade Chocolate Magic Shell over Peanut Butter Ice Cream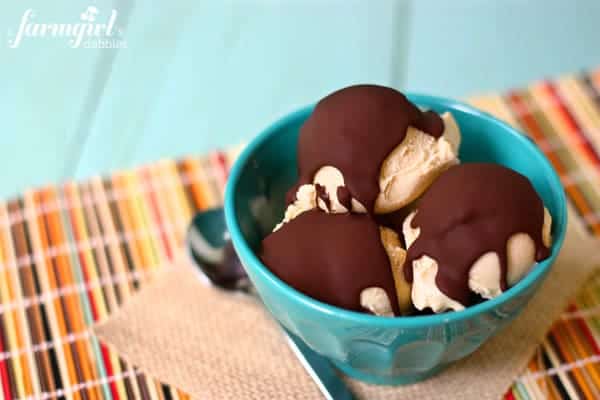 Do you believe in MAGIC?!
Back in the late 80's, when I worked behind the counter of our local small town summer drive-in, I had the privilege of adding an extra spoon or two of hard shell topping to my ice cream as I walked out the door each day. Some days chocolate, other days cherry. And if I was having an especially fabulous day…I'd compose a frozen concoction using both chocolate AND cherry! To this day, it's very hard for me to pass up a dipped cone at Dairy Queen. It's just too much fun!
I know that creating Magic Shell at home is not exactly a new concept. But I had been a skeptic, never truly believing that I could actually create that fascinating stuff in my own kitchen.
Until Jeni recently convinced me to give it a whirl…
And I'm here to tell all of you Homemade Magic Shell Naysayers, this is the real deal, folks!!
It's SO EASY!
Just melt some chocolate with coconut oil. That's it! Because coconut oil is liquid when warm, and hard and crunchy when cold, it will transform into a brittle shell when poured over frozen ice cream. It really is MAGIC attainable at home!
We wowed more children of the 80's this summer when we brought this Homemade Chocolate Magic Shell over Peanut Butter Ice Cream to a backyard party. It made my heart smile to see our friends' faces light up over the simple joy this combination of flavors brings. We were just a bunch of big kids spooning up tasty visions of Reese's Peanut Butter Cups.
The chocolate magic shell couldn't be easier to assemble. And as far as homemade ice cream goes, this peanut butter ice cream is one of the simplest. It's a family favorite, the most popular flavor we make at home. I do hope you'll give this combo a try. And then come back and let me know you believe in MAGIC, too!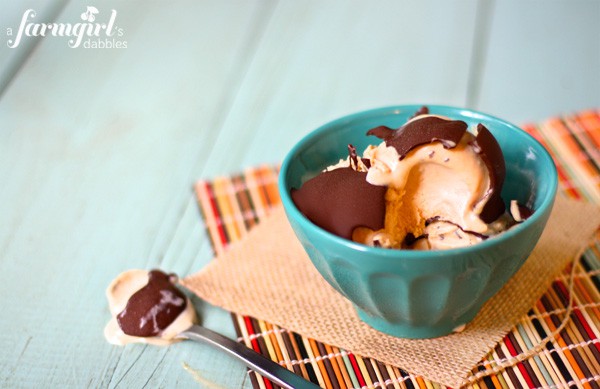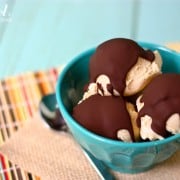 Homemade Chocolate Magic Shell over Peanut Butter Ice Cream
Yield: Makes enough magic shell for 10 to 12 se
Ingredients:
for the chocolate magic shell:
6 oz. semi sweet chocolate chips
6 oz. bittersweet chocolate chips
1/3 c. coconut oil
for the peanut butter ice cream:
Directions:
for the chocolate magic shell:
Combine chocolate chips and coconut oil in a medium sauce pan over medium heat. Stir frequently until chocolate is almost melted. Remove from heat and stir until completely melted and smooth. Let cool a bit and use right away. Or store in a covered container in the refrigerator, where the cold will change it from liquid to solid. To use after it has been refrigerated, warm the magic shell gently in the microwave, stirring frequently, and taking care to not overheat. Then spoon over scoops of ice cream. Let sit for a minute or two before eating, to let the magic shell completely harden.
I'm linking up with:
Cheryl at TidyMom for I'm Lovin' It (Ultimate Cake Pops Set by Bakerella)
We participate in the Amazon Services LLC Associates Program, an affiliate advertising program designed to provide a means for us to earn fees by linking to Amazon.com and affiliated sites. See our disclosure policy for more info.