Crème Fraîche Ice Cream with Roasted Strawberry Swirl
This homemade Crème Fraîche Ice Cream with Roasted Strawberry Swirl is rich and ultra creamy, and kissed by a delightful touch of tang.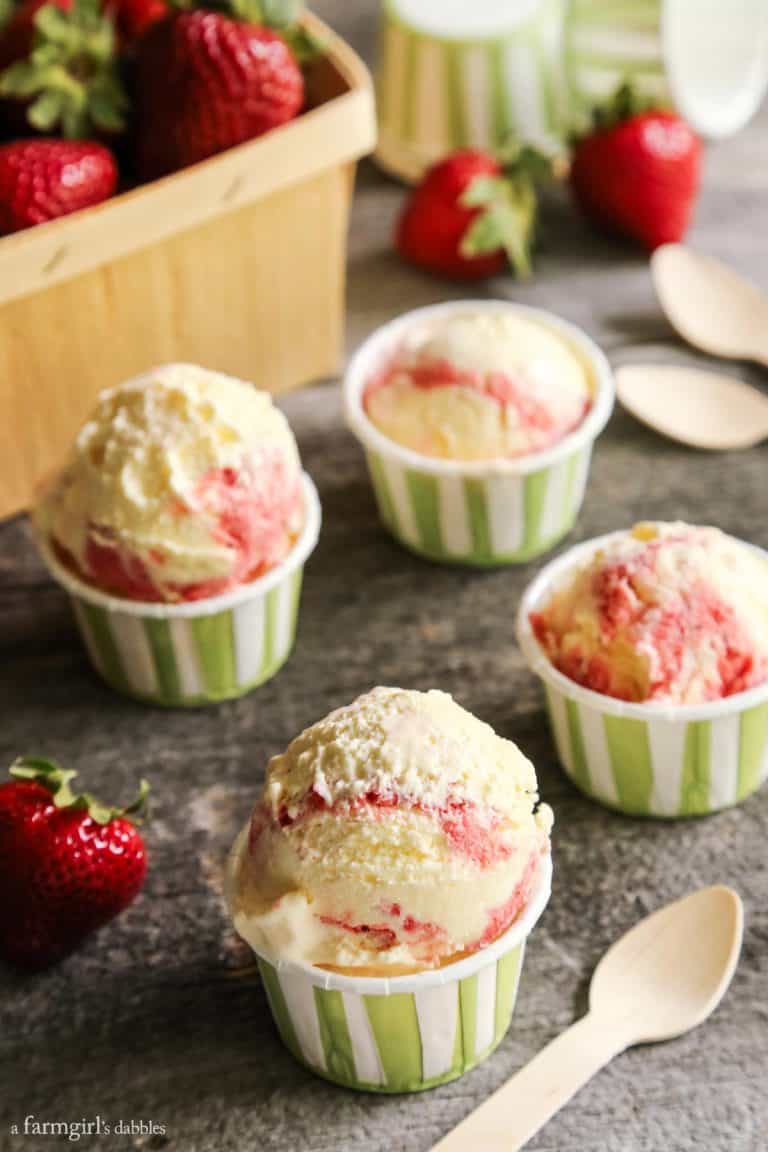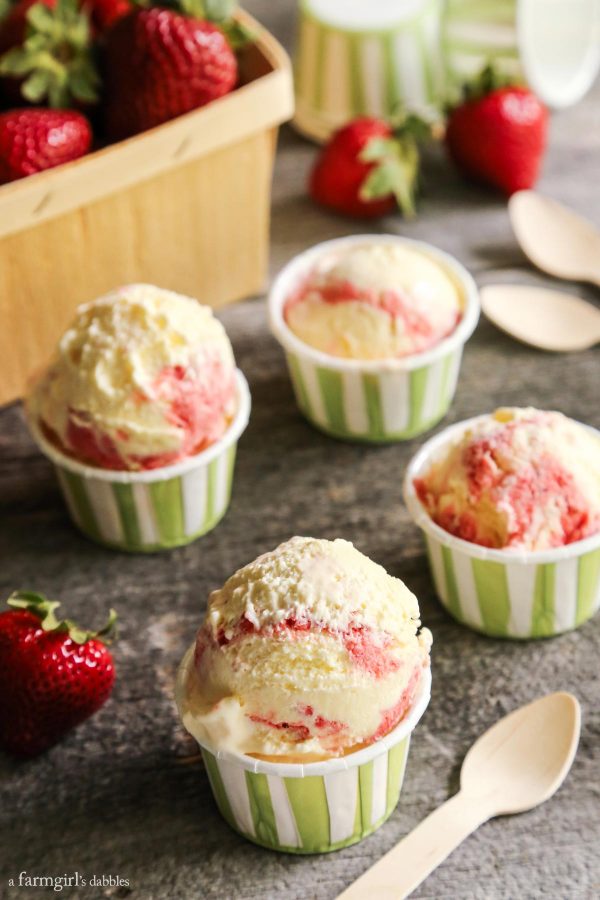 If you ask our oldest daughter her favorite ice cream flavors, she'll surely rattle off a number of them in a few seconds' time, the ice cream fan that she is. And I guarantee that one of those flavors will be crème fraîche.
Ever since Hatti's first taste of crème fraîche ice cream at a local restaurant a couple years ago, she's been hooked. If she sees the ice cream maker on our counter, she always asks if there are plans for crème fraîche ice cream.
So I surprised her this spring with a new rendition involving her favorite fruit, the strawberry. And judging from her approval, this Crème Fraîche Ice Cream with Roasted Strawberry Swirl is going to be her homemade ice cream request from now on.
* This is a sponsored post, created in partnership with Pampered Chef.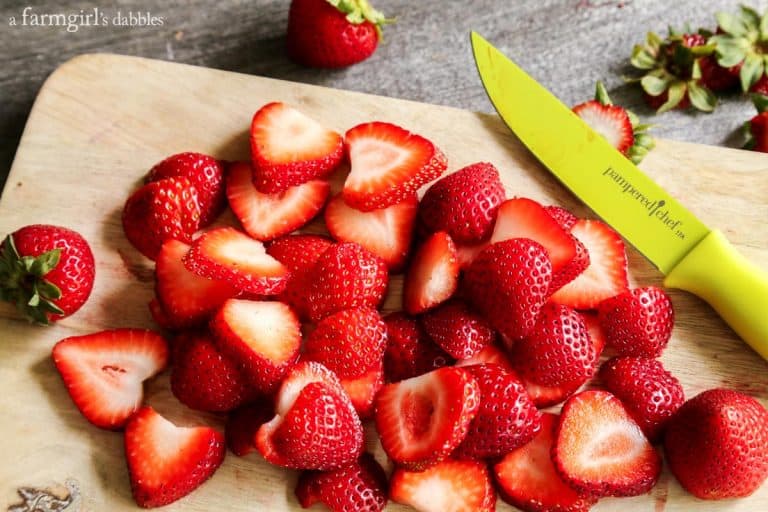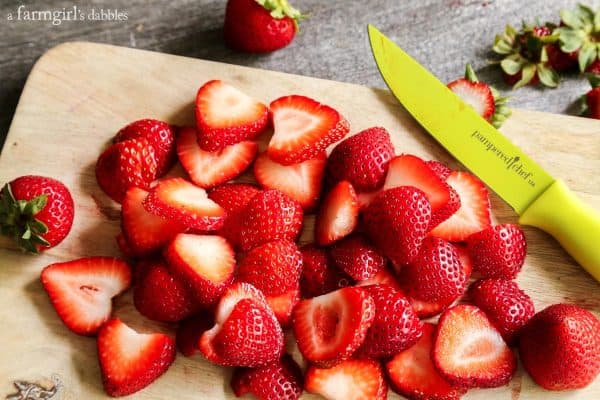 I started out by slicing some fragrant red strawberries. The lightweight Coated Utility Knife from Pampered Chef was the perfect tool for the job. In bright lime green, this knife adds a little zest to every slice.
Our own strawberry patch wasn't in production mode quite yet as I was creating this recipe. But now we're picking a couple handfuls every day. You can bet that we'll be making another batch of crème fraîche ice cream with roasted strawberry swirl very, very soon, using our own hand-picked berries. I am already anticipating my first scoop!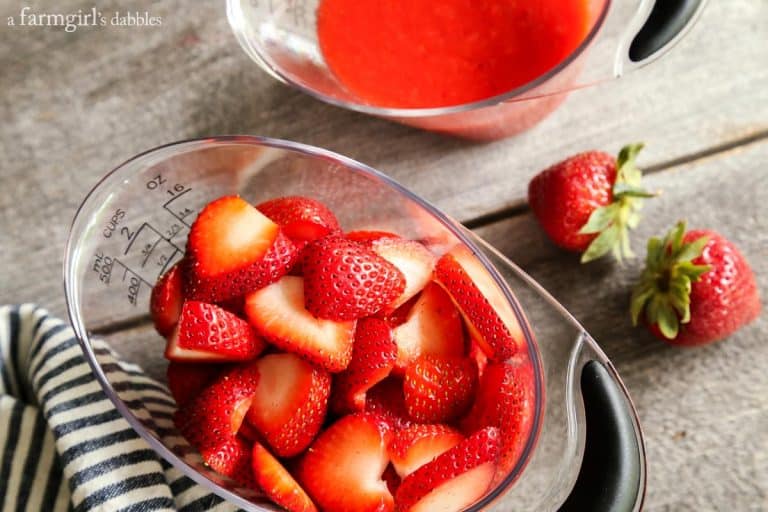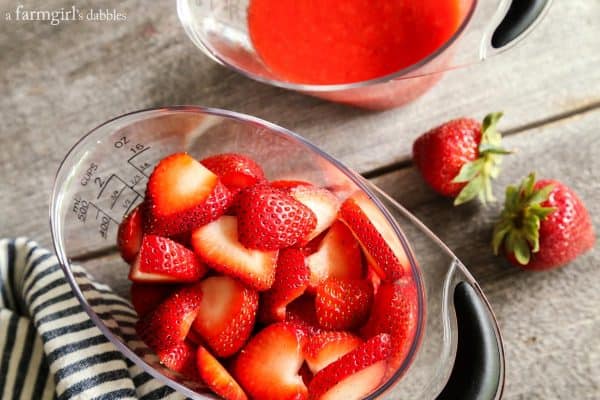 The sliced strawberries then get mixed with a little sugar, to roast in the oven for a bit. This helps to evaporate some of the water in the berries and to concentrate their flavor. A squeeze of bright, fresh lemon juice is added, and then the mixture is blitzed into a sauce. This is the ice cream's beloved roasted strawberry swirl.
I haven't been using this Easy-Read Measuring Cup Set for very long, but already know these three nested cups (in 1-, 2-, and 4-cup measures) are going to get tons of use around here. Their design allows you to read liquid measures from above, rather than squatting down and looking at the measure lines from the side. Love!!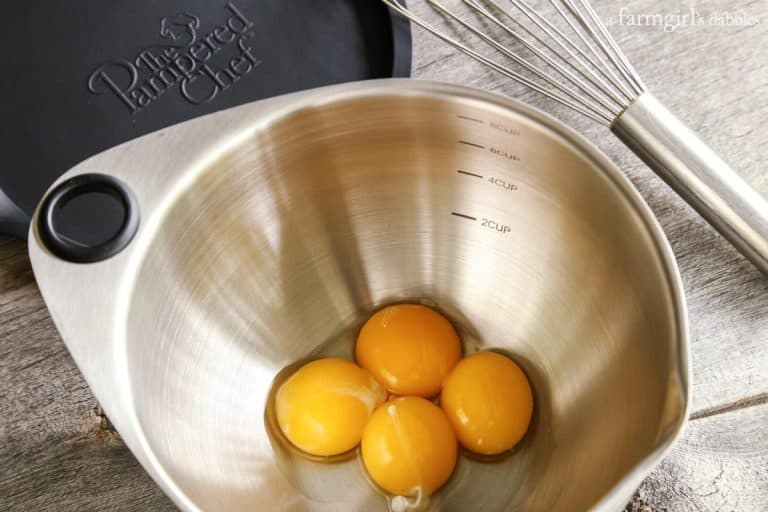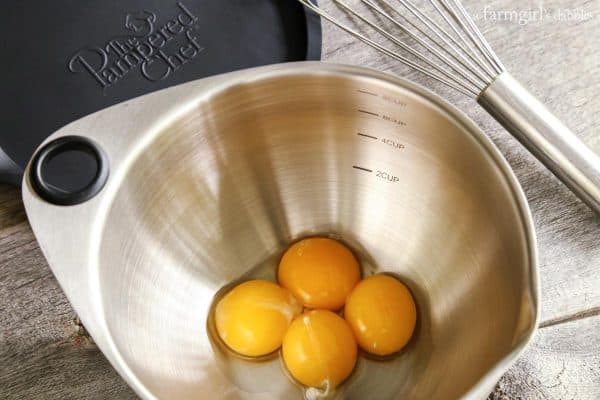 Then on to the crème fraîche ice cream base, which starts with a few fresh egg yolks. I do believe that homemade ice creams that start with a custard base are the creamiest and the best.
And these beautiful bowls? I like these so much, I find any excuse to use them every single day.
Pampered Chef's Stainless Steel Mixing Bowl Set is comprised of 2, 4, and 6 quart brushed stainless steel bowls. Each bowl has a silicone bottom and padded thumbhole for added stability, a spout, measure marks on the inside, and a lid for easy storage. The bowls nest for compact storage and are dishwasher and freezer safe. It's easy to see why I like them so much!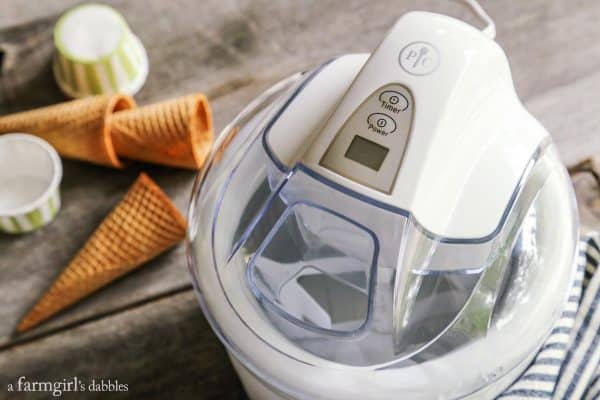 And the star of the whole show is, besides the crème fraîche ice cream with roasted strawberry swirl of course, the Ice Cream Maker itself. This just-released Pampered Chef product makes churning out frozen treats a breeze. When I first saw this ice cream maker, I was surprised at how compact the unit was, and maybe even a teensy bit skeptical that it was going to be any kind of powerhouse. But it has proven itself, cranking out batch after batch of delicious homemade ice cream, in about 30% less time than my old ice cream maker.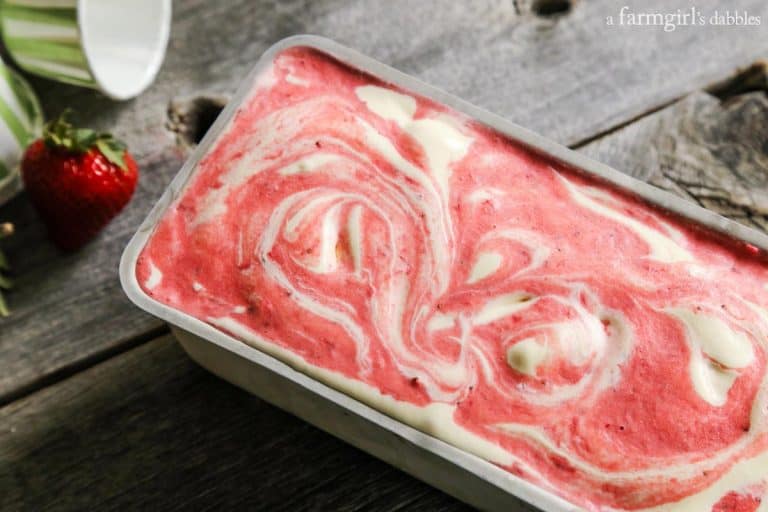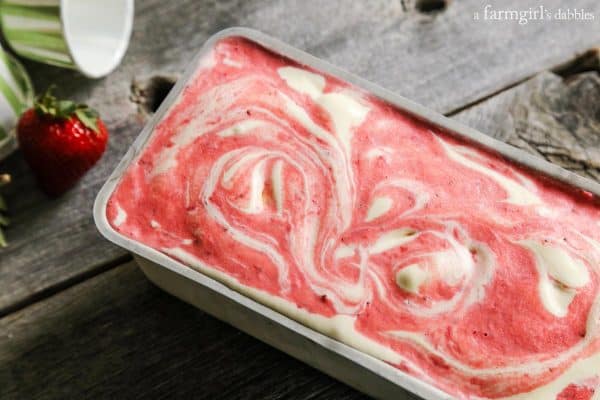 I came up with a great way to ensure that the roasted strawberry ripple doesn't become icy when frozen. Because I really hate it when that happens to fresh fruit in ice cream.
I simply whisked the roasted strawberry purée with a bit of the crème fraîche ice cream base, borrowing some of that creaminess without robbing the swirl of its fresh strawberry flavor and color.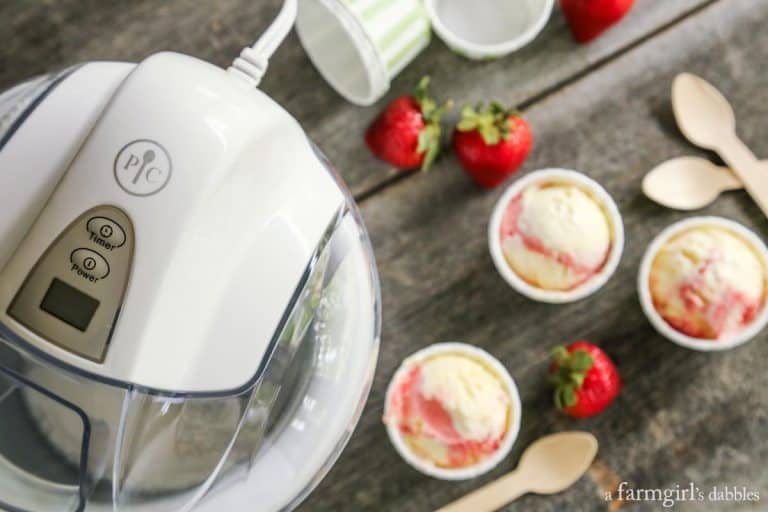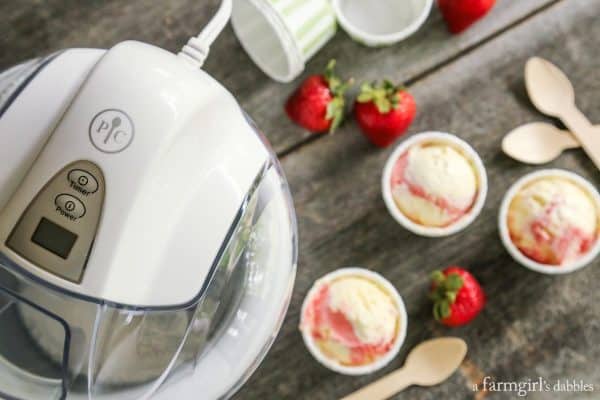 When you have your own ice cream maker, the sky is the limit. Whatever your favorite flavors are, you can make them into something frozen and delicious.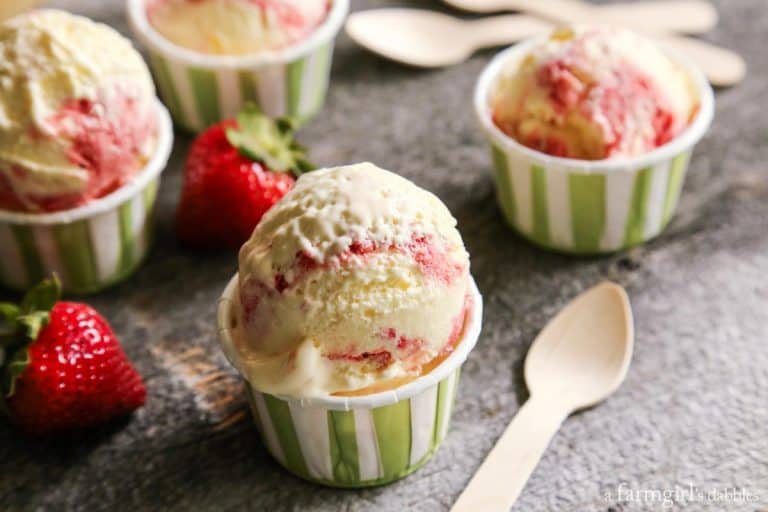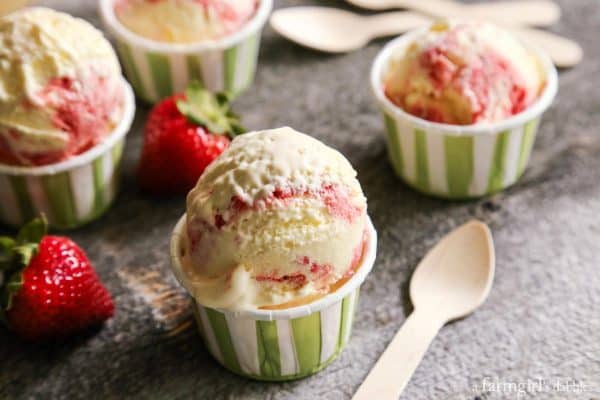 The beauty of crème fraîche is in its rich and ultra creamy body, kissed by a delightful touch of tang. When woven into ice cream, with a lovely little swirl of roasted bright red strawberries, this frozen treat is sure to be a recipe you'll place at the top of your list.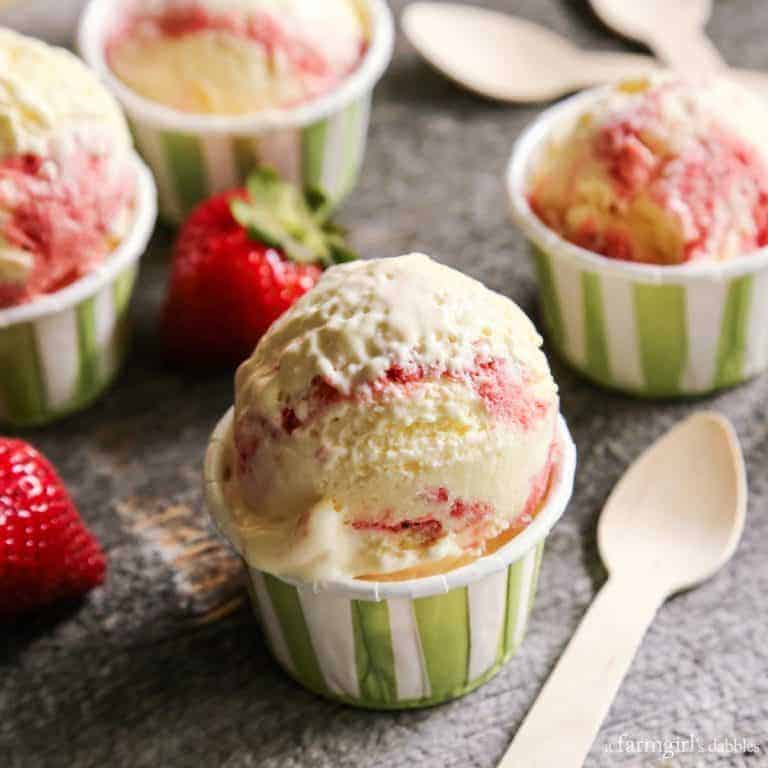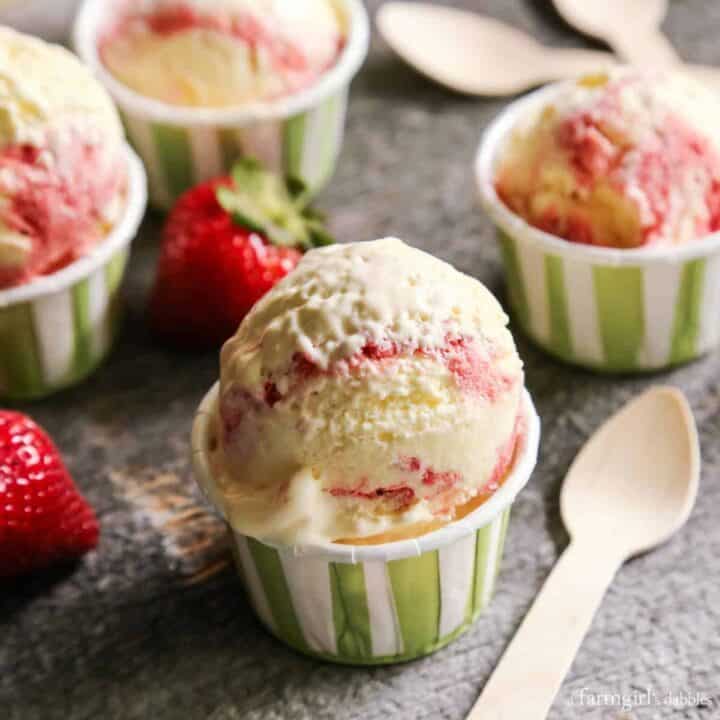 Crème Fraîche Ice Cream with Roasted Strawberry Swirl
Yield: 5 cups
Prep Time: 45 minutes
Cook Time: 7 minutes
Additional Time: 4 hours
Total Time: 4 hours 52 minutes
This homemade Crème Fraîche Ice Cream with Roasted Strawberry Swirl is rich and ultra creamy, and kissed by a delightful touch of tang.
Ingredients
for the roasted strawberry swirl:
2 c. hulled and sliced (1/4" thick) strawberries
1/3 c. sugar
2 T. freshly squeezed lemon juice
for the crème fraîche ice cream base:
1 c. whole milk
3/4 c. sugar
big pinch of kosher salt
5 large egg yolks
2 c. crème fraîche
Instructions
for the roasted strawberry swirl:
Preheat oven to 375° F.
In a 9" glass or ceramic baking dish, stir together the strawberries and sugar. Roast for 7 to 9 minutes, or until softened and fragrant. Remove from oven. Let cool slightly.
In a food processor, or with an immersion blender, puree the roasted strawberries with the lemon juice. Place mixture in refrigerator to cool.
for the crème fraîche ice cream base:
Prepare a medium bowl with a mesh strainer over the top. Set this in an ice bath.
In a medium saucepan over medium heat, warm milk, sugar, and salt. Stir until warmed and the sugar has dissolved. In a separate medium bowl, whisk the egg yolks. Very slowly pour warmed milk into the egg yolks, whisking constantly. Then scrape warmed egg yolks back into the saucepan and place back over medium heat. Stir mixture constantly with a heatproof spatula or wooden spoon, scraping the bottom as you stir. Once the mixture has thickened enough to coat the back of the spoon, pour the custard through the strainer. Remove strainer and stir custard over the ice bath until it is completely cool. Place custard in refrigerator to chill thoroughly, at least two hours.
Once custard is fully chilled, whisk in crème fraîche. Then freeze mixture in chilled ice cream maker according to manufacturer's instructions. Using the Pampered Chef ice cream maker, this only took about 15 minutes to reach the desired softly frozen consistency.
In a small bowl, whisk together 1/2 cup of the chilled roasted strawberry puree and 1/4 cup of the softly frozen crème fraîche ice cream to make the roasted strawberry swirl. You will have extra roasted strawberry puree. Place it in the refrigerator for another use - it's great spooned over ice cream or pound cake, and mixed into lemonade.
In a container that holds about 5 cups, spread half of the crème fraîche ice cream evenly into the bottom. Add about 2/3 of the roasted strawberry swirl and spread evenly. Add remaining crème fraîche ice cream, spreading evenly. Then top with spoons of remaining roasted strawberry swirl. Then use a knife to run a few swirls across the top to mingle the crème fraîche ice cream and the roasted strawberry swirl.
Place container in freezer to freeze completely, at least 4 hours.
Notes
Crème fraîche ice cream base adapted from The Perfect Scoop by David Lebovitz.
Nutrition Information:
Yield: 5
Serving Size: 1
Amount Per Serving:
Calories: 649
Total Fat: 47g
Saturated Fat: 28g
Trans Fat: 2g
Unsaturated Fat: 16g
Cholesterol: 345mg
Sodium: 269mg
Carbohydrates: 49g
Fiber: 0g
Sugar: 48g
Protein: 11g
Nutrition information is automatically calculated by Nutritionix. I am not a nutritionist and cannot guarantee accuracy. If your health depends on nutrition information, please calculate again with your own favorite calculator.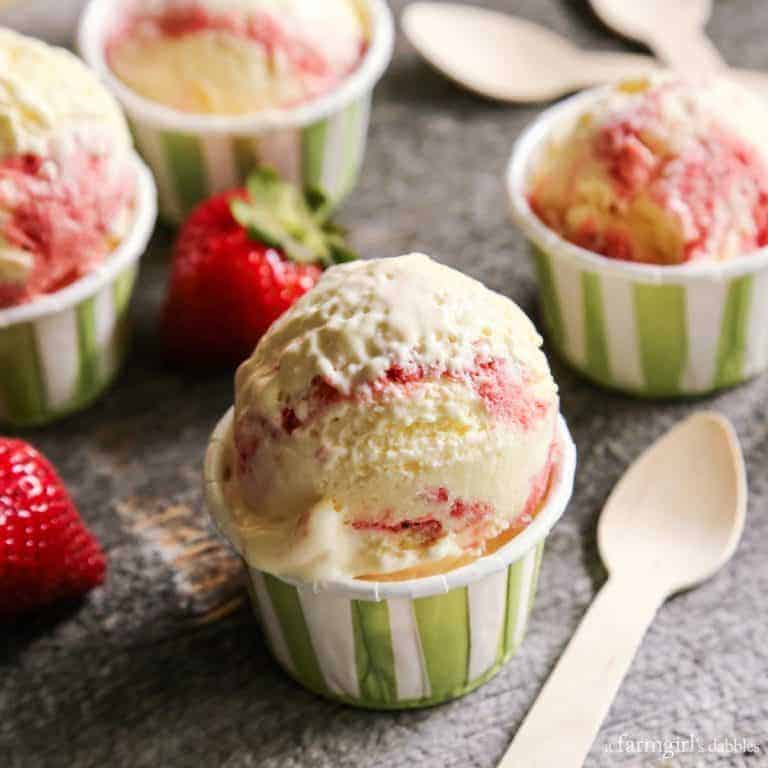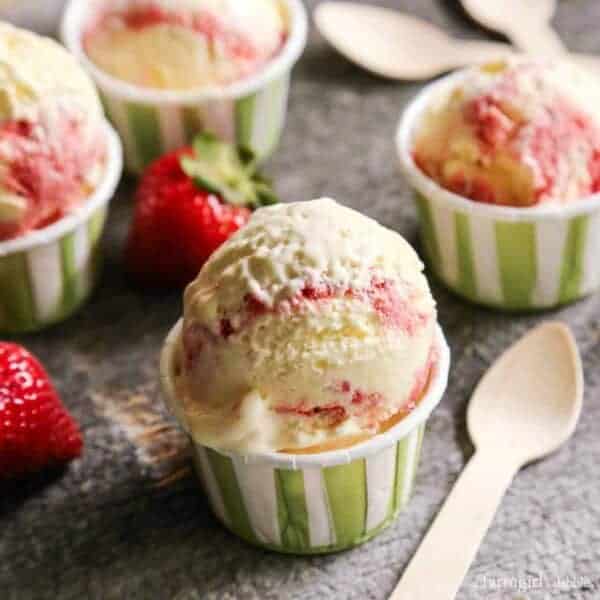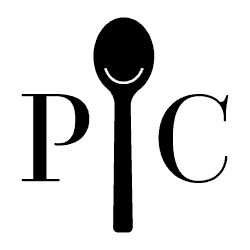 Pampered Chef and its many innovative kitchen products and drool-worthy recipes have been a part of my life for many, many years. If you've ever been to a "Pampered Chef party", then you know just how fun and delicious they can be.
Pampered Chef demonstrates the use of their high-quality kitchen tools through their community of 40,000 cooking consultants. Through these in-home experiences, people of all kitchen skill levels leave these gatherings confident, knowing they can create beautiful, delicious meals in their own kitchens for their families and friends.
This post was created in partnership with Pampered Chef. All text and opinions are mine. Thank you for supporting the brands that help make this site possible.