Rhubarb-Berry Crumbles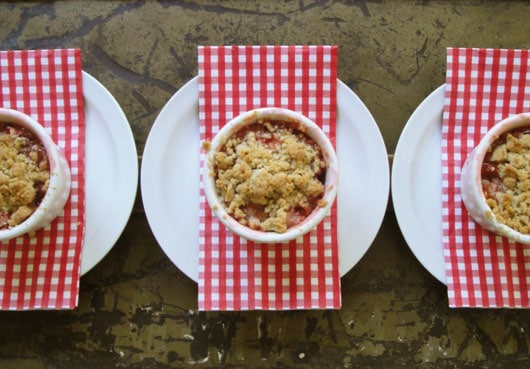 This recipe begs me to tie some gingham ribbon around my braids and spread out a blanket for a country style picnic.  In my mind, rhubarb and strawberries just ooze of a laid back farm and country life.
As I was growing up on the farm, however, rhubarb was nothing more than an obnoxious weed to me, growing ruthlessly on the west side of our garage.  Its only purpose, I thought, was to disrupt my straight mowing lines.
But Mom always adored the stuff.  And she could always find some way to sweeten up those tart stalks in desserts that made my sweet tooth dad ask for another helping.
I first tried this recipe a couple years ago.  My husband is not a big fan of fruit desserts, but this one got a thumbs up from the guy, and it was added to our permanent recipe file.  The rhubarb is sweetened up nicely with the strawberries and sugar, and a little orange juice and zest add just the perfect touch.  The fruits are nestled under a crumb topping that adds another layer of sweetness with a contrasting tender crunch.  They are best served while they are still warm, topped with a scoop of vanilla ice cream.  If you don't serve them right away, just pop them in a 350° oven for 5 to 10 minutes to warm them up again.
These individual crumbles are so much fun to serve (and eat!).  It's like giving your guests little gifts.  They make everyone smile.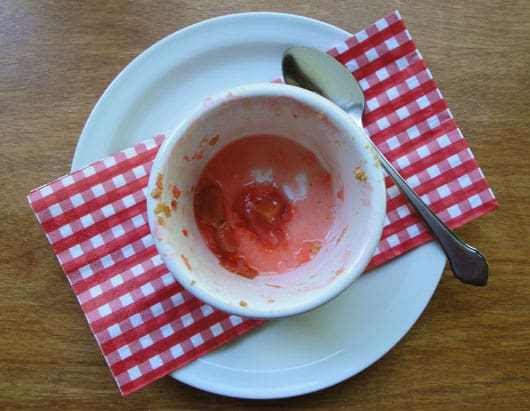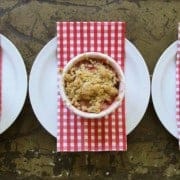 Rhubarb-Berry Crumbles
Yield: 6
Cook Time:35 minutes
Ingredients:
for the rhubarb-berry filling:
1-1/2 lbs. rhubarb, cut crosswise into 1/4″ slices
2 c. sliced strawberries, or  whole raspberries, or a combination
1-1/4 c. sugar
2 T. instant tapioca
2 T. all-purpose flour
1/2 tsp. grated orange zest
2 T. freshly squeezed orange juice
pinch of salt
for the crumble topping:
6 T. unsalted butter, at room temperature
1/4 c. packed light brown sugar
1 c. all-purpose flour
pinch of salt
Directions:
Preheat the oven to 375°.
Stir together rhubarb, berries, sugar, tapioca, flour, orange zest, orange juice, and salt in a bowl.  Let stand 15 minutes, stirring occasionally.
Prepare crumble topping by placing the butter and brown sugar in the bowl of an electric mixer.  Mix on medium speed until creamy.  Stir in flour and salt. Work mixture through with fingers until it forms coarse crumbs ranging in size from peas to gum balls.
Prepare 6 small ceramic baking dishes (1 cup capacity) by spraying with cooking spray.  Place baking dishes on a rimmed baking sheet lined with parchment paper. Divide rhubarb mixture among the dishes and sprinkle with crumble topping, dividing evenly.
Bake until topping turns golden and juices are bubbling, 30 to 35 minutes.  Let cool on sheet on a wire rack 30 minutes.
Serve warm, with a scoop of vanilla ice cream.
We participate in the Amazon Services LLC Associates Program, an affiliate advertising program designed to provide a means for us to earn fees by linking to Amazon.com and affiliated sites. See our disclosure policy for more info.