Rosemary Greyhound Cocktail
With rosemary-infused simple syrup, fresh grapefruit juice, and vodka, this Rosemary Greyhound Cocktail is a bright, tart, and delightfully refreshing drink that can be made in just minutes!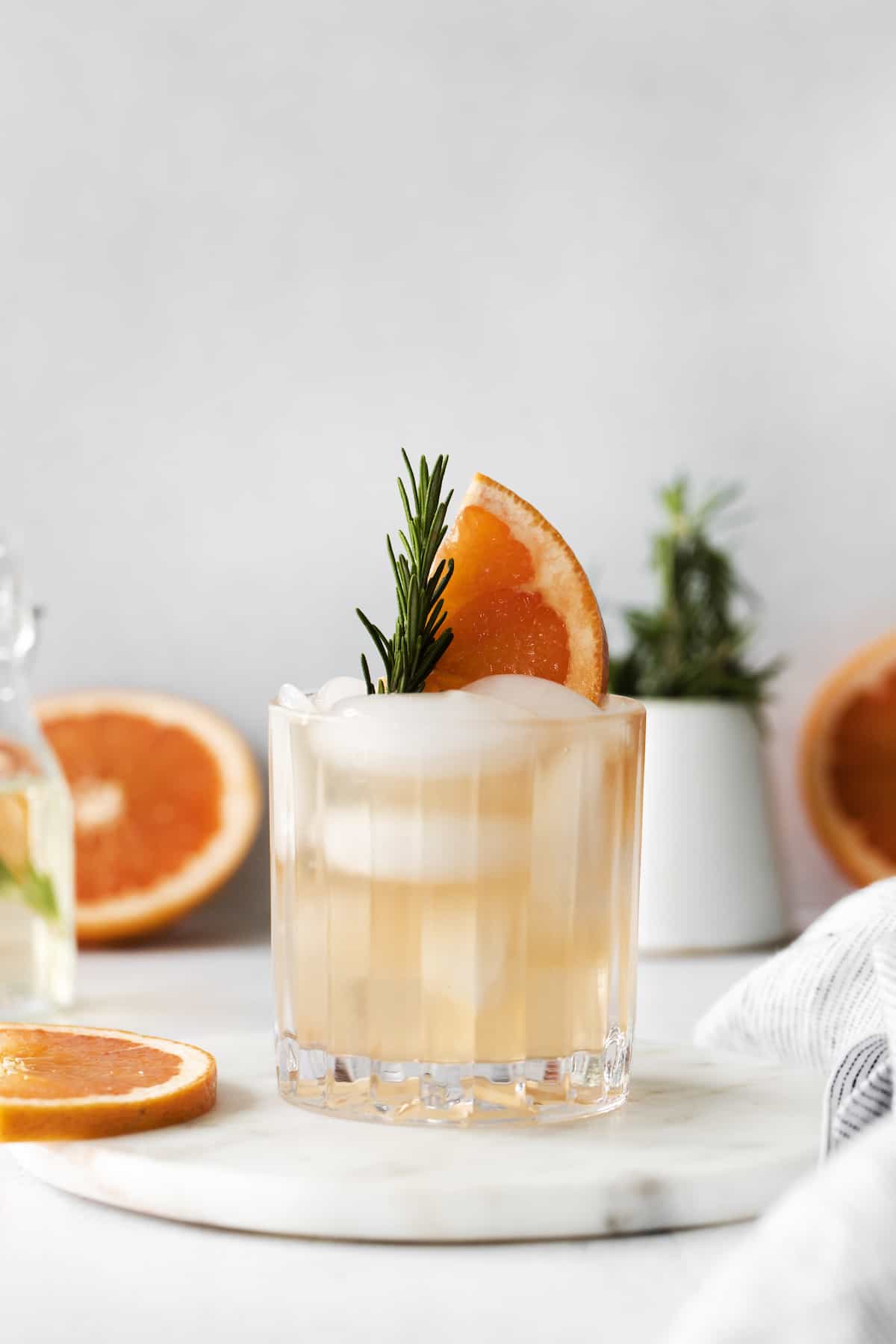 A Simple, Refreshing Cocktail
When it comes to drinks I like to make during the wintertime, this Rosemary Greyhound Cocktail is one of my favorites. With fresh-squeezed ruby red grapefruit juice, rosemary-infused simple syrup, and vodka, it's a fun twist on the classic greyhound cocktail.
I first enjoyed this drink a few years ago on St. Simons Island, Georgia, as a guest of the HGTV Dream Home. Food Network's Executive Chef Robert Bleifer was there, and made our group such a fantastic meal. He's also the genius behind this refreshing rosemary greyhound cocktail. He served these drinks using the grapefruit and rosemary on the HGTV Dream Home property. How cool is that?!
This simple twist on the traditional greyhound is quick and easy to make, and gives a fun yet sophisticated vibe. Every time we serve these, our guests comment that the drink is so much more than they were expecting. And I'm certain that's due to the combination of tart, in-season grapefruit and earthy, sweet rosemary simple syrup – so unexpected, so divine!
To read more about my trip to the HGTV Dream Home, scroll past the recipe card.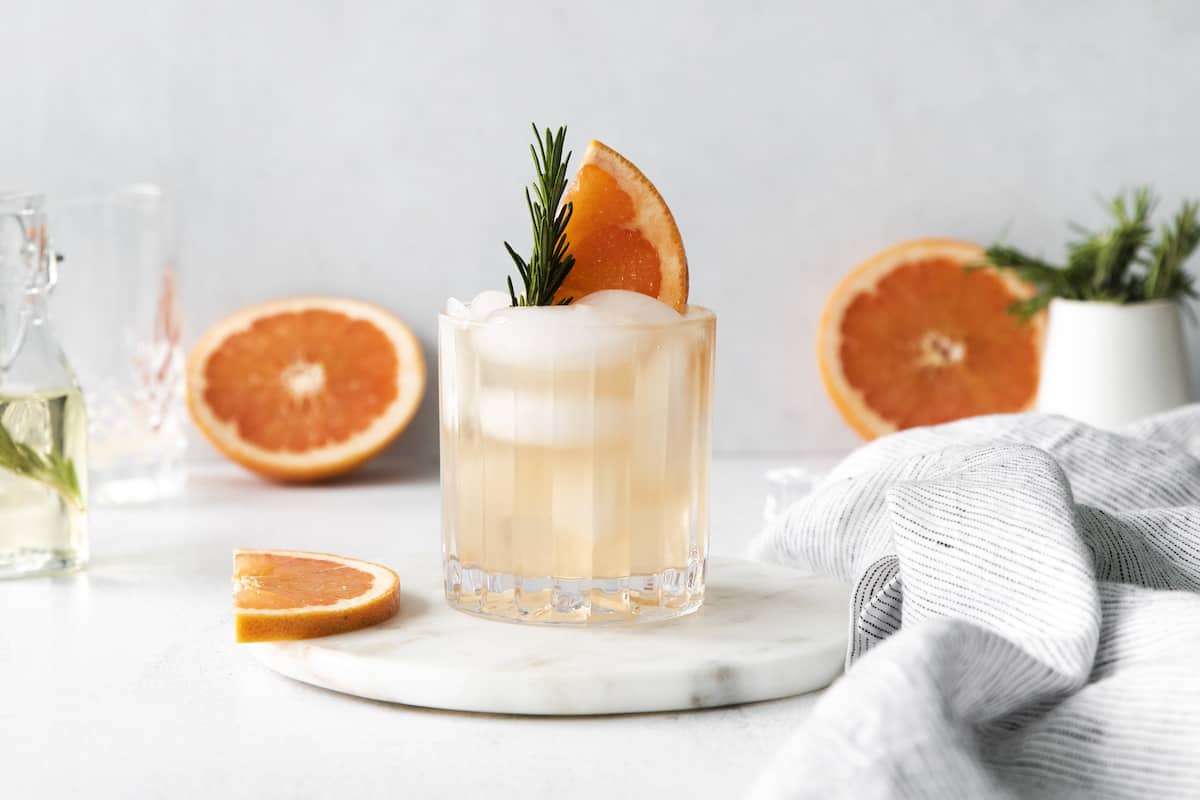 What is a Greyhound Cocktail?
A classic Greyhound cocktail is made with two ingredients – vodka (or gin) and grapefruit juice. It's said that the popular cocktail dates back to the Prohibition-era when it was typically made with gin, until after World War II, when vodka became more common.
Why do they call it a Greyhound? Rumor has it that it was a popular drink in Greyhound bus terminals in the 1940s and 50s, thus giving it the name. Before that, it was just a "grapefruit cocktail".
This recipe finds the classic Greyhound cocktail mixed with a homemade rosemary simple syrup. It's an irresistible earthy twist!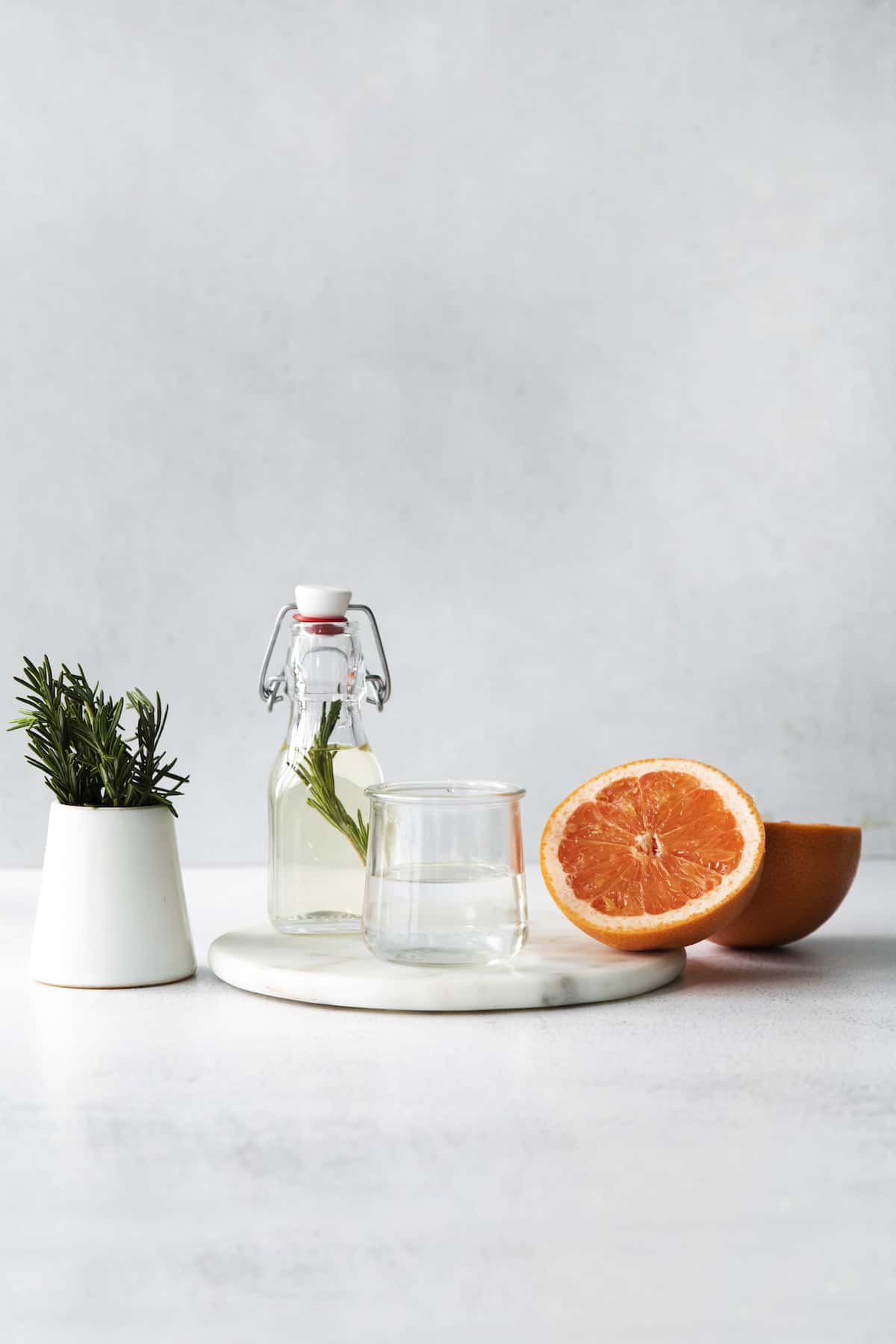 What You'll Need
Ruby red grapefruit juice – Freshly squeezed is a must here. So that's why it's one of my favorite wintertime drinks, because I wait for citrus season. Also, I never, ever strain the juice. I love those juicy little bits of pulp!
Vodka – You can use any vodka you like in this cocktail, although I do recommend a good quality vodka.
Rosemary simple syrup – Made with just sugar, water, and fresh rosemary. Instructions below.
Fresh rosemary & grapefruit slice – For garnish.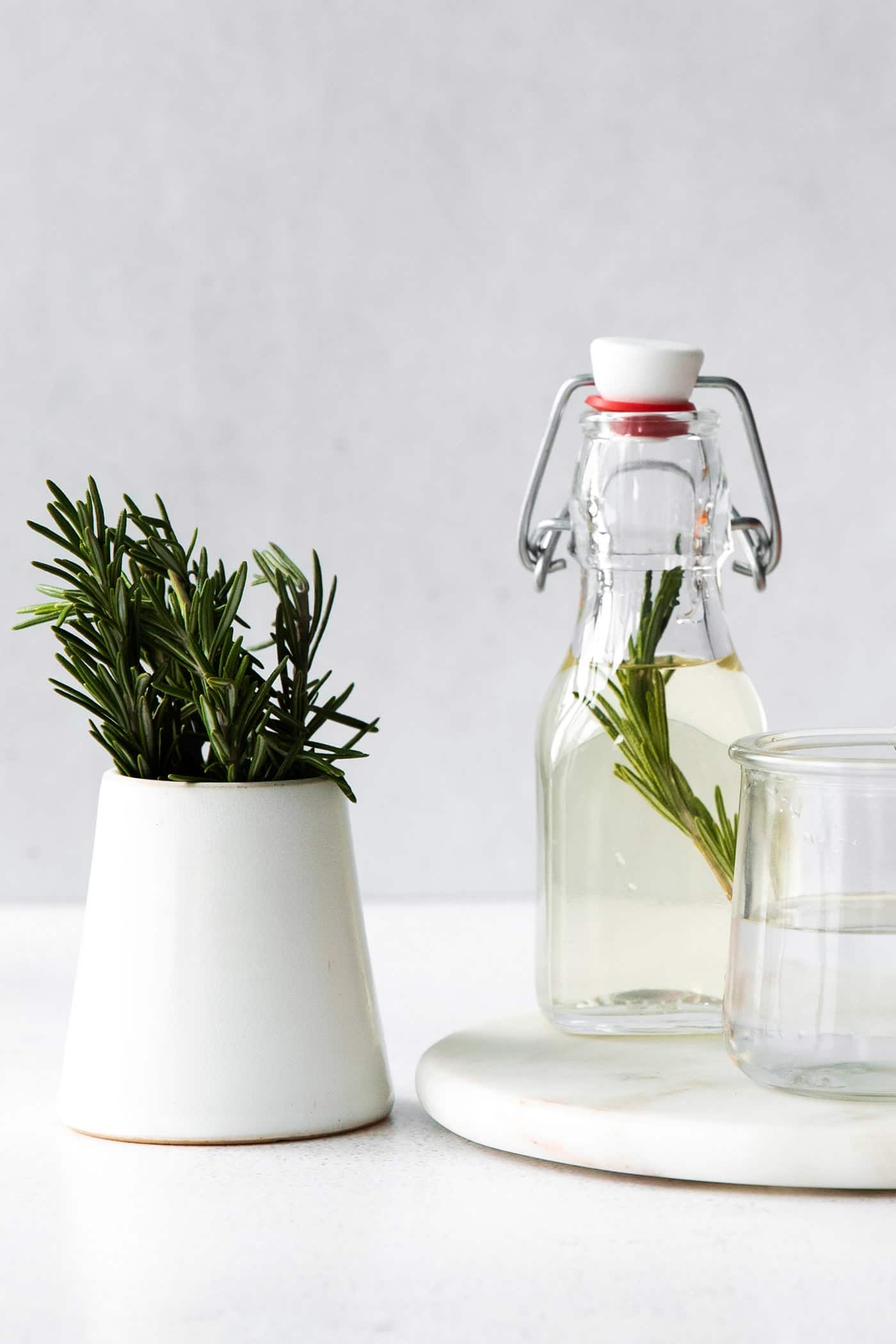 How to Make Rosemary Simple Syrup
It's super easy to make your own rosemary simple syrup, with just water, sugar, and a fresh rosemary sprig!
Cook. Combine all ingredients in a small saucepan, stirring until the sugar dissolves.
Cool. Allow it to cool to room temperature. Remove the rosemary. Store in an airtight glass container in the fridge for up to a month.
How to Make a Greyhound Cocktail
This rosemary greyhound cocktail is easy to make. Here's all you need to do!
Combine ingredients. Combine the vodka, rosemary simple syrup, and fresh grapefruit juice in a cocktail glass. Give it a little stir.
Serve. Add ice and stir again. Garnish if desired, with a fresh rosemary sprig and grapefruit slice. And it's ready to serve!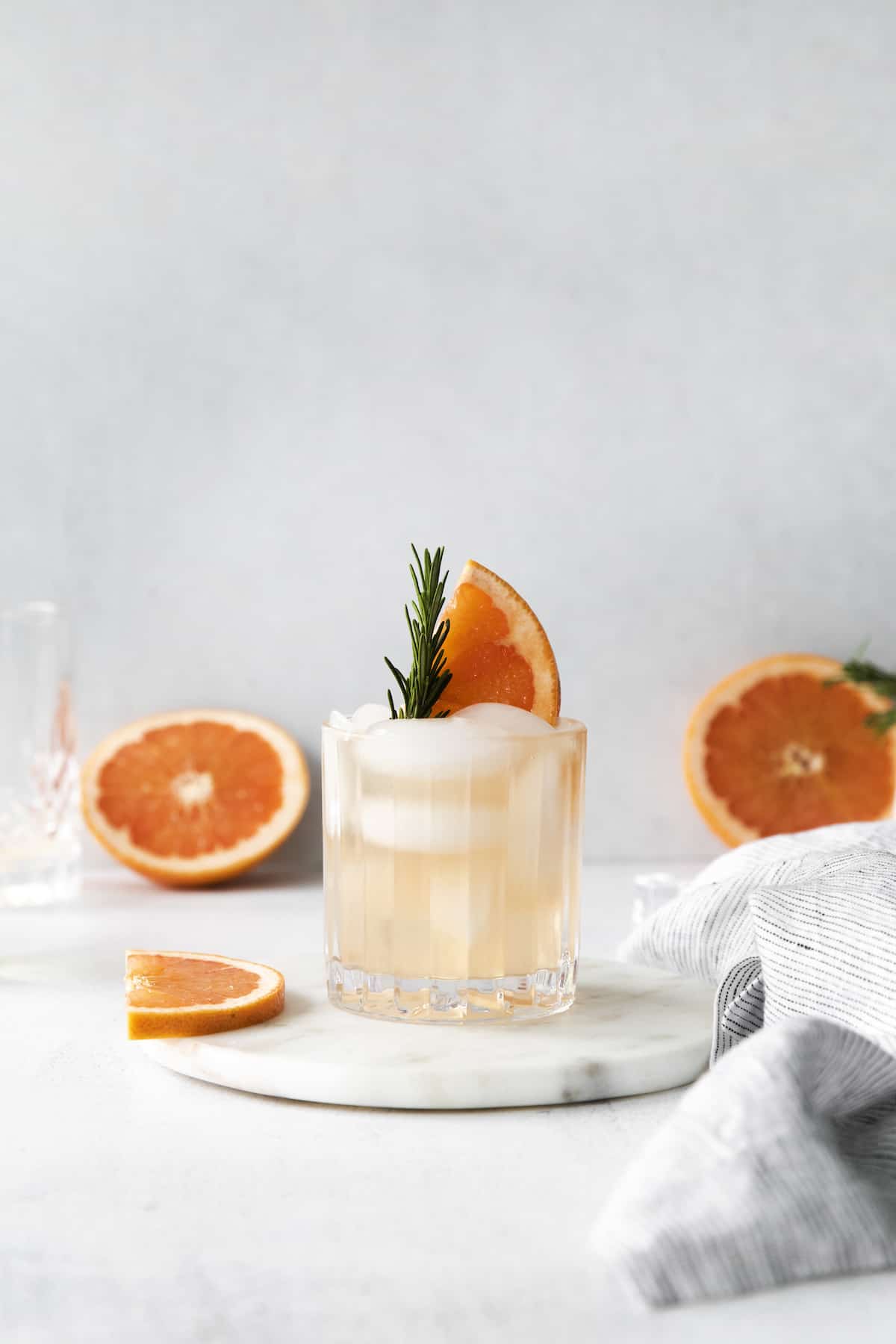 Tips for Success + Variations
For the best greyhound cocktail, here are a few tips:
Use a quality vodka. A quality spirit is essential to any great cocktail. Don't skimp on this drink by getting the cheapest vodka you can find…you'll definitely be able to taste the difference!
Make it tart or sweet. You can control the amount of tartness and sweetness with the amount of simple syrup. If you like a sweeter drink, just add more simple syrup!
Add club soda. I often like to stretch out my cocktails with club soda. I just grab a tall glass filled with ice, make the drink as usual, and then top it off with a good amount of cold club soda. This gives me a longer lasting drink with less total alcohol.
Use grapefruit vodka. For a more intense grapefruit flavor, use grapefruit vodka instead of regular vodka. There are several brands that make a quality grapefruit vodka.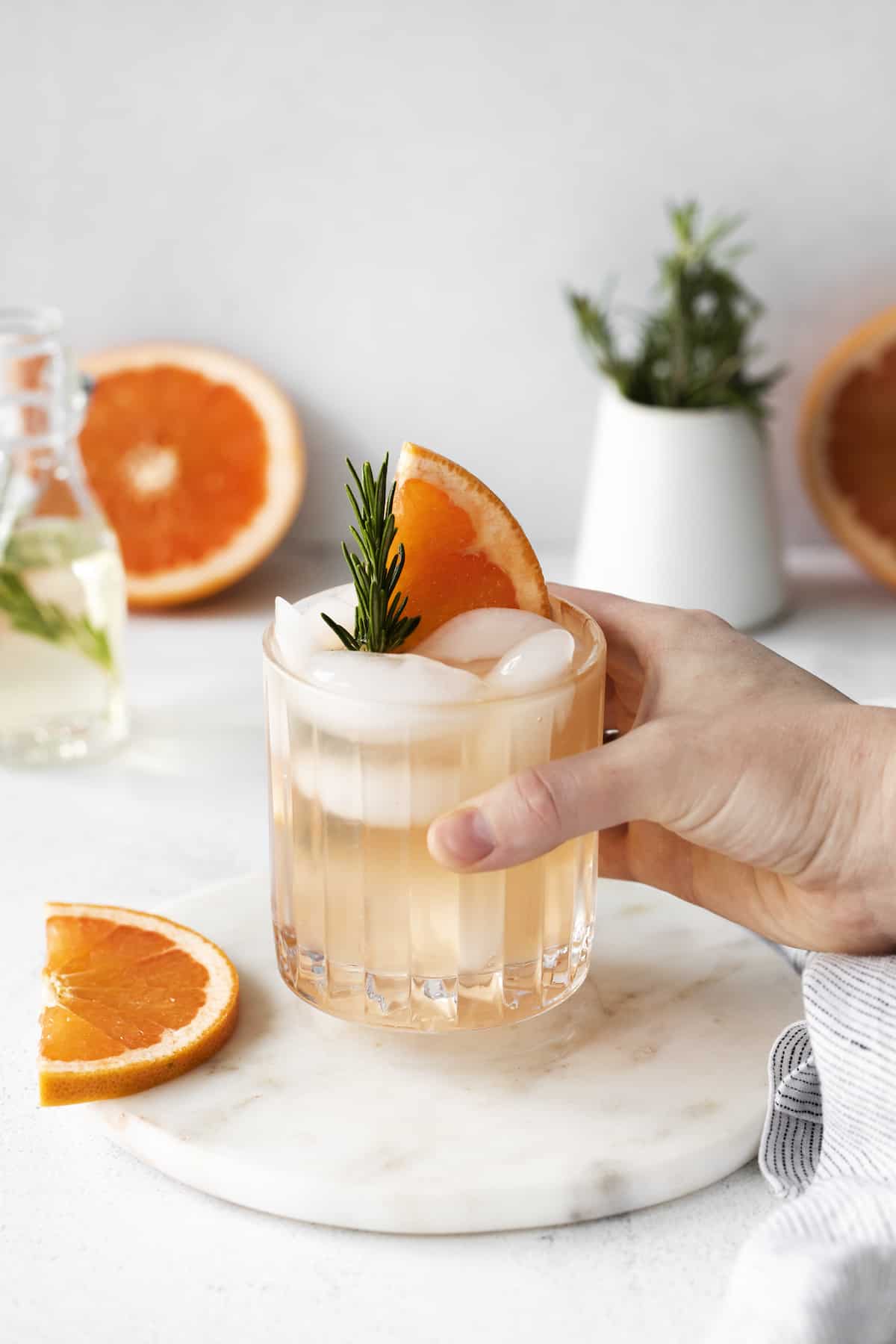 Serving Suggestions
After garnishing with a sprig of rosemary and a fresh grapefruit slice, serve this rosemary greyhound cocktail immediately. I like to serve it when guests are first arriving. It's a fun, fresh way to kick off our evening together!
More Easy Cocktail Recipes:
Like this easy cocktail recipe? Save it to Pinterest!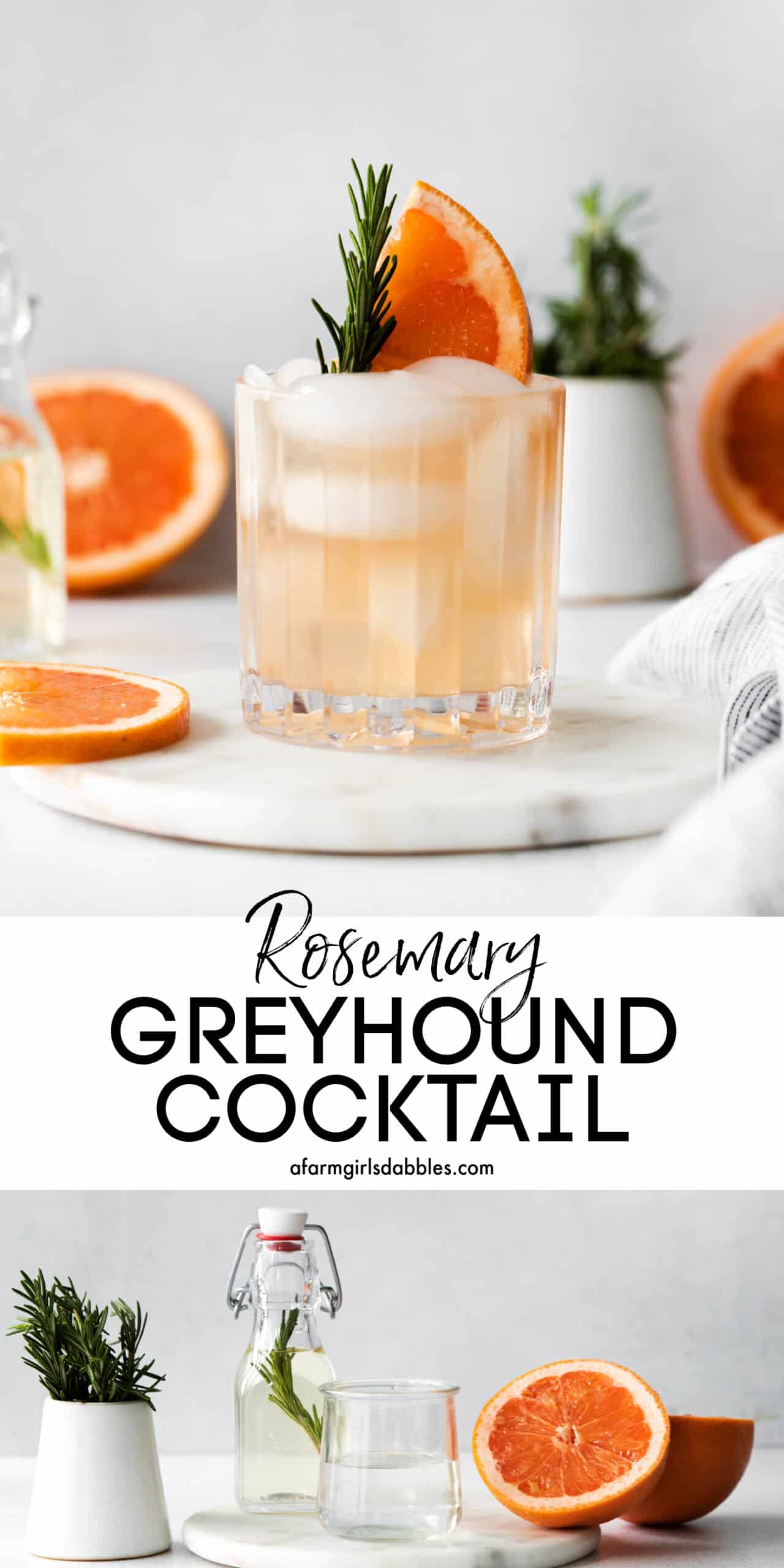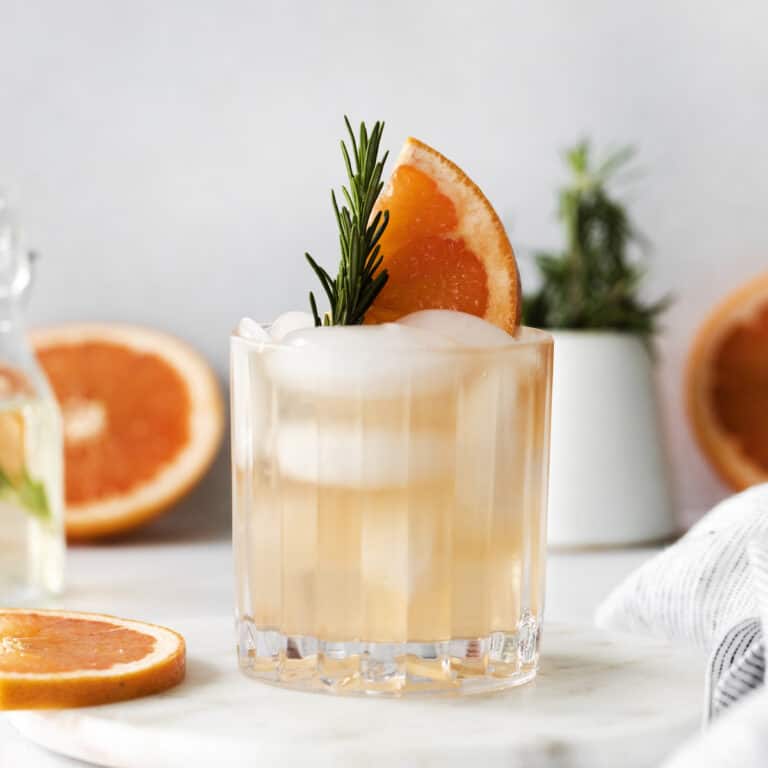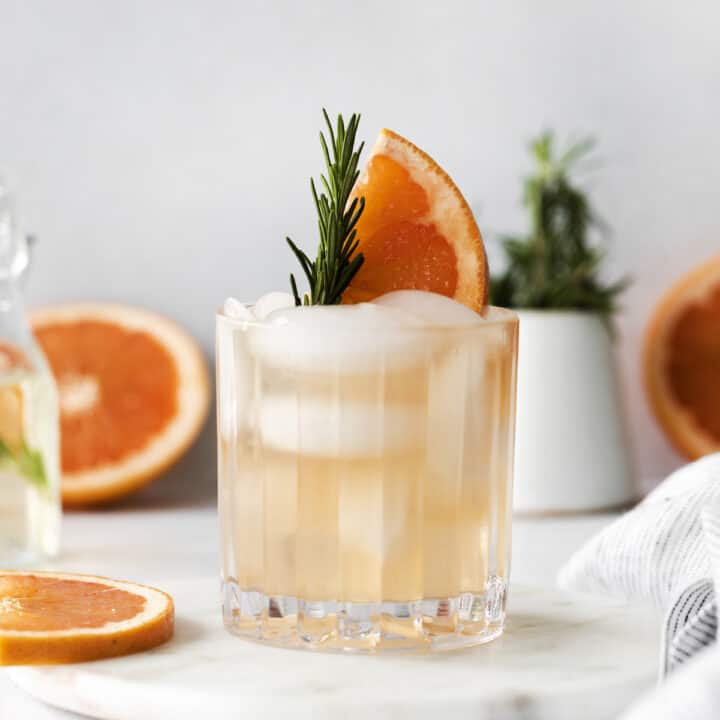 Rosemary Greyhound Cocktail
Yield: 1 cocktail
Prep Time: 10 minutes
Cook Time: 5 minutes
Total Time: 15 minutes
With rosemary-infused simple syrup, fresh grapefruit juice and vodka, this Rosemary Greyhound Cocktail is a bright, tart and refreshing drink that can be made in minutes.
Ingredients
4 ounces freshly squeezed ruby red grapefruit juice
2 ounces good quality vodka
1 ounce rosemary simple syrup (see recipe below)
1 small sprig fresh rosemary, for garnish
1 small slice fresh grapefruit, for garnish
Instructions
In a cocktail glass, combine grapefruit juice, vodka, and rosemary simple syrup. Stir.
Add ice to fill glass and stir again. Garnish with rosemary sprig and fresh grapefruit slice.
Rosemary Simple Syrup
1 c. sugar
1 c. water
1 large sprig fresh rosemary (double for a more pronounced rosemary flavor)
In a small saucepan, combine sugar, water, and rosemary. Cook over medium heat, stirring until sugar dissolves. Let cool to room temperature and then remove the rosemary. Store in a sealed container in the refrigerator for up to 1 month.
Notes
Adapted just a bit from Food Network Kitchen, the cocktail I enjoyed while visiting the HGTV Dream Home in St. Simons, Georgia.
Nutrition Information:
Yield: 8
Serving Size: 1
Amount Per Serving:
Calories: 113
Total Fat: 1g
Saturated Fat: 0g
Trans Fat: 0g
Unsaturated Fat: 0g
Cholesterol: 0mg
Sodium: 2mg
Carbohydrates: 24g
Fiber: 2g
Sugar: 20g
Protein: 0g
Nutrition information is automatically calculated by Nutritionix. I am not a nutritionist and cannot guarantee accuracy. If your health depends on nutrition information, please calculate again with your own favorite calculator.
Want to learn more about my trip to the HGTV Dream Home?!
* This post was sponsored by Scripps Networks, LLC.
My First Rosemary Greyhound Cocktail
Since returning home from St. Simons Island, Georgia, I have eaten an entire bag of ruby red grapefruit almost entirely on my own. Juiced for weekend cocktails, halved for breakfast alongside a slice of buttery toast, and sectioned over fresh green salads, grapefruit are my "it" citrus right now.
I blame Executive Chef Robert Bleifer from the Food Network for my current grapefruit fascination. Robert traveled from NYC to the HGTV Dream Home to entertain our group with his wonderful eats and drinks. When we stepped out onto the gorgeous backyard patio that evening, we were greeted with fresh grapefruit juice cocktails, so pretty in bright orangey-pink. Then we filled our plates with grilled shrimp, crab cake sliders, steak and potato kebabs, and little chocolate cheesecakes. It was an evening I will never forget.
We enjoyed this same Rosemary Greyhound Cocktail recipe that evening in the back yard of the HGTV Dream Home. If you like grapefruit juice, you will adore this beautiful drink.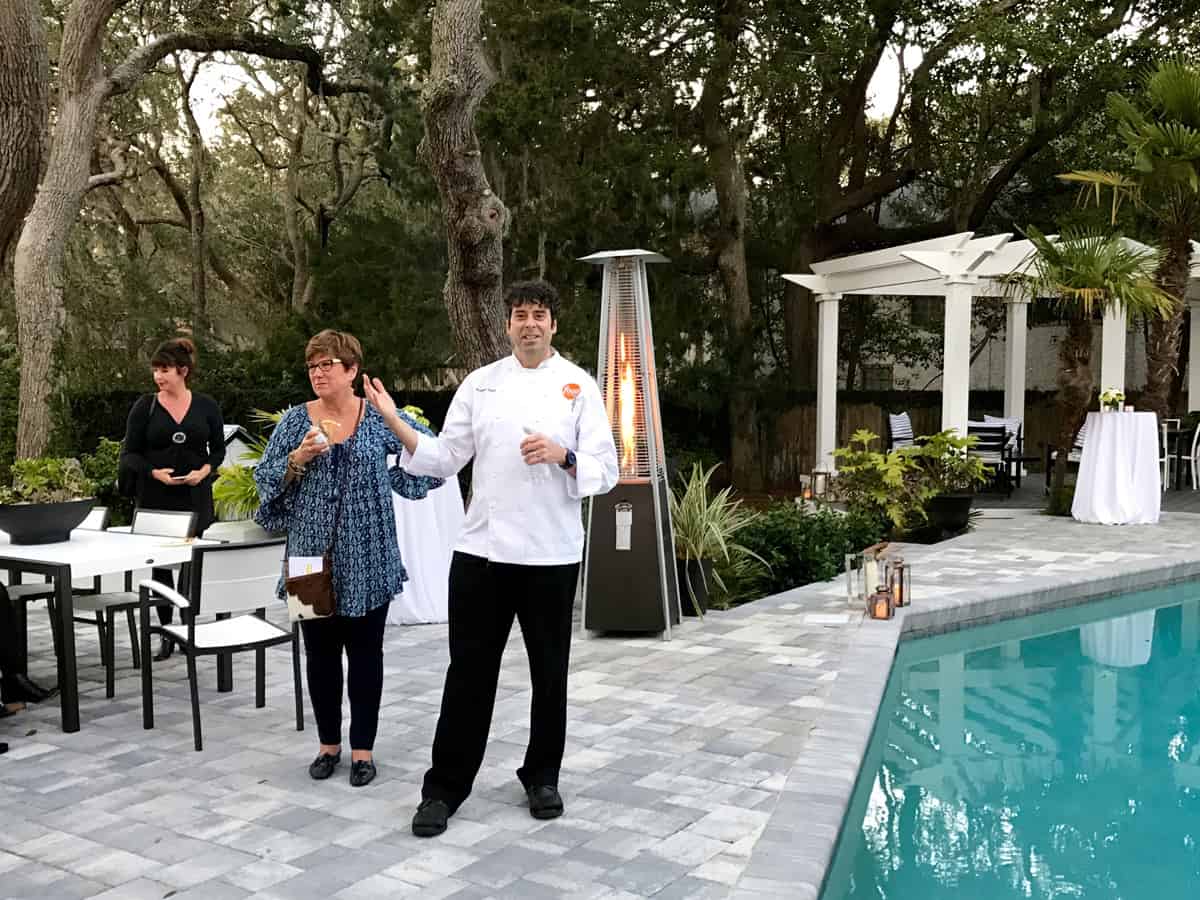 Meet Executive Food Network Chef Robert Bleifer. I said that I blame him for my consumption of a whole bag of grapefruit. But really, I thank him. I had forgotten how much I enjoy a good grapefruit!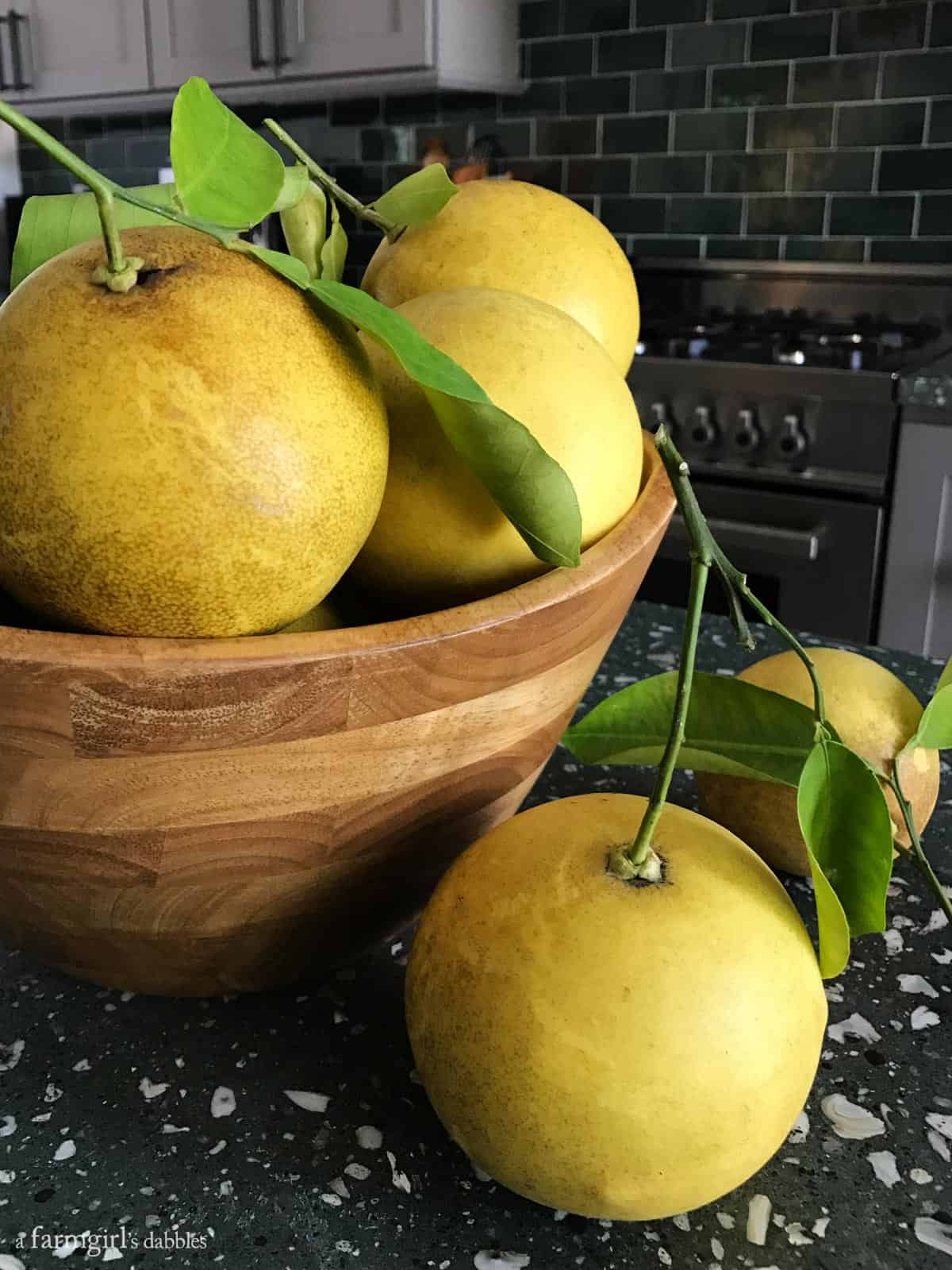 .
And then meet the grapefruit that made those rosemary greyhound cocktail glasses shine. The juice in those drinks came from grapefruit picked right from the property of the HGTV Dream Home. As did the rosemary. Isn't that even more lovely to know?!

.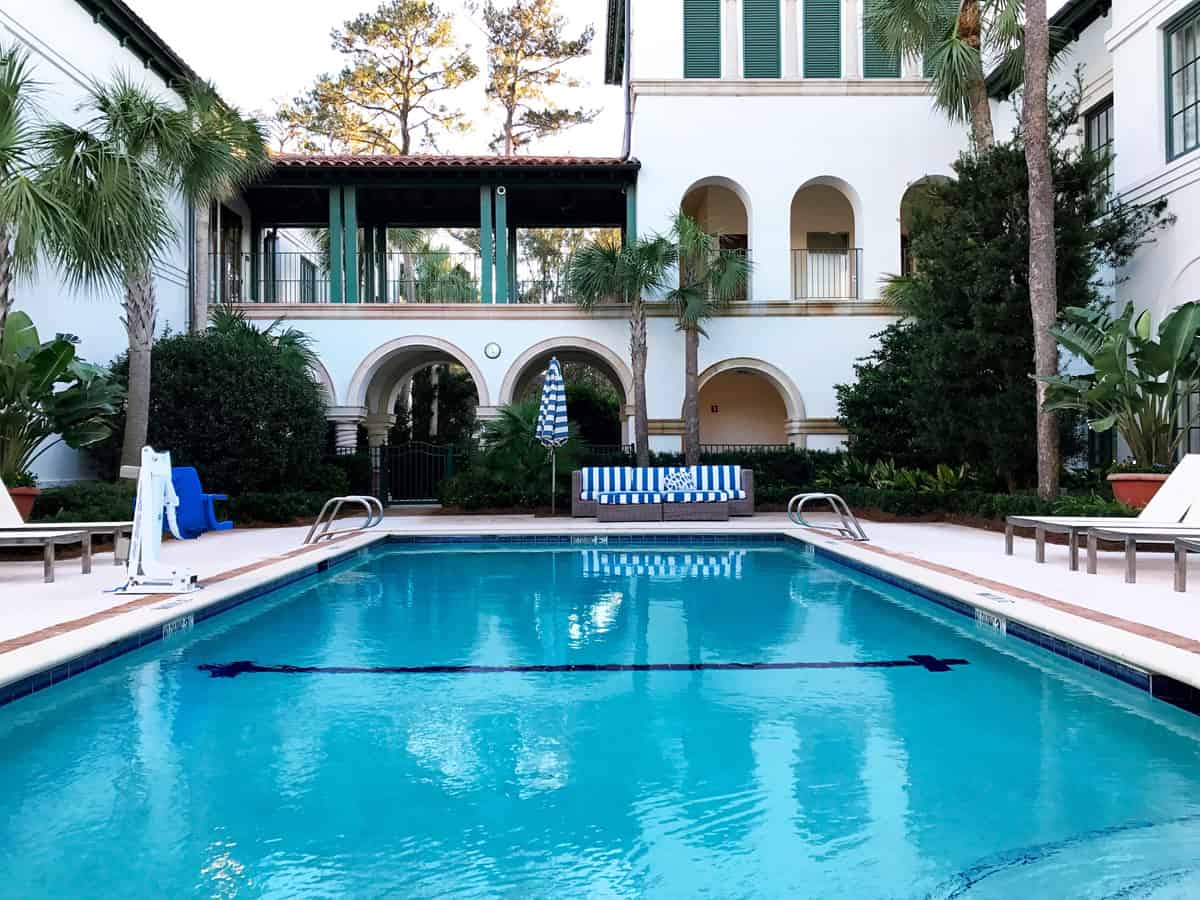 St. Simons Island Highlights
Now that you've seen the HGTV Dream Home, I wanted to share a few highlights about its location on St. Simons Island, Georgia. Located about halfway between Savannah, Georgia and Jacksonville, Florida, this quaint coastal community is steeped in history, rich in golf, and full of Southern charm. Travel + Leisure even ranked St. Simons Island as America's No. 1 Favorite Beach Town in 2014.
Our group stayed at the very lovely Inn at Sea Island (above), which offers more casual accommodations within the internationally acclaimed Sea Island properties (including four Forbes Five-Star experiences).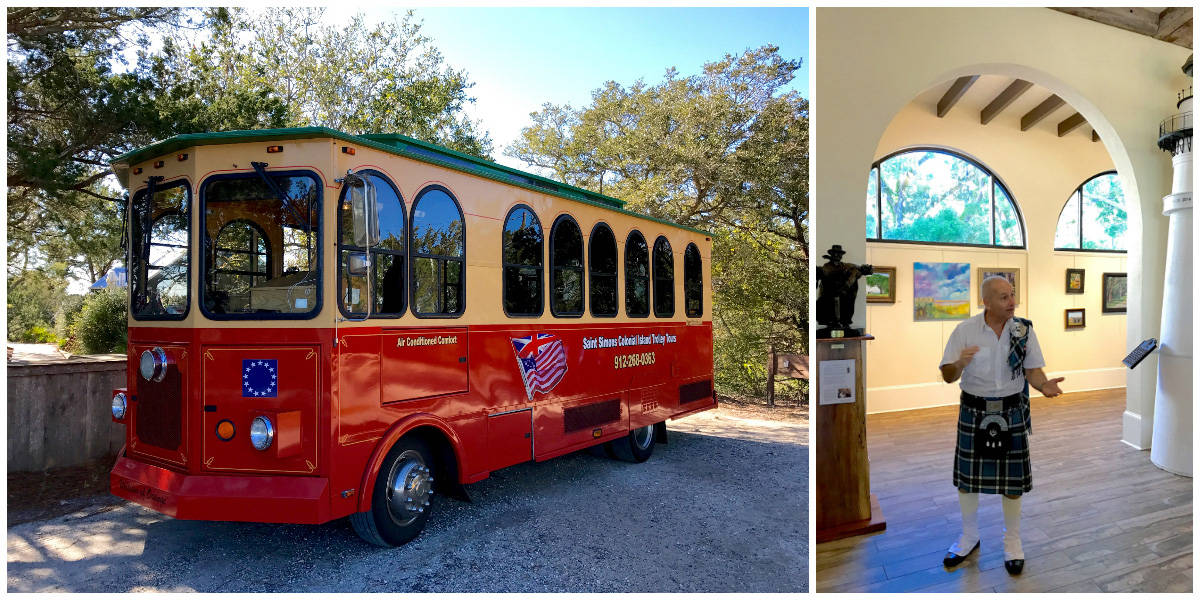 Transportation around the island every day was provided by Captain Rod and the Saint Simons Colonial Island Trolley Tours. If you visit the island, I highly recommend looking up Captain Rod. I'm convinced that he's the authority on St. Simons Island history and current culture. He's incredibly passionate about sharing what he knows, and he does it all with a super spunky skip in his step.
Another place that can help you out is the Golden Isles Convention and Visitors Bureau. We stopped in there before starting our tour of the island. You'll find a small museum and gift shop, plus super lovely folks who can tell you anything you need to know about St. Simons Island.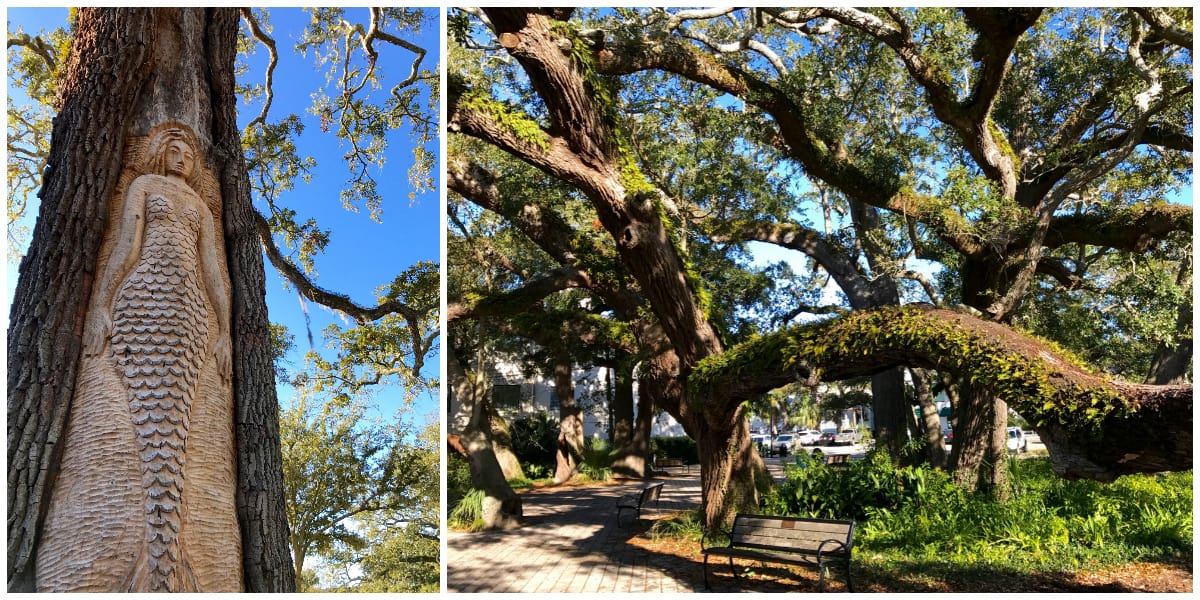 We were introduced to one of the tree spirits of St. Simons Island. There are about 20 unique tree carvings located on the island, immortalizing the countless sailors (and mermaids?) who lost their lives at sea aboard the mighty sailing ships that were once made from St. Simons Island oak.
I learned that live oak timbers were milled here, way back in 1794, and used in building "Old Ironsides", the U.S.S. Constitution. And in 1874, timbers were cut here for the Brooklyn Bridge. The island's umbrella of giant live oaks is definitely impressive, and very much a part of their rich history.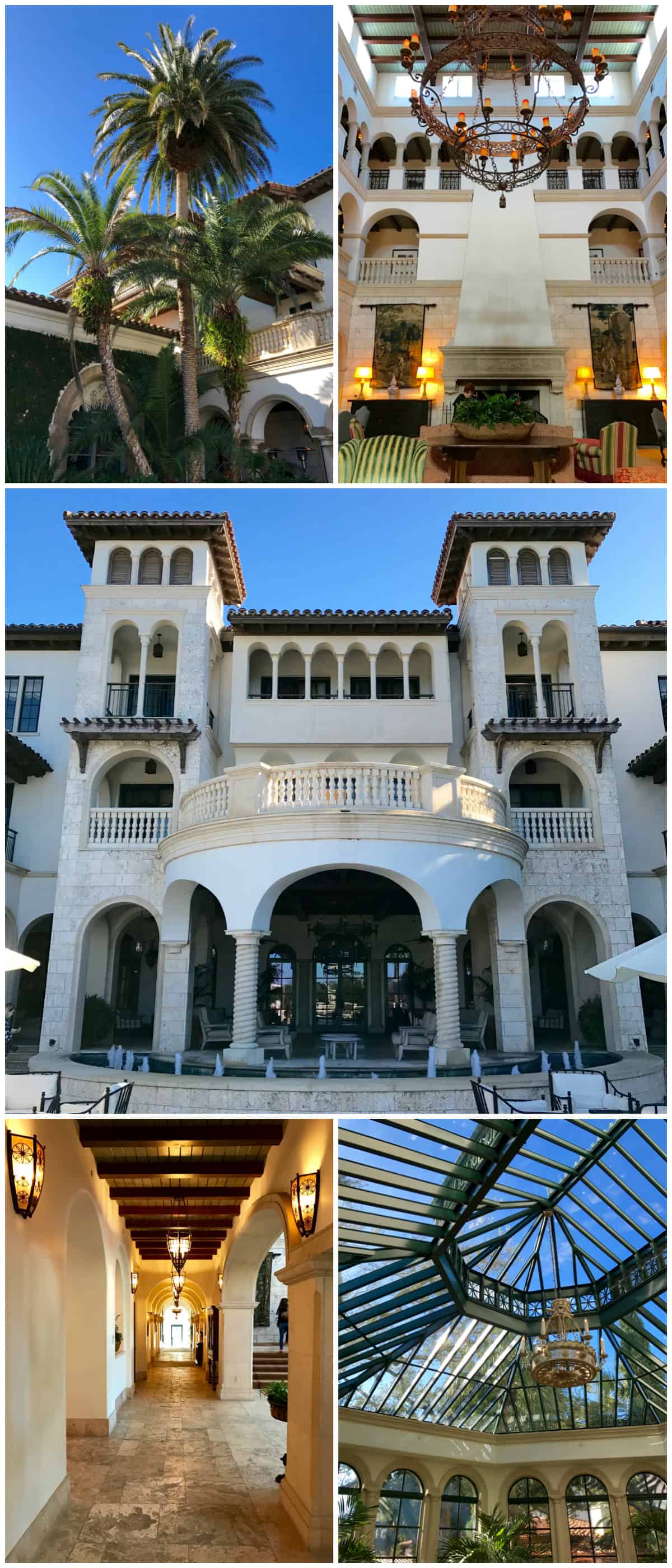 These images are from our visit to the prestigious and incredibly elegant Sea Island property, The Cloister.
We also visited The Lodge property our first evening, where we walked down an exposed-brick staircase to their candle-lit wine cellar. This very intimate space, where we were treated to a private meal perfectly paired with wines from their extensive collection, was a wonderful way to kick off our time together on the island.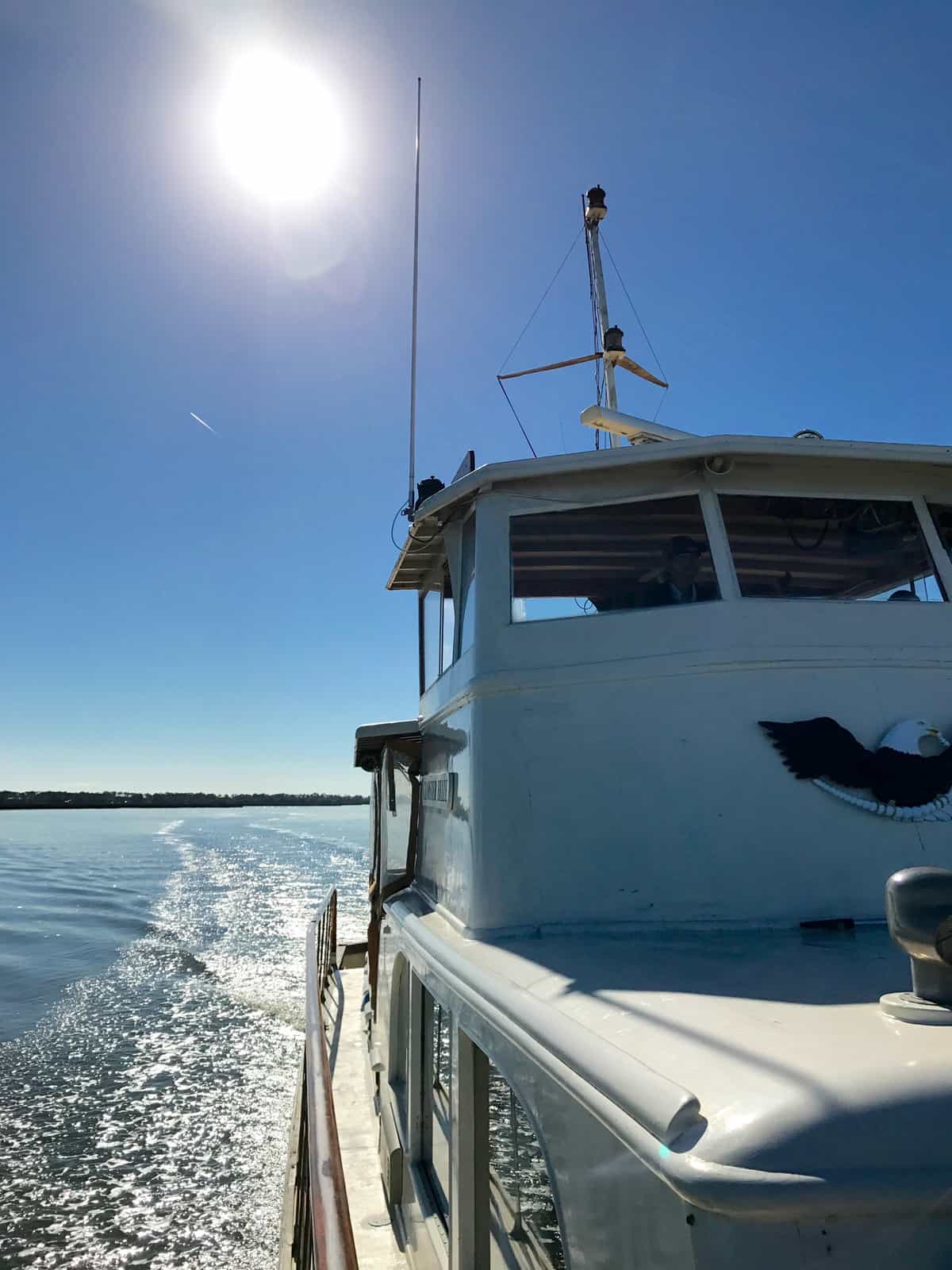 I always LOVE when I can get out on the water. So I especially enjoyed our time aboard the Cloister Belle, The Cloister's vintage yacht. With the warm sun overhead, we enjoyed a leisurely ride through the beautiful tidal marshes.
.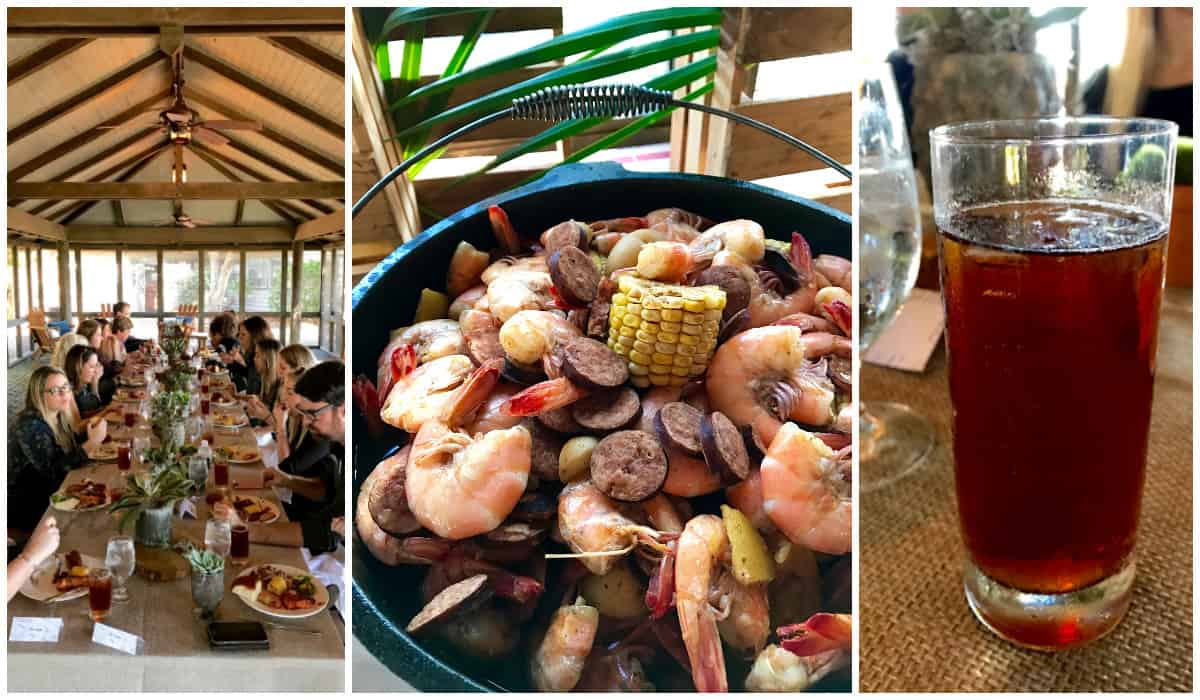 Then we dined alongside the marshes at a low country boil, a traditional Southern meal of seasoned shrimp, sausage, potatoes, and corn on the cob. And, of course, endless glasses of sweet, sweet tea.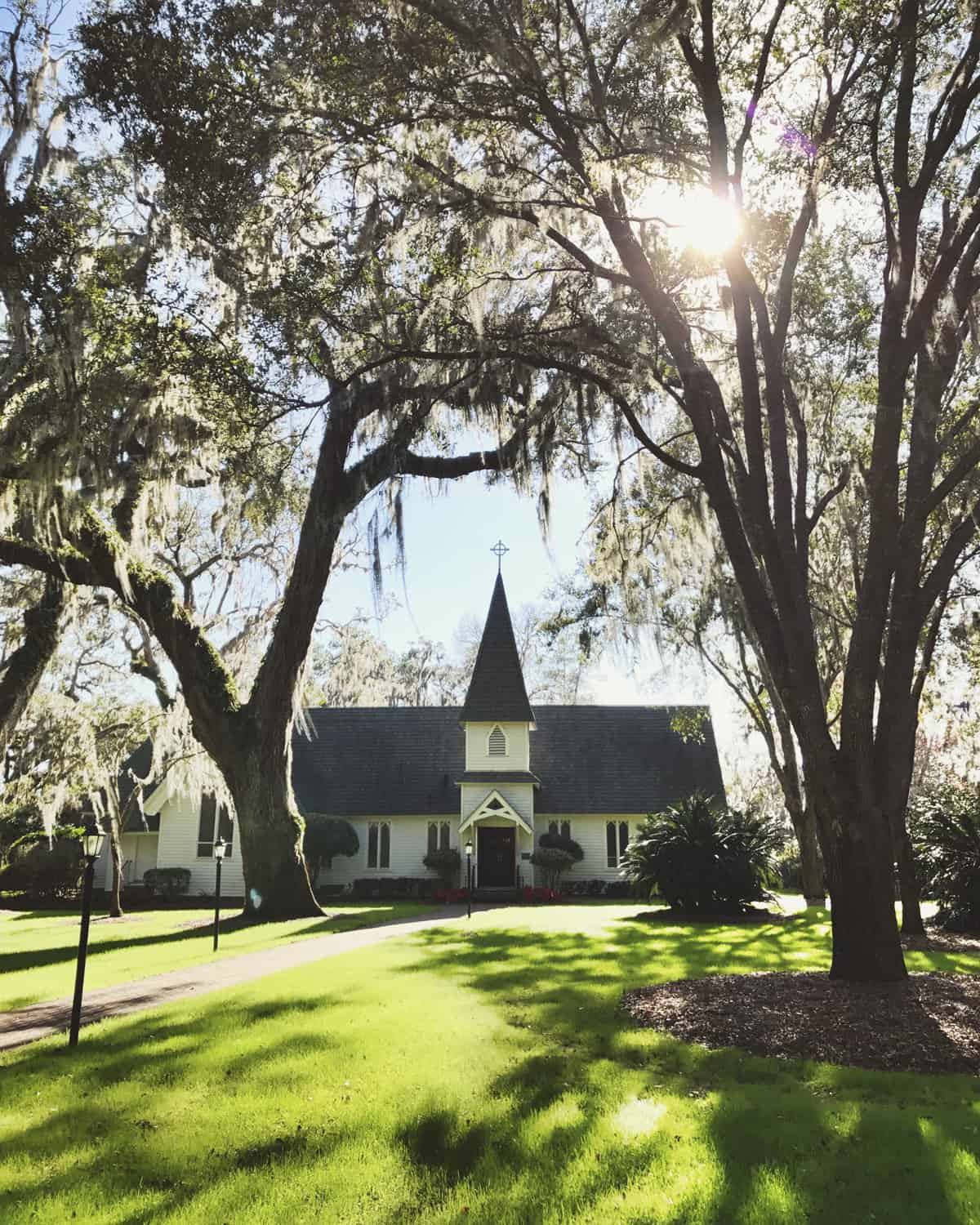 This is one of my very favorite moments from my visit to St. Simons Island. Standing in dappled sunshine, gazing at Christ Church, huge live oak overhead hanging in silvery moss.
This is the site where John and Charles Wesley preached before returning to England to help found the Methodist Church and the Episcopal Church. The first church structure was built in 1820 but was partially destroyed by Union troops during the Civil War. This present structure was built in 1884 and remains home to an active Episcopal congregation on the island. The grounds are a lovely walk, with a hauntingly beautiful cemetery of graves of early settlers and many famous Georgians.
So that's a little recap of my time on St. Simons Island with the HGTV Dream Home crew. If you've ever thought about visiting this area of the country, I would definitely recommend it!
.
.
---

---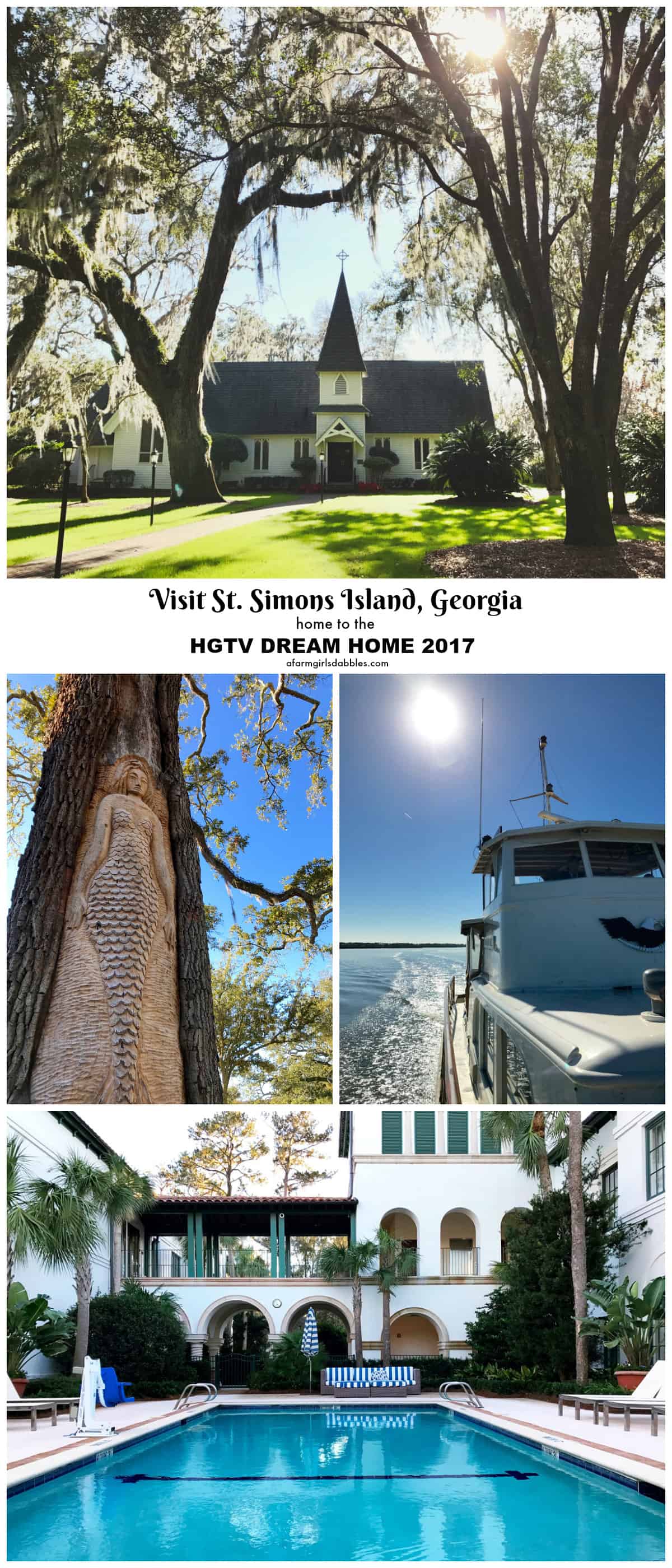 .
.
For more travel from a farmgirl's dabbles, be sure to follow along on Pinterest! Follow a farmgirl's dabbles TRAVEL on Pinterest.
.
I first published this post in 2017 and then updated it in 2021.

This post is sponsored by Scripps Networks, LLC. Travel and accommodations to visit the HGTV Dream Home were paid for by Scripps Networks, LLC. All text and opinions are 100% my own.