Holiday Charcuterie Board
How to make a perfect Charcuterie Board for the Holidays! I share our family's favorite sweet and savory nibbles, a festive meat & cheese board that's perfect for a fun Friendsgiving gathering, Christmas appetizer, or New Year's Eve celebration!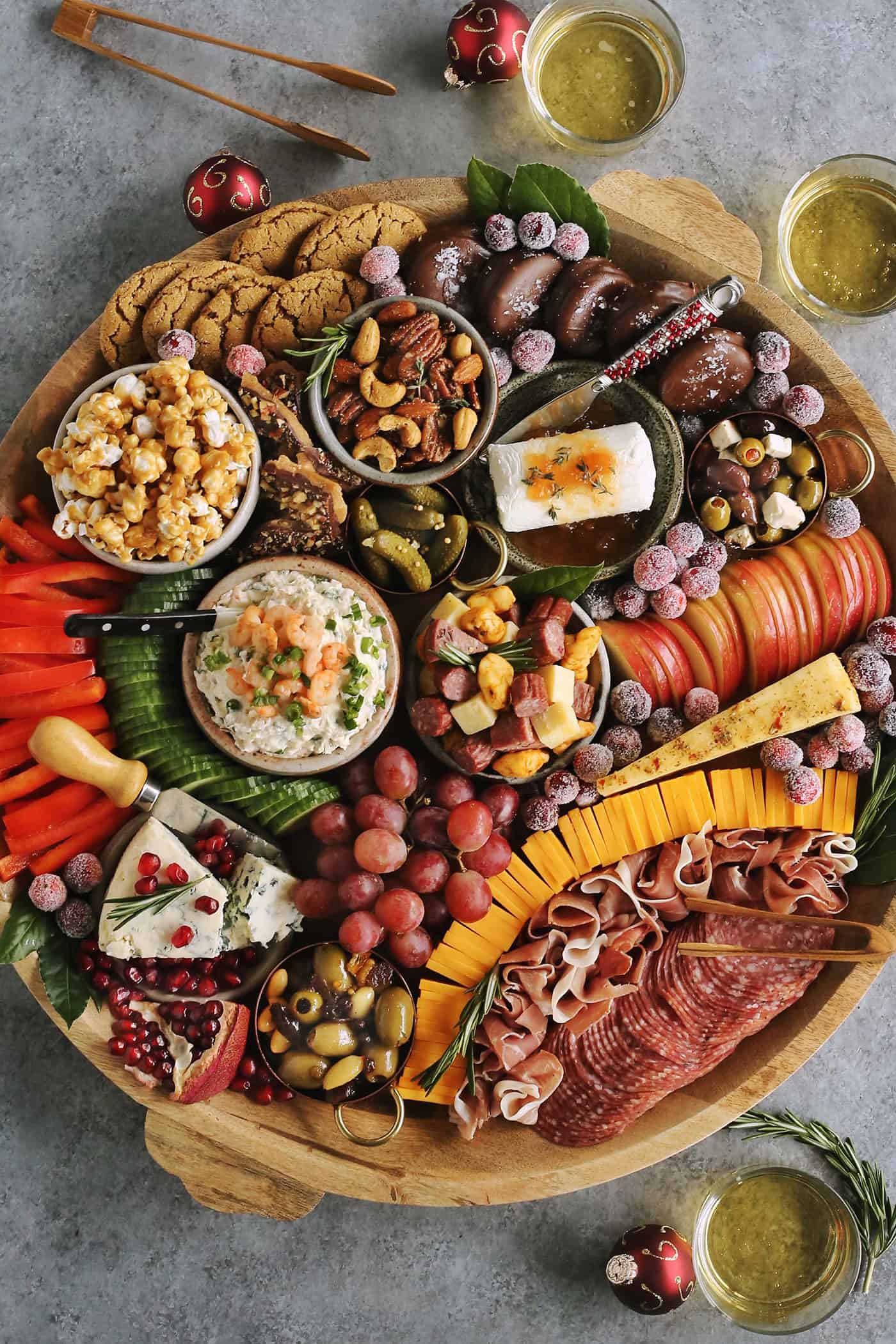 A Fun & Festive Holiday Charcuterie Board
Every single week, I hear the same request from our youngest daughter, "Mom, can we make a charcuterie board?" It's become such a regular thing for us to create these meat and cheese boards (although weeknight boards are never as big or fancy as this holiday one!), that I'm always sure to keep our fridge and pantry stocked with our favorite bites.
I created this Holiday Charcuterie Board last year for the first time. It went over in such a big way with our family that I knew I wanted to make it again. We just served this festive board for Friendsgiving, and it's a great option for Christmas parties and New Year's Eve festivities as well!
In this post I share a few tips on how to make a perfect charcuterie board, plus where to find some of our favorite meats, cheeses, and other random nibbles. And of course, there's some sweet treats involved on my board – I give you all the deets for those recipes as well!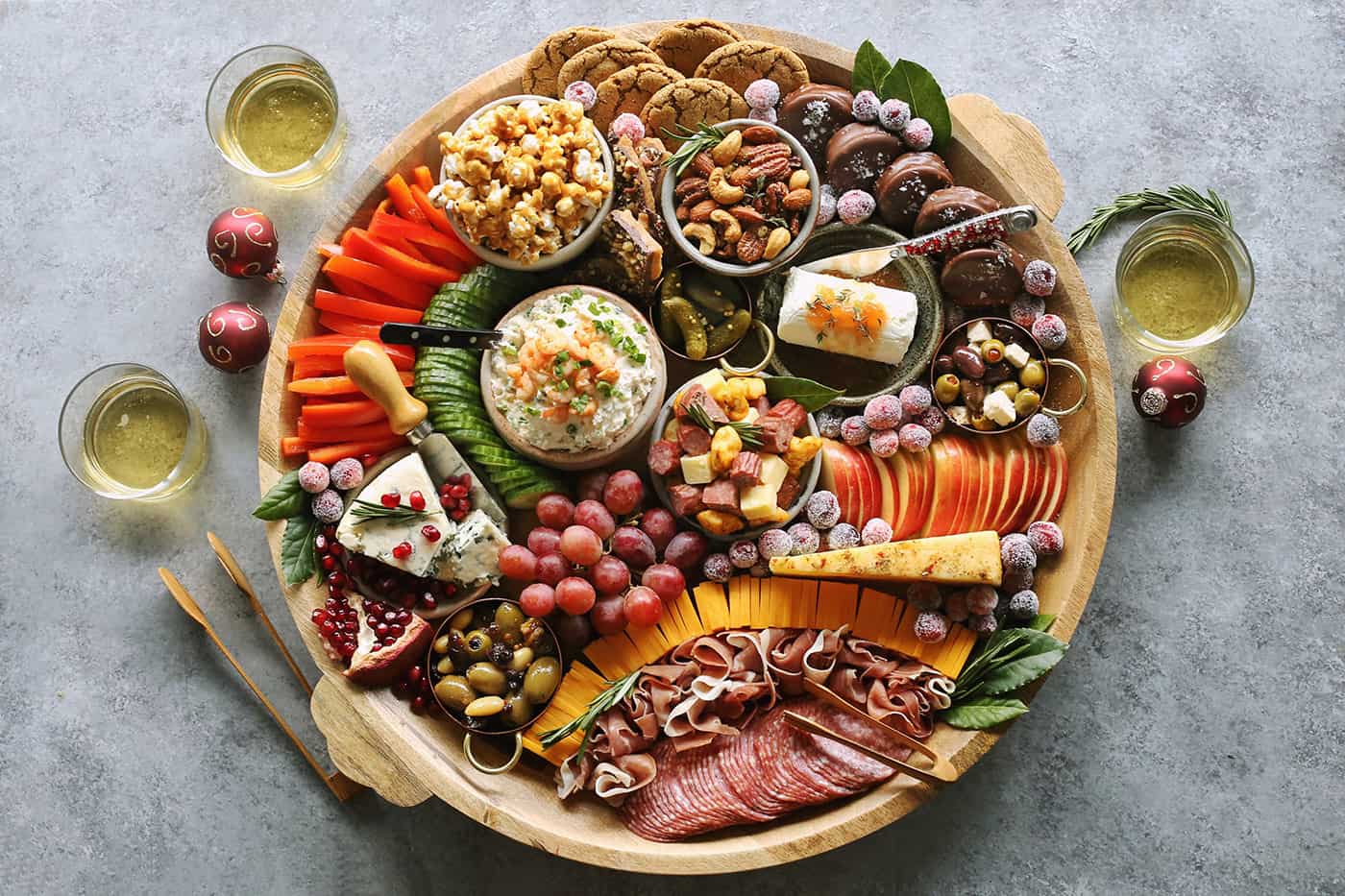 What is Charcuterie
Charcuterie (pronounced 'shar-koo-tuh–ree") is simply the culinary art of preparing various meat products like sausage, bacon, salami, and ham. Basically, what a butcher shop does. These cured meats are all very commonplace for us now, but this French tradition came about hundreds of years ago as a way to preserve meat due to a lack of refrigeration. A necessity that turned into beautiful, delicious eats for others to enjoy for years to come!
Today, when we say "charcuterie," we are most often referring to a charcuterie board or charcuterie plate. And this always involves more than just prepared meat products. In this way, charcuterie refers to the the artful assembling of cured meats, cheeses, fruits, vegetables, and nuts – along with crackers, chips, and breads.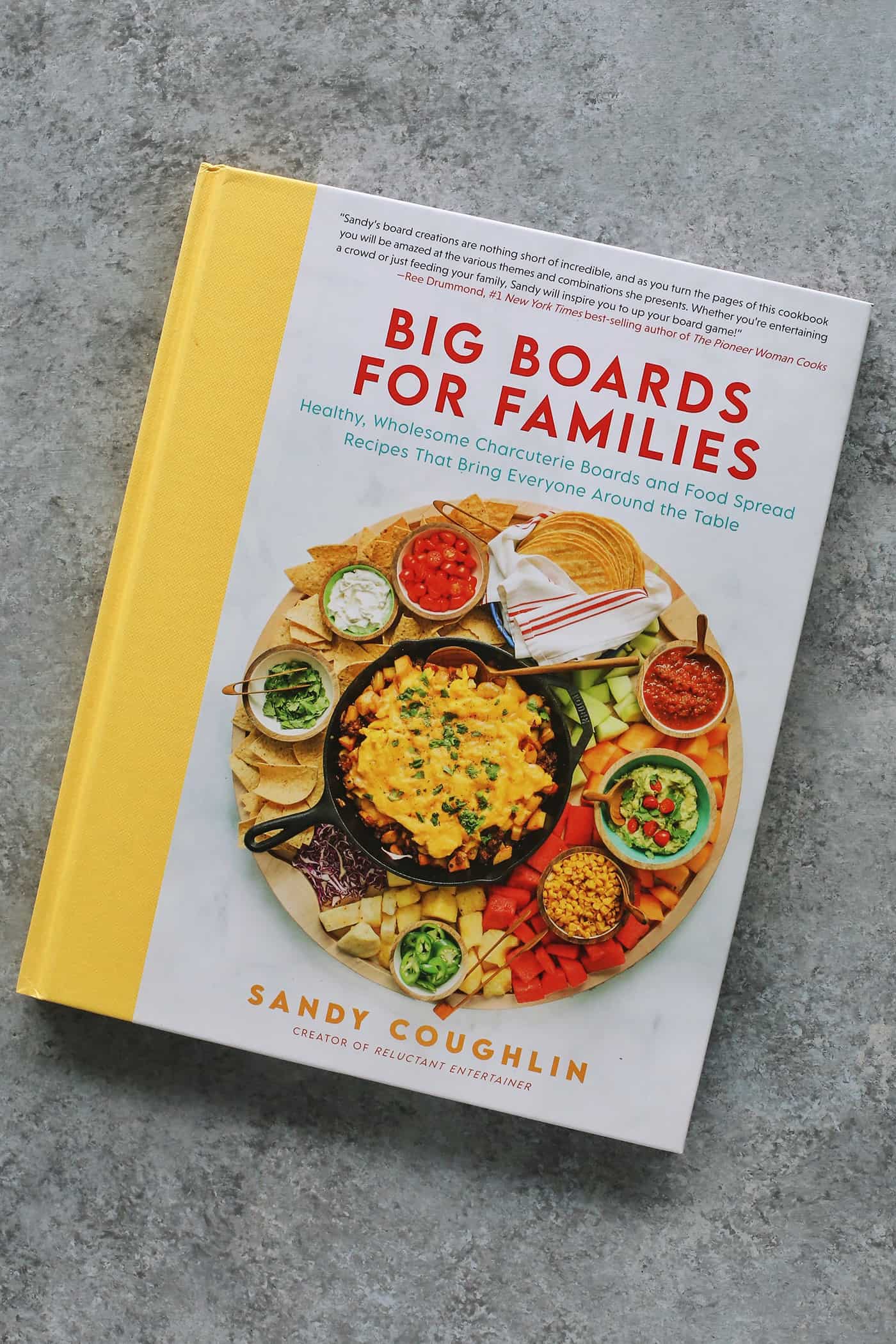 More Charcuterie Ideas: Big Boards For Families
My friend Sandy, from Reluctant Entertainer, has all kinds of fun ideas for charcuterie boards in her new book Big Boards for Families (affiliate link). The Big Board concept actually began back in 2017, when I was invited to Sandy's home in Bend, Oregon for a few days. It was fun to see a new part of the country and awesome to spend some time with fellow food blogging friends – Lori, Gina, Heidi, Maria, Cathy, Cheryl, Mary, Erin, Amanda, and Kristen. Sandy had shared a GIANT charcuterie board that first night, people went crazzzzzy for it, and the rest is history!
Sandy's warm and easy-going hospitality shines in this book, alongside big beautiful photography by her daughter Abby. With creative ideas for breakfast, lunch, dinner, and dessert boards, this fabulous mother-daughter duo will inspire you to gather around your own Big Board with family and friends. I definitely have my eyes on the Weeknight Ramen Board!!
Where to Buy a Charcuterie Board
Charcuterie boards are usually presented on some kind of wood board, although nowadays anything goes. They can be small to gigantic in size, for any kind of meal, from date nights to girlfriend lunches to Super Bowl parties. As long as they're made from a food-safe material, the sky's the limit. Think pottery, ceramic, marble, and slate. Heck, you could even use a rimmed baking sheet if you'd like!
The big round board I used for this Holiday Charcuterie Board is nearly 24″ wide. It's made of mango wood, is food safe, has raised sides to keep the food from slipping off, and has handles for easy carrying. It's from Target, a piece from their Hearth & Hands collection by Chip and Joanna Gaines. Here's the board, if you're interested.
You can also buy The Big Board from Sandy! She has several styles to choose from, in different shapes, sizes, and finishes – they're beautiful!
And don't forget, you'll also want some serving utensils and small bowls for your board. My large board includes 9 small bowls and plates, which are necessary for things like olives, dips, and nuts.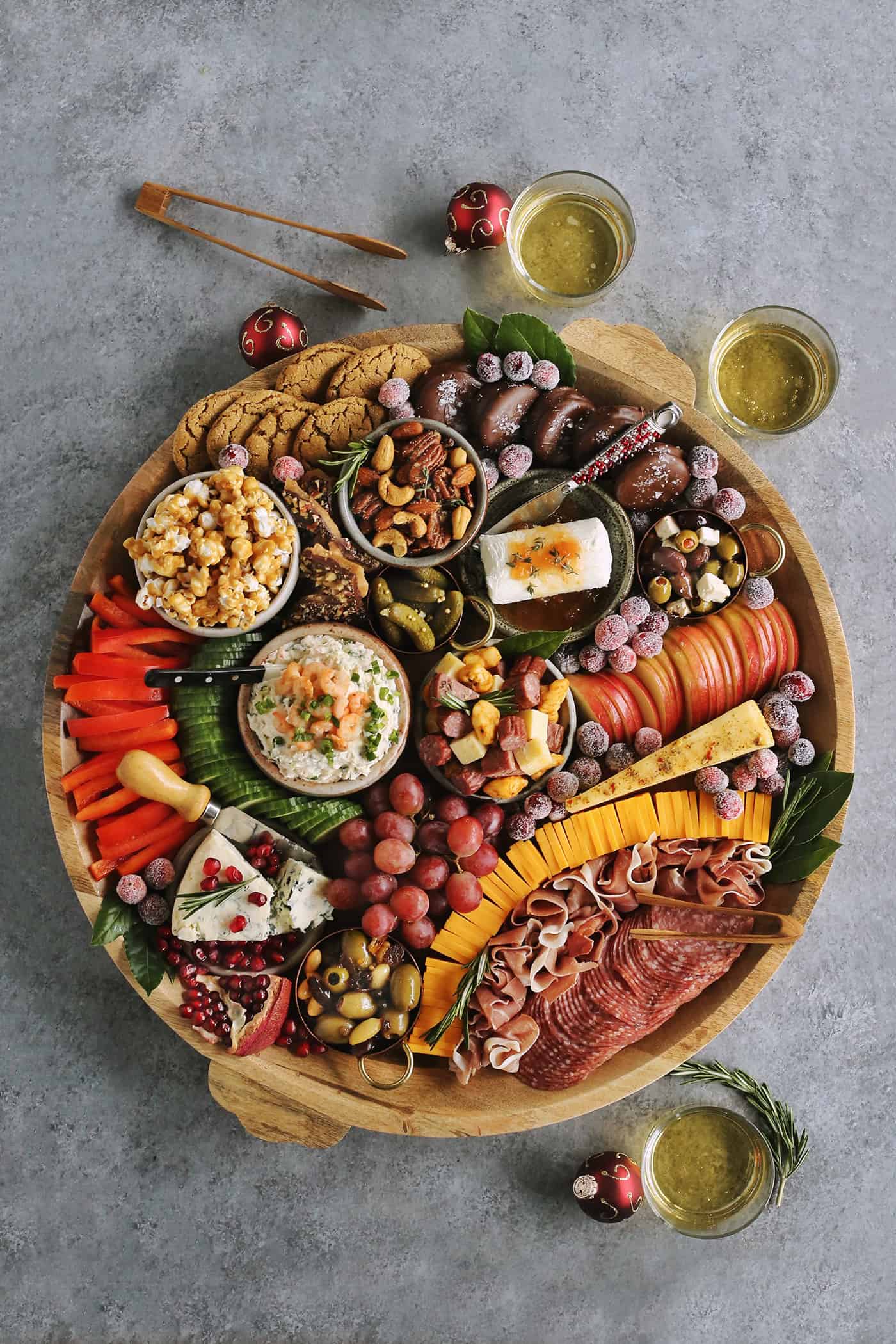 How to Make a Charcuterie Board
The really awesome thing about charcuterie boards is that the possibilities are endless. But the first things I always ask myself are "Who will be eating it?" and "What do they like?" Because a cheese board for our daughter and her friends would look much different than one I'd create for an evening with my own girlfriends!
And then remember that plenty of variety makes a truly great board. Think sweet and savory. Crunchy, chewy, and creamy. Fatty and fresh. And pickled and brined – these flavors always contrast and compliment a beautiful selection of meats and cheeses!
Here's a general list of what to include: (I'll share some specific items from this holiday charcuterie board later in the post!)
Cured meats – Common favorites are salami and prosciutto. Also think about pepperoni, jerky, summer sausage, and summer sausage sticks. Fold and layer them onto your board.
Cheeses – Choose both hard and soft cheeses with varying milk type and color. Some suggestions might include sharp cheddar, mozzarella, smoked Gouda, a goat cheese log, brie, and hot pepper. When entertaining, I also like to include blue cheese. Pre-slice the harder cheeses and offer cheese knives/utensils for the rest.
Condiments & spreads – Honey, mustards, and jams are always welcome. Place them in small jars, bowls, or ramekins. Or layer some over a cheese for a ready-made pairing. For example, honey drizzled over brie. Or jam spooned over goat cheese.
Fruits – Include both fresh and dried, for different flavors and textures. I nearly always include fresh grapes and thinly sliced fresh apple, as they pair well with so many cheeses. Be sure to think seasonally, too. Winter boards love winter fruits, such as pears and pomegranates and sugared cranberries, while summer boards get all the beautiful summer berries and peaches. Dried fruits add chewy texture with intensified flavor – we especially like to include dried blueberries and apricots.
Vegetables – Fresh cucumber and bell pepper are favorites here. Carrots and small tomatoes are also great. And don't be afraid to offer cooked veggies. My family loves when I give fresh asparagus a quick sear in a hot oiled skillet, with a simple sprinkle of coarse salt & pepper – it works great on a cheese board!
Dips – When I'm making a bigger board and looking for more variety, I like to also include a dip. My mom's shrimp dip is a Christmas tradition, so it feels only natural that I include it on this holiday charcuterie board. Other options include spinach artichoke dip, hummus, or your favorite ranch dip.
Nuts – Crunchy, salty nuts are a must! Cashews, almonds, pistachios, pecans, walnuts…whatever you like!
Pickled & brined items – I love pickled things so much! My pickled red onions are fabulous with meats and cheeses, as well as pickled mustard seeds, pickled asparagus, and pickled squash. Also think about your own favorite pickles (homemade or store-bought) and olives.
Sweets – I always include at least one sweet treat, whether it be a fancy chocolate bar or a homemade baked item. Again, think seasonally when you can – like I did with this holiday board where I included homemade caramel corn, ginger molasses cookies, and super fun chocolate peanut butter Ritz cookies! Another idea is puppy chow – always a hit with young and old alike!
Finishing Touches – Fill in spaces and add some fresh green color with herbs. With this holiday charcuterie board, I tucked in fresh rosemary and bay leaves. Thyme also works great. On summer boards I like to include some fresh mint with the berries and peaches.
Crackers, chips & breads – For small boards, I usually offer at least two varieties of crackers. When entertaining a larger group, I may offer four to six items. We have a few gluten-free friends, and always include GF options as well. You could also include your favorite chips, breads, breadsticks, or toasts!
What We Include On Our Holiday Board
I promised to share some of our family's favorite charcuterie board items. So here goes!
Slices of sharp cheddar are non-negotiable for our family. I always keep some on hand, although I'm not too picky about where it comes from.
Then for some meats. Salty prosciutto and salami are our favorites. Most often, I grab them at Trader Joe's or ALDI.
I love this "meat & cheese trail mix"! It's a combination of cut summer sausage sticks and cranberry summer sausage from Hagberg's (our local meat market/butcher shop), with cajun cheese curds and cubes of Kerrygold Skellig. Kerrygold's sweet cheddar is a longtime family favorite, a rich and tangy cheese that's a little bit crumbly. I buy the cheese curds from ALDI, Target, or Cub and get the Kerrygold from Target or Cub.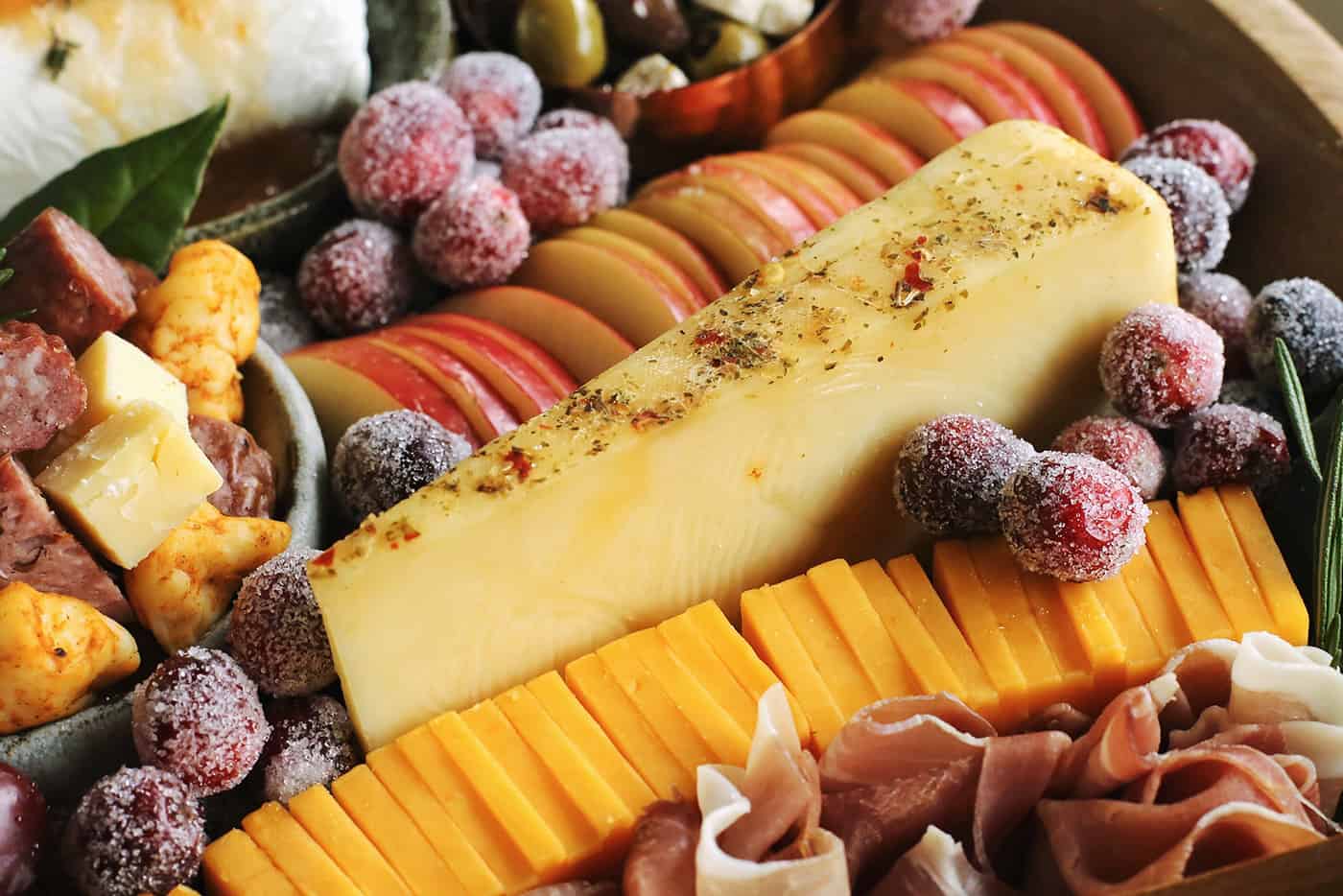 A new-to-us favorite cheese is this wedge of pizza cheese from ALDI. Its label reads "Pizza Inspired Fontina".
And notice all those sugared cranberries? They're easy to make and add such pretty holiday sparkle. I love their pops of tart flavor!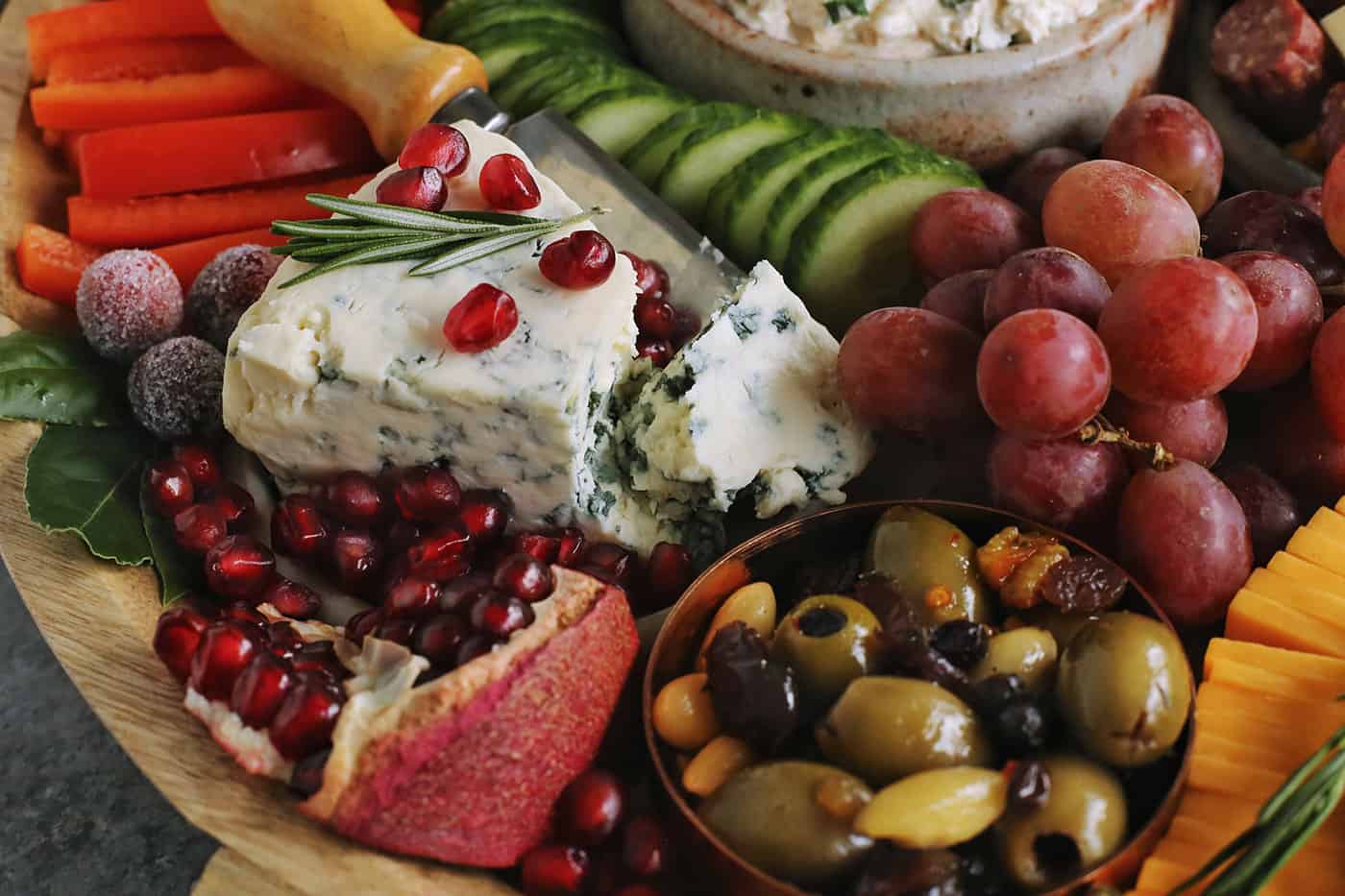 Our girls are not blue cheese fans, so I rarely include it on our family charcuterie boards. However I love the opportunity to snuggle a wedge in when we invite friends over. One of my favorites is made right here in Minnesota, AmaBlu by Caves of Faribault. It's creamy and delicious, for a nice price.
Our girls are, however, huge fans of pomegranate. I love this time of year, when these ruby red beauties are available for holiday entertaining. Their sweet/tart pops are irresistible, and absolutely perfect on a charcuterie board!
And those olives in the front? They're my new favorite, an "olive and fruit mix" from the olive bar at Whole Foods. Olives and almonds are marinated in a sweet white wine vinegar brine with currants, cranberries, raisins, orange and lemon rind, and a touch of hot pepper flakes. I can eat these olives like salad!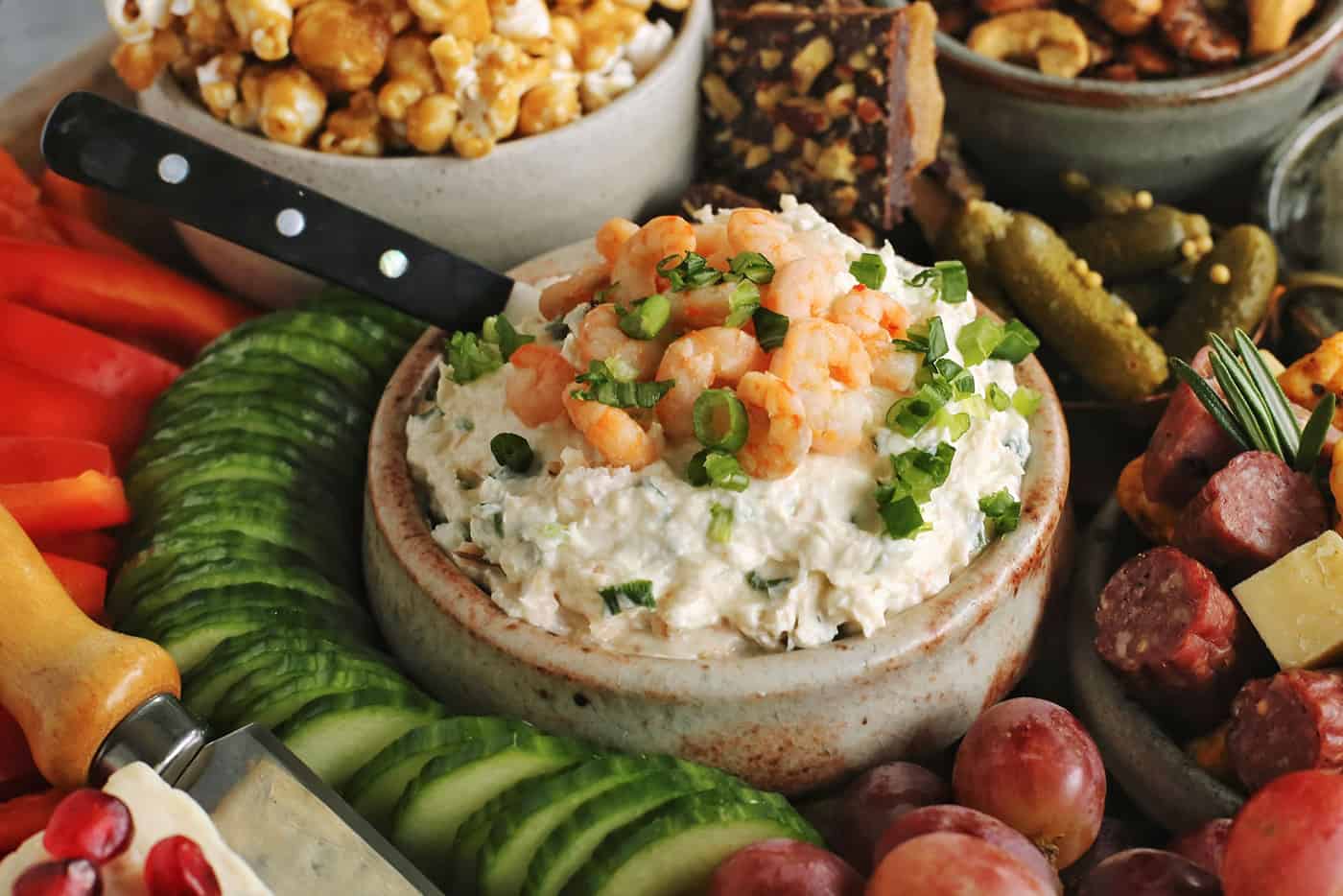 And my #1 dip for the holidays, my mom's shrimp dip! I like to eat it with buttery, flaky Club Crackers like I've done since I was a kid, and also offer fresh cucumber and red pepper for dipping.
And those little pickles in the upper right are ones that my sister Cheryl recommended to me a few years ago. They're from Trader Joe's, a jar labeled "Cornichons", and these babies pack a pickly punch!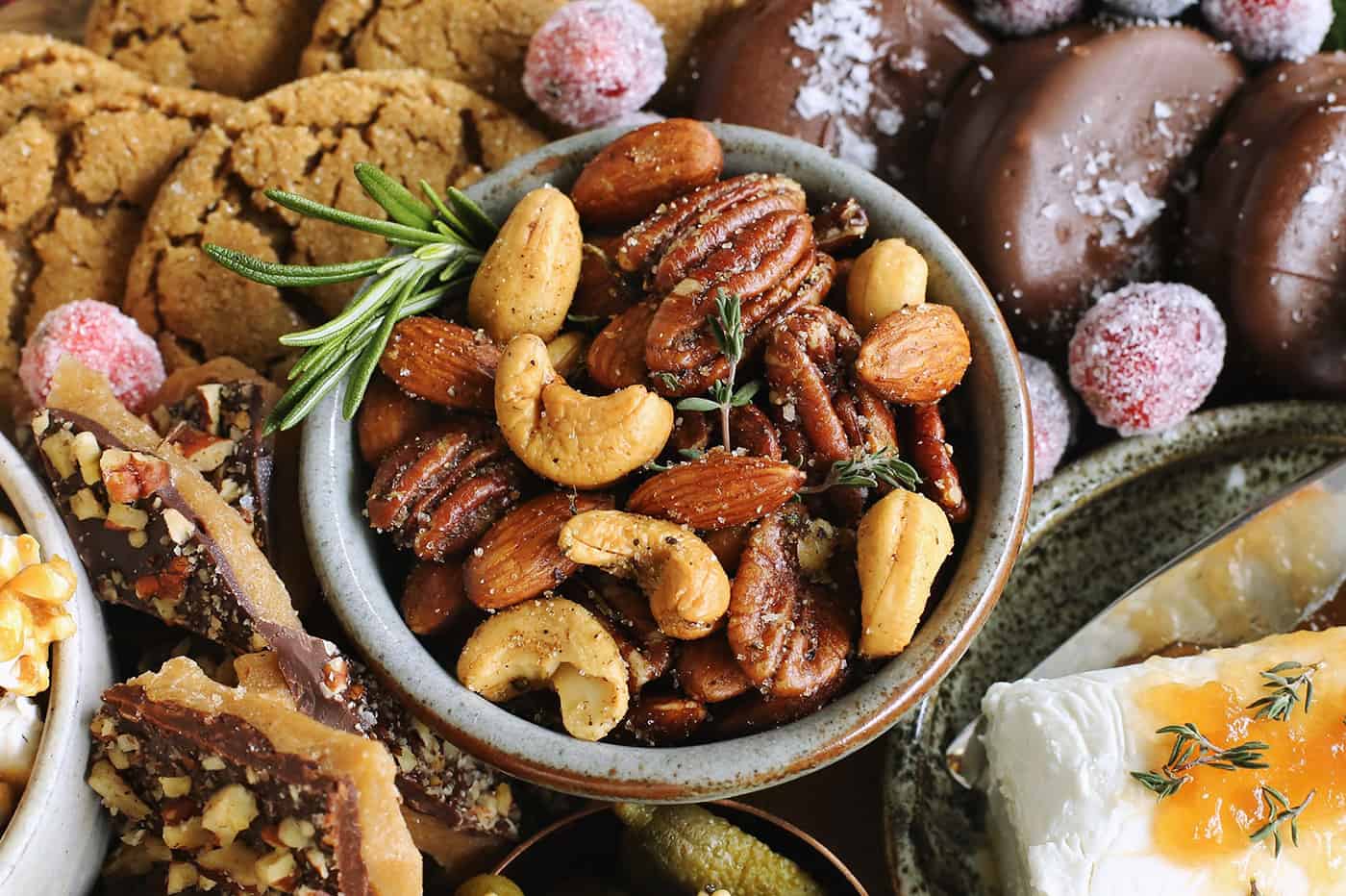 My rosemary thyme spiced nuts are a holiday staple around here as well. I often make a huge batch and gift small jars to family and friends. Everybody loves these nuts!
Our boards nearly always include a log of goat cheese (bottom right), as our family is a huge fan of it. We like to spoon some jam over the top or drizzle it with honey. I buy goat cheese logs from ALDI and Trader Joe's.
There are a few sweets clustered around the nuts, too. I've been eating my mom's toffee forever (lower left). My chewy ginger molasses cookies are insanely good. And if you're a chocolate and PB fan, then you just HAVE to try my chocolate peanut butter Ritz cookies – one of my top favorite Christmas cookies from my childhood!!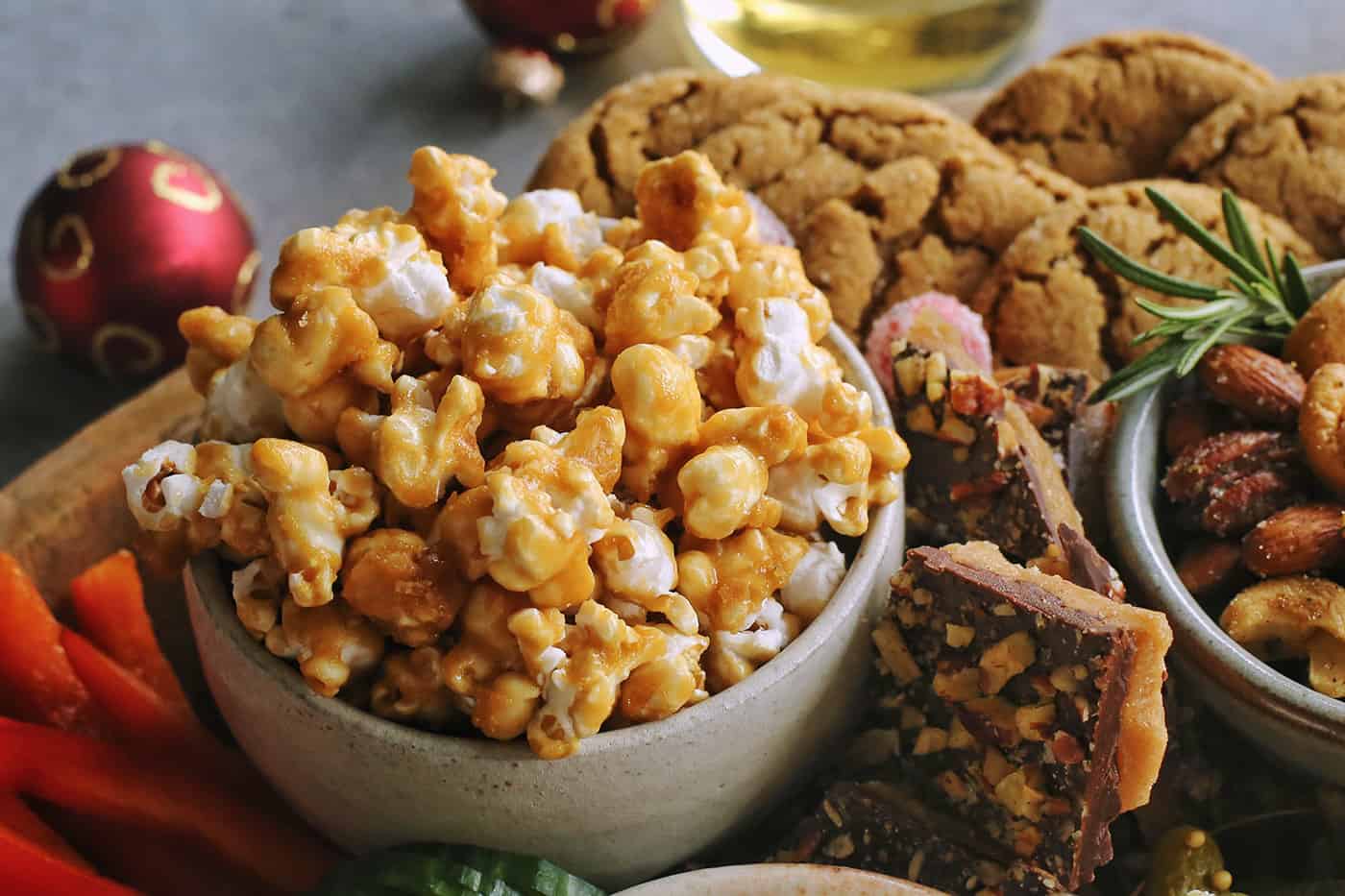 Another favorite treat I like to make at Christmastime is caramel corn. My dear friend Ann shared this recipe with me many years ago. It was her Christmas tradition to bring it into the office where we worked together. It's THE BEST caramel corn!!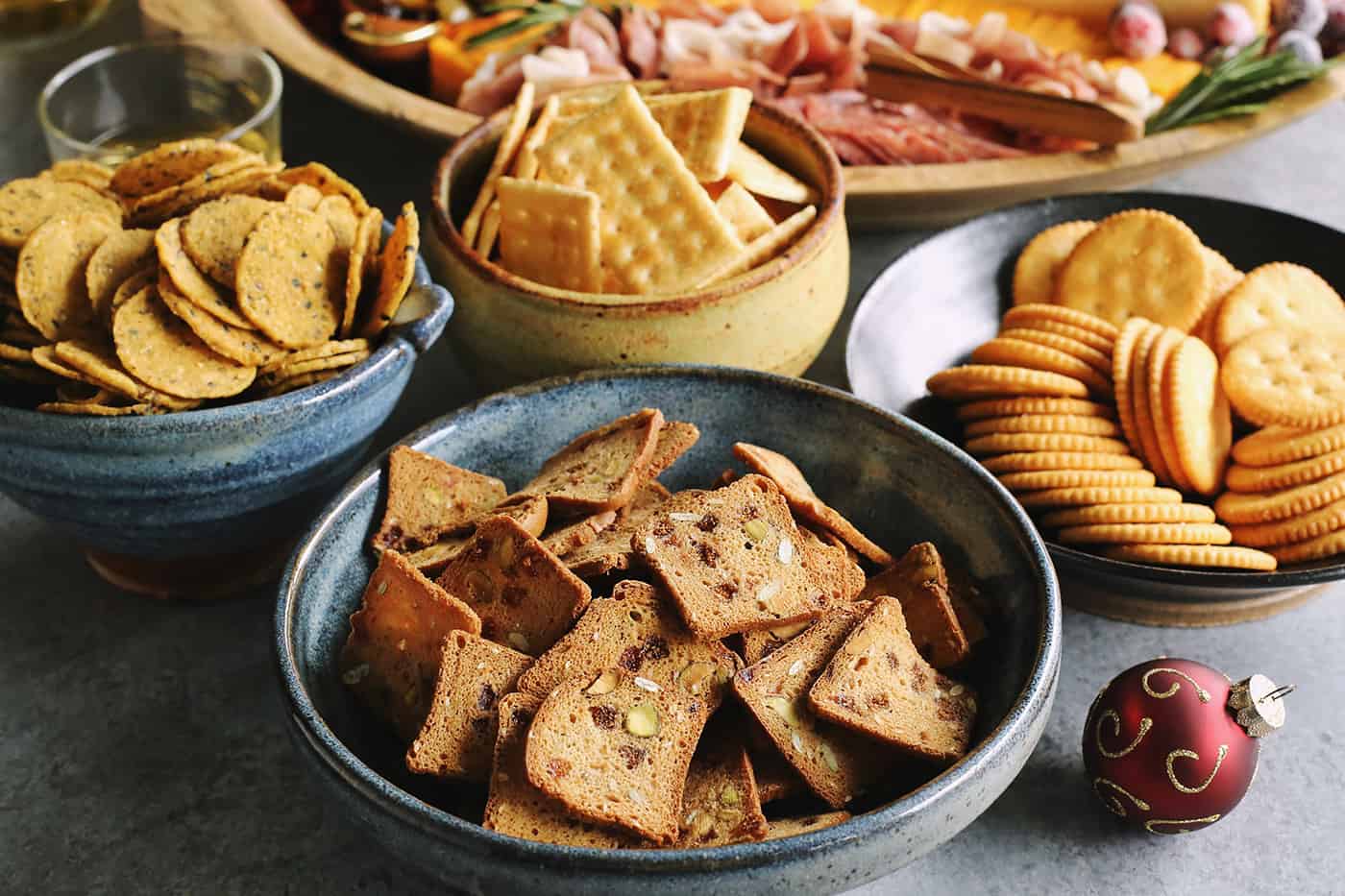 What To Serve With A Charcuterie Board
And lastly, I wanted to talk a little bit about crackers. I like to change these up, depending on what's on the charcuterie board and who will be joining us. But these are the more regular options around here:
Sweet potato crackers from Trader Joe's (upper left). We ALWAYS have these in the house. This is the cracker that I and our daughters reach for first. They're perfectly crispy and salty and flavorful. They're also gluten-free, for our GF friends.
Club crackers (upper middle) are a nostalgic favorite, found at most every grocery store. They're buttery and flaky, my top choice for the shrimp dip!
Ritz crackers (upper right), another longtime beloved cracker. I keep these on hand mostly for Blake. But really, who can resist a Ritz cracker?!
Pistachio Pomegranate Crisps from Trader Joe's (front). These are a seasonal item that I've learned to seek out just before Thanksgiving each year – and then I grab a few boxes, because they disappear quickly! Our family adores them and they're lovely for holiday entertaining!
More Great Appetizers
Holiday parties are so much fun, especially when you have great food. Here's a few more appetizers for you!
Like this holiday charcuterie board? Save it to Pinterest!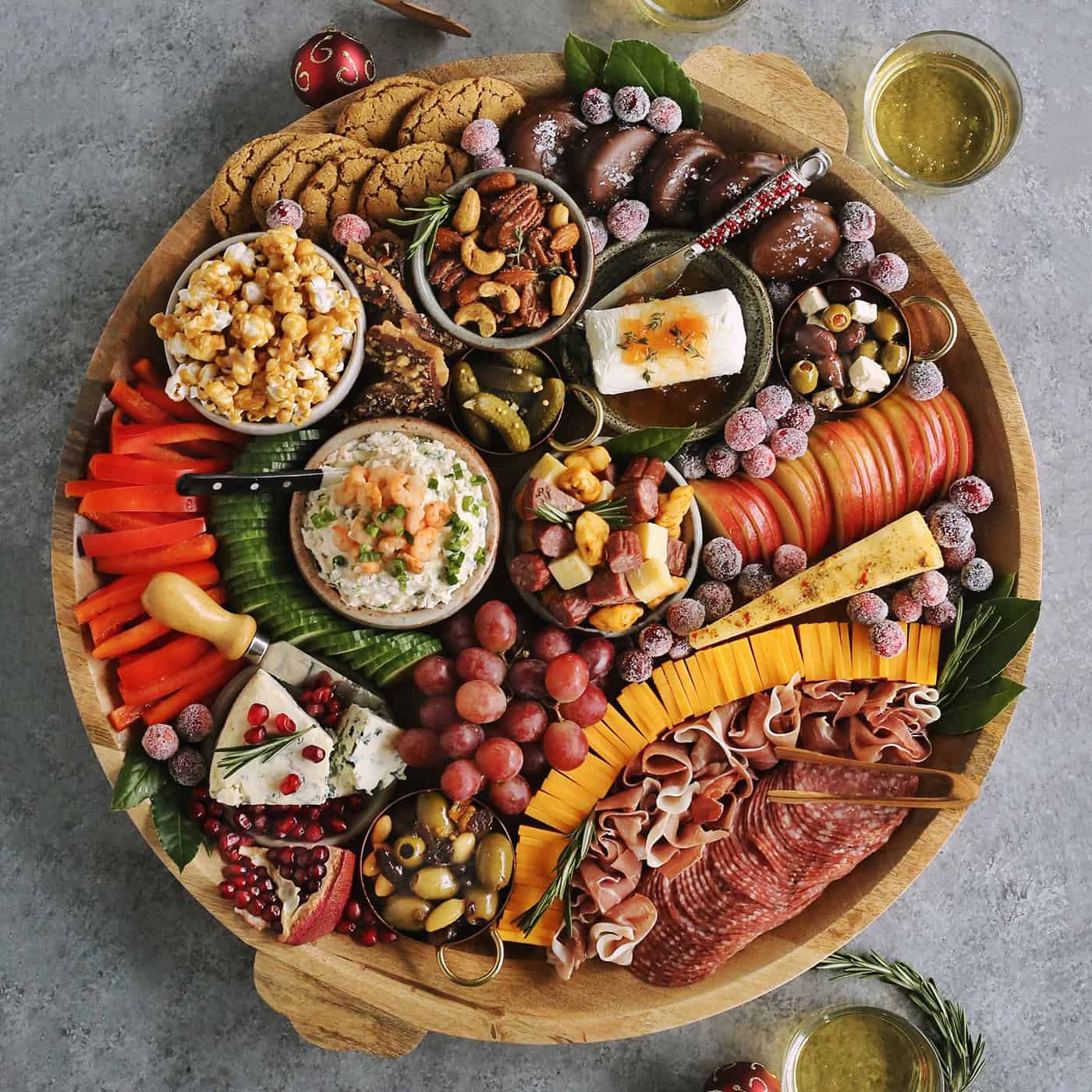 Holiday Charcuterie Board
Yield: 12 servings
Prep Time: 1 hour
Total Time: 1 hour
A perfect Charcuterie Board for the Holidays! A festive meat & cheese board that's perfect for a fun Friendsgiving gathering, Christmas appetizer, or New Year's Eve celebration!
Ingredients
Cured meats - Such as salami, prosciutto, pepperoni, jerky, summer sausage, and summer sausage sticks.
Cheeses - A variety of hard and soft options such as sharp cheddar, mozzarella, smoked Gouda, goat cheese, hot pepper, and blue cheese.
Condiments & spreads - Such as honey, mustards, and jams.
Fruits - A variety of fresh fruits, such as grapes, apples, pears, berries, pomegranate, and peaches. And dried fruits, such as blueberries and apricots. Also sugared cranberries.
Vegetables - Such as fresh cucumbers, bell peppers, carrots, and tomatoes. Also veggies that have been sauteed, roasted, or grilled, such asparagus and green beans.
Dips - Such as shrimp dip, spinach artichoke dip, hummus, and ranch dip.
Nuts - Cashews, almonds, pistachios, pecans, and walnuts.
Pickled & brined items - Pickled red onions, pickled mustard seeds, pickled asparagus, pickled squash, homemade or store-bought cucumber pickles, and olives.
Sweets - Such as a fancy chocolate bar or a homemade baked item. Suggestions for a holiday board: homemade caramel corn, ginger molasses cookies, chocolate peanut butter Ritz cookies, and puppy chow.
Fresh herbs - Such as rosemary, bay leaves, thyme, and mint.
Crackers, chips, breads, and toasts
Instructions
Place all condiments, spreads, and dips into small bowls and set on the board.

Add meats, cheeses, and any larger items, arranging them artfully around each other.

Fill in gaps with fruits, vegetables, and sugared cranberries.

Add crackers, etc. or serve them on the side.

Garnish with fresh herbs.

Serve immediately or cover and chill until ready to serve.
Notes
Quantities will depend on the size of your board, the ingredients you choose to include, and the number of people you are serving.
Links to recipes:
Chocolate Peanut Butter Ritz Cookies