Joel's Italian Stuffed Jalapenos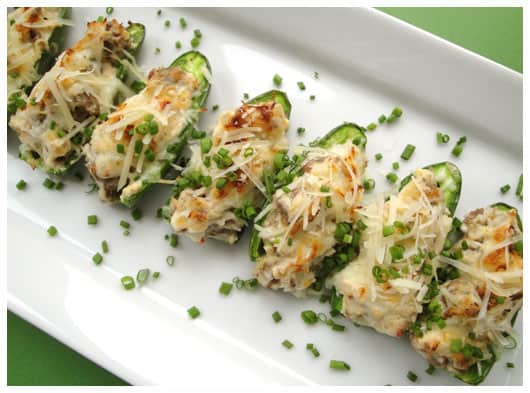 The Super Bowl is right around the corner, and that means pulling out all the stops on fun finger food.  And anything with cheese, sausage, and jalapenos should surely get you extra points!
We were introduced to these Italian Stuffed Jalapenos a couple years ago at a potluck party.  The loaded peppers were the new dish on the block, and the biggest hit of the evening.
If you're not afraid of a little jalapeno kick (yes, that's a dare!), give these ultra flavorful and just plain addictive Italian Stuffed Jalapenos a try.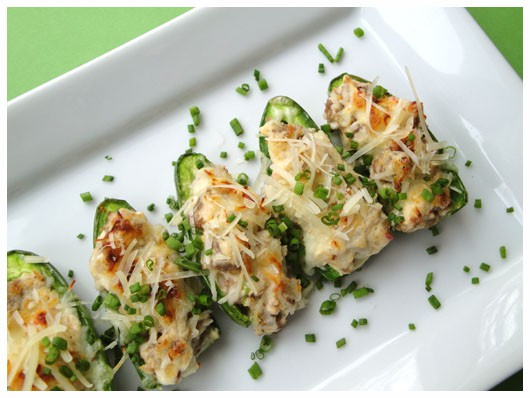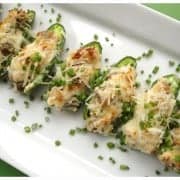 Joel's Italian Stuffed Jalapeños
Yield: 4 to 6 appetizer size portions
Cook Time:25 minutes
Ingredients:
15 jalapenos cut in half, seeded and deveined
1 T. canola oil
1 lb. mild Italian sausage
1/4 c. minced red onion
1/4 c. minced red bell pepper
3 T. minced fresh garlic
2 c. cream cheese
1/4 c. shredded Parmesan, plus more for garnish
Salt and pepper, to taste
1 c. shredded mozzarella cheese
minced chives for garnish
Directions:
Preheat oven to 350°.
Place halved jalapenos on a pan wrapped in aluminum foil, for easy clean up. Or place jalapenos directly on an oven safe serving dish, to serve directly from. Roast for 10 minutes, or until nicely softened. Remove from the oven and let cool.
Heat the oil in a medium saute pan. Add the sausage and cook for 5 to 7 minutes. Add the onion, pepper, and garlic and cook to soften for about 5 minutes. Remove and place in a large bowl. Cool to room temperature, then add cream cheese and Parmesan. Mix ingredients thoroughly and season with salt and pepper, as needed.
Place approximately 1 heaping tablespoon of mixture into each jalapeno half, and top with a bit of mozzarella cheese.
Turn broiler on medium-high. Place the stuffed peppers back in the oven and broil until the mozzarella cheese melts and is nicely browned. This should take 5 to 10 minutes. Remove from oven, sprinkle with a bit more shredded Parmesan, and then the chives. Serve warm.
*Note: This does take some time to assemble, but it's easy to prepare most of it earlier in the day. Have your jalapenos ready by slicing, deveining and seeding them, and then place them in the refrigerator. Prepare the stuffing mixture of sausage, onion, pepper, garlic, cream cheese, and Parmesan (salt & pepper, to taste), and place in a bowl in the refrigerator. When you're ready to bake the jalapenos, most of the work has already been done!
From Joel Symmank's recipe box, adapted from Guy Fieri's original recipe on Food Network
©
Here are some more famous Game Day hits!
You didn't really think I could leave out the chocolate, didja?!   :wink:
I'm linking up with:
Cheryl at Tidy Mom for I'm Lovin' It Friday
Kim at Quit Eating Out for Saturday Swap
Lisa at Simply…This, That & the Other! for Sweet Treat Saturday
We participate in the Amazon Services LLC Associates Program, an affiliate advertising program designed to provide a means for us to earn fees by linking to Amazon.com and affiliated sites. See our disclosure policy for more info.