Italian Stuffed Jalapenos
This post may contain Amazon or other affiliate links. As an Amazon Associate I earn from qualifying purchases.
Italian Stuffed Jalapenos: With Italian sausage, cream cheese, Parmesan, and mozzarella, this stuffed jalapeno recipe is one of the tastiest appetizers ever!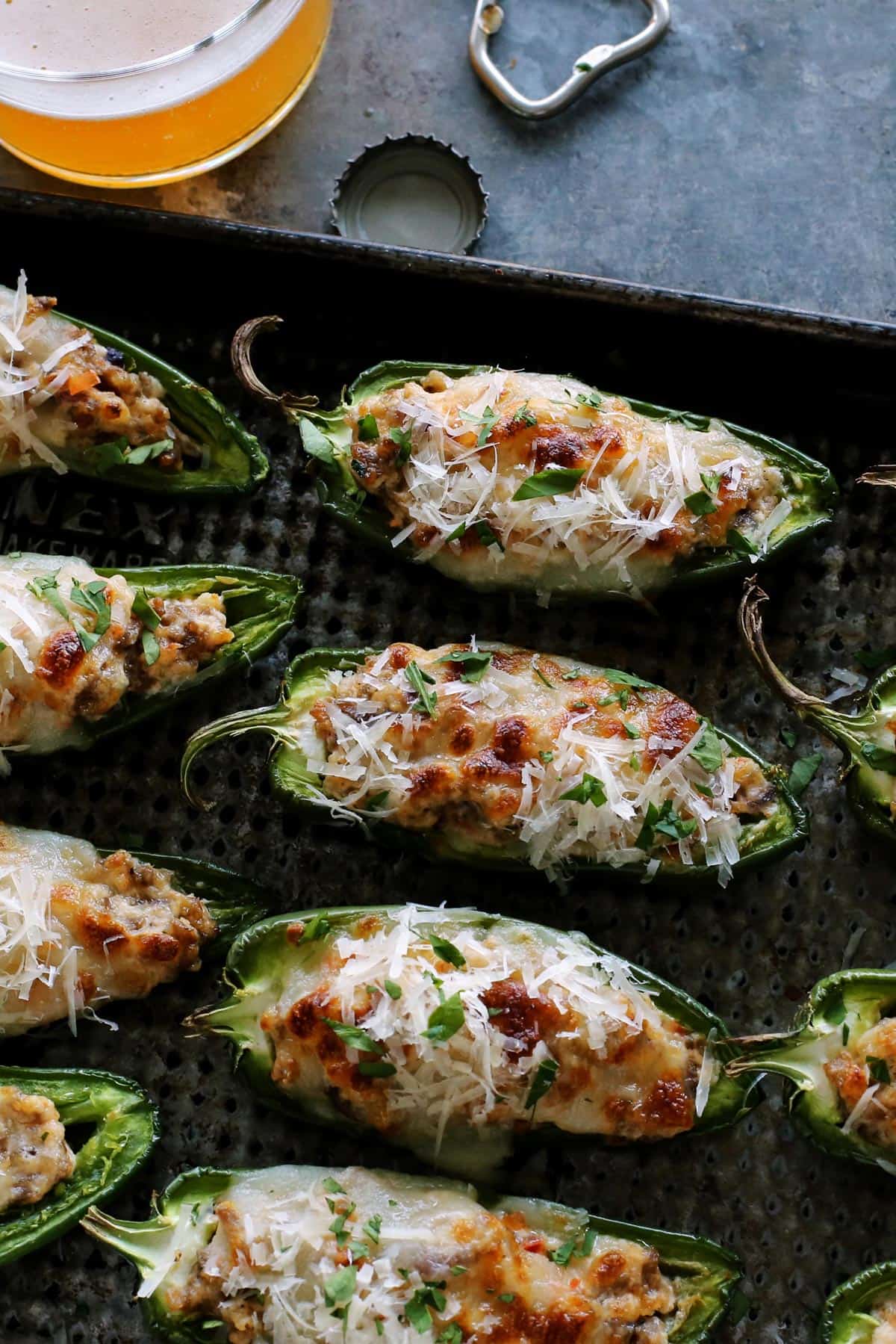 The Super Bowl is right around the corner, and that means pulling out all the stops on fun dips and finger food. And anything with cheese, sausage, and jalapenos will surely get you extra points!
We were introduced to these Italian Stuffed Jalapenos many years ago at a potluck party. The fabulously flavorful peppers were the new dish on the block, and the biggest hit of the evening.
To please those who like the wonderful kick of a jalapeno pepper AND those who don't (our girls), I make them with both jalapenos AND colorful mini sweet peppers. They are always gone in a flash!
A few more game day favorites for you: Baked Reuben Dip, Banh Mi Meatballs, Olive Cheese Balls, and my mom's Shrimp Dip!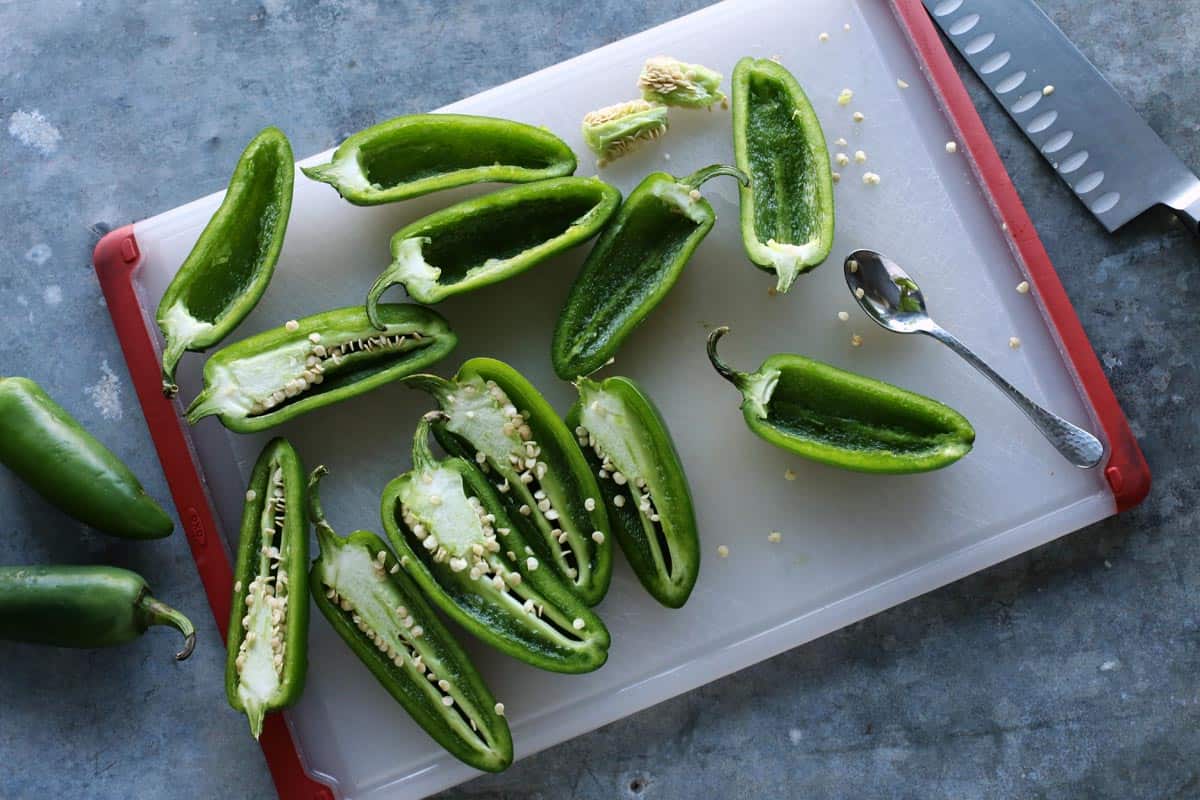 How to make stuffed jalapenos
Of course, you'll need some fresh jalapeno peppers. I prefer to use large ones.
Wash the peppers well and then slice them down the center lengthwise. With a small knife or sharp-edged spoon, remove the innards and discard.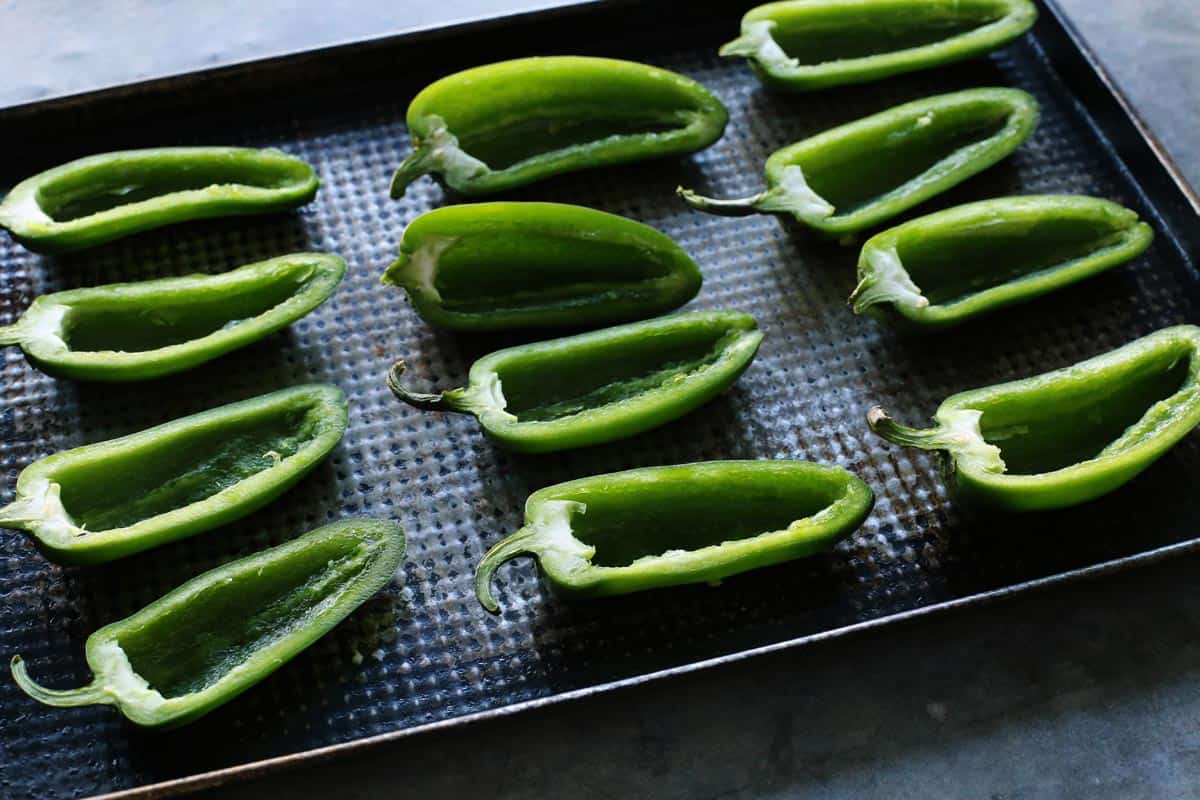 Place the jalapeno halves on a rimmed baking pan. For super easy clean-up, line the pan with aluminum foil if you like.
Then roast for just ten minutes, as-is, not yet stuffed. This will ensure that the peppers have a softened texture. I am not a fan of crunchy jalapeno poppers!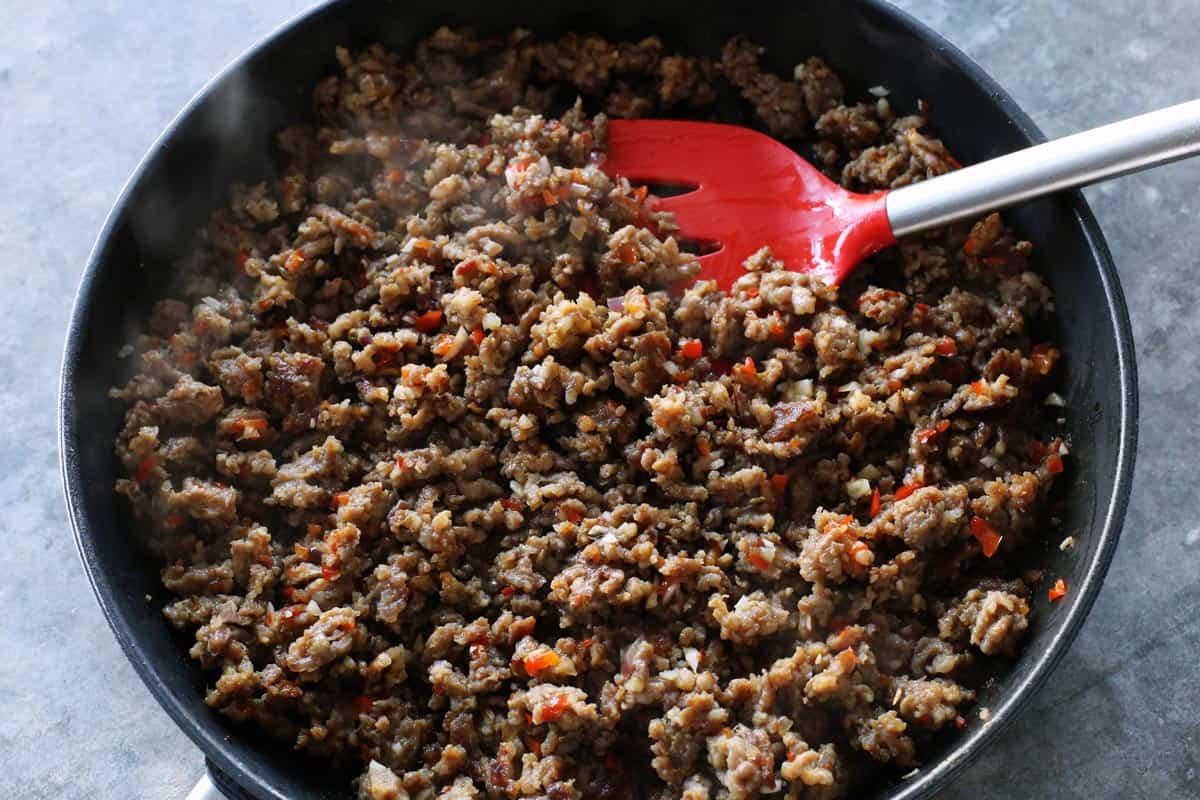 While the pepper halves are roasting, make the stuffing mixture.
Jalapeno poppers with sausage have incredible flavor, especially when using Italian seasoned sausage. Brown it in a skillet with minced red bell pepper, onion, and garlic.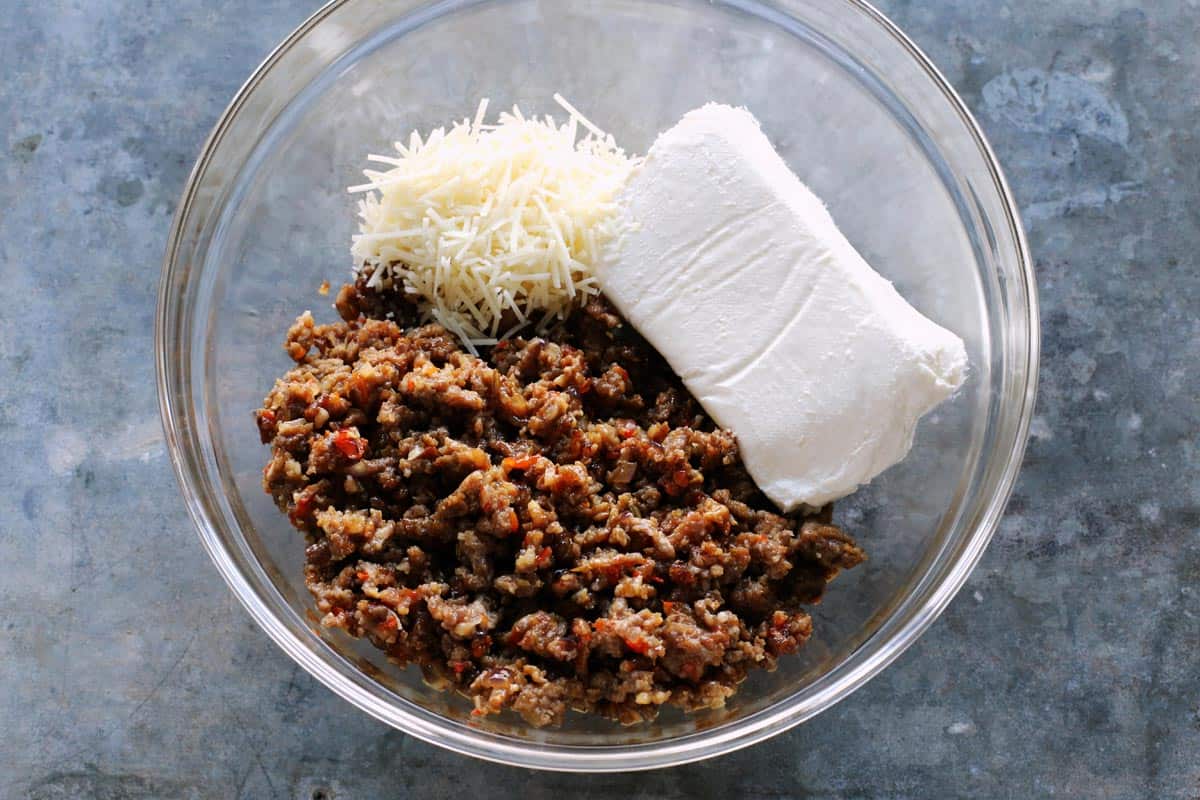 Cool the sausage and then combine it with cream cheese and shredded Parmesan.
No need to wonder.
This stuffing is AWESOME.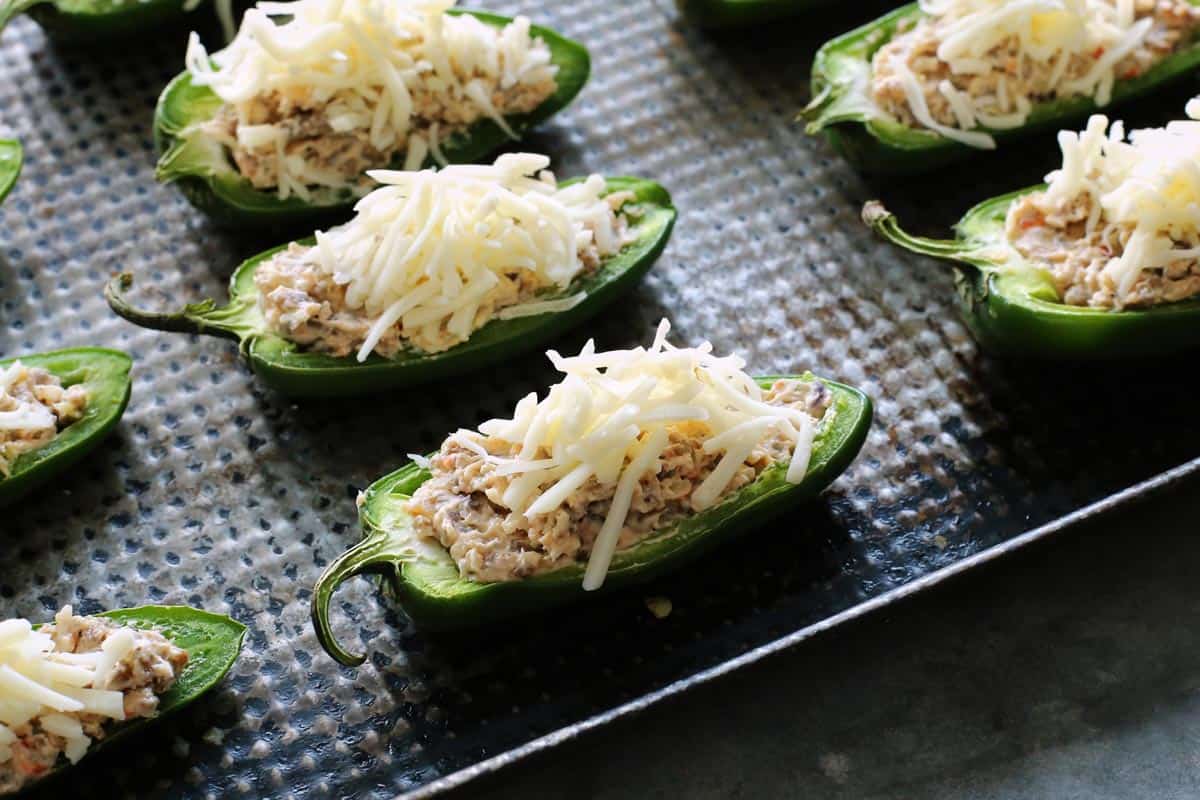 Then stuff the jalapenos and heap on some shredded mozzarella.
Under the broiler they go!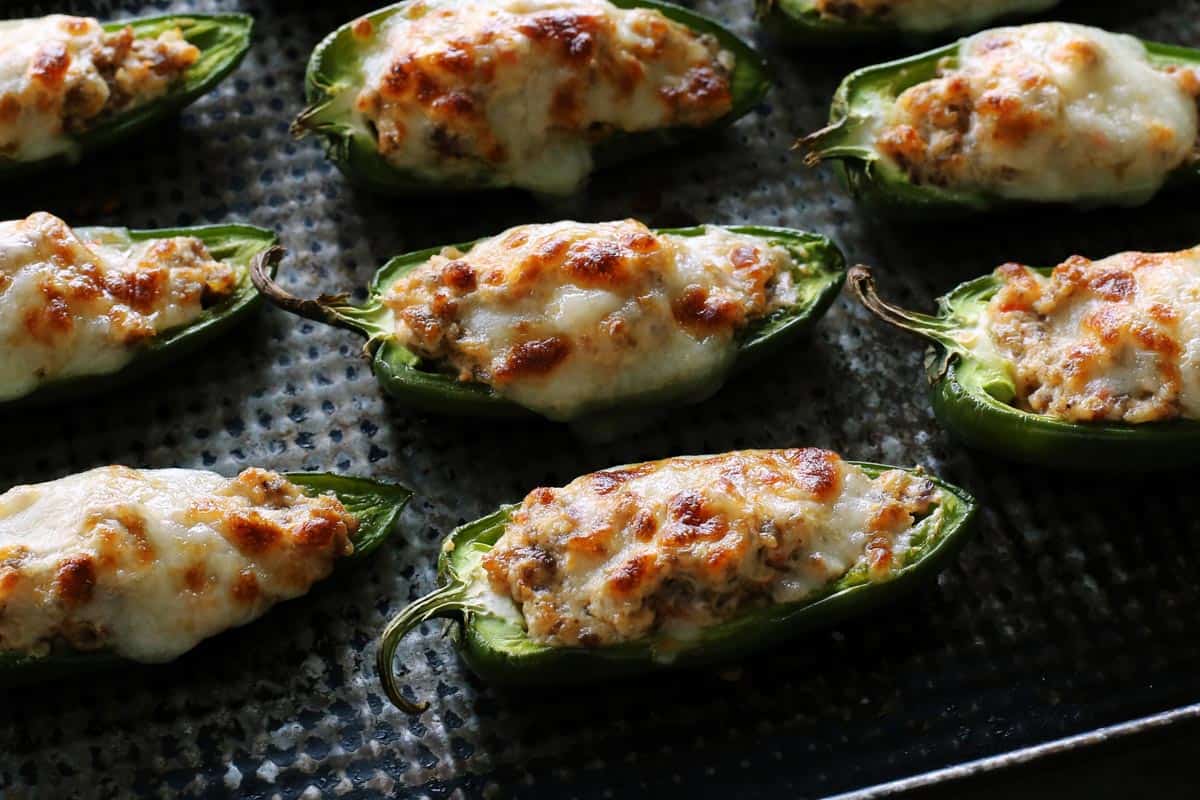 They come out of the oven looking so dang fabulous, you won't be able to resist eating one straight from the pan. (But be careful – they are super hot!)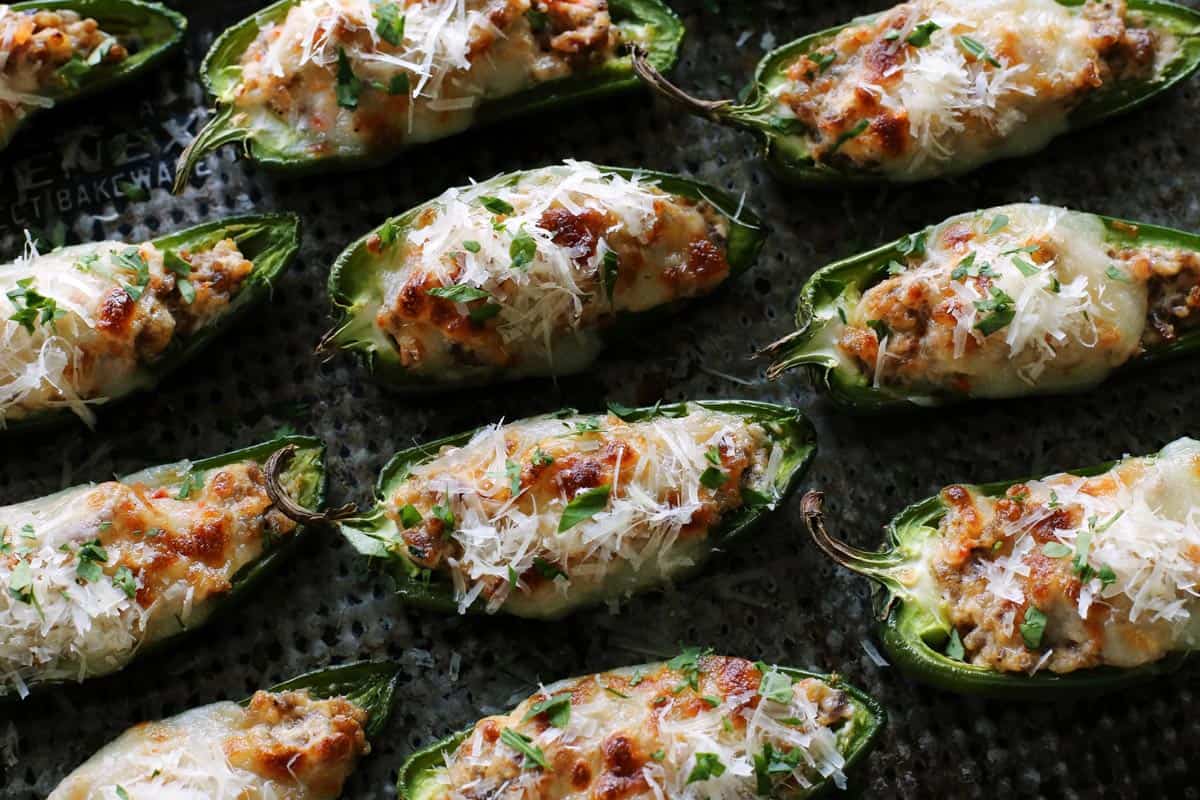 How to serve stuffed jalapeno peppers
Italian stuffed jalapenos are definitely best when served warm, while the cheeses are still soft and gooey.
Sprinkle a bit more shredded Parmesan over the top. And then some fresh minced Italian parsley. Chives are also nice.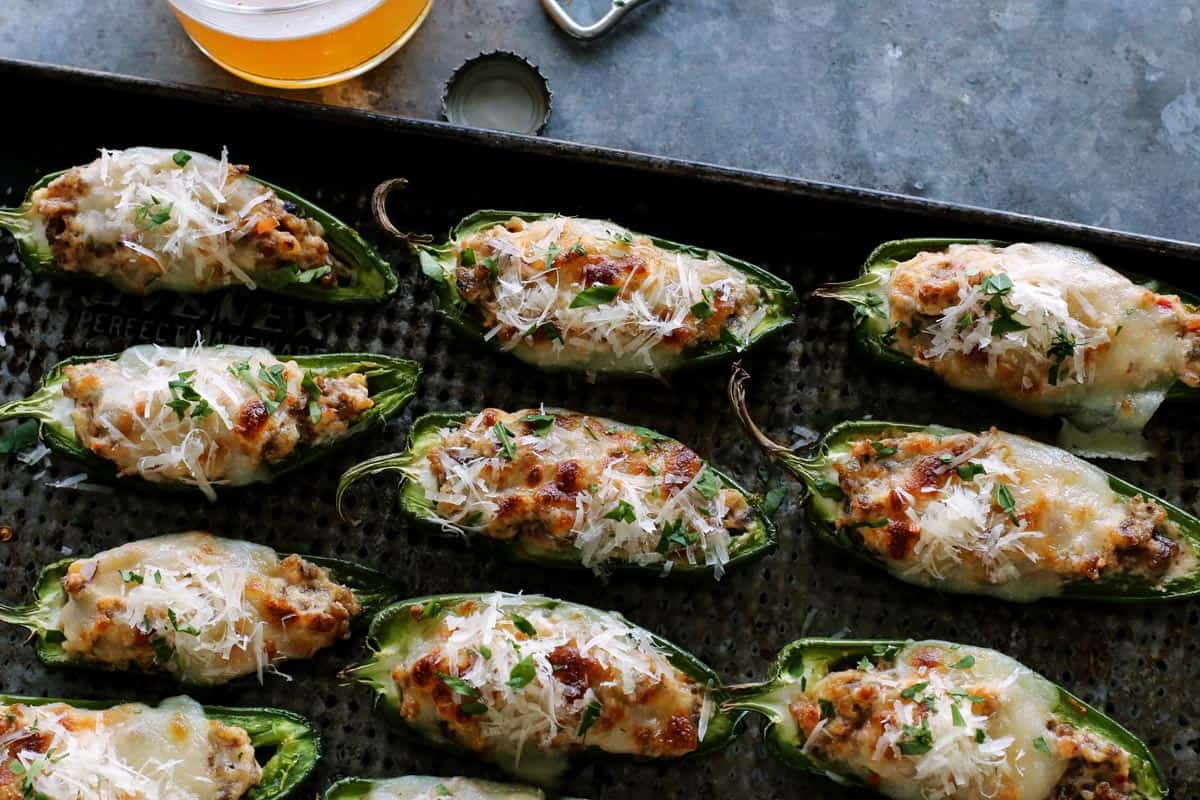 I must also say.
An extra-cold beer is mighty fine with this stuffed jalapeno recipe. I'm a big fan of creative craft beers, but with poppers I just want a beer that's crisp, clean, and simple.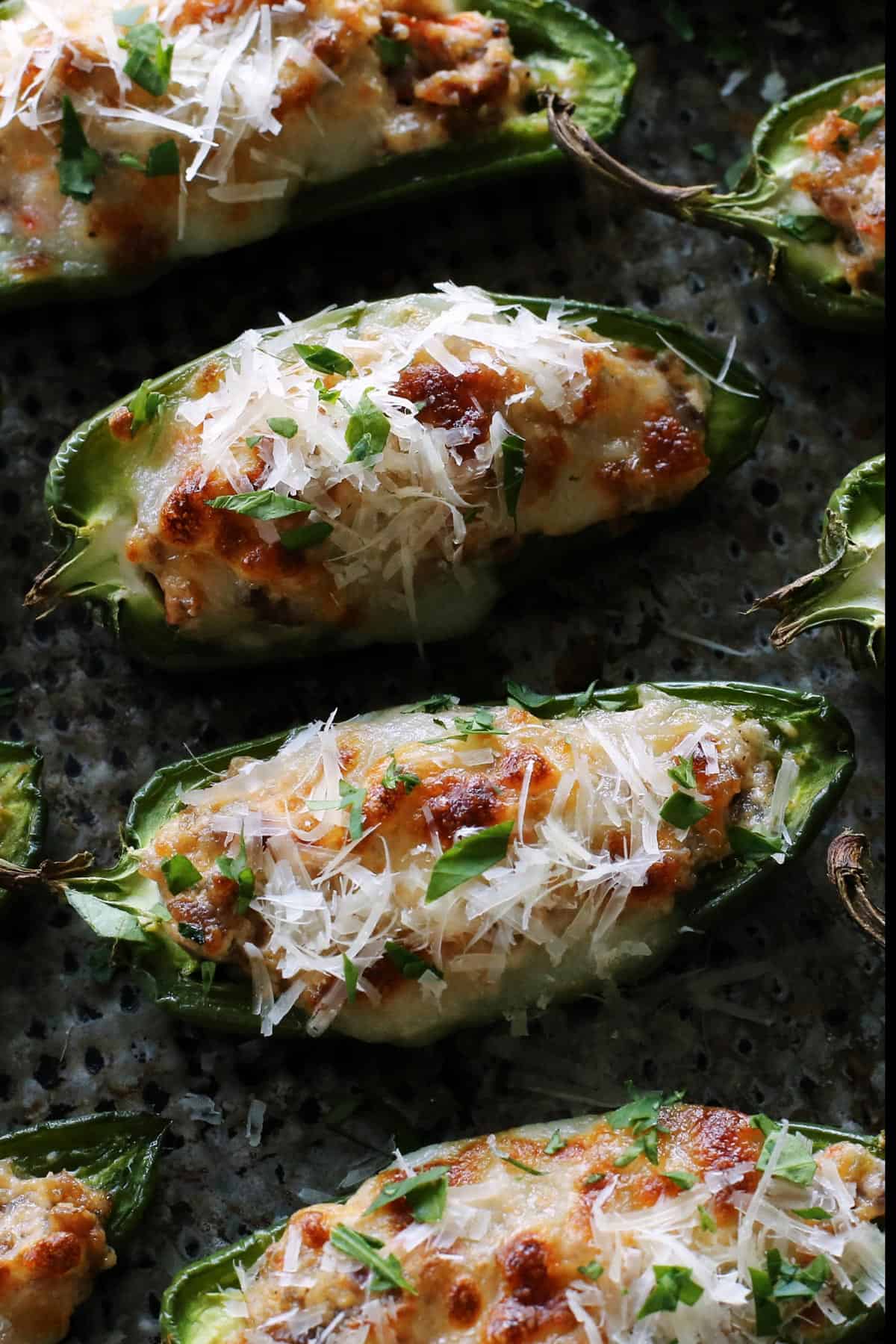 Cream cheese stuffed jalapenos are addictive.
However, not everyone likes the heat of these little green peppers. And I get that. I was once that girl.
But it's so easy to use those fun mini sweet peppers that have become so popular. We go through MANY of those colorful little peppers, mostly because of this recipe: Grilled Mini Sweet Peppers with Goat Cheese.
Our girls go crazy for the sweet pepper version of these stuffed jalapenos. It's so easy to please both worlds with this recipe. I love it when everybody gets to partake!
Note: The mini sweet peppers usually have thinner walls than jalapenos, so I simply roast them for a bit less time. I've included that in my instructions.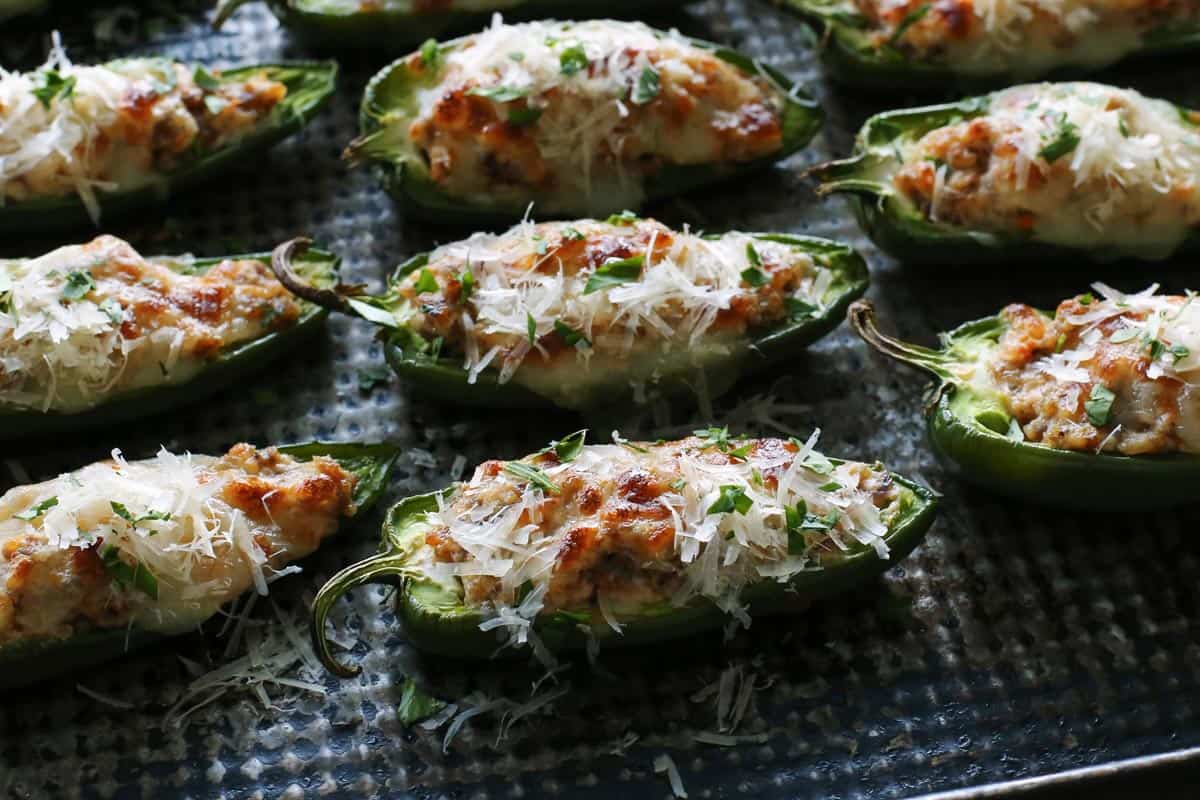 And!
For those of you who'd like to prepare these sausage stuffed jalapenos ahead of time, I've included instructions for that also. It'll make Game Day that much more easy in the kitchen!
Like this recipe? Save it to Pinterest!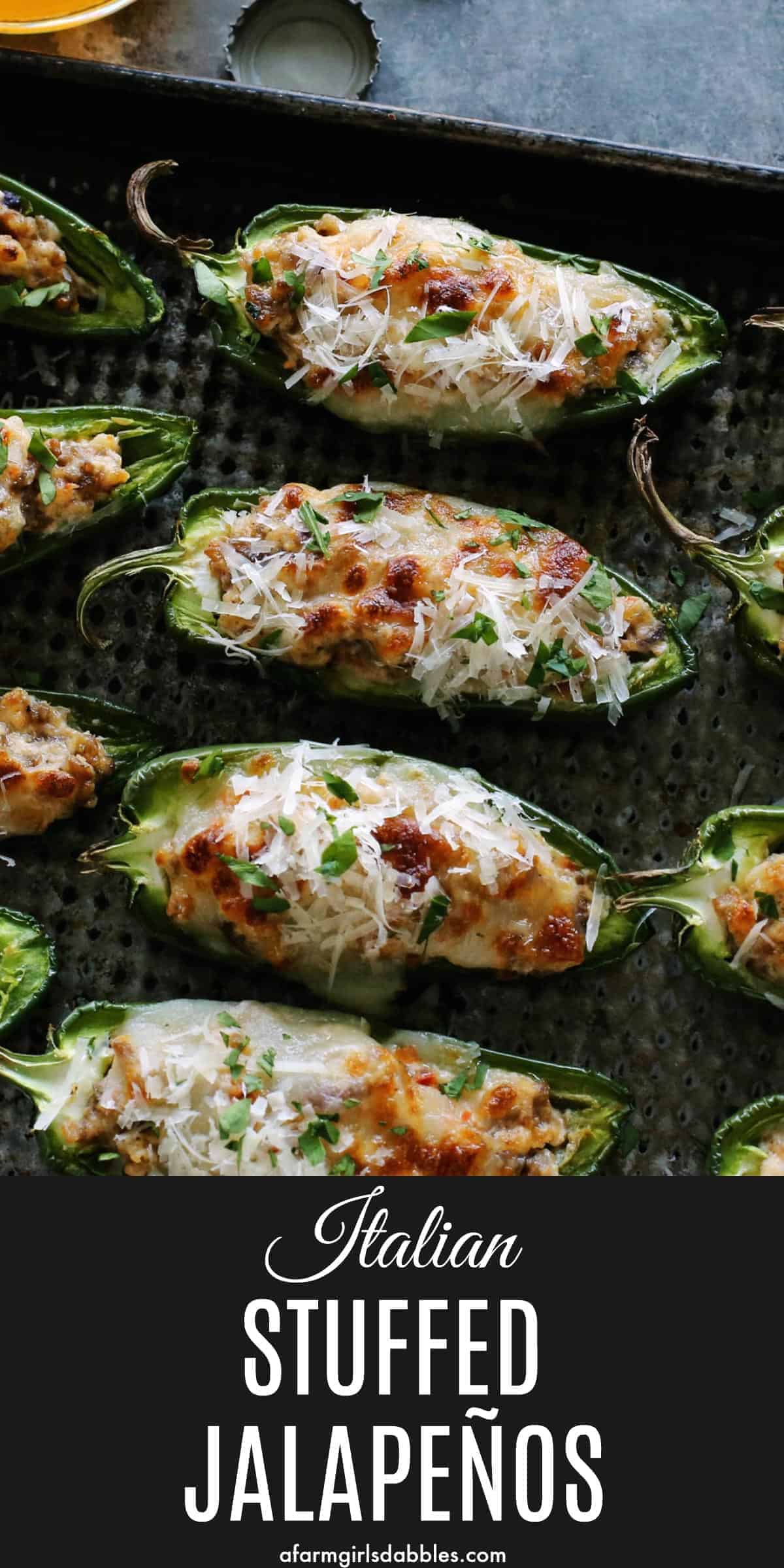 More game day recipes for you!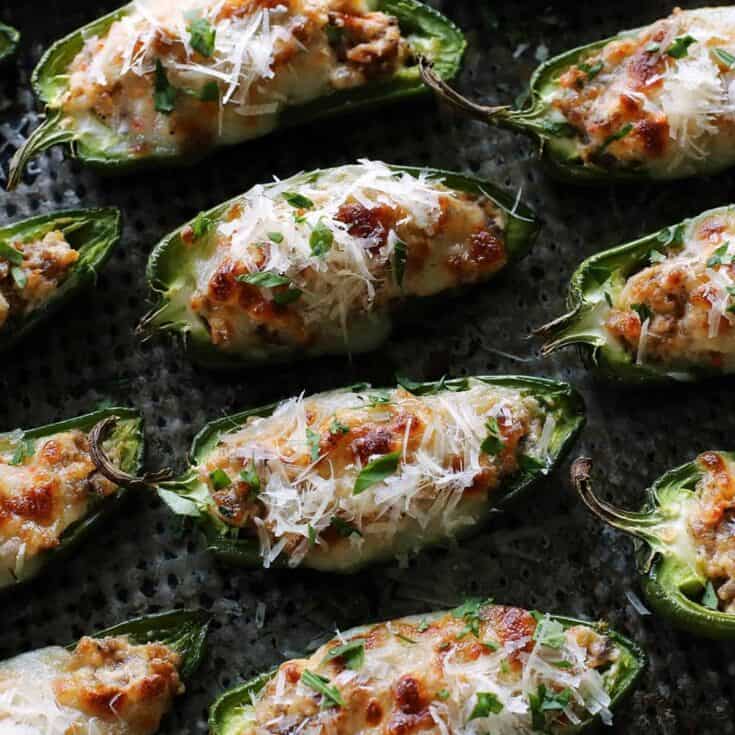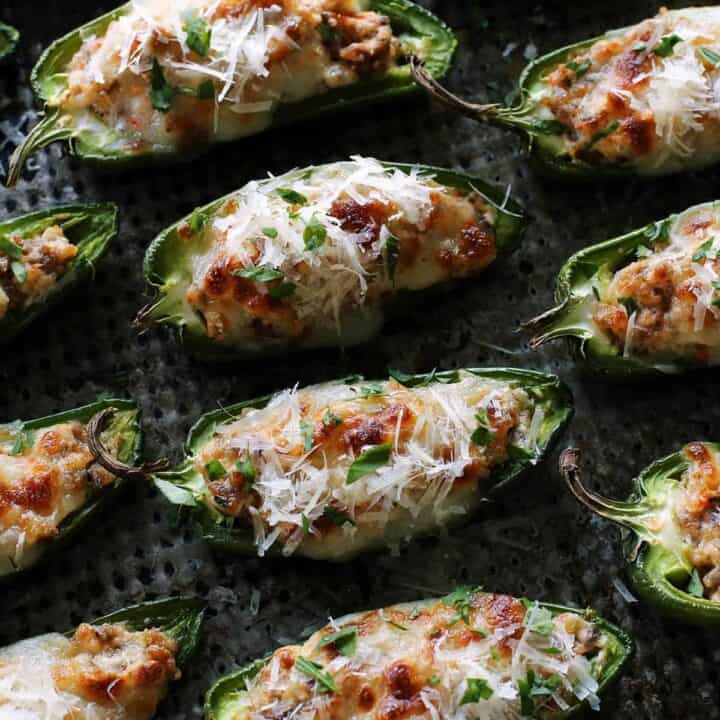 Italian Stuffed Jalapeños
Yield: 8 servings
Prep Time: 20 minutes
Cook Time: 30 minutes
Total Time: 50 minutes
With ground Italian sausage, cream cheese, Parmesan, and mozzarella these Italian Stuffed Jalapenos are extra cheesy with just the right amount of heat. Serve on game day and watch them disappear in minutes!
Ingredients
15 large jalapeno peppers cut in half, seeded and deveined
1 T. olive oil
1 lb. mild Italian sausage
1/3 c. minced red onion
1/3 c. minced red bell pepper
3 large cloves garlic, minced
16 oz. cream cheese
1/3 c. shredded Parmesan, plus more for garnish
kosher salt and freshly ground black pepper, to taste
1 c. shredded mozzarella cheese
minced fresh Italian parsley and/or chives for garnish
Instructions
Preheat oven to 350° F.
Place halved jalapenos on a rimmed sheet pan. Line the pan with aluminum foil first, for easy clean up, if desired. Roast for 10 minutes, or until nicely softened. Remove from oven and let cool.
Heat a medium skillet over medium-high heat. Add oil. Once oil is warmed, add sausage and cook for 5 to 7 minutes, breaking it up occasionally. Add onion, pepper, and garlic, and cook for 5 minutes to soften. Once sausage is thoroughly browned, remove the mixture to a large bowl. Cool to room temperature (place in refrigerator to speed up cooling, if desired).
Add cream cheese and Parmesan to cooled sausage mixture. Fold thoroughly and then season with salt and pepper, to taste.
Place about 1 heaping tablespoon of mixture into each jalapeno half, and top with a bit of mozzarella cheese. Repeat until all halves are stuffed.
Place pan of stuffed jalapenos under broiler, and cook until mozzarella cheese is melty and nicely browned. Remove pan from oven, sprinkle with a bit more shredded Parmesan, and then some fresh Italian parsley and/or chives. Serve warm.
Notes
Don't like the heat of jalapenos? Grab a bag of those colorful mini sweet peppers and substitute! These sweet peppers usually have thinner walls, so simply roast them for 5 to 6 minutes, instead of the 10 minutes as written in the instructions.
To mostly prepare this ahead of time: Prepare the stuffed jalapenos as per the instructions above, through Step 5 where the jalapeno halves are stuffed. Then place all stuffed jalapenos in a single layer, in a covered container, in the refrigerator. About 30 minutes prior to baking, place stuffed jalapenos on a rimmed baking pan (lined with foil, if you like), and add shredded mozzarella over the top of each one. Preheat oven to 350° F. Bake for about 5 minutes, just to warm them up. Then place under broiler to melt and blister the mozzarella. Serve warm, with additional shredded Parmesan and minced fresh Italian parsley and/or chives.
Adapted from friend Joel Symmank's recipe box, originally from Guy Fieri on Food Network.
Nutrition Information:
Yield: 8
Serving Size: 1
Amount Per Serving:
Calories: 470
Total Fat: 40g
Saturated Fat: 19g
Trans Fat: 0g
Unsaturated Fat: 20g
Cholesterol: 99mg
Sodium: 730mg
Carbohydrates: 10g
Fiber: 1g
Sugar: 5g
Protein: 19g
Nutrition information is automatically calculated by Nutritionix. I am not a nutritionist and cannot guarantee accuracy. If your health depends on nutrition information, please calculate again with your own favorite calculator.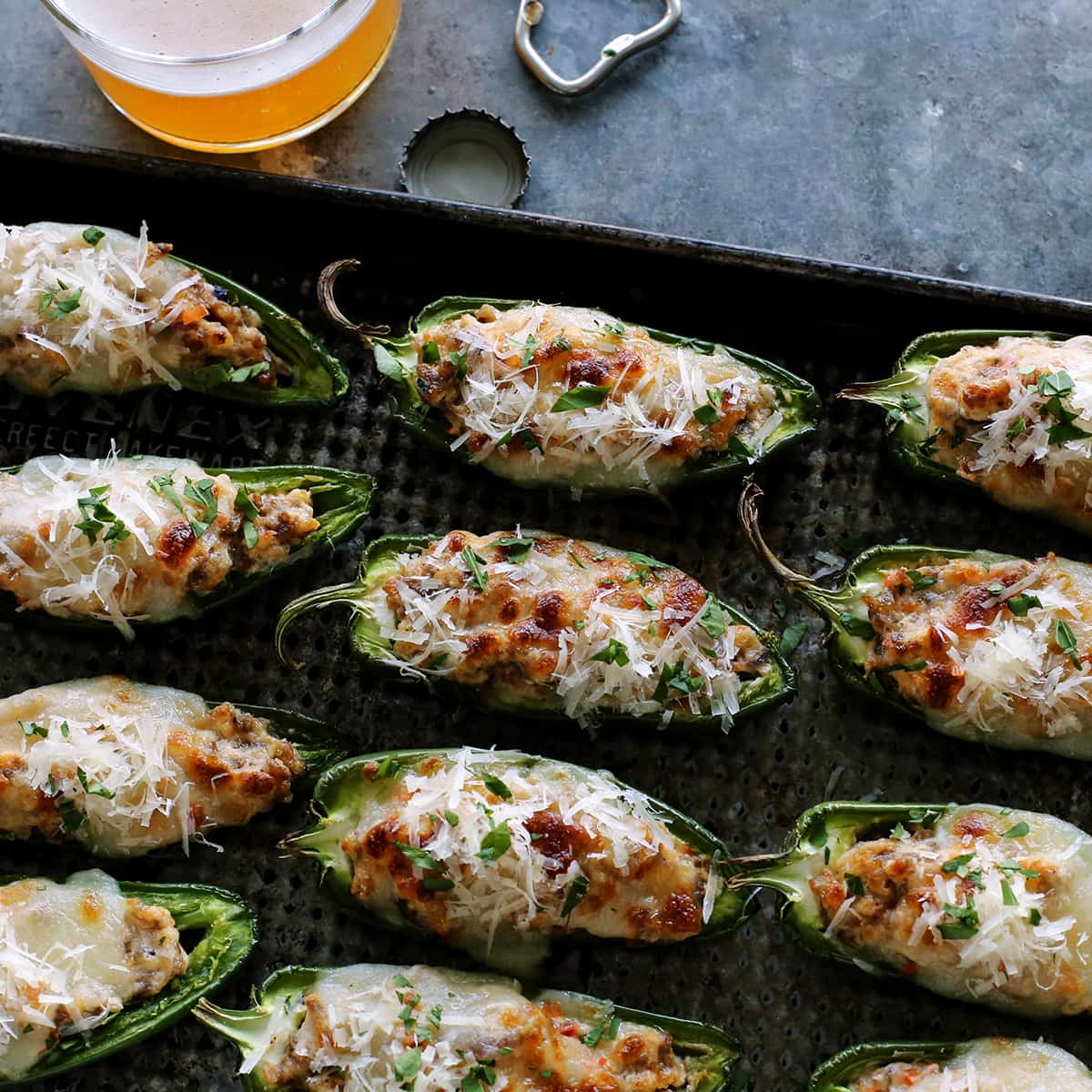 This post was previously published in 2011. Photographs and some of the text were updated in 2020.
We participate in the Amazon Services LLC Associates Program, an affiliate advertising program designed to provide a means for us to earn fees by linking to Amazon.com and affiliated sites. See our
disclosure policy
for more info.