Italian Stuffed Jalapenos
With Italian sausage, cream cheese, Parmesan, and mozzarella, these Italian Stuffed Jalapenos are extra cheesy with just the right amount of heat. Serve on game day and watch them quickly disappear!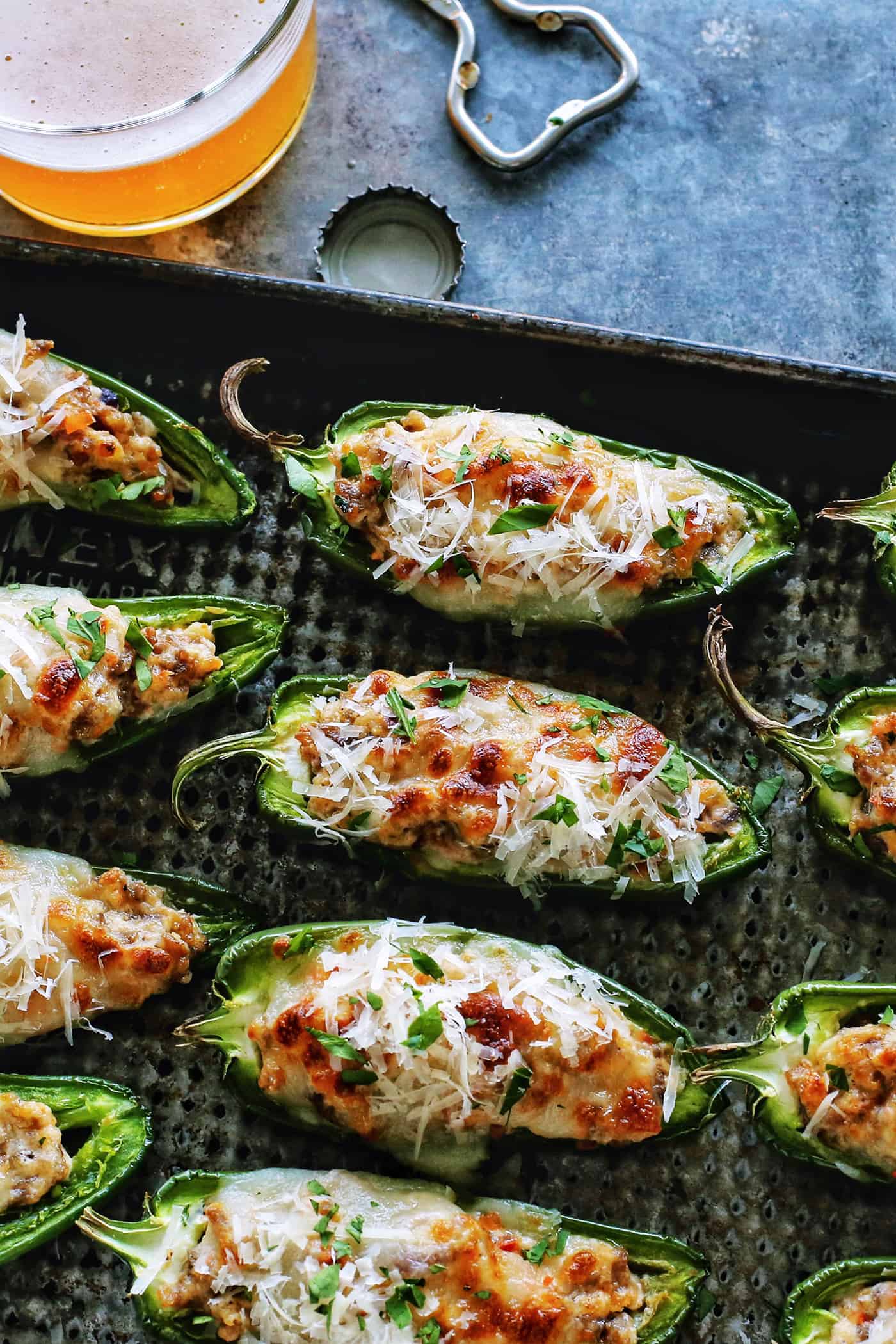 An Easy Game Day Appetizer
With the Super Bowl fast approaching, it's time to pull out all the stops on fun dips and finger foods. And anything with cheese, sausage, and jalapenos will surely get you extra points!
We were introduced to these Italian Stuffed Jalapenos many years ago at a potluck party. This rendition of jalapeno poppers was the new dish on the block, and the biggest hit of the evening. Packed with flavor, this appetizer recipe quickly became a game day tradition for our family – so irresistibly addictive!
To please those who like the wonderful kick of a jalapeno pepper AND those who don't (our girls), I make them with both jalapenos AND colorful mini sweet peppers. It's a win-win! They're always gone in a flash!
A few more game day favorites for you: Baked Reuben Dip, Banh Mi Meatballs, Olive Cheese Balls, and my mom's Shrimp Dip!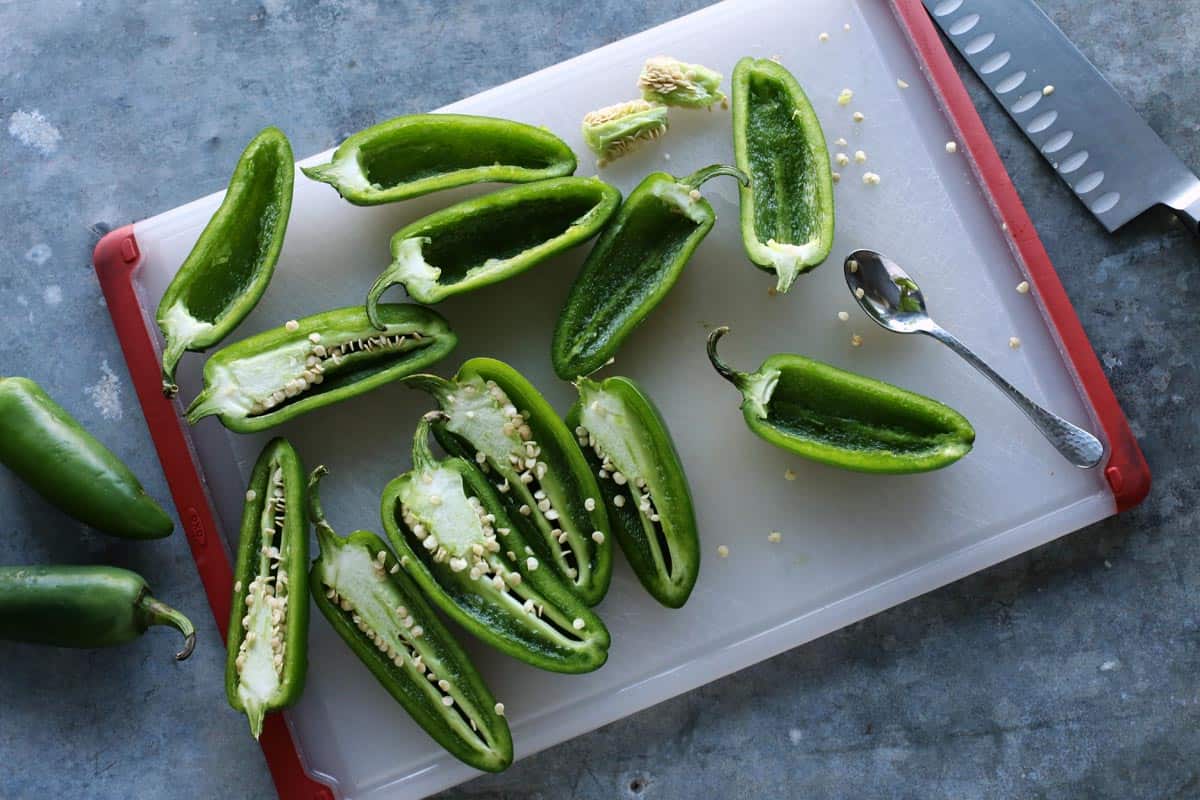 What You'll Need
You only need a simple list of ingredients – including three kinds of cheese – to make these cheesy jalapeno poppers.
Jalapeno peppers – Cut them in half, then seed and devein them for this recipe.
Olive oil
Italian sausage – I use mild sausage for this recipe but feel free to use a hot variety if you want even more heat.
Red onion, red bell pepper, and garlic – Add flavor and texture to the filling.
Cream cheese – For a wonderful creamy texture and delicious tang.
Shredded parmesan – For a wonderful nutty, salty flavor. I like to add extra as a garnish before serving as well.
Mozzarella cheese – Blistered mozzarella cheese puts these jalapeno poppers over the top!
Fresh Italian parsley – For garnish, if you like. Chives also work well.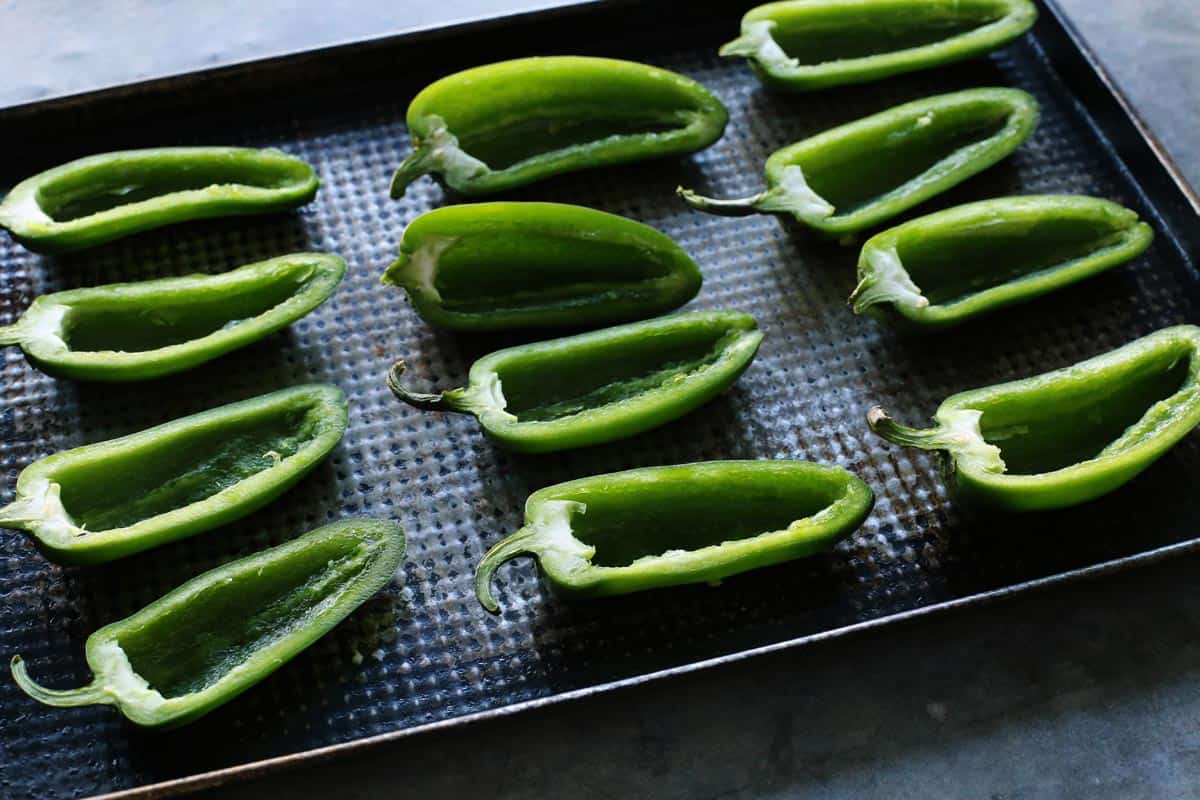 How to Make Italian Stuffed Jalapenos
These baked jalapeno poppers come together in just a few steps.
Roast the peppers. Roast the halved jalapeno peppers for 10 minutes, until nicely softened. Cool.
Make the filling. Cook the sausage, onion, pepper, and garlic until the sausage is browned and vegetables are softened. Cool. Then stir together sausage mixture, cream cheese, and parmesan.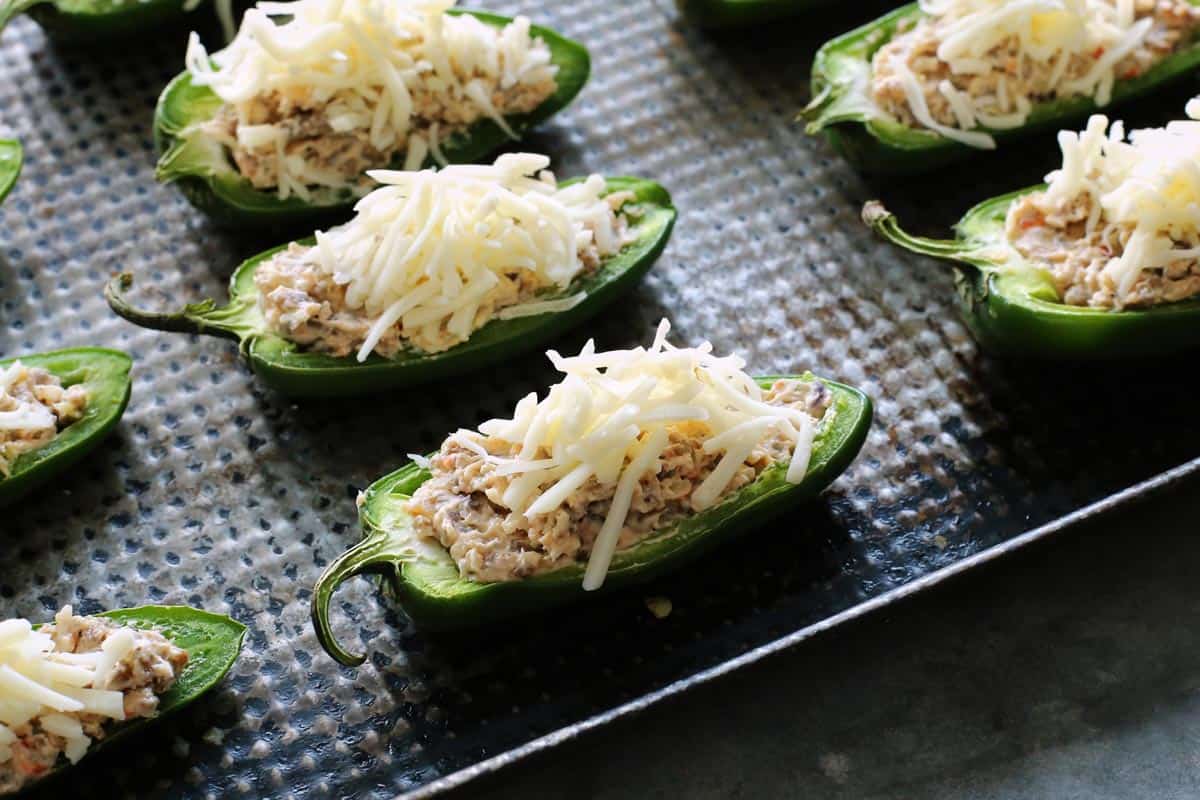 Stuff the peppers. Place a heaping tablespoon of mixture into each jalapeno half and top with shredded mozzarella.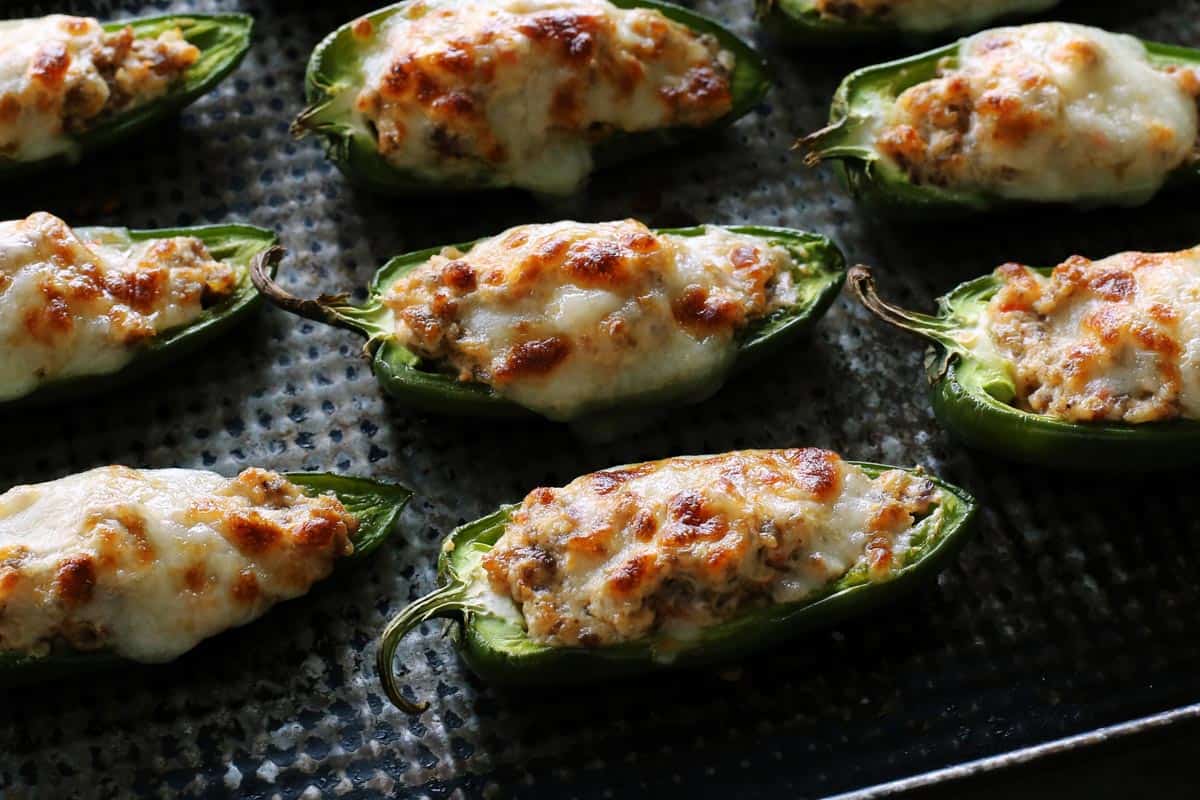 Broil the peppers. Place under the broiler and cook until the filling is melty and the cheese is blistered/browned.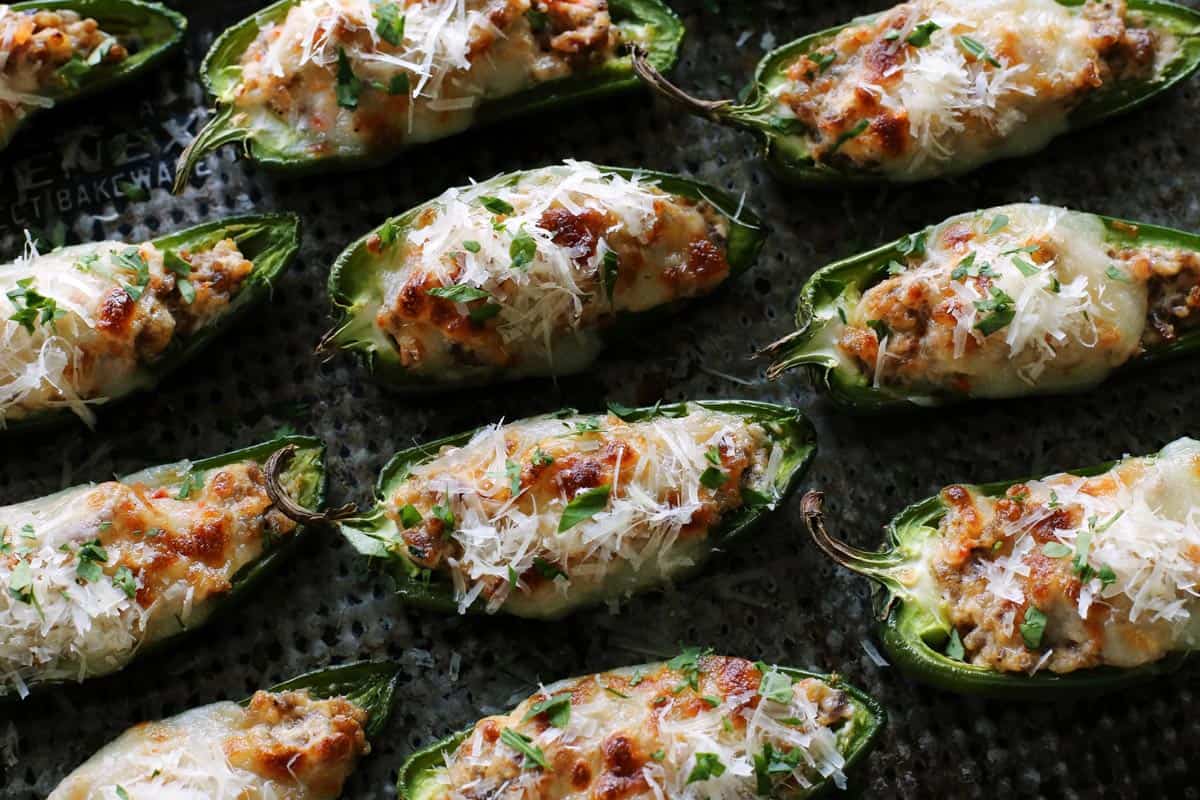 Garnish & serve. Sprinkle with shredded Parmesan and garnish with chopped Italian parsley or chives. Serve hot or warm.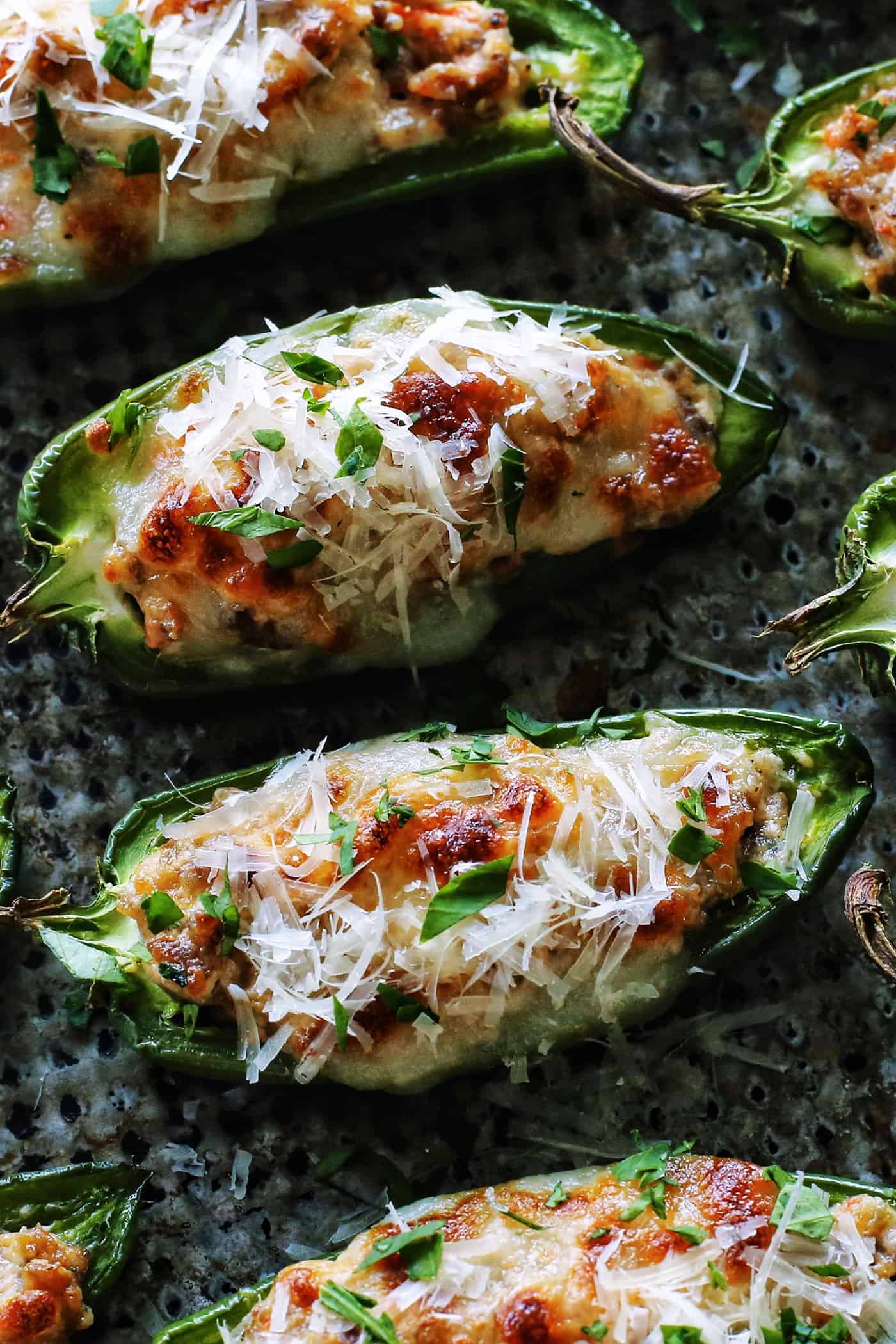 Tips for Success
Here are a few things to consider when making these Italian stuffed jalapeno poppers.
Allow the sausage mixture to cool. To prevent the cream cheese from melting immediately, it's important to allow the sausage mixture to cool before combining them. You can place the sausage in the fridge to speed up the cooling if desired.
Be sure not to touch your eyes!! Once you start working with the jalapeno peppers, avoid touching your eyes and mouth. The oils from the peppers can burn >>> not fun!
Watch the broiler carefully. Everyone's broiler is different, so be sure to keep an eye on the cheesy stuffed jalapenos so they don't burn.
Can I Make These Less Spicy?
Cream cheese stuffed jalapenos are addictive. However, not everyone likes the heat of these little green peppers. And I get that. I was once that girl!
So here's the solution we've found for our family, so our daughters can also partake in this appetizer. Just use those colorful mini sweet peppers that have become so popular the past few years. We go through MANY of those colorful little peppers, mostly because of this recipe: Grilled Mini Sweet Peppers with Goat Cheese.
Just note that the mini sweet peppers usually have thinner walls than jalapenos, so you'll need to roast them for a bit less time. I've included that in my instructions.
Serving Suggestions
I recommend serving the Italian stuffed jalapenos while still hot (or at least warm) from the oven, when the cheeses are at their soft and gooey best.
Sprinkle a bit more shredded Parmesan over the top for an extra hit of delicious cheese that's also pretty. And then some fresh minced Italian parsley or chives. These steps aren't requirements – but they take the presentation to another level. Totally up to you.
I must also say…An extra-cold beer is mighty fine with this stuffed jalapeno recipe. Choose your favorite craft beer or anything that's crisp, clean, and simple.
Can I Make These in Advance?
Yes, you can (mostly) prepare these stuffed jalapenos in advance. Follow the instructions through step 5 and then place the stuffed jalapenos in a covered container in a single layer, in the refrigerator. Allow to come to room temperature for 30 minutes before baking. Transfer to a baking sheet, add the shredded mozzarella, and bake for 5 minutes. Then place under the broiler to finish.
How to Store & Reheat
How to store. Store any leftover jalapeno poppers in the fridge for up to 4 days. Cover with foil or keep in an airtight container.
How to reheat. To enjoy the stuffed peppers warm, pop them into a preheated 300° F oven for a few minutes. You may want to cover the pan with foil to prevent burning. You can also very easily microwave the peppers for a quick and easy game day appetizer repeat!
More Game Day Appetizers:
Like this recipe? Save it to Pinterest!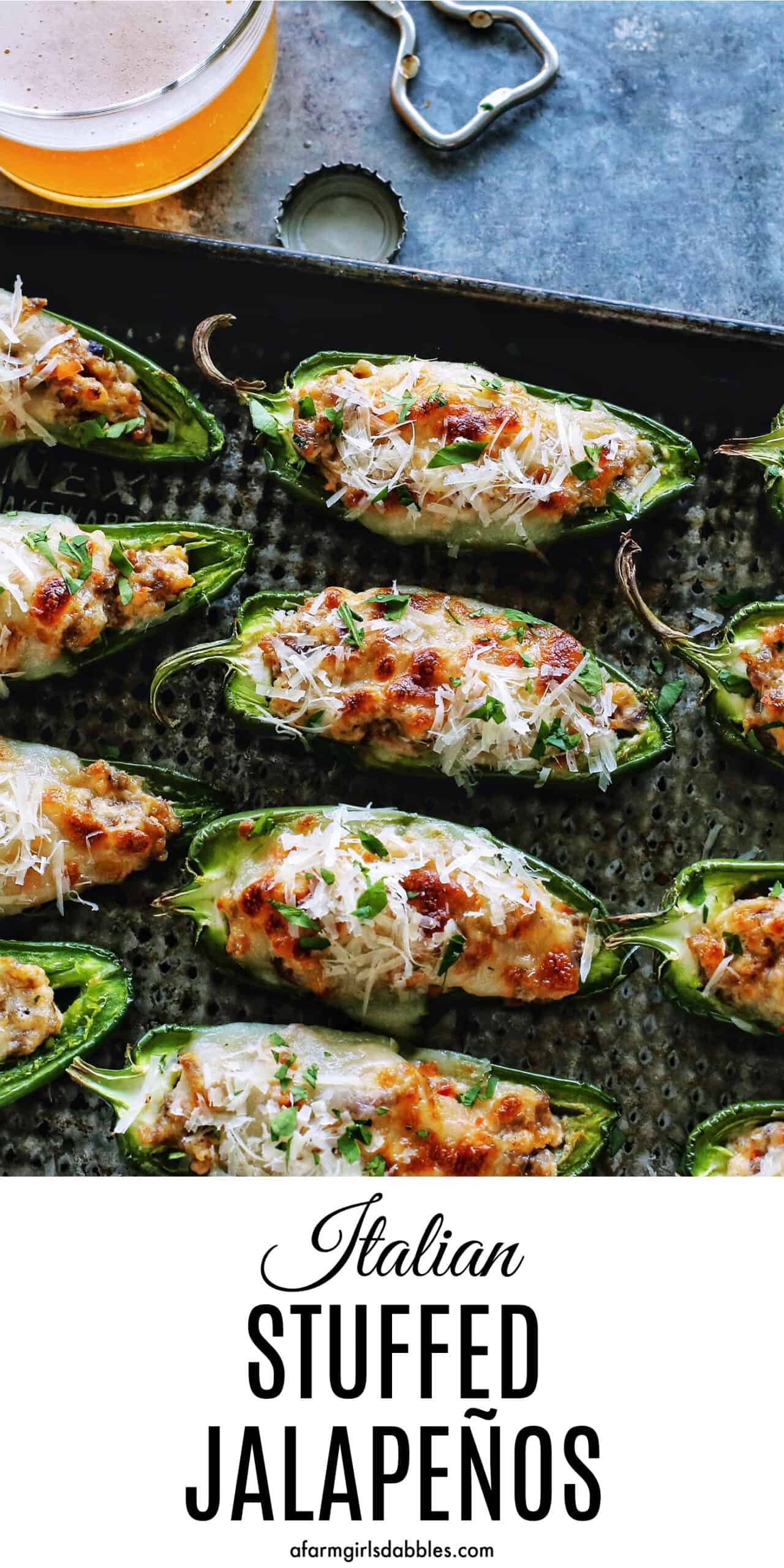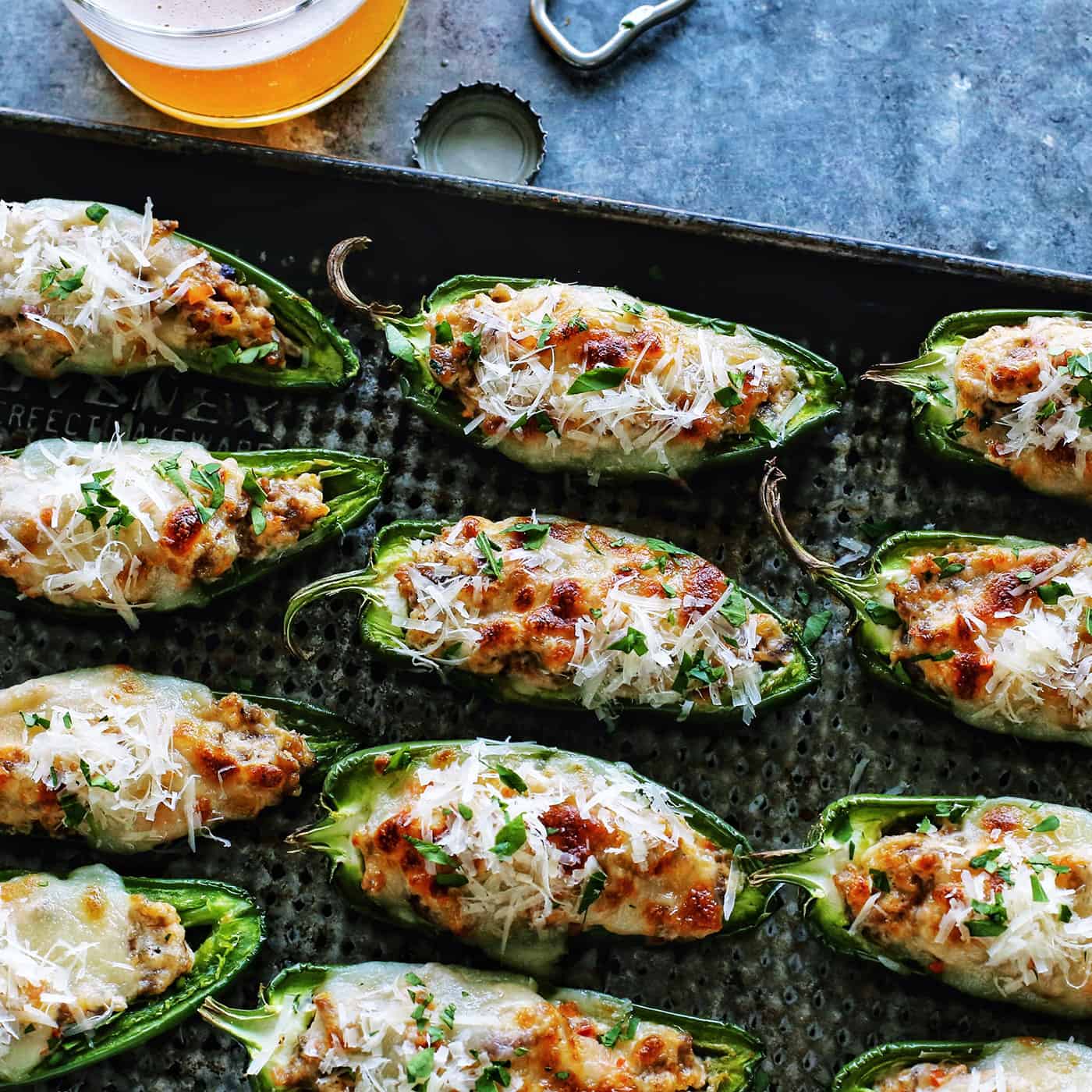 Italian Stuffed Jalapeños
Yield: 8 servings
Prep Time: 25 minutes
Cook Time: 30 minutes
Total Time: 55 minutes
With Italian sausage, cream cheese, Parmesan, and mozzarella, these Italian Stuffed Jalapenos are extra cheesy with just the right amount of heat. Serve on game day and watch them quickly disappear!
Ingredients
15 large jalapeno peppers cut in half, seeded and deveined
1 tablespoon olive oil
1 pound bulk mild Italian sausage
1/3 cup minced red onion
1/3 cup minced red bell pepper
3 large cloves garlic, minced
16 ounces cream cheese
1/3 cup shredded Parmesan, plus more for garnish
kosher salt, to taste
freshly ground black pepper, to taste
1 cup shredded mozzarella cheese
minced fresh Italian parsley and/or chives for garnish
Instructions
Preheat oven to 350° F.
Place halved jalapenos on a rimmed sheet pan. Line the pan with aluminum foil first, for easy clean up, if desired. Roast for 10 minutes, or until nicely softened. Remove from oven and let cool.
Heat a medium skillet over medium-high heat. Add oil. Once oil is warmed, add sausage and cook for 5 to 7 minutes, breaking it up occasionally. Add onion, pepper, and garlic, and cook for 5 minutes to soften. Once sausage is thoroughly browned, remove the mixture to a large bowl. Cool to room temperature (place in refrigerator to speed up cooling, if desired).
Add cream cheese and Parmesan to cooled sausage mixture. Fold thoroughly and then season with salt and pepper, to taste.
Place about 1 heaping tablespoon (depending on the size of your jalapenos) of mixture into each jalapeno half, and top with a bit of mozzarella cheese. Repeat until all halves are stuffed.
Place pan of stuffed jalapenos under broiler, and cook until mozzarella cheese is melty and blistered/browned. Remove pan from oven, sprinkle with a bit more shredded Parmesan, and then some fresh Italian parsley and/or chives. Serve hot or warm.
Notes
Don't like the heat of jalapenos? Grab a bag of those colorful mini sweet peppers and substitute! These sweet peppers usually have thinner walls, so simply roast them for 5 to 6 minutes, instead of the 10 minutes as written in the instructions.
To mostly prepare this ahead of time: Prepare the stuffed jalapenos as per the instructions above, through Step 5 where the jalapeno halves are stuffed. Then place all stuffed jalapenos in a single layer, in a covered container, in the refrigerator. About 30 minutes prior to baking, place stuffed jalapenos on a rimmed baking pan (lined with foil, if you like), and add shredded mozzarella over the top of each one. Preheat oven to 350° F. Bake for about 5 minutes, just to warm them up. Then place under broiler to melt and blister the mozzarella. Serve warm, with additional shredded Parmesan and minced fresh Italian parsley and/or chives.
Adapted from friend Joel Symmank's recipe box, originally from Guy Fieri on Food Network.
Nutrition Information:
Yield: 8
Serving Size: 1
Amount Per Serving:
Calories: 470
Total Fat: 40g
Saturated Fat: 19g
Trans Fat: 0g
Unsaturated Fat: 20g
Cholesterol: 99mg
Sodium: 730mg
Carbohydrates: 10g
Fiber: 1g
Sugar: 5g
Protein: 19g
Nutrition information is automatically calculated by Nutritionix. I am not a nutritionist and cannot guarantee accuracy. If your health depends on nutrition information, please calculate again with your own favorite calculator.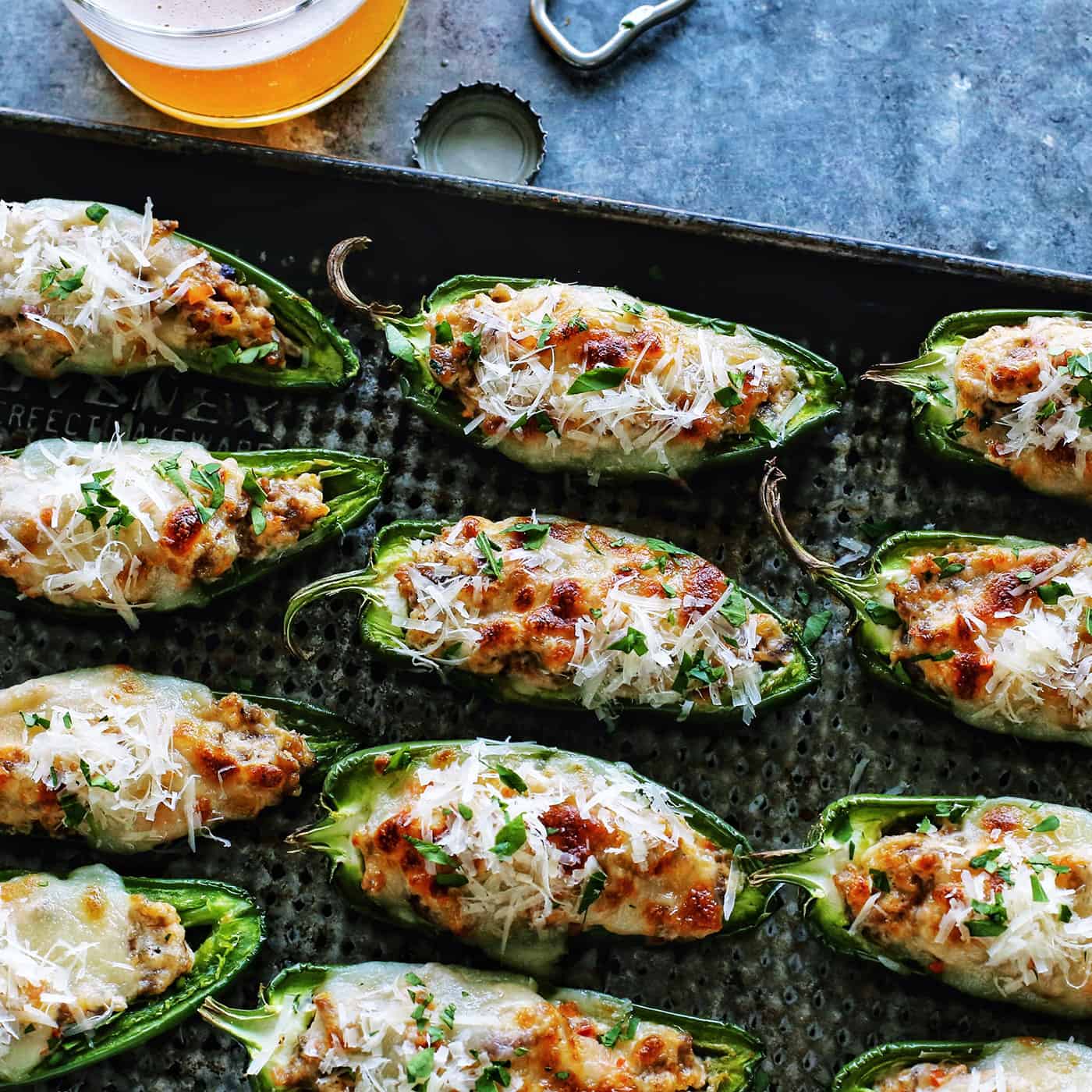 This post was previously published in 2011. Photographs and some of the text were updated in 2020 and 2022.