Spiced Rosemary and Thyme Nuts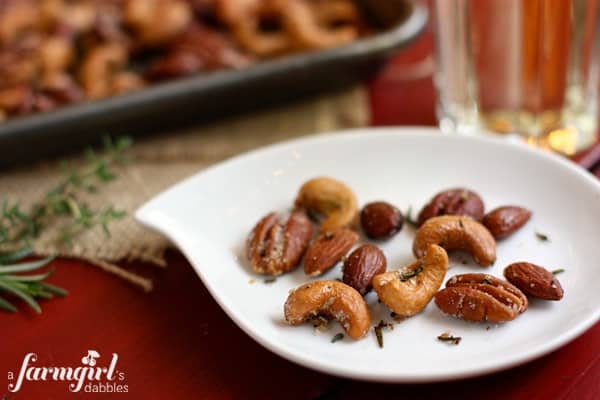 I wish the fragrance of these Spiced Rosemary and Thyme Nuts while they are roasting could be stuffed into a candle scent. Because it's just plain heavenly. Warm and nutty, and embraced in the freshness of rosemary and thyme, these nuts are my kind of irresistible.
More than 10 years ago, I was introduced to some spiced nuts that quickly became a holiday staple for my family. I have made a batch or two or three every single year since then. They make for an easy make-ahead party nibble, a beautiful hostess gift, or an extra special snack. And they were the inspiration for these Spiced Rosemary and Thyme Nuts.
I've been making these herby nuts for quite a few years now, and they're always quick to disappear. The natural beauty of fresh herbs provides an earthy loveliness. Add to that a teensy bit of spice from cayenne, cumin, and black pepper, and you've got yourself a whole lotta yum. I recommend a double batch. You won't regret it.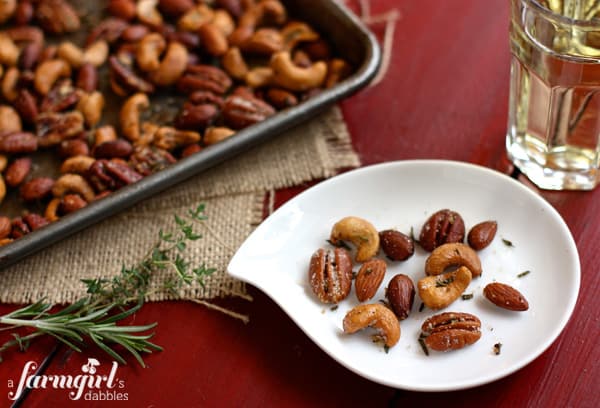 Spiced Rosemary and Thyme Nuts
Ingredients
3 c. large whole nuts - I like to use 1 c. cashews, 1 c. pecans, and 1 c. almonds
2 T. olive oil
2 T. coarsely chopped fresh rosemary leaves
1 tsp. fresh thyme leaves
1 tsp. cumin
1/4 tsp. cayenne pepper
1 T. sugar
1 tsp. kosher salt
1/2 tsp. freshly ground black pepper
Preparation
Preheat oven to 300°.
Place nuts in a medium heatproof bowl. Pour oil into a small heavy saucepan and place over medium-low heat until warm. Do not let it get too hot – the oil will burn. Add rosemary and thyme and stir until aromatic, about 1 minute. Remove pan from heat and stir in cumin and cayenne pepper. Pour the flavored oil over the nuts and stir to coat evenly. Sprinkle with sugar, salt, and black pepper. Stir again. Transfer to a jelly roll pan or a baking pan with sides. Bake for about 15 minutes total, stirring after the first 10 minutes. Let cool. Store in an airtight container for up to two weeks.
Source