Homemade Eggnog
An easy Homemade Eggnog recipe for the holidays. Once you learn how to make eggnog, you'll never go back to store-bought again!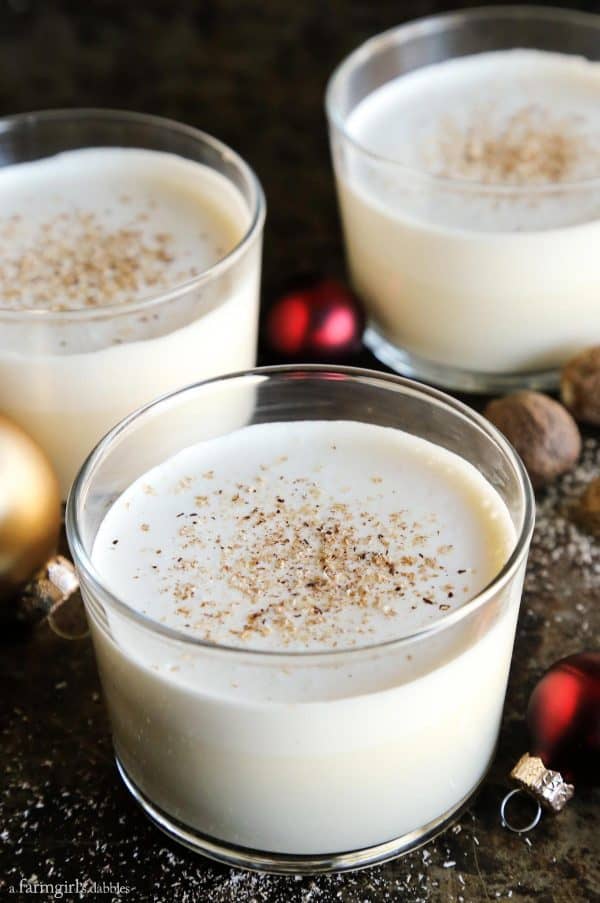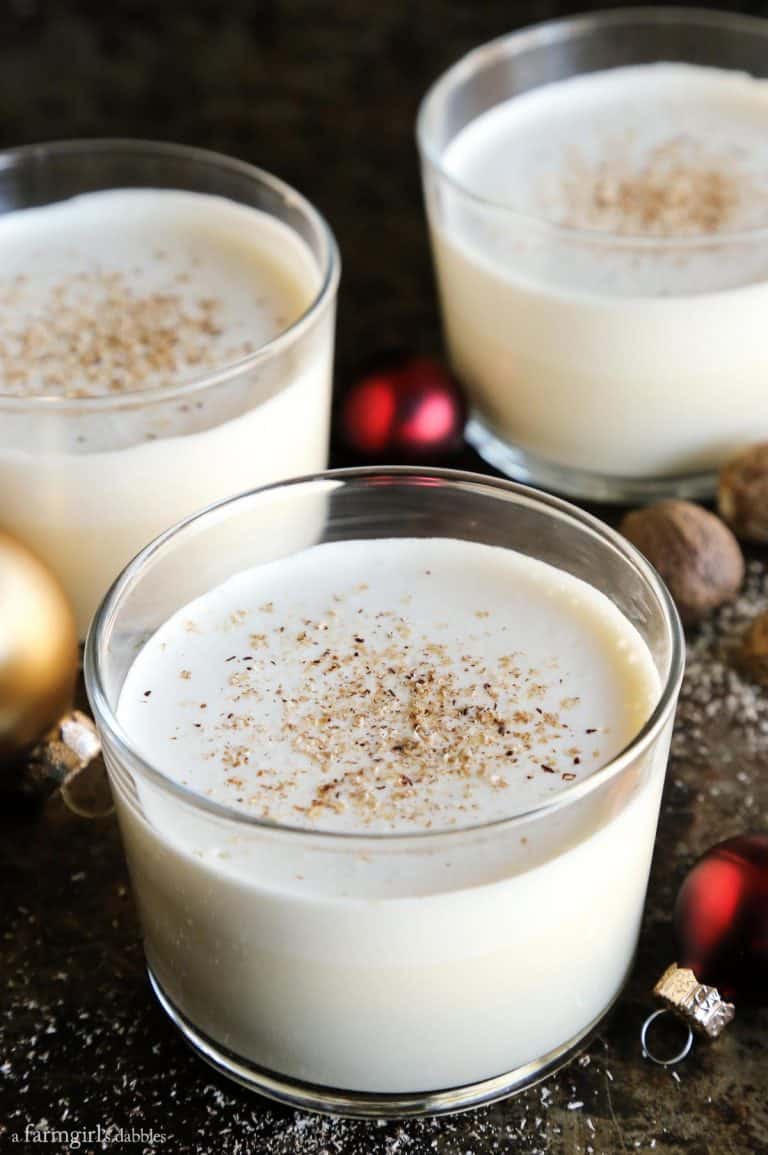 This Homemade Eggnog Recipe is Better Than Store-Bought!
Calling all eggnog fans!
Question for you.
Has it ever crossed your mind to make your own eggnog? To bypass the ease of a box from the store's dairy section, to see if a homemade version is any better?
Well, I took on that challenge myself. And I can say that making homemade eggnog is quite alot of fun. And it's so very good. This Homemade Eggnog recipe is better than the ones from a box. But is that really any surprise?!
You can also find this recipe over at The Pioneer Woman – check it out!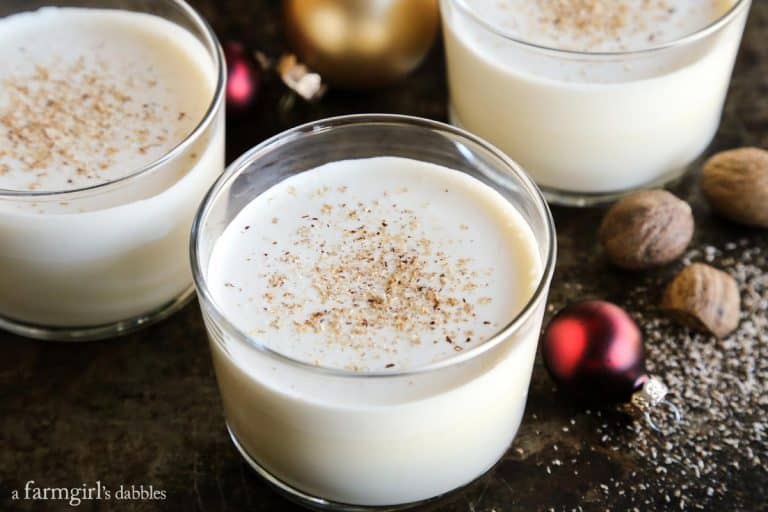 What is Eggnog?
Eggnog is a holiday drink tradition that dates back hundreds of years. It's made with eggs (duh?!), milk, cream, and warm spices – then fortified with rum, brandy, and/or whiskey.
I grew up with eggnog during the Christmas season. But I didn't even know that it was a spiked drink until I was much older. So just know that it's absolutely, perfectly fine to drink eggnog without alcohol. This makes our girls happy, because they are definitely fans!
What is Eggnog Made of?
First, I want to be clear that this is not entirely a traditional method for making eggnog, in that I do not include raw frothed egg whites.
I know from past experience with sharing recipes here that many people tend to geek out when they see raw eggs being used. Personally, I don't have a big issue with it. I've been eating raw cookie dough since I was a kid.
But I decided to just roll with the extra challenge of eliminating the raw eggs altogether in my own homemade eggnog recipe. And I'm super pleased with the results. My husband has given this recipe an enthusiastic thumbs-up, and I'm sure you will too!
Here's the eggnog ingredients you'll need for this recipe:
whole milk
cloves
vanilla
cinnamon
nutmeg
salt
egg yolks
sugar
light rum and brandy, optional
half and half
heavy cream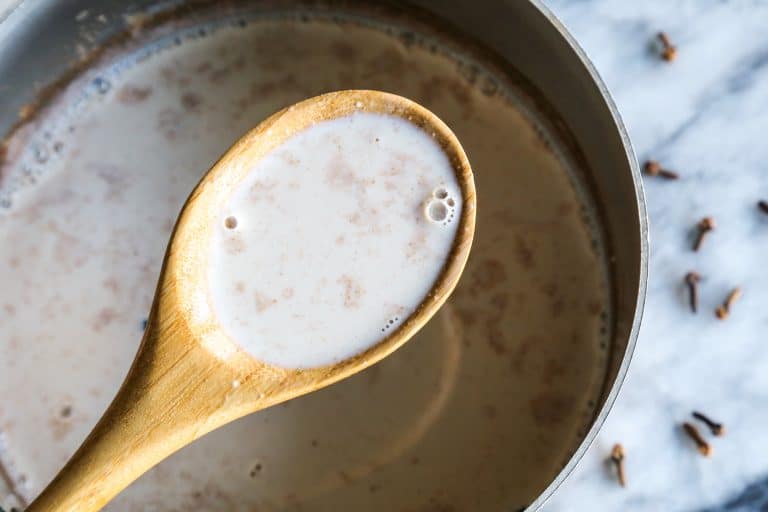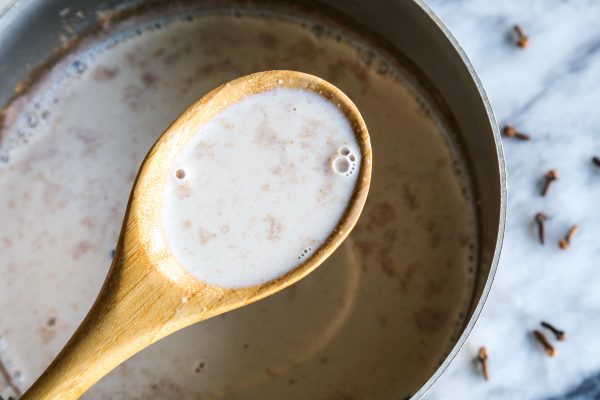 How to Make Eggnog From Scratch
If you've ever made homemade ice cream that starts with a cooked custard base, you'll find this method for making homemade eggnog very similar.
Here's how to make homemade eggnog!
Heat whole milk and spices: Start by heating whole milk in a saucepan with whole cloves, ground cinnamon, and ground nutmeg, until it is just shy of boiling. Remove saucepan from heat.
The ground cinnamon will want to clump up and look a bit unappealing at this point, but don't worry. It will all come together in the end!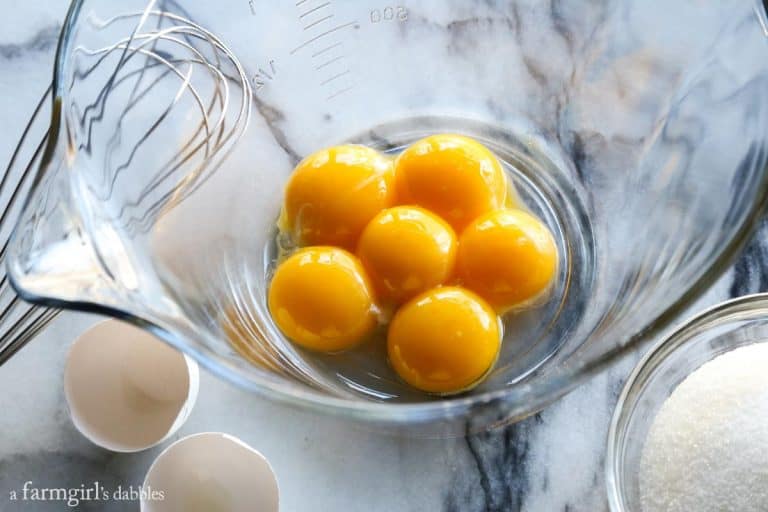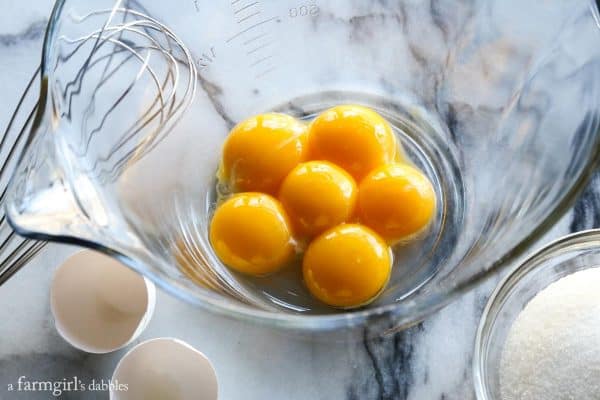 Combine egg yolks and sugar: Add egg yolks and sugar to a large bowl. These ingredients create the rich, sweet base for the eggnog.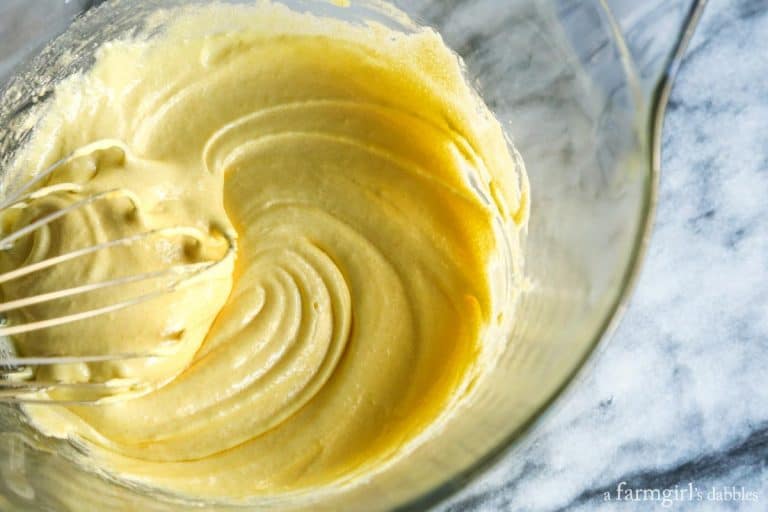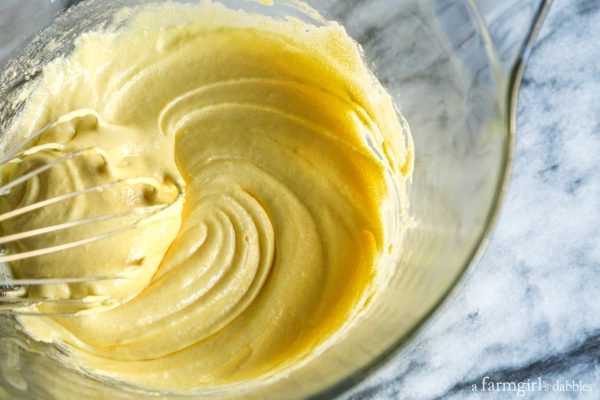 Whisk like crazy: Now whisk the eggs and sugar briskly until the mixture is lighter in color, plus a bit thicker and slightly fluffy. Keep whisking until you see soft ridges forming.
I use a hand whisk, but you could certainly use an electric mixer. Not sure what it is about this recipe, but I like the very simple, traditional feel of whisking this one by hand!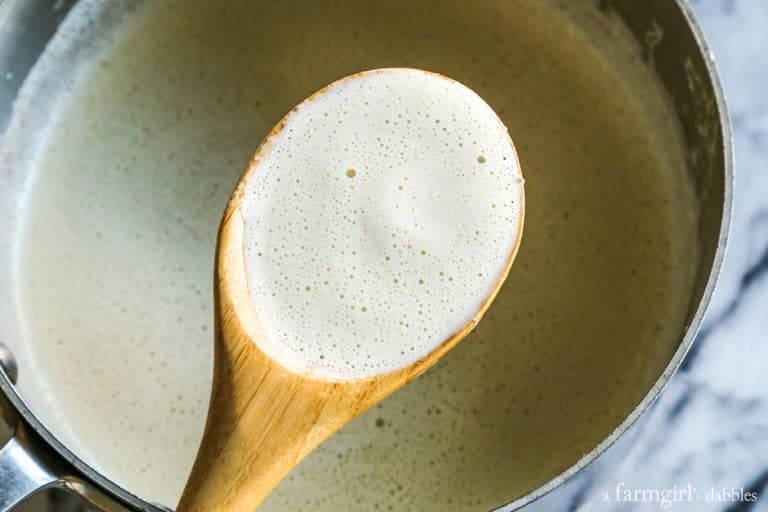 Temper the eggs: Then VERY slowly pour the hot milk mixture into the egg mixture, whisking constantly all the while. This tempering method introduces the hot mixture to the eggs in a way that eliminates making scrambled eggs out of your egg base!
Heat eggnog mixture: Pour the warmed, combined mixture back into the saucepan and heat again until thickened and lightly foamy. Do not let it come to a boil, or you will risk curdling the eggs. Remove saucepan from heat.
Add half and half, strain, and cool: Add half and half. Then strain mixture through a mesh strainer to remove the cloves and any possible curdled bits. Let cool for one hour.
Add vanilla and optional alcohol: There's a good amount of vanilla in this recipe. Which reminds me of this Vanilla Almond Steamer – if you haven't tried this beautiful beverage on a chilly winter evening, I highly recommend it. Our girls LOVE it.
Here is where you'd also add the alcohol, if desired. Knowing that our daughters like eggnog, I leave it out until later – or I divide up the mixture and add alcohol to only a portion of it.
Chill: Then give the eggnog a proper cool-down. Let it sit in the refrigerator overnight to thoroughly chill and let the flavors meld.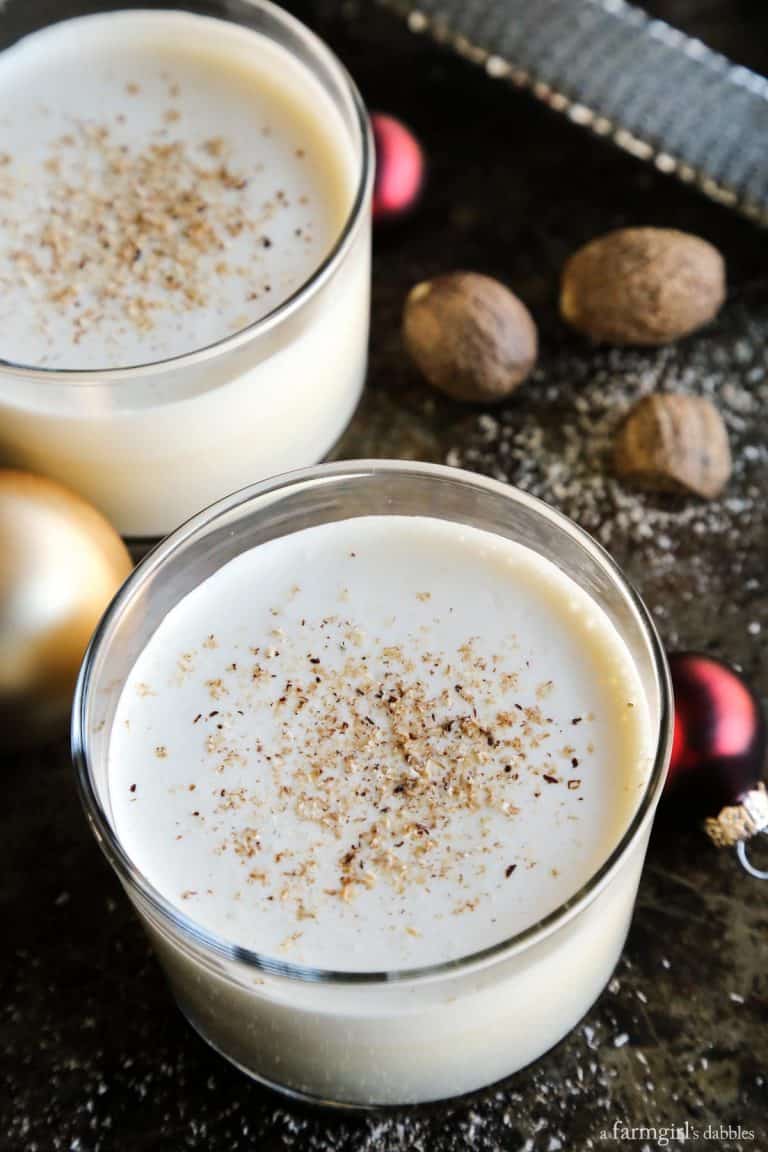 How to Serve Eggnog
Now is when a traditional eggnog recipe would have you whipping raw egg whites, to fold into the eggnog right before serving. But I make my own path here…
Whip some cream: I did away with those raw egg whites. To make up for the loss of body to the drink, I whip some cream until softly firm, and then whisk it into the eggnog. The hack works great. But feel free to whip up some egg whites, if you want!
Pour into glasses and garnish: All that's left to do is pour the finished mixture into individual glasses and then grate some fresh nutmeg over the top.
Enjoy!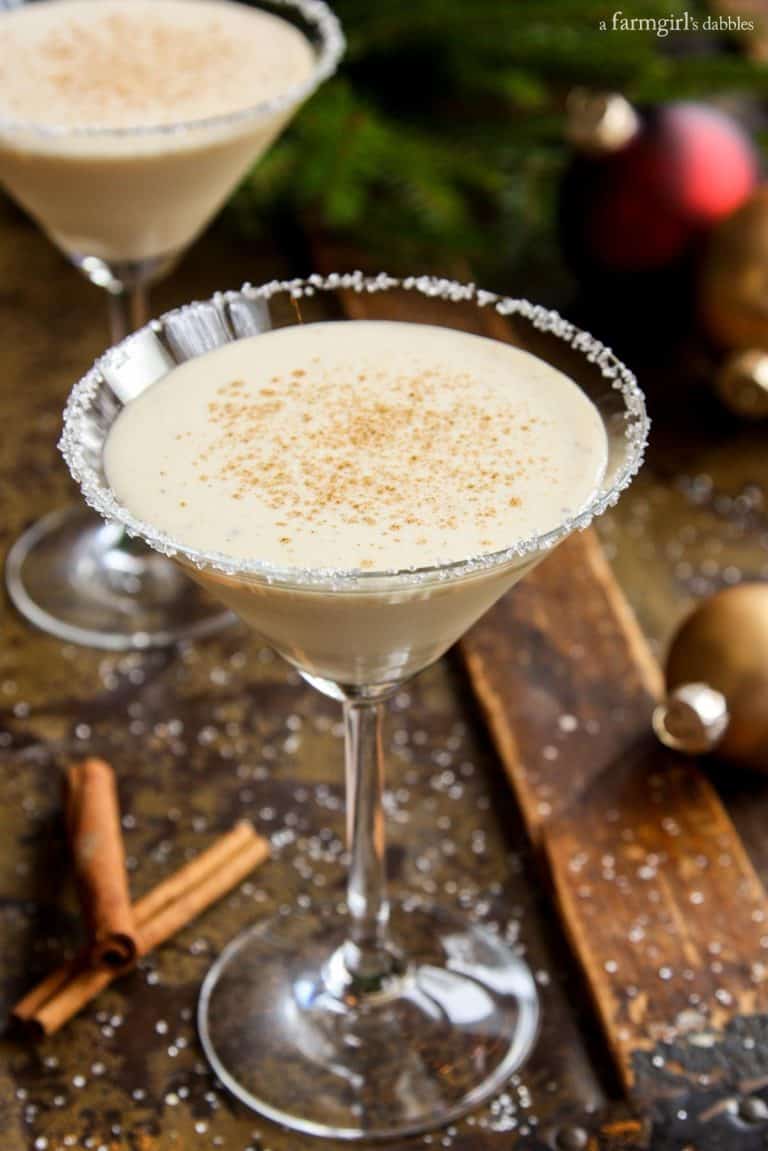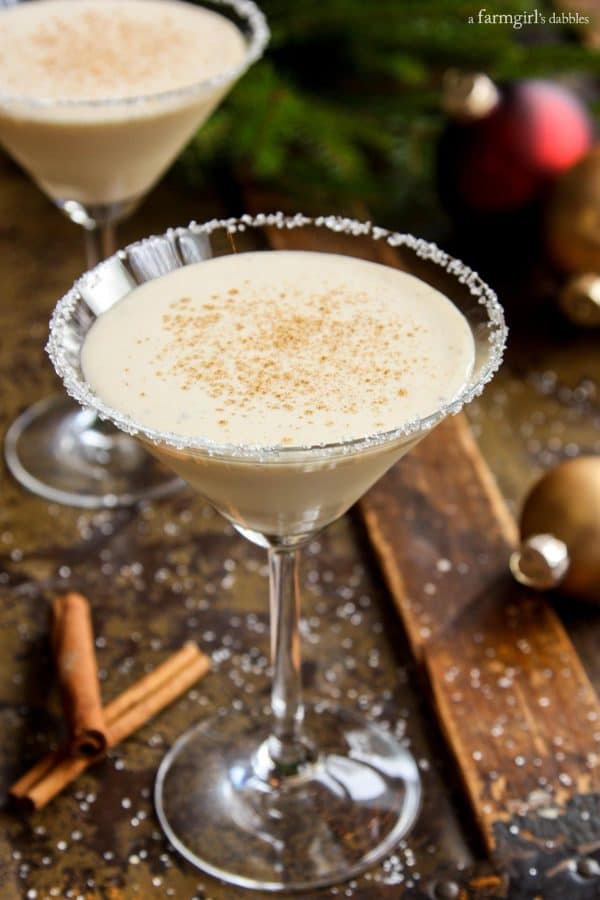 Tips and Frequently Asked Questions
Spice tips: I especially recommend freshly grated nutmeg for this recipe. I love adding the frilly gratings to the top of the drink. Plus it smells so wonderfully fresh! My favorite tool for grating nutmeg is this zester. I also very strongly advise using pure vanilla extract. Imitation vanilla is just NOT the same!
How long does eggnog keep? Homemade eggnog, without alcohol, will stay good for three to 5 days when refrigerated properly. Adding alcohol will lengthen that time. Also, a colder fridge and a higher concentration of alcohol will keep the eggnog longer. Use your senses – It will taste and smell "off" when it starts to spoil.
What's the best eggnog alcohol? Usually, rum, brandy, and/or whiskey are added to eggnog. I good tip might be to use whatever you like when not drinking eggnog. My recipe calls for mostly rum, with a bit of brandy. The rum gives a very clean flavor and the brandy rounds out the drink and warms it up just a bit. I also know people who insist on using bourbon.
Can I use the eggnog in other recipes? Yes, you can! That Eggnog Cocktail shown above in a martini glass is a favorite. It's prepared by blitzing eggnog in a blender with vanilla ice cream and almond flavored liqueur, for a super chilled drink. Perfect for a Christmas or New Year's celebration!
You can also use eggnog in baking. Try these Spiced Eggnog Muffins with Streusel Topping, Eggnog Bread from Two Peas & Their Pod, or Soft Frosted Eggnog Cookies from Life Made Sweeter!
Like this recipe? Save it to Pinterest!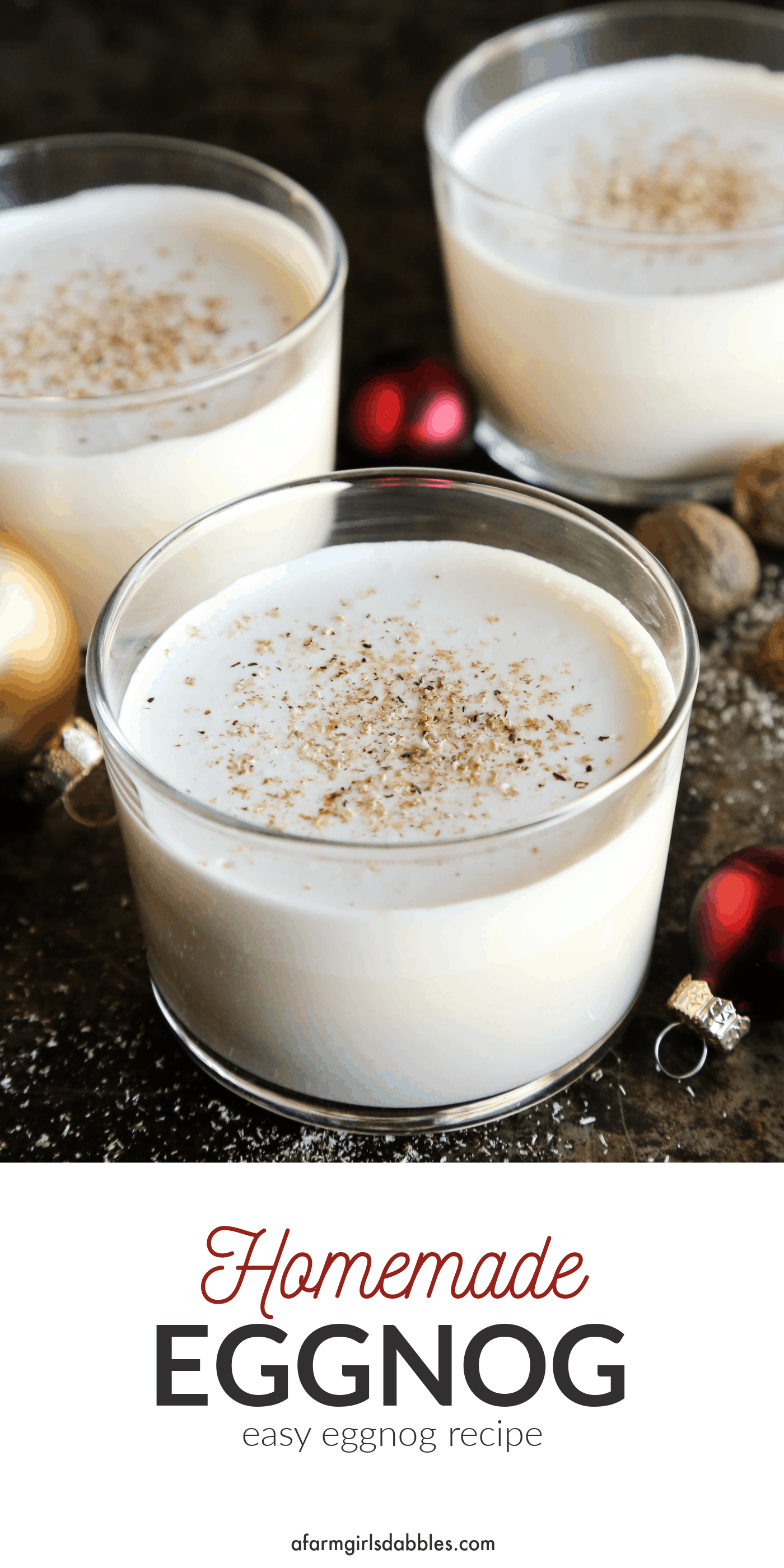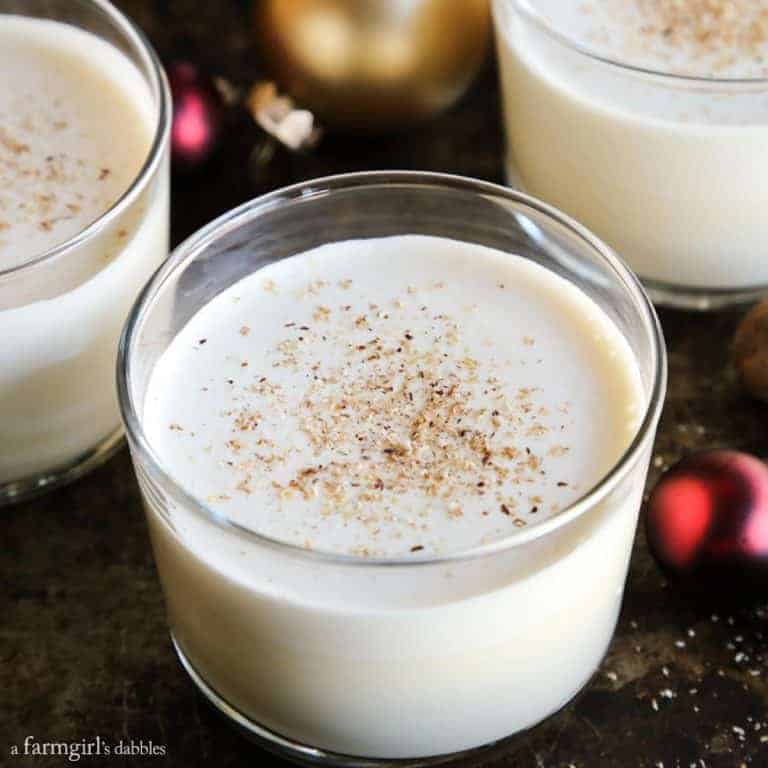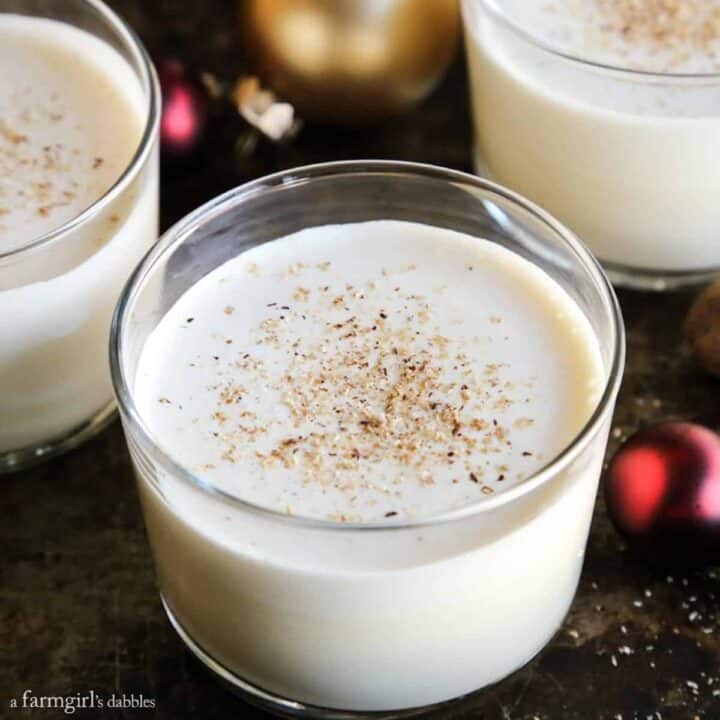 Homemade Eggnog Recipe
Yield: 8 servings
Prep Time: 25 minutes
Cook Time: 15 minutes
Additional Time: 1 hour
Total Time: 1 hour 40 minutes
Once you try this eggnog recipe, you'll never go back to store-bought again!
Ingredients
2 c. whole milk
3 whole cloves
2 T. + 1 tsp. pure vanilla extract, divided
1 tsp. ground cinnamon
3/4 tsp. ground fresh nutmeg, plus more for garnish - this tool works great for fresh nutmeg!
pinch of kosher salt
6 large egg yolks
3/4 c. sugar
2 c. half and half
1.5 c. light rum
1/4 c. brandy
1 c. heavy cream
Instructions
In a large heavy-bottomed saucepan over medium-low heat, combine milk, cloves, 1 teaspoon of the vanilla, cinnamon, 3/4 teaspoon of the nutmeg, and kosher salt. After the mixture has warmed for 5 minutes, turn up heat between medium and medium-high. Stir regularly to avoid scorching,until it's just shy of coming to a boil. Remove from heat.
In a large bowl, combine egg yolks and sugar. Whisk briskly until mixture is lightened in color and a bit fluffy, with visible ridges and ripples appearing when you whisk.
VERY slowly pour the hot milk mixture into the eggs, whisking constantly all the while. Incorporate the hot with the cold VERY, VERY slowly, so the eggs don't "cook" to a scrambled consistency.
Then pour everything back into the saucepan and cook over medium heat. Stir constantly for about 5 minutes, until mixture is thickened and foamy. Do not allow mixture to boil. Strain to remove cloves and any possible curdled bits of egg. Let cool for one hour.
Stir in half and half, remaining 2 tablespoons of vanilla, rum, and brandy. Refrigerate overnight to thoroughly chill and let flavors meld. If you prefer, leave out the alcohol - nothing else needs to be altered, and it will still taste wonderful!
Before serving, whip heavy cream until softly firm. Fold whipped cream into eggnog mixture. Pour into individual glasses and garnish with freshly grated nutmeg.
Recommended Products
As an Amazon Associate and member of other affiliate programs, I earn from qualifying purchases.
Nutrition Information:
Yield: 8
Serving Size: 1
Amount Per Serving:
Calories: 438
Total Fat: 23g
Saturated Fat: 14g
Trans Fat: 1g
Unsaturated Fat: 9g
Cholesterol: 223mg
Sodium: 143mg
Carbohydrates: 26g
Fiber: 0g
Sugar: 25g
Protein: 10g
Nutrition information is automatically calculated by Nutritionix. I am not a nutritionist and cannot guarantee accuracy. If your health depends on nutrition information, please calculate again with your own favorite calculator.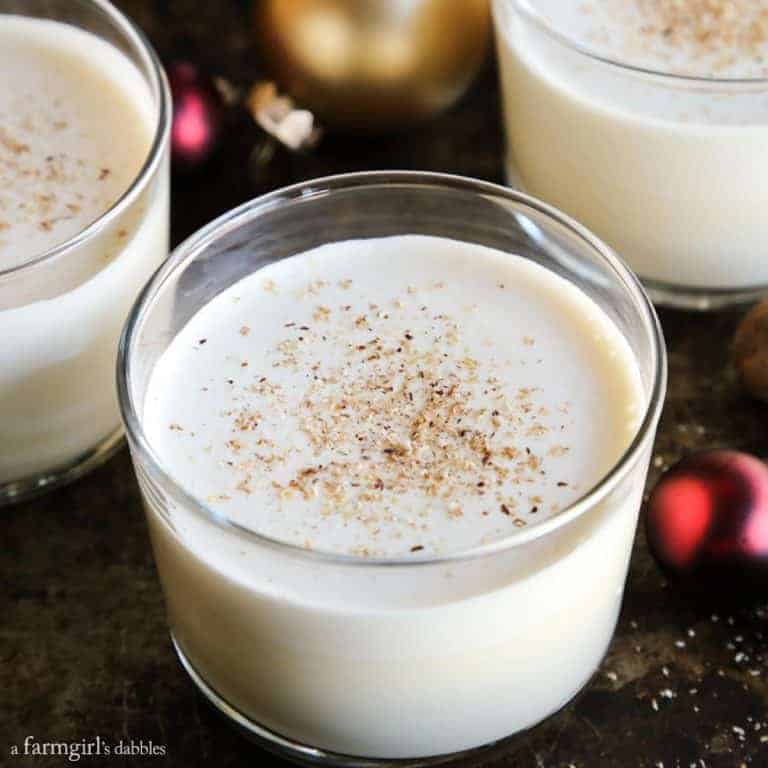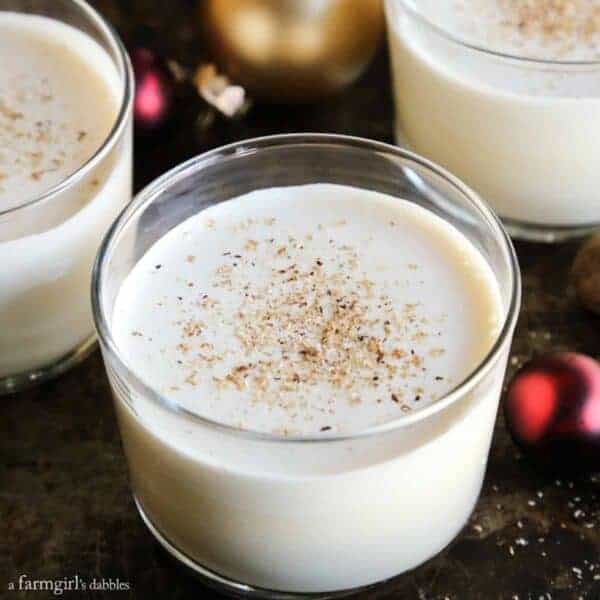 This post was originally published in 2017, and then updated in 2020.