Christmas Charcuterie Board
This festive Christmas Charcuterie Board is made with cured meats, cheeses, fruits, nuts, and more – in a fun Christmas tree shape. It's easy to assemble, and perfect for all of your holiday parties!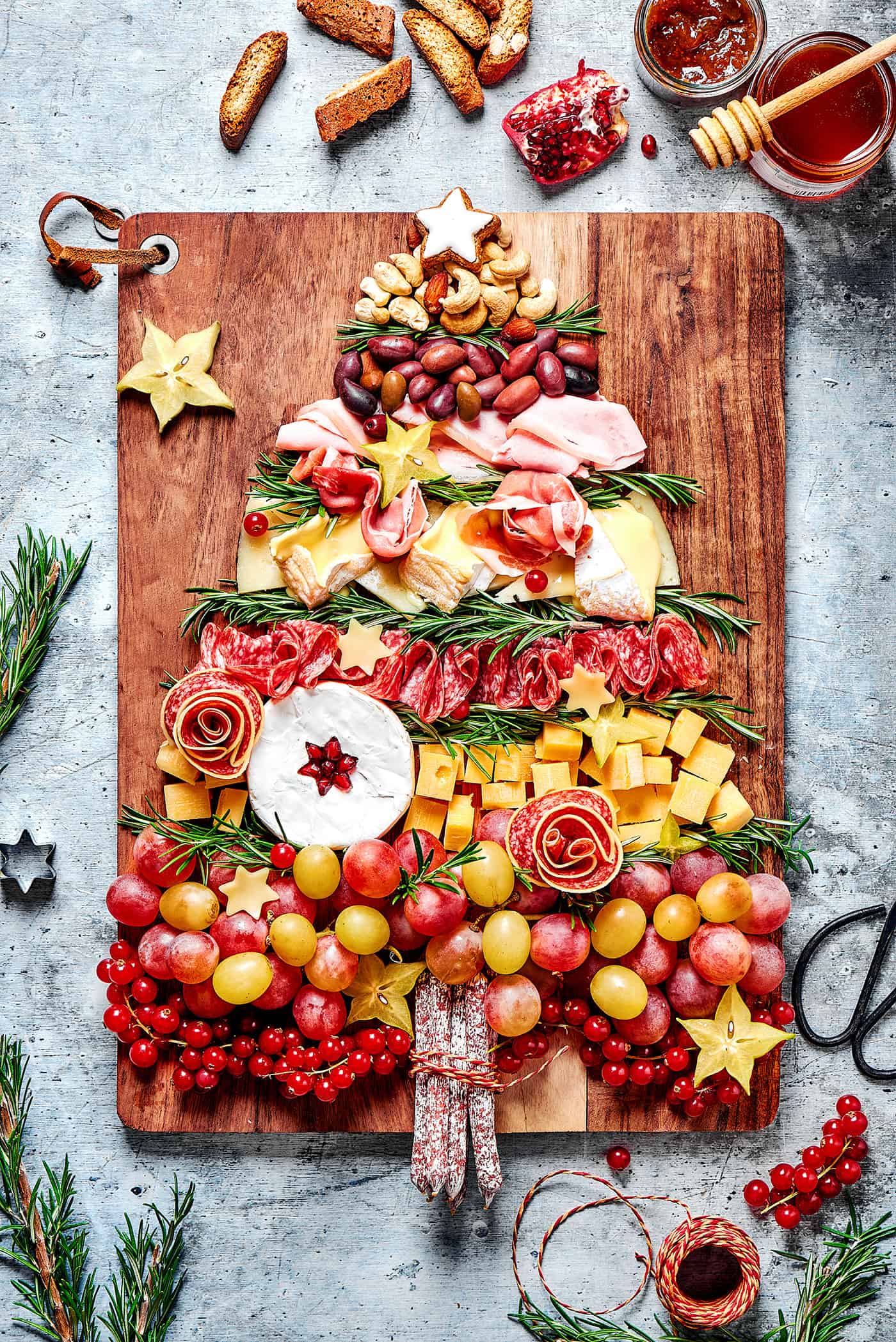 Easy Holiday Charcuterie Board
A Christmas Tree Charcuterie Board is a delightful way to entertain during the holiday season. It's fun to make – and to eat!
It's similar (yet still very different) to this holiday charcuterie board that features so many of our family's favorite Christmastime recipes. I love that it includes some sweets!
With this latest board, I changed up all the ingredients, and focused more on meats and cheeses. And I shaped it into a Christmas tree for extra holiday flare!
This Christmas charcuterie board recipe makes a pretty big board, which is perfect for holiday gatherings. I find it's always a hit. With so much variety, there's something for everyone to enjoy.
And you can absolutely change up the ingredients and scale back on the size, to make a smaller Christmas tree cheese board. Our daughter Tessa requests a cheese board every single week – so a smaller Christmas tree shape is perfect for our family this time of year!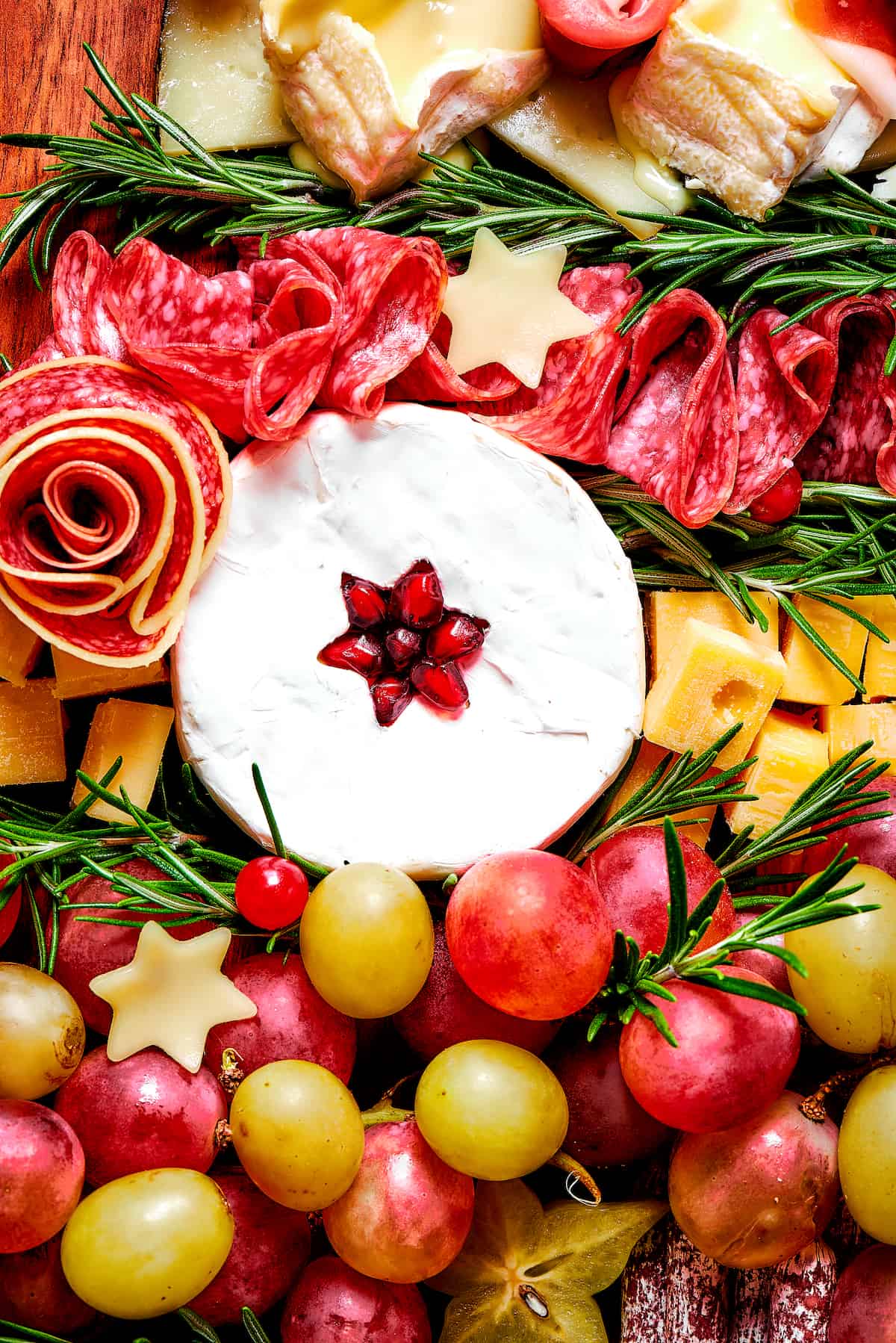 What Is A Charcuterie Board?
Charcuterie boards (pronounced 'shar-koo-tuh–ree") are essentially meat and cheese boards, with some extra garnishes. They can be super simple or elaborately fancy.
Charcuterie originally referred to the process of making cured meats, like salami and ham, so you'll typically find those kinds of items on a charcuterie board.
While there are endless variations, charcuterie boards are usually made with a variety of cured meats, cheeses, nuts, fruits, and other garnishes. These boards have been popular in Europe for a very long time and have become overwhelmingly popular more recently in the US as well.
You can serve a charcuterie board as an appetizer or even a light meal.
We enjoy a board nearly every week, almost all year long, using whatever we have on hand. They're super fun to eat (who doesn't like finger food?!) and to make. Meat & cheese boards make my family happy!
What You'll Need
This Christmas tree charcuterie board is made with a variety of cheeses, cured meats, fruits, nuts, and other garnishes.
See the recipe card for measurements, though note that the exact amount of ingredients needed can vary greatly based on the size of your board and individual ingredients.
Cheese – My favorite part of any charcuterie board! Be sure to include a variety of soft, semi-hard, and hard cheeses. For this particular tray, I opted for French and Classic Camembert (brie would also be good), manchego, a mild gouda, and provolone slices. I oftentimes include some soft goat cheese and a crumbly aged cheddar as well.
Meats – You can use pretty much any cured meat you like. I used a couple different kinds of salami, Prosciutto, thinly sliced ham, and salami sticks. A good deli or butcher shop should have a nice variety to choose from.
Fruits – I used sliced star fruit for the star shape, plus seedless grapes, pomegranate seeds, and red currants.
Nuts & olives – I think that every charcuterie board deserves some nuts and olives, and they're great for filling in small spaces. I love the olive bars at our local Kowalski's, Lunds & Byerly's, and Whole Foods! I included Kalamata olives here, plus honey-roasted cashews. My rosemary & thyme spiced nuts are also a lovely choice!
Other garnishes – Fresh rosemary is perfect for mimicking the branches of a Christmas tree – and it smells so wonderful! I also added fig chutney and honey, for guests to use however they please.
Biscotti, bread & crackers – I featured biscotti with this board, as a means for layering cheese, fruits, and dips. I do recommend offering a few different items in this category, and like to have at least one gluten-free option available for my GF friends.
What's the Difference Between Brie and Camembert?
Brie and Camembert are wheels of soft cheese. While they are quite similar, they do differ.
Many people describe both of them as tasting earthy and nutty, sometimes a bit fruity.
But brie is usually milder, with a creamy, buttery flavor. And Camembert is a bit more intense in both earthy flavor and aroma.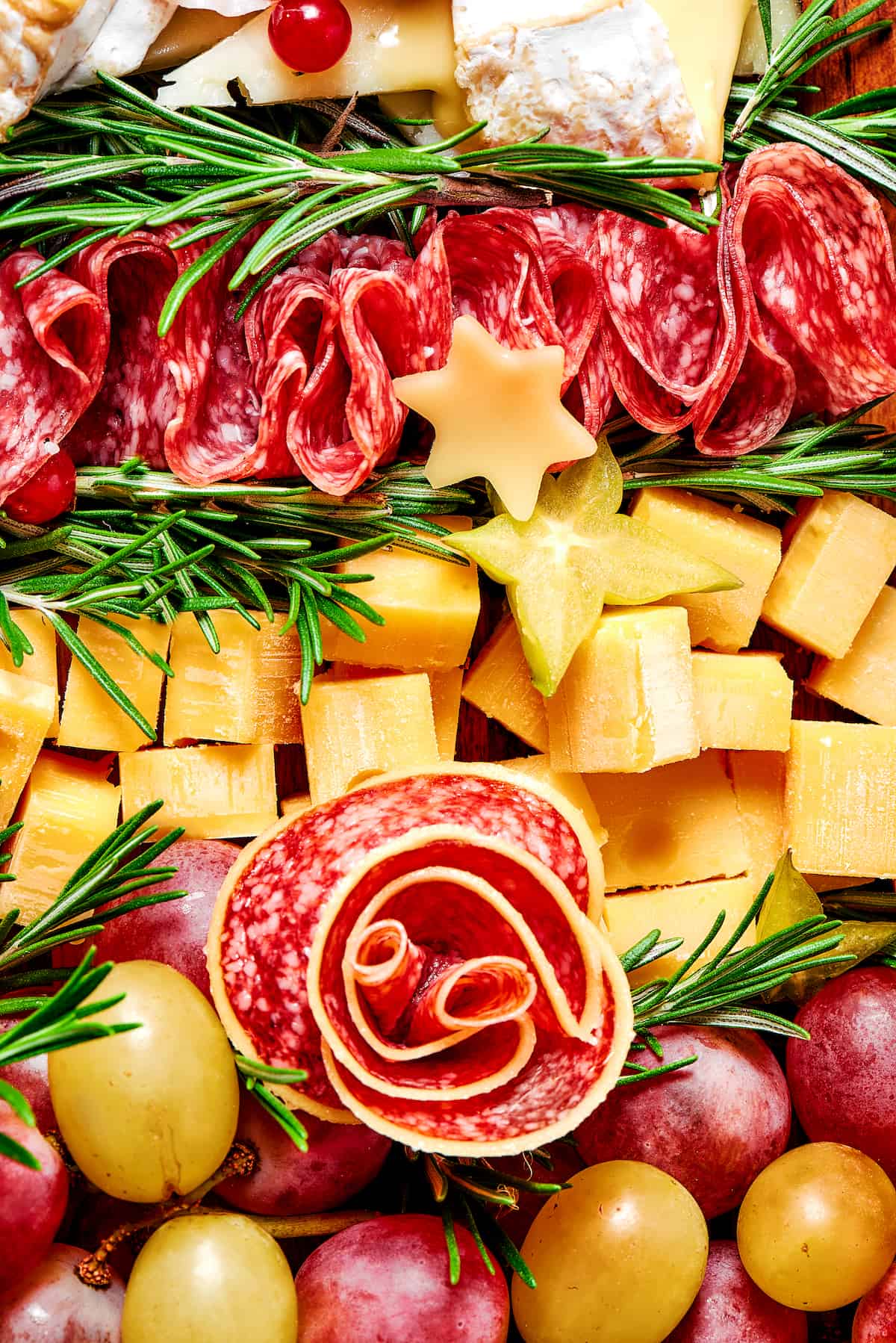 What Else Can I Add?
The sky is the limit when it comes to your holiday charcuterie board! If one of the ingredients listed isn't your jam, feel free to mix it up. Here are ideas of other things you could include: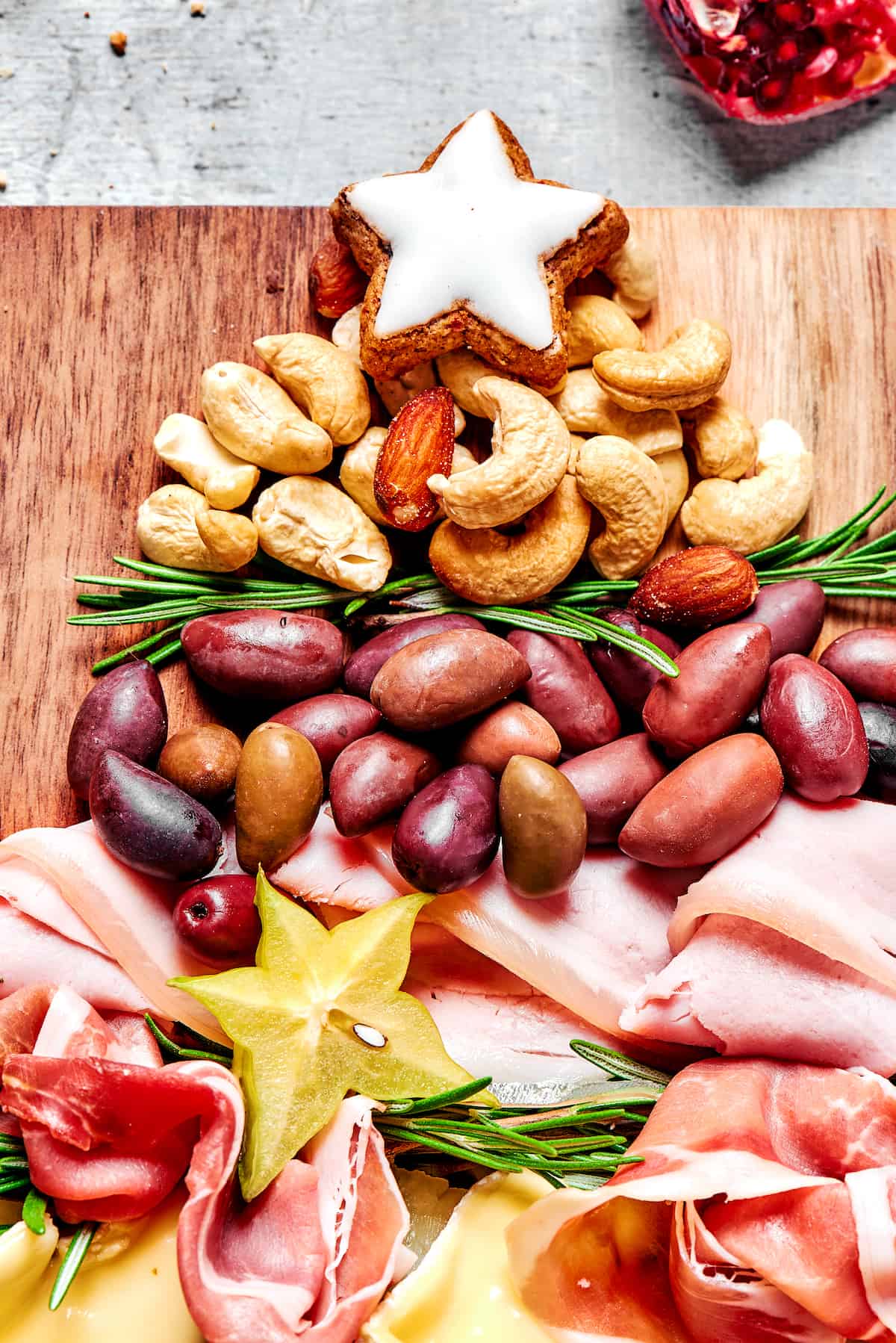 What Kind of Board or Plate Do I Need?
Charcuterie boards are usually presented on large cutting boards, though now you can buy wooden boards that are specifically made for serving charcuterie. If you can find one with a bit of a raised edge, that's nice as it prevents ingredients from sliding off.
That said, you don't have to use wood. There are also marble, ceramic, and even slate charcuterie boards these days. They come in all sizes too, from just big enough to make charcuterie for one person to giant boards perfect for feeding a very large crowd.
The most important thing is to ensure that the board is made from food-safe material.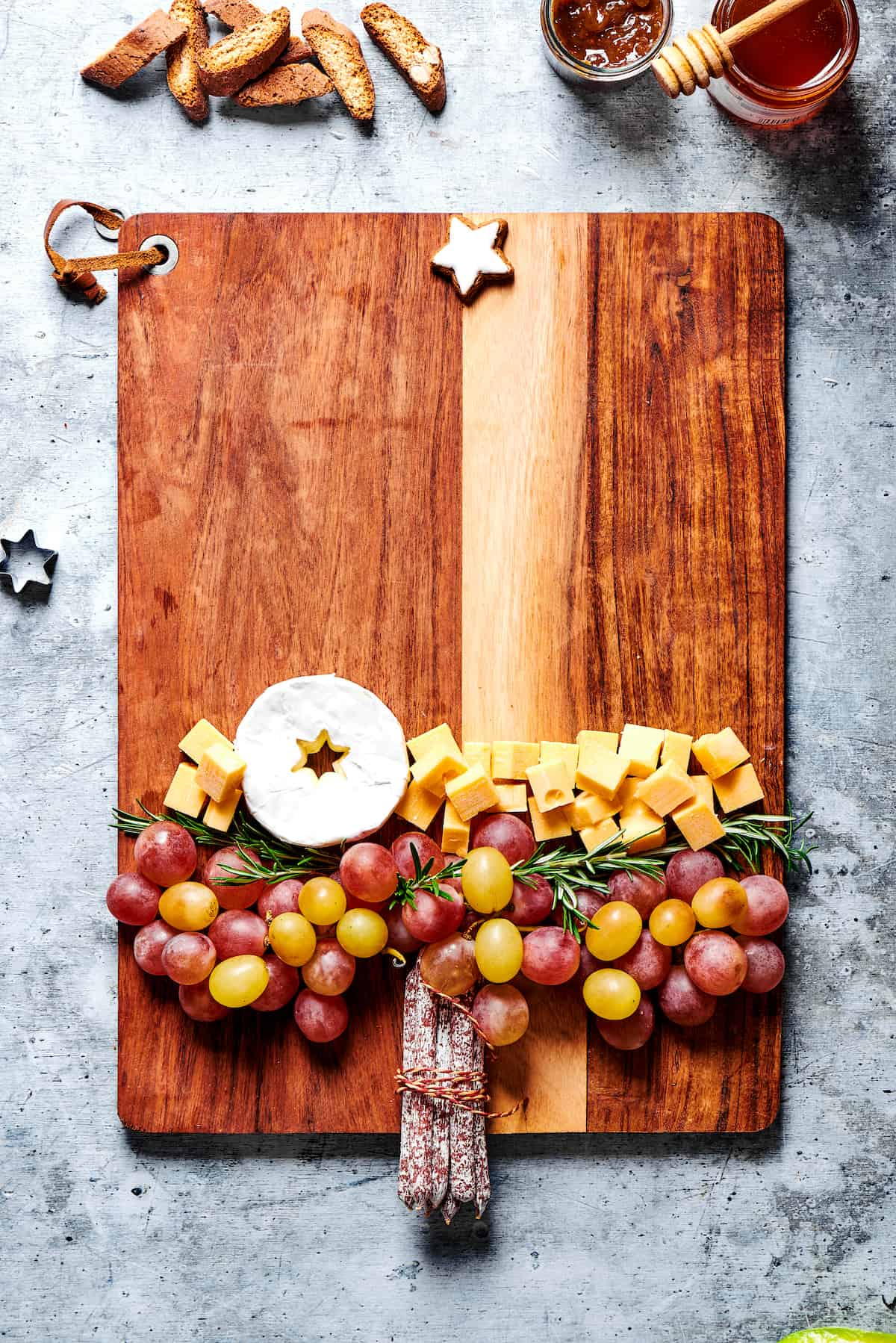 How to Make a Christmas Charcuterie Board
Here's how to easily prepare and assemble your holiday charcuterie board.
Prepare the ingredients. Use a small star cookie cutter to cut the slices of provolone into star shapes. Use the same star cutter to cut out the center of one of the Camembert cheese wheels – then fill it with pomegranate seeds. Slice the star fruit.
Make the tree trunk. Place the salami sticks at the bottom of the board for the tree trunk. I used some red and white string to pull the sticks together into a tidy trunk shape.
Assemble the charcuterie board. Begin adding the other ingredients in the shape of a Christmas tree. I started with a base of grapes, then added cubed gouda, Camembert, and salami. Then I added thin slices of Manchego, chunks of Camembert, ham, prosciutto, salami, olives, and nuts. Add sprigs of rosemary between layers for the pine needle effect. To finish, I layered in some red currants along the bottom of the tree, which is shown in the first photo in this post.
Decorate. Add the small cheese stars and slices of star fruit to embellish.
Add dips and spreads. Add any dips and spreads you are using around your board, along with biscotti and any other breads and crackers.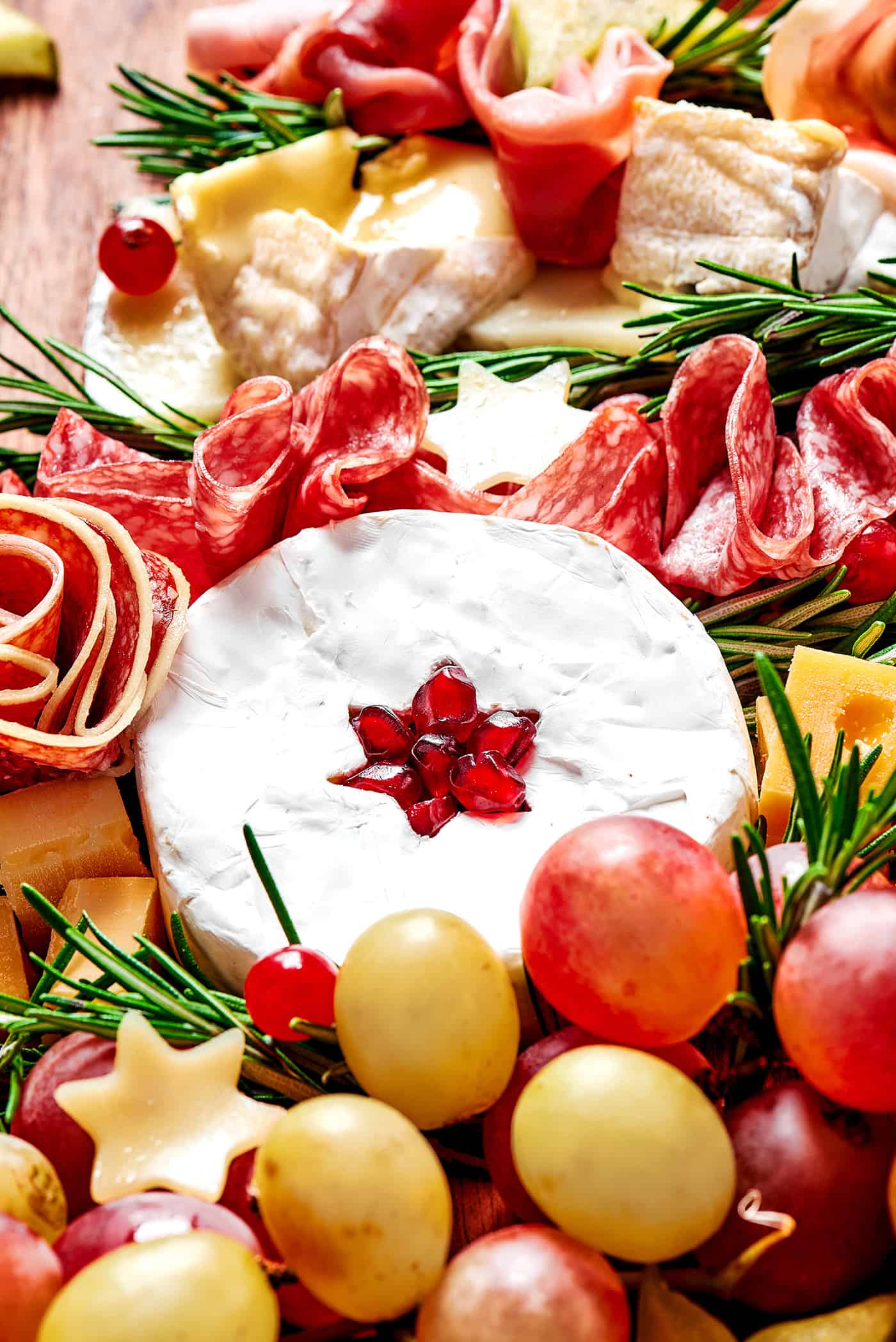 Tips for Success
Here are a few tips for assembling your charcuterie board.
Think in terms of color variety. As you add in rows, there's no real order that the ingredients need to go in. Be creative and just have fun. However, you do want to consider colors and not put too many things of the same color next to each other (like three rows of cheese, for example).
Always add a variety of flavors. The great thing about this Christmas tree charcuterie board is that it can be easily customized. If you don't like or can't find a recommended ingredient, don't worry. Just add things that you do like! That said, you want to aim for various flavors in your ingredients – sweet and salty, spicy and mild, etc.
Aim for different textures. Include items that are chewy, crunchy, creamy, and crumbly!
Make each row a little smaller. To achieve the Christmas tree triangle, make each row slightly shorter than the one below. You can also cut out a triangle on parchment paper and lay it down as a guide if needed.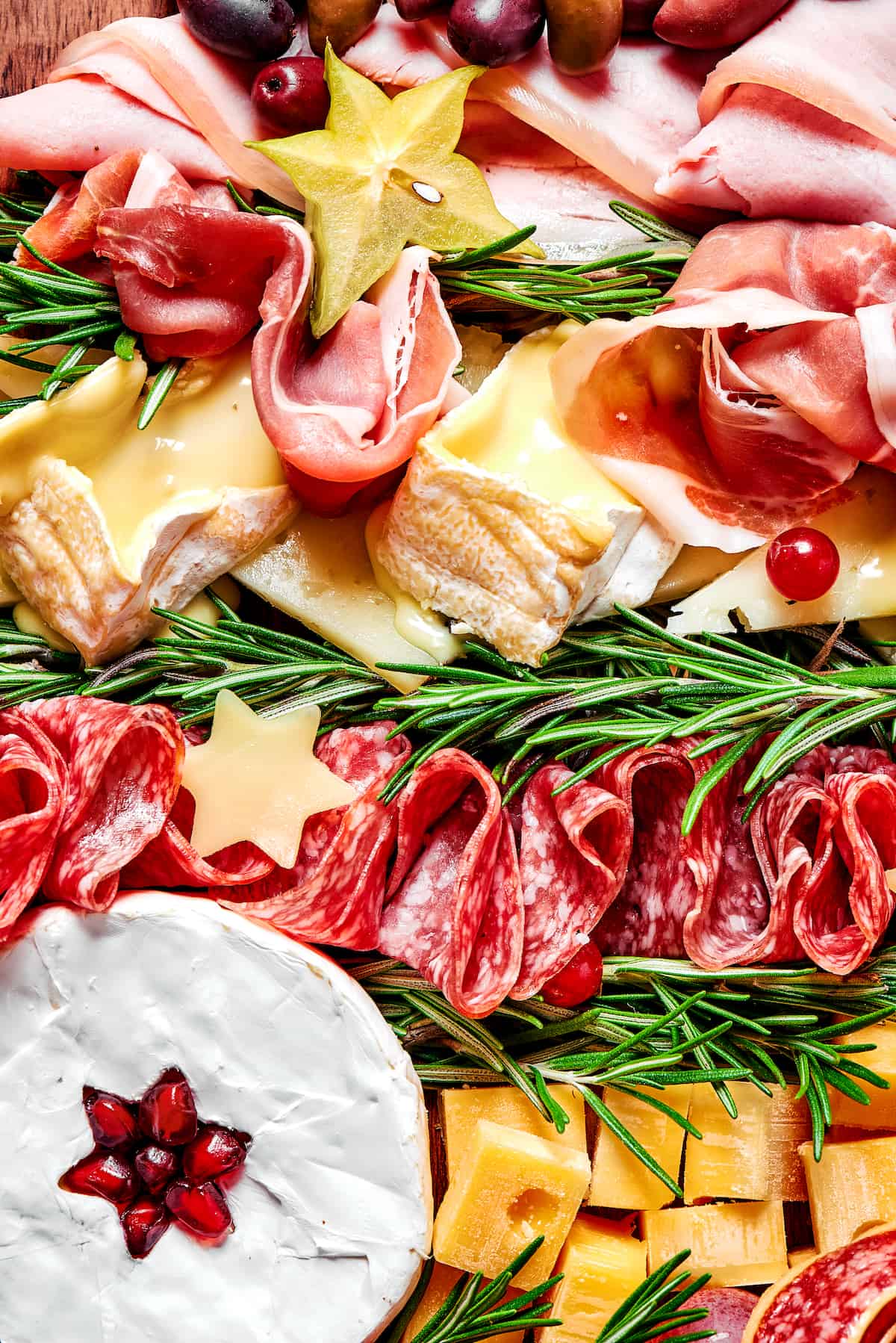 What To Serve with a Charcuterie Board
Charcuterie boards are usually served with a few dips and spreads, as well as your favorite crackers or bread.
I'm always a fan of adding my mom's shrimp dip. And hummus and ranch dip are other great options.
It's never a bad idea to offer up something sweet too, like puppy chow or Ritz cookies. You can add these right on the board or offer a sweets board alongside the meat & cheese board.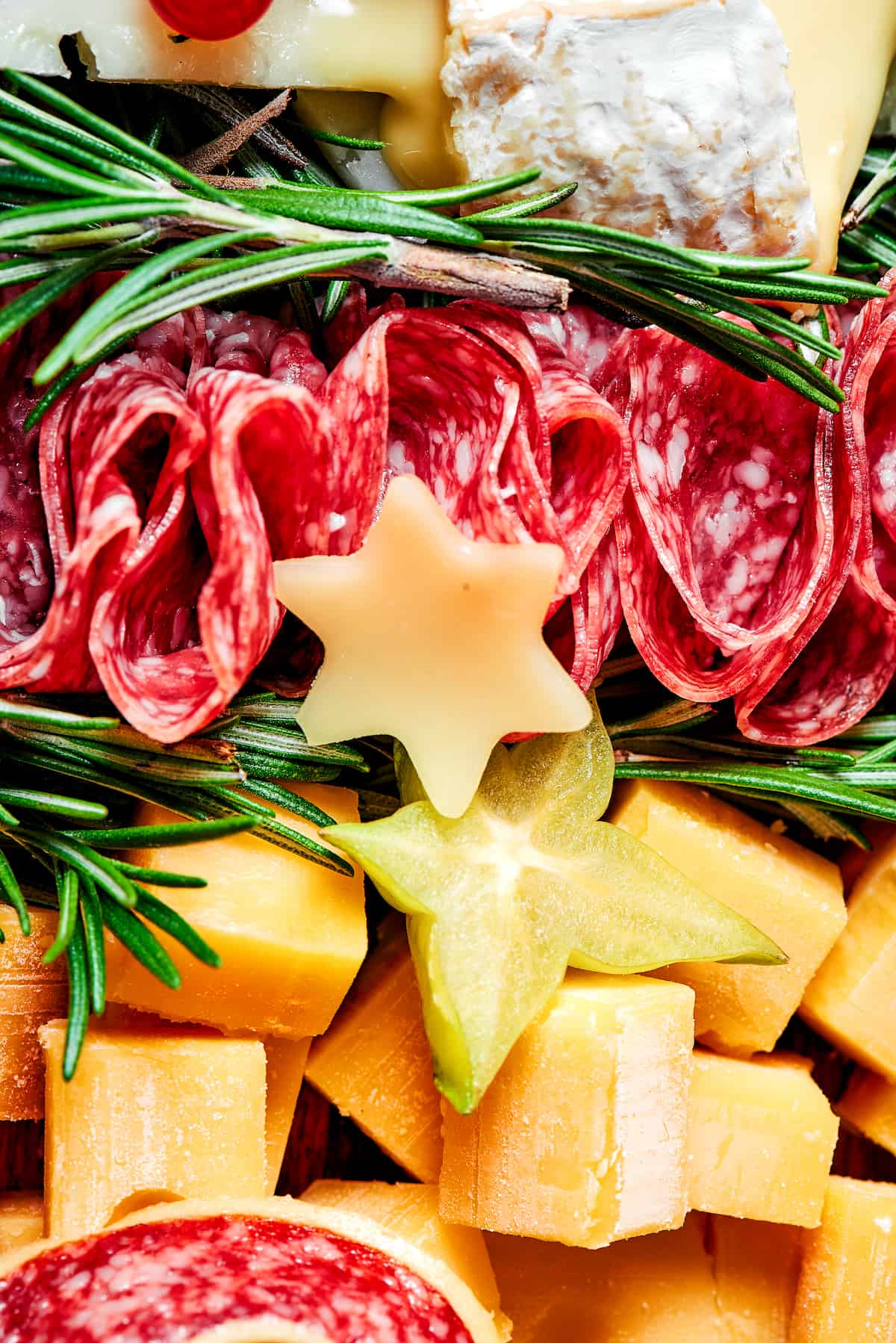 Can This Be Made in Advance?
Charcuterie boards can be assembled in advance, though I recommend doing so only a few hours in advance. If you need to do it overnight, be sure to wrap it tightly in plastic to prevent any of the cheeses from drying out.
Of course, if assembling hours in advance, or overnight, you will need to have a space large enough to keep the board chilled. Here in Minnesota, that's never a problem, as I store large assembled charcuterie boards in our 3-season porch where it's cold!
Proper Storage
Charcuterie boards do well at room temperature for about 4 hours. After that point, you'll want to toss anything perishable, like the cheeses and meats.
Otherwise, you can cover it and store it for up to 5 days or separate everything into baggies and refrigerate it that way as well.
More Easy Christmas Appetizers:
Like this post? Save it to Pinterest!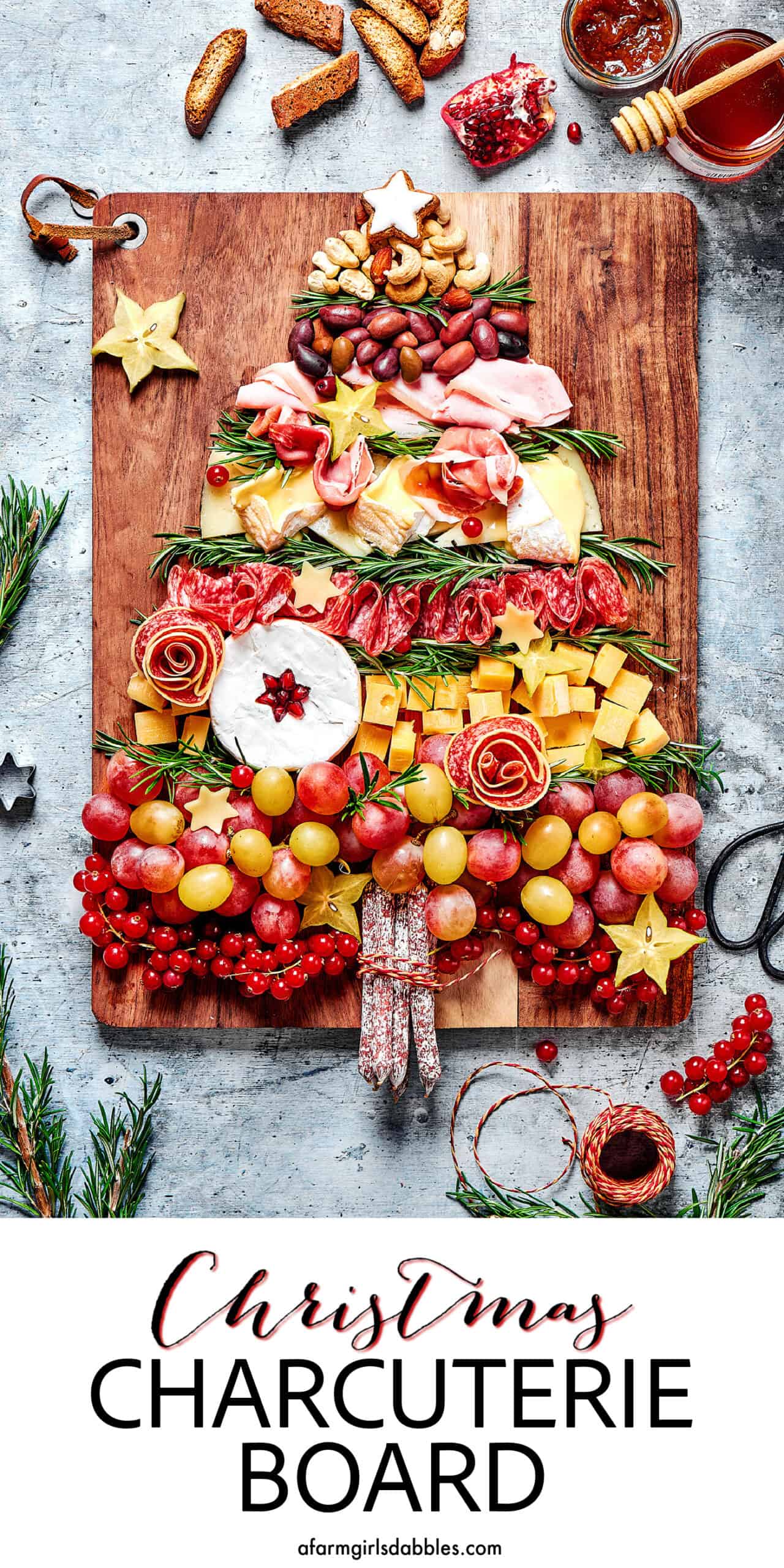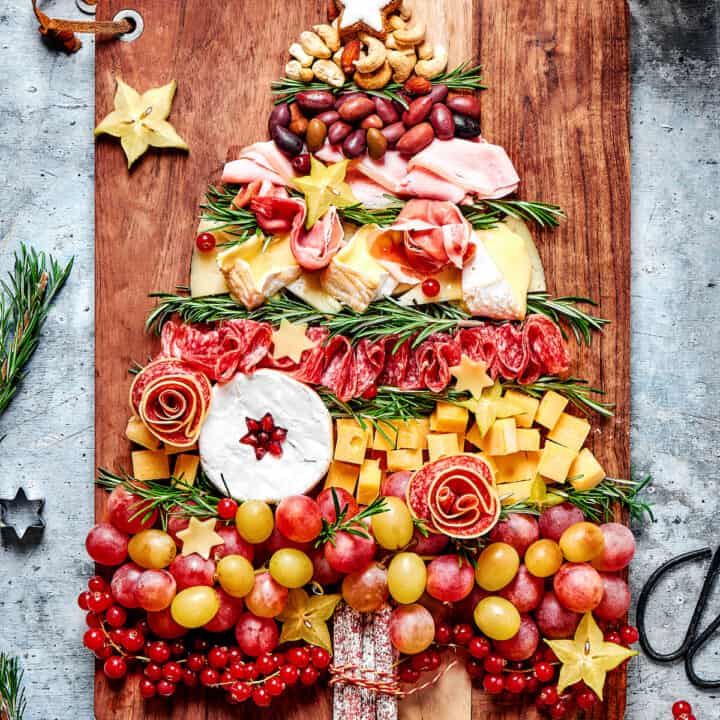 Christmas Charcuterie Board
Yield: 10 servings
Prep Time: 50 minutes
Total Time: 50 minutes
This festive Christmas Charcuterie Board is made with cured meats, cheeses, fruits, nuts, and more - in a fun Christmas tree shape. It's easy to assemble, and perfect for all of your holiday parties!
Ingredients
Cheese
French Camembert (brie would also be great)
Classic Camembert
Manchego
Gouda, cubed
Provolone slices
Meat
20 slices Italian salami
10 slices Parmesan salami
7 slices Prosciutto
5 thin slices ham
10 mini salami sticks
Fruits, nuts, etc.
Fresh pomegranate seeds
Fresh red currants
Star fruit
2 pounds seedless red and green grapes
1 cup Kalamata olives
Fresh rosemary
1 cup honey roasted cashews
Fig chutney
Honey
biscotti
Instructions
Cut sliced Provolone cheese into stars with star shaped cookie cutter. Cut out one of the Camembert cheese wheels with the same star cookie cutter, then fill the hole with pomegranate seeds. Slice the star fruit.
Place a bunch of mini salami sticks at the bottom for the tree trunk. Tie with a string or ribbon if desired, to hold the trunk shape.
Then arrange a tree on a vertically-oriented rectangular board. Build your
tree starting from the bottom with a row of red currant at the base. Then
add lines of red and green grapes, cubed gouda, Classic Camembert, and
different types of salami and cheese. Keep layering in with Ham, Prosciutto,
salami, olives, and nuts. The order is not strict - be creative and have fun - arrange the ingredients as desired in the shape of a Christmas tree. Make sure each layer of Christmas tree is slightly less wide than the last to ensure the triangle tree shape. Stick little sprigs of rosemary in between layers to look like pine needles.
Decorate the tree with the small cheese stars and star fruit. Add a festive star shaped cookie at the top or use another cheese star or star fruit slice.
Last, place any dips, spreads, and sweets around your board. Also offer biscotti, crackers, and/or breads.
Nutrition Information:
Yield: 10
Serving Size: 1
Amount Per Serving:
Calories: 442
Total Fat: 26g
Saturated Fat: 9g
Trans Fat: 0g
Unsaturated Fat: 16g
Cholesterol: 85mg
Sodium: 1707mg
Carbohydrates: 27g
Fiber: 3g
Sugar: 18g
Protein: 27g
Nutrition information is automatically calculated by Nutritionix. I am not a nutritionist and cannot guarantee accuracy. If your health depends on nutrition information, please calculate again with your own favorite calculator.